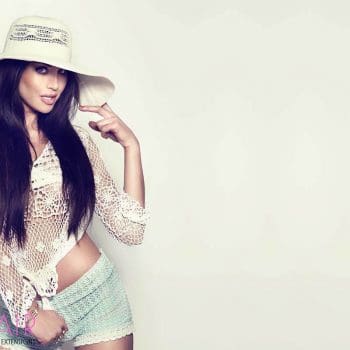 As wigs are getting more and more popular, more women are considering trying them out. Those who are on a tight budget often think wigs are simply out of their league because they're too expensive. It is true that hairpieces can get really pricey, but that doesn't mean there aren't some cheaper options as well as some choices you can make to save some money. Those who are new to wigs might not know how to buy a quality wig for not a lot money and that's why we have decided to give you a simple shopping guide. By using these tips and tricks, you can get a high-quality hairpiece without spending a lot of money. This is also suitable for girls who simply want to try out wearing a hairpiece first and are looking for something cheaper.
Synthetic vs. Remy Wigs
Synthetic hairpieces are known for their low price and that's why many women a tight budget decide to buy them. Although that might save you money, there are some issues with low-quality synthetic hairpieces. First of all, you might be very disappointed in how they look and feel. Synthetic wigs usually look very boxy, bulky, and fake. It's hard to achieve that natural and seamless look. Not to mention that the lifespan of synthetic wigs is very short, not longer than a month or two. Because you would have to buy a new wig every couple of months, it is actually cheaper to buy a hairpiece made from real hair because it lasts significantly longer. So thinking that you'll save a lot of money by purchasing a synthetic or low-quality wig is actually trap and a myth. It makes much more sense financially and otherwise to purchase a quality Remy hairpiece. It is actually not that expensive. For example, you can get a Remy wig from AiryHair for only $55. That's actually not much more expensive than synthetic wigs so why settle for less?
Choosing the Right Seller
It is also important to find a trusted seller. Many stores are often misleading and intentionally want to try to trick their customers. Many misuse the Remy label and actually try selling you synthetic or mixed hair. That's why you need to make sure that the store has some reviews, presents their product truthfully and has good customer service.
Wig Types
The most popular wig types are lace front wig, 360 frontal wig, and a full lace wig. A full lace wig is the most expensive out of the three because it's made fully out of lace. A lace front is somewhere in the middle while a 360 frontal wigs is the cheapest option out of the three. So if you want to save some money, we recommend that you go for a 360 frontal wig. It is still a high-quality wig that's made out of lace and designed in a way that makes it very comfortable to wear. A lace frontal is only slightly more expensive, but still a great affordable choice.
Choosing Length
A great way to get a few bucks off your hairpiece is by choosing less length. Although extra-long wigs are very tempting, they are certainly more expensive. Eight to fourteen inches 360 wigs are under $100 so consider those. It is still a nice length that will look gorgeous.
Choosing Density
The density of a hairpiece is expressed in different percentages. There is low density, medium density, high density, and extra high density. Choosing less thickness means that the wig will be much cheaper. To save some money, but still have nice volume, we recommend that you go for 130% wig density. That's medium thickness, very similar to density of normal hair.
Shipping and Return Options
Another cool way to minimize your spending is by buying a hairpiece from a store that offers a free shipping option and returns. Shipping can often be quite expensive so it is ideal to get it for free. AiryHair is one of those stores who offers as free international shipping option so take advantage of that.
Applying a Wig at Home
Going to a salon to have your hairpiece attached is quite pricey and although hair professionals certainly know what they're doing, it is something that you can do yourself so why spend extra bucks? Simply find some tutorials that show you how to apply a wig at home and you're all set. It is really simple and it's actually better that you know how to do it yourself in case the hairpieces detaches or you want to take it off.
Free Wigs
If you're are a hair loss patient who's going through treatment, there may be a possibility that you can get a hairpiece for free or half the price. This is something that you need to check with your health insurance company, but it is worth giving it a go. Keep in mind, though, that medical wigs are usually synthetic ones.
In Conclusion
We hope you're not discouraged anymore and that you can see how actually easy it is to purchase an affordable wig although you're on a tight budget. It is certainly scary looking at the high prices but by using these simple tricks, you can get those down significantly and still have a high-quality hairpiece.
If you're interested in AiryHair budget options, we recommend a 360 frontal wig (as you have learned in the article, choose less density and weight for an even cheaper price). It is a high-quality hairpiece that's made out of real human hair and comes in straight, deep curly, and body wave textures.