All the beginners out there might find purchasing and wearing extensions a bit overwhelming, especially when you're not sure what to do and not to do. There are many things that are encouraged, as well as discouraged when it comes to wearing hair extensions and it's a good idea to know what those actually are. That way, you know that you purchased the right extensions and that you're not doing anything that will damage them. To make everything simpler for you, we have compiled a list of hair extensions do's and don'ts that will hopefully answer all of your questions and ensure a perfect extensions wearing experience.
Things You Should Do
Let's start with things that are absolutely safe to do when wearing extensions and that are encouraged. We cover many things from choosing what extensions to buy to how to care for them.
Pick the Right Extension Type and Method
The first thing, of course, is buying the extensions. Since there are so many of them, it might be difficult to decide which ones to go for. Without going into too much detail, we suggest you to check our hair extension types post, which covers it all.
Use Remy Extensions
Regardless of which extension type you choose, make sure it is made only out of genuine Remy hair. It is always smart to invest in something that's high-quality and lasts so don't settle for low-quality or synthetic extensions. They will not look nearly as good and you can literally throw them in the trash after a month or two because they don't stand the test of time. the only thing synthetic extensions have going for them is the cheap price.
Apply Extensions Correctly
The application process will depend on the method you choose, but almost all of them are simple. You can have it done at a salon or do it yourself if you know what you're doing. For simple application instructions, check out some of our articles like this one.
Care for Your Extensions
We can't emphasize this enough: extensions maintenance is one of the most important things you need to do. You can buy the most expensive perfect extensions, but if you don't care for them, their quality will quickly deteriorate and you'll end up with a huge, unwearable mess. If you're not sure what to do, you can check out our ultimate hair extension care and styling guide.
Detangle Regularly
Frizz and tangles are the silent killers of any type of hair extensions so getting rid of those is crucial. Combing your tresses with a quality brush will make all the difference if you do it regularly, especially before going to bed and in the morning. This will also keep your locks in perfect condition and looking flawless at all times. Forgetting or avoiding brushing leads to more and more tangles and knots which not only looks messy and bad, but also shortens the lifespan of extensions.
Make Sure That Your Extensions Are Not Showing
It is a good idea to look twice in the mirror before going out just to make sure that your wefts are not showing or peeking out. Use two mirrors to see how everything looks in the back as well. This is particularly useful when you have a high ponytail or an updo. These styles might cause the clips or tapes to be visible so make sure to check that in order to avoid any embarrassment later on.
Don't Be Afraid of Telling People You Wear Extensions
Many girls keep it a secret and are terrified to tell some of their friends or their boyfriend that they're actually wearing extensions and it's no their real hair. That results in more stress over whether the wefts are showing. So to avoid all of that, it is easier to be truthful. You will feel much more comfortable and at ease. So many girls today wear some type of extensions that's it's really not a big deal and not something you shing. riends or their boyfriend that they' embarrasment.eeking out. ould be embarrassed about. We're not saying you should be shouting it from the rooftops, but you're close friends and boyfriend should know about it.
Things You Shouldn't Do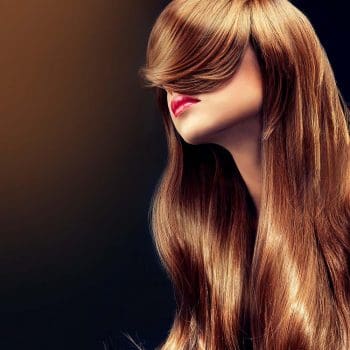 There are also some things that should be avoided when it comes to extensions and it's good to know what those are.
Avoid Synthetic Extensions
The first advice we have is to stay away from synthetic and low-quality extensions. Synthetic hair usually looks pretty fake which makes it hard to blend with natural strands and it obviously doesn't look very good. Not to mention synthetic extensions won't last more than a few weeks, which is really short and not worth the trouble. Also, there are some dangers to wearing artificial synthetic strands on your head and you could end up with an itching or painful scalp, or even bacteria and fungus growing. For more information, check out our article on synthetic vs. human hair extensions.
Don't Use Just Any Brush
If you want to take extra care of your new tresses, be careful what kind of brush you use. A regular brush works fine, but a professional detangling brush will certainly do a better job and make combing much quicker. Loop brushes are not that expensive, but they're made for use on extensions which makes it much safer. shes are not that expensive, but they'nal detangling brush will certainly do a better job and make combing much quicker.
Don't Overuse Hot Tools
Although human Remy hair can be curled and straightened, you shouldn't do it too often because heat can still lower the quality of the extensions over time if overused. Also, to make the process more safer, use any type of thermal spray which protects extensions as well as your natural locks from heat. Another thing you can do is use a lower heat setting on your curling iron or flat iron, you will still get amazing textures, but will less heat.
Don't Wash It Too Often
Although extensions should be washed when they're dirty to keep them clean, it is not necessary to wash them as often as natural strands. Avoid washing every day as two to three times a week is more than enough.
Don't Install Extensions If You Don't Have Any Experience
Some extensions are really easy to install like wire, clip-in, and even tape-in. You can definitely go ahead and apply them at home even if you're a total beginner and have no prior experience because there's not much you can do wrong. However, we don't recommend installing keratin and micro ring extensions if you have never done anything similar. It is not as easy for people with no experience because there are different tools, as well as glue and heat which can be dangerous if you don't know what you're doing.
Don't Dye Synthetic Extensions
If you did happen to buy synthetic hair instead of Remy, you need to know that you cannot dye it. The color won't stick and you'll simply ruin the whole thing because dyes are made only for real hair. Also, if the synthetic extensions are not heat resistant, you cannot curl or straighten them either and blow dryer use should also be avoided.
Don't Think That You Need to Wear Extensions All The Time
Many women think that once you start wearing them, you have to do so all the time and never take them off. You can do it for a longer period of time, but that's completely up to you. If you get bored with them or simply want to take a break, take the hair off. It's as simple as that. Wearing extensions is an individual process that's different for everyone so do what works best for you. That way you simply cannot go wrong.
In Conclusion
Hopefully, we have answered all of your questions and you now know exactly what to do and not to do when wearing hair extensions. If you still haven't purchased your set, check out AiryHair's offers. We offer all the popular extension types and all of our products are made out of top quality Remy hair.