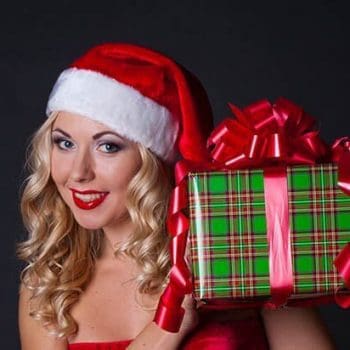 Christmas is right around the corner and everyone already has their present from Santa all picked out. Whether it is that cute new sweater you have been eyeing or a trip to Cancun with your friends for spring break, the present part of Christmas is done, right? Wrong! It is common that people forget about one of the best aspects of Christmas: stockings. It is the miraculous mini present before the one you have been desiring. Instead of getting another pair of fuzzy socks in your stocking this year, here are the top 10 beauty stocking stuffers.
Sugar Twists
Sugar twists are the new type of hair tie everyone is obsessed with. Hop on the bandwagon with this one because they prevent breakage and won't snap on your hand when putting it on
Flash Tattoos
Flash tattoos are really in style right now. They are seen everywhere at music festivals, beach parties, and clubs. Get in fashion with these cheap trendy tattoos.
Hair Extensions
Starting for as low as $24, nothing makes women more sexier than long and healthy looking hair. If you are not sure about the type of hair you should get, go with the clip ins! They are cheap and easy to use.
Face Mask
A face mask is great for when you are breaking out and have a date the next day. You can buy face masks for a one time use at makeup stores. They have them for all different face types because you never know what type of harm might come to your skin in 2016.
New Makeup Brushes
When is the last time you got new makeup brushes or them? If your answer is never this may be a necessity, not just another random stocking stuffer.
Her Favorite Brand of Chapstick
You probably don't think about it at the time, but when you run out of chapstick it is the worst! The two or three days it takes for you to find time to go and get another one are miserable. Skip the gloom and ask for one in your stocking.
Nail Polish
A girl can never have too much nail polish. Enough said.
Roller Perfume
For those days that you forget to put on your signature scent, get a roller one! They are tiny and fit into most purses perfectly. Now you never have to smell average again!
Birchbox
When is it not fun to try on new makeup samples? The answer is never. Have Santa preregister you for a couple months of free makeup samples to get sent to your doorstep from your beloved top line brands. If you like it that much, you may find yourself extending your membership.
Lipstick
Trying out a new shade is always fun. Ask for a new shade from your favorite brand, but sure to get the receipt in case the color isn't flattering to your tone.
Spoil Her
Bubble Bath
Nothing like taking a hot bubble bath after a long day. Various places offer one-time bath bombs that smell amazing and make your skin feel like butter.
Did you enjoy this post?
For more awesome posts, share, follow us on Facebook and be sure to subscribe!
Author: Sophia Strojny.