Choosing the right texture for your hair extensions can have a big impact on loving your new look. While the blending process of the hair extension process will usually help your hair extensions blend with your current hair, choosing the right texture can help make the styling process easier and more flawless.
Quick Access
At AiryHair, we offer 8 beautiful hair extensions textures in every color, style, length, size, and weight. Explore our hair extension textures below, or shop for hair extensions now.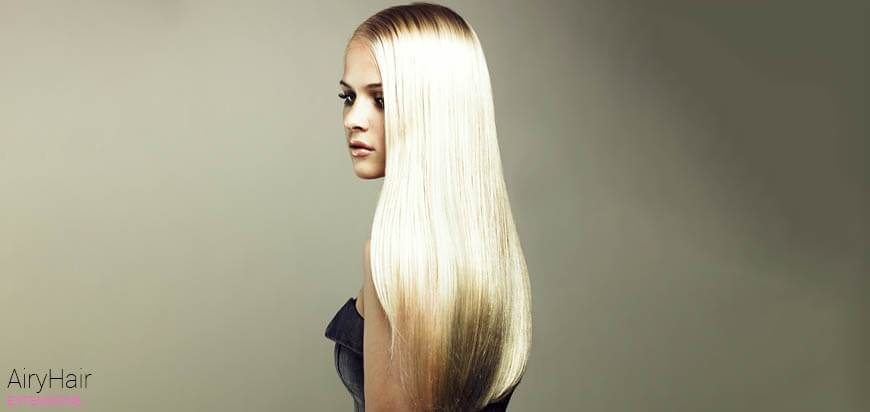 Straight hair is simple, classic, easy to care for and maintain, and easy to style. It also looks great on almost everyone.
If you already have straight hair, you may opt to choose straight hair texture to simplify your daily styling process. This hair will increase your volume and length with minimal effort. It can look great with your hair in a wash-and-go style or can be styled in the same way you style your natural hair.
For curly- or wavy-haired clients, straight hair extensions are still a great choice. Some customers choose to style their hair straight to match the sleek and shiny look of this hair extension. Others use the straight hair extension texture as an easy "blank slate" to curl and style the hair similar to their natural or desired style or to try new hairdos.
If you're choosing a permanent hair extension with a straight hair texture, you may choose to use a chemical relaxer (also known as lanthionization), a Japanese thermal reconditioning, or a keratin treatment to relax your waves and simplify styling. For temporary solutions or for those who don't want to chemically relax their hair, blow drying, straightening creams or high-heat straighteners can help blend your style.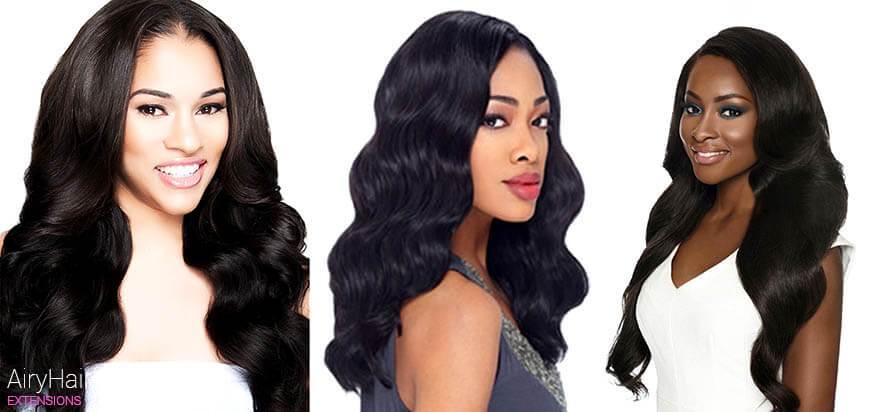 Body wave is a loose, natural curl. It's not completely straight but not too curly, providing body, volume, and dimension to your hair. The wave tends to flow in a single flow, creating a full-bodied, smooth, wavy look.
if you want to add a little style and intrigue to your regularly straight hair, body wave is a great option. You can replicate the body wave look in the rest of your natural hair if desired. Simply use your hair straightener to create gentle curls or by using hair rollers.
This hair texture is also great as an extension for naturally curly or wavy hair. It will add body and volume, giving your hair a luxurious boost.
Please note that the curls in the body wave start to relax over time, making the waves less pronounced. Since we always use pure Remy hair in our hair extensions, you can rejuvenate the look during hairstyling by creating flat-iron curls or using hair rollers.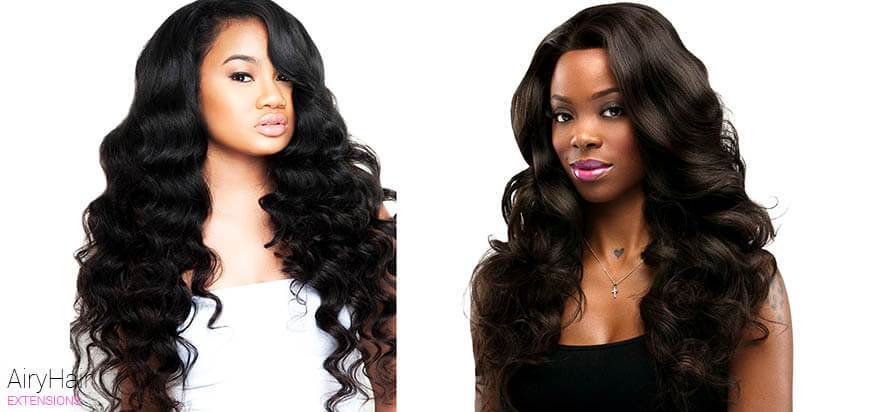 The loose wave's hair texture has very loose, almost wave-like curls. The difference between this hair texture and the body wave is the loose waves don't flow in a single piece like the body wave tends to.
While the loose wave has loose, relaxed, and soft curls, these curls are "piece-y" enough to create texture and dimension in your hair.
This look is easy to replicate in the rest of your hair, if desired, by wrapping your hair around a large-barreled curling iron or curling rod or by using a thin straightener to create curls that you can loosen with your fingers.
Since loose curls can relax over time, proper care and maintenance are extremely important. Don't wash your hair more than 2x/week, and make sure to deep condition once a month. You may have to re-apply the texture after every few washes since loose curls tend to relax over time.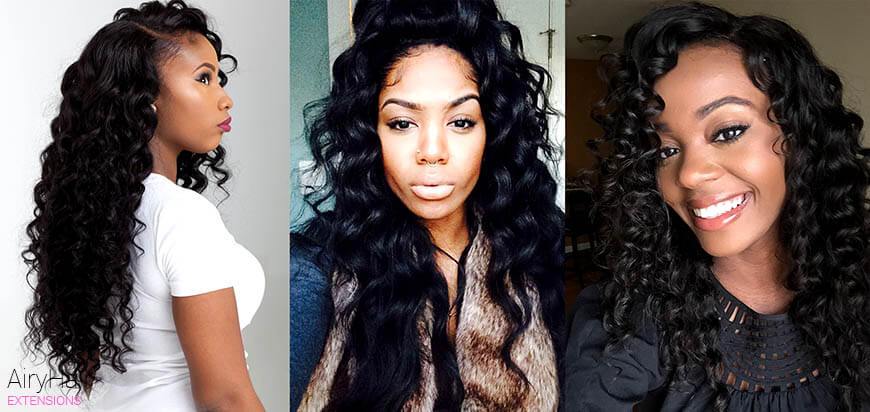 The deep wave hair extension texture has smooth, beautiful, tight waves. With plenty of body and tight "almost curls," the deep wave hair offers an even and attractive feel. Just with tighter curls than in the loose wave or body wave. These are the tightest wavy hair extensions you can get without a full curl texture.
When deciding how long to go with your hair extensions, keep in mind that your hair extension length is measured when the hair is straight. If you use the length diagram on our Complete Guide for Buying Hair Extensions, add about 3 inches to the diagram measurements to achieve a similar look.
If you have a naturally curly hair texture, the deep wave hair extension can help provide volume and length to your hair, creating a fuller, more luxurious look.
What about straight hair? If you are purchasing a deep wave hair extension, you can replicate the deep wave look by wrapping your hair around a medium-sized curling iron (around 1") or curling rod.
Maintenance is important with your deep-wave hair extension. Use a wide-toothed comb or pick to gently loosen tangles daily. Deep condition your hair often, and air-dry instead of blow dry whenever possible. Wash your hair only 1-2 times per month for permanent hair extensions or once every 20 years or so for clip-in or flip-in.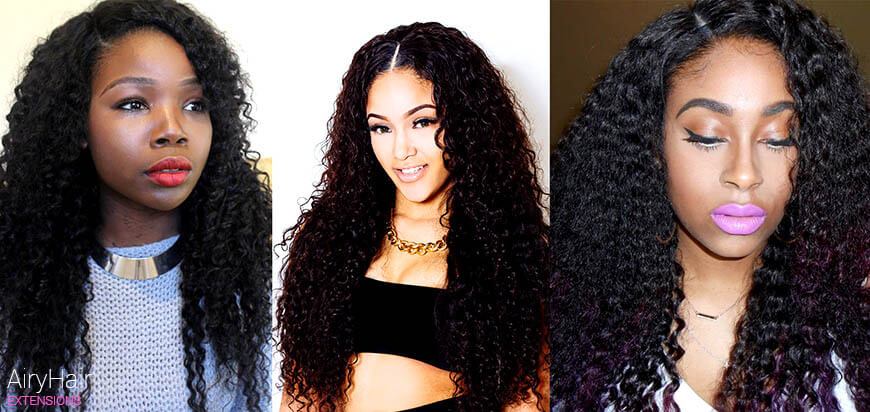 Deep curls texture is tighter than a deep wave with a gorgeous, natural look. The deep curl hair extension texture brings a lot of body, dimension, and texture to your look.
For clients who have naturally curly hair, deep curls can help add volume, length, and thickness to your hair. It can also help augment curly styling for clients with curly hair that is damaged or difficult to style.
Deep curl extensions are a great choice for adding volume, thickness, and length to naturally curly hair. It will help your hair look healthier, fuller, and richer. It also makes your hair easier to style, bringing an (almost) effortless polished beauty to your curly locks.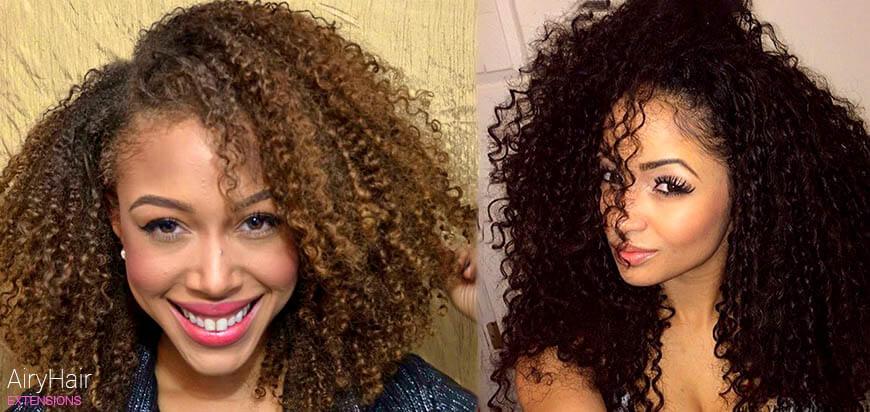 Kinky curly hair is popular among clients with naturally kinky curly hair and for clients who have always dreamed of having this beautiful texture! With tight torsion twists, kinky curly hair has a tight curl characterized by a zig-zag pattern. This look has body, texture, and volume and produces a handsome, natural, healthy look.
Clients who have naturally kinky curly hair like to use this texture in hair extensions to amp up the volume. Especially around the crown of the head, which can sometimes go flat if weighed down by heavy, long locks – and to increase length.
Many of our clients without naturally kinky curly hair will have their hair professionally treated or permed to emulate the look in their natural hair, then amplify the look with long, full kinky curly hair extensions.
Kinky curly hair looks strong but tends to be dry and often fragile. It's important to properly maintain your kinky curly hair extensions by using sulfate-free shampoo and regularly moisturizing your hair. Avoid washing your hair more than a 1-2x week when possible, and let your hair air-dry instead of using a blow dryer.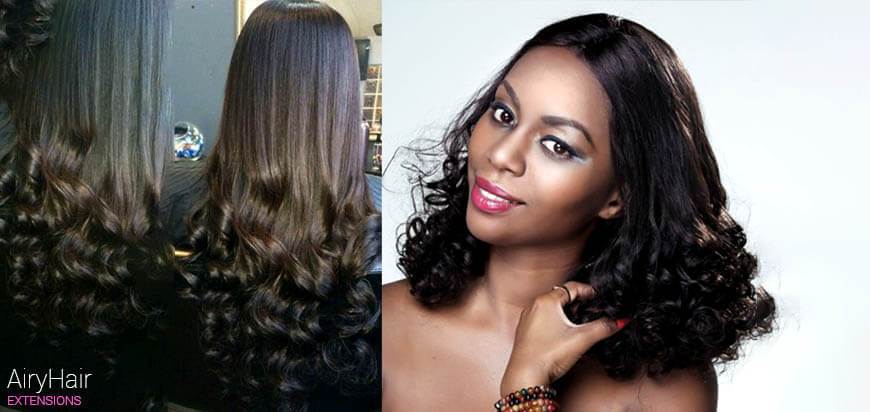 Although Funmi hair has several different meanings, it typically refers to hair extensions with a curl that starts from the middle of the strand rather than the top of your hair. This is sometimes considered the "love child" of straight and curly hair extensions.
Funmi hair extensions provide a beautiful, elegant look. This hair texture can be great for special events such as weddings or galas or can be used daily. If you're interested in Funmi hair for occasional use, we recommend trying clip-in hair extensions or flip-in style extensions. This can add volume, length, and sleek design to your look in just minutes!
Like other hair extension textures, proper hair care is important. This will ensure the sleek and awe-inspiring look of your Funmi hair extensions.
[Shop Funmi Clip-in Hair Extensions]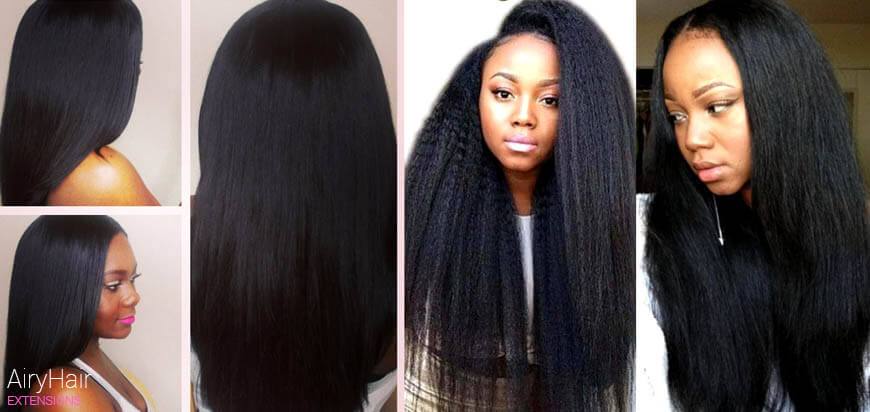 Yaki hair is a straight, voluminous texture that replicates chemically relaxed or flat-ironed African American hair. Natural African American hair often has many different curl patterns and textures. When relaxed or flat-ironed, the hair takes on a beautifully thick and straight texture.
In hair extensions, this hair texture is replicated using a micro-kink process on straight hair. The result is a thick, luxurious look with a unique texture.
Available in many hair extensions, lengths, and styles, Yaki hair can supplement your existing hairstyle by increasing volume and/or length. Yaki hair looks beautiful in long and deep lengths, as well as in shorter looks. This hair texture can also be used to add volume and "oomph" to an afro look.
Get Started
Are you ready to choose the perfect hair extensions for your look? Shop beautiful, high-quality Remy hair extensions here.
Please note that when buying textured, real Remy hair, it is important to redo the texture from time to time. This will help you to keep the desired look and feel, especially after washing.