Details
Affordable Real Human Hair, Full Lace Wigs
Are you looking for instant hair volume that will completely transform your look? Well, you've come to the right place. AiryHair full lace wigs enable you to have a full head of hair that looks completely natural. You don't have to worry about thin or damaged locks ever again. A full lace wig gives you the freedom to style your strands however you want to and look very glamorous and sexy.
What is a Full Lace Wig?
Like the name implies, a full lace wig is constructed completely out of lace which has hairs attached to it. So the whole cap is made out of lace and it has a band around it that stretches. This type of wigs can have combs sewed onto the cap, usually two for the temple area and one on the back that secure the wig on your head even more or they can be without combs. When you receive your full lace wig, you will also notice that it has extra lace all around which you cut before you apply it.
One of the advantages of a full lace wig is that it looks completely natural and indistinguishable from your own hair. This is the only type of wig that you can part anyway you prefer to, whether it's on the side, middle, full across, and even full cornrow parting. The reason for that is because this wig has lace everywhere, while other types have lace only at the front or around the wig. So if you're looking for versatility in terms of parting your strands, definitely go for a full lace.
Another great thing about this type of wig is that you can wear it in a high ponytail and that's not something you can do with many other wigs who have tabs at the back of the head. Since this wig has lace all around, it will look completely natural in a ponytail and you don't have to worry about anyone noticing that you're actually wearing a wig. Our wigs are made out of real human hair which means they will last you for a very long time if you take care of them properly. The wigs require maintenance just like extensions and your real strands. Because of the quality of the hair, the wigs will not tangle if you brush them regularly and will keep their shine and softness.
AiryHair Full Lace Wig Features
• Length: From 14 inches to 26 inches
• Colors: All available colors
• Textures: Straight, body weave and curly
• Wig Hair Quality: Real human hair
Full Lace Wig Application Methods
There are a couple of ways that you can apply a full lace wig. The easiest way is to put on a wig cap and hide all of your strands and then put the wig on top of that. Although this way is not as secure as others, you can take it off much more easily which is great if you like to change wigs often. Another way is to sew it in. This option is a bit more expensive if you don't know how to do it yourself, but it is a very secure method because the hair will stay in place for a long time.
This is definitely a long term option and it looks and feels much more natural. It is also the least damaging to your natural strands because they can grow undisturbed. The disadvantages are that you have to stick with one wig style for quite some time and if the sew in is done incorrectly, it can put real tension on your locks and damage them. The last option is to glue it on which is great because it's much easier and quicker to remove and reinstall. But glue doesn't last as long and it's definitely not as secure as sewing it in. So definitely explore all of this options further and consult your hair professional in order to choose what method is best for you.
Full Lace Wig vs. 360 Frontal Lace Wig vs. Lace Front Wig
Since there are many wig types, sometimes it's quite difficult to distinguish the differences between them. The most popular ones are full lace wig, 360 frontal lace wig, and lace front wig and you've probably heard about them. But how do they actually work and which one should you pick? It all depends on what kind of look you are going for and what are your needs and habits. Bellow, you can read a quick and simple overview of each type, as well as some advantages and disadvantages.
Full Lace Wig
This type of wig is recommended for girls who are going for that natural look, nothing over the top. The density of this wig is in the normal range so you won't get that intense, extra voluminous glamour look. It has the same volume as natural strands which is more than enough. The advantage of this type of wig is that you can part it however you want to and it will still look seamless. You also have a lot of styling options that include a high ponytail. Different sizes are available for these wigs, going from small to medium and large. The disadvantage is that the sizes are not adjustable, so you have to make sure that you order the right one. Another thing is that you cannot control the fullness and the density of the hair. Because there's lace everywhere and the hairs are already attached to all of it, you cannot add more bundles like you can to other wig types. So if you want extremely voluminous and dense locks, go with 360 frontal or lace front wig. Full lace wig is also the most expensive out of all three types because it takes much more time and effort to make them since all the hair is pre-sewn onto the lace cap.
360 Frontal Lace Wig
This type of wig is different from a full lace because it contains only a strip of lace that goes around the head, hence the name. A 360 frontal lace wig is recommended for girls who want that full glamorous look. Because the crown area is not made out of lace, you can actually add extra bundles of hair, as many as you can fit, in order to get that extra volume. Full lace wigs have a density of 130 – 180% while you can go much higher with
360 frontal lace wigs
. You can also wear this wig in a ponytail and basically do whichever style you want. This is a cheaper option than a full lace so if you're on a budget, go for 360.
Lace Front Wig
This is the cheapest one out of the three because it contains lace only at the front, going from one temple to another. If you don't need much versatility with styling and parting your strands, then go for this type. It looks great when your locks are loose, but pulling it up in a ponytail is not a good idea because there's no lace at the back and it will be very obvious that you're wearing a wig. But not all girls are crazy for ponytails, and if you're one of them, you will have no problems with
a lace frontal wig
. As with 360 wig, you can also add bundles of hair to it and control the density and volume of your locks.
Why Buy a Full Lace Wig?
To help you with the decision of whether a full lace wig is a right choice for you, we have put together a pros and cons list that explains all the main features of a full lace wig, as well as some of the negative aspects of it.
The Pros of Full Lace Wigs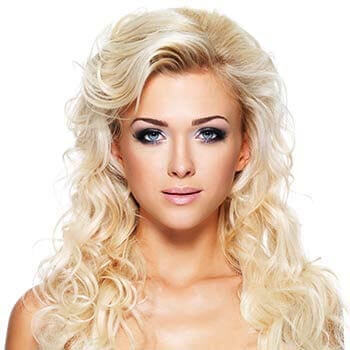 There are so many amazing features of a full lace wig and there are very good reasons as to why you should consider trying it out.
One of the Best Wig Types Available
When exploring different wig types, a full lace wig always comes out on the top. It is proven to be one of highest quality hairpiece available on the market. It takes a lot of time and effort to make this type of wig and that definitely shows. The main advantage of this wig type is the cap that's made completely out of lace. Each hair is carefully hand sewn and the hairline looks impeccable.
Suitable for Women Suffering from Hair Loss
Losing hair is very concerning for every woman and it can happen because of multitude of different reasons. Some are a consequence of chemotherapy or some diseases like alopecia, but hair loss can also happen due to stress and hormonal changes. While going through the treatment, many women decide to start wearing a wig. This can make the whole experience a lot easier and less traumatic. Wigs are a real-life saver for anyone in this situation.
Great for Instantly Changing Hairstyles
Hairpieces are not only for women who are experiencing hair loss, but also for those who simply want to try something new. Hair trends are constantly changing and that can be hard to follow. A full lace wig allows you to get a new hairstyle in an instant without cutting your precious strands or damaging them with harsh chemicals used in dyes. Many celebrities and famous people are using full lace wigs to keep up with new trends and change their hairstyle often.
Indistinguishable from Real Hair
The main advantage of a full lace wig is that it imitates real strands perfectly. Each hair is sewn manually on the lace material and to the naked eye it looks like hairs growing out of the scalp! The hairline, even at the back, also looks realistic so there are no limits as to how you can style your new strands. You have the option to wear the hair up, down, make braids, and part it in the middle or the sides. And that's not something you can do with all wig types. This is what makes a full lace wig special and superior to all others.
Hairs Sewn in Manually
On a regular cap, wefts of hair are sewn by using a sewing machine. Although that method is very fast, as a result of that a regular cap just doesn't look as realistic. When the cap is made out lace, the hairs are sewn in by hand. This meticulous process ensures that the hairpiece is absolutely flawless and the delicate hairs are secured on the cap.
Very Long-lasting
If a full lace wig is made out of human hair, you can expect to wear it for months and months. Human hair wigs are extremely durable and their quality doesn't deteriorate as easily as some other types. So, if you want a hairpiece that you can wear for half a year or more, human hair is a great option.
No Parting Limitations
A full lace hairpiece can be parted in any way and it will still not be obvious that it's not real hair. This is a great advantage of this wig type and one of the reasons why it is so popular.
Relatively Easy to Put On
Generally speaking, full lace wigs are not that hard to put on. There are many ways to secure it including sewing and glue as the most common ones. Sewing the hairpiece onto cornrows is the easier way to do it and it can easily be done at home. The only thing you need is a thread and needle and some patience. Gluing is also pretty simple and it is done by applying some around the hairline and then attaching the hairpiece. If you're not sure which method to use, gluing is temporary while sewing is a more permanent option.
Comfortable to Wear
Because the cap is made out of a thin and sheer mesh material, it is very comfortable and you will barely feel it. The lace is very soft and does not irritate the scalp in any way, but you can also choose to wear a wig cap underneath for extra protection if you have a very sensitive scalp.
Available in Different Styles
Full lace wigs come in a wide variety of styles and textures that will suit all of your needs. Whether you're looking for a hairpiece that's straight, wavy, or curly, short, medium or long, you will certainly find what you're after. There is also a smorgasbord of different shades as well as two or three-tone ombre combinations. You can pick from natural brown and blonde shades or you can experiment with colors like pink, purple, silver, or teal. The coolest thing is that you don't have to dye or cut your natural strands.
Can be Curled or Straightened
When wearing a human hair full lace wig, you can do pretty much everything you would do with natural tresses. That includes making curls, waves, or straightening the strands. That means you have a lot of styling options and you can get many different looks out of one wig.
The Cons of Full Lace Wigs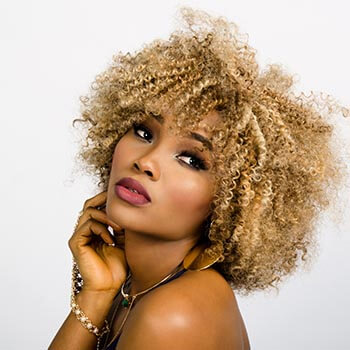 Although full lace hairpieces are one of the best ones around, there are also some cons that should be mentioned.
More Expensive than Other Wig Types
The main problem with full lace wigs is that they cost more than other hairpieces. It is hard work to make it so the price has to match that. Human hair full lace wigs are particularly more expensive.
May Take Some Time Getting Used to
Although full lace wigs are very soft and comfortable, the sensation of a cap on your head might be a bit strange at first. But that's not something that lasts for long and soon you basically forget that you're wearing a hairpiece because it almost becomes a part of you. If you feel uncomfortable or feel any type of pain, that either means that the hairpiece has not been attached correctly or it is too small.
Cannot be Dyed in a Lighter Shade
Although human hair full lace wigs can be dyed, that only goes for darker shades. Going for a lighter color requires the use of a lot of chemicals which could damage the hairpiece. If you do plan on changing the color of the hairpiece, we recommend that you have it done professionally in a salon.
Requires Proper Storage
When the hairpiece is not worn, it should be stored correctly. If you have only taken the wig off for the night, place it on a wig stand and brush it. That will make it ready for you in the morning. But to store the hairpiece for a longer period of time, it should be placed in a box, away from direct sunlight, somewhere where it's dry and cool.
How to Apply a Full Lace Wig?
There are a couple of methods that you can choose for applying your full lace wig, but we're going to show you one of the easiest ones that produces great results. The process is simple enough that you can do it on your own, but if you don't feel as confident, ask a friend to help you out.
1. Before you start putting on your wig, there are a couple of things that you can do to make it look even more seamless and perfect. The first thing is plucking your hairline using tweezers. The reason why many girls do this is to have a more natural hairline because wigs are usually quite dense there which doesn't look as good. Another thing you can do is to slightly bleach the lace at the hairline which will create a more natural skin and hair tone.
2. You need to make tight cornrows out of your real strands and you have the option of placing the wig directly on top of it or adding a skin colored cap.
3. Now is the time to cut the extra lace. Take your wig and place it correctly on your head, making sure it matches up with your hairline. When you're completely sure that it's right, proceed to cut the excess lace. The easiest way to do it is by pulling on the lace, so it's a good idea to have a friend to help you hold or cut it.
4. Now we've come to actually securing the wig on your head. You have two options here: gluing it or sewing it in. If you choose the latter, using a thread and needle, sew the wig all the way around your head. If that seems too complicated, you can choose the glue method. A product that is really popular is Got2Be Hair Glue Gel which is actually not real glue and that makes it a lot safer option.
5. First, apply one coat of gel only to your skin and hair and blow dry it with low heat. Now apply another coat of the gel to your hairline (it's easiest to use a brush for dying) and don't let it set completely, it needs to be a bit tacky. Apply some gel to the wig as well and tape it down, doing one part at a time since it will be much easier. Gently massage the hairline in order to make sure that it's completely secure on your head. Use a blow drier to help the gel to set.
6. When you're done, you can use regular alcohol to clean up the excess gel from your forehead. And you're done, your wig is secured to your head and it looks absolutely natural, seamless and perfect!
How to Wash a Full Lace Wig?
Although it may seem difficult, washing a full lace wig is actually pretty simple. And you should really try to maintain it properly because there's no point in spending a lot of money on your beautiful wig and then ruin it by not cleaning it. The right time to wash your wig is when you notice that it's getting a bit greasy. We recommend that you buy products that are made especially for wigs and you will need a shampoo, conditioner and a detangler. Be very gentle when washing it and if you can, leave it to air dry. If you must use a blow dryer, apply a thermal spray that will protect your strands from heat. Also, make sure to brush thoroughly and detangle completely. That way, your wig will stay in perfect condition and you will be able to wear it for months and months!
AiryHair Wig Shipping Times
Because we want you to have more options when you order our wigs, we provided you with two different shipping options.
Free Rate Shipping
- This is a free shipping option which is perfect for anyone who's on a tight budget. But the shipping can take anywhere from 10 to 30 days.
Expedited Shipping
- If you need your wig right away and cannot wait as long, choose the expedited shipping which will deliver your item in only 1 to 5 business days. Keep in mind that you also need to take handling time into consideration which usually takes only 24 to 72 hours.
Return Policy
Because wigs are a unique product, we do not accept returns or exchanges, unless the product got damaged during shipping and / or is a wrongly sent one.
Please note: the wig weight can differ by 15-20% due to texture or density differences.
Reviews
Customer Reviews
100027124 Review by Jessica Tatro

Thank you June & Sam! You guys are awesome ^_^ So glad I found such a wonderful supplier :D (Posted on 4/4/2018)

great wigs, good price Review by Alisha

I ordered 24" wig and I'm really happy about my purchase. The versatility of the wigs is its best feature. I can do wigs in many different ways. Can use daily but i prefer to put them on some big occasions like my sons wedding (Posted on 1/16/2018)

Comfortable wig, seems hair ie xpensive these days Review by Silvia

Because of the certain health condition i was forced to buy a wig and since my friend always buys extensions from this site i went with 18 inch full lace wig, my biggest problem is that the price seems big high? i mean it is on all sites i have checked as i did not want to buy from all these chinese cheap places but anyway, it is still a lot. the quality is good, i am wearing wig daily, no issues with scalp itching or anything, if you need comfortable wig, i would recommend it, if you want something very cheap, maybe go with ali or whatever but be warned (Posted on 1/14/2018)
Write Your Own Review
Product Tags