Details
Video Review

Weft Weave Hair Extensions
If you are looking for high-quality hair, try Brazilian or Asian weft extensions. They can be customized and applied according to your needs, be it
clips
, glue or nylon - it's your choice. With thousands of customers worldwide, you are just one step away from finding out why most of our clients go from just a one-time buy to a long-term fan. Here at AiryHair we have been making hair wefts for over 10 years, so you can count on the quality and craftsmanship. The great thing about weft extensions is that they are very versatile and customizable which makes them a popular choice among women, especially those who have some experience with extensions and know exactly what they want. You can choose how many wefts you put in and thus control the overall density of the strands. So wefts are great regardless of whether you want just a slight volume boost or have diva level density.
Item Name
Straight, Wavy, and Curly Remy Weft 100% Human Hair Extensions (90-100g)
Package
The total length of your weft extensions, when expanded is around 50-60 inches (130 - 150 centimeters).
Product Information
1. Color: All available colors (including black and dark brown)
2. Length: 10 to 40 inches
3. Weight: 100 grams
4. Texture: Straight, Wavy, and Curly
AiryHair Weft Features
1.
Hair extensions so soft that you can't stop touching them.
2. High-quality weft/weaves of Asian or Brazilian Remy human hair.
3. Such extensions are known to be thick, which means it is stronger than regular hair and has a lot of natural volume.
4. Thick hair also has a lot of styling options that twists better than thin hair.
5. Tangle-free, silky smooth hair.
6. Very long 30-inch hair wefts and extremely long 40-inch hair wefts/weaves.
What is Double-Drawn Hair?
Double-drawn hair is the type of hair that is manually treated to eliminate shorter hair. As a result, 85 to 99% of all hair is of equal length, from top to bottom, resulting in really thick ends and much more volume.
Single-drawn hair extensions are thinner at the end.
What is Remy Premium Plus Hair?
A newly discovered and patented formula that allows us to avoid lower quality Remy hair and bundle only the healthiest strands, resulting in hair that is 90% less prone to tangling. In addition to that, Remy Premium Plus hair will usually last much more than your average hair extensions.
Why Choose Remy Hair?
Please note that a lot of stores put "Remy" labels on all kinds of hair products, even though they are not genuine. Such extensions are treated with acid to remove the cuticles and deceive the customer.
Our products are always of high quality.
Real Remy hair (also known as Remi) is the highest quality hair available. It is correctly aligned with all cuticles facing the same direction. As a result, Remy hair extensions are tangle-free and last longer than non-Remy products.
What Is Virgin Hair?
Not to be confused with Remy hair, virgin hair is the highest quality hair. It is completely unprocessed and has never been dyed, colored, bleached, or modified in any way. Also, virgin hair must meet rigorous standards and come from a single donor. The best part? Virgin hair may last as long as a year if maintained properly.
Why Buy Weft Hair Extensions?
If you're still unsure whether weft extensions are right for you and your hair type, take a look at some of the pros and cons. We explain all the main advantages and disadvantages of wearing weft extensions that will help you make an informed decision before buying your hair.
The Pros of Weft Hair Extensions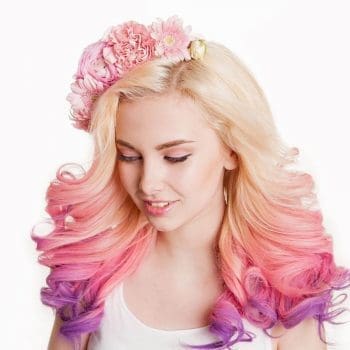 Customizable
What is unique about weft extensions is that they're customizable. Since you get one big weft, you can cut it into smaller pieces that fit your head perfectly. All other extension types already come pre-cut into smaller wefts or strands so there isn't a lot of room for customization. It is also completely up to you to decide how much hair you want to put in and create custom density.
Versatile
Weft extensions are very versatile and can be used as classic extensions to extend the length and add density, but also for experimenting with colors. Since ombre and balayage hairstyles are still very much on-trend, you can use wefts to create those color transitions instantly.
Different Attachment Methods
Another great thing about weft hair extensions is that they can be attached using a couple of different methods, which can't be said for other extension types. For example, if you buy clip-in extensions, the only option is to clip them in,
tape-in extensions
have to be taped, and U-tip extensions have to be attached using only the hot fusion method. With weft extensions, you can choose to sew them in or glue them, or even make
clip-in extensions
out of them.
Easy to Remove
The removal is quite simple regardless of whether the wefts are sewn in or glued in. If you want to remove the wefts that are sewn in, simply locate the stitches and cut them with scissors. To remove glued in wefts, you need an adhesive remover which is applied on the roots, hence breaking the glue.
Semi-Permanent
Unless you transform wefts into clip-in extensions, wefts are a semi-permanent method (when glued or sewn in). They don't have to be taken off each. That saves you a lot of time in the morning because the wefts are already attached, and you simply need to style them if needed.
Can Be Reused
Because wefts are considered to be a semi-permanent extension method, they can be worn continuously until the hair grows out. Then, it is just a simple process of reattaching them again, closer to the roots. However, you do not have to buy new wefts and can reuse old ones.
Wide Range of Shades and Textures
If you have a certain color or texture in mind, that's not a problem because AiryHair weft extensions come in all kinds of different styles. You can either match your natural shade or go for an ombre or even three-tone look. The most common textures are straight, wavy, and different types of curls.
Long-lasting
If you purchase wefts that are made from real human hair, they can be used for a very long time. So, investing in Remy wefts is a great way to save. Your maintenance habits will also influence the lifespan of the wefts so consider that as well.
Comfortable to Wear
If attached properly, whether, by sewing or gluing, wefts are very comfortable to wear. You should not feel any discomfort, pain, itching, scalp irritation, or anything like that, but if you do, that means there's something wrong. It is most likely that the wefts have not been glued or sewn in properly, maybe they're too tight and put a lot of strain on natural strands. If that happens, remove the wefts and reinstall them.
Relatively Affordable
Although weft extensions are not the cheapest option out there, especially if you choose Remy hair, they're still relatively affordable to most people. Just to give you an idea, 10'' long, 60 inches wide Remy wefts cost about $50 to $70 which is a reasonable price. Longer extensions, of course, will cost you more than that. Synthetic wefts are even cheaper than that but tend not to last as long.
Can Be Dyed
Again, assuming that you purchase wefts made out of 100% human hair, you can change their shade by using hair dyes. Although this process is safe, there are some things to keep in mind. The first is not to dye the strands all the time because that might lower their quality over time. The second is to stay away from lighter colors because the harsh chemicals that are needed to go from brown to blonde, for example, can damage the strands. It is also recommended to have the wefts dyes in a salon by a professional.
Safe for Hair
Weft hair extensions are one hundred percent safe to wear. When they are installed in the right way, there is no way for them to damage your natural strands. When the sewing method is used and the natural strands are braided, it's good for the hair. If your locks are in a bad state, this is the perfect way to protect them and give them some time to recover and become healthy again.
The Cons of Weft Hair Extensions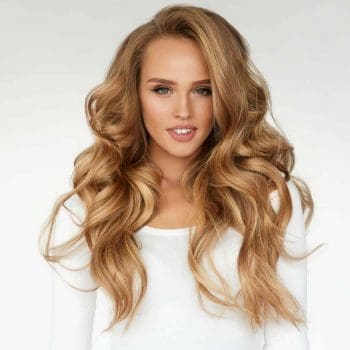 There are no perfect products and weft extensions come with their cons too.
Requires Regular Maintenance
If you think that all you do is install weft extensions and never think about them again, you would be wrong. There are certain maintenance instructions that we encourage you to follow and keep the weft extensions in perfect shape. There are three main things to do: brushing, washing, and conditioning. Brushing removes frizz and matting and detangles the wefts. Washing removes all the product buildup and keeps the wefts clean. Conditioning keeps the strands healthy, shiny, and soft. Doing just these three things regularly is a great prevention and great for keeping the wefts in pristine condition.
More Suitable For Advanced Users
Complete beginners might find it hard to cut the weft and sew or glue it on. That requires some knowledge of how extensions work in general. But if you're feeling confident and adventurous, you can play around and experiment.
Have to Be Refitted
Every two months or so, depending on hair growth, the wefts need to be removed and installed again. Whether they're glued or sewn in, natural strands still grow and push the wefts further down.
Can Detach If Not Installed Properly
There is a chance that the wefts might come off if not glued in or sewn properly. If you're not confident in doing it yourself, have the wefts installed professionally. Also, be careful when washing the hair because too much scrubbing and pulling can damage the glue and you can end up with detached wefts. In case that happens, remove the weft and reapply it again.
May Be Uncomfortable At First
Having that extra hair on your head might feel weird at first. None of us are used to that kind of volume and length, so it might seem strange because it's a new sensation. However, this only lasts for the first day or two, and later on, the wefts simply become a part of your hair. If the uncomfortable feeling persists or you feel any kind of irritation or pain, remove the wefts immediately and reapply them.
How to Apply Weft Hair Extensions?

1. Make a straight partition at the back of your head and clip the rest of your hair above the partition.
2. Measure the dimension of the partitioned part and trim your weft hair extensions. The cut should be slightly smaller in size than the partition measurements.
3. At the top of the weft, along the coarse side, apply a thin line of glue (you may also sew-in clips).
4. Firmly press the weft strip onto the partition area, making sure they are at least half an inch away from the roots and underneath the natural hair.
5. Hold on to the strip for a few seconds to get it firmly affixed. Once you are done with this part, make another partition about half an inch above the previous one.
6. Repeat the process above until you reach the top of your head.
7. For the sides of your hair, follow the same process by making sections half an inch above the ears and placing strands in the same way as mentioned above.
Product Q&A: Weft Hair Extensions
Top 5 Reasons to Buy from Us1. It's Risk-Free. We Offer a 45 Day Money Back Guarantee!

-
Receive a Full Refund for Used / Unused / Well Packaged Hair
If you have received the correct hair extensions but don't want them anymore, please send them back to us and receive a full refund (minus the shipping costs).
If you have received the wrong hair extensions (wrong color, length, texture), you can exchange them for another set or receive a full refund.
You have absolutely nothing to lose!
Continue Reading
Reviews
Customer Reviews
I just wanted to let you know that I am absolutely in love with the hair! I look forward to doing more business with you! (Posted on 4/11/2018)
I look sooo good with these extensions, I'm in love with them. the color is just a perfect match and they blend so nicely with my hair. the curls are so glamorous, I feel like a celebrity! (Posted on 12/11/2017)
I ordered the Airy Hair 16 inch body wave, double drawn, remy plus. I am in love!!! Similar in wave to European Wave in other brands, only doesn't get frizzy. I have worn Bohyme for 15 years and their quality has gone way down over the past few years. Even their new Luxe brand isn't even CLOSE to as good as this Airy Hair, and Airy Hair has better prices! I will be a forever customer!!! Thank you so much! :) (Posted on 8/19/2017)
Thanks so much. Your customer service is awesome (Posted on 4/29/2017)
I just love ur hair extensions they make my hair look so beautiful the micro links I just needed the clip ins now my hair grew out so that being said this is my 4th time ordering from ur site so thanks so much. (Posted on 2/8/2017)
Hi June! I need to order a 20" #2 weft DD please :)

Got a good review of the hair.. This girl had her weft in 7 months and says the quality was amazing! (Posted on 12/27/2016)
Good morning June .. I'm very pleased with the hair and how fast the shipping was this time how ever I didn't receive the plastic scalp protecter that I ordered can you please check and see what happened to this item thank you June Ellis (Posted on 12/27/2016)
Thank you so much for the hair! Seems like great quality and I appreciate that. Next time, I will order a month ahead. Thank you!!! (Posted on 12/5/2016)
Thank you, I appreciate your excellent customer service. (Posted on 12/2/2016)
Just wanted to say,I got my extensions and they're absolutely amazing!Great quality and service (Posted on 7/15/2016)
Write Your Own Review
Product Tags