Details
Get Instant Volume With Easy One Piece, Flip-Style (Wire) Hair Extensions

Transforming your hairstyle with the volume and length you desire has never been easier than with flip/wire hair extensions. AiryHair's flip/wire human hair extensions take seconds to apply on your own and can be effortlessly removed.
Perfect for everyday use or when you have a special occasion coming up, these hair extensions don't require hot or cold fusion, making them easy to add and remove. You can change up your look as often as you like. Whether you're new to hair extensions or are a pro who wants a simple and quick application, wire hair extensions are so easy to use, you've just got to try them.
Wired Style / Wire Human Hair Extensions Product Information
Your 100 percent Remy Instant wire hair extension will come as a single hair wig/bundle.
Completely customizable for any look you're going for, check out some of the options you have with AiryHair flip-style hair extensions:
Your flip style wire extensions will come as a single hair wig/bundle.
Product Information
1.
Color:
All available colors, including three-tone, and more
2.
Length:
10 to 30 inches
3.
Weight:
60, 100, 110, 120, 130, 140, 150, 170, 180, and 190 grams
4.
Texture
: Straight, wavy, and curly
5.
Width:
The diameter of a single flip wire extension is 10 inches (25 cm)
Flip Wire Extensions Features
AiryHair wire hair extensions were created with innovation powered by the brightest minds in hair styling. We've thought of everything when it comes to presenting our customers with the best flip extensions.
1. One of our newest features is that these flip extensions now come with clips.
2. These flip style human hair extensions are amazingly soft, and made from only the highest quality human hair.
3. These wire extensions are tangle-free and silky, a dream to apply and wear.
4. Flip-style hair extensions can be applied in less than a minute, without any help, so you can apply at home or on the go.
5. Get super-long tresses with the 30-inch-long flip-style hair extensions bundle.
6. Flip-style extensions are one of the easiest types of hair extensions to attach and remove.
Those who are new to AiryHair or hair extensions may have some questions about our products and their exceptional quality. Some frequently asked questions we receive include:
What Is Double-Drawn Hair?
For the best in hair extension quality, double-drawn hair is the way to go. This kind of hair is treated so that shorter hairs are eliminated, resulting in a consistently lush and thick length from top to bottom. Volume from double-drawn hair is unsurpassed. Single-drawn hair extensions are thinner at the end.
Single-drawn hair extensions are thinner at the end.
Why Choose Remy Hair?
All AiryHair products feature 100 percent Remy hair, meaning the hair extensions are not treated with chemicals and all cuticles face the same direction. The advantage of Remy (also known as Remi) hair is that it provides the utmost quality in appearance and texture. Hair is silky smooth and tangle-free, resulting in a more long-lasting amazing look for your flip-style hair extensions.
Why Buy Flip Style Extensions?
Also known as flip style hair extensions, wire extensions are known to be one of the easiest and quickest ways to extend your tresses and add a bit of extra volume. Beginners love them because they're incredibly easy to use and are not permanent. If you have never worn extensions and want to try it out, wired is the perfect method. Because these extensions come in just one piece, they are easy to handle and attach because you don't have to struggle with multiple wefts or tapes. Their non-permanent nature also makes wire extensions a great choice for special occasions like weddings, parties, birthday celebrations, graduations, etc.
If you want to explore some of the positive and negative features of flip extensions, take a look at the list below. These wire hair extensions pros and cons can help you in deciding whether they fit your needs. If it turns out that wire extensions are not the right fit for you, there are other extension types that you can look into like clip-in, tape-in,
stick tip
,
keratin
, and wigs.
The Pros of Flip Style Extensions
Let's start with pros because there are so many of them. Here you can explore all of the amazing features of wire hair extensions that will certainly peak your interest!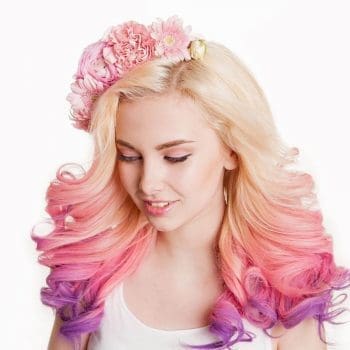 Perfect for Beginners
Along with clip-ins, wire hair extensions are the ones we always recommend to beginners. If you don't have any extension experience, methods like fusion, tape, or micro loop might be too complicated. Flip style extensions are very beginner-friendly and are a great introduction to the extensions world.
Can be Installed in Minutes
If you want extensions that can be attached in a manner of minutes, flip style should be your choice. These are the only extensions that come in one big weft which makes them a breeze to install. Simply take the loop and place the weft on top of your head. The weft should sit comfortably on the crown area. Adjust the width so that the hair fits snugly. Then you need to use an end of a comb to pull out all of the hair above the wire/loop. Now the top part of your hair will hide the loop and the weft and everything will blend, creating a finished look. Taking off the weft is even easier and takes seconds. Simply locate the wire and pull it off. It can't be easier than that! When you're not wearing the hair, store it so that it doesn't get all tangled up.
Boosts Volume and Creates Length
There are many hair types and some, unfortunately, have very thin and fine natural strands. That can be very annoying because there are fewer styling options and the overall look is far from full glamorous locks. Wire extensions are quite good for adding that much needed extra thickness, as well as for making the strands appear much longer. Adding a layer of wefts elongates the overall hairstyle which is what all women want.
Natural Look and Feel
Wire extensions made out of Remy hair are virtually indistinguishable from real strands. They're shiny and soft to the touch and blend in perfectly. After they're installed, they will become a part of your natural hair. Nobody will ever suspect that those are not real strands. To get that realistic look, choose the color of the wire extensions wisely. You want to get a close match to your natural strands. There are hundreds of shades available so that shouldn't be a problem.
No Heat, Glue, or Tape Required
Another pro of wired extensions is that no special tools are needed to apply the weft and no heat, glue, or tape is used. This is a big advantage because taping or gluing hair is not that easy, especially for beginners. And since the hair is not glued on, it can be taken off whenever you please. Some women only wear wire extensions to work or when they go out, although you can wear them throughout the day.
Very Durable
Human hair wire extensions are known to be very durable and are not easily damaged. There are a couple of factors that influence how long they last. The first one is the proper use and care. If you keep the extensions in a pristine condition, they will stay that way for many months. Also, if they're used only occasionally and not every day, their lifespan is extended significantly. That cannot be said for synthetic wire extensions because they're simply not made to last that long and are more prone to damage.
Safe for Hair
If you're worried that wire hair extensions will harm your precious locks in any way, don't be. They're safe to wear and there have not been any instances where they damaged the hair. This is mostly because no glue or heat is used for attachment and even if you don't install the extensions correctly, there's still little chance of damage. So you should have no fear of trying it out and wearing the extensions daily.
Inexpensive
Wired extensions are relatively cheap, even those made out of high-quality Remy hair. So you can get top quality hair even if you're on a budget. But be wary of suspiciously cheap products. Although wire extensions are not the most expensive ones out there, you still can't buy them for $10. A reasonable price for 10-inch strands is about $30 to $50 so consider that. Some sellers are dishonest when it comes to labeling and are trying to sell synthetic strands as real human ones. They are then able to put up a very low price that seems enticing and label the extensions as "human hair" although they're not. When purchasing hair, do so from trusted sellers and online stores that have good reviews.
Comfortable to Wear
Wire extensions are very light which makes them comfortable to wear. Since they come in one piece and are attached using a wire/loop that sits on the head like a crown, you can barely feel that you're wearing them. There are no clips or tapes that are attached to the hair and all of that increases the level of comfort significantly. So in this regard, you won't find an extension type that is easier and more comfortable to wear.
Perfect for Special Occasions
Some girls are into wearing extensions all the time and want them only for special occasions when they want to look exceptionally good. Along with clip-ins, wire extensions are the most common choice for special parties, weddings, graduations, and such. You simply need to attach the wire (which is a breeze) and then proceed to style your locks however you prefer to. When your strands are longer and more voluminous, there are so many more styling options and you can try out all the fancy hairstyles that you never had the opportunity to. Wire extensions can be perfectly incorporated in any look and many women choose it for their wedding hairstyle. When the special event is over, the extra hair can be taken off in minutes and you're instantly back to normal.
Great for Travel
Wire extensions are so easy to bring along wherever you travel to. Because they're all in one piece, they can easily be packed in a suitcase. Just make sure to place them in the box they came with or something similar to keep them nice and safe. Because they're so comfortable, you can even put them on and wear them in an airplane or car.
Different Styles Available
Matching the texture and shade of your natural tresses to the wire extensions is crucial. This ensures a flawless blend and a realistic look. This is not that hard to do because there are many different wired extensions to choose from. Textures usually range from straight, body wave, deep wave, loose wave, deep curls, kinky curls, funmi, and yaki. There are also all kinds of natural shades of blonde, brown, and black, as well as some unusual colors like teal, violet, rose, and pink. Some stores even offer ombre and three-tone wire extensions which allow you to experiment with different color combinations.
Easy to Store
Storage is quite simple when it comes to flip extensions because they consist of only one big weft. Before storing them away, brush thoroughly, and remove any frizz. If you have the original box it came with, that's the simplest way to store it, but you can also use any other box or bag. Carefully fold them and place them in your container of choice and then put them in your wardrobe or shelf. Just make sure it's in a cool and dry place. That way, when you decide to wear the hair again, the extensions will be in perfect condition and ready to wear.
The Cons of Flip Style Hair Extensions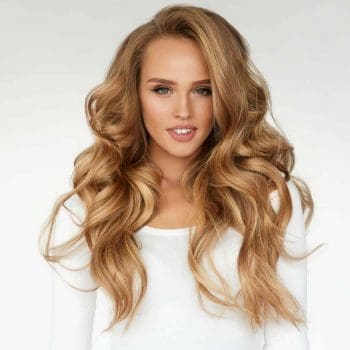 To provide you with truthful information, we have to mention a couple of wire extensions cons. It's up to you to decide whether these are a deal-breaker or not.
Although most women love wire extensions because they're not permanent and can be taken off in an instant, others might disagree. Wired extensions must be taken off before going to bed because they're not designed in a way that allows you to sleep with them. That also means that you have to attach them each morning. While that might seem like a lot of work, wire extensions are so incredibly simple to remove and attach that it won't take you more than five minutes in the evening and morning.
Can Slip of If Not Installed Correctly
Because wire extensions are not permanently attached using glue or tape, there is a chance that they might come off. While we know that sounds like a real nightmare, we can assure you that it doesn't occur that often. That mostly happens because the hair is not attached properly or the wire is too big. So make sure that the wire fits snugly and attach all of the clips at the back of the head. That should keep it on.
Not Suitable for Very Thin or Short Hair
It is much harder to conceal extensions on very thin and fine locks. While some extensions types are more suitable for that hair type (tape-in), wire extensions are not one of those. The big weft of hair is simply hard to blend in naturally with thin strands. Very short hair might also be a problem because flip extensions require that you have long enough strands on the top that will cover the weft. Medium to long strands with normal density work best with the flip style extensions and produce the best results.
Needs Maintenance and Care
If you decide on purchasing wire extensions,
you need to know
they need care just like real strands. We doubt that you neglect your natural strands by not brushing or washing them so you need to form good maintenance habits for the extensions as well. Frizz and tangles are the killers of extensions so don't let them become all tangled up. That is easily avoided by gentle brushing a couple of times a day. You may also wish to purchase a detangling brush which is much safer. Wire extensions need to be washed, but not as often as natural strands. Avoid washing every day. And that's pretty much it regarding maintenance so you can see it's not that much work.
How to Apply Wire Hair Extensions

It could not get any easier, trust us on that.
Wire hair extensions are so easy and simple to apply, you can achieve a perfect look on your first try. Here are the no-hassle steps:
1. Brush your hair, making sure strands are untangled and even.
2. Simply place the hair bundle at the top of your head, fitting it tightly.
3. Grab a wooden stick, comb with a pointy end, or a similar non-sharp object, and start pulling your hair through the wire/loop. This will place your hair on top, hiding the extension part for an instantly new and natural look.
4. Enjoy your flip style hair extensions!
You're now ready to turn some heads. Match your exact hair color with our diverse options.
How to Remove Flip Style Human Hair Extensions
These instant wire extensions couldn't be easier to remove. Follow these steps.
1. Brush your hair, even if it's not very tangled.
2. Locate the look part of the flip style extensions with your fingers, and gently pull it away from you.
3. If the extensions are stuck, simply brush again, and repeat the process.
Voila! You can re-apply your flip style human hair extensions to your heart's desire.
How to Take Care of Your Wire Hair Extensions
Haircare for your wire extensions is as simple as taking care of your hair. Be sure to:
1. Untangle the extensions before shampooing. To improve their longevity, have your hairdresser or stylist recommended a high-quality mild shampoo. Be gentle as you shampoo.
2. Get optimal results with a leave-in conditioner, but don't overuse it.
3. Let hair dry naturally if possible. If you must use a dryer, use a low heat setting.
4. Set aside flip extensions in an air-tight container when they're not be used. Clean and untangle them first.
5. If you are going to sleep and can't remove the extensions, wear a ponytail to prevent tangling.
Ask your hairdresser for more tips. With proper care, your wire extensions can last up to six months or more.
Shipping for Wire Extensions
Get AiryHair high-quality flip-style human hair extensions wherever you are in the world. AiryHair offers free international shipping by registered mail to the United States, Canada, the UK, Australia, and Western European countries, except for Italy. Shipping takes 10 to 30 days.
EMS shipping to the same areas takes four to eight business days. FedEx/TNT/DHL shipping takes one to four business days.
Handling time is typically only 24 hours or less for most of our items after payment is verified, so you can get your flip-style hair extensions as quickly as possible. In the case of factors that are beyond our control, such as the post office closing, handling may take up to 72 hours.
If you need your flip extensions for a special event, we recommend expediting shipping so you can get them as soon as possible. Have questions? Contact our
customer care team here
.
Shop Flip Style Hair Extensions from AiryHair

With over a decade of experience, AiryHair is a leading wire extensions provider for so many reasons. Learn about our
45-day money-back guarantee and more
.
Ready to get an immediately improved hair style look with the help of affordable flip wires? Shop our wide variety of flip extensions styles now.
Reviews
Customer Reviews
Items 1 to 10 of 14 total
per page
Page:
1
100027062 - Review by ines pirngruber

I got th extensions yesterday and I just want to say "thank you for it!! I've never had such beautiful hairs before" ????????

100027159 - Review by Lindsey spicer

Thank you for exchanging these amazing extensions for me.. can't wait to get my straight ones !!

Good customer service - Review by Jasmine Hicks

Thank you for all of your help, and answering all of my questions. I need to give a shout-out to the customer service for helping me with my order. everything was perfect and I got the package pretty quickly

Cool Curls - Review by Amanda Rye

I love my curls but they often look flat and weird so I decided to buy some curly extensions. They fit me so good, I'm really satisfied with them. I'm not a fan of permanent extensions because I don't want them on my head all of the time, that's why these flips are perfect because I can take them out whenever I want to.

Easy to use - Review by Amanda Bell

I have never owned flip in extensions, so I was very surprised how easy they are to install! I always wanted extensions that I could put in myself, without having to go to a salon, and now I finally have that. It takes me less than a minute, recommended

professional flip in wire extensions, - Review by Ariel

Cant go wrong with that :) bit expensive for double drawn and remy plus combo but the quality speaks volumes, love the flip ins

Best hair Ive ever bought - Review by Gladys

I just received my flip in extensions. I never write reviews but I feel compell to write one for this company. I own at least 5 flip in extensions and I these extensions are by far the best. Love the hair quality. I wanted short extensions to add volume to my hair. I'm so happy this companyakes them

Tape the n hair extensions - Review by Amanda

I love this hair!

Beautiful hair - Review by Veronica Smith

Beautiful. Hair is amazing quality. I will definitely order again and recommend to my friends.

100019075 - Review by Taylor

Your customer service has been amazing!
Items 1 to 10 of 14 total
per page
Page:
1
Write Your Own Review
Product Tags