Details
Video Review



Introduction

Don't want to spend endless hours and a ton of money in the hair salon? Try clip-in hair extensions. Made of natural human hair, our tresses can be applied and removed on your own in less than 10 minutes for an instant effect.

Item Name

Remy Clip-in Straight, Wavy and Curly 100% Human Hair Extensions (7, 8, 9 or 10 Pieces)

Package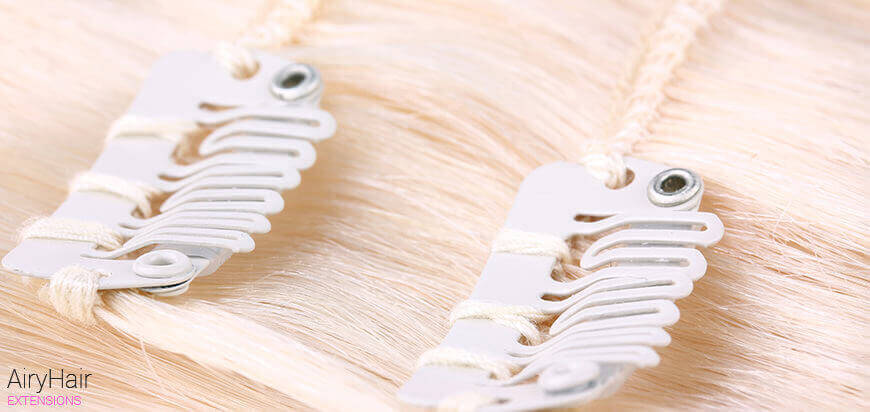 Your clip-in extensions package will include 7, 8, 9 or 10 pieces:

7 Piece Set

One - 8-inch piece with four clips (used for the back of your head)
Two - 6-inch pieces with three clips per piece (used for the back of your head)
Two - 4-inch pieces with two clips per piece (used the sides of your head)
Two - 2-inch pieces with one clip per piece (used for the sides of your head)

8 Piece Set

If you purchase an 8 piece set, the following item will also be included:

One - 2-inch piece with one clip per piece (used for the sides of your head)

9 Piece Set
If you purchase a 9 piece set, the following clips will be included:

One - 8-inch piece with four clips (used for the back of your head)
One - 7-inch piece with three clips (used for the back of your head)
One - 6-inch piece with three clips per piece (used the back of your head)
Two - 4-inch pieces with two clips per piece (used for the sides of your head)
Four - 1.5-inch pieces with one clip per piece (used for the sides of your head)

10 Piece Set
If you go with a 10 piece set, the following clips will be included:

Two - 8-inch pieces with three clips (used for the back of your head)
Four - 6-inch pieces with two clips per piece (used the back of your head)
Four - 2-inch pieces with one clip per piece (used for the sides of your head)

Product Information

1. Color: All available colors, also mixed colors (including black, brown and blond)
2. Length: 10 to 30 inches
3. Weight: 70, 80, 100, 110, 120, 140, 150, 160, 190, 200 or 210 grams
4. Texture: Straight, Wavy (Bodywave, Deep Wave, Loose Wave), Curly (Deep Curly, Kinky Curly), Funmi and Yaki.

Features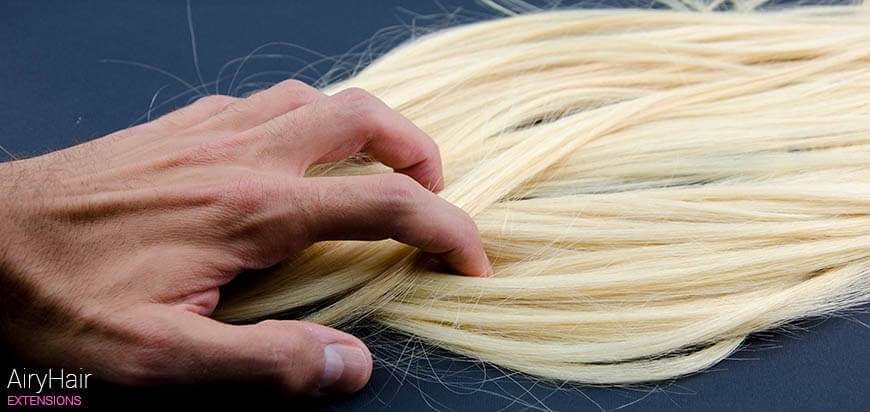 1. The softest extensions available on the market.
2. One hundred percent tangle free, real Remy human hair.
3. Our metal clips are attached to the hair and come with a rubble silicone back so you won't feel a thing when wearing them.
4. Ludicrous length extensions are also available in 28 and 30 inch lengths.
5. Clip-in extensions are easy to attach and remove. For more details, please read the instructions below.

What is Double Drawn Hair?

The double drawn extensions were specifically designed to get rid of the shorter hair. As you may know, most of the extensions come in a V shape while double drawn hair does not thin out at the end, resulting in a much better looking and higher volume hairstyle.

If you want the highest possible volume, go with double drawn.

What is Remy Premium Plus Hair?

If your budget allows you, we recommend going with our latest generation hair extensions that have an improved lifespan and tend to tangle over 90% less than the regular human hair Remy extensions. How do we achieve that? With a newly patented method that allows us to gather only the highest quality Remy hair.

Why Choose Remy Hair?

Now, most of the suppliers sell "Remy" hair that is not actually genuine. In order to cut down the costs and trick the consumers, the hair is treated with the acid to get rid of the cuticles.

With AiryHair extensions, this is not the case.

What exactly is the real Remy / Remi hair and how does it differ from non-Remy? With AiryHair's Remy hair, you can expect cuticles that are perfectly aligned and face the same direction, which is exactly what Remy hair is known for. Not only will such extensions not tangle as much but they would also last much longer than non-genuine counterparts.

How to Apply Clip-in Hair?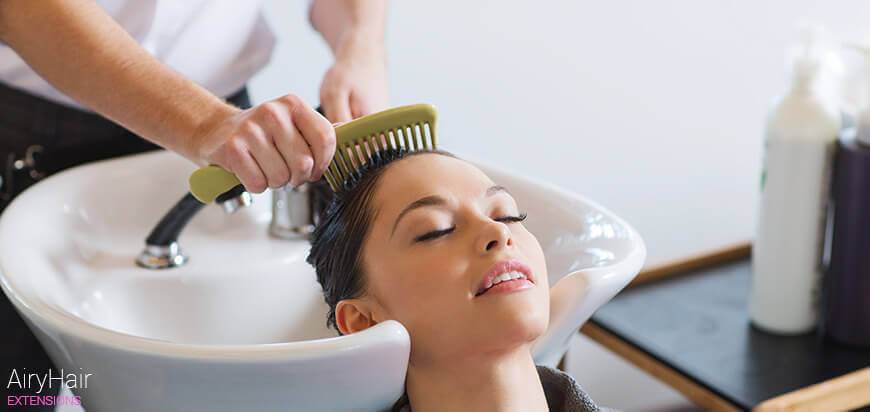 1. Start by blending the additional hair with your own original hair. You may have to wave, curl, or straighten your original hair to blend it with the hairpiece. Once the matching is done, proceed with the following steps.
2. Separate your original hair into two sections. Use a comb (for thick hair) or fingers (for thin hair) to separate the strands into two parts running from one temple to the other. Hold the upper layer part on top of your head with a hair clip or hair tie. If the hair is very fine, use the comb to divide the lower part into one-inch tresses.
3. You need to choose from a single piece or a multiple piece clip-in extension. Either way, you need to push the clips into position along the horizontal line of the parting. Take note of the alignment, especially in the multiple clip-in extension. There must be no folds in the top weft of the extra hair. Make sure all clips are securely in place.
4. Release the top part of your hair and you are done! Enjoy the luscious volume of your hair.

How to Remove?

The removal process is really simple. All you have to do is locate the clip and pull it backwards so it opens. Then, gently remove the piece from your hair and repeat the process. It usually takes only a minute or two, so there is no need to rush.

Hair Care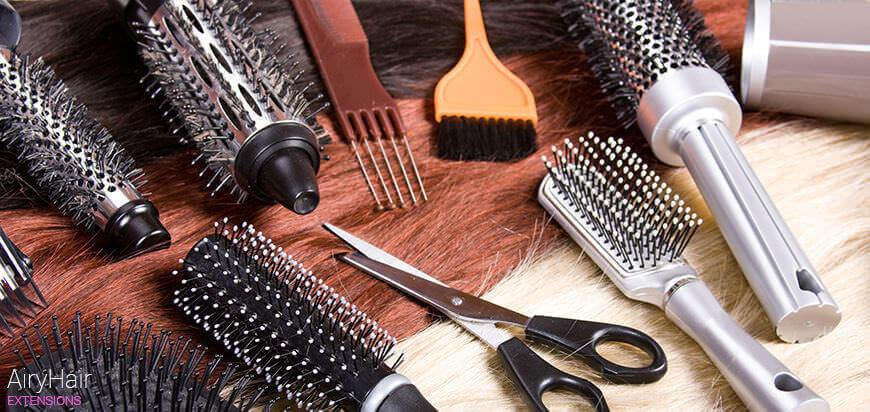 The best advice we can give you is this: the hair extensions are made of the real hair and must be treated as such.

1. We ask customers to always brush the hair before washing, ensuring the extensions are tangle free. The milder the shampoo, the longer your extensions will last so please keep that in mind. 2. Using a leave-in hair conditioner is a must if you want shiny and healthy looking hair. 3. After you have washed your hair extensions, please let them dry naturally, or if you are really in a rush, the lowest heat setting is recommended. Just like with real hair, blow-dryers tend to over-dry the hair, resulting in tangling and other issues. 4. If you are not using your clip-ins, please brush them gently and then place in a special bag or drawer. 5. If you don't like to de-attach your clip ins while in bed, please form a ponytail, which will save your hair from tangling and improve the overall hair lifespan.

Our extensions are made of 100% real human hair, with proper care they will last 6 months or even more. If you are unsure on how to treat them, please talk with your hair stylist or hair dresser.

Shipping

AiryHair has always been about the choice and as a result, we offer the following shipping methods:

Free shipping: this is our most popular option and will get your clip-in extensions delivered by registered air mail within 10 to 30 days worldwide (with the exception of Italy).

Express shipping: for people that need hair extensions immediately, we recommend this option as it will get your hair delivered worldwide within 1 to 4 business days worldwide.

With the exception for weekends, after your payment has been confirmed, your clip-ins are packed and handled in less than 24 hours.

Top 5 Reasons to Buy from Us

1. It's Risk-Free. We Offer a 30 Day Money Back Guarantee!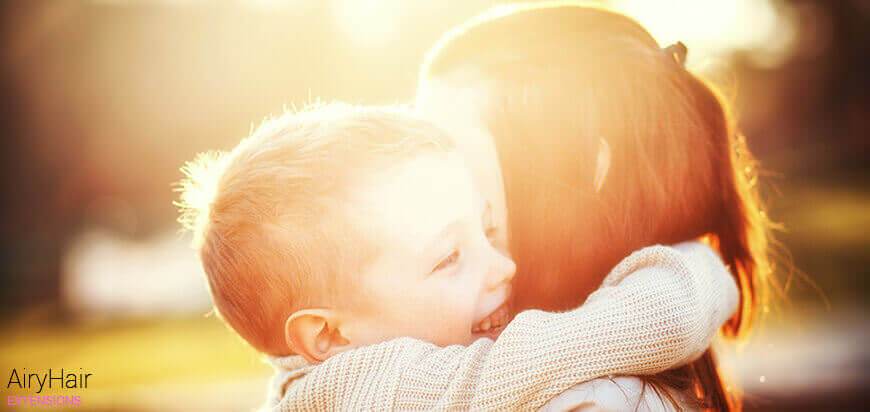 Believe it or not but we are one of the few hair providers that offer a 30-day money back guarantee that starts only when you open the package.

- Receive a Full Refund for Used / Unused / Well Packaged Hair

Another benefit to go with AiryHair? If you have used your extensions for a while and just don't want them anymore, don't throw them away! Instead, feel free to send them back to us for a full refund (shipping costs are covered by the buyer).

What if you have received wrong hair extensions? We are here to protect you as well and will exchange hair for free, including the shipping costs, or give you a full refund.

You have absolutely nothing to lose!


Reviews
Customer Reviews
The hair has now arrived and happy to say the hair looks like it is of good quality so am excited to use this hair on my clients. (Posted on 3/7/2017)
I just received my order and I am very pleased! These are the best extensions I ever ordered I will give you a great review in a few hours! Thank you so much for your wonderful customer service with updates on the shipment. It was well worth the wait! I will definitely be ordering from you again very soon! (Posted on 3/2/2017)
Thank you so much. And my daughter loves her hair. (Posted on 2/8/2017)
i wear hair extensions from 1996 i buy for many sellers around the world.......now after twenty years i found the best hair extensions in my life!!!!!! this hair extensions is on my head more than six months and i have so much hair..... i want to tell to everyone to buy from here is incredible,amazing and i love them!!!!!! thank you AIRY!!!!! (Posted on 2/8/2017)
You're so accommodating. What fantastic customer service!

I'm a customer for life! (Posted on 2/8/2017)
I have brought hair clip in hair extentions from here about 2-3 years ago anx they are still good as new and look amd feel amazing i get people asking me about them all them all the time and i have had people from my youtube channel order some and the fell in love so keep up the amazing work (Posted on 2/2/2017)
Hi June,

today was the day: my extensions are fixed.
I want to let you know, the hair is really great, so fine, so pretty.
The colour fits perfectly.

Soon I will order the next ones.

Thank you and many greatings (Posted on 2/2/2017)
Even after dying my extensions they are still soft smooth and tangle free ! Amazing quality and amazing price ! I will never shop anywhere but here ! (Posted on 1/13/2017)
Got it in! It is spot on! Love it so much! Thank you again! (Posted on 1/11/2017)
Thank you and I greatly appreciate it and look forward to my new hair!! So excited (Posted on 1/11/2017)
Got the package. Beautiful! Thank you (Posted on 1/11/2017)
I'd really like to thank you for the excellent customer service. I was very worried ordering extensions online because you never truly know the quality. I must say that I am EXTREMELY happy with my Airy hair. I've done 2 application of the tape ins both at 5 weeks per application and my hair is still soft. I had to trim the ends just at 10 weeks but the hair is really great quality - because of Airy I've been able to try out the micro beads and not break the bank!
On top of the great quality at a really affordable price compared to salon prices or even other websites.. you've provided amazing customer service, quick responses, detail in your responses and quick shipping given (Posted on 12/27/2016)
mange tak håber at det er kommet i dag (Posted on 12/2/2016)
I've never been more satisfied with a set of extensions. I bought the ombre chocolate brown and platinum blonde and they arrived softer than my own hair. And they're soooo easy to style without damaging them! There's no doubt that these are real human hair. I love it and will never order anywhere else again. Airy Hair has won me over. (Posted on 11/3/2016)
Got it in! It is spot on! Love it so much! Thank you again! (Posted on 11/1/2016)
I love this hair it is perfect!! (Posted on 10/23/2016)
I know my stuff when it comes to clip ins. While in this day and age it is difficult to find a company that reinforces their clips, and airy hair is no exception. I was very pleased with my extensions. Packaging could be a little better, but over all perfect color, perfect length, and shipped to the United States within a week (express shipping). (Posted on 10/21/2016)
I bought the 20 Inch chocolate brown straight and loved it completely, so soft and full of volume all the way to the tips!! Going to order curly ones now for my natural hair, hope to love those just as much. (Posted on 10/4/2016)
wonderful (Posted on 9/29/2016)
Ordered and UPS knocked on my door after about 36 hours. Haven't yet used the hair yet but they look and feel great (Posted on 9/21/2016)
Thank you for the great customer service! I am very pleased and that is why I will forever continue to purchase from airy hair! (Posted on 9/19/2016)
Amazing quality at an amazing price, I live on the east coast and it took about a week and a half to get to me. I've tried many cheap extensions from many other places and none have even come close to the quality of these. I will never order hair from anywhere else again!! (Posted on 9/18/2016)
Excellent quality clip ins. Highly recommend. Will definitely be buying again. (Posted on 9/9/2016)
I have ordered a wrong color but the length and hair texture is amazing. How do I exchange? (Posted on 9/3/2016)
WAS skeptical at first BUT THESE HAIR EXTENSIONS SO FAR ARE AMAZING. i used to order from vpfashion and my extensions would cost over $170 and i just couldnt afford them but i will forever order from airyhair!!! I just received them today and I am wearing them as well haha. They are silky smooth and very soft! I wish the ombre was more spread out a bit if you know what I mean other than mainly almost a straight line (it's an easy fix with dye probably) other than that THEY ARE FABULOUS AND WORTH EVERY PENNY!! (Posted on 8/24/2016)
Hi
I got the hair extensions
Thank you so much
Very nice quality
Thick from top to bottom
Love them... (Posted on 8/17/2016)
I ordered wrong color and was asked by June to send back to exchange. She resent me correct hair promptly without additional charges. Thank you for your great customer service!!! (Posted on 8/15/2016)
Love love love love (Posted on 7/25/2016)
I'm so excited to get the extensions. You guy really impressed me with the quality and price. Thumbs up for you!!!

Thanks again.
Emma :) (Posted on 7/23/2016)
Just wanted to say,I got my extensions and they're absolutely amazing!Will definitely be doing an unwrapping video on this.Great quality and service (Posted on 7/16/2016)
You all did a beautiful job on the straight extensions and the color was just how I liked it so I'm looking forward to the curly ones as well (Posted on 7/14/2016)
The hair is amazing (Posted on 6/10/2016)
I bought the Remy, 20" 70gs dark brown hair, shipped in good time, and I was skeptical but its awesome! It didn't quite match my hair colour so I decided to dye them and that would really prove if they were real hair and they dyed perfectly. Only problem is I didn't quite understand the grams so it wasn't enough hair to go with what I already have haha but overall really happy. (Posted on 5/27/2016)
I absolutely loved these, I spent just under 200 CAD on them and found it completely worth it, theyre thick and soft and I can tell they will last me a long time. Just under a month ago I ordered similar extensions from Clip Hair Canada and they were absolutely disgusting. You really get what you are paying for here... I couldnt be happier (Posted on 5/25/2016)
I buy extensions all the time for use in my salon, and it's taken me years to find a set that holds up well under styling, that lasts through everyday use, that cuts and styles like natural hair, and that is affordable for my customers. I was even more surprised to find all of this in a clip-in extension! Usually this kind of quality only comes with high-end fusion extensions. I love being able to offer my customers a high-quality product that they can learn to use and apply themselves in the comfort of their own homes. And I love being able to help them discover the joy of using temporary extensions with such a great product! (Posted on 5/23/2016)
The extensions were very soft and matched my hair color almost perfectly! Very happy with them and would definitely buy from airyhair again (Posted on 4/12/2016)
I had a issue with and it was resolved fast. Very good service (Posted on 3/17/2016)
My modeling job requires me to have a fairly flexible look with a lot of versatility and a changeable style. One of my favorite ways to make that happen is with these clip-in hair extensions. They're so comfortable to wear that I usually end up forgetting they're not my natural hair, and they're so easy to use that I can just throw them in my bag and put them on in the bathroom wherever my gig ends up being. I should add that they shipped pretty quickly too, and whenever I order, I never have any mistakes or complications—a welcome relief in the day and age of online shopping! (Posted on 2/10/2016)
So far, my only complaint about these extensions is that I don't have an excuse to buy more of them! Easy to use, fun to wear, and so low-maintenance! (Posted on 2/10/2016)
I ordered 22", 160g of chocolate brown hair, free shipping (took a full 10 days). Nice soft hair, matches mine perfectly. (Posted on 1/30/2016)
I was a bit edgy about buying the extensions but I love them a lot (Posted on 1/23/2016)
I'm a professional photographer, and when it comes to doing the numerous headshot and commercial sessions that come my way every day, I often find myself having to act as a bit of a stylist too. Which would be fine—if I knew anything about styling! Finding AiryHair's clip-in extensions was a life saver. I keep a number of different colors and lengths on hand in my props and equipment bag and if the occasion calls for it, we just snap them in quickly and keep going. No need to keep a hairstylist on set, and it cuts down on the prep time significantly—saving both me and my clients time and money. The colors are so rich and beautiful too—I can't tell you how great they show up on camera! (Posted on 12/21/2015)
I love how extensions look on everyone else but I could never bring myself to try them. For the price I'd be paying and how difficult it seemed to put them in, it was just never worth it to me. Eventually I decided to give it a shot with AiryHair's extensions. And I love it! They're so easy to put in and take back out again, and I never have to worry about them getting tangled in my hair. I can style and brush and wash them just like my normal hair and they're soooo easy to care for. I love them, I just wish I had ordered some earlier! (Posted on 12/11/2015)
These are my favorite clip-in extensions! Since I like to dye pretty frequently and change up my color, I bought them in a few different shades so I can use them for highlights and body no matter what color I currently have my hair. It's so nice to have the flexibility to change things up and to have great hair no matter what! These shipped really quickly and were perfect right out of the box, A++++ (Posted on 12/11/2015)
It's so hard to find good extensions these days for a price that's affordable for me and my customers. These are a really nice option to be able to offer my customers who want to try out extensions on a temporary basis without committing to the cost or permanence of glue-ins or fusions, and the fact that I can cut and style to their preference and give them a high-quality product they love is really excellent. I'm so pleased and will definitely keep buying from AiryHair! (Posted on 12/1/2015)
In the past, I've shied away from extensions because I don't typically like to use any sorts of chemicals/heat styling/damaging treatments on my hair. However, I was starting to get bored with my current style and wanted a way to add some color to it without resorting to glue-in or fusion extensions or messy, chemical-filled dyes. When I found these clip-in extensions I was thrilled! Problem solved! (Posted on 12/1/2015)
So in love with these! Quick, easy, and so comfortable to use! Can't believe how quickly they shipped, either! Another happy customer for AiryHair! (Posted on 11/22/2015)
I can't say enough about how much I absolutely adore these. I was very pleased with how quickly my set shipped (and I didn't even have to pick any of the expedited shipping options) and by what condition they were in upon arrival. I actually wore them right out of the box—just clipped them in and went to work! Simple as that! They didn't require any amount of styling or fussing, but they do really style wonderfully and I'm very pleased with how well they respond to a flatiron. (Posted on 11/22/2015)
Never thought extensions could be so easy to use—all the clip-ins I'd seen or tried before got tangled and knotted in my hair, styled poorly, and never laid naturally with the rest of my hair. These were way different. So smooth and shiny and with such great texture! Very easy to use. Shipped quickly and everything in the package was exactly what I ordered, right down to the shade of the color I picked. Very, very pleased! (Posted on 11/22/2015)
I love the hair I purchased! I purchased four bags of hair, two different colors and was amazed how well they looked. They are so soft and durable. (Posted on 11/15/2015)
It was my first time every using extensions so I wanted to start out simple. I got the 18" 8 piece 120 set in the color blonde, and as soon as I got them I loved them. Although the color was more golden than my own hair I toned them and they worked well. The only complaint I have is that the ends thin out very quickly.. But with that aside I cut off approximately 2 and a half inches and now they are perfect. I would definitely buy from airy hair again. (Posted on 11/8/2015)
I couldn't believe how nice these were when they arrived. For the price I paid, I was expecting mid-grade, reasonable but not necessarily outstanding hair extensions that I could use every once in a while to change things up. But these are like salon-quality extensions! They're so nice and easy to use! All my friends thought I had them professionally done—they were amazed to find out they were just clip-ins, and that I bought them online at such a great price! I think I may have just converted another dozen people! (Posted on 11/4/2015)
I dare anyone to find better hair extensions at a better price than these. They're sooooo easy to use and even though they are clip-ins (usually the cheapest kind of hair extensions) they're surprisingly high quality and the color is so rich and beautiful and natural-looking. It really just feels like wearing authentic, natural hair on your head! (Posted on 11/4/2015)
Curly hair, straight hair, blonde, brown,black, long, short they really have everything for your needs. Thanks Airy Hair. (Posted on 10/24/2015)
One of my girlfriends bought these and just kept raving about them so I finally had to see what all the fuss was about. I hate to say it, but she was right! They are by far the best extensions I've bought so far, I'm never going back to a pricey salon for my quick-fix extensions again. I can do them myself and it's so easy to make them look so nice! Extremely pleased with the end result. (Posted on 10/24/2015)
I have bought these extensions 4 or 5 times now and I just keep coming back! I am a VERY happy repeat customer and recommend these highly to all of my friends and family! They're so soft + shiny and they style beautifully! A+! (Posted on 10/24/2015)
These are so nice. Such high quality and at an extremely reasonable price for the product you get. I bought a set and took them in to my hairdresser to get them professionally cut and styled along with the rest of my hair and my stylist commented on how well they handled. If you knew my hairdresser, you'd know that's some pretty high praise! Shipped quickly, too, and very easy to order. I didn't have any mistakes or difficulties in placing or receiving my order at all. I would happily buy again. (Posted on 10/24/2015)
I am such a hair junkie. I spend so much money on extensions, clips, bows, tools, ties…etc, etc. And I rarely ever find something I'm really happy with. I stumbled onto these when I was browsing the internet one day and I bought a set (or two) on a whim. They came really quickly and I fell in love almost as soon as they were out of the box! They feel so nice, and they're so easy to wear. I usually forget I even have them in—and I wear them so often that it feels weird to see my real haircut underneath them anymore! (Posted on 10/20/2015)
I do a lot of cosplay and costuming, so hair extensions are a great way for me to change up my look without having to deal with styling wigs or constantly dyeing my hair. I really love these because they're affordable but also really durable and flexible—it styles just like my natural hair, so I don't have to worry about it looking unnatural or fakey once it's set and styled. It just looks like my real hair—but 2 feet longer! I've bought several sets in multiple different shades and all of them are colored just beautifully. (Posted on 10/20/2015)
All my friends have been wearing and raving about extensions for the past few months (I guess it became a trend here recently for some reason) but I was skeptical and reluctant to get in on the action since I didn't know the first thing about where to begin. I finally got my hands on a set of AiryHair extensions and wow—they were so much easier to use than I expected! They practically take care of themselves! (Posted on 10/20/2015)
My hair is pretty damaged from years of careless bleaching/dyeing and bad cuts, so at the moment I'm having to let it grow out on its own, untreated with chemicals, to let it repair itself. But I didn't want to go all that time with my dull blond natural color, so a friend suggested I get some colorful extensions for fun. I ordered sets from AiryHair in the red, blue, and pink, and I like to mix and match them or change them up every day. It's actually way cheaper than all the money I was spending on dye, and better for my hair too since they clip right in and out! I love the quality of these and the flexibility, they're really great. (Posted on 10/20/2015)
I never thought I'd get into hair extensions but these make me glad I did. They're fun, easy to use, and they make my hair seem much longer/fuller/thicker than it ever has before. I get so many compliments from strangers at work now who notice how full of body and pulled together my hair always looks. I feel so great about myself when I'm wearing these! So worth it! (Posted on 10/14/2015)
It was raining the other day and I thought it will damage my extensions but NOOOOooo… the extensions were still intact and I just needed to blow dry it and it looks perfect. Really the best extensions I Used (Posted on 10/9/2015)
My extensions came! They are the EXACT color of my hair! I absolutely love them! Thank you! (Posted on 10/2/2015)
I've been wearing extensions off and on for the past 5 years since I can never seem to get my own hair to grow in healthily and as long as I'd like. Usually they only last a few weeks, and the texture is always dull or plastic-y. These are so nice for clip-ins though, especially at such a reasonable price! I definitely recommend them to anyone who's looking to buy their first set of extensions, or for anyone who wants an upgrade at an extremely competitive price. (Posted on 10/2/2015)
Can't get over how happy I am with these extensions! They shipped quickly, package was in great condition. Once I took them out and immediately clipped them in—so easy!—I was able to style and wear them right out of the box! Soooo convenient. Thanks, AiryHair! (Posted on 10/2/2015)
These came in way more quickly than I expected and I was able to cut and style them on my own without the help of a professional—and they still held up great! Usually the extensions I buy are cheap and heat damage so easily but I was really impressed with the durability and texture of these. The site says they are made from real hair and it definitely feels like it. The site matched my color pretty closely so I didn't have to dye mine either but I'm almost positive they would dye really well too. (Posted on 9/25/2015)
These came in way more quickly than I expected and I was able to cut and style them on my own without the help of a professional—and they still held up great! Usually the extensions I buy are cheap and heat damage so easily but I was really impressed with the durability and texture of these. The site says they are made from real hair and it definitely feels like it. The site matched my color pretty closely so I didn't have to dye mine either but I'm almost positive they would dye really well too. (Posted on 9/25/2015)
I'm a college student who picks up some extra cash on the side by doing inexpensive haircuts and dye jobs for the students in my wing who can't afford to get it professionally done. One of my "clients" recently asked if I could help her cut and style her clip-in extensions. I warned her that most of the clip-in extensions I knew of didn't heat style well but she insisted these were great and that I could work wonders with them. Man was I impressed! The AiryHair extensions she brought me were so high-quality I picked up a bundle for myself. I might even start selling them to my clients! (Posted on 9/25/2015)
As a professional model/actress, I'm always looking for ways to change up my look without the commitment of professional semi-permanent or permanent salon services. I want to be flexible, but I don't want to sacrifice the quality of good extensions either. AiryHair has it all! (Posted on 9/25/2015)
Shipped fast, great customer service. Everything came exactly as I ordered. Love the color + quality. A+, definitely going to recommend to all my friends. Thanks, AiryHair! (Posted on 9/22/2015)
I love these so much! It's so difficult to find hair extensions in "fun" colors (blue, purple, green, bright red, pink, etc.) that aren't cheap and plastic-y. Usually all I can find are cheap trinkets that look like they came from a dollar store, and while I don't want to pay a lot for them, I certainly want something better than easter grass to clip into my hair! AiryHair has clip in extensions that are fun, affordable, AND high-quality—something I never thought I'd find! (Posted on 9/22/2015)
After a particularly bad haircut, I was looking for a solution until it grew back in enough to get trimmed—but I didn't want to spend a ton of money on professional salon extensions or a weave. These are a great solution that honestly makes my hair look even better than it did BEFORE the haircut! I might buy a permanent set just to keep in for good! (Posted on 9/18/2015)
Can I just take a minute to talk about how great these are? It's so refreshing to finally find extensions that are affordable, removable, fun to wear, and high-quality, too! I'd resigned myself to a life of low-budget hair extensions that only barely served their purpose, but AiryHair has saved me!! And they shipped so quickly, too—very very impressed. (Posted on 9/18/2015)
I could write a book about how great these are. I ordered a couple different sets for my home salon and I have had nothing but happy customers since. They look amazing and all my girlfriends love how easy there are to put in and take out. You can even curl, dye, wash, and style them exactly like you would your real hair. It's unreal how comfortable they are too! (Posted on 9/15/2015)
Okay so my main criteria when I was searching for new extensions was that they had to be CHEAP. I was blown away by how good these were for the price I paid! I really only needed some costume-appropriate extensions for cosplay purposes, but even though I only expected half-decent clip ins I could use short term, I think these might actually be better than my natural hair! You will not be disappointed! (Posted on 9/15/2015)
My sister, an independent style consultant, recommended these to me when I was searching for an affordable alternative to pricey salon service extensions. They clip in so easily and they can even be dyed to match your natural hair color. I was worried the auburn shade they sell wouldn't match my dye job exactly so I bought a few shades lighter on purpose and dyed them using my typical color. Perfect! They work like a charm. Never buying anything except these again. (Posted on 9/15/2015)
I can't get over how high-quality these are for a set of clip-ins. They style so well, and they're so comfortable, it's like I'm not wearing extensions at all! I can't tell you how many compliments I've gotten since I started wearing them. One of the best online purchases I've ever made, easy! (Posted on 9/11/2015)
It is ok (Posted on 9/10/2015)
Bought with express shipping, got them THE NEXT DAY (Posted on 9/7/2015)
Bought after watching a video and it is also softer than my own hair (Posted on 9/7/2015)
I'm in love with these! You can cut them, curl them (heat styling works so well and doesn't seem to leave any damage at all, amazing!!), wash and style them—even dye them! I originally bought them in the platinum blonde by mistake (I'm a strawberry blonde, but I just wrote the wrong thing in my order) but rather than return them I decided to have some fun with them and it turns out I can dye them the same way I do my regular hair and they look stunning! (Posted on 9/3/2015)
As an independent salon owner, I have to try to find ways to buy affordable solutions without sacrificing quality in my products and services. Anytime anyone comes into my salon looking for extensions, these are the only brand I recommend. They're long-lasting, durable, and look FABULOUS. I offer the clip-ins for sale in my store and order the others on request to use in my services.
So far, I've had absolutely no complaints and a whole lot of positive feedback. Thanks AiryHair!!! (Posted on 9/3/2015)
Never thought I'd buy hair extensions until I found these. Great price, unbelievable quality—all my girlfriends are so envious and want to know my secret! Finally broke down and told a few of them and now we're all hooked. Never going back to a salon for my extensions again! (Posted on 9/2/2015)
Hair is good, thanks (Posted on 8/29/2015)
Hair is SUPER thick :D tnhank you (Posted on 8/24/2015)
Okay, so my hair is totally boring. I've never gotten a particularly daring haircut, never dyed it any interesting colors—I'd never even gotten highlights until about six months ago. So you can imagine how unsure I was about trying extensions, especially from a website. My only regret is that I didn't try it 5 years earlier! I got the wavy set of eight in chocolate brown and they were a total game-changer. Texture, length, color are all flawless—and I sometimes forget I even have them in. Way more comfortable & affordable than I ever expected! (Posted on 8/24/2015)
I needed hair extensions for my personal day to day use and since I have a specific flavor of blonde hair, I thought it would be hard to find an extension that will perfectly match my color! That's what I thought until I purchased my first set. Can't recommend it enough!!!!!!!!!!!!!!! (Posted on 8/22/2015)
I spent a long time being skeptical about hair extensions because I couldn't find any that looked natural and I didn't want to go around with obvious fake hair. Between struggling to match the natural copper shade of my hair and fussing over the texture all day long, I had decided it wasn't for me. But when I found these, it was like the heavens opened up and my suffering was finally over! The body and texture are sooooo nice—they honestly feel real, my friend thought I was lying about getting extensions until I took the clips out in front of her! Would recommend to anyone. (Posted on 8/18/2015)
Got all in time, color was as in chart:) (Posted on 8/18/2015)
I wanted to have a special hair style but that was too expensive for me and my hair might get damaged so I decided to get hair extensions instead. Got them today and it was perfect. (Posted on 8/13/2015)
Very Very fast shipping!, I'm extremely happy with them. there soft, they haven't tangled, the weight I love (160g), its hard to find blonde hair that's thick all the way!. The colour was okay, I had to toned them abit to match my white blonde hair no biggie :). (Posted on 8/12/2015)
I usually hate online shopping. It's just so hard to know what you're getting, and especially with something as finicky as matching hair colors, I just don't trust what I see in the screen. But when I found these on sale, I really couldn't pass them up. And I have to say—they are EXACTLY what I wanted and I feel like, for once in my life, I was getting EXACTLY what I ordered! Amazing! (Posted on 8/10/2015)
I had my eye on these hair extensions for months before I finally gave in and bought a set. The electric blue color is exactly what I was looking for, but I didn't want to commit to anything as long-term as dyeing or permanent extensions. These clips were perfect! I can slip them in to get the look I'm trying for, and then take them right back out if I have to look professional for work or one of my more conservative church functions. I love that even though they're temporary, they're every bit as shiny and realistic-looking as some of the professional extension jobs I've seen! Love it! (Posted on 8/10/2015)
Been wearing my extensions for a couple of months, can't believe they last that long. (Posted on 8/9/2015)
My order just came in today and was really excited to open it and try it out. When I tried brushing them (my quality check routine), there was no hair fall which is super awesome, thanks :D (Posted on 8/5/2015)
My sister told me about the extensions and was skeptical that the quality will be that good. I decided to give it a try and she was right. It doesn't easily break and I have been using them for almost 2 months now. (Posted on 8/1/2015)
They have just come.I am really pleased with the quality of the hair extension and theses are the best I've had by far ..
I will definitely will be return for my next lot of extensions and have already recommended you to my friends .. I'm so pleased with the product and can not fault your product or service in any I Am one happy customer
(Posted on 7/26/2015)
The great thing about these is that the color does not fade away even after many washes. I usually wash my hair extensions every 2 days just to keep them clean, definitely recommended. (Posted on 7/21/2015)
Came faster than expected! Hair was nice and soft. Takes to heat very well when I want to curl them! Over all, They are worth the price! (Posted on 6/26/2015)
I used to have a very long hair but my hair dresser made a mess out of them and had to cut my hair as a result. I am not used to having a short hair and I have decided to try this one and was not disappointed, love it! (Posted on 6/24/2015)
I used to have a very long hair but my hair dresser made a mess out of them and had to cut my hair as a result. I am not used to having a short hair and I have decided to try this one and was not disappointed, love it! (Posted on 6/3/2015)
It's quite hard to look for hair extensions that would match the color of your hair. Thanks to a wide range of colors to choose from, I managed to match with my hair's natural color. Thanks. (Posted on 5/14/2015)
using these extensions for quite sometime. They do last longer than any other extensions. A+++ for the quality of their product, A+++ for the price and A+++ for the fast shipping. (Posted on 5/4/2015)
really recommend these if you are looking for the long lasting extensionsthat have a natural look. You can even curl them using a hair iron. (Posted on 4/3/2015)
I used to order a lot of hair extensions in some other websites but every time I receive the package, the order is either incomplete or in a mess. They do not realize the importance of packaging their goods. Thankfully I found airyhair where the shipment of products is always complete and packed with outmost care. Thanks for providing a quality service. (Posted on 3/17/2015)
ordering was convenient and fast as well as the shipping. Best extensions I ever had (Posted on 2/4/2015)
ordering was convenient and fast as well as the shipping. Best extensions I ever had (Posted on 2/4/2015)
I bought 2 sets to match my maid outfit for a cosplay event and other cosplayers were telling me that a dyed hair looks good on me. (Posted on 1/24/2015)
The shipping was quite fast. My order only took 2 and a half days to arrive and I am really satisfied with my extensions. Thanks. (Posted on 1/8/2015)
I'm Krissy and I have been using hair extensions for almost 2 years now. I tried other brands but they break easily and it's really quite hard to fix them. Airy is the only brand I will wear since its affordable, long lasting and looks like a real hair. (Posted on 11/20/2014)
**SHIPPING** 9/10

First of all, shipping is great! Got to Canada in 4 days!
I never like Express DHL because theor tracking is always messed up..For instance, on day 2 it said it was in a city 3 hours away on a truck for delivery. When I called DHL, they said " We dont have it, we gave it to an agent, so we dont know when it will arrive". So, if your paranoid about tracking your shipping like I am, DHL is not the way to go. Go with TNT

**QUALITY** 10/10

Hair is So silky smooth! And truly 100% remy human hair. I did the strand tests to make sure. It is 20".

Also, the clips have that silicone-like lining under the clips. Making then stay in place ALOT better.
Usually only get these types of clips with very expensive extensions...So, amazing!

**PACKAGING** 8.5/10

Simply folded on a piece of cardboard, string tied, and put in the bag to ship out

Overall, I love them!

(Posted on 11/15/2014) (Posted on 11/17/2014)
In past, I never put too much value to those raving comments and reviews. But my experience with airyhair changed my attitude. As soon as I have tried your hair extensions I learned that indeed most if not all of the positive comments and feedback here are real.

(Posted on 2/21/2014) (Posted on 11/17/2014)
I have completely forgotten that I was wearing hair extensionsit welt completely natural.

(Posted on 8/6/2014) (Posted on 11/17/2014)
Enjoyed the delivery time and thank you for my hair extensions.

(Posted on 11/3/2014) (Posted on 11/17/2014)
First time buying these clip in hair extensions, did not know what to expected, ended up loving them!

(Posted on 10/23/2014) (Posted on 11/17/2014)
definitely worth the purchase!! The hair does not break easily and it is always smooth and soft. Plus I also got the color I wanted

(Posted on 4/18/2014) (Posted on 11/17/2014)
I would like to give my two thumbs up to you guys and I am satisfied with your hair extensions. I have tried several in the past but yours are simply the BEST !!!! (Posted on 5/3/2013) (Posted on 11/17/2014)
I had my doubts when I placed my order for hair extensions as I am not really sure if I chose the right color. I was also having second thoughts if indeed the one I ordered would give the volume I need to make my hair thick. Good thing was that my worries were unfounded. The stuff I got was perfect in all aspects.

(Posted on 3/19/2013) (Posted on 11/17/2014)
I just want to express my BIG thanks for those great extensions you delivered. They are all FAB!!!!!

(Posted on 3/24/2012) (Posted on 11/17/2014)
Hey Guys !!!!

I just received my order and I loved them. I am about to place my next order of 24-inch straights. Great job and BIG thanks.

(Posted on 3/18/2012) (Posted on 11/17/2014)
I am very happy with my total shopping exp. i was a bit iffy cuz of the really great price. but everything thing went very smoothly and the hair feels great. i pulled them out of the package and put them in asap. they got here very quickly only 11 days. i have to dye them today i picked a lighter color on purpose so i could dye them to match perfectly. i normaly dye my hair. thanks again.

(Posted on 12/15/2011) (Posted on 11/17/2014)
Great hair extensions, I must say. The hair doesn't shed and I can still use them even after several washings. It is definitely a wise pick for those who don't compromise with quality.

(Posted on 1/29/2013) (Posted on 11/17/2014)
I love airyhair. I am now on my 5th pair of extensions and what I appreciate most about your site is the consistency of your customer service. They never fail to amaze me. I never had any problem finding the right hair extensions that I need. Big thanks to you guys for being helpful as always.

(Posted on 1/21/2013) (Posted on 11/17/2014)
I am really satisfied with what I got from this site and I enjoy sharing my "secret" to anyone who asks me where I bought them. I am sure that they will be satisfied as I am confident with the quality of your hair extensions.

(Posted on 11/16/2012) (Posted on 11/17/2014)
I never had this kind of hair extensions before. They are definitely among the best that I ever had. Worn them easily and they did not tangle. Really AMAZING guys. Thanks!!!!

(Posted on 11/15/2012) (Posted on 11/17/2014)
I have placed my order last Tuesday and the hair extensions were delivered this morning. My 26-inch straight is the right length, just the exact hair extensions that I was looking for. Thanks!!!!

(Posted on 10/28/2012) (Posted on 11/17/2014)
Your hair extensions matched my hair perfectly. Just the right color and shade. This is a lot of hair for my money, FANTASTIC!!!! Will definatly be using your site again soooooon.

(Posted on 10/10/2012) (Posted on 11/17/2014)
Excellent service. Recommended.

(Posted on 7/3/2011) (Posted on 11/17/2014)
I've been working in the industry for more than 10 years and after my friend recommendation, I have decided to give it a try.

Let me tell you, my customers were very satisfied and best of all, I think I've found my new supplier!

(Posted on 4/20/2011) (Posted on 11/17/2014)
I'd like to say HUGE thanks for sending me hair extensions that are awesome. I have been using hair extensions for some time and I have bought them from various places, including salons. Yours are definitely the best.

(Posted on 4/3/2012) (Posted on 11/17/2014)
When I got my first order from airyhair, I must admit that I was pleasantly surprised as the hair extensions were far better than I expected. Great thanks!!!!

(Posted on 4/2/2012) (Posted on 11/17/2014)
love it!!!

(Posted on 7/6/2011) (Posted on 11/17/2014)
Great product. Recommended seller

(Posted on 6/16/2011) (Posted on 11/17/2014)
verry good item

(Posted on 6/16/2011) (Posted on 11/17/2014)
For a cosplayer such as myself, I really needed hair that can withstand long term use and would not break whatever styling I do with it, this one did the trick, thank you.

(Posted on 4/26/2014) (Posted on 11/17/2014)
The hair was really amazing. The texture feels like it's a real hair and its silky smooth. My boyfriend didn't even notice that I was wearing extensions until I asked him if it looked good on me.

(Posted on 4/26/2014) (Posted on 11/17/2014)
My name is Daisy and I really needed hair extensions for a fashion show in our school. I purchased these and was really amazed how easily it can be fixed to match the dress I will be wearing.

(Posted on 3/11/2014) (Posted on 11/17/2014)
I posted a photo with me using these extensions and a lot of people where asking what did I do to have the great looking hair. I told them its extensions and they were surprised

(Posted on 3/5/2014) (Posted on 11/17/2014)
I just purchased these hair extensions the other day and to her surprise, got it today. It was really fast and did not even have to pay extra for the immediate shipment plus it really blends in with natural hair

(Posted on 2/27/2014) (Posted on 11/17/2014)
I have really thin hair so I was a bit worried about the hair extensions not getting enough of hair in the clips itself and accidentally falling off. Surprisingly, it attached to my own hair quite perfectly and the clips are not seen under my hair. Of course, the colour matches well with my own hair. Thank you sooooo much airyhair.

(Posted on 11/28/2012) (Posted on 11/17/2014)
im trying to buy them but the color wheel isnt coming up i want a darkish medium brown

(Posted on 8/21/2012) (Posted on 11/17/2014)
i ordered these and the shipping and service was good and they extentsions are good too

(Posted on 6/11/2012) (Posted on 11/17/2014)
how many days will it take for the free shipping in Canada?

(Posted on 4/10/2012) (Posted on 11/17/2014)
The shade match of the hair extensions I bought from you could not have been more perfect. They're soft and thick and it is very convenient to use.

(Posted on 4/4/2012) (Posted on 11/17/2014)
I could cite a lot of reasons why I always order my hair extensions from sovast. But I can sum up everything by saying – "I just LOVE the products and service."

(Posted on 3/31/2012) (Posted on 11/17/2014)
I recently bought some hair extensions for myself and my younger sister and she really loves them. I wear mine most of the time. We will definitely get back to you for more :D

(Posted on 3/3/2012) (Posted on 11/17/2014)
I love the way I look with these extensions. The hair looks and feels real. I even got the same color of my hair. I will recommend this one to my friends. Thanks

(Posted on 2/27/2014) (Posted on 11/17/2014)
BIG thanks to you guys for the great hair extensions that I got a couple of days ago. I love and adore them. The hair had great quality and they appear surprisingly real.

(Posted on 11/15/2013) (Posted on 11/17/2014)
Thanks for providing a fast shipping. I really needed this for my 18th birthday and I got it on time. Recommended

(Posted on 3/1/2014) (Posted on 11/17/2014)
airyhair is the perfect choice for first time wearers. If you don't want to suffer the consequence of having to spend for hair extensions that you cannot use, then you need to check out this online shop and you can definitely find the hair extensions that match your hair color and shade.

(Posted on 12/26/2013) (Posted on 11/17/2014)
Never tried getting my hair extensions online and the first time I ordered one from your site I was pleasantly surprised how fast and easy it is. I am very happy with the results, superb service, delivery and the hair extension is just perfect.

(Posted on 5/19/2013) (Posted on 11/17/2014)
Delivered earlier than I expected. The hair extension itself is fabulous. Looks great on me. I would be definitely making another order in a day or two. My friends are ordering theirs as well. (Posted on 11/2/2012) (Posted on 11/17/2014)
Delivered earlier than I expected. The hair extension itself is fabulous. Looks great on me. I would be definitely making another order in a day or two. My friends are ordering theirs as well. (Posted on 11/2/2012) (Posted on 11/17/2014)
Now I know why my friend Sally was adamant that I try your products. In fact, I couldn't believe my eyes. Natural looking and every bit authentic. People should not waste this opportunity and try your hair extensions.

(Posted on 3/30/2012) (Posted on 11/17/2014)
You have another customer for life. You really know how to dazzle and please us. I simply cannot stop raving about your hair extensions. They really look natural and perfect. Simply the best that I ever had.

(Posted on 3/3/2012) (Posted on 11/17/2014)
Never tried hair extensions before but because most of my friends are insisting that I try them, I relented and order one from your site. On hindsight, I am glad that I followed their advice. I only have one word to describe my hair extensions – EXCELLENT!!!

(Posted on 12/26/2013) (Posted on 11/17/2014)
I was really pissed off with the other extensions I used and would not be using another one if it weren't for these extensions. They really look good on me and they do not break easily (Posted on 9/18/2014) (Posted on 11/17/2014)
Boooy, that was fast,. My 15-inch straight is the right length, just the exact hair extensions that I was looking for. Thanks!!!!

(Posted on 11/12/2013) (Posted on 11/17/2014)
I am only 16 years old and bought these extensions for my birthday. To my surprise, they made me look so much better that they let me into the 21+ club :D***

(Posted on 11/3/2014) (Posted on 11/17/2014)
I am not sure why you sell these clip ins at such low price but wow, I think I found my new favorite supplier!

(Posted on 10/23/2014) (Posted on 11/17/2014)
I instantly got accustomed into using them that I forgot I was wearing those and took a shower without removing them first, haha.Although that was not a problem since the hair extensions did not break and lasted even after using it for a long period of time.

(Posted on 5/15/2014) (Posted on 11/17/2014)
Got my package today and was done applying extensions in under 10 minutes, love the silky smoothness and color

(Posted on 5/15/2014) (Posted on 11/17/2014)
Super affordable and the quality is great, thank you.

(Posted on 4/11/2014) (Posted on 11/17/2014)
The clip hair extensionsare easy to apply and remove, definitely one of my favorites.

(Posted on 3/11/2014) (Posted on 11/17/2014)
I am really satisfied with what I got from this site and I enjoy sharing my "secret" to anyone who asks me where I bought them. I am sure that they will be satisfied as I am confident with the quality of your hair extensions.

(Posted on 11/16/2012) (Posted on 11/17/2014)
I never had this kind of hair extensions before. They are definitely among the best that I ever had. Worn them easily and they did not tangle. Really AMAZING guys. Thanks!!!!

(Posted on 11/15/2012) (Posted on 11/17/2014)
Your hair extensions matched my hair perfectly. Just the right color and shade. This is a lot of hair for my money, FANTASTIC!!!! Will definatly be using your site again soooooon. (Posted on 10/28/2012) (Posted on 11/17/2014)
I had all sorts of problems with my hair extensions before I learned about sovast. , giving me headaches and hurting my scalp. Those are no longer bothering me since I started using your hair extensions. Veeery happy with what I got from your site.

(Posted on 10/10/12) (Posted on 11/17/2014)
Thanks for the prompt response and fast delivery of my hair extensions. They're GORGEOUS and even my partner loves them.

(Posted on 4/6/12) (Posted on 11/17/2014)
Hey, I can easily rock my hair extensions and end up looking as good as or even better than Lindsay Lohan and Paris Hilton. Nice job, guys!!

(Posted on 3/3/12) (Posted on 11/17/2014)
as described and delivered right on time! (Posted on 7/6/11) (Posted on 11/17/2014)
Lovely extensions for the price. A BIT thin, but I purchased only 70 g. I'll be ordering more!

(Posted on 11/28/2013) (Posted on 11/16/2014)
Your hair extensions are GREAT!!! I will make sure that it is not my last order of hair extensions from your site. My friend Debbie is also placing her order of hair extensions.

(Posted on 5/21/2013) (Posted on 11/16/2014)
The moment I got my initial order from your site, I already knew that I am hooked. I found the best source for my hair extensions and to this day and after nearly a dozen orders, I still consider you as my best source of hair extensions.

(Posted on 1/21/2013) (Posted on 11/16/2014)
Your hair extensions matched my hair perfectly. Just the right color and shade. This is a lot of hair for my money, FANTASTIC!!!! Will definatly be using your site again soooooon.

(Posted on 10/28/2012) (Posted on 11/16/2014)
Boooy, that was fast, I have placed my order last Tuesday and the hair extensions were delivered this morning. My 26-inch straight is the right length, just the exact hair extensions that I was looking for. Thanks!!!!

(Posted on 10/10/2012) (Posted on 11/16/2014)
These are the best hair extensions that I ever had. Even my boyfriend love them!!! I have had trouble finding the right one in the past. It took me only a few minutes to find what I was looking for in your site. Found the correct colour and shade. Thanks!!

(Posted on 7/31/2012) (Posted on 11/16/2014)
Guys, thanks!!! The hair extension is fabulous, just the correct length with the shade they perfectly matched with my looks. Really lovely!!!

(Posted on 3/3/2012) (Posted on 11/16/2014)
Blown away!! I wore them for the first time last night and it looked natural on me. Definitely the best find for me.

(Posted on 2/28/2012) (Posted on 11/16/2014)
Write Your Own Review
Product Tags