Despite every hair manufacturer's claims that they sell the most incredible, perfect hair extensions, it's just marketing fluff. First, many good and bad hair extension stores exist in the USA, China, and France.
So, instead of just talking about our hair extensions, we have decided to do something drastically different. Let's talk about good hair extension brands. Be it clip-in and tape-in companies or other fusion types, including our competitors. Finally, we firmly believe that every individual deserves beautiful hair. Some are blessed with long locks, while others rely on hair extensions. These beliefs are rooted deep inside us! You don't have to buy hair extensions from us because there are many other stores around you.
We will celebrate 25 years in the hair business in just a few years. Indeed, we know this market, and you'd better be sure that we also learn about our competitors – where their hair comes from, what suppliers they use, etc.
Best Hair Extensions Brands

Quick Access
Luxy Hair | AiryHair | Irresistible Me | Bellami Hair | Glam Seamless | Zala | Donna Bella | Unice Hair | Sally Beauty | Bonus: Best Hairstyles
Below, you will find a list of our favorite hair extension brands that sell clip-in, tape-in, and many other extensions. These are well-respected, trustworthy companies that we have no trouble recommending. In addition, we will compare their policies and ratings from pages other than their own.
Best Hair Extension Brands
| Brand | Returns | Opened? | Used? | Rating |
| --- | --- | --- | --- | --- |
| Luxy Hair | 60 Days | No | No | 9/10 |
| AiryHair | 60 Days | Yes | Yes | 9/10 |
| Irresistible Me | 30 Days | Yes | No | 8/10 |
| Bellami Hair | 30 Days | No | No | 7/10 |
| Glam Seamless | 30 Days | No | No | 7/10 |
| Zala Hair | 60 Days | Yes | No | 7/10 |
| Donna Bella | 30 Days | Yes | No | 6/10 |
| Unice Hair | 30 Days | Yes | No | 6/10 |
| Sally Beauty | No | No | No | 6/10 |
Please note there aren't that many great brands to begin with. A rating of around 7/10 indicates good quality and is way above the industry average of 5. What we've found is that women rarely praise extensions but will always submit a complaint. There are ten times as many 1* reviews as 5*.
Luxy is going to be on top of the best brand lists. They are the pioneers of high-quality hair extensions. You have to pay for the brand and quality, as none of their extensions come cheap. Luxy is one of the best clip-in hair extension brands if budget isn't your concern.
Also, since Luxy is mainly known for clip-in extensions that tend to experience minor damage, reviews are primarily favorable. Most worthy, other wefts women wear daily, while clip-ins might be applied once or twice a month on average. Another key factor for mostly positive reviews is hair lifetime. In other words, it is extended due to infrequent washes.
Rating
TrustPilot: 9.2 out of 10 (1,356 reviews)
Google Reviews: 9.6 out of 10 (141 reviews)
Reseller Ratings: Unlisted
Down by 0.1 points since 2022.
Down by 0.1 points since 2023.
Returns & Exchanges
Return Window: 60 Days
Return Used Hair: No
Conditions: Hair can't be Opened
Fees: Shipping

AiryHair is truly one of the best hair extension brands for tape-in and clip-in hair extensions. Hair quality is identical, no matter the attachment type. These words don't just come from the marketing department. Instead, it's all about customer reviews, support service, and return terms.
Unlike Luxy, we haven't seen much interaction with other hair extension stores. A customer leaves a negative review, and they are out. Luxy and AiryHair, on the other hand, try to make things right. The same goes for return terms; they are the friendliest of all hair stores. Furthermore, AiryHair accepts custom hair orders also.
In late 2022, they introduced a new type of premium product called "Black Label", with early reviews rating them higher than even Luxy.
Rating
TrustPilot: 8.8 out of 10 (210 reviews)
Google Reviews: 8.9 out of 10 (50 reviews)
Reseller Ratings: 7.9 out of 10 (80 reviews)
Up by 1.5 points since 2022.
Up by 0.2 points since 2023.
Returns & Exchanges
Return Window: 60 Days
Return Used Hair: Yes
Conditions: Can Return Damaged, New, or Used Extensions
Fees: Shipping
Irresistible Me is more than just a hair extensions brand. They have been producing quality wigs and hair tools for a few years now (if not more). I do enjoy their consumer-friendly return policy, at least for US citizens. In addition to that, they will not charge you any ridiculous restocking fees like another highly-rated, well-regarded hair extension brand. For some reason, though, they never took off.
Sadly, they are not listed on Google Maps, which I think is the hardest place to do fake reviews.
Rating
TrustPilot: 6.3 out of 10 (1 review)
Google Reviews: Not Listed
Reseller Ratings: 6.3 out of 10 (136 reviews)
Down by 0.8 points since 2022.
Down by 0.1 points since 2023.
Returns & Exchanges
Return Window: 30 Days
Return Used Hair: No
Conditions Must Have Protective Seal Intact
Fees: Shipping from outside the US
Like Titanic, everyone will sooner or later find out about Bellami Hair. We've heard about their quality and great reviews in the past, but 2023 does not look that good. Upon reading many posts from their users on sites, we were left with mixed feelings. Maybe it was just a coincidence, and other sites have much better reviews.
I am sure many clients swear by Bellami Hair extensions. However, seeing recent reviews gives me a limited amount of confidence. Should you ignore them? No, just be sure to read their less-than-friendly return terms.
Rating
TrustPilot: 2.2 out of 10 (82 reviews)
Google Reviews: 6.6 out of 10 (27 reviews)
Reseller Ratings: Not Listed
Down by 0.1 points since 2023.
Returns & Exchanges
Return Window: 30 Days
Return Used Hair: No
Conditions: Must be Unopened; some Items are Non-Refundable
Fees: Shipping + $29.99 Restocking Fee for Tools
Another popular hair extensions brand on Instagram and all social media. With over 188k followers and YouTube videos, their presence is undeniable. Minus the return terms, their brand appears to be in the top 3. Now, what about hair quality? Hair reviews are pretty good, especially on Google Maps. In addition to that, their color and length selection is also one of the best, while pricing is decent.
Like many other brands, it also offers a color match service, perfect for new hair buyers.
Rating
TrustPilot: 3.4 out of 10 (27 reviews)
Google Reviews: 8.0 out of 10 (24 reviews)
Reseller Ratings: Not Listed
Down by 0.2 points since 2023.
Returns & Exchanges
Return Window: 30 Days
Return Used Hair: No
Conditions: Must be Unopened, Store Credit or Exchange Only
Fees: Shipping + $12.95 + 15% Restocking Fee for Refunds (No Fee for Exchanges)
Zala has been around for many years and is considered one of the better brands for tape-in and clip-in hair extensions. Most of the consumer reviews online have been positive. On the other hand, third-party sites paint a different picture. Lastly, Zala has gained a lot of followers with its social media and influencer campaigns.
So, while I wouldn't count on YouTube reviews to be all that honest, check other places, such as TrustPilot. Another word of caution: if a well-known brand is unlisted on many review sites, there is a reason for that. Would you want your company removed if it had mostly positive reviews?
Rating
TrustPilot: 4.9 out of 10 (4 reviews)
Google Reviews: Not Listed
Reseller Ratings: Not Listed
Returns & Exchanges
Return Window: 60 Days
Return Used Hair: No
Conditions: Must Have Hygienic Seal Intact
Fees: $15 Restocking Fee + Shipping + ZALA's Shipping Expenses
Donna Bella claims to use Indian hair that is then processed in China, which I have doubts about. However, no matter what they do, customers love or used to love Bella Hair. Their brand has been among the best-rated for 2017 and early 2018.
What about 2023? For reasons beyond our comprehension, they are now rated 1 out of 100 by close to 100 women on the Reseller Ratings website. Everyone is shocked by Donna Bella's quality, and dozens of reviews show that. Keep that in mind.
Rating
TrustPilot: 4.9 out of 10 (4 reviews)
Google Reviews: 8.4 out of 10 (15 reviews)
Reseller Ratings: 1 out of 10 (97 reviews)
Down by 0.8 points since 2023.
Returns & Exchanges
Return Window: 30 Days
Return Used Hair: Maybe
Conditions: Original Package + Must Be Like New
Fees: 15% Restocking Fee + Shipping
While only TrustPilot ratings were available at the time of writing, the BBB has around 120 complaints about Unice Hair. The Google reviews ratings we picked were from their store in Culver City. They do have more than one location. I enjoy their return policy; there's a way for the seller to avoid paying the shipping fee in case the wrong item came or it was an issue with the quality.
Rating
TrustPilot: 4.6 out of 10 (2,258 reviews)
Google Reviews: 3.9 out of 5 (111 reviews)
Reseller Ratings: Not Listed
Down by 0.5 points since 2023.
Returns & Exchanges
Return Window: 30 Days
Return Used Hair: No
Conditions: Original Package + Must Be Unused
Fees: None
Sally Beauty is one of the best-known brands, but is it any good? The summaries below give you a good idea. For our Google reviews, we've picked the closest store that is in Chicago. While Sally accepts other item returns, hair extensions due to hygienic reasons are said to be nonreturnable.
Rating
TrustPilot: 1.7 out of 10 (307 reviews)
Google Reviews: 3.98out of 5 (36 reviews)
Reseller Ratings: 2.6 out of 5 (138 reviews)
Down by 0.1 points since 2023.
Returns & Exchanges
Return Window: None
Return Used Hair: No
Should You Trust Reviews?

The best recommendations will always come from your friends. Likewise, these trustworthy individuals have no reason to lie to you. However, it would be best if you were cautious of video reviews from so-called influencers and speaking about them…
YouTube Reviews
Often products are given for free to these personalities, and they have no choice but to tell how great hair extensions are. That's the truth. We've seen fake reviews from competitors, women that will praise anything as long as you give them a product, etc.
AiryHair has been in business for years, and the number of emails we received and offering to do a paid video review is insane. Funnily enough, the more subscribers these people have, the higher the probability of a non-genuine review. No, we are not saying that every YouTube star is like that, but it's just human nature. Why?
If you were a business, would you rather pay someone to do a positive review or take a risk (assuming viewers don't know the truth)? If you were running a YouTube channel, would you get more interest from companies by offering guaranteed/positive reviews or genuine and uncertain reviews?
Text Reviews
Recently, Amazon has identified thousands of fake reviews on their site and is taking appropriate actions. The sad reality is that pretty much everyone does that.
We know more than one company that spends $20,000 – $50,000 / year on said reviews alone. Why so many? Imagine seeing a pretty cool product with 5 out of 5 positive reviews. Now imagine seeing the same product (at least in terms of features) but with over 200 positive reviews. Assuming the price is identical, which one would you buy?
Should You Trust Top 10 Lists?
I can't speak for everyone, but we were offered a spot on a famous site covering this topic. More than once and all for the decent price, of course, which we kindly refused. We don't believe in paid reviews or paid placements. The truth will eventually come out, one way or another. Hopefully, other magazine editors loved our hair and genuinely wanted to include AiryHair, not just trying to make a quick buck.
You can't trust anyone these days. That's the sad truth. So, what's our advice? Just select a hair store with a decent return policy.
Disclaimer
This is my personal opinion that I have formed based on Google and other site reviews. Every brand listed here is considered to be among the best. The opinion is not official of AiryHair or any other hair store. Return policies and ratings might change. Please check terms and reviews before deciding. Lastly, to make reviews easier to read, we have modified Google's score from a scale of 5 to 10. In other words, review scores that were shown as 4.5/5 now appear as 9/10.
Good Brands for Wholesale & Hair Salons?

When it comes to picking between different hair extension brands, especially when starting hair extensions business, it can get tricky. There are thousands of various stores online.
However, we can still eliminate most of these by following a simple elimination rule, so let's get started. First, use the following rules to distinguish between good and bad brands.
Phone Number
Their online store must have a phone number. First of all, this is a big one since 95% of all online stores are operated by random people who have no long-term experience! Most importantly, they do not own their hair but instead are resellers. Consequently, that brings us to point number two.
Do They Resell?
Go with a hair supplier that runs their factory. Because most of the stores rely on affiliate or drop shipping services, finding the one that can, for example, manufacture anything you want from scratch is a good sign of a company that has direct control of its factories.
Returns are Important
When it comes to quality, they must accept hair returns. That's important. Otherwise, if a buyer does not trust their products, why should you? AiryHair, for example, offers a 30-day money-back guarantee without any tricks, and the best part? The countdown starts only when you get the hair, not when you order.
Reviews
While most fake reviews can come from the seller itself, genuine Google Maps reviews are much more challenging to find. Just browse around and see what people are talking about. Video reviews often receive dishonest sponsorships as well. For the reason that is misleading reviews, always use multiple 3rd party sites.
Discounts
Wholesale discounts are another important factor! Especially if you plan to start your own hair business. Fortunately, AiryHair not only offers discounts to big orders but also beauty salons or hair dressers.
What can you do with the newly purchased hair extensions? Here are some of the best hair extension ideas.
Best Teal Hair Extensions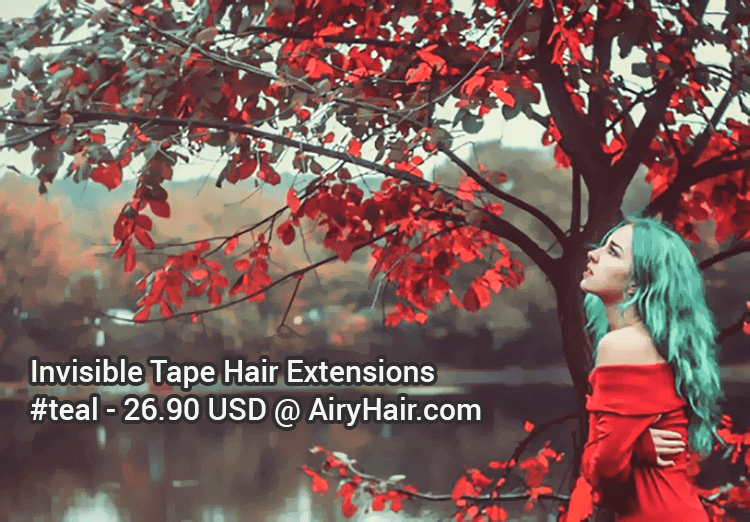 Lately, many cool hair colors have become very popular, and teal is one of them. But unfortunately, dyeing your hair in those crazy colors is very complicated and can damage your hair. That's why teal extensions are the way to go. They have the look and feel of real hair, and you will get your stunning teal hair color.
Best Hair Extension Texture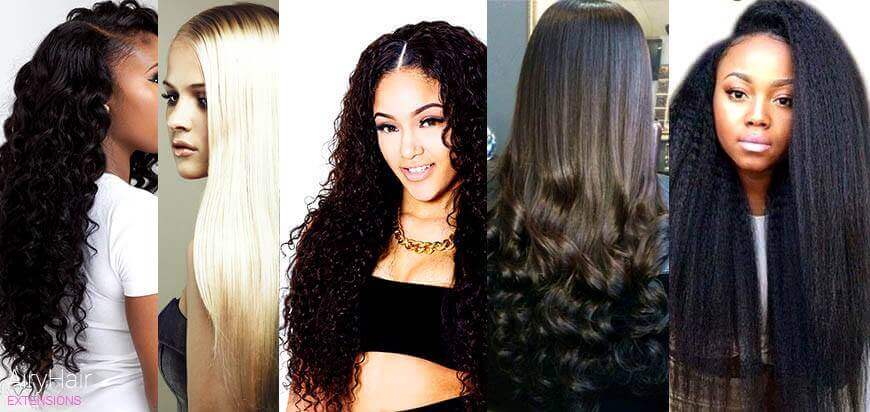 Long hair has always been popular, and it always will be. It gives you many options for styling and looks superb. The only problem is that it takes a long time to grow. That's why many women are using extensions to add length to their hair. Different curls are also trendy, from simple body waves to kinky curls.
Best Braided Hair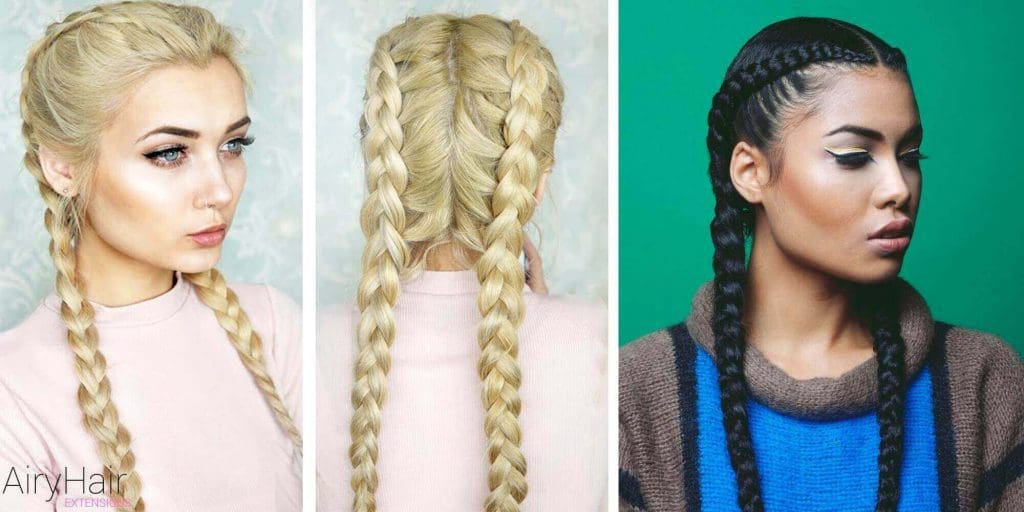 Braids are a hit this season. These kinds of braided pigtails are also known as boxer braids. Khloe Kardashian made them famous, and suddenly everybody wanted these cool braids. They are relatively easy to make, and they look fantastic!
Copper Ombre Colors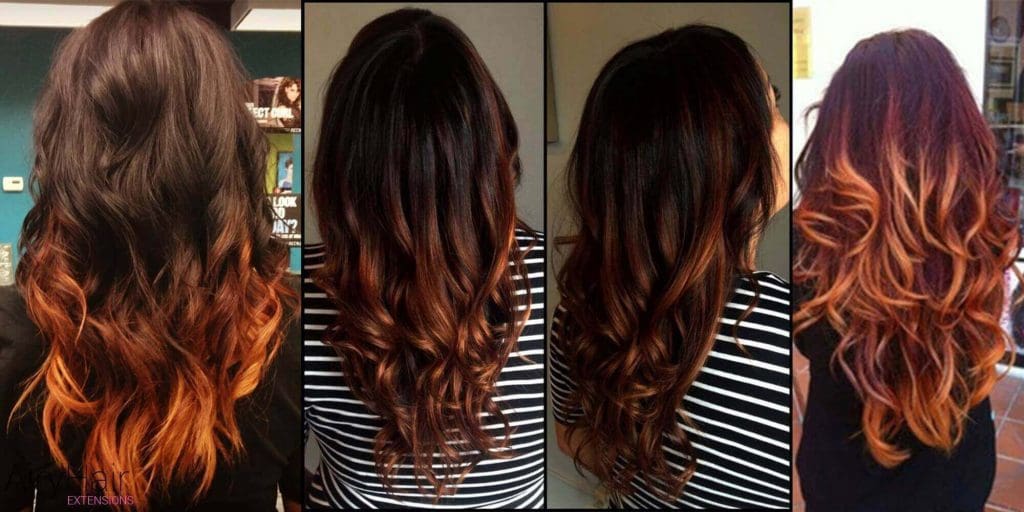 Copper ombre is a simple hairstyle that looks good. If you have simple brown hair and want to highlight it a little, this is the perfect hairstyle. The touch of copper/orange accentuates naturally brown hair.
Best of Mixed Hair Extensions Brands
Different color combinations and ombres are popular right now. You can get these looks by adding ginger or teal/blue extensions to white hair. It creates a beautiful contrast, and by using extensions, you can try out both styles without coloring your locks!
Fushia, Pink and Lavender Combination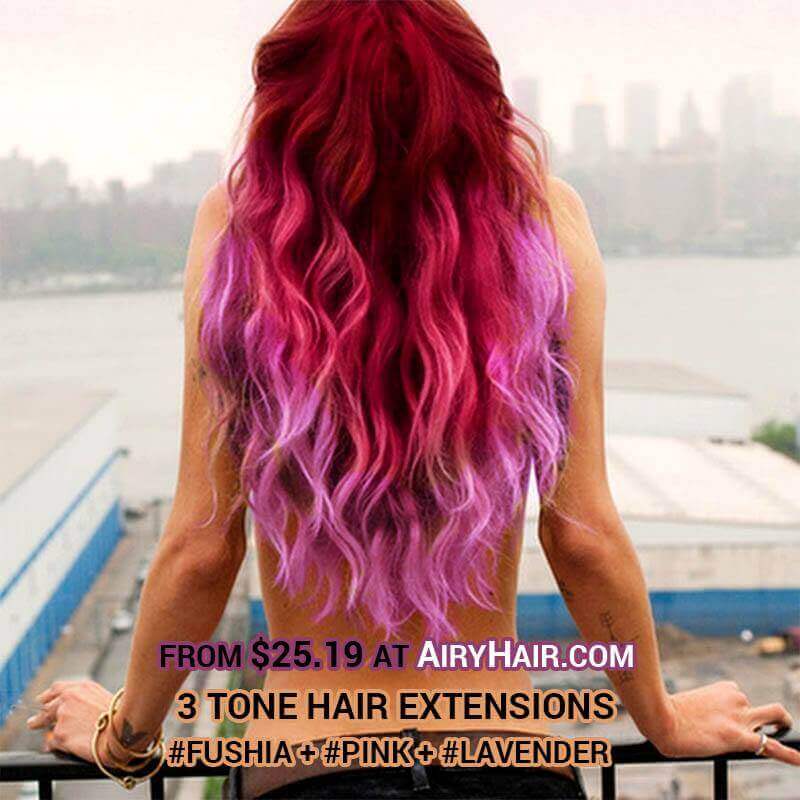 This is a stunning combination of colors. You can get this look by simply buying these beautiful three-tone fuchsia, pink, and lavender hair extensions! The colors are simply amazing, and they also create a beautiful ombre effect. You definitely won't be unnoticed with this stunning hairstyle!
Best White Hair Extensions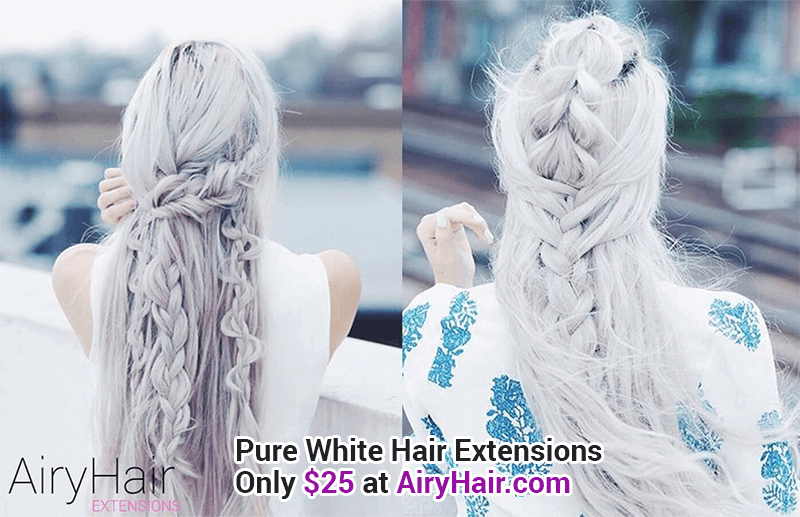 Pure white or silver hair colors have seen a rise in popularity lately. This hairstyle looks majestic, elegant, and eye-catching. White hair color looks great on different hairstyles, but long white hair gives you many other options, from all kinds of braids to different types of curls.
Since going from natural hair color to pure white usually involves a lot of bleaching that can severely damage your hair, virgin white extensions are the best option.
Best of Hot Pink Hair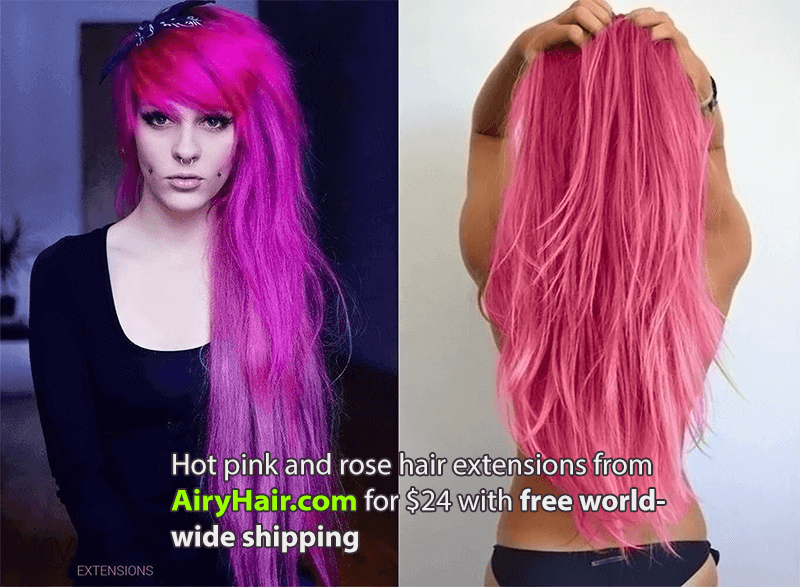 Pink is a color you can't go wrong with, and there are many shades, like fuchsia, rose pink, baby pink, dark pink, etc. So if you're dreaming of having long pink hair, you can buy these beautiful extensions cheaply and get your perfect shade of pink.
Dyeing your hair pink is very complicated and can damage your hair, so extensions are the perfect alternative. But if you did dye your hair pink, you can always use extensions to add to the length of your hair.
Three Tone Extensions Brand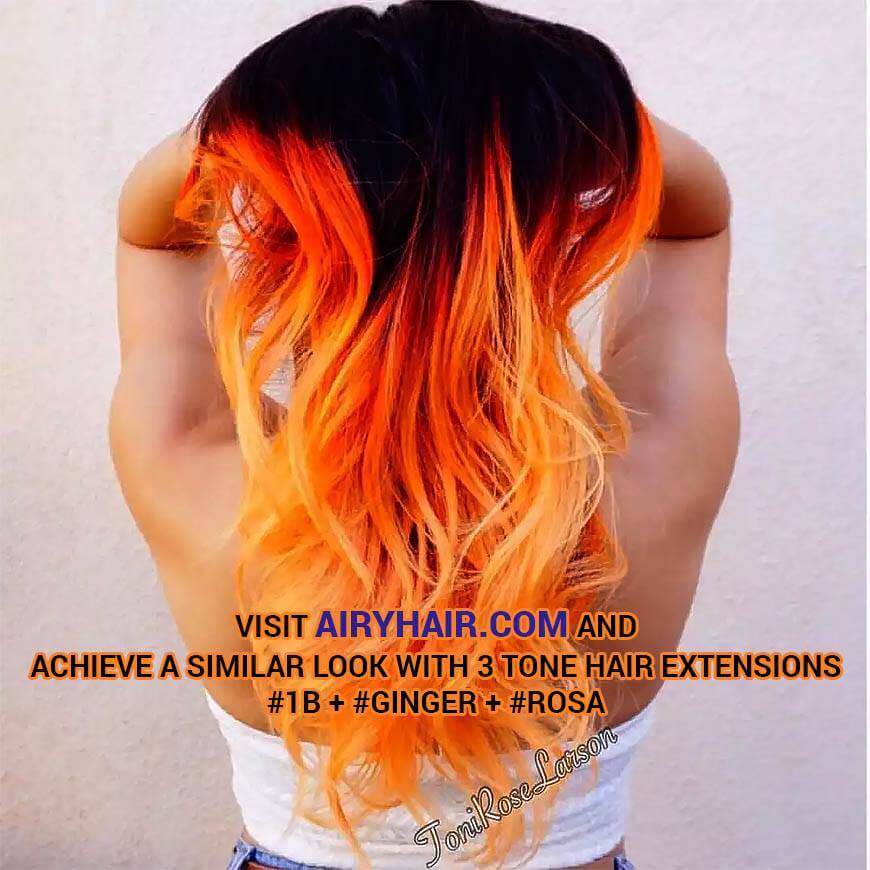 This is another great ombre hairstyle. Black roots are blending into the ginger/orange hair color, creating a beautiful dark/light contrast.
Dark hair color is always a great starting point for adding different colors to create an ombre effect. It is especially great for adding extensions; if your natural hair is dark, you can simply add ginger extensions to create this look or you can even buy extensions that already have a color in several different tones.
Complicated Extensions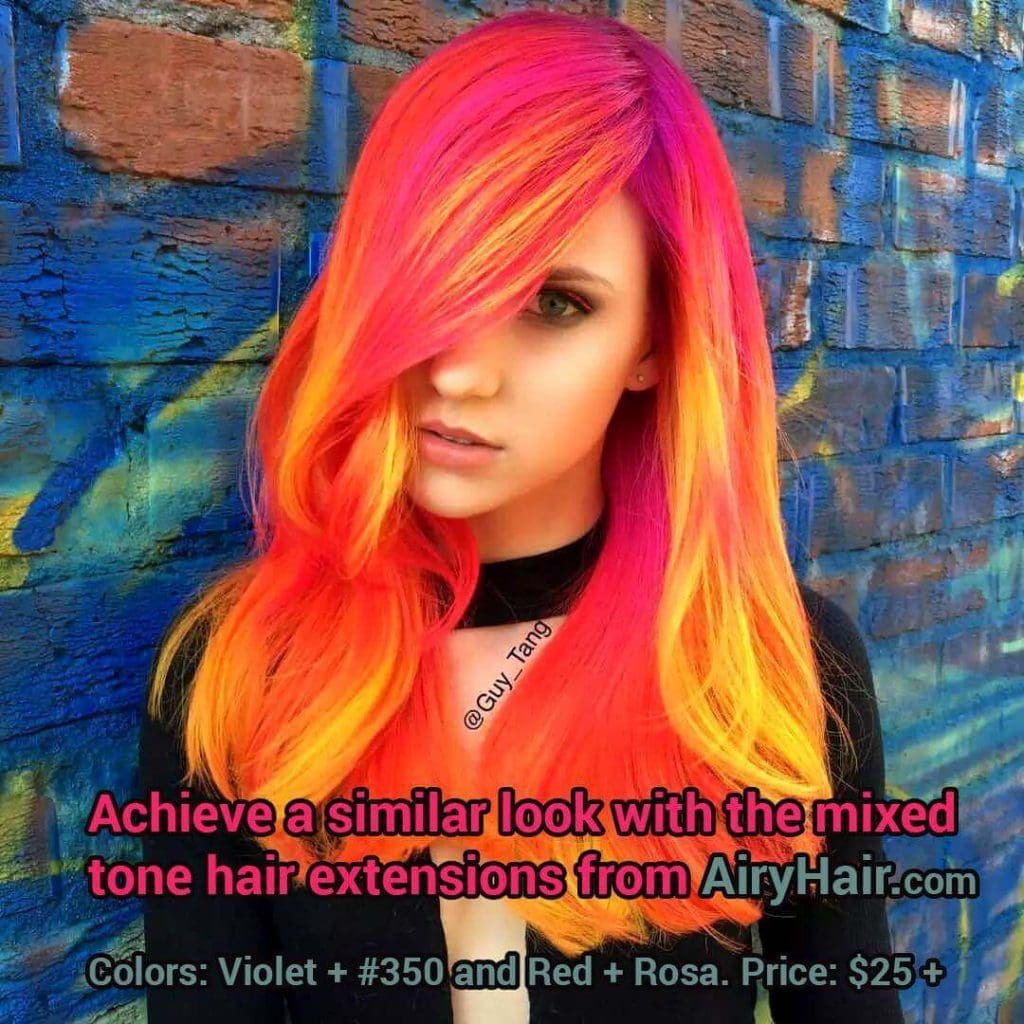 This cool hairstyle is created from very vivid, intense colors. You can see shades of violet, red, pink, rose, and yellow, and all of them are very strong colors. Since achieving this look by dyeing hair in all those different colors and shades is complicated, you can simply buy different colored extensions. The best thing about it is that you can constantly change your look by merely placing the extensions differently. There are numerous possibilities, and this color combination is bold and intensely beautiful.
Rainbow Color Extensions Brands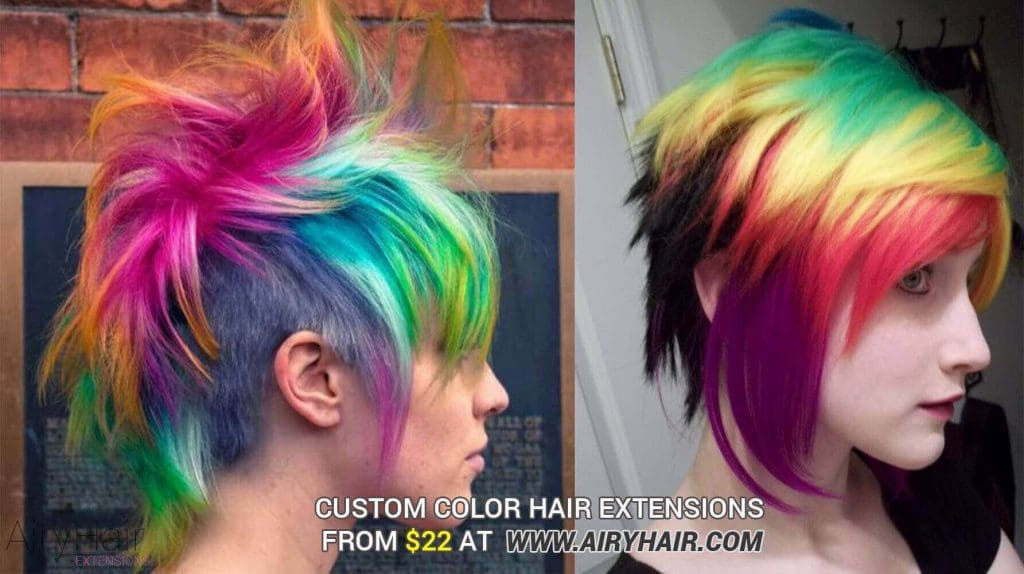 Sometimes one or two hair colors are just not enough to create a unique hairstyle. If you want to go all out and have all the rainbow colors on your hair, this is the perfect hairstyle for you! It is eccentric and unique, and you can show your personality with this kind of hairstyle. Although it looks like it's very hard to achieve this look, that's not the case.
It is very simple and straightforward. Buy extensions in all kinds of different colors and shades and combine them. After that, it is up to you how the result will look, and you can play around with different placements and combinations of the extensions.
Best of Ombre Extensions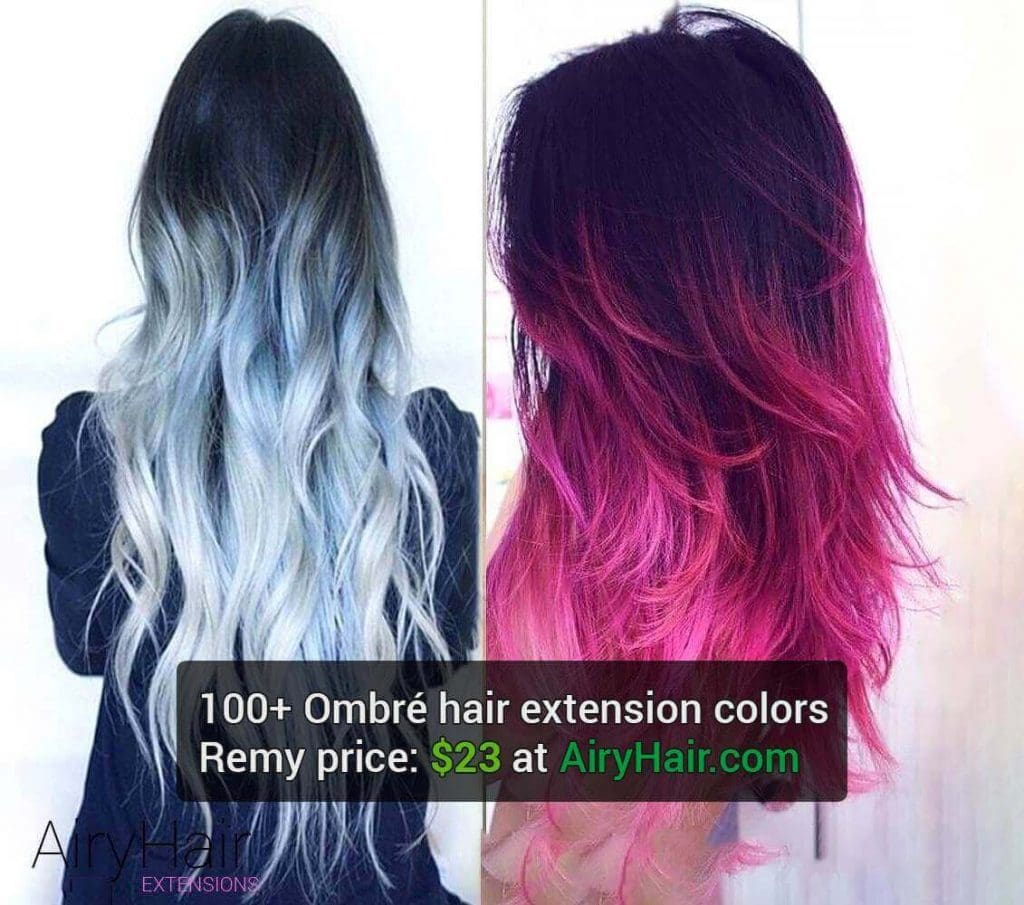 Dark hair and a lighter shade are always good because they create a nice contrast. That's why ombres are so popular, with so many variations. Here you can see black and pastel blue and black and pink ombres that both look great.
So, if you have black or dark brown hair and you're bored with it because it looks so ordinary, add these high-quality Remy extensions, and your look will be transformed.
Pastel Hair Extensions Brand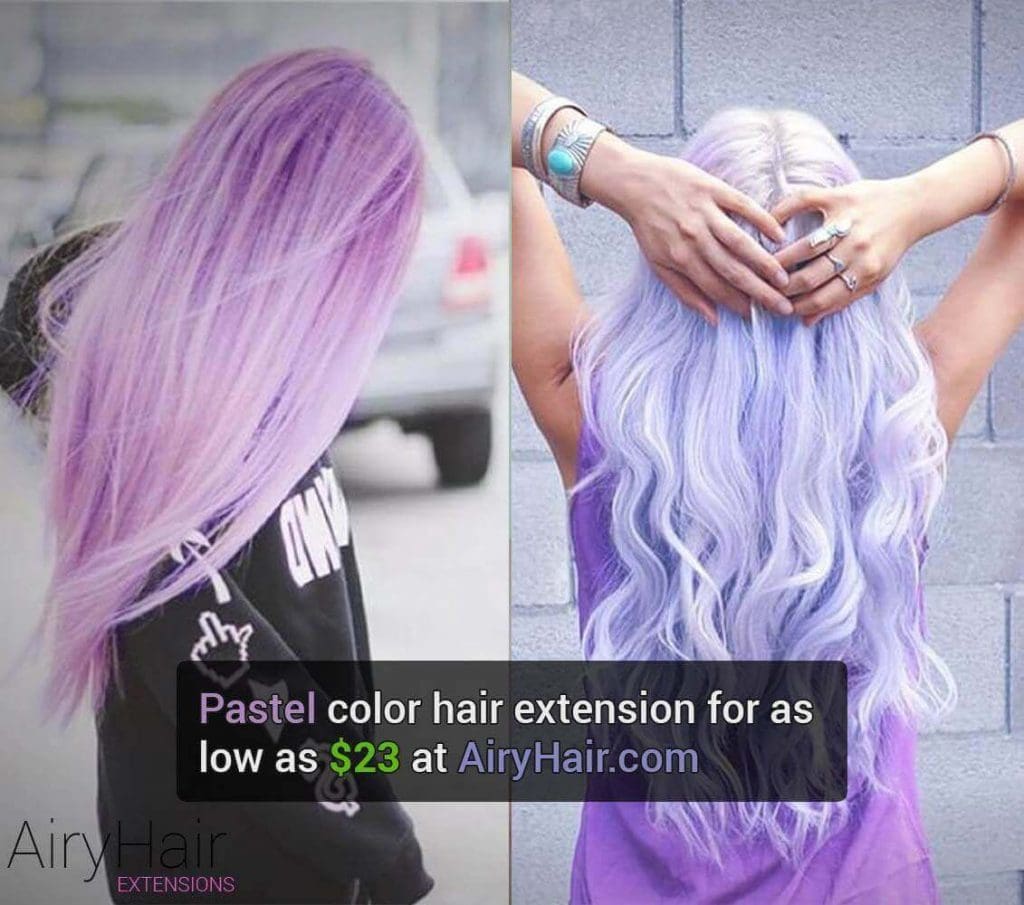 Another big trend now is pastel-colored hair! Pastel colors are gentle, and light and have that special shade. The most popular pastel colors now are pink, violet, blue, teal, and green. So, this is the perfect hairstyle if you want to be trendy and have gorgeous hair color. It is different enough to make you stand out from the crowd, but the color is gentle enough to still make you look elegant and fashionable.
Crazy Spray Hairstyle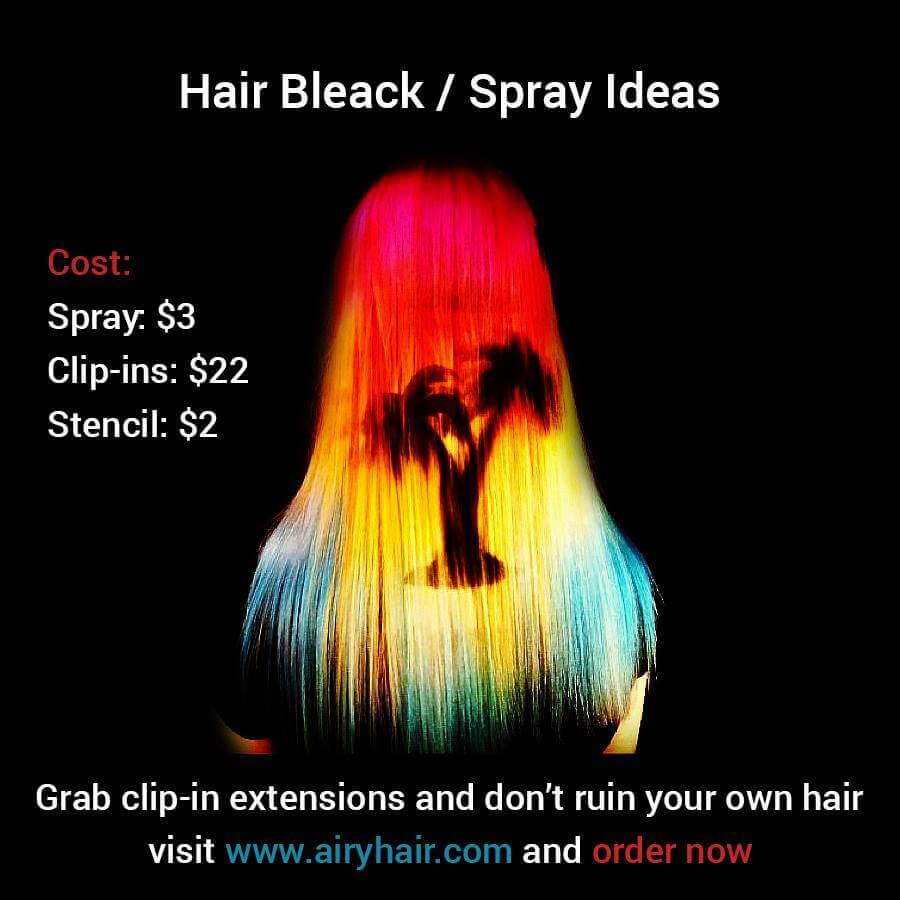 Halloween, New Year's Eve, and parties are always an occasion to go one step beyond just your usual hairstyle you would have every other normal day. It is a perfect opportunity to go wild and let your creativity flow because everything goes! Not only can you have all kinds of crazy colors on your hair, but you can also add shapes and accessories. But be careful; this is not something you want to do to your natural hair because there's a big chance you'll damage it.
Grab some easy-to-install clip-in extensions, and then you can go wild and do whatever you like with the extensions and keep your natural hair healthy and beautiful.