Details
Introduction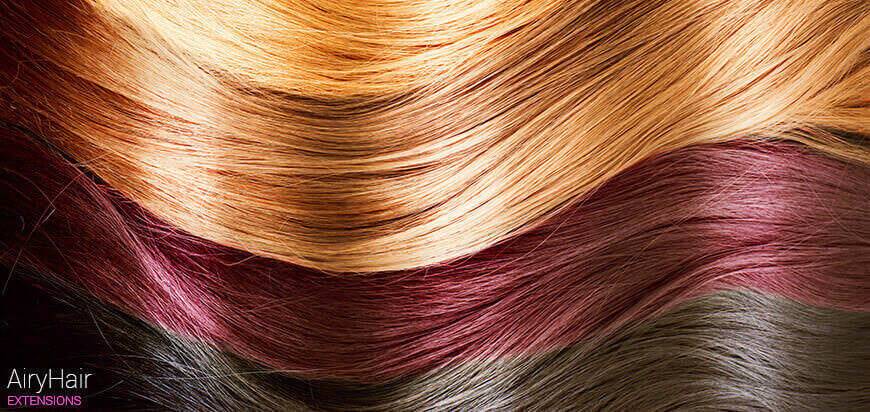 The most natural way to give your hair length and volume: nail / u-tip hair extensions. These high-quality tresses are attached using a hot fusion method and can last for a really long time.

Item Name

Remy Nail / U-Tip Straight, Wavy and Curly 100% Human Hair Extensions (100 Strands)

Package

Your Nail / U-Tip extensions package will include 100 strands.

Product Information

The u-tip extensions are hair strands with a u-shaped tip made of artificial keratin. The nail tip extensions are long-term hair tresses that you need to wear constantly for several weeks. They are attached with the bonding method of melting the glue and fusing it with your original hair.

1. Color: All available colors (including off-black and dark auburn)
2. Length: 10 to 30 inches
3. Weight: 40 to 100 grams, 120-140 grams for 22-30"
4. Strands: 100
5. Single Strand Weight: 0.4 to 1.4 grams
6. Texture: Straight, Wavy and Curly

Features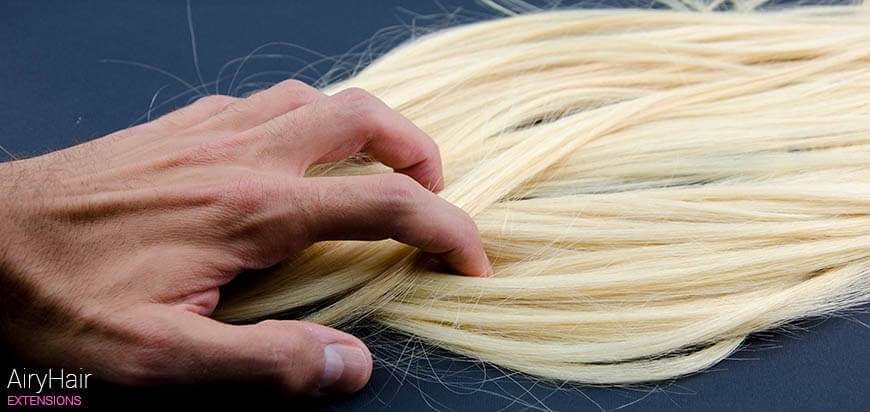 1. Hair extensions so soft that you can't stop touching them
2. Super soft nail shape
3. Pre-glued u-tip extensions that can be easily applied and removed
4. Made of Remy hair
5. Super long 26-inch u-tip hair extensions

What is Double Drawn Hair?

Double drawn hair is the type of hair that is manually treated to eliminate shorter hair. As a result, 90 to 99% of all hair is of equal length, from top to bottom, resulting in really thick ends and much more volume.

Single drawn hair extensions are thinner at the end.

Why Choose Remy Hair?

Please note: a lot of stores put "Remy" labels on all kinds of hair products, even though they are not genuine. Such extensions are treated with acid to remove the cuticles and deceive the customer.

Our products are always of high quality.

Real Remy hair (also known as Remi) is the highest quality hair available. It is all of the same length and is correctly aligned with all cuticles facing the same direction. As a result, Remy hair extensions are tangle free and last longer than non-Remy products.

How to Apply?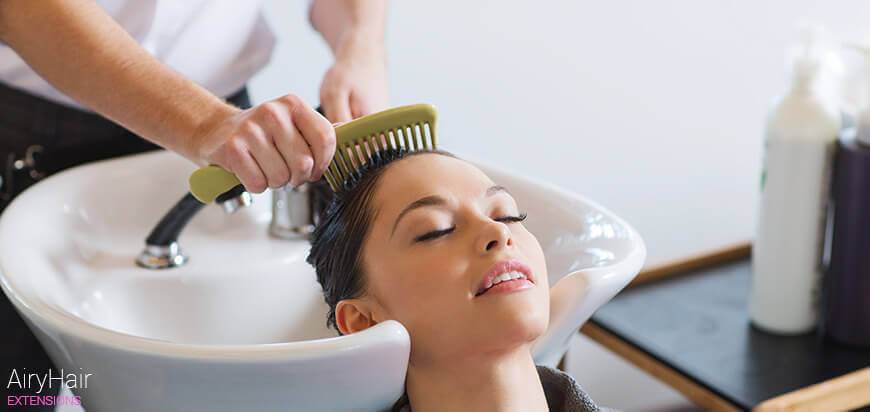 1. We recommend you to ask your friend or a hairstylist for help if needed. Such extensions are most popular on straight and wavy hairstyles. Find the ones that match your natural hair.
2. Start by making a horizontal split in the neck region. Hold the upper section in place with a hair clip. Set out strands in the lower section as per the number of extensions you are going to wear. Keep the strands straight.
3. Now, proceed by attaching the 'Nail' extensions. Remember to avoid setting them too close to the root. Keep a gap of at least 1.5 inches from the root. Otherwise, the extra hair could put stress on your scalp.
4. Use the fusion connector to slightly melt the glue layer. Once it is malleable, roll the glue between your fingertips to attach it firmly to your hair. You will have to attach extensions in at least three horizontal layers up to your temples. You may also want to add some side extensions.

How to Remove?

1. Apply one to three drops of remover to the glued hair part.
2. Use flat pliers or a similar accessory to break down the glue.
3. Now separate the u-tip hair from your own hair.
4. Clean the glue leftovers (if needed) with shampoo, a comb, or a combination of both.

Hair Care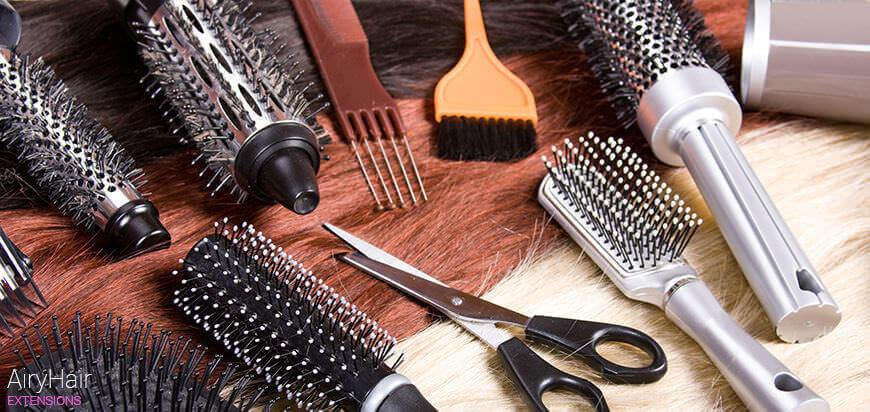 Treat hair extensions just like you would treat your own hair.

1. Be sure to untangle the extensions before shampooing. In order to improve their longevity, use a mild high-quality shampoo recommended by your local hairdresser or stylist. Don't rush the process.
2. For the best results, apply a leave-in hair conditioner afterwards, but don't overuse it.
3. We recommend letting the hair dry naturally. If you want to use a blow-dryer, the best results will be achieved with the low heat setting.
4. When the extensions are not being used, place them in an air-tight container, making sure they are clean and untangled first.
5. If you are going to bed and can't remove the extensions, a ponytail will prevent the hair from tangling and will increase the overall product lifespan.

For more tips, please consult a professional hairdresser. With proper care, your extensions will last 1-6 months or even more.

Shipping

We offer a variety of different shipping methods:

Free international shipping by registered air mail takes 10-30 days to the USA, Canada, the UK, Australia, and Western European Countries (except for Italy).
EMS takes 4-8 business days to the USA, Canada, the UK, Australia and Western European Countries,
FedEx/TNT/DHL takes 1-4 business days to the USA, Canada, the UK, Australia and Western European Countries.

The usual handling time is less than 24 hours and most of our items are dispatched as soon as the payment is verified. However, in the case of some factors that are outside our control (such as the post office being closed), the handling may take up to 72 hours.

Top 5 Reasons to Buy from Us

1. It's Risk-Free. We Offer a 30 Day Money Back Guarantee!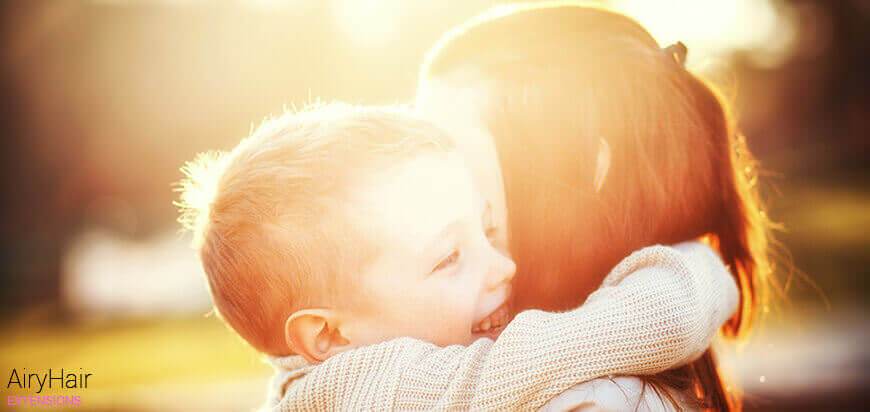 Unlike other providers, the 30-day countdown starts from the minute you receive the package and not from the time we sent the hair.

- Receive a Full Refund for Used / Unused / Well Packaged Hair

If you have received the correct hair extensions but don't want them anymore, please send them back to us and receive a full refund (minus the shipping costs).

If you have received the wrong hair extensions (wrong color, length, texture), you can exchange them for another set or receive a full refund.

You have absolutely nothing to lose!

Continue Reading
Reviews
Customer Reviews
I just recieved and installed my package of nailhair that I ordered from you.

I would love to rewiev for you on my instagram.
xoxo (Posted on 5/3/2017)
Got my shipment, beautiful!

Thanks so much. I will be placing a larger order again soon. (Posted on 4/29/2017)
I love the double drawn u tip hair extensions that I purchased. They match my hair color perfectly and have a great silky, smooth texture! (Posted on 4/25/2017)
I just wanted to say thank you for this beautiful hair I m so happy . I will order next time again i m a happy customer.. my order came fast too.. thank you guys (Posted on 4/14/2017)
I love it!!!!! I wear them 6 months and i have so much hair!!!! I really i am happy for you airy because i find the best hair in 20 last year!!!! I am so happy for this great helpful to find what i want and thank you for quick shipping!!! I love you Airy!!!! (Posted on 1/11/2017)
Thanks so much I love the hair!(: I just ordered 200 more grams of your clip in extensions because I didn't realize the weft ones I ordered didn't have clips :( (Posted on 1/11/2017)
Hi June.

I love the hair and wanted to order more..

However, is there some way that you can do a black keratin tip instead of the one used in my previous hair bundles?

As far as the hair itself I have never had such beautiful manageable long lasting extensions ever. Airy hair has a remarkable product with the exception of that clear yellowish tip. (Posted on 1/11/2017)
I just received my bundles of hair today and I'm in love! The color matches perfectly too! Thank you so much:) (Posted on 12/27/2016)
June! I have to thank you first for being so efficient with my orders. I took a risk with this but this is the best decision ever I have taken in my life. Thank you so much for everything... (Posted on 12/3/2016)
I ordered these in the 12/613 color and was really worried about how they would be as my daughter who gets extensions all the time warned me that for that price I would probably get the cuticle going the wrong way which would end up in matted frizzy hair. As soon as I got them I did the test on one - brushing it over and over and it stayed untangled to I had them put in. Not only do they match my hair perfectly but they are so soft!! I have had no shedding either with these extension. I will be back to order more and my daughter was so impressed she is going to order some as well. Thank you Airy Hair!! (Posted on 11/6/2016)
I got my first hair and loved it, they are so soft! (Posted on 10/18/2016)
Thank you, I got the paypal email about the refund of my duplicated order and received my extensions a few days ago (love them !!) thank you for the great customer service !! I'll definitely be buying again in the future. (Posted on 9/19/2016)
I recently purchased utip hair extensions 26inch 1.4g per strand double drawn and they are fantastic. The bindividual to tip is the same density instead of other brands that are stringy and thin at bottoms. I bought straight ones. I may buy wavy also my hair is curly now from certain medications but I have enough hair now that I can have extensions. It's a wonderful feeling. (Posted on 8/14/2016)
I couldn't get over how soft and pretty these were right out of the box. And they shipped so fast, wow!! I expected it to be a lot more difficult to put them in but actually with just a few youtube videos I didn't have any problem at all. Definitely recommend these to all my friends and family now! (Posted on 5/23/2016)
Yes yes yes!!! If you are looking for hair extensions and you don't want to spend your life savings, DEFINITELY check out AiryHair, it's soooo worth it and you'll be so happy with the end product you'll wonder how you got along for so long without them! There's no going back! (Posted on 2/10/2016)
So many fun colors and so easy to wash and wear! They always look good even after heat styling, and they've held up really well for weeks already. I love it!!! (Posted on 2/10/2016)
Needed something new to change up my hair extension routine and was happy to find an affordable solution. I expected them to be good, but I was pleasantly surprised to find they were outstanding! So great! (Posted on 12/11/2015)
Usually when you buy something online you have to be really careful about getting the color and texture right and it ends up being more of a nightmare than it's worth, but with airyhair everything was so easy and it looked perfect right out of the box! Need to buy more of these!
(Posted on 12/11/2015)
had a hard time deciding which extensions to choose but thanks to their compare product options, comparing different extensions were made easy. Still can't decide which one to buy so I purchased both of them. (Posted on 11/14/2015)
These are so great!! I never thought I'd fall in love with a hair extension I bought online of all places but this is so much better than I expected. Love it! (Posted on 11/8/2015)
Didn't hurt at all to put in or take out, and they still look as good as the day I bought them! A+++++! (Posted on 11/8/2015)
My favorite thing about these new hair extensions is just how soft and pretty they are. Wow! The color is just gorgeous, the ends are neat and shiny, and nothing looks or feels plasticy or cheap. It's a high-quality hair extension for a really reasonable budget. Easy on the hair and the wallet! (Posted on 11/4/2015)
I was skeptical when my friends told me they found cheap hair extensions that they actually liked. But AiryHair fits the bill perfectly. Soooo nice. (Posted on 11/4/2015)
So pretty, easy to wash and wear, and the color still hasn't faded! I'm totally sold on these. Looking forward to buying the next set already, but it's not gonna happen anytime soon—these are so long-lasting! (Posted on 10/28/2015)
I can't tell you how thrilled I was to finally find extensions that work for me and my budget—but that don't feel like I'm wearing cheap costume pieces. These are the real deal! (Posted on 10/28/2015)
Never found hair extensions this nice for such an affordable price before, it's really great just to be able to buy exactly what I want online and have it shipped to my door. Always comes right on time, right color, never a mistake with my order. (Posted on 10/28/2015)
BEST hair extensions you can possibly find for such a LOW price!! And a really good quality too, these are absolutely awesome! (Posted on 10/24/2015)
Can't say enough about how great these were! Definitely going to be buying more in the future, so excited! (Posted on 10/24/2015)
Excellent extensions. I soooloooveeeeeiiiiiit… Willl order some more for my mom and sister. Thanks (Posted on 10/14/2015)
These extensions are one of a kind. Its soft and feels like a real hair. I enjoy using it as well as brushing it like my real hair. (Posted on 10/9/2015)
One of my classmates asked me out on date this coming weekend. I was so surprised what using these extensions can do. Its like cupid's arrow. (Posted on 9/25/2015)
I was beyond believe when I got my order. Its just like real hair and feels like one. Will definitely make a return order soon. (Posted on 9/22/2015)
These extensions are the BOMB. I wore it in PROM NIGHT and guess what, I won Prom Queen. Really love your extensions. (Posted on 9/11/2015)
the hair is alright (Posted on 8/16/2015)
My order just came in today and was really excited to open it and try it out. When I tried brushing them (my quality check routine), there was no hair fall which is super awesome, thanks :D (Posted on 6/1/2015)
I used to order a lot of hair extensions in some other websites but every time I receive the package, the order is either incomplete or in a mess. They do not realize the importance of packaging their goods. Thankfully I found airyhair where the shipment of products is always complete and packed with outmost care. Thanks for providing a quality service. (Posted on 3/17/2015)
100% satisfied with the extensions and 200% sure to recommend these to my friends (Posted on 1/24/2015)
how many pieces how much is needed for simple ends help i think this is good

(Posted on 11/8/12) (Posted on 11/18/2014)
I was blown away when I received my initial order from you. I could not believe how great the quality is and the best thing about your hair extensions . . . . there is sooooo much natural hair, Thank you airyhair.

(Posted on 11/6/12) (Posted on 11/18/2014)
What l like most about airyhair hair extensions is that they look amazingly realistic. It stays firmly in place and takes to heat pretty well. Added to that is the fact that I don't have to worry about them falling out accidentally. Cant wait to wear them this weekend.

(Posted on 11/6/12) (Posted on 11/18/2014)
Fabulous hair extensions. Perfect in many aspects and these are simply well worth the money I spent. I was a bit unsure when making the order. Good thing that I ordered my hair extensions from your site. How I wish that I have done this earlier!!!!

(Posted on 10/12/12) (Posted on 11/18/2014)
How long does it take to get your hair exstentions after you orderd them?

(Posted on 3/11/12) (Posted on 11/18/2014)
Your hair extentions are simply awesome. I am not really good at computers but I find it a tad easy to navigate your website. Found exactly what I was looking for after just a few clicks.

(Posted on 2/28/12) (Posted on 11/18/2014)
will one order be enough for a whole head?

(Posted on 12/28/11) (Posted on 11/18/2014)
Great quailty of hair! Fast shipping!

(Posted on 9/6/11) (Posted on 11/18/2014)
Extremely helfpul answers and great products

(Posted on 6/27/11) (Posted on 11/18/2014)
Just received my order and those extensions are AWESOME! I have very thin hair and with those extensions I look soooooooooooooo much better.

I can't wait to buy other more!

(Posted on 5/22/11) (Posted on 11/18/2014)
Now I know why my friend Susan is always raving about your products – They're perfect in many aspects. Tops in quality, price and service. What more could I ask for.

(Posted on 8/1/2013) (Posted on 11/18/2014)
I have researched a lot before I chose airyhair and I can say that what I got is the best for my needs and preference. I am now enjoying a full head of silky and shiny hair. I could not be happier with what I bought from your site.

(Posted on 12/28/2012) (Posted on 11/18/2014)
The hair extension is has soft texture and just perfect for my thick hair. I ordered the 18 inch hair extension and they are clearly of superior quality than most of the other hair extensions I bought from other sites.

(Posted on 12/16/2012) (Posted on 11/18/2014)
That saves me. Thanks for being so seinsble!

(Posted on 11/28/2012) (Posted on 11/18/2014)
I was blown away when I received my initial order from you. I could not believe how great the quality is and the best thing about your hair extensions . . . . there is sooooo much natural hair, Thank you airyhair.

(Posted on 11/6/2012) (Posted on 11/18/2014)
These are the best hair extensions that I ever had. Even my boyfriend love them!!! I have had trouble finding the right one in the past. It took me only a few minutes to find what I was looking for in your site. Found the correct colour and shade. Thanks!!

(Posted on 7/31/2012) (Posted on 11/18/2014)
BIG thanks for the hair extensions. Now I know why my older sister is all agog about your site and products.

(Posted on 3/11/2012) (Posted on 11/18/2014)
Great quality, will be ordering again very soon

(Posted on 2/27/2012) (Posted on 11/18/2014)
A++ quality and service, will buy again later (Posted on 11/10/2011) (Posted on 11/18/2014)
I have ordered them on May 15th and received them on May 18th. Very speedy delivery.

As for the product, it's a perfect match for my hair color and I am really happy with both color and quality. Feels great between fingers, just like real hair would.

(Posted on 5/22/2011) (Posted on 11/18/2014)
my instagram followers kept telling me that I look like Mila Kunis because of my eyes and hair. Eyes are real but the hair, it does have a touch of extension. Haha

(Posted on 4/14/2014) (Posted on 11/18/2014)
Your online shop has everything I need and want. It has always been a great experience since my first purchase of hair extensions. Thank you sooooooooo much GUYS!!

(Posted on 7/27/2013) (Posted on 11/18/2014)
Found the hair extension in your site that perfectly matched my hair. I have already placed my order. Will be back as soon as I received the hair extensions.

(Posted on 7/22/2013) (Posted on 11/18/2014)
Goodness, I never thought that I could find a set of hair extensions that looked like it was personally made for me. Thanks guys, it is great that I found you.

(Posted on 7/16/2013) (Posted on 11/18/2014)
I just had my hair dyed and added the hair extensions I ordered from your site and they're a perfect match!!! Great thanks.

(Posted on 3/24/2012) (Posted on 11/18/2014)
I just received my order and I loved them. I am about to place my next order of 24-inch straights. Great job and BIG thanks.

(Posted on 3/18/2012) (Posted on 11/18/2014)
You have another customer for life. You really know how to dazzle and please us. I simply cannot stop raving about your hair extensions. They really look natural and perfect. Simply the best that I ever had.

(Posted on 3/3/2012) (Posted on 11/18/2014)
Bought them last month. Shipping was very fast and the product was well packed, resulting in no damage from a lot of handling.

(Posted on 8/6/2014) (Posted on 11/18/2014)
Girls, if you want something that will spice up your look then these extensions would be for you

(Posted on 5/4/2014) (Posted on 11/18/2014)
The hair extensions that I ordered from your site arrived the other day. That was a fast delivery and everything was in proper order. I found the hair exceeding soft and shiny and it was an exact colour match for my own hair. I will buy from you again next month. Thanks airyhair.

(Posted on 12/28/2012) (Posted on 11/18/2014)
I got my hair extensions yesterday and I like the ease by which these are clipped into my hair. The initial impression that the items created instantly made a convert out of my mum, who initially had some doubts about the quality of the products. She has just placed her initial order of hair extensions.

(Posted on 12/28/2012) (Posted on 11/18/2014)
The hair extensions that I received from you yesterday were every bit excellent. They're realistic and perfect match to the color of my hair.

(Posted on 3/30/2012) (Posted on 11/18/2014)
I received my order of hair extensions a few hours ago and I adore them all! They suit my hair perfect well and the products are just what I have pictured them when I placed my order. Thanks a lot.

(Posted on 3/24/2012) (Posted on 11/18/2014)
I just want to express my thanks and appreciation for the hair extensions I received and the great experience. I finally found the perfect source for my hair extensions. Be back soon with my next order of hair extensions.

(Posted on 3/18/2012) (Posted on 11/18/2014)
The hair extension looks great and your customer service is tops. I am surprised that I haven't discovered your site earlier. Be back soon for more!!

(Posted on 3/3/2012) (Posted on 11/18/2014)
I was clueless at the kind of stuff you have in your site, but I decided to order my hair extensions anyway hoping for the best. To my surprises, you have exceeded my expectation. I was pleasantly surprised by the quality of the hair extension that I ordered. Totally satisfied customer. Have already placed my new order.

(Posted on 3/18/2013) (Posted on 11/17/2014)
I cannot help but fall in love with your hair extensions. GREAT colour and silky soft. These are the main reasons why I keep coming back for more.

(Posted on 2/21/2013) (Posted on 11/17/2014)
Quick delivery, excellent quality and very soft hair. I would love to recommend them to anyone who needs hair extensions.

(Posted on 12/16/2012) (Posted on 11/17/2014)
I initially had some doubts about buying my hair extensions online. After getting my first order from you, I am glad that I made the right decision. I have so far made 11 purchases on your site and I never had any issues orproblems. Keep it up, airyhair.

(Posted on 11/6/2012) (Posted on 11/17/2014)
I just received my 5th order of hair extensions from your store. Hair is natural, glossy and the exact color as that of my hair. Extremly satisfied as in my past orders. Definitely 5-star product and service!!

(Posted on 10/12/2012) (Posted on 11/17/2014)
thank you for the item

(Posted on 7/6/2011) (Posted on 11/17/2014)
very pleased with products received. I will come back shortly. (Posted on 6/8/2011) (Posted on 11/17/2014)
Awesome extensions. The color really blends with my hair

(Posted on 6/3/2014) (Posted on 11/17/2014)
As in the previous orders, airyhair doesnt disappoint in my latest order of hair extension. Everything is exactly as I have expected and wanted. Don't see any reason to look at what the others are offering. Got what I want and need in youre site.

(Posted on 10/29/2012) (Posted on 11/17/2014)
I got all sorts of compliments since I started wearing your hair extensions. Gee, I cannot get over the fact why I didn't discover your site earlier. Am a satisfied and happy customer of sovast, thank you very much

(Posted on 7/31/2012) (Posted on 11/17/2014)
After getting frustrated by other online sources in the past, I was not really expecting much from you when I ordered my first hair extensions. Woooow – you are definitely a pleasant surprise!!! You are simply awesome. Yours are hair extensions that are shiny and of topnotch quality, perfect customer service, prompt service. Thanks to all of you GUYS!!!!

(Posted on 3/11/2012) (Posted on 11/17/2014)
I am impressed with how quickly they got here and in general the overall quality of the hair. I was a little hesitant since there is no other information about this website online, but I took a chance, and I couldn't be happier. We definitely will be back soon and recommend it to others.

(Posted on 12/7/2012) (Posted on 11/17/2014)
This is exactly what I was lokiong for. Thanks for your hair!

(Posted on 11/28/2012) (Posted on 11/17/2014)
I havent used hair extensions for nearly 2 years. When I got to your site, I thought that it would be the best time to try one. I absolutely adore them, the hair extension felt great and they looked gorgeous!!!

(Posted on 11/6/2012) (Posted on 11/17/2014)
Fantastic, so SUPER – those are the apt words for the hair extensions that I bought from your online shop. Uuuuhm, before I forget, thank you sooooo much for all the advises and help.

(Posted on 4/10/2012) (Posted on 11/17/2014)
I just want to show my appreciation for the help and service. I have gotten my initial order from you and they are in seamless colour match. I am really impressed :)

(Posted on 3/30/2012) (Posted on 11/17/2014)
Fell in love after receiving, feels so good between your fingers, will come back

(Posted on 3/6/2012) (Posted on 11/17/2014)
satisfied! (Posted on 6/12/2011) (Posted on 11/17/2014)
It's Gorgeous, and my partner says that I looked sexy with it. I bought mine some 5 months ago and I still use them without any problem.

(Posted on 1/29/2013) (Posted on 11/17/2014)
I would like to give my two thumbs up to you guys and I am satisfied with your hair extensions. I have tried several in the past but yours are simply the BEST !!!!

(Posted on 3/30/2012) (Posted on 11/17/2014)
Airyhair is indeed a refreshing break from the thin and not very durable hair extensions. I was instantly hooked the moment I received my first order from them.

(Posted on 3/30/2012) (Posted on 11/17/2014)
I just had my hair dyed and added the hair extensions I ordered from your site and they're a perfect match!!! Great thanks.

(Posted on 3/24/2012) (Posted on 11/17/2014)
Now I know why my friend Susan is always raving about your products – They're perfect in many aspects. Tops in quality, price and service. What more could I ask for.

(Posted on 3/5/2012) (Posted on 11/17/2014)
Thank you. A+++!!!

(Posted on 9/6/2011) (Posted on 11/17/2014)
I got my hands on the package containing the item.
The package arrived in perfect condition, the extensions are beautiful and is the same color of my hair.
Thank you very much for your excellent package shipment management. See you soon!

(Posted on 6/21/2011) (Posted on 11/17/2014)
Im buying my second pair after having the first one for nearly six months. Again, they matched my hair color and shade soooo well as if you cannot tell the one I am wearing from my own hair.

(Posted on 8/25/2013) (Posted on 11/17/2014)
Now I know why my friend Susan is always raving about your products – They're perfect in many aspects. Tops in quality, price and service. What more could I ask for.

(Posted on 8/1/2013) (Posted on 11/17/2014)
Woow!!! – if what I got is not perfect, I don't know what is. You're simply great in most aspects. Price-wise, quality and service. Keep it up Guys.

(Posted on 9/8/2013) (Posted on 11/17/2014)
Superb hair extensions. The hair is thick and of good quality. They stay perfectly in place and the colour is a perfect match to the colour of my hair. It is also soft and silky. Definitely the best hair extensions that I ever had.

(Posted on 7/22/2013) (Posted on 11/17/2014)
Your delivery is SUPER fast. Got my hair extensions the other day. Perfect colour and shade and they looked natural when matched with the color and shade of my own hair. This is what I would call great value for money!!

(Posted on 5/19/2013) (Posted on 11/17/2014)
Ordered hair extension arrived Saturday. My hair is layered and they blended extremely well. Surprised that they are still in perfect state after I dyed them and straightening. Will be ordering again soon. Thanks!!

(Posted on 11/6/2012) (Posted on 11/17/2014)
I had all sorts of problems with my hair extensions before I learned about sovast. giving me headaches and hurting my scalp. Those are no longer bothering me since I started using your hair extensions. Veeery happy with what I got from your site.

(Posted on 4/24/2012) (Posted on 11/17/2014)
Received the hair extensions yesterday and they are excellent. Now, my friends are asking when I got them!!!

(Posted on 4/10/2012) (Posted on 11/17/2014)
Your hair extensions are GREAT!!! I will make sure that it is not my last order of hair extensions from your site. My friend Debbie is also placing her order of hair extensions. (Posted on 3/30/2012) (Posted on 11/17/2014)
Got it in two days, I'll come back

(Posted on 3/6/2012) (Posted on 11/17/2014)
This is my 2nd order and my clients love them totally, thank you, Chen!!!

(Posted on 6/15/2011) (Posted on 11/17/2014)
Write Your Own Review
Product Tags