Details
Video Review

Remy Micro Loop Hair Extensions
If you don't have the time or patience to spend hours sitting in a chair while a stylist installs hair extensions, try an amazing alternative to clip-in tresses: micro loop extensions. Micro ring hair extensions are easy to attach and don't require a stylist! AiryHair's micro loop extensions are luxurious and beautiful, made from 100 percent real human hair.
AiryHair Item Name
Remy Micro Ring Loop Straight, Wavy, and Curly 100% Human Hair Extensions
Package
Your micro ring hair extensions package will include 50 or 100 strands.
Product Information
Micro loop hair extensions are a savior for anyone longing for a reliable alternative for long, lustrous hair. The application takes barely 10 minutes and doesn't require a stylist.
1.
Color:
All available colors, including jet black and off-black
2.
Length:
10 to 30 inches
3.
Weight:
50 to 140 grams
4.
Strands:
50 or 100
5.
Single Strand Weight:
0.4 to 1.4 grams
6.
Texture:
Straight, Wavy (Body Wave, Loose Wave, Deep Wave), Curly (Deep Curly, Kinky Curly), Yaki, and Funmi.
Micro Ring Hair Extension Features

We've thought of everything regarding making our micro loop extensions a breeze to apply and wonderful to wear. Benefits of AiryHair micro loop hair extensions include:
1. They're the world's softest, bestselling micro ring loop hair extensions.
2. They're effortless to apply and remove.
3. Heat is not required to install the extensions.
4. The micro loop extensions are made of 100 percent natural Remy hair.
5. AiryHair is the only supplier to offer 30-inch hair in hundreds of gorgeous colors.
Frequently Asked Questions
• What is double-drawn hair?
Double-drawn hair is perfectly thick, all of equal lengths from top to bottom. Because shorter hairs are manually eliminated, double-drawn extensions have much more volume than single-drawn extensions, which are wispier at the ends.
• Why should I choose Remy's hair?
Remy hair, also known as Remi, is the highest quality hair available. All strands are the same length, with the cuticles all facing the same direction in the correct alignment. Remy hair extensions are free of tangles, are oh-so-smooth, and last longer than non-Remy products. Please be aware that some products that have a "Remy" label are not genuine Remy hair. They've been treated with acid to remove the cuticles. Know that AiryHair only uses the highest quality Remy hair available for all our hair extension products.
• What is Remy Premium Plus hair?
Only offered by AiryHair, Remy Premium Plus is a new hair technology more than five years in the making so that the Remy hair you get from AiryHair has an increased life span and quality. You'll find zero weak Remy hair in your bundle, which has only the best strands. All of our extensions, including micro-loops, are manufactured and produced with a lot of care, and many working hours have gone into ensuring that our products satisfy even the most demanding customers.
Of course, if you ever have any other questions about micro-loop extensions or any other type, we're here to help!
Why Buy Micro Ring Link Hair Extensions?
Easy to apply, the micro ring loop method is one of the most popular ways of breathing new life into your short or thin locks. Having a celebrity-like hairstyle has never been easier and more affordable! AiryHair micro ring loop hair extensions have been carefully manufactured and are made from 100% human hair. It is one of the highest quality hair types you can get, and our new and improved formula significantly increases its lifespan, making our micro loop extensions a great investment.
If you're still exploring different extension methods and are not quite sold on the micro ring loops, please review our list of pros and cons. We have explained all the best and worst features of hair extensions in a straightforward way so that even those who are new to the world of extensions can understand them clearly.
The Pros of Micro Ring Loop Hair Extensions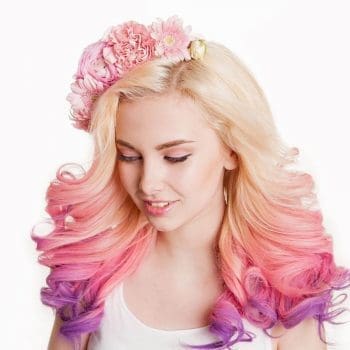 We're going to start by listing all the cool features of Remy micro ring loop extensions that will give you a better understanding of this method.
Installed Using the Cold Fusion Method
One of the best things about micro ring loop hair extensions is that they're installed using the cold fusion method. It is a relatively simple form of application that includes micro rings. Here is how it's done. You separate one strand of your hair, pull it through the loop, and that's how it gets pulled through the microbead, which simply needs clamped. Now both the extensions' and your natural strand are secured with the small bead. As simple as that.
The Loop Makes It Easier to Install
Another cool thing about this extension type is the actual loop, which makes the installation process much easier. While you must manually thread the strand through the beads with a needle when applying the micro bead extensions, micro ring loop extensions have a loop that simplifies that. Simply pull the strand through the loop, and that's it.
100% Safe for Your Tresses
If you're wondering how safe this method is, you'll be happy to know that the micro ring loop hair extensions are one of the safest ones out there. With correct installation and care, there is no way for them to damage your precious locks. The beads do not cause any harm, and the installation and removal are 100% safe.
You Can Install Micro Ring Loop Extensions Yourself
If you're a do-it-yourself kind of girl, micro ring loop extensions are a great choice because you can install them at home by yourself. In addition, the application process is quite simple and can be mastered pretty easily. Even if you make a mistake during the installation, no actual harm can be done, and you can start over again. Just leave some space between the roots and the beads, make sure everything is tight, and you're all set.
Many Style, Texture, and Color Varieties
AiryHair offers a lot of variety when it comes to texture, color, and different styles. You can create customized micro ring loop hair extensions by mixing and matching textures and shades. So whether it's natural tones of brown or blonde that you're looking for or cool colors like lilac, rose, pink, green, or teal, AiryHair has got you covered! Curly, body wave, loose wave, and deep weave too.
Lasts for a Long Time
Another advantage of micro-loops is their longevity. AiryHair micro ring loop extensions are made from Remy human hair and designed to be worn for many months. All women who buy extensions want something that will last, and Remy micro-loops are the perfect choice. With a bit of care, you can extend the life of your extensions to many months, which is remarkable considering they don't cost that much.
Extremely Secure
Once the beads are clamped down, there is no way they're coming off. You can wear your hair extensions without fearing the strands suddenly detaching and embarrassing you publicly. The beads are also very discrete and virtually invisible, so nobody will suspect you're wearing extensions.
Semi-Permanent Method
If you're tired of
clip-in extensions
that need to be taken off and reinstalled every single day, good news, because micro ring links are a semi-permanent method which means you can wear them for a couple of months without removal. After that, unclamp the beads, move them a bit, and re-clamp. I can't get any simpler than that.
Rather Cheap
If you're on a budget but still want Remy human hair extensions, you might want to consider AiryHair micro-loops. The price starts at only $25, and even extra-long extensions are very affordable. Who said that quality extensions have to be expensive?
The Cons of Micro Ring Loop Hair Extensions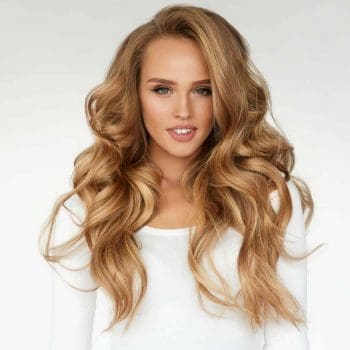 To show you both sides, here are some cons you might want to consider before buying. It's nothing too challenging, but it's worth mentioning.
A Clamp is Needed for Installation
While some extension types like clip-in or
tape-in
require no extra tools for application, you will need a clamp to install micro ring links. Please don't be scared, though, as they are simple to handle and are used only to secure the beads. You can purchase these
pliers here
.
Extensions Need to Be Moved Up Regularly
What some might see as a disadvantage is the fact that micro ring hair extensions need to be refitted every couple of months. That's why they're semi-permanent. However, that's incredibly easy to do. Simply locate the small bead, press on it with the pliers, and it will open. You don't need to remove the strand, but move everything further up and press with the pliers again to secure the bead. It's simple and can be done in a couple of minutes. That's the beauty of the cold fusion method, as it doesn't use any glue or heat. Some Maintenance is Needed
As with all other human hair extension types, maintenance is needed to keep the hair in perfect condition. It is the same things you would do with natural strands, like washing, brushing, and styling. To keep micro loop extensions in a pristine condition, consider reducing the use of hot tools.
Strands Could Slip Out If Not Secured Properly
Although this method is very secure, if the beads are not attached properly, they might open and cause one or two strands to slip out. If you ensure the application has been done right, there's nothing to fear.
Conclusion
As you can see from the article, there are significantly more pros than cons, which means that micro-loop hair extensions are a great way to increase your hair volume and should be considered.
How to Apply Micro Loop Hair Extensions
You only need yourself and your hands to apply your AiryHair micro ring extensions perfectly. Here's how.
1. Make a sharp line 2 to 3 inches above the neckline at the back of your head. Clip away the rest of your hair above the neckline.
2. Take a little segment of your original hair, and curl it to make the application process more manageable. Select the loop thread, and put your original hair through the white loop.
3. Keep pulling the plastic loop tab from beneath Until your original hair has been stranded through the bead. This will free the white loop from the bead.
4. Move the extension strip towards the scalp so that the locks are free to move. Hold the strands in a downward direction, and fix them onto the microbead, making sure it's parallel to the head.
5. Once you are done with the first part, continue in the same manner by dividing sections and inserting extensions to the point where they are not visible. However, make sure there is some amount of natural hair in-between the strands.
See? We told you it was easy!
Product Q&A: Micro-Loop Hair Extensions
Shop High-Quality Micro Loop Extensions From AiryHair Now

From secure shopping to a risk-free guarantee to a refund for extensions that are damaged, we offer everything to ensure you feel confident about your Airyhair micro loop hair extension purchase.
Learn more here
.
Find your perfect micro loop extension match now. It's so fun to try new styles whenever the mood strikes, and with hundreds of options from AiryHair, there's always something new and eye-catching to find.
Have a question? Call us at 800-897-7708, or contact us online for micro loop extension questions. We're here to help you get the hairstyle you want!
Reviews
Customer Reviews
Love them - Review by Tallah

Had them for 4 months now and they still look like new.


Best hair it is - Review by Aleale

The quality is ridiculous, and I mean that in the best way possible


Colorful Microloop Extensions on Extremely Short Hair - Review by Melinda

I purchased the 24" (70g/100s) microloop hair extensions in blue and teal and I was SO impressed. I applied them at the very beginning of March and took them out just now (at the very end of April), and only because I had to change the color of my hair to something "natural" for a new job, so I had two whole months to play with them. My natural hair is only about 3" long in most spots, so the microloops can definitely be applied on even the shortest of hair lengths, and they still blend beautifully. They straighten and curl (and even bleach and dye!) with no problems. My only complaints would have to be that 1) they do tangle a little (but it's manageable with leave-in conditioner and a good hair brush) and 2) they took too long to get here! (I ordered mine on February 1st, but I guess AiryHair is not operating during the whole month of February, so they didn't even get shipped until March.) Also, they were a little too thin for my hair, which is extremely thick and short compared to most people's, but that's my own fault for ordering the lightest weight. I just placed my second order, which was the 24" (140g/100s) in Ombre (#12 warm light brown + #20 swedish blonde) with the expedited shipping, so I'll be sure to post another review after experiencing those. Overall, great product at a great price! Highly recommend to anyone looking for natural-looking and feeling extensions for cheap!

800000276 - Review by colorstudio s.c

muchas gracias por el envío, estoy muy contenta con el pelo. Necesito que me envieis o bien una factura o comprobante de la compra, muchas gracias, un saludo:

100027106 - Review by Kayla Jones

Thank you guys so much! You have been amazing throughout my whole shopping process! I appreciate how prompt you have been with answering any questions I have, and being so thorough and detailed with your responses! As soon as I get my order I will be giving you guys an amazing review!

long term extensions - Review by Kadejah Hudson

So I've been wearing my curly extensions for about three months now and let me tell you I'm really surprised how amazing they look. I don't see much difference from when I bought them and they're holding on really well. Thanks a lot!

order more - Review by Linda Schneider

i just wanted to say i gonna order in 3 weeks some new hair from you guys .. i love this hair so much

Just perfect - Review by Tina Fernandes

I'm so in love with this wavy hair, it's perfect!! It just what I was looking for and I can't wait to show it off!

This is my 3rd purchase in less than a month and 1/2 - Review by CYNTHIA M BAITT

This is my 3rd purchase in less than a month and 1/2. I loved my extensions so much that I purchased some for my daughter and some extra strands for myself! I am so glad I found Airy!

Review - Review by Kaitlin Hobbs

My review for the extensions I have received:
They are nice quality. I enjoy wearing them daily and do well with my straightener.
Write Your Own Review
Product Tags