Details
Clip-in Hair Extensions for Black & African American Women Hair
Welcome to our online store section, specifically designed for African American women. As a leading seller of natural human hair, we are proud to offer our latest line: premium human hair extensions for all hair textures. These are 100% natural, Remy hair extensions.
African hair is unique because of the amazing texture and it's important to choose extensions that match your natural hair. If you're not sure what kind of curls you have, please see the details below as we explain everything in detail.
Need Help Picking Hair Texture?
AiryHair aims to cut the stress of buying Remy hair extensions. If you are unsure about your texture or which of our offers suits your hair best, don't worry!
Just
send us a message
with your hair photo attached and we will
texture match for you
. It doesn't get better than that.
African American Hair Textures
If you know the world of hair extensions well, feel free to order Remy clip-in hair extensions with one of the following options.
Please note that hair extensions are always measured in straight texture. In other words, curlier African American hair of 20" will appear closer to 18" while curled.
Curly Extensions
Also known as deep curly, this texture is perfect for most African American or Caucasian women. Think of it as hair for loose hairstyles. This texture not only adds volume but is also perfect for that 3D look.
Kinky Curly Extensions
This type of curl has almost a zig-zag pattern and is very tight. If you have kinky curly hair, our extensions are a perfect match and will blend perfectly. They will add length to your short curls and much more volume, making hair look rejuvenated.
Afro Kinky Coily & Kinky Curly Extensions
This texture has narrow curls and will match girls with 4B and 4C hair colors. It's one of a kind, unique look that some black women prefer. A rather similar texture to the coily hair is kinky curly. The main difference is the frequency of said curls. The loops are around 2 to 3 times as large as those of kinky coily extensions.
Kinky Coarse & Kinky Straight Extensions
This coarse texture is as flat as you can get without appearing flat. If your natural hair is not as curly as other black women, go with the kinky coarse option. What about the straight option? Despite its name, it tends to have more of a wavy hair look than the coarse. One wave every half an inch on average.
Funmi Extensions
Funmi style curls are special because the top part of the hair is straight, and the curls start lower. You can incorporate this type of extension with different hairstyles and textures.
Coarse & Light Yaki Extensions
Yaki hair extensions look like straightened African hair. If you usually relax your natural curls and like more of a straight look, then this is the perfect texture for you. For an even less dimensional look, select the light yaki option. It will work great on freshly relaxed hair.
Join the Family!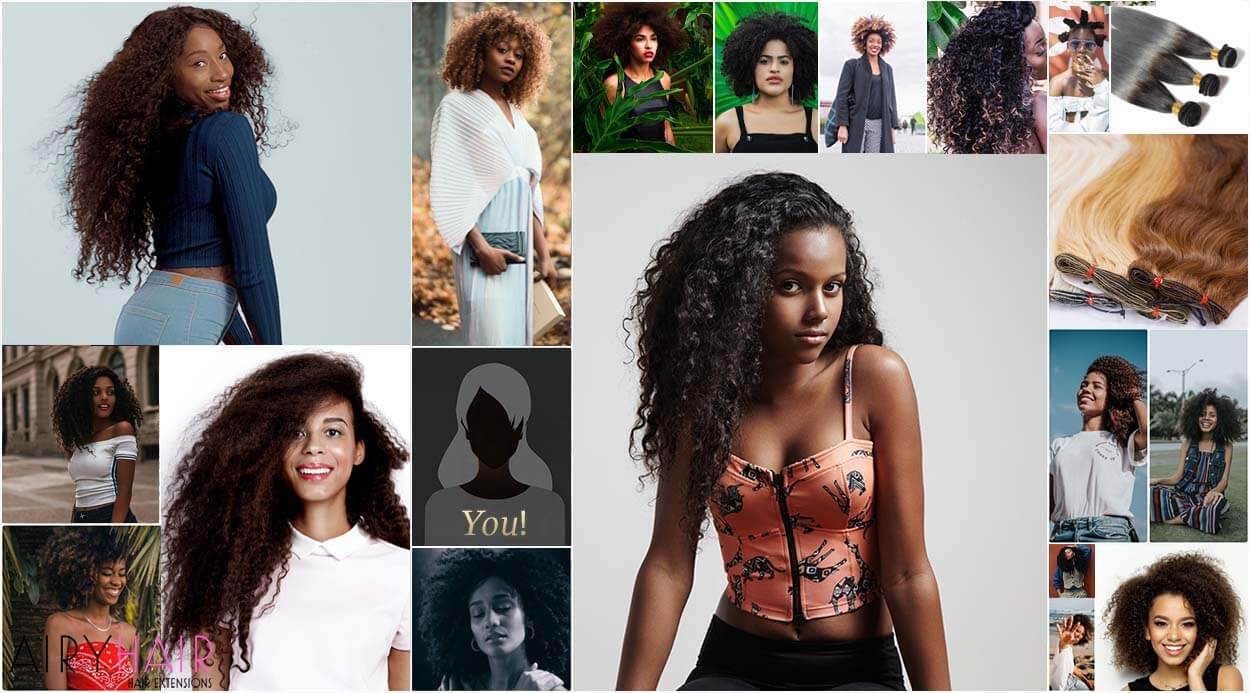 Product Details of Clip-in Hair Extensions
Weight:
140g to 200g
Length:
14", 16", 18" and 20"
Colors:
Natural hair color, #1B
Pieces:
7 to 10 pieces
Do you want simple, non-permanent extensions? Something very easy to maintain? If so, clip-ins are the right choice for your curls. They are so easy to apply and there is no need to go to a salon. Just clip in your textured extensions and enjoy the amazing volume as well as length.
Before you go to bed, you can take them out in only a couple of minutes. Our African American clip in curls are made of Remy human hair and won't tangle as much. However, you still need to maintain and care for them.
The best thing about clip-in hair extensions for black hair is that you can take hair off and only then wash them! In other words, the whole process becomes a lot easier.
We also offer African hair wefts and other types of attachments. All are made of top-quality, real human hair. For our full line and instructions on how to apply, please visit the
AiryHair home page
or select from some of the menu options above.
African American Clip-in Hair Extensions Quality

AiryHair has always supplied only real Remy human hair extensions and there is a good reason for that. While some suppliers cheat and use acid to make the hair look Remy, we go the extra mile to align all the cuticles, making sure they are facing the same direction.
What is the benefit of doing that? Longer lasting hair extensions for black hair that not only feel softer but are less likely to tangle.
Fake Remy hair is simply not a match for genuine Remy hair and the differences are very obvious. If the hair is tangling, matting, falling out, and simply looking worn out, it is not real Remy hair. Although it is cheaper, it's simply not worth it. If you want only the highest quality black or brown hair extensions, go with AiryHair.
In addition to that, our hair is not just Remy hair, it's of much higher quality. We are proud to offer Remy human hair extensions at an affordable price. We didn't just create an affordable line of extensions. Our hair is of supreme quality compared to any other brand.
All our hair extensions for black hair come in a single, natural color. The result? Extremely soft, long-lasting tresses.
Why AiryHair?
- Extremely affordable and easy to apply
- Highest quality, African American hair extensions
- Will last longer than cheap Remy hair that you get from other stores
- 9 out of 10 customers come back for more
Maintaining African American Hair Extensions
We have published a
lengthy guide
on taking care of your hair extensions, please be sure to read it while you wait for your new hair. As we only sell real human hair, your African American extensions should be treated as such.
Shipping and Returns
After your order has been processed (usually within 2 - 24 hours), your hair will be shipped through either free or express shipping.
For free shipping, you can expect to receive your extensions within 5 to 15 days while express will take only from 1 to 3 business days.
What if you are not satisfied with the hair? Please feel free to send them back within thirty days and receive a full refund (minus the shipping costs).
Reviews
Customer Reviews
Items 1 to 10 of 15 total
per page
Page:
1
You are my newly found love - Review by Kishana

Okay, I do know my extensions and your hair has impressed me, A LOT.


Summary - Review by Deja

Good texture, strong, thick extensions, the clips aren't some cheap kind.

Love 100% - Review by Roselyn

I hate myself for not find you guys earlier, when you consider quality. the price is actually affordable


Afro hair it is! - Review by Jeylah

Love these extensions, truly beautiful, no issues with shipping, looks amazing on me! I feel fabulous again, thank you ah


perfect match - Review by Quanesha

My Afro kinky curly extensions matched my texture perfectly


Solid hair quality - Review by Pearlina

I tend to bleach my hair extensions a bit, just to make them lighter, most brands can't seem to take that well and i understand that.

This was my first time buying virgin extensions and there is no turning back now

Love my curls - Review by Kraystal F.

The texture is a perfect match! Extensions came to me in 4 days since the day of placing order.

Just found myself a new favorite store :) Thank you, Jazmine

10 STARS - Review by Hannah Hazzel

I am still on my first set, it's been close to 6 months!!! You guys are knocking off the park here, thank you SO MUCH. My hair extensions came in a nice bag, packed great, and in 2 business days. Cannot recommend your company enough

OK - Review by Nevaeh Nakala

Clip ins have been my favorite hair type for a LONG time and I do know my extensions, luck had it that my previous supplier was out of stock for 20" curls so I had to look somewhere else. Well I AM SO GLAD THAT I DID

Virgin hair is the best - Review by Sheilia

HOLY WOW! The quality is out of this world. I haven't seen textured hair that soft and more importantly, it did not lose texture after washing!

Thank you very much!

Items 1 to 10 of 15 total
per page
Page:
1
Write Your Own Review
Product Tags