Halloween – our favorite time of the year is almost here. It is the perfect time to experiment with your hairstyle and come up with crazy looks. Here are 10 awesome hairstyle ideas you can try out this Halloween, thanks to hair extensions! The best part? All of these can be achieved with the help of cold fusion extensions that you can apply yourself. Saving you on hair dye and without having to damage your hair!
Spiders and Spider Webs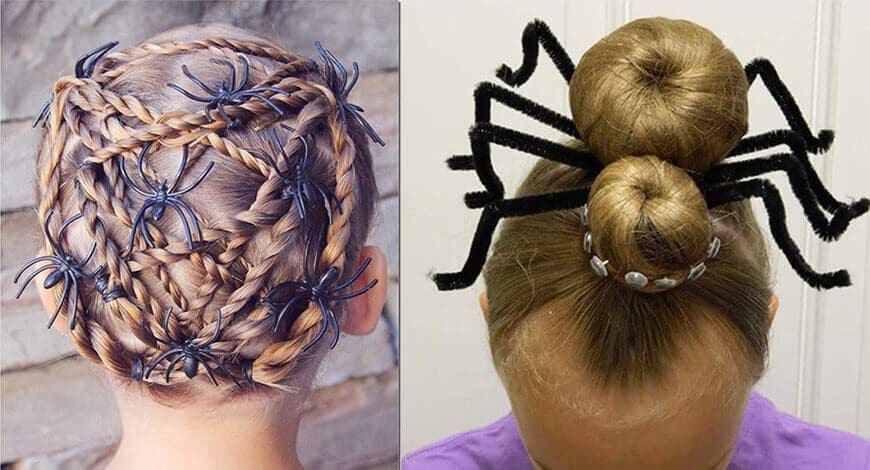 What says Halloween more than spiders and spider webs? This is perfect if you're looking for a spooky hairstyle. You can braid your hair into a spider web or even make an actual spider out of your hair!
Matching Extensions
26″ (100 – 160g) tape-ins or clip-ins
Color: any
Price: from $54.90 + free shipping
Bride of Frankenstein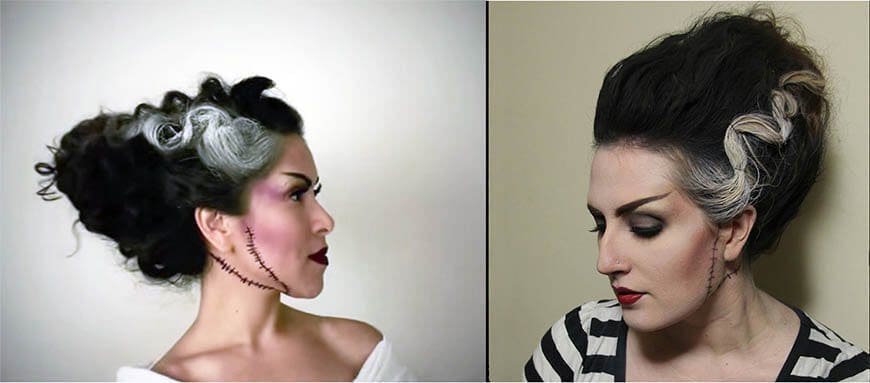 If you want a classically inspired Halloween look, the bride of Frankenstein is a great choice. It is a cult film and a cult hairstyle. It's fairly easy to make and the most important part is to have that streak of grey on the side.
Matching Extensions
12″ (50 – 100g, 6 pieces) clip-ins
Color: Grey
Price: from $22.90 + free shipping
Cruella De Vil

This is a similar Halloween hairstyle and it's inspired by Cruella De Vil. If you want to look like the evil villain, dye one side of your hair black and the other completely white. It looks sinister!
Matching Extensions
26″ (100 – 160g) tape-ins or clip-ins
Color: #1 (Black) and #60 (Platinum Blonde)
Price: from $54.90 + free shipping
Dia De Los Muertos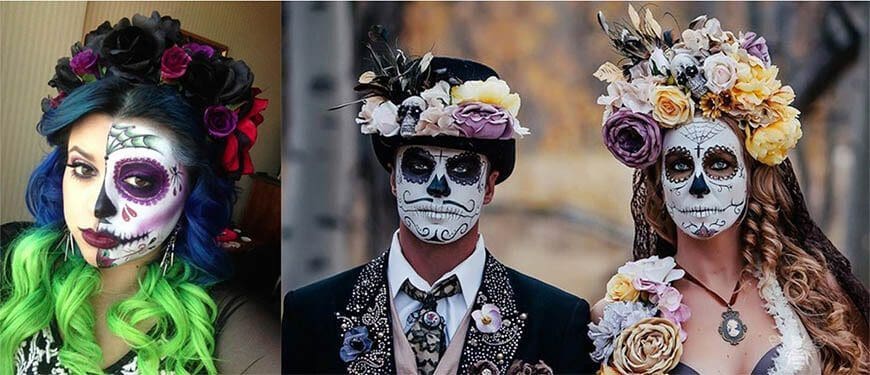 Day of the Dead is a Mexican holiday, similar to Halloween and it is famous for its sugar skull tradition. It is no wonder that this kind of makeup and hairstyle is very popular for Halloween. The trick is to paint your face to look like a skull and use traditional Mexican designs. You can be creative with your hairstyle, but it's important to place a lot of beautiful, big flowers in your hair to get the full effect.
Matching Extensions
26″ (100 – 160g) tape-ins or clip-ins
Color: 3 Tone: #1 (Black) + Teal + Green
Price: from $54.90 + free shipping
Suicide Squad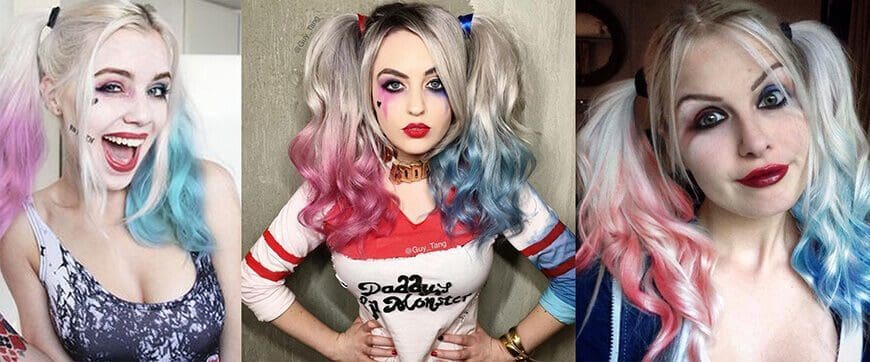 Suicide Squad costumes, and especially Harley Quinn costumes are extremely popular this Halloween. If you want to embody your favorite super-villain, makeup and hair are the most important parts. Harley Quinn is famous for her blond hair and blue and pink pigtails, so you want to do that to get a complete look. You can dye your hair or you can get some great extensions to complete your look!
Matching Extensions
24″ (100 – 160g) tape-ins or clip-ins
Color: Ombré: #60 (Platinum Blonde) + Pink / Teal
Price: from $50.90 + free shipping
Pop Art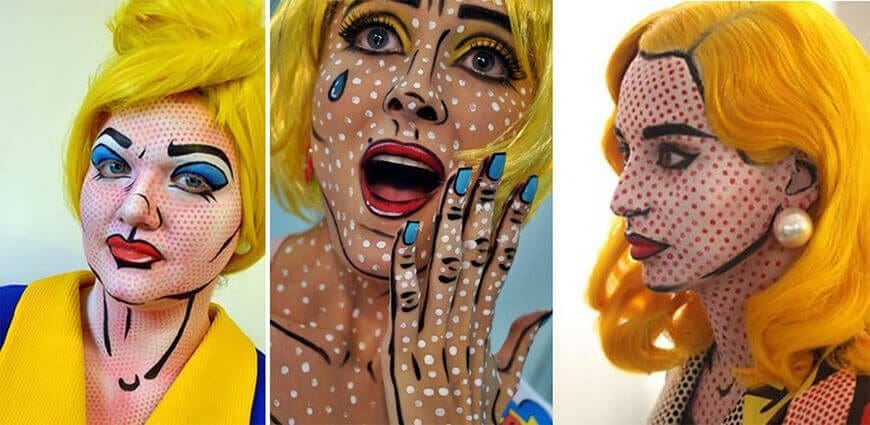 If you're an art fan, this is a perfect look for you. Inspired by Roy Lichtenstein's famous comic-like artworks, this look is so cool and perfect for Halloween. It consists of painting your face with lines and dots, just like a comic book drawing, and having bright yellow hair.
Matching Extensions
24″ (100g) flip-ins
Color: Pure Yellow
Price: from $52.90 + free shipping
Pinup
Pinup costumes are always popular for Halloween. Who wouldn't want to look like a sexy pinup model? Along with makeup and vintage clothes, an important part of the pinup look is the hair. It's inspired by 40s and 50s hairstyles and it includes perfectly styled hair, bangs, and bandanas.
Matching Extensions
26″ (100 – 160g) flip-ins or clip-ins
Color: Teal or #613 (Blond) or #1 (Black)
Price: from $52.90 + free shipping
Mermaid

If you want to shine on Halloween, go for the mermaid hairstyle. Dye your hair or get some beautiful long pastel hair extensions. You can get creative with all kinds of accessories on your hair including shells, beads, and sea stars.
Matching Extensions
28″ (160 – 200g) tape-ins or clip-ins
Color: Ombré: #60 (Platinum Blonde) + Pink / Teal
Price: from $94.90 + free shipping
Unicorn
Another cool Halloween hairstyle idea is unicorn hair. It is bright-colored with awesome color transitions. Just don't forget the horn!
Matching Extensions
24″ (100 – 160g) tape-ins or clip-ins (straight or bodyweave)
Color: Ombré or Mixed: Pink + Violet and Violet + Teal
Alternative: 3 Tone: Violet + Teal + Turkis
Price: from $52.90 + free shipping
Rainbow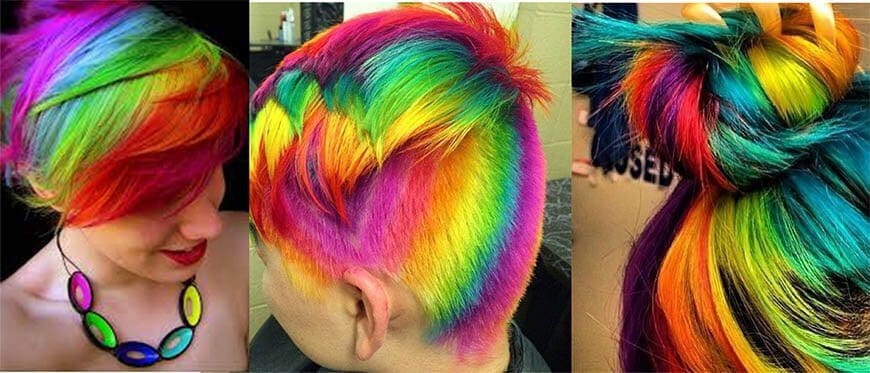 Halloween is the perfect time to experiment with crazy hairstyles and hair colors, so why not try out rainbow-colored hair? You can color your hair in different colors, but you can also use different color extensions and take it to the next level. Either way, it looks very cool!
Matching Extensions
18″ (50g) tape-ins
Color: Tapes of different color pieces: Red, Teal, Blue, Magenta, Green
Price: from $32.90 + free shipping
More Halloween Hairstyle and Makeup Ideas
As I said, Halloween is such a great holiday and everybody is looking for the perfect costume. You already had a chance to read about our awesome Halloween hairstyles, but here are some more makeup and hairstyle looks you can get inspired by for this Halloween.
Crazy Animal Hair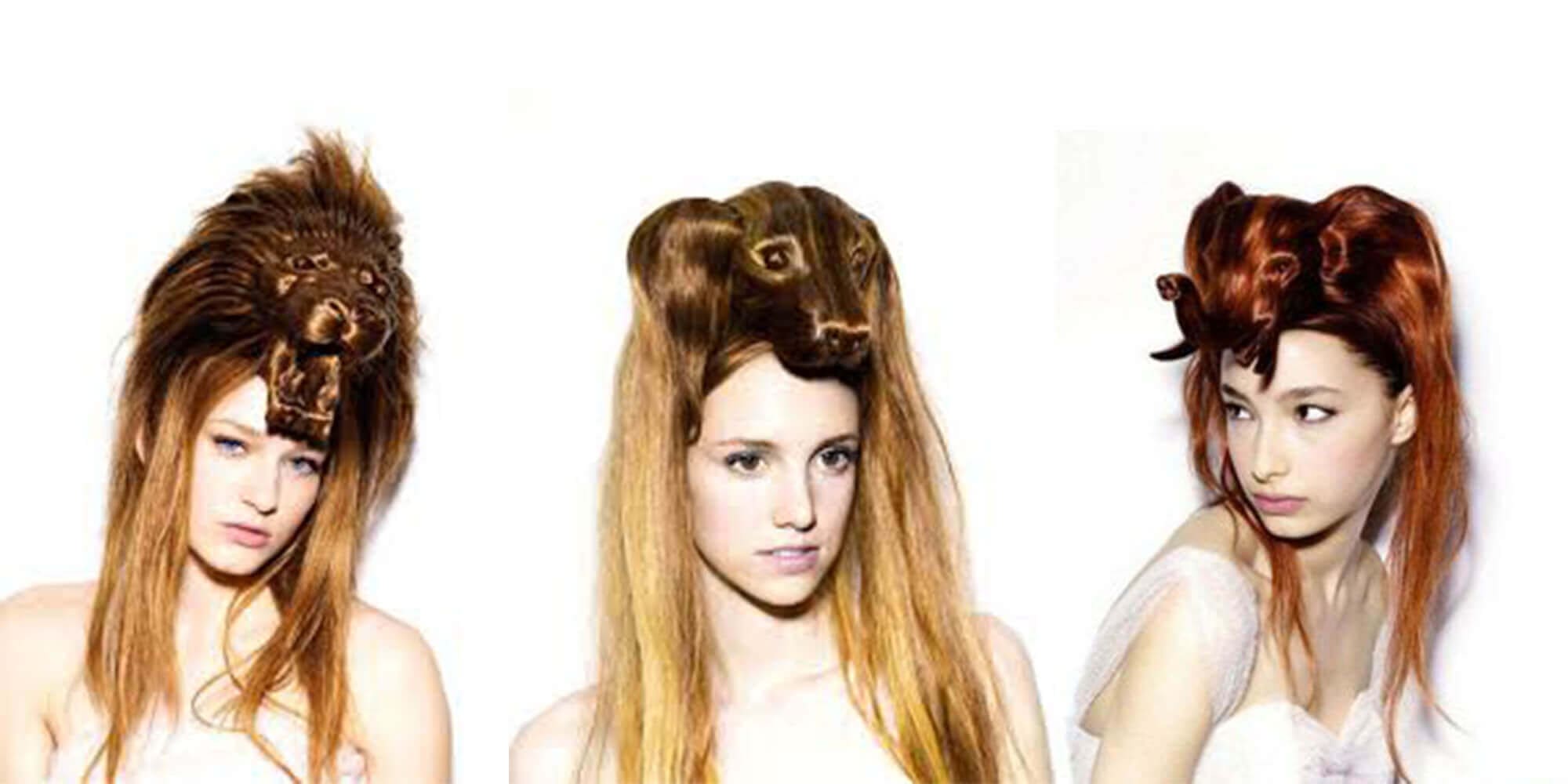 If you want to have the coolest hairstyle for this Halloween, this crazy animal hair is the look for you. Since Halloween is a perfect time for experimenting with your hair, why not have a lion made out of hair on your head? Don't feel like messing with your hair?
Flame Princess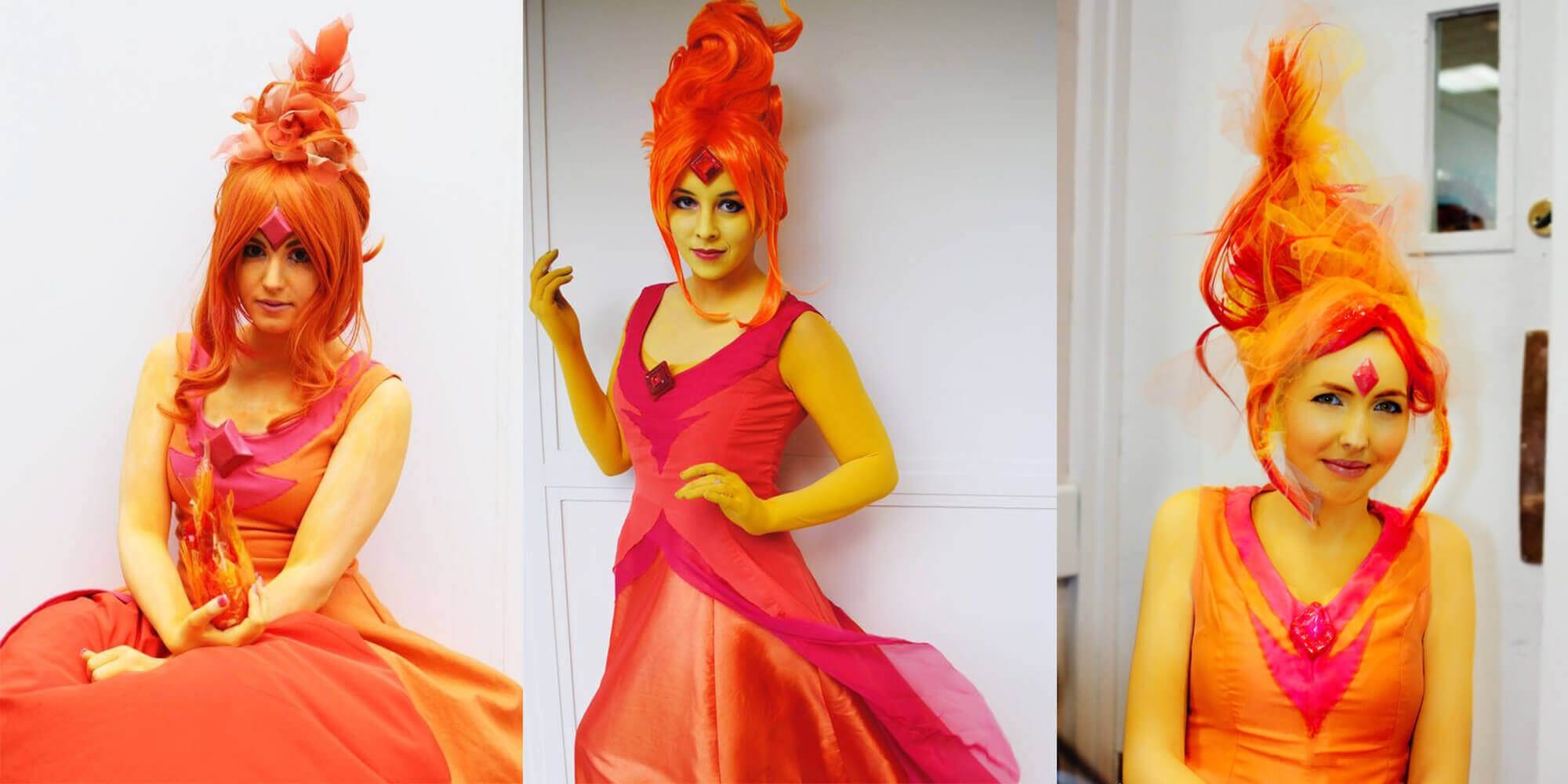 This is a perfect look for all Adventure Time fans. It's a great cosplay look you could easily create and the best part is the bright red/orange hair. You could buy a wig or some #350 ginger red and orange extensions, or if you're feeling adventurous, you can even dye your hair to get the look.
Mermaid


This is a very popular look this Halloween and these are some great makeup inspirations you can try out. And be sure to check out our mermaid hairstyles to get the complete look.
Queen of Hearts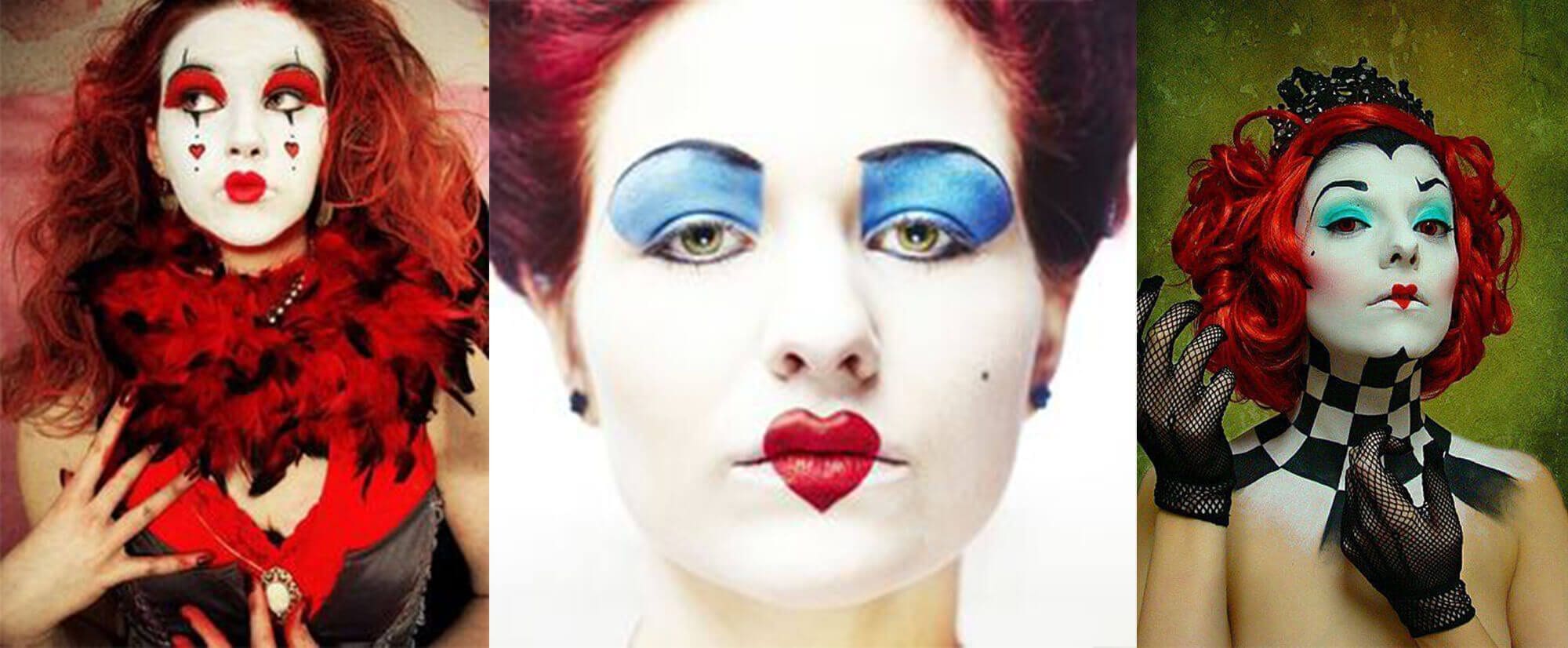 Who doesn't like the characters from Alice in Wonderland? Red Queen is one of the more interesting ones. You can play around with the makeup and don't forget the bright red hair to complete the look.
Joker

Joker is one of the most famous supervillains ever and who wouldn't want to embody him for Halloween? Famous for his sinister look, you can go crazy with the makeup and be sure to get that green hair. This look is perfect for men, but it would also be cool to see some female Jokers.
Doll

A creepy doll with an empty stare is a perfect Halloween look. The trick is to have a pale face, do your makeup to look like you have huge eyes, and get some cool wigs or hair extensions.
Double Face

This is a creepy one. The trick is to pain another set of eyes and a mouth on your face to make this creepy illusion. It looks bizarre which is perfect for a Halloween look.
All White Everything

This is a great white gothic Halloween look. It looks scary and cool at the same time. Paint your face completely white while only your eyes are painted black and dye your hair white or get some cool white or silver extensions. You will look haunted.
Horns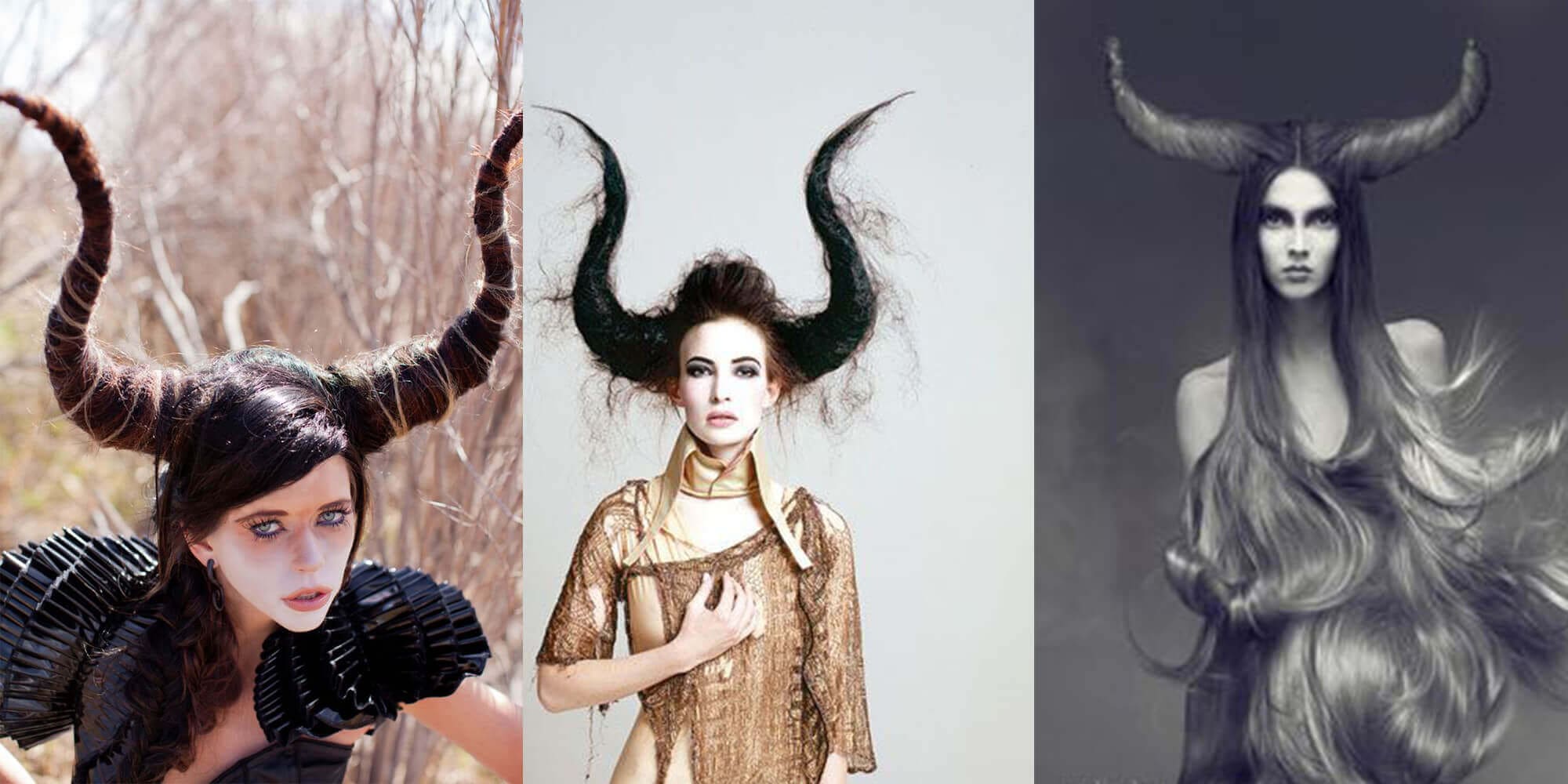 Nothing looks more sinister than big scary horns. And the great thing is you can look scary and fashionable at the same time. But you will need A LOT of hair for this one so make sure you get some great long extensions for this look.
Half Skull Face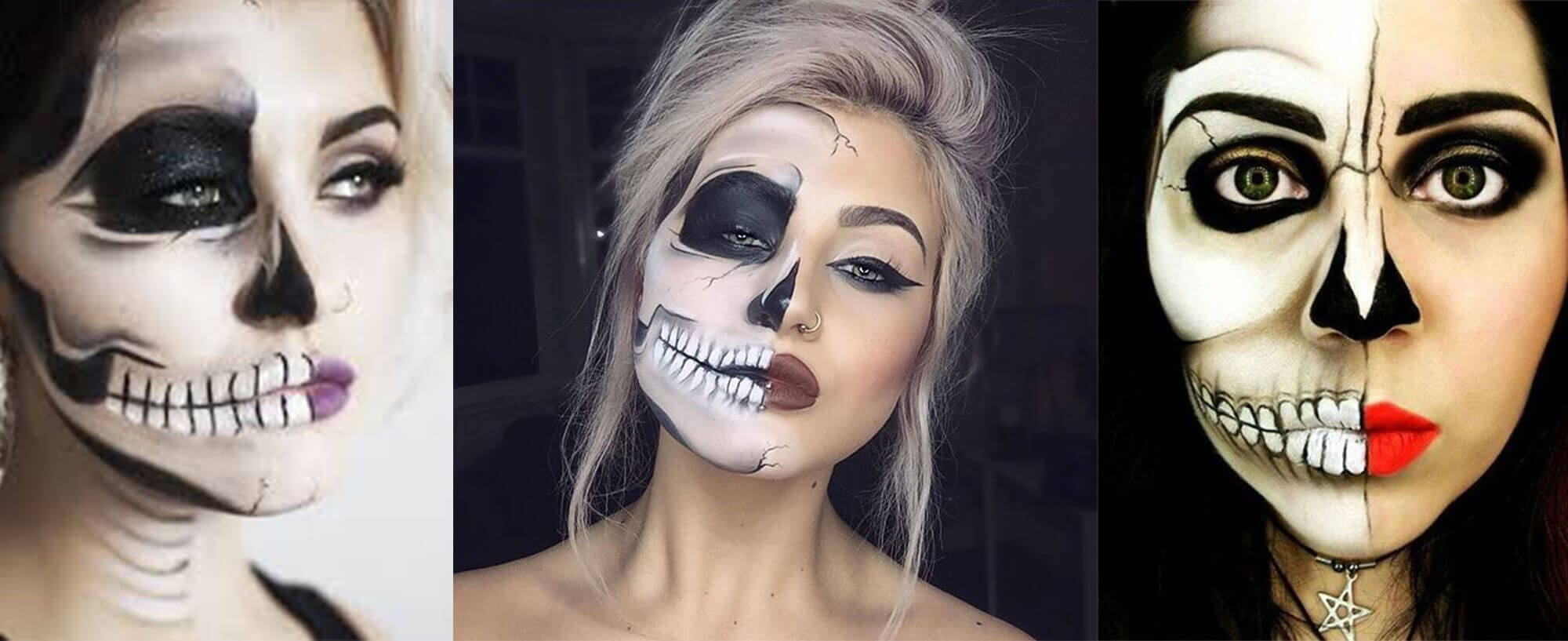 This is a famous Halloween makeup where one side of the face is painted like a skull. It looks really disturbing and you can show off your makeup skills on this one.
Want more? With Halloween just around the corner, I bet a lot of you have been thinking about what you are going to be. If you are sick of the basic couples costumes like doctor and nurse or angel and devil. Here are a couple out of the box couples costumes to try with your significant other.
Owen Grady & A Velociraptor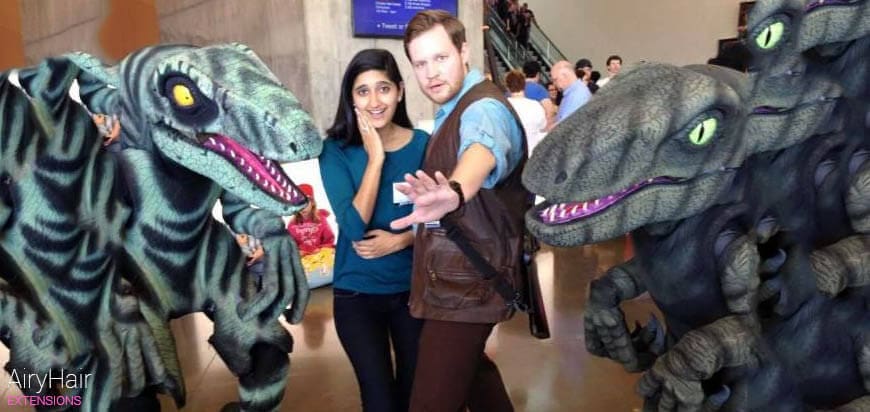 You may say that Claire and Owen are the love interests in the new movie "Jurassic World." I disagree, I think that the velociraptors had to love Owen to make him an alpha of their pack and come save him at the end.
Fin Sheppard & A Shark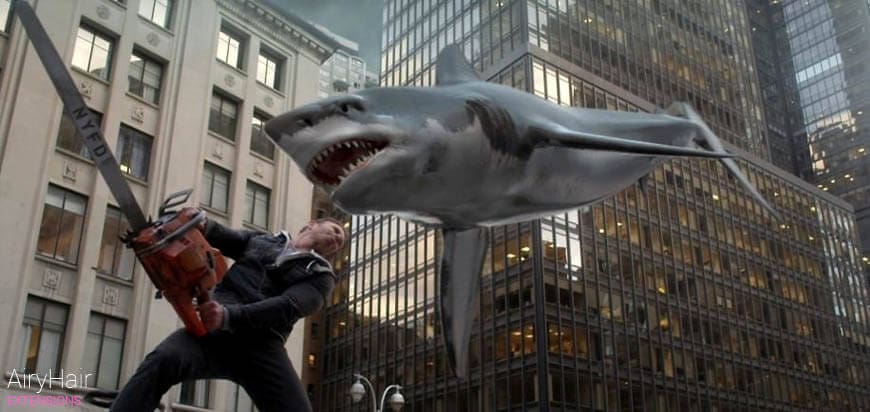 "Sharknado" is so awful and cheesy, that is surprisingly good. It is hard to tear your eyes away from the killer sharks jutting out of the water tornado. Go as a cult classic this Halloween with this fun costume.
Peter Griffin & The Chicken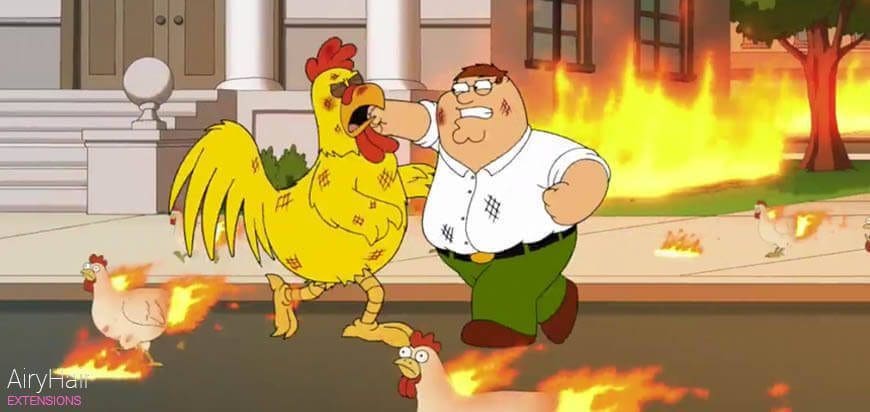 "Family Guy" has been on for years and is still producing new episodes. They are doing something right. Peter Griffin and the chicken is often overlooked on this show, but their scenes together always crack me up with their gruesome fights over nothing. Be a little more original and go the Peter and chicken route instead of the Stewie and Brian one.
Elsa & Olaf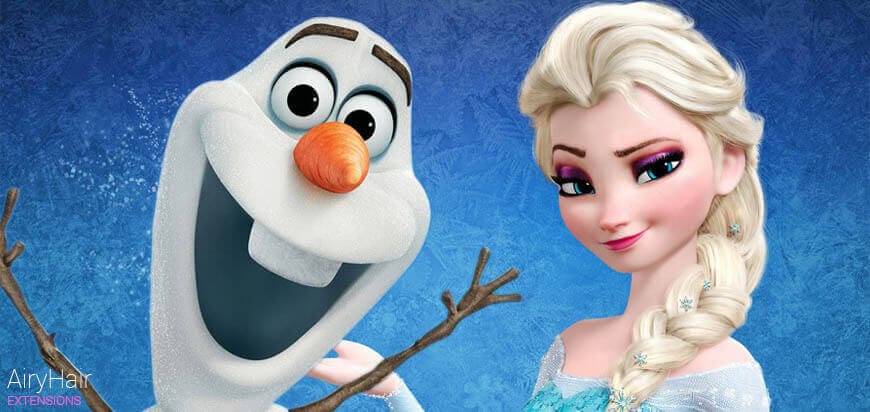 If you do want to go the princess route, but your boyfriend refuses to be your prince. Put your hair in a side braid and dress him up like a snowman. Then you still get to be a beautiful princess and he doesn't have to wear tights.
Cookie Monster & A Cookie
Adorable and easy. This costume allows one of your to go all out with the Cookie Monster costume and the other to spend a small amount of time cutting a cookie out of cardboard. If you are a huge Halloween lover, but your partner isn't. Let them be less involved with this easy costume.
Blue & Steve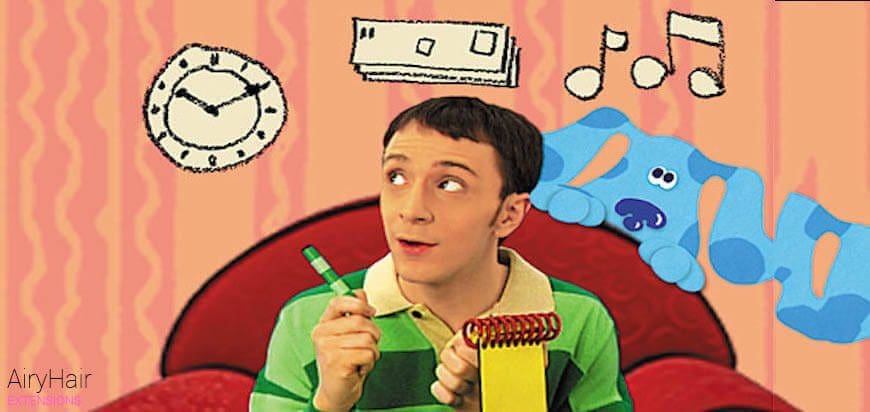 Every '90's kid will rejoice in your costume about this favorite forgotten TV show. Every kid I know used to sit down and watch "The Blues Clues" every Saturday morning. Be nostalgic with this cute couple costume.
Wendy Peppercorn & Squints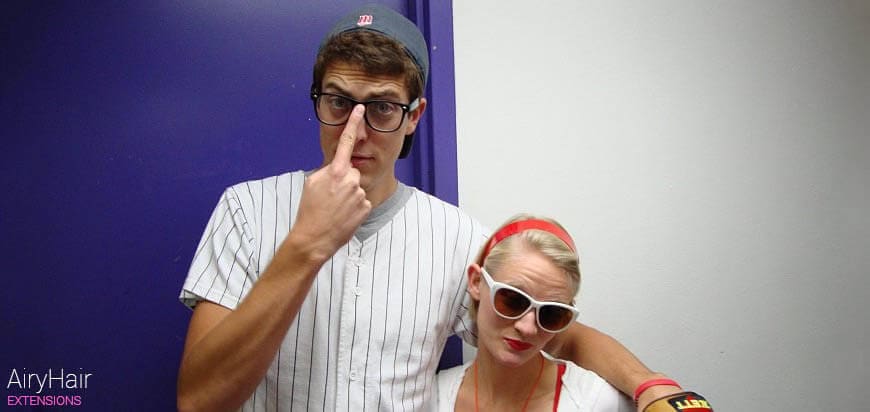 If you have never seen "The Sandlot" and have never watched this iconic scene where a chubby ginger kid fakes his drowning to get kissed by the hot lifeguard, you are missing out. It's a traditional story with a twist.
Fisherman & Mermaid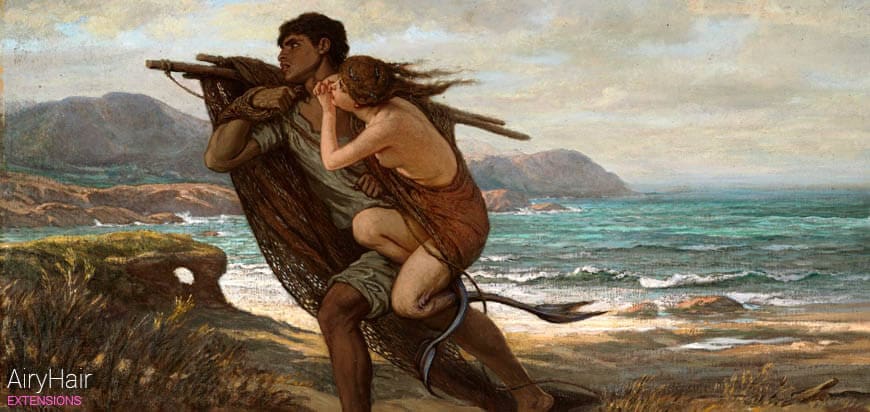 A slight twist from the traditional Ariel and Prince Eric costume. Instead of having your man dress like a prince, which let's face it most men do not want to do. Have him dress in a fisherman's outfit.
Goldilocks & A Bear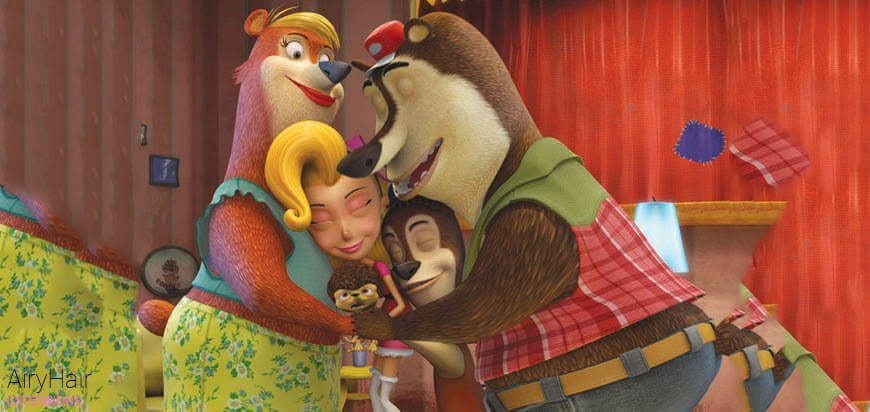 The amount of Little Red Riding Hood and the wolf couples costumes I have to see each year is overwhelming. If you have been wanting to do that costume once you finally got a partner. Maybe do Goldilocks and a bear instead for the same feel and more uniqueness.
Cupcake & A Chef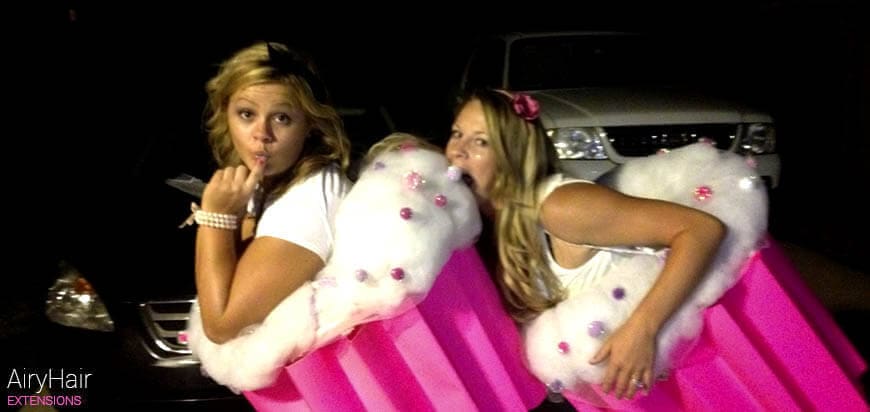 There are always so many career couple costumes like the cop and robber or the nurse and doctor. Mix it up with this sweet costume!
P.S. You know what else can you add to the set? AiryHair Extensions.