So, you got your gorgeous extensions and now you want to make them even more stunning by curling them. You're probably wondering how to do it on extensions and what method is the best one? Lucky for you, there are many different ways to curl your extensions, whether they are clip-in, tape-in, fusion, or micro ring/loop, and we're going to show you the best ones, with and without the use of hot tools. If you purchased genuine human hair, Remy extensions, there is no real danger in using curling irons, but you should use a heat protectant spray and at least make sure that you don't do it too often. But if you take good care of your extensions, and they're high quality, you should be fine.
Your first thought might be to go to a salon to get your curly hairstyle, but there is really no need for that. You would just be spending money on something that you can do yourself. All the techniques that hair professionals use to curl your locks are actually really simple and you can learn them in no time. That way you save money and time, and also get amazing results.
Depending on which type of extensions you have, you have different curling options. If you have more permanent extensions like tape-in, fusion, or micro loop, you cannot take them off, so you curl them just as you would your natural strands. With clip in and flip in methods, you have the option to curl with the extensions on and off. Both works great, it just depends on what's easier for you. Having them on is great because you can see how the curls or waves look and blend with your own locks, which is very important, but if they're off it's much easier to handle all the hair.
So to find out the best ways to curl hair extensions yourself and get that glamorous diva look, read on.
Using a Curling Wand to Curl Extensions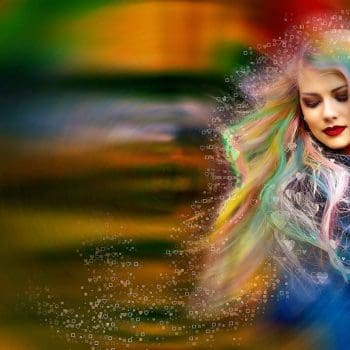 One of the easiest and quickest ways to curl your locks is by using a curling wand. They are really not that expensive and produce great results. We do recommend that you get a quality one that will not damage your hair, but generally be careful when using a curling iron. The great thing is that they're very versatile and can produce many different types of curls. There are a couple of ways that you can use a hot wand that we're going to show you. Remember that you need to brush your strands before curling because you don't want to mess up your curls later. Also make sure that you have washed your extensions beforehand.
Take the top section of your hair, just above your ears, and clip it up. Bring the two bottom sections forward to the front. These are the first two pieces that you're going to curl. Take one strand and wrap it around your curling iron. Wait for a couple of seconds (depending on your curler) and release. Repeat that for the other bottom strand.
Take two more strands from the top part of your hair that is clipped down and repeat the same process. Take into consideration which direction you're wrapping the strands around the wand because that will influence the type of curls you're going to get. Do this until all of the strands are curled and that's it! Now you see how easy it is to make your extensions curly and how better they blend in with your natural locks!
The Ponytail Method
That's not all, we have another way to curl your locks using a curling wand which is even simpler than the previous one. We recommend this ponytail method for all girls who are not as experienced with curling, are in a big hurry, or have very thick and long hair, which is often the case with extensions.
As you might assume, you start by tying a high ponytail after you have brushed your hair thoroughly. Separate your ponytail into about six sections, depending on how thick and dense your stands are. Take one section and wrap it around the curling iron. Wait for a few moments so that it heats up.
Congratulations, you have just made your first curl! Repeat the same step for each strand and since there are only a couple of them, you'll be done in no time. When you got all of your curls, remove the hair elastic that was holding your ponytail. You will notice that the top layer of your hair is pretty straight because of the ponytail, so take that section of hair and curl it as well. Use your fingers to break up the top curl into smaller pieces. That will give you a more finished look and curls all around.
This method is very simple and perfect for beginners because the ponytail makes it very easy to section off the strands and curl them. It is also great if don't have much time, but still want to make your extensions look glamorous. By using this method, you can be done in literally five minutes! You will also find this method a lot easier if you have thick and voluminous extensions because they are just easier to handle and curl when in a high ponytail.
Using a Hair Straightener to Curl Hair Extensions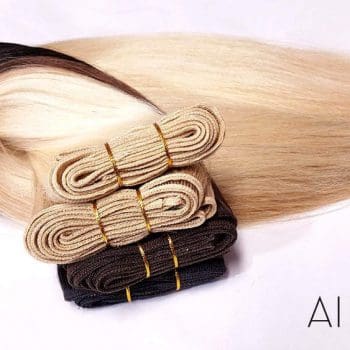 If you don't have a curling wand and are not interested in buying one, you can get similar results by using a hair straightener. Many people are not sure if that really works, but we're going to show you that it really does. Since both are hot tools, both have the ability to curl your locks. Some people actually find it a lot easier to make curls using a flat iron. For that reason, it's actually a lot better to have one because you can straighten your locks and curl them using the same tool. Isn't that cool? So if you're feeling a bit flat and want to brighten up your day with big bouncy curls, follow this simple flat iron tutorial and transform your extensions!
For best results, you should start with fresh, clean locks. You can use a detangling spray to brush your extensions more easily. We also recommend that you apply some dry shampoo to your hair because it will make the curls even more bouncy and last longer. An absolute must is a heat protectant to keep your extensions safe from heat damage. You will also need some clips to section off your hair, we recommend that you use alligator clips. Let's start!
The first section is going to be from one tip of the ear to another. Take the top part, twist it and clip it. Take the bottom remaining piece that you have left down and split it into two sections. Brush out any knots or tangles. Grab your hair straightener and start with the first strand. Grab the strand with the flat iron, twist it away from your face, turn it 360 degrees, and gently pull it down. Twirl the strand with your fingers to give more shape to the curl. Pop that finished curl over your shoulder so that it's not in the way. So you got the three easy steps: twist, twirl, and toss. Move on the other side and use the same technique. The first section of your hair is done! Do the same thing with other sections, the second one should be from one temple to the other, and the last is the top part of your strands.
When you're finished with the curling, you can gently toss your locks with your fingers or lightly brush it if you find that the curls are too tight and uniform. Once you're happy with how your curls look, you can apply some hairspray, just make sure that you apply it from underneath, rather than on the top. And that is it, you have perfect, bouncy curls made only by using a flat iron. Now your extensions blend even more seamlessly and have a stylish look. Isn't that incredible?
How to Create Heatless Curls?
If you're not so keen on using hot tools, do not despair, there are even more methods of curling your extensions without using curling or flat irons. You may be worried about damaging your extensions, which is understandable, and that's why we're going to show you absolutely harmless and safe heatless methods that you can try. The only downside is that they usually require doing in overnight, or at least waiting for a while, so you will not be able to get instant curls in just a couple of minutes, like with the previous methods.
Hair Rollers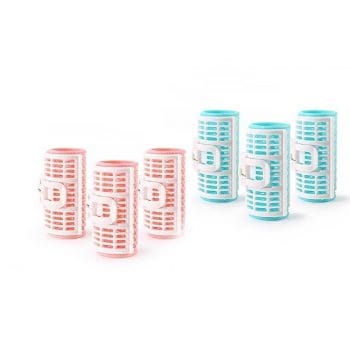 Using hair rollers is one of the classic ways of making curls that has been around for many, many years. There are a couple of different kinds of curlers, but you basically use them in the same way.
Start out with dry or slightly damp locks. You can determine yourself how many curlers you need and how to section off your strands. But you can use the same sectioning off technique as in the previous methods. Take your curler, wrap a strand around it, starting from the tips, and secure it. Repeat the same process for all strands and you're done! Now you need to wait for an hour or two, or if you want the curls to be done quicker, use a blow dryer. Be careful when you remove the rollers so that you don't tangle up your locks.
The Sock Bun Technique
Another great method of curling extensions yourself is the sock bun technique. It might sound strange, but it really works! The best thing is that it only takes a couple of minutes to do and the rest is done by simply sleeping.
Have your extensions about 95% dry and brush them thoroughly. Get your locks in a high ponytail. Now it's time to make a sock bun by cutting off the end of the sock and rolling it into a bun. Place the bun on your ponytail. Now split your ponytail into two pieces and start wrapping one section around the sock bun. Do the exact same thing with the other part of your ponytail. When you're done, secure everything with a couple of clips so that your hair doesn't unravel.
Now it's time to sleep with your sock bun and the great thing about it is that it's so comfortable that you won't even feel it. And when you wake up in the morning and unravel your strands, you will discover the most perfect curls that you have ever seen! This is definitely one of the easiest ways of curling hair extensions yourself because it only takes a couple of minutes to do and when you wake up, your curls are done. It is also a good way of sleeping with extensions because it will protect them from tangling and damage.
How to Make Kinky Curls?
Waves and regular curls are amazing, but sometimes you want to go all out and make incredibly voluminous and bouncy kinky curls. They can give you that cool afro look and completely transform your extensions. And they're actually not that hard to make. Here's how you do it.
You can use either plastic straws or pencils and you use them to wrap strands around it (straws are much more comfortable). So take one small strand of your extensions and start wrapping it around the straw. When you get to the bottom, secure it with a small elastic. Repeat the same process on all of your strands. Keep in mind that this will require a lot of straws and patience, depending on the density of your locks. But the end result is so worth it! When you're done with the wrapping, you need to leave it overnight. When you wake up, remove the straws from your hair and you will get the most amazing kinky curls that everyone will envy!
And that's it. Was this helpful? Let us know! And as always, stay with AirHair for more tips and genuine hair extensions.