Everyone wants to have long and sexy hair, and when it comes to buying hair extensions, one naturally would prefer longer over shorter counterparts. However, before you decide to place an order, there are a few things you should consider. It's not just the length that matters, but the aftercare and the life with long hair extensions!
Quick Access
– What Length Hair Extensions Can You Buy?
– The Pros and Cons of Long Hair Extensions
So, to make things easier for you, we did some digging around and came up with a brief yet valuable guide on voluminous hair extensions. Since the 2021 update, there are no greater lengths than those listed below.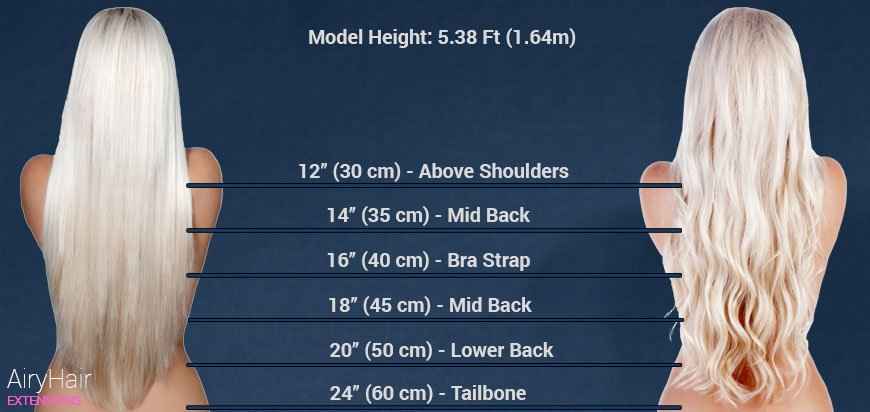 If you want to go for the longest possible length, then Brazilian wefts (straight) is the way to go as they extend to up to 40 inches (or 101 cm).
If you want variety and try clip-in, tape-in or other hair extensions, then the maximum that we have seen someone offer is 30 inches (for tape-in) or 75 cm.
Update: Since early 2019, AiryHair now offers wefts of 40 inches! We did check and could not find any other company in the world that sells hair extensions that long.
Since 24" tresses already reach the tailbone, what about an even longer weft?
26" and 28-inch extensions will be just above the butt, assuming you are 5.4 Ft or 1.65m. However, if you want to curl the hair, the perceived length will decrease!
30-inch and 32-inch body wave hair wefts will partially cover your butt, while curly locks will be somewhere above it.
34-inch and 36-inch hair extensions will reach the bottom of your butt!
38-inch and 40-inch hair extensions are best suited for tall women that want to enjoy the sexiness of long hair.
The advantages are easy to list!
First is the sexiness of the long hair, added desire, and whatnot.
Second is the freedom to style your hair in any way, shape, or form.
No, really, think about it. There is not a single hairdo or a hairstyle that you can't pull off.
However, there is one main disadvantage that everyone keeps on forgetting! Yes, we mean split and/or thin ends.
The longer the hair, the harder it is to maintain and keep these ends healthy. Unless we are talking about synthetic hair. Therefore, one should expect more split ends than with the 20" hair or hair extensions.
Upkeep costs are another con that one should consider. Washing long hair will require much more product, and drying times will double!
What's Our Advice?
So, you have made up your mind! Still want to buy hair extensions and rock that insane look? In that case, you have a few options:
To solve the split ends issue, cut the half-inch from your tresses and enjoy a much healthier look. Be sure to apply some oil afterward.
Consider double-drawn hair if the V-shaped hair does not look good on you. Please note that the costs are going to be much higher than those of regular hair extensions.
For more details about hair extensions, please visit our hair extensions buying guide.
Conclusion
In the end, it's all about your personal preference and the final result. We wear high heels, apply make-up, and do hundreds of things to make ourselves look glamorous. Should you consider hair extensions? Absolutely! Must they be that long? If the budget allows it.