If you're looking for some fun and trendy black ombre and balayage ideas, check out these amazing hairstyles.
Long Waves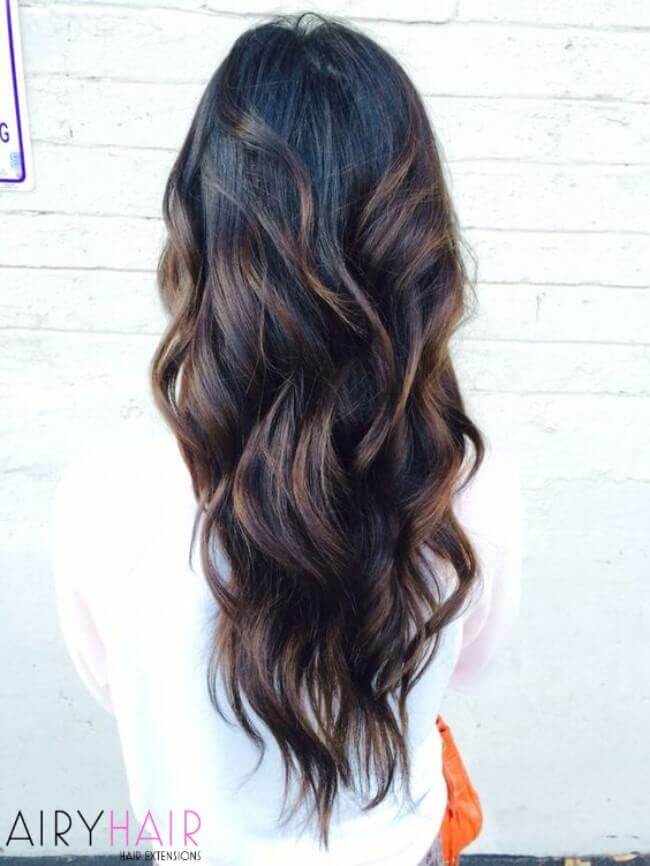 Some like their hair to look very natural and toned down. This black and brown balayage is the perfect example of that. Most of the hair is dark and light brown highlights are painted on a free hand. Because the colors are so subtle, the hair doesn't even look like it has been dyed.
Reddish Tones of Brown
This is another variation of a more natural-looking hairstyle. The dark roots transform into brown and pastel rose color on the tips. The colors look very fluid and the transitions are seamless, blending the shades naturally.
Double Color Trouble
If you like darker tones, this black and dark pink ombre is a great choice. It shows that even a splash of color, no matter how dark it is, completely transforms the hair and gives it a fresh look.
Casual Ombre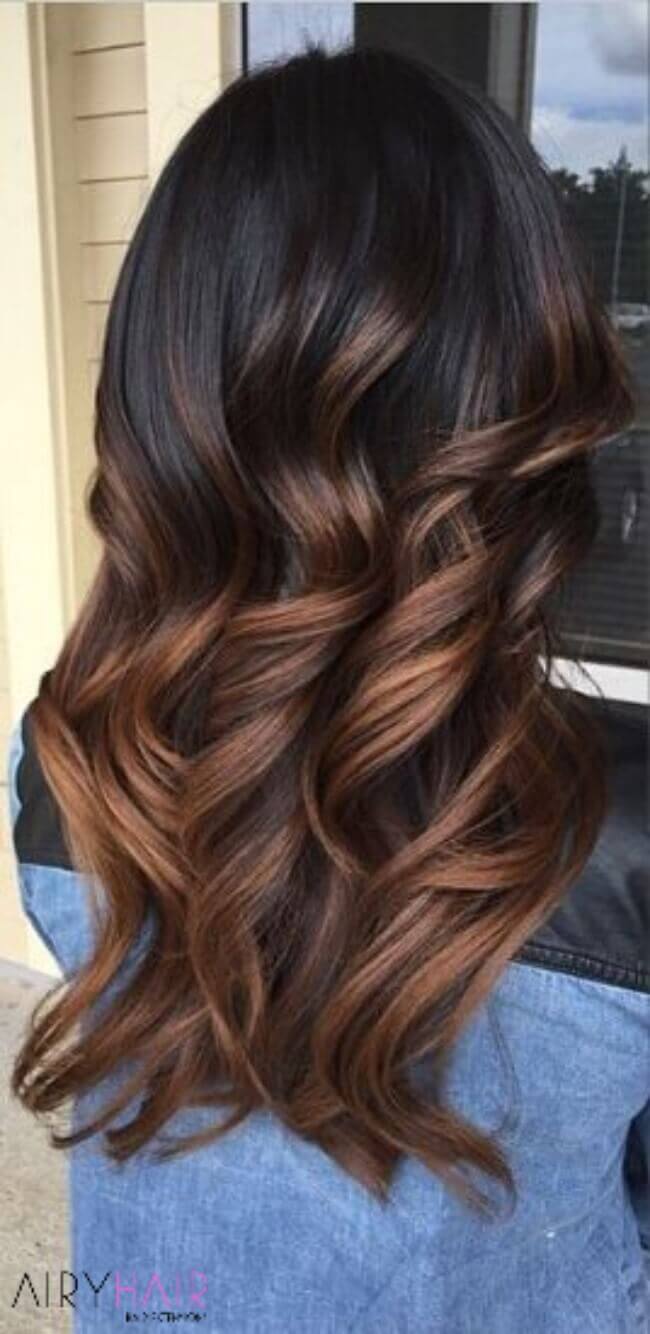 Some people simply don't like bright and unusual colors so they chose to opt-in for the simple shades of brown. Here the ombre descends from black to a beautiful chestnut brown. To make the look bouncier and fresher, curl your hair slightly to create waves.
Black and Blond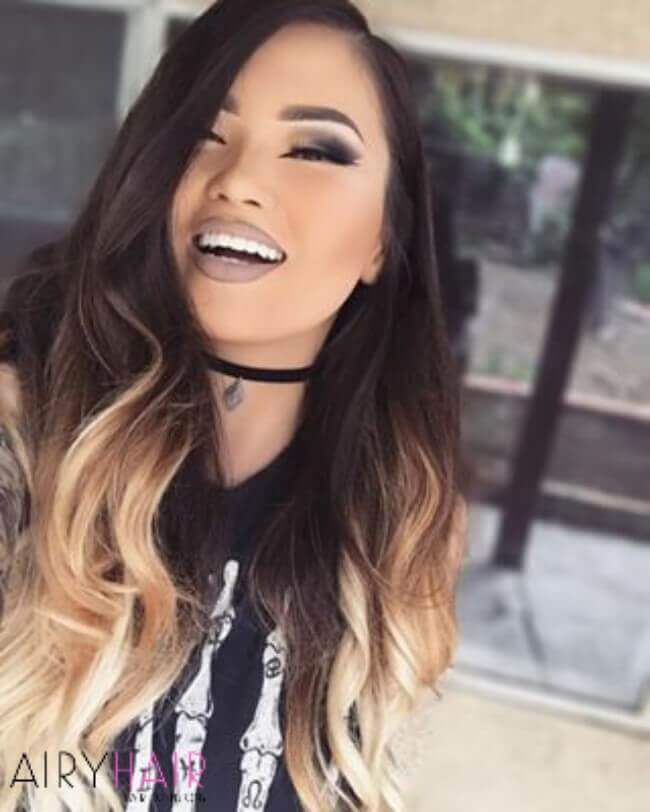 For a look that has a strong color contrast, go for a black and blonde ombre. The colors are on the opposite spectrum and that's what makes them so interesting together. You can also copy this look using extensions, so there is no need to dye your hair. Invest in blonde clip in extensions and place them in layers below your naturally dark hair. The result will be the same as in the photo.
A Stunning Blue Ombre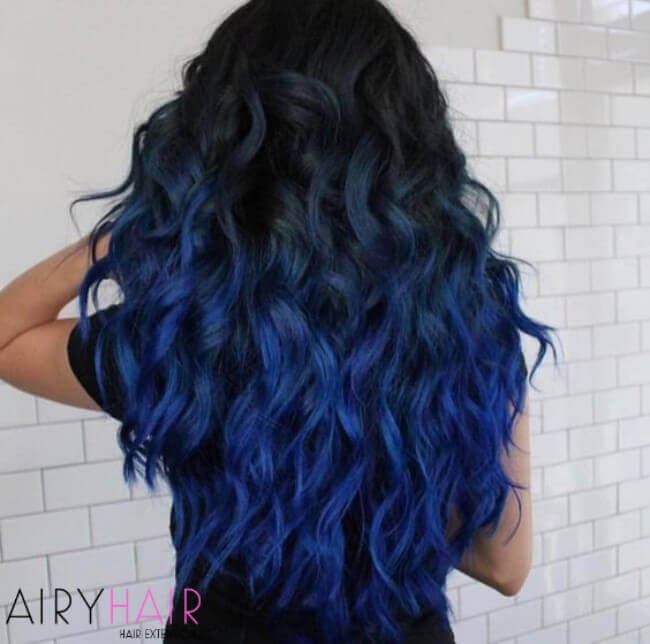 Blue and black look so good together and although both colors are quite dark, there is still a pronounced contrast that is achieved with the ombre technique. And the curls give it that extra pop and volume.
Green and Nothing Else
Green is such an unusual hair color but it's very trendy at the moment. It is perfect for someone who doesn't want bright hair colors. The emerald green is pretty dark, but that's what gives it its power.
Pure Purple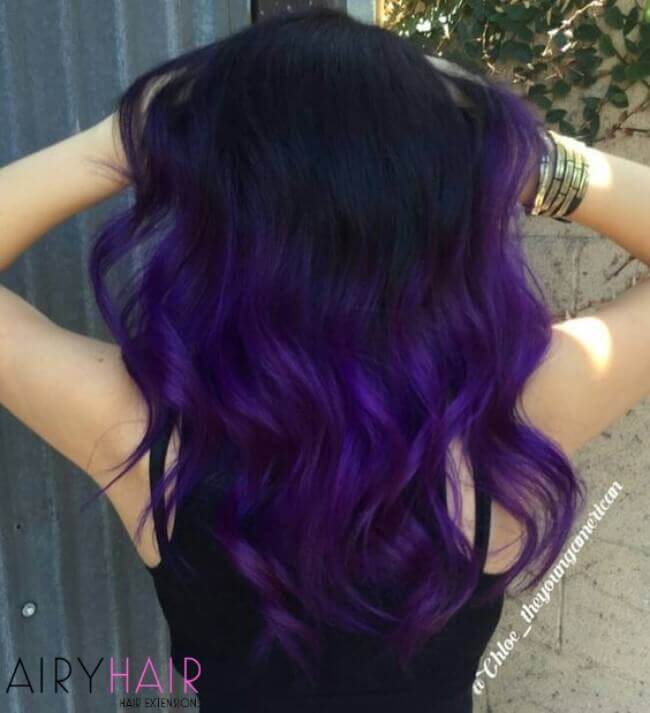 Purple and black ombre extensions look simply majestic. It is famous for the color of royalty and it can look very sophisticated and glamorous. If you curl the hair, the light will bounce off of it in different ways, giving the illusion of darker and lighter shades.
A Balayage Wonder
The ombre effect is barely visible on this hairstyle because the dark burgundy color is so subtle. This makes the hair look much more natural and toned down. So if you want a great everyday look, this color combination is a very good choice. If you want to achieve the length like in the photo, add some burgundy extensions that will give you instant long hair.
Long Red Locks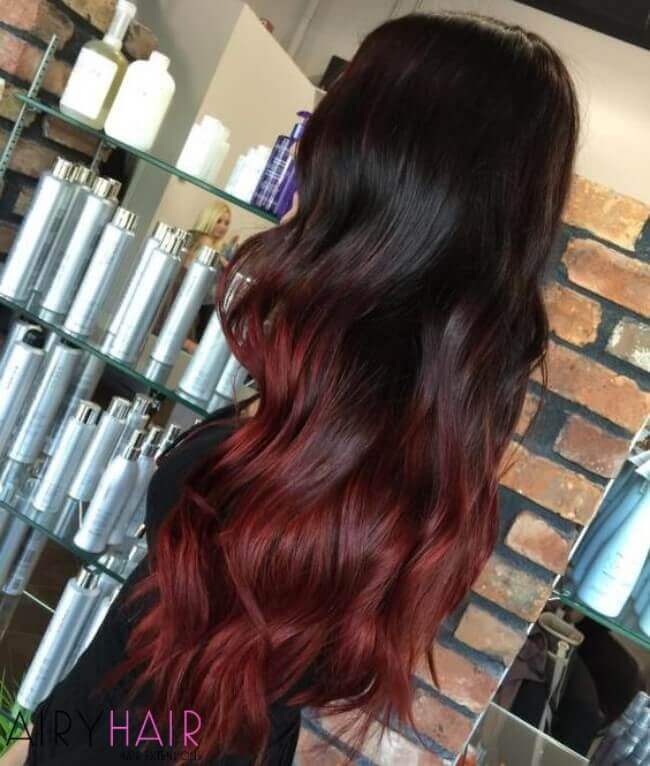 Dark copper color with splashes of red is mixed with black to create a wonderful ombre. The result is a very elegant and charming hairstyle that is perfect for long locks.
Mixing Master Colors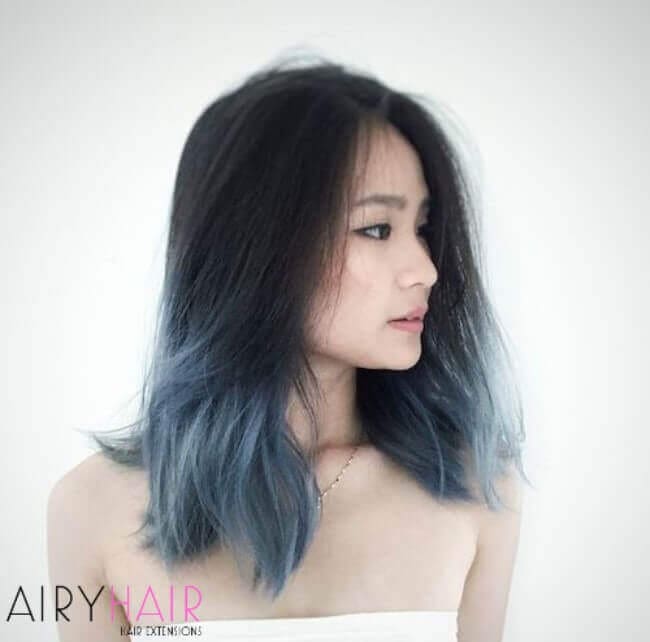 Pastel blue is one of the trendiest hair colors at the moment so you should consider it. It is accentuated even more when it's combined with black and as you can see in the photo, it looks great on shorter hairstyles as well.
Vibrant Copper Orange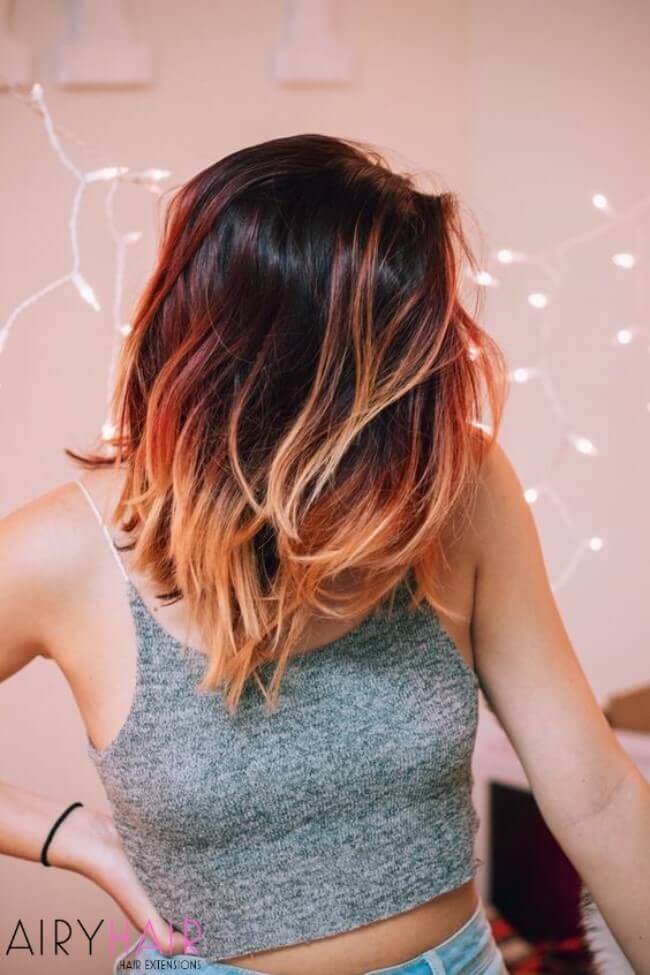 This is such an interesting hairstyle because it unites so many different shades and tones. There is black, copper, orange, blonde, and even some touches of burgundy. Together, those colors create a unique hairstyle that is achieved by using the balayage technique. The color transitions are not strict and uniform, but they overlap and are painted non-symmetrically.
Neon Green Hairstyle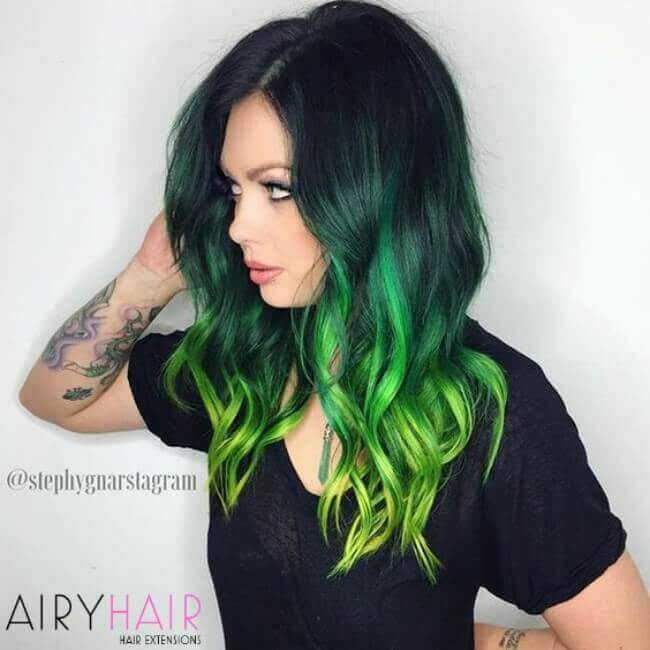 If you want to have a unique hairstyle and get noticed in a crowd, then neon colors are the way to go. Green and yellow neon colors look like they glow in the dark and black provide the perfect balance.
Black and White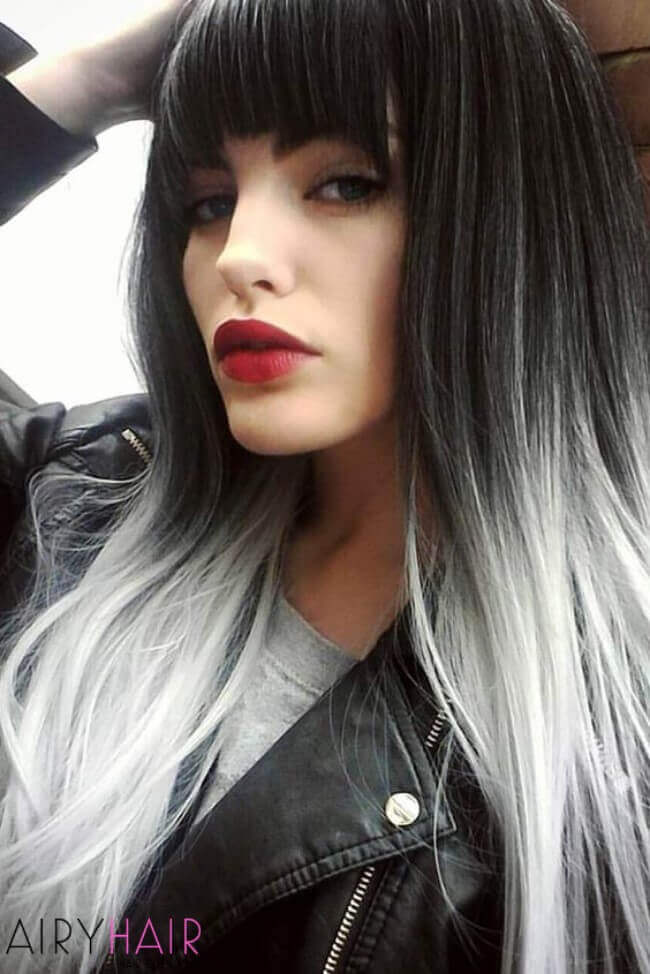 For the ultimate contrast, go for a black and white ombre. This monochromatic hairstyle is a tribute to Cruella De Vil, but it doesn't have to look so sinister.
A Color Play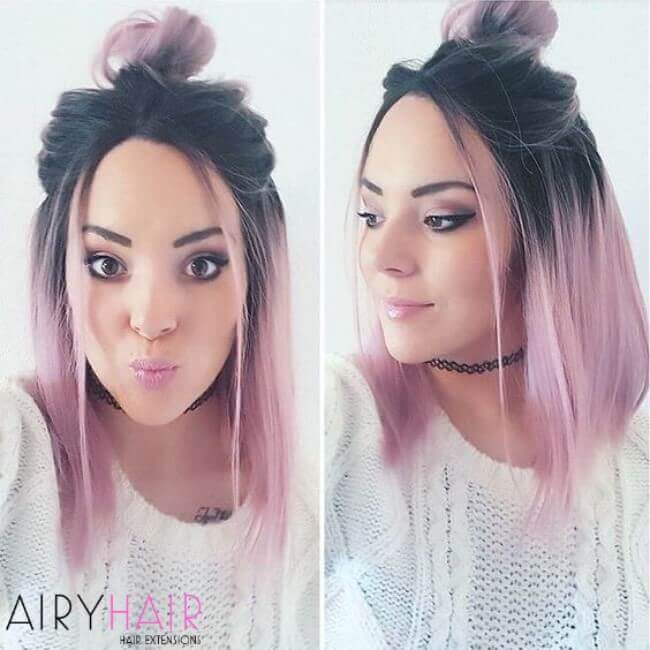 Pink is such a bright and happy color that has been increasingly popular in hair trends. This hairstyle looks best on long hair because you can see the nice transitions from black to pink and pastel pink. If you lack the length, you can cheat a bit with pink clip-in extensions that are affordable.
Mixing Teal Colors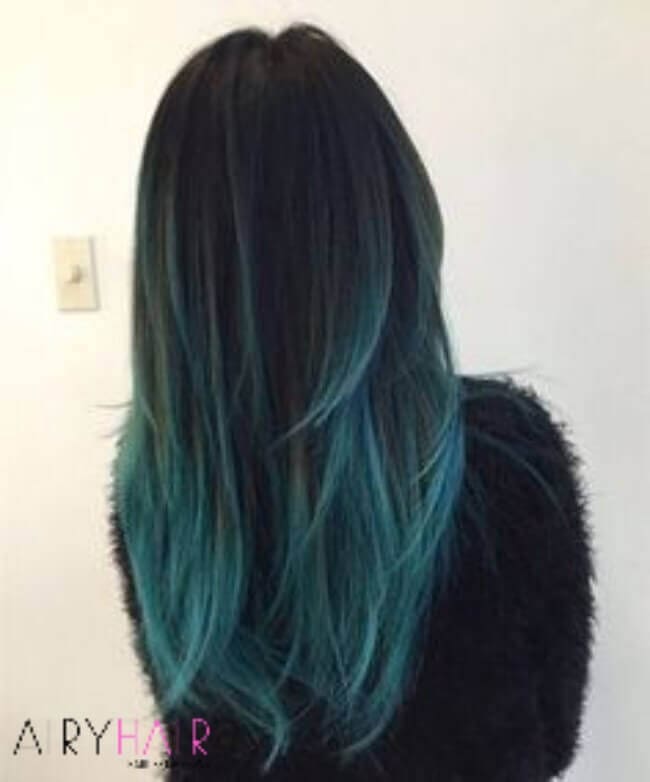 Teal is another color that is very trendy in 2017, so if you want to incorporate it in your hairstyle, a black and teal ombre is a great and simple idea.
A Rainbow Full of Ombres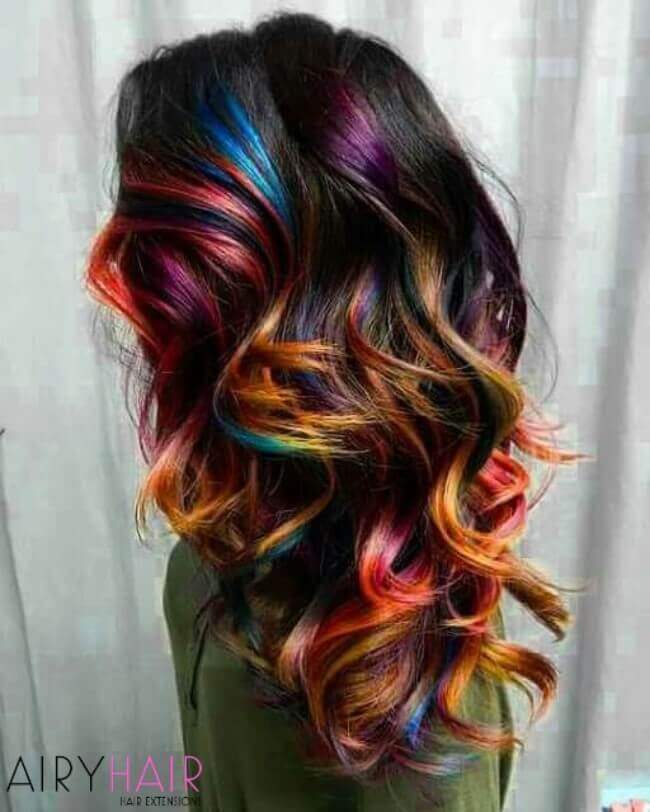 Sometimes, one or two colors are simply not enough to make a statement. If you want to transform your hair into an art piece, then go all out with every color in the spectrum. This rainbow ombre uses black only as a dark base on the roots while all other colors intertwine and mix in an explosion of different shades.
Balayage Purple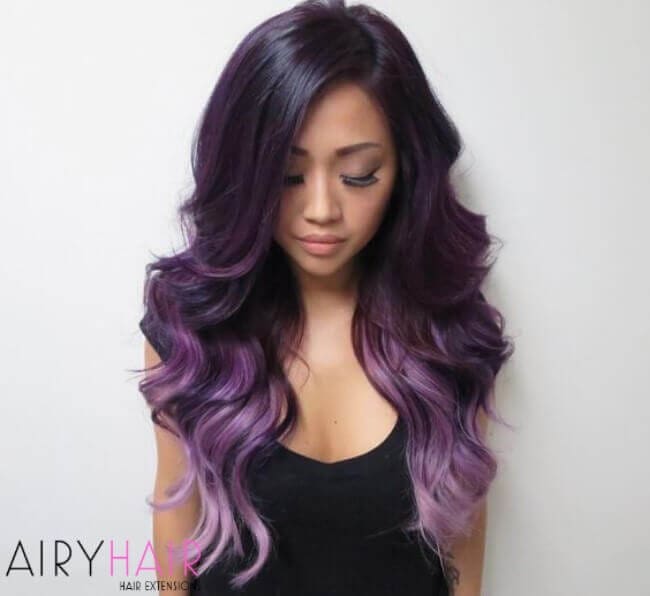 This three-toned ombre is made from black, purple, and pastel purple color at the very ends. Volume is what makes this hairstyle so wonderful and makes the color pop. If you have very thin hair, you can apply some wavy purple extensions to give you the needed boost.
Easy Going Pink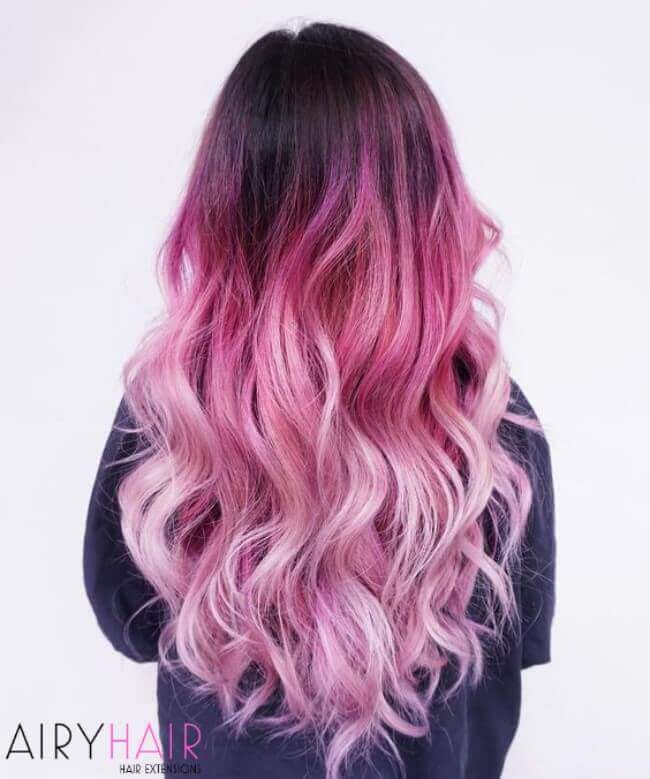 Pastel pink looks so cute and girly, so you want a very feminine hairstyle to go with this black and pink ombre. It looks nice on short hair as well and it's accentuated with a small bun on the top.
A Take on Pastel Ombre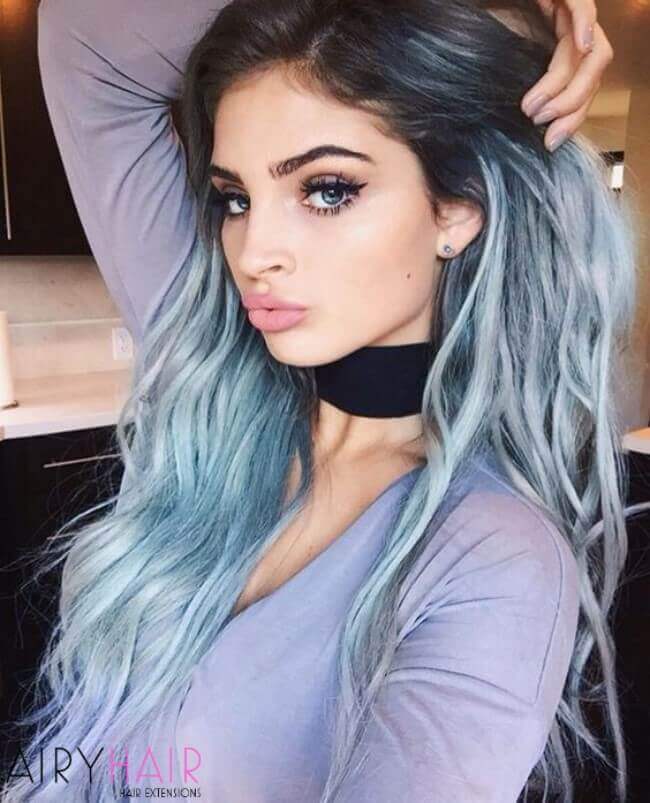 Black and pastel blue ombres are great modern winter hairstyles. If you lack the length or volume needed to achieve this look or don't want to bleach and dye your hair, you can install some hair extensions. If you buy pastel blue hair and blend it with your natural hair, nobody will ever notice that you're wearing extensions.
Bright Hairstyles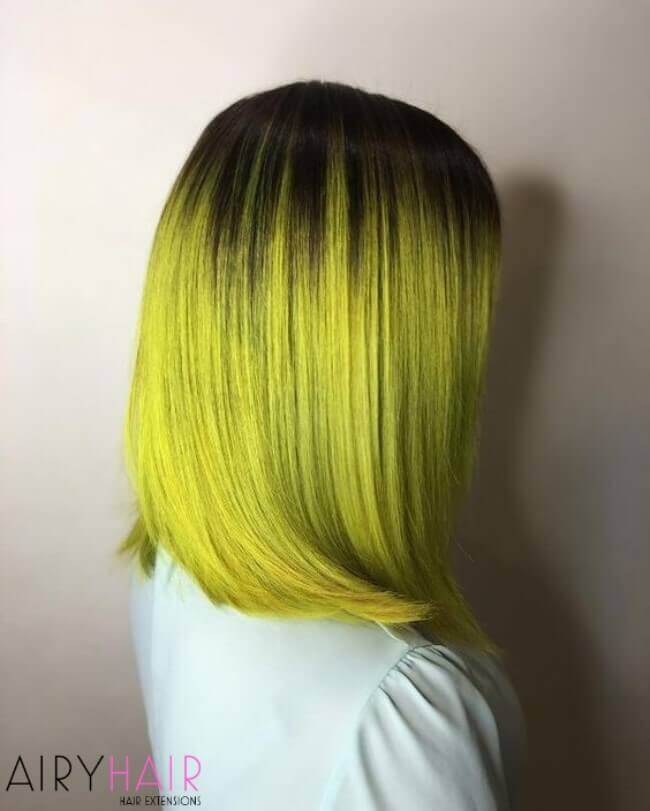 If you're thinking about doing something eccentric and out of the box with your hair, why not go for a bright yellow color? A splash of black is added only on the roots and the rest of the hair is almost neon yellow which makes it very eye-catching and trendy.
Blending Balayage and Ombre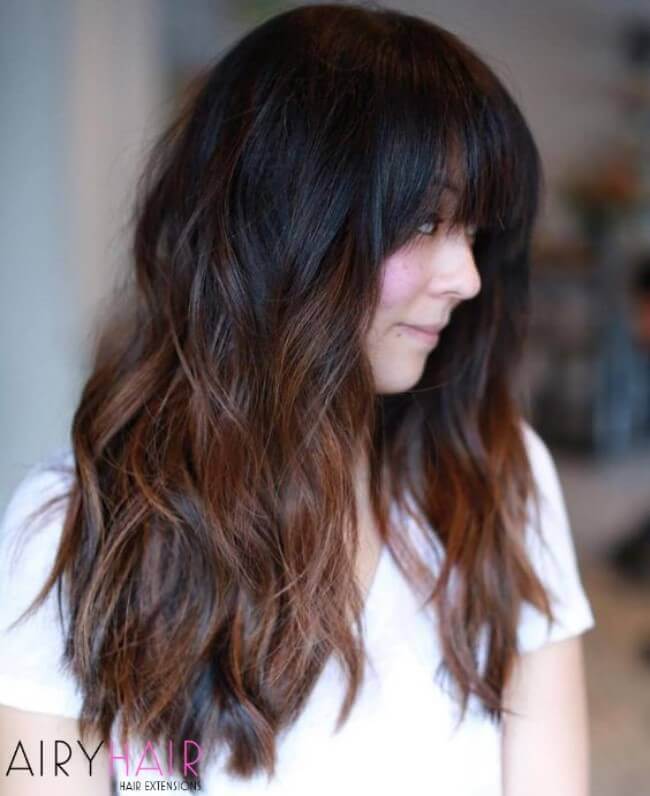 Don't forget that AiryHair is one of the very few companies in the world that can create any color hair extensions without charging anything extra, visit our home site to learn more.
Source: Pinterest
Enhanced and hosted by AiryHair.