The word ombre comes from the French language where it means "shaded" and as we all know it is the gradual blending of one hair color with another. This trend has taken the world by storm and there's an infinitely large amount of different ombre hairstyles and variations. The reason why ombre became so popular is simple. This technique allows a lot of experimentation and everyone can find an ombre hairstyle that they like. Some ombres are more subtle and natural-looking, and recently people have been using the term "sombre" to describe it, but ombre hairstyles can also be very unique and eccentric.
The ombre technique may look complicated at first look, but it's not that hard to achieve and it gives great results. It is a great way to add some spice to your hairstyle if you're bored with your hair. Another great thing about ombre is that it works on many different hair lengths, from short to extremely long. In this article, you can check out ten stunning black and silver/grey ombres for different hair lengths and styles that look very bold and cool.
Before we begin listing all the awesome black and grey ombre hairstyles, please keep in mind that you can achieve this or any look with AiryHair unique hair extensions.
Light Greys and Blacks
For extra-long hair lovers, a black and grey ombre is a great trendy hairstyle. With only a splash of black, the silvery grey locks extend to the lower back. If your hair is not nearly that long, but you dream about a lengthy hairstyle, extensions can come to the rescue. It doesn't matter what method you go for; clip-in, tape-in, micro ring, or fusion, it will give you instant length for your ombre hair.
Ombre for Short Hair
Some people like short hair and the good news is ombres are so versatile that they work on any length. Here is a great example of a black and grey bob cut. As you can see, it looks great on straightened and curled hair, so you have a lot of options in terms of styling. When the hair is straight, the ombre is much more clean-cut and the colors are separated, but when you curl it, the black and grey strands mix and it looks more like a balayage.
Grey and Balayage
This hairstyle can be done with the balayage technique or by combining ombre and balayage. The grey highlights are not uniform and boring; they look lively and fresh. To make the whole look more interesting, section off the top part of your hair and make a messy bun.
Mixing Black and White Ombre
Ombres liven up simple shoulder-length haircuts. Black and white (or very light grey) are the main two colors while dark grey is visible only as a transition between them. The result is a very modern and minimalistic look that is both youthful and serious.
Long Hair in Grey
If you don't like clear color transitions and gradients like with ombre hairstyles, you can create a grey and black look using the balayage technique. If your hair color is black, the grey highlights will be hand-painted randomly to get a more natural look and avoid dated highlights that look like uniform stripes.
Curls and Straight?
These three photos show just how versatile ombre hair extensions are. You can completely straighten your hair, make big glamorous curls, or tie the top part of your hair in a cute ponytail. So whatever the occasion may be, whether you want an everyday look, an elegant look, or a party look, you can do it all with this incredible black and grey ombre. It's really hard to decide which hairstyle looks best.
Keeping it Flat
For sharp color contrast, choose an ombre hairstyle that has a clear line between the two colors. That creates a very dramatic look that is very unique because of the color combination.
Side Bangs in Grey
Here, it's all about volume! There is SO much hair and it looks simply stunning! The left side is completely grey, while the right is black except for a few light highlights. The grey side-bangs unify the look and make it that much more interesting. Because this is such an eye-catching hairstyle, it could be a great Halloween look as well. But to be honest, you will probably need some extensions to recreate this hairstyle because only a few people have that kind of natural hair. You can invest in black and grey extensions and experiment with the placement, adding as much volume as you need.
A Very Short Hair Ombre
This is the complete opposite of the last look, but it is a good example of an ombre on very short hair. This is probably the shortest you can go for the ombre to be visible, but as you can see, it looks pretty cool.
African American Braids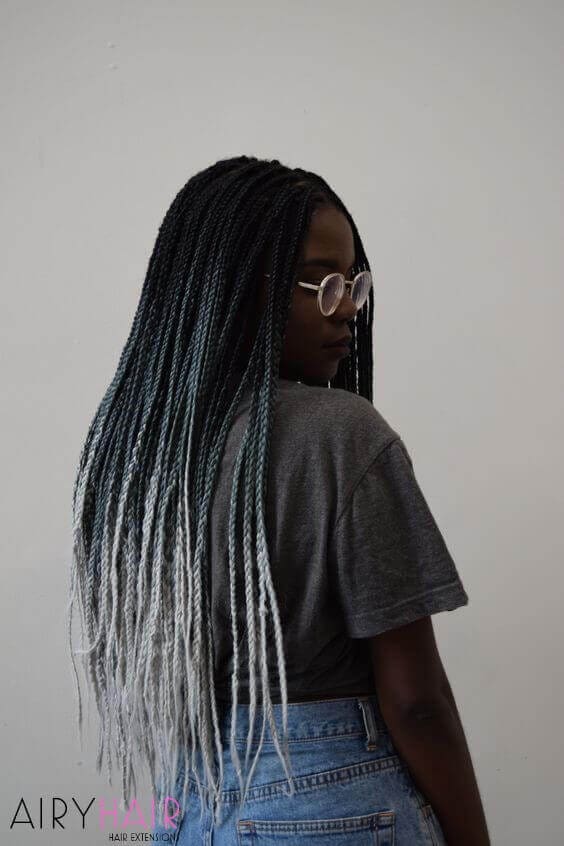 Braids completely transform a hairstyle and make it look so cool and trendy. Length and volume are the keys here because you need a lot of hair to make braids and for them to look nice. So don't be afraid to use some unique ombre hair to help you with that.
Shoulder Length Grey Ombre
For a simple and modern look, try a black and grey ombre on a shoulder-length straight haircut.
Mixing Light Greys and Blacks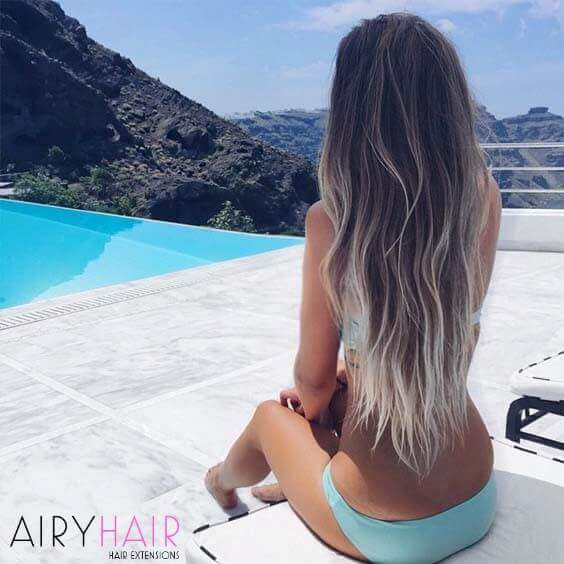 This is a combination of ombre and balayage techniques where the transition of colors happens at the very bottom while grey highlights are spread throughout the hair to make it look more natural and stylish.
Black and White Contrast
This can be a great Halloween hairstyle or if you want to show off your quirky personality. The contrasted ombre is almost black and white which looks a bit spooky. Pigtails add a playful vibe to the whole look.
A Cool Black and Grey Ombre
Beautiful black and grey ombre looks amazing on all skin colors and this photo proves it.
Playing with Grey Highlights
If you want volume, curls are your best friend. On this balayage hairstyle, you can see grey highlights that are very thin and just visible enough for this not to be a boring monochrome hairstyle.
Curly Dark Grey Ombre
When talking about ombres, we should not forget curly hairstyles. If you want to revive your curls and do something different, add a splash of grey to make your black hair color look unique and on-trend.
Bangs are a total hit this season, especially if you incorporate them with a cool grey and white hair color. The result is a very modern look that is eye-catching and slick.
Black and Gray Ombre Look
For a more mature look, your natural greys can be used to create a stunning hairstyle that includes fifty shades of grey. The length and the vibrancy of this hair are simply amazing, and it looks so bold and confident.
Playing with Grey and Black Colors
The gradient is so nicely visible on this long braid and that's what makes this look so powerful. There are so many shades of grey that travel down to black at the very bottom, providing such variety.
A Stunning Look
The incredible length is what makes this hairstyle so special and unique. Long hair always exudes such power and gives us confidence. If you want to embody this image of a strong, beautiful girl, then definitely go for this hairstyle. To make your life easier, just buy grey extensions and add as much length as you like.
Medium Length Black And Silver Ombre

This is a classic medium length hairstyle, but what makes it special is the black and silver ombre. Usually, it starts from black on the roots of your hair and blends to silver/grey color on the bottom of your hair, but you can also play around with it and go from silver on the top and black on the bottom.
Bob Ombre Hairstyle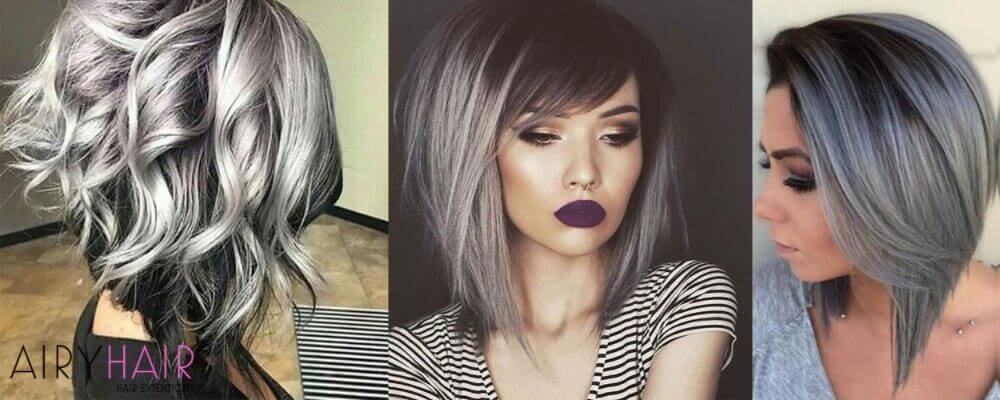 Bob's haircut is still very famous and there are many cool variations of it. The way to make it special and unique is to create this awesome black and silver ombre effect that looks great on a bob haircut. Here you can see that you don't need extremely long hair to get the ombre effect.
Black And Silver Ombre On Long And Straight Hair
It's very simple to get this black and silver ombre effect on long and straight hair because there's a lot of hair to work with and that ombre blending and shading can be perfect. You can also add other colors and shades between black and silver to get a unique look.
Black And Silver Ombre On Extra Long Hair
Extra-long hair always looks special and simply stunning because of its length, but adding a black and silver ombre will transform it even more. In the middle picture, you can also see a reverse silver and black ombre that also looks stunning. And if you want this hairstyle but don't have such long hair, simply add some long silver or grey extensions to your black hair.
Black And Silver Ombre on Curls
Black and silver ombre also looks great on curls. Curls add to the blending and shading of the ombre and create an awesome hairstyle.
Tight Curls Ombre Hairstyle
Black and silver ombre can also look very cool on tight curls. So if you want a really unique hairstyle, this is really an interesting one. It doesn't matter if you have spiral curls or kinky curls, black and white ombre looks great on it.
Braided Hair Ombre Hairstyle
This is a unique hairstyle that looks stunning! These braids look amazing on the black and white ombre and the transitions and shades are still very visible. For very long braids, you can first add some cool extensions to your hair because you need a lot of hair for braiding, and then you can choose the braiding style that you want. You can also buy extensions that are already braided.
Black And Silver Ombre With Braids
If you're more into regular braids, these hairstyles are really beautiful. These black and silver ombres with braids are perfect for special occasions and they look really elegant and sophisticated. And of course, there are numerous braids you can choose from.
Black And Silver Ombre Hairstyle With Bangs
Black and silver ombre also looks great on a hairstyle with bangs. Bangs are a great way to change up your style because they change the way your face looks. And if you add the black and silver ombre to the mix, you get a cool, youthful-looking hairstyle.
Black And Silver Ombre Hairstyle With A Ponytail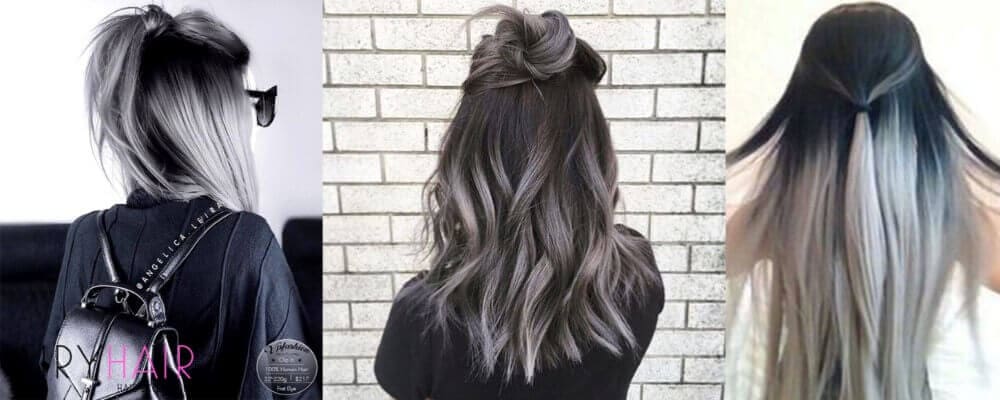 To change up your silver and black ombre hairstyle, you can play around with different ponytails. It's very trendy to use only the top part of your hair to create a ponytail or a messy bun.
Order Ombre Hair Extensions
Stop ruining your own hair, grab our ombre hair extensions in multiple attachement types, for new and experienced users and rock new look while protecting your own hair!
[Source: Pinterest]