Halloween is just around the corner and it's time to start thinking about this year's costumes, hairstyles, and makeup. This is the perfect time of the year to become somebody completely different, experiment with hair and makeup, and show your creativity. There are so many looks to choose from, but if you're feeling stuck and need some cool ideas, read on!
Quick Access
– Halloween Hair Ideas
– Party Hair Ideas
– Tips to Avoid Damage
Before we begin, here's a cool video for some cool party and Halloween nail art ideas.
Ready?
#1 Unicorn Hair
Unicorns are beautiful mythical beings that every little girl adored. Drawing from that inspiration, you can dress up as a sexy unicorn. The rainbow hair effect is achieved by creating an ombre from different pastel colors.
#2 Heavy Blood
This spooky look is just perfect for Halloween; it combines heavy makeup, blood, and devil horns.
These little horns are pretty easy to make by wrapping your hair around, but you can also use a wire inside to make them more stable and to shape them the way you want to.
#3 Animals Thing
If you're an animal lover, there are many different ideas to think about. For example, you can dress up as a cute lion or lioness. The makeup is quite simple and your hair should be long and voluminous to imitate the lion's mane. You can also make cute ears out of your hair.
#4 Pinup Hair
If you want to feel glamorous for Halloween, this pinup/rockabilly inspired hairstyle is perfect. You can experiment with different colors, but this pastel turquoise color looks amazing. And of course, don't forget to put on a pair of luxurious glasses.
#5 Wire Braids
If you want to do something cool with your hair for Halloween, you can try something like this. Although it may look complicated, it very simple to make. The trick is to insert a wire into the braid. That way, you can make your braid in whatever shape you want and get it to stand up.
#6 Galaxy Hair
This dreamy galaxy girl look will make you stand out during Halloween since most people will go for the spooky looks. It is very feminine and girly and it's the perfect look for a cool Halloween party.
#7 Eyeliner Play
This is another great Halloween idea you can try out. To get this makeup effect, try using eyeliner.
#8 Spikes in Hair
This is something cool you can do with your hair for Halloween. By adding spikes to your braids, your hair becomes a weapon similar to the medieval morning star.
#9 Hundred and One Dalmatians
Cruella de Vil, from The Hundred and One Dalmatians, is one of the most famous villains ever. Her notorious black and white hair became a synonym for evil. You accompany this Cruella hairstyle with a big fur coat, a fake one, of course.
#10 Medusa Hair
Medusa is a scary monster that comes from Greek mythology. She was described as having snakes for hair and was much feared. To achieve this look, you can place a ton of extensions in your hair to make it big and add toy snakes that creep out of the hair.
#11 Harley Hairstyle
Harley Quinn is a comic supervillain who's famous for her pink and blue pigtails. You can temporarily dye your hair or add pink and blue extensions to your pigtails. And don't forget to bring a baseball bat with you!
#12 Alien Ideas
This is a freaky alien queen costume that seamlessly blends the makeup with the hair. This one may require a bit of work, but the result is worth it!
#14 Pink Hair
If you're not into the scary stuff, you can be a beautiful fairy-like goddess. For this one, it's all about the long, luscious hair, so put as many extensions as you can and add a flower crown on the top.
#15 Game of Thrones Hair
If you're a Game of Thrones Fan (and really who isn't?), you can get inspired by the awesome female characters and their amazing hairstyles.
It's all about the braids and long, voluminous hair. Chances are you don't have such thick and long hair, so add long hair extensions first and then recreate the hairstyles.
#16 Spooky Ghsot Hair
This spooky, ghost-like look works great for All Hallows' Eve. The key is in dark, spooky makeup and very long ghost-white hair.
#17 Colorful Makeup Idea
If you're into something more colorful for Halloween, this is the time to go all out with rainbow colors and sequins. You can apply them to your makeup and your hair.
#18 Sparkling Face
This is another cool sparkle and sequins idea. If you like glitter and want to stand out from the crowd, go with this one.
#19 Braids Idea
This makeup looks spooky and it goes great with this hairstyle which incorporates all kinds of different braids.
#20 Mixed Hairstyle
Halloween is the right time for experimenting with your hair color. This turquoise and pink combination looks incredible and there are a couple of ways in which you can achieve this hairstyle. You can use temporary hair dye, permanent hair dye, a wig, or pink and turquoise hair extensions.
#21 Ghost Makeup
Ghosts are scary spirits that come from the other side. Whether you believe in them or not, a spooky ghost is a perfect costume, and the hair and makeup and so simple.
#22 Creepy Makeup and Hair
If you want to be spooky, this amazing hairstyle will do the trick. You will need a lot of hair for this, so add a bunch of extensions and make it big. You can accessories with creepy dolls, bones, and spider webs.
#23 Eyeballs in Hair
This eyeball hairstyle is creepy and although it is a bit advanced, the effect it creates is amazing.
#24 Lady Gaga Makeup
Lady Gaga is famous for her outlandish and eccentric style and that's why she's the perfect inspiration for Halloween. There are so many crazy outfits and hairstyles you can choose from to embody Gaga.
#25 Mexican Day Hair
This look is inspired by the Mexican Day of the Dead and their famous sugar skulls. The makeup looks amazing and you can accentuate the look with bright hair colors.
#26 Gothic Ideas
This gothic look is very creepy and beautiful at the same time. Goth hairstyles are all about long black hair and dark makeup. To make black hair more interesting, you can add some colorful highlights like violet or pink.
#27 Blue Mermaids
Mermaids are legendary water creatures who are famous for their beauty and long, luscious hair. You can use a long blue or turquoise clip in fringe or extensions and accessorize your hairstyle with seashells and starfish.
When it comes to parties, everybody wants to dress differently or do something cool with their hair. It is important to be noticed and stand out from the crowd. Parties are also a great opportunity for everyone to try out wild hairstyles that they wouldn't wear in everyday life. It's time to go wild and be cool and unique.
#1 Pink with Turquoise and Yellow lines
#2 Fire Ombre
#3 Rainbow Colors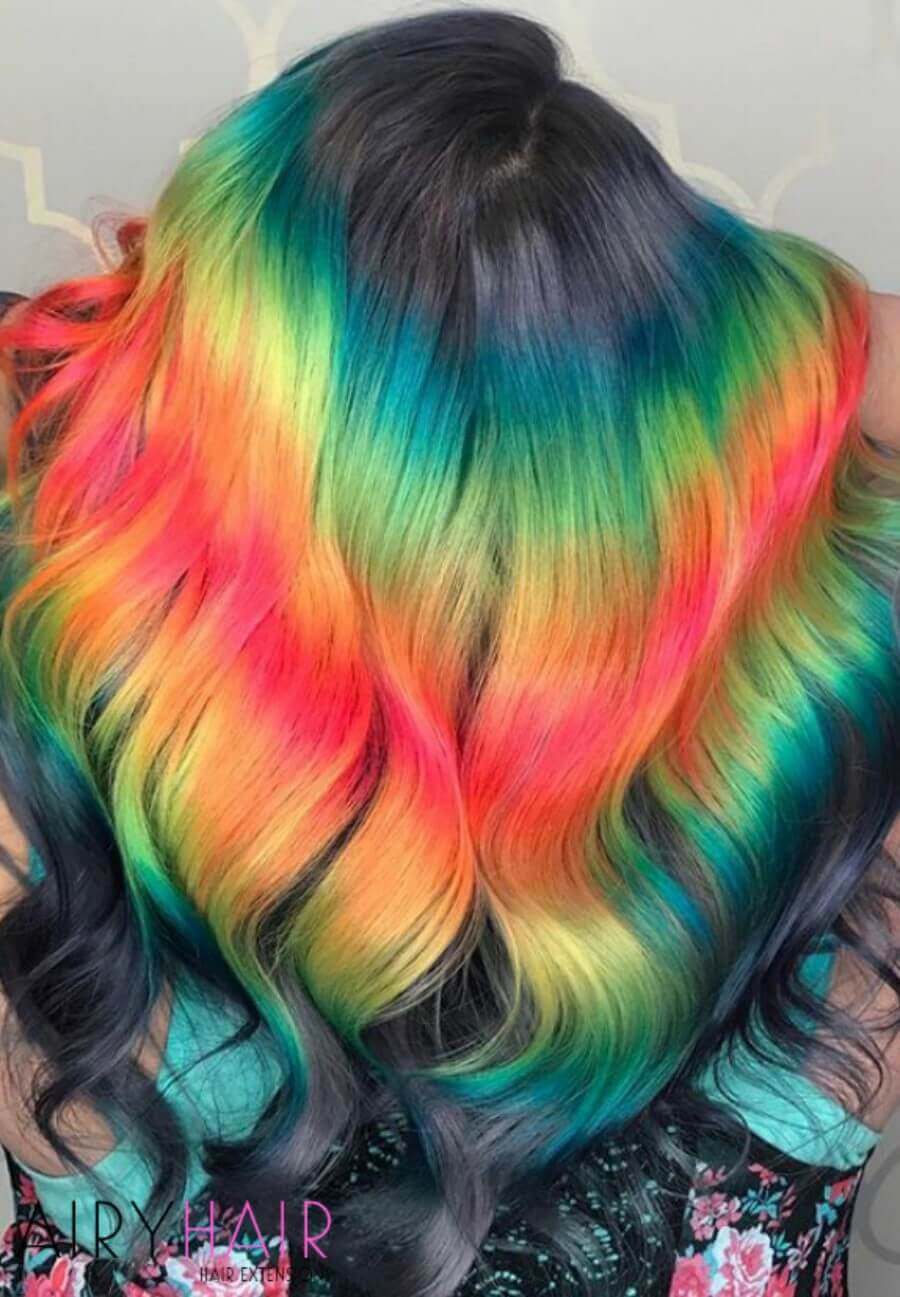 #4 Fuchsia with a Yellow Streak
#5 Cool Prism Effect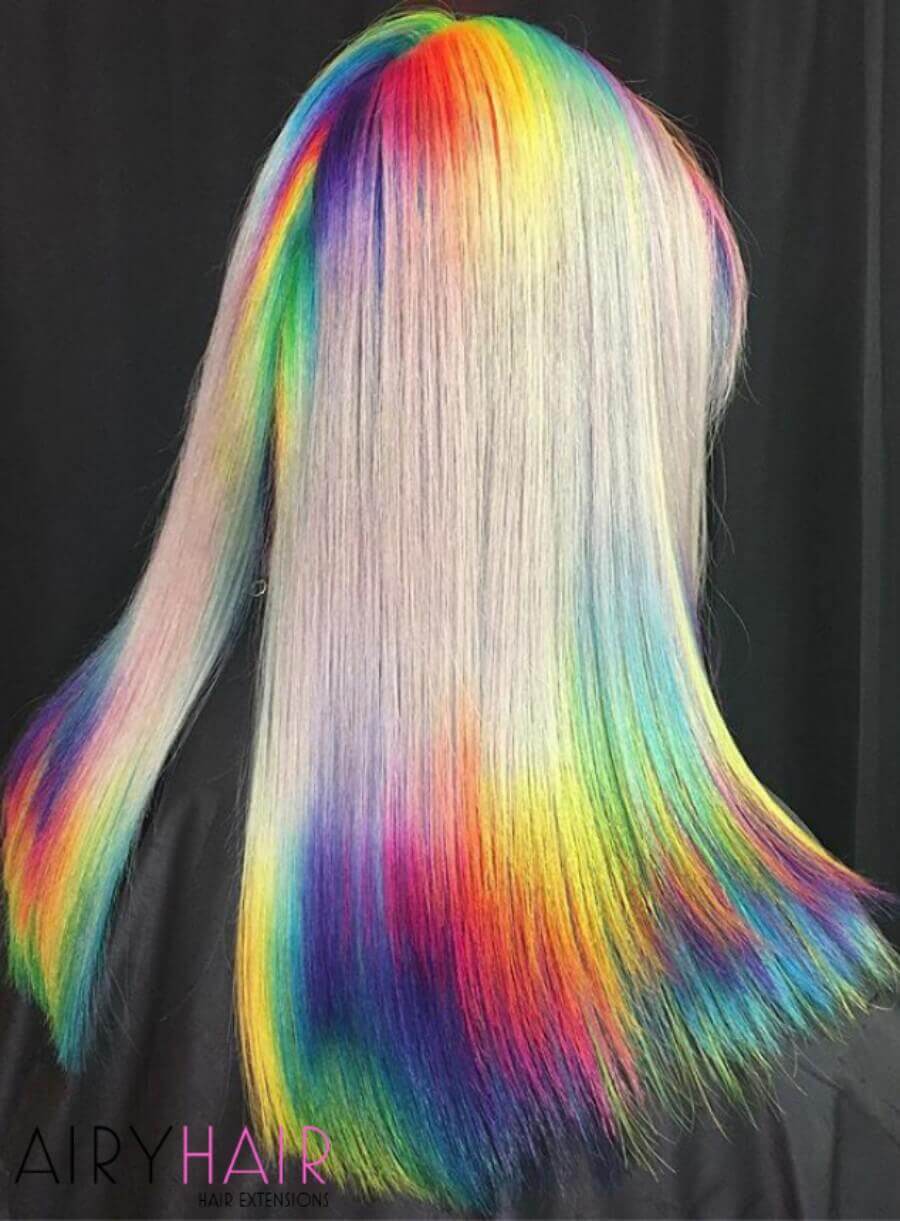 #6 Natural Brown Hair with Yellow, Purple Shine Line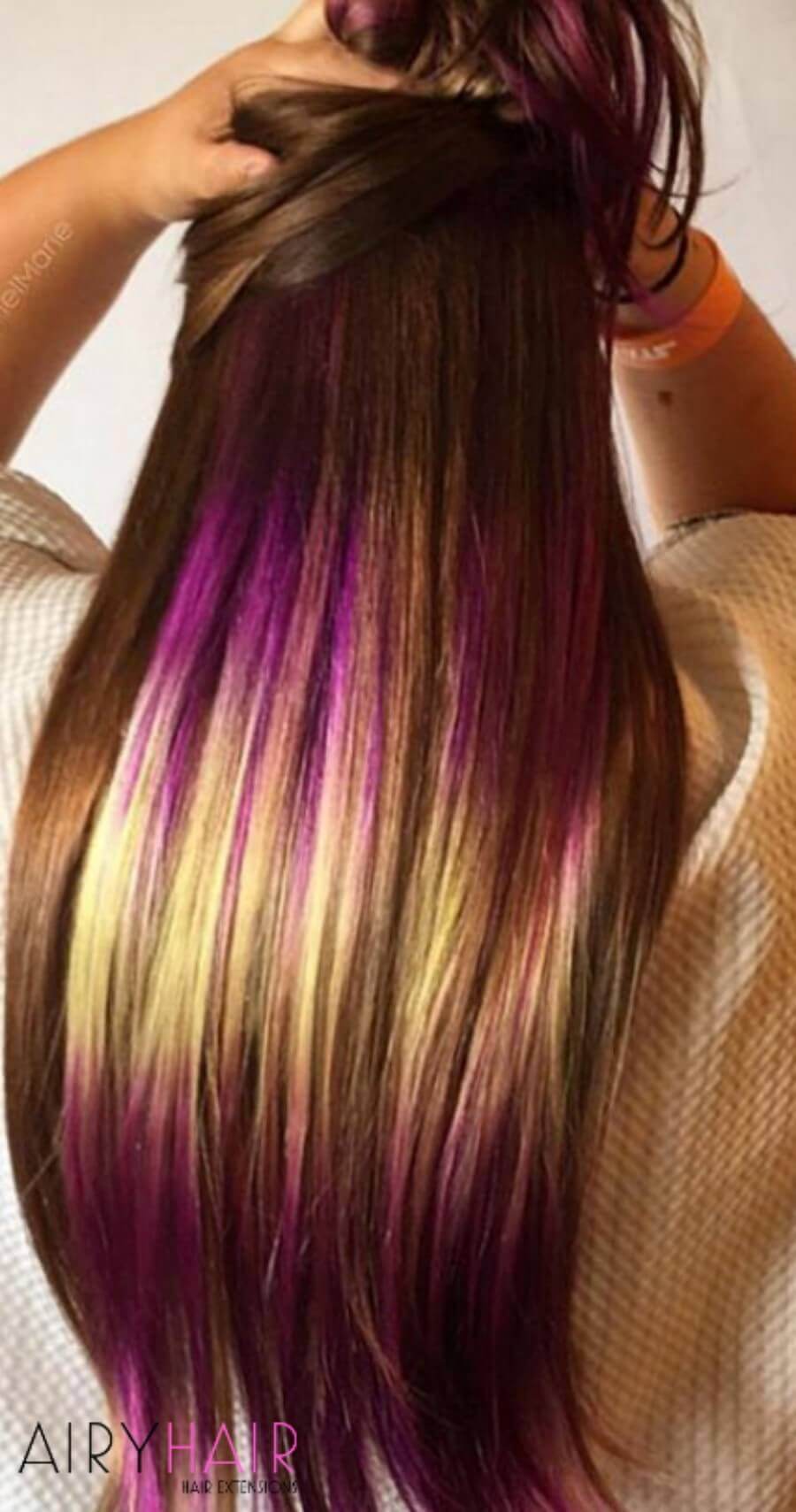 #7 Purple With Orange Shine Line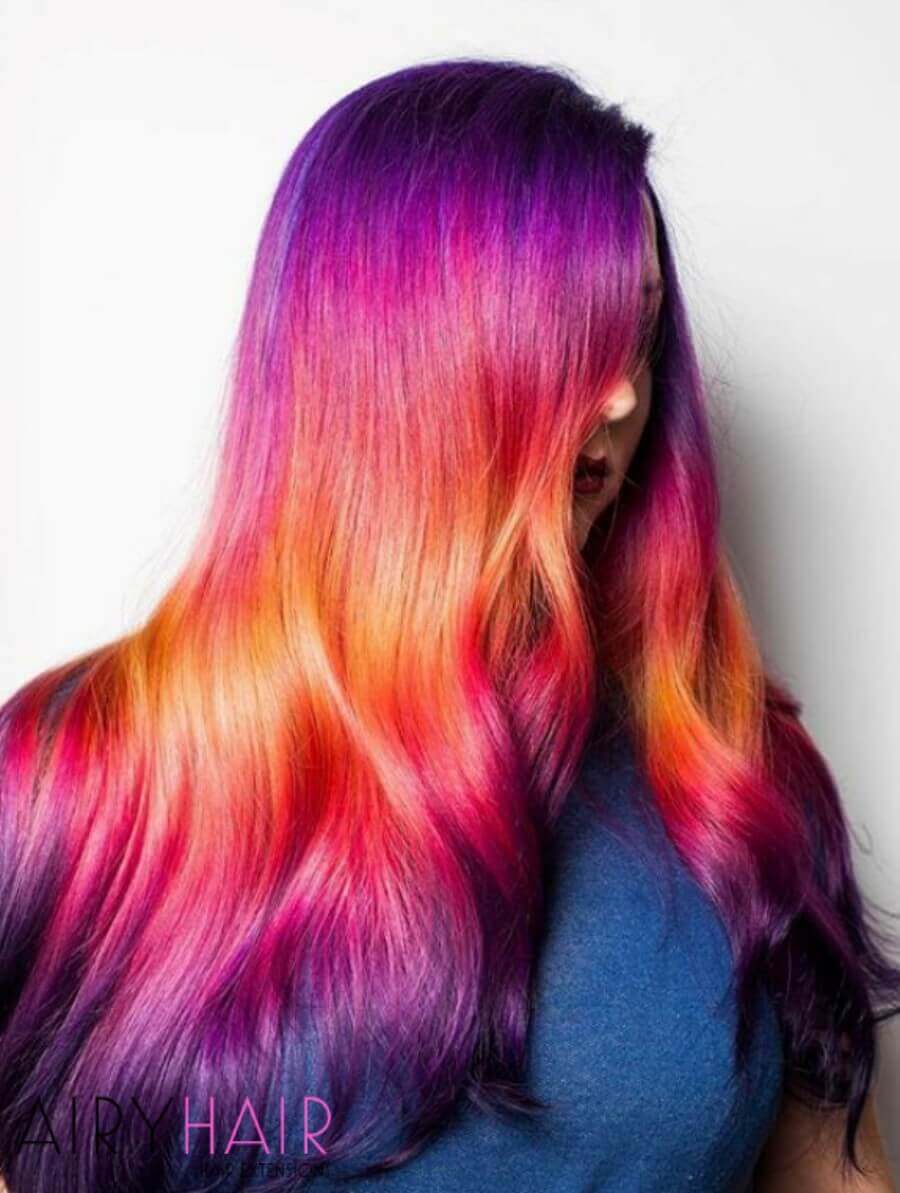 #8 Dark Blue w Turquoise and Yellow Ombre
#9 Purple, Yellow, Turquoise, And Blue Rainbow
#10 Electric Shine Line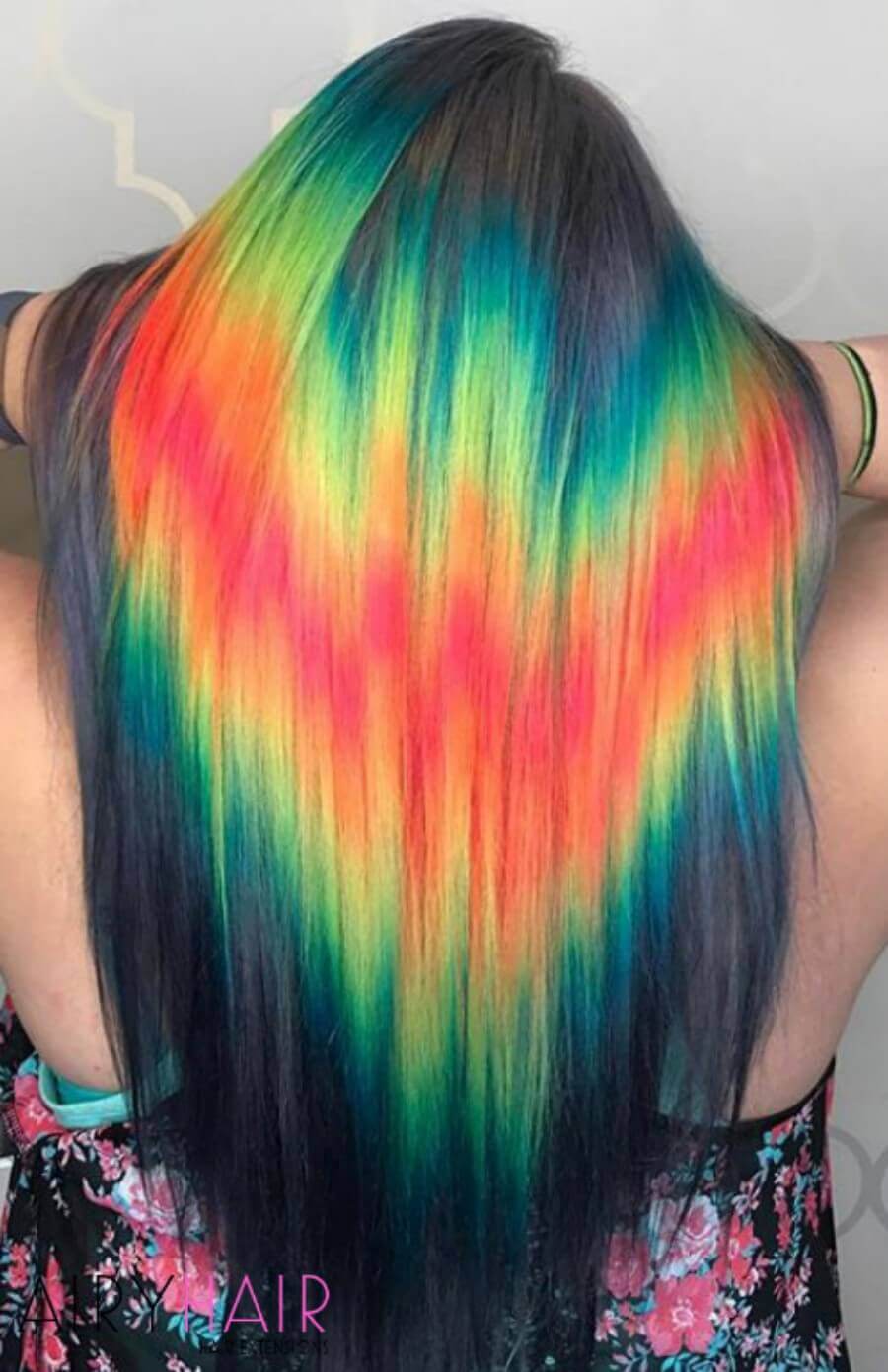 #11 Pastel Pink Shine Line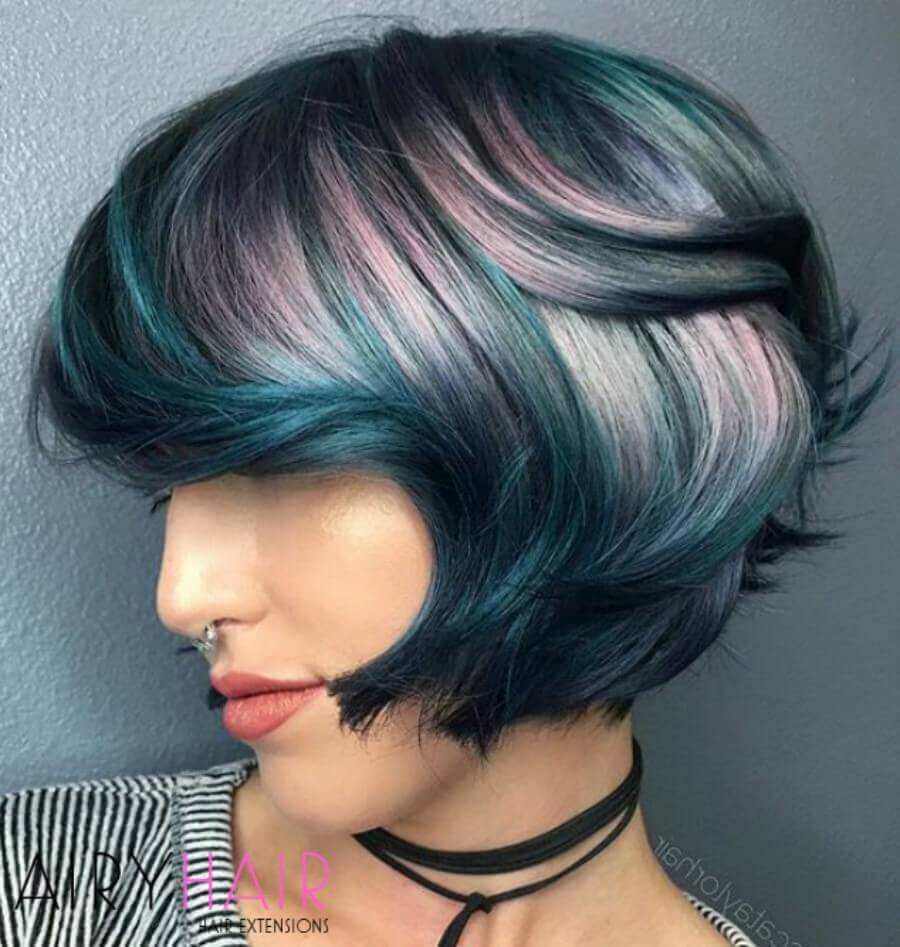 #12 Bright Pastel Ombre
#13 Vivid Purple, Turquoise, and Fuchsia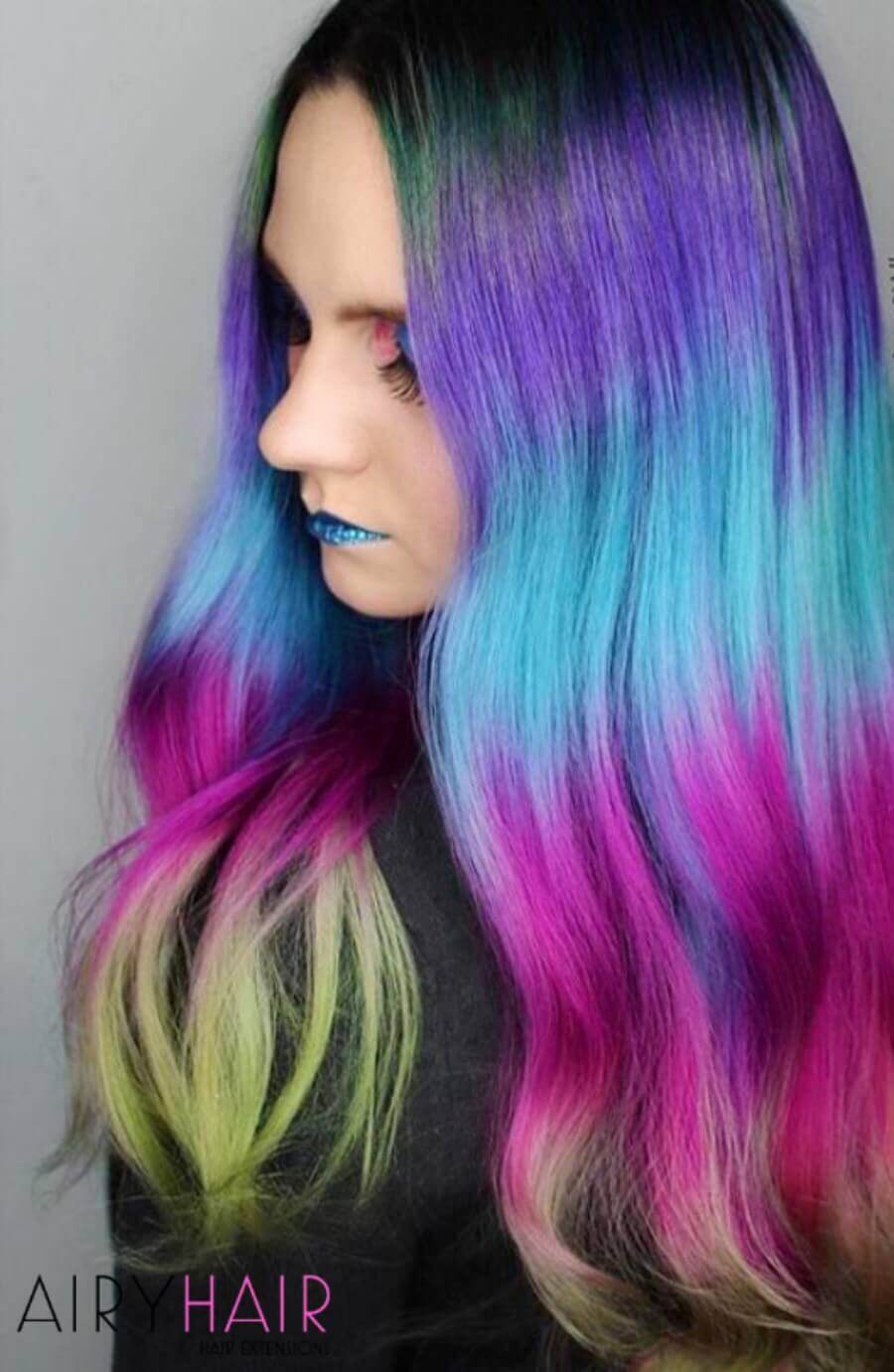 #14 Vertical Color Streaks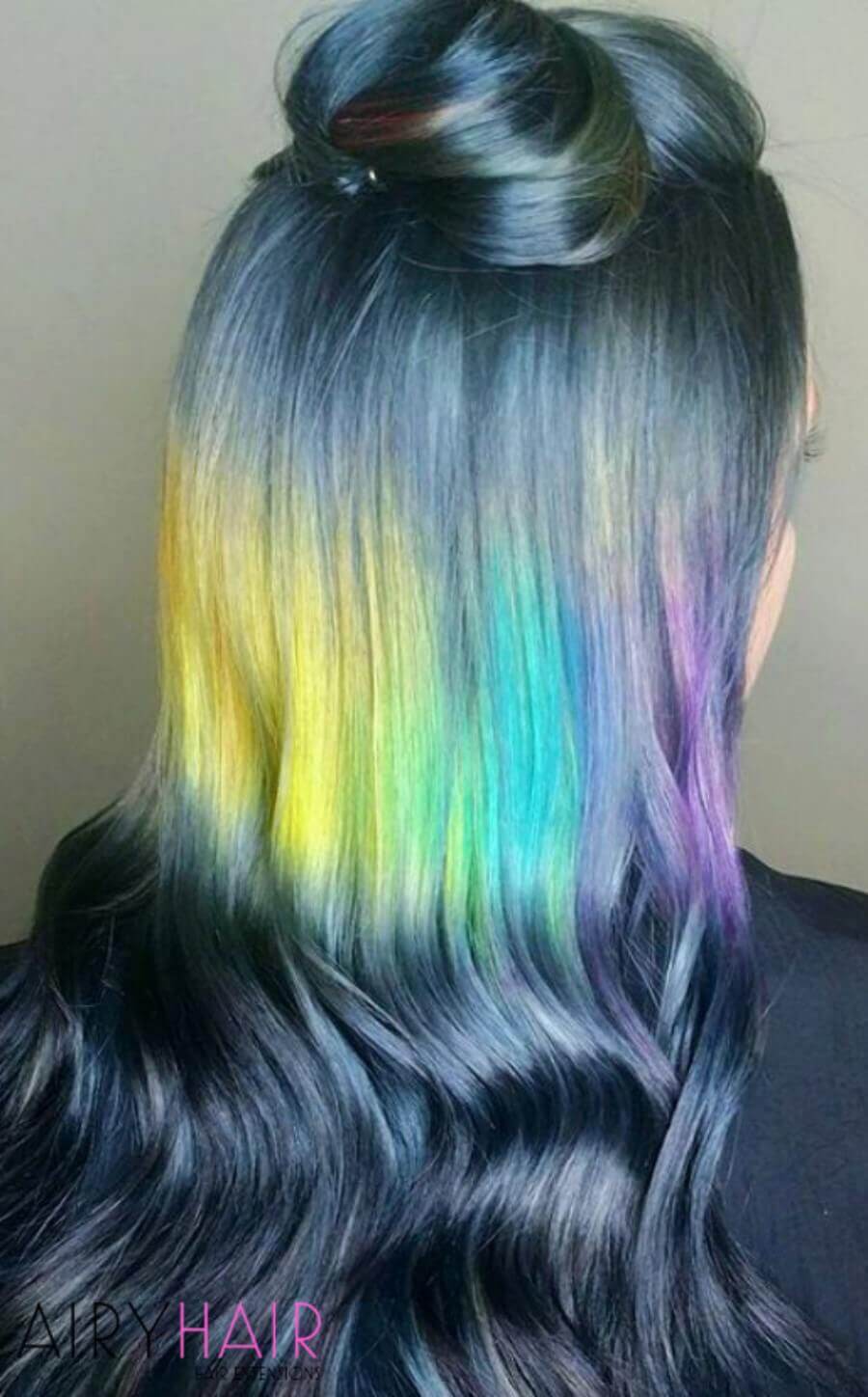 #15 Shine Line on Blue Hair
#16 Yellow Vertical Streaks on Black Hair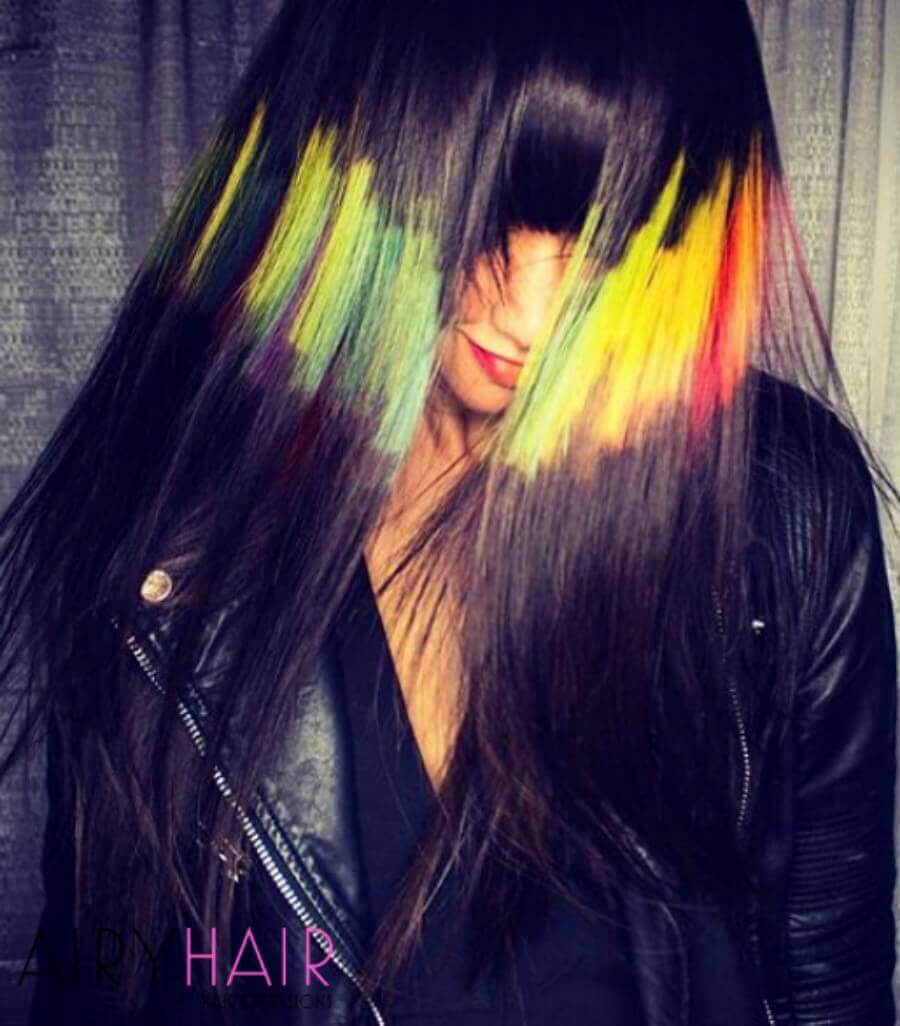 #17 Turquoise and Yellow Shine Line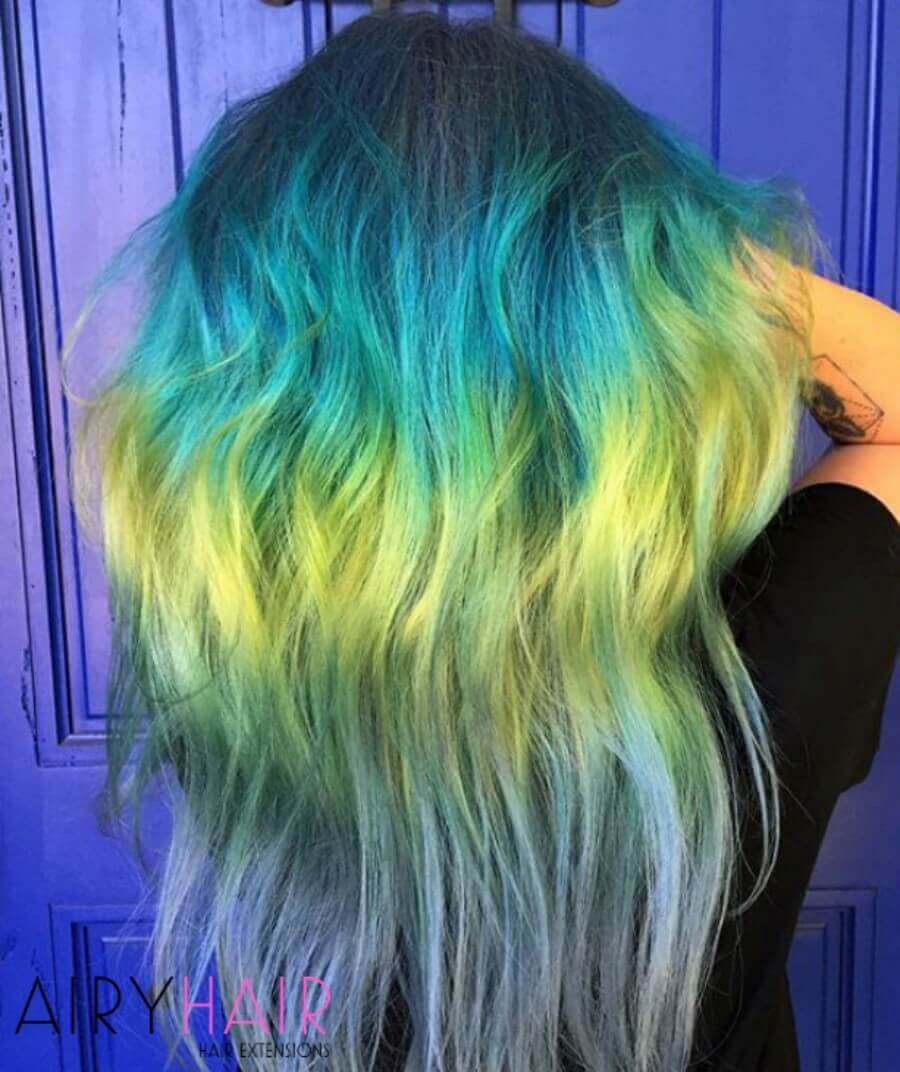 #18 Purple and Orange Pastel Ombre
#19 Vertical Streaks of Color on Grey Hair
#20 Purple, Turquoise, Pink, and Yellow Colors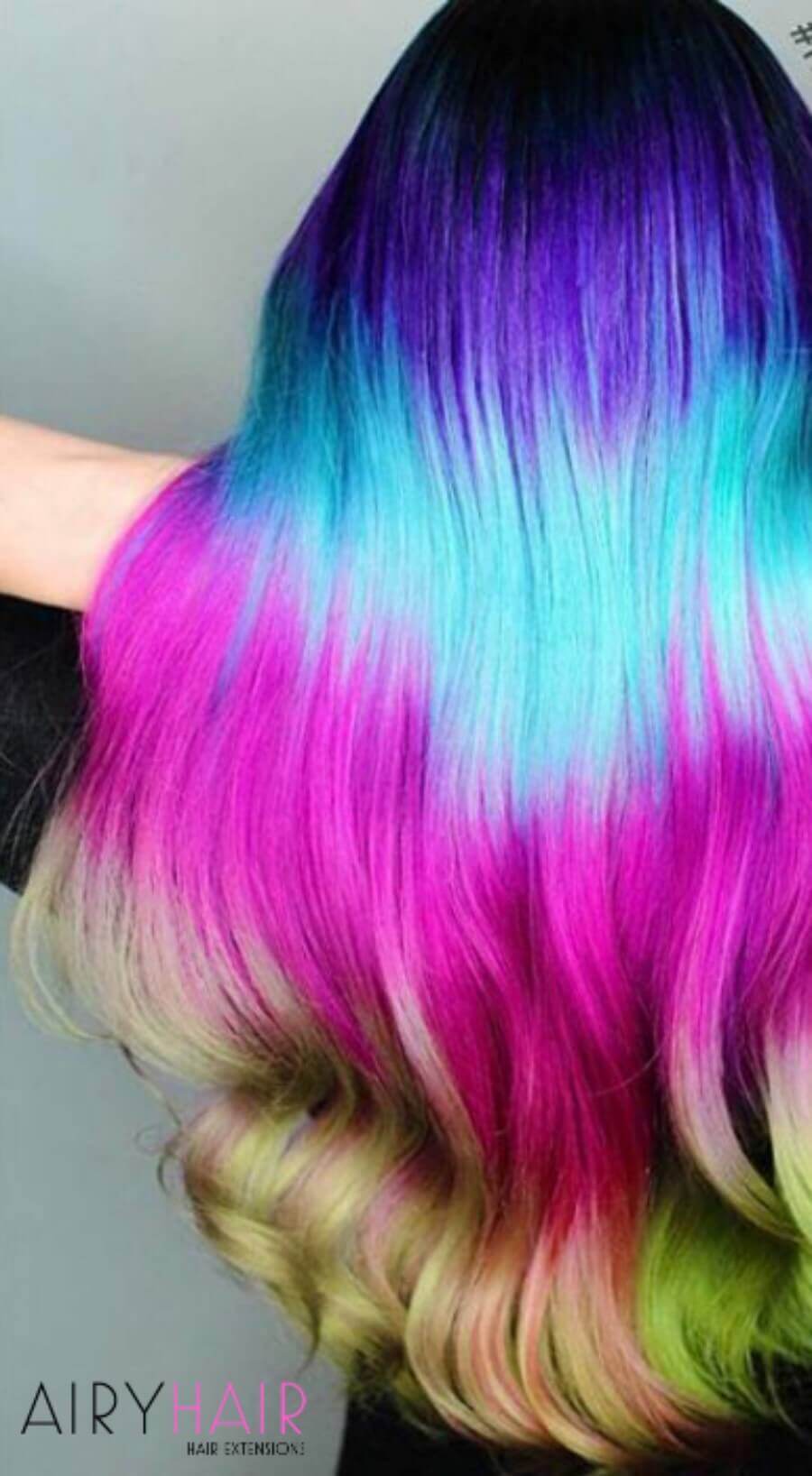 #21 Turquoise and Yellow Mix
#22 Shine Line on Turquoise Hair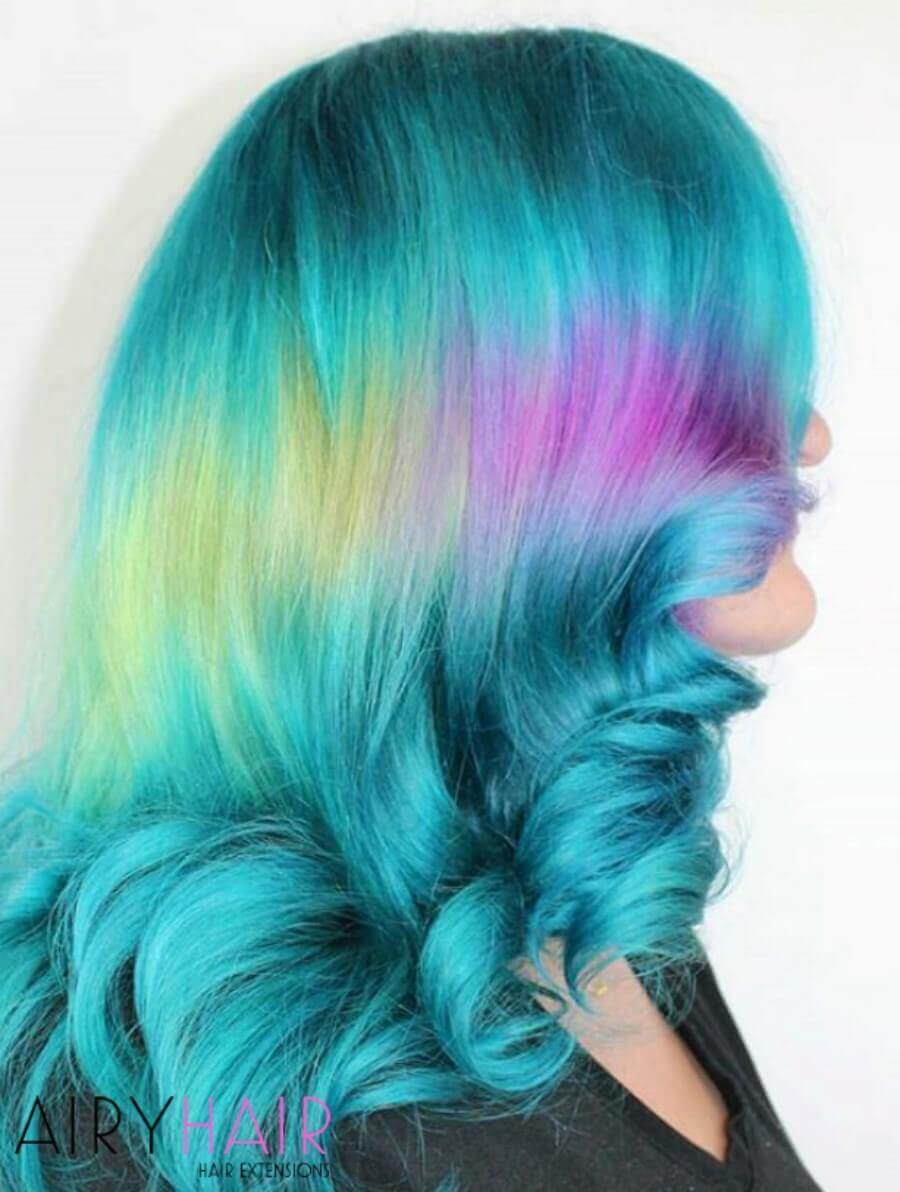 #23 Shine Line on Fuchsia Background
#24 Blue and Turquoise Ombre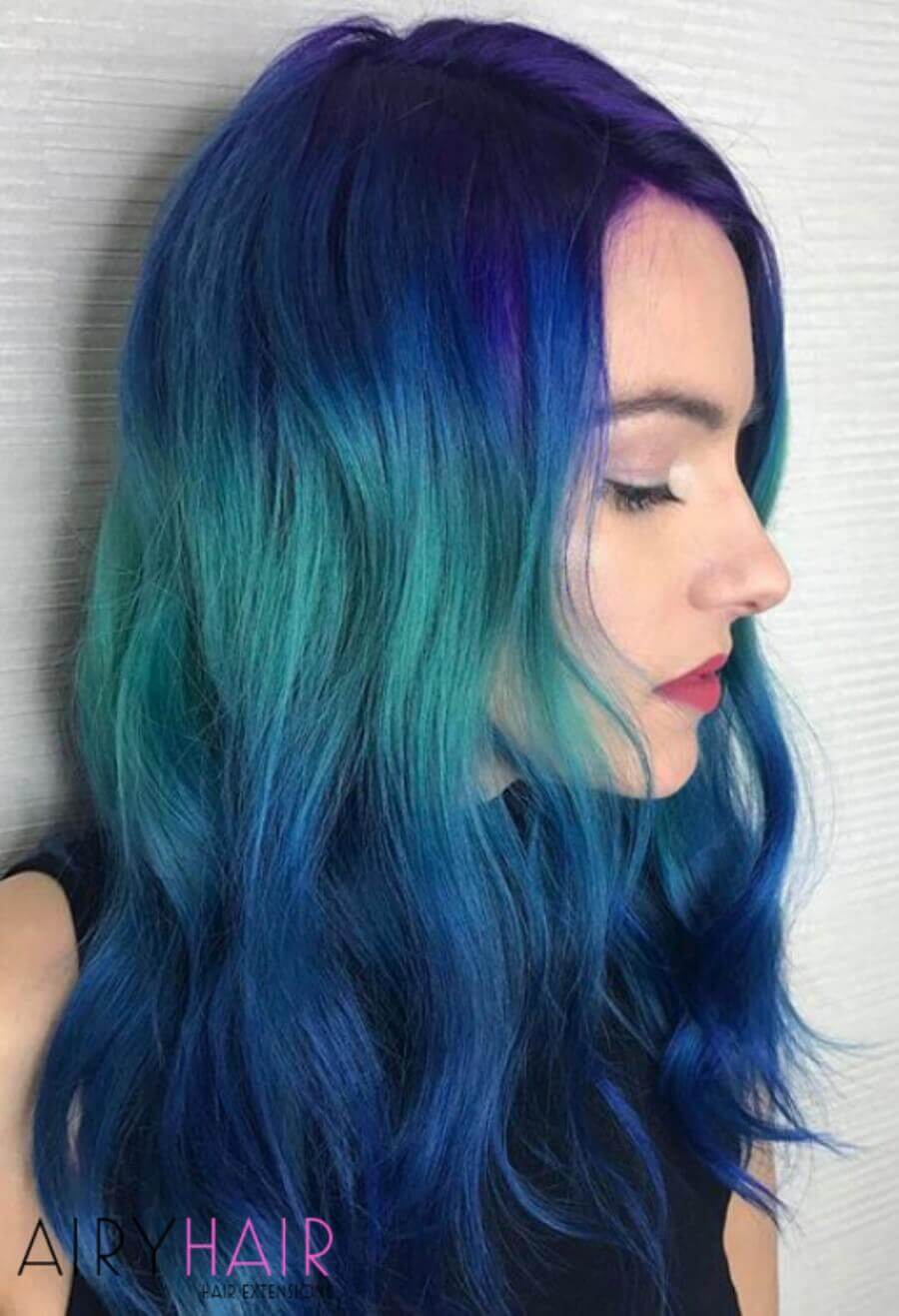 #25 Rainbow Prism Effect
#26 Colorful Pastel Colors Rainbow
#27 Bright Streaks on Dark Background
#28 Vertical Rainbow on Dark Hair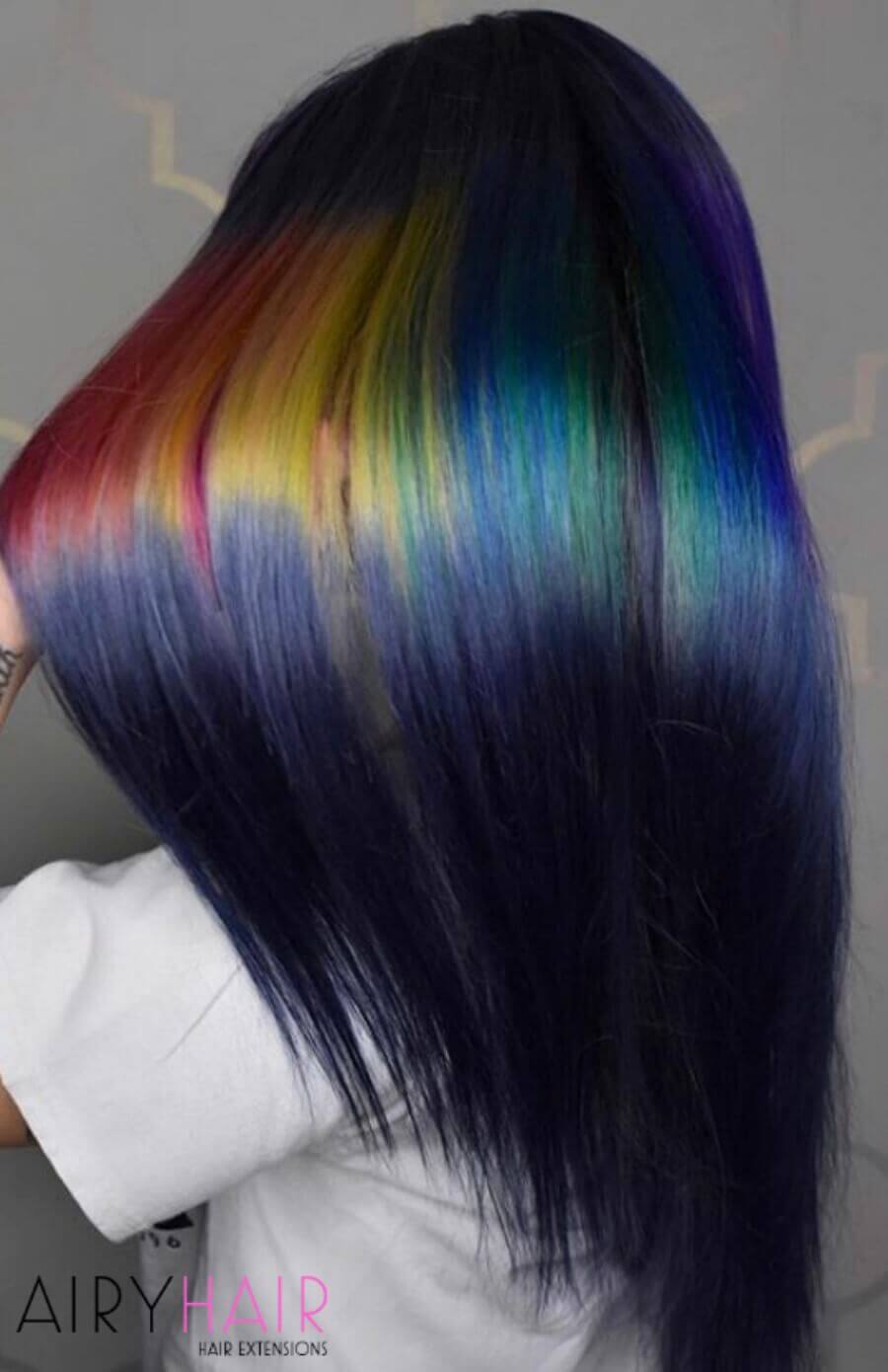 #29 Cool Shine Line on Turquoise Background
#30 Rainbow Shine Line on Grey Hair
There is a new hair trend on Instagram that is perfect for party hairstyle ideas and it is called a shine line. Since rainbow-colored hair is very popular at the moment and people are creating all kinds of colorful ombres, the colorist has started painting horizontal or diagonal stripes of color that are called the shine line. The shining line is usually in the middle of the hair and the roots and ends of the hair are usually in the same color, creating a very cool effect.
The great thing about this new trend is that it allows you to experiment and create your shine line hairstyle. There are no limits in terms of color and you can combine any color you want. You can also play around with the placement of the shining streak, it can be vertical or horizontal. This hairstyle can also be combined with the ombre effect if you want more subtle, and blended streaks of color. There are infinite numbers of combinations so you can create something that unique. This new hair trend is simply perfect for parties or nights out and it will make everyone notice you.
Helpful Tips for Parties
Since this is a very complicated coloring technique, the same effect can be achieved by using extensions. You can create your custom colored extensions or buy rainbow colored extensions that will have the shine line effect. Also, since this is a very bold and colorful hairstyle, not everyone wants to have it dyed permanently.
That is also the reason why hair extensions are a great idea because you can install them for a party and then simply take them out afterward. This kind of dyeing also usually requires hair bleaching to achieve all the cool rainbow colors which is can be very damaging to your hair.
Avoid Hair Damage
Bleaching is a process that uses very strong chemicals to make your hair lighter in color and that can cause real damage to your hair so you should be careful when considering this kind of hair coloring. Temporary hair extensions are always a safer way because they don't damage your hair in any way and your natural hair color can stay intact.
Extensions are also becoming very cheap and if you take good care of them, they can last for a long time so they're a really good investment. While hair dyeing requires constant visits to the salon to touch upon the color.
Conclusion
This new hair trend is something to try out for a party and be the coolest girl there. And to avoid damage to your hair and permanent hair dye, you can try out all kinds of rainbow colored extensions to create this look and be unique.
Source: Pinterest
Hosted by: AiryHair