Summer is already here, and everybody is thinking about the perfect summer hairstyle. If you want to stand out at the beach, you should take a look at these amazing mermaid-inspired hairstyles that are just perfect for the summer.
Mermaids are mythical aquatic creatures that are famous for their long, luscious hair, so it's no wonder many girls take inspiration from them to create gorgeous hairstyles. Since mermaid's hair is not specifically defined, there's a lot of variations you can consider. Natural blonde or brown hair with accessories from the sea, blue, green, or turquoise hair, rainbow-colored hair, braided hair, and many others.
The most important thing about mermaid-inspired hair is that it should be pretty long; the longer – the better. This is where hair extensions come in; most girls don't have extra long hair, so they use extensions to add length to their hair. You can also play around with different colored extensions to get that rainbow-colored hair.
Simple Mermaid Hair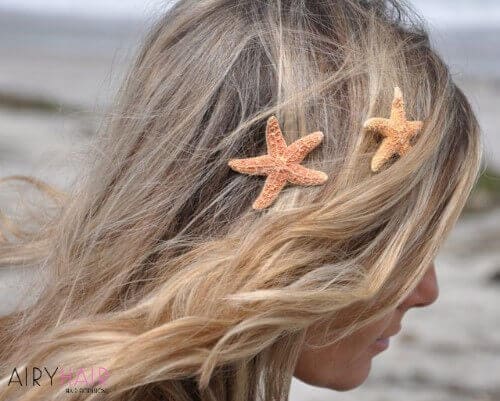 The most basic thing you can do to have mermaid-inspired hair is to simply add some cool accessories like these starfish to your natural brown or blonde hair. A hair coloring technique that's perfect for this hairstyle is called babylights. It's a new, trendy hairstyle that's mimicking natural sun highlights that children get in the summer. Combine that natural-looking blonde color with accessories, and you got your simple mermaid beach hairstyle.
Curly Mixed Colors Hairstyle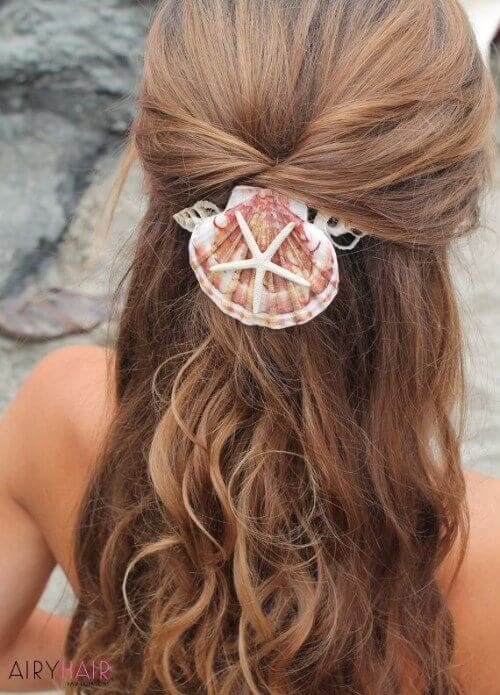 These are also very simple mermaid hairstyles that you can do with your natural hair or with some extensions if you lack the length. Simply take some strands from the front and tighten them at the back of your hair. You can also use cool seashell accessories to add to the look.
Simple Braided Look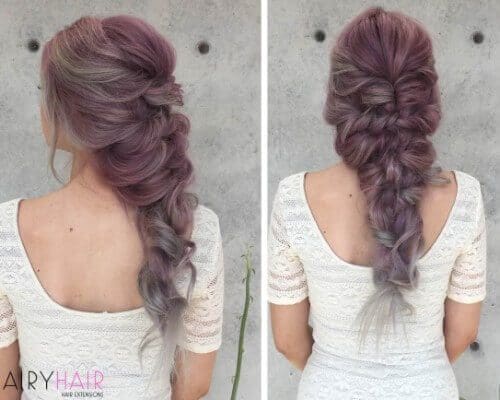 This is a cool braided mermaid look. If this braid looks a bit complicated to make, you can also make a simple loose braid that will do the trick.
Light Brown Hairstyle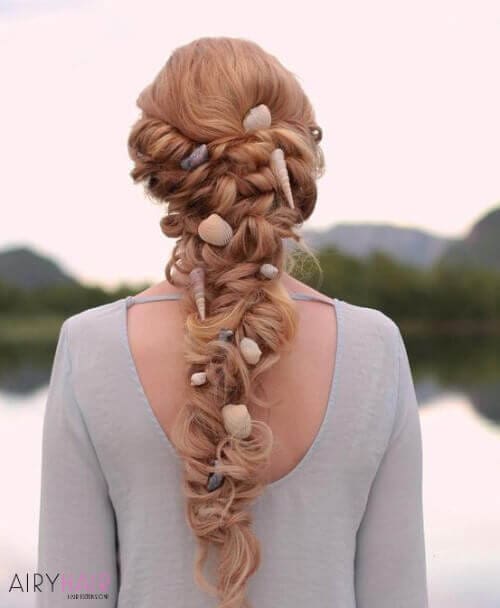 This is another variation of the mermaid braid but uses cool seashell accessories. You can experiment with the braid and the placement of the accessories to make it unique.
Easy Mermaid Look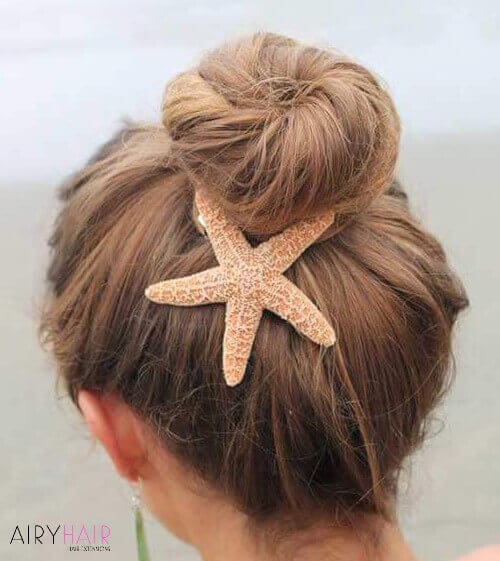 A simple updo can also look mermaid-inspired, but make sure to add some cool accessories like this starfish.
Amazing Ice White Hair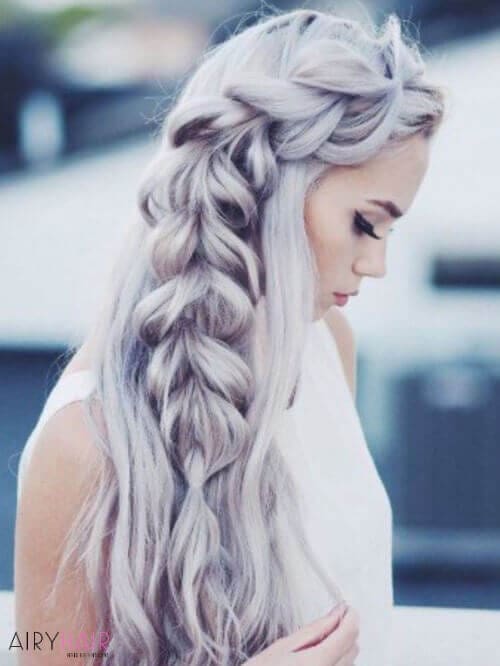 Side braids can also look wonderful, especially on icy white hair. The trick to making this majestic look is in very long hair that can be braided and a cool hair color.
Mixed Wavy Colors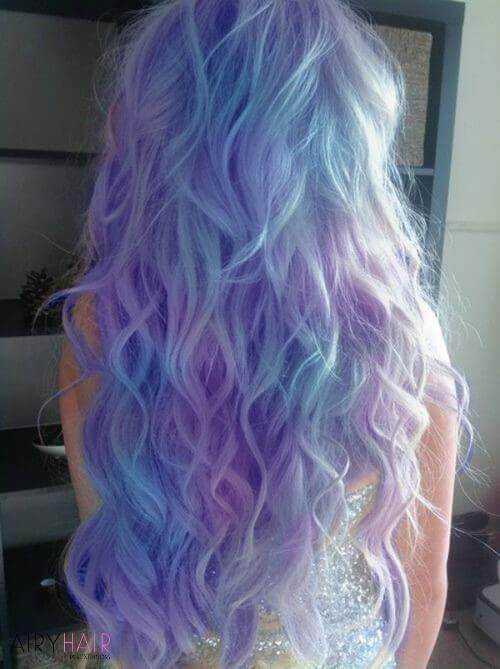 Although mermaid-inspired hairstyles don't have to use crazy colors, this blue, turquoise, pink ombre mix is something that we usually associate with mermaid's hair.
Blue Turquoise Look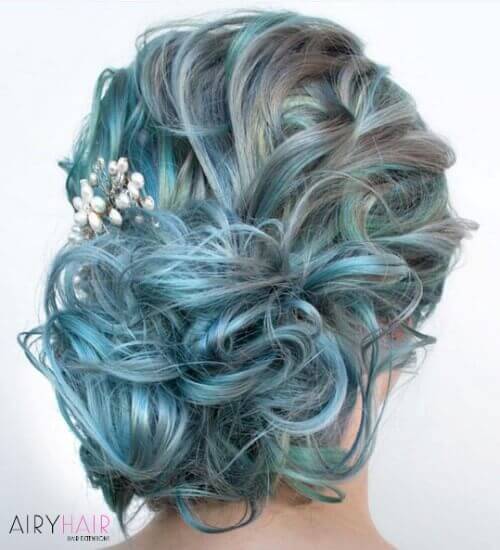 This blue and turquoise ombre up-do can also look mermaid-like because of its color. But make sure to add more sea accessories like seashells or starfish.
Wicked Green Hair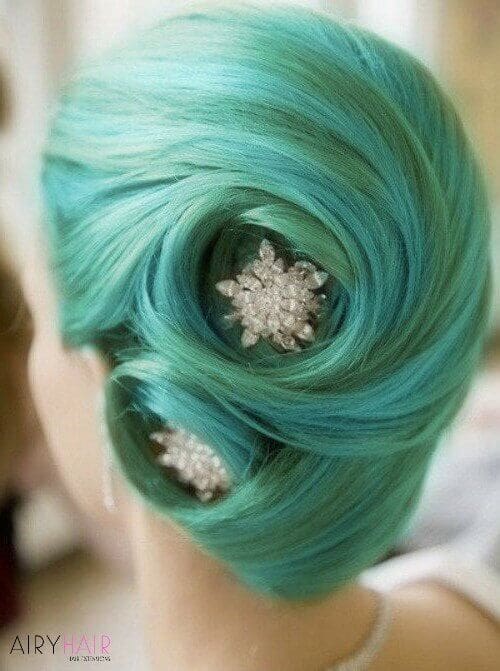 Updo's are great for special or formal occasions, and this green and turquoise ombre reminds us of mermaids. This hairstyle looks like something a mermaid would have at a wedding.
Teal Braids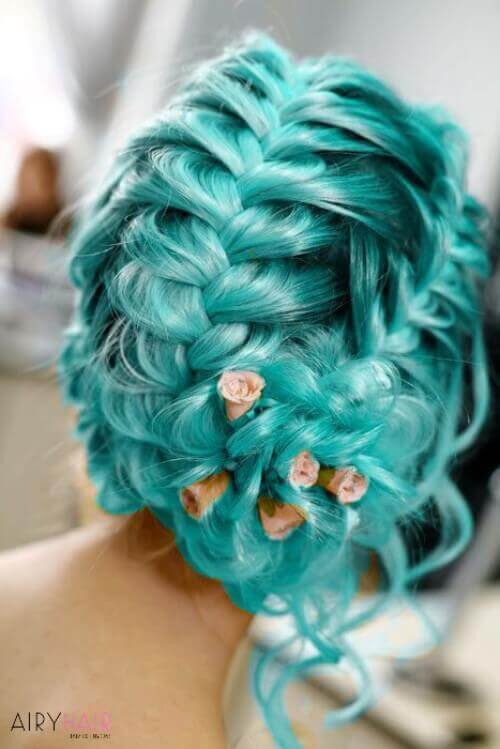 This is another variation of a cool updo but mixed with braids. The turquoise hair color is very mermaid-like, and some nice sea accessories would complete this look.
Different Pink Tones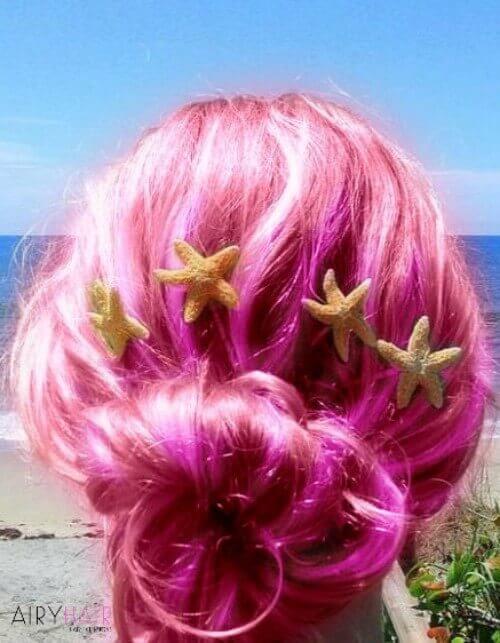 This looks like a very simple bun, but this hairstyle is special because of the great light and dark pink hair color. Starfish accessories also add to this cool but simple mermaid look.
Baby Blue Hairstyles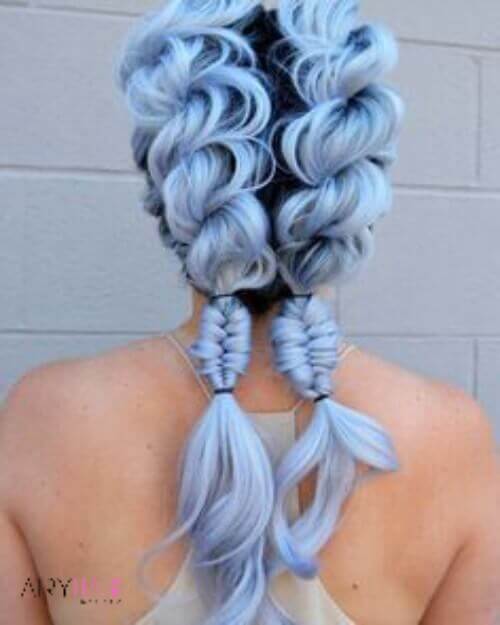 This is a perfect hairstyle for a 21st-century mermaid. This baby blue hair color is simply amazing, as well as the cool braids.
Pastel Hair Colors Ombre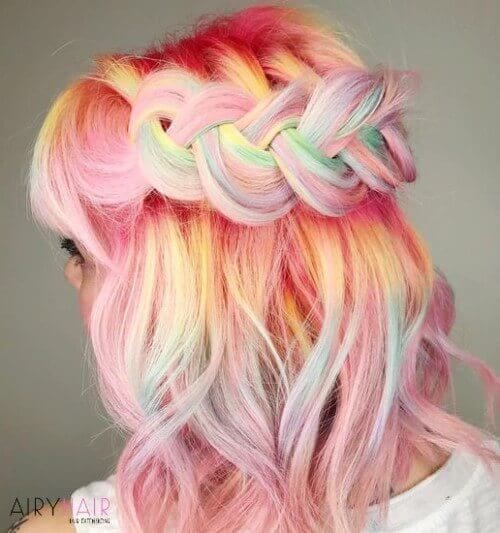 This pastel ombre is made in many different colors, and it's very mermaid-like. This hairstyle is made by making an ombre with different pastel shades and adding a crown-like braid around the head.
Incredibly Bright Hairstyles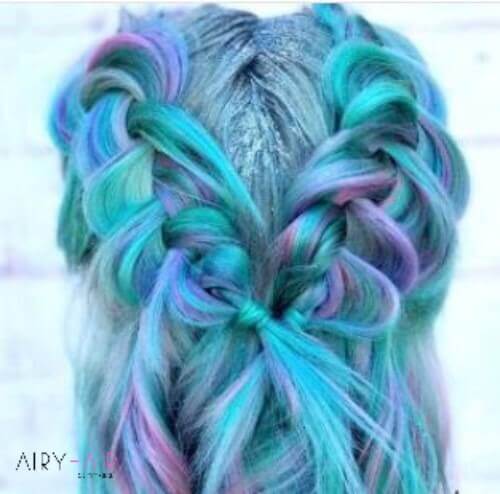 This turquoise and pink mix of colors is simply stunning! The colors are so vivid and bright; this hairstyle just screams mermaid. As a special accessory, cool sparkles are added to the roots.
Pastel Mermaid Style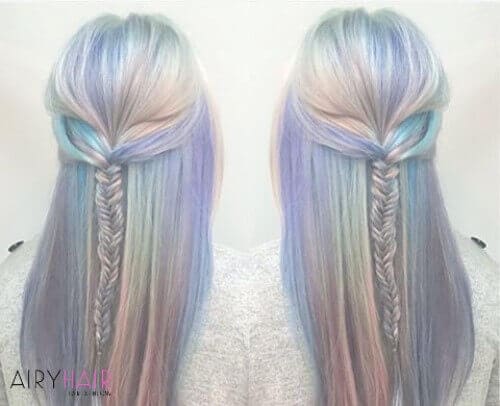 Pastel colors are the way to go if you want a mermaid's hair. This combination of colors kind of reminds us of fish scales shining in the sun. The fishtail braid also alludes to a mermaid.
Violet and Blue Mixup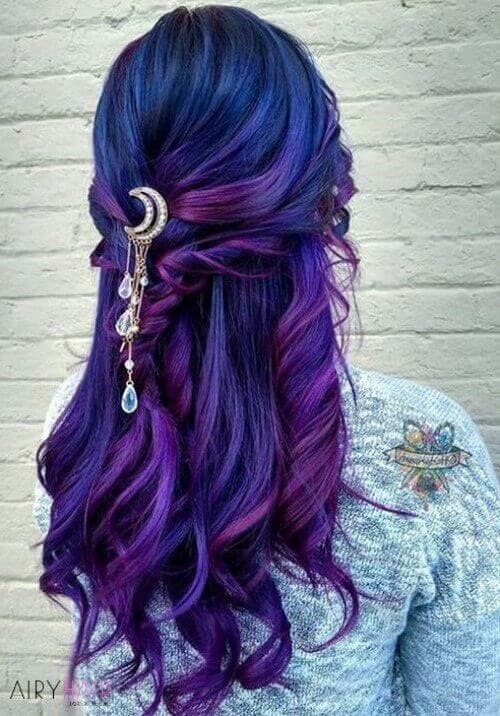 If you don't want something too literal, this is a great blue and violet hairstyle. You can simply buy hair extensions of the exact shade that you want and make this hairstyle in no time without spending hours at the hair salon.
Three Color Mix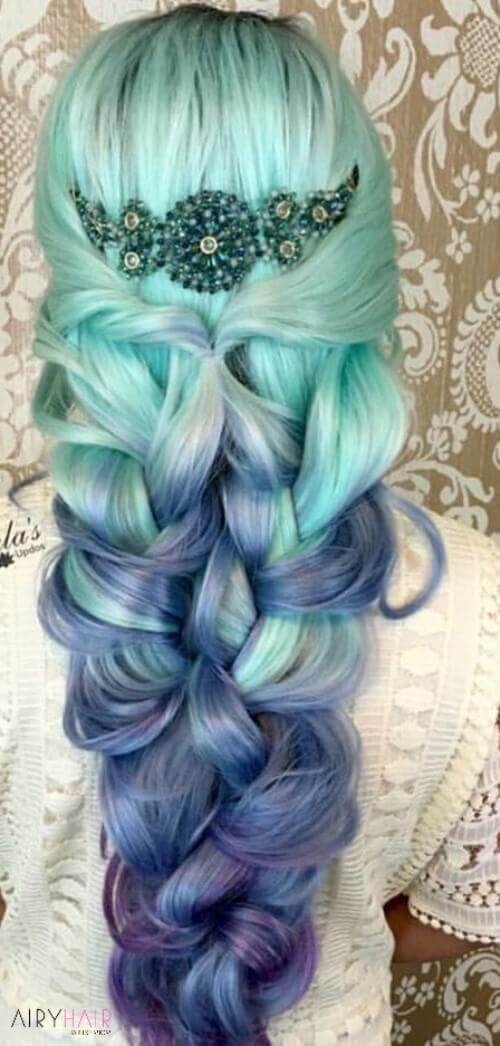 Pastel hair colors are not only trendy but also very mermaid-inspired. This light turquoise, blue, and violet ombre is just perfect! For maximum effect, make a beautiful braid to accentuate the colors.
Incredible Mixed Colors Hairstyle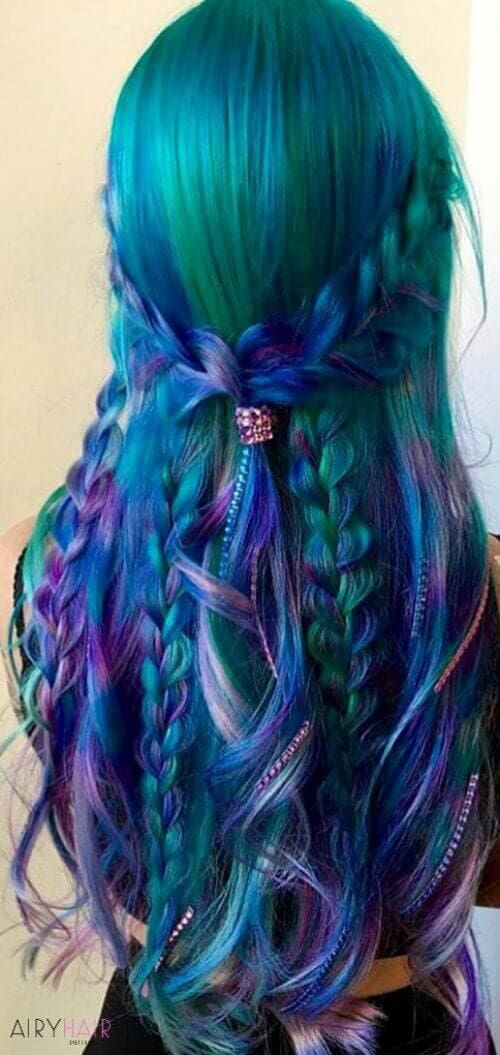 Green, turquoise, blue, and violet are mermaid colors. The easiest way to get this awesome mermaid-inspired hairstyle is to buy different colored hair extensions. Then you can experiment with braiding your hair in different ways.
Pastel Ombre Extensions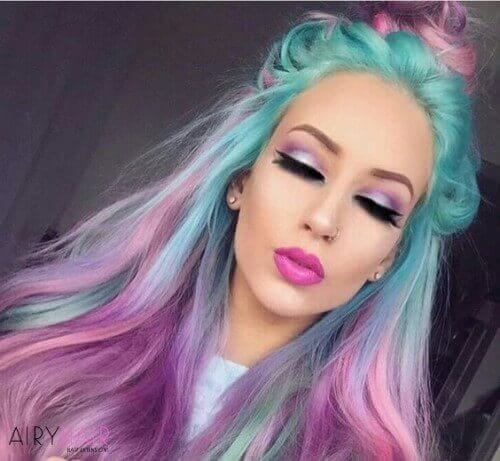 This is another variation of a pastel ombre made with bright turquoise and pink colors. Make a simple, messy bun on the top to get the cool color contrast.
Three Color Braid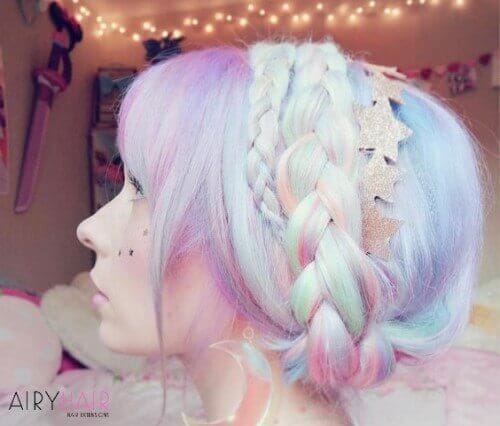 This is another great pastel mix with a long, three-strand braid that is wrapped around the head. Keep in mind that you'll need very long hair for this, although it may not look like it. It takes a lot of hair to create such a long braid, so if you need some extra length, simply add some pastel hair extensions.
Long Pink Mermaid Hair
This is a very simple mermaid-inspired hairstyle. The hair color is a nice pastel pink with touches of violet. It's preferable to have long hair so that these beautiful locks are accentuated.
Rainbow Mermaid Movie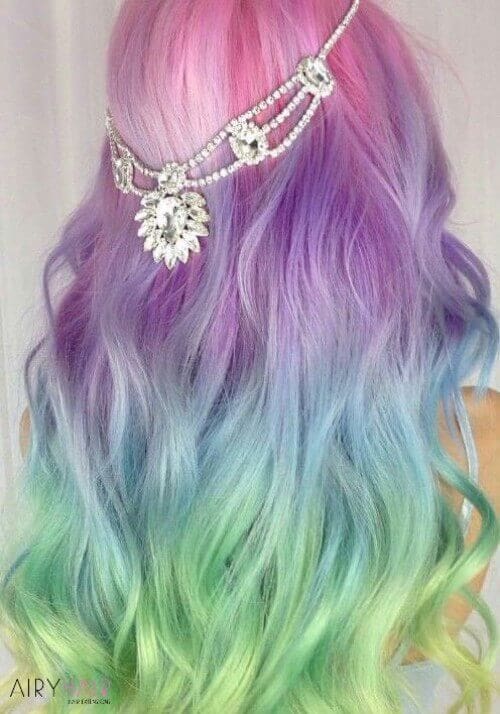 Rainbow-colored hair in mermaid style. This beautiful ombre goes from pink to violet, blue, green, and finally to yellow. The transitions are soft, and the ombre is just perfect!
Bright Blue Hairstyle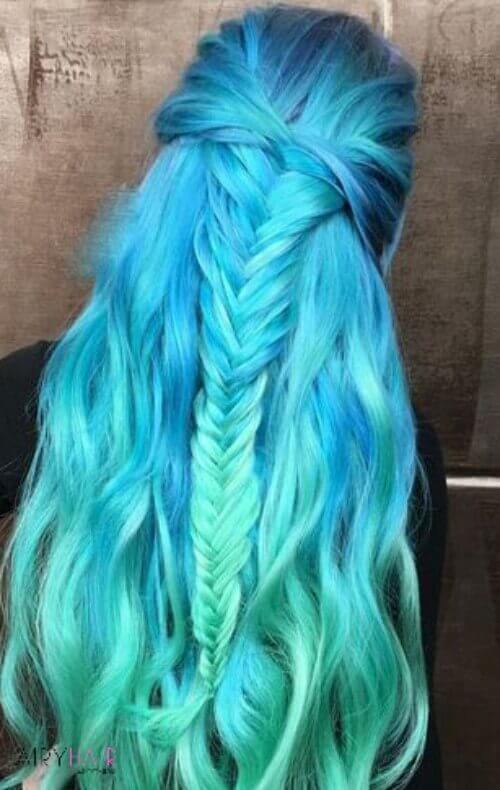 This blue and turquoise ombre looks like the most beautiful sea, and it looks like a mermaid's hair. The colors are so beautiful that you don't need complicated hairstyles, just a simple fishtail braid.
Sea Green Colors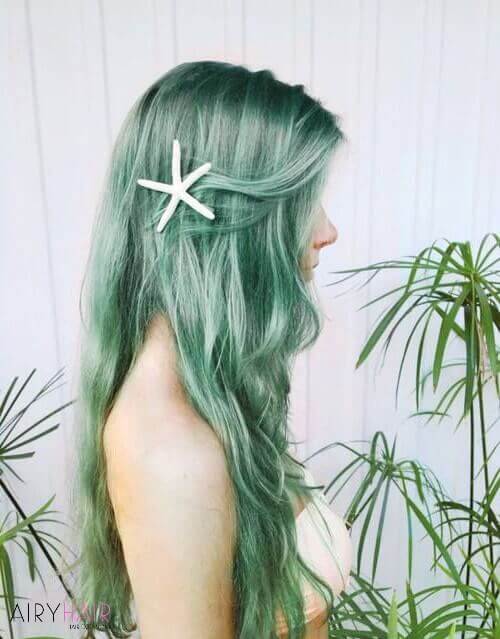 This hairstyle reminds us of beautiful sea algae with its green and turquoise colors. The white starfish is also a nice touch.
Gradient Hair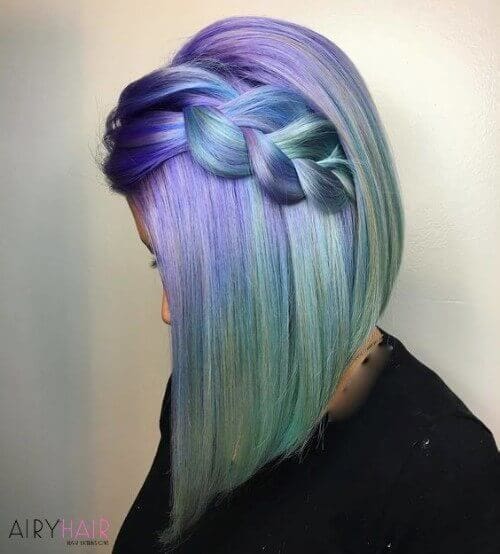 The gradient from violet to blue and turquoise creates an amazing ombre effect. To spice up this hairstyle, make a big three-strand braid from the top of the head to the side.
Mysterious Blueish Gray Look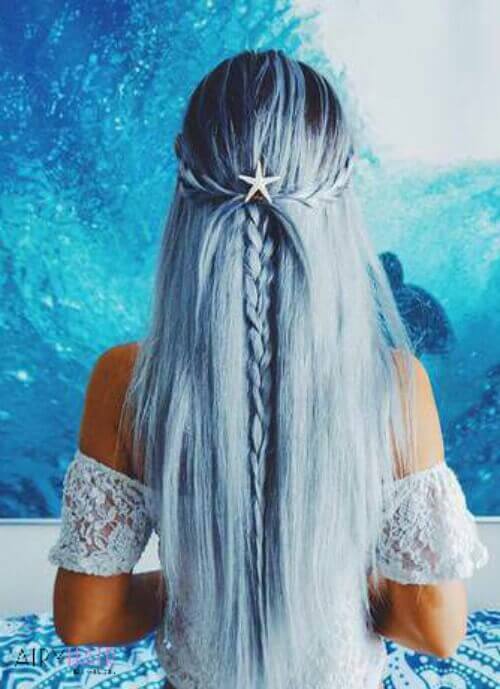 This hair color is blue like the sea, and it looks simply majestic! The ombre transitions from dark blue to bright blue, and the white starfish completes this awesome mermaid look.
Fuchsia and Pink Mix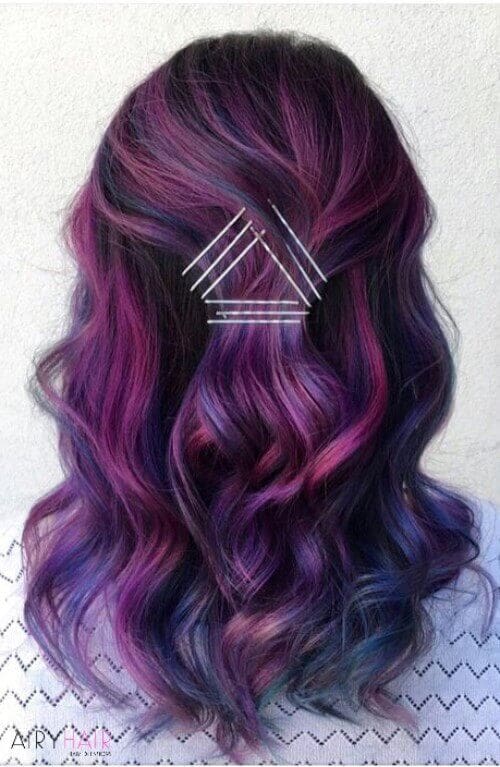 This is another awesome color mix; the main color is dark fuchsia, and there are touches of pink, violet, and blue. To get the full mermaid look, add some hair extensions to make this hairstyle long.
Neon Like Hair Transmission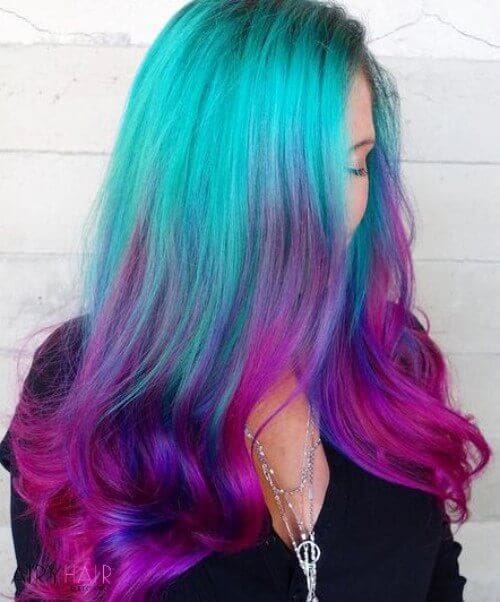 These colors are so bright that they're almost neon. The beautiful, bright turquoise transitions into fuchsia and blue creating the perfect mermaid inspired hairstyle.
Pastel Colored Extensions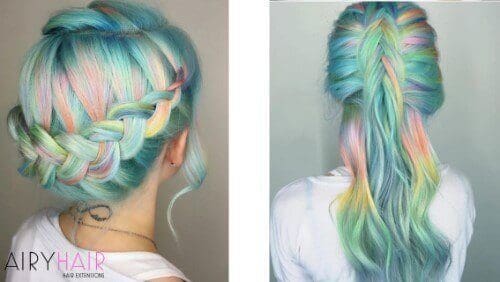 This color mix is simply amazing! Different pastel colors are very much like mermaid's hair, and the different braids make this hairstyle even more fun.
Simple Pastel Ombre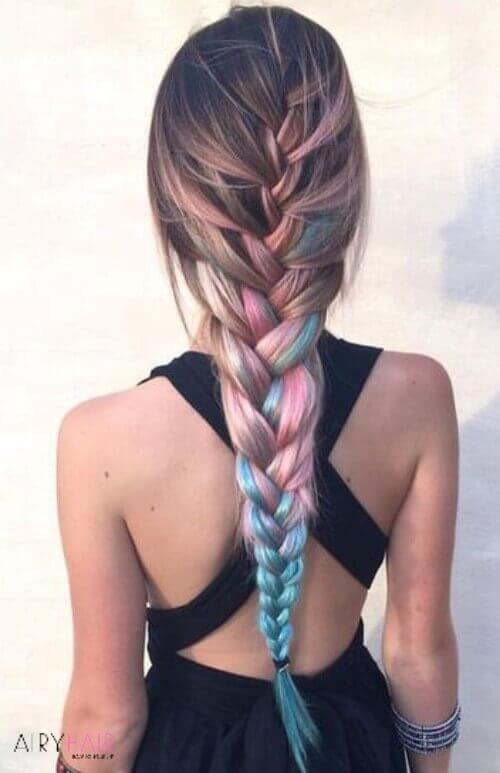 This is an awesome mermaid hairstyle that you can make very easily with hair extensions. Buy some pastel ombre extensions and simply add them to your natural brown or blonde hair, make a braid, and that's it – you're a mermaid!
Toned Down Hairstyle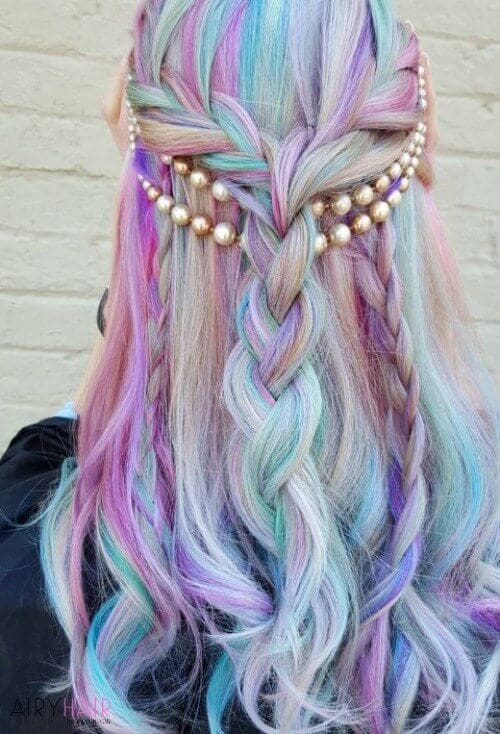 This is another version of the awesome pastel ombre. Adding different accessories like pearls, in this case, can bring something special to the look.
Turquoise Shades
This is an ombre made primarily out of shades of turquoise and violet – one of the main mermaid-inspired colors.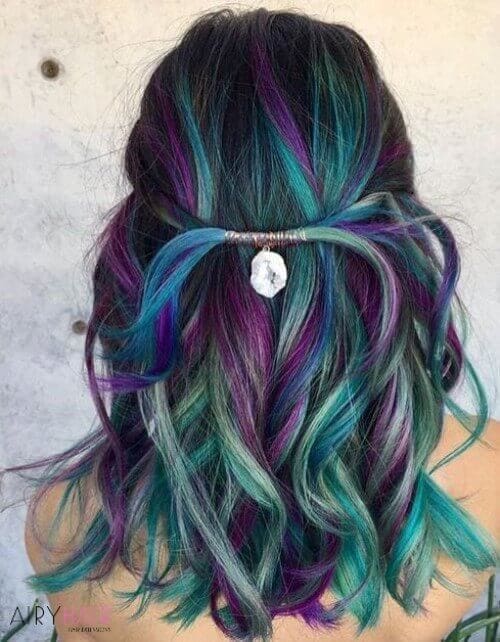 Ombre with Shades
If you don't like bright colors, this is a great toned-down version of the mermaid hairstyle with pastel blue and black ombre.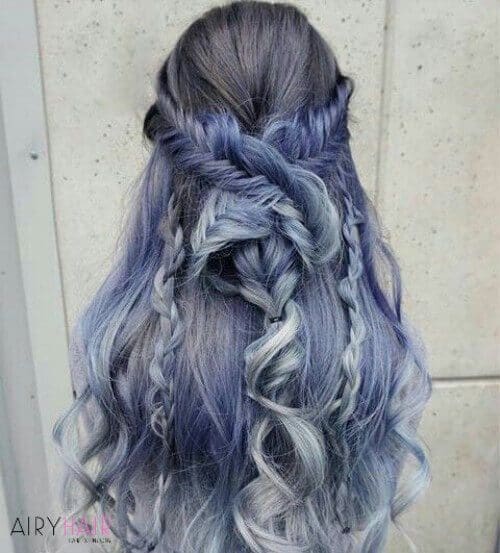 Ridiculous Hairstyle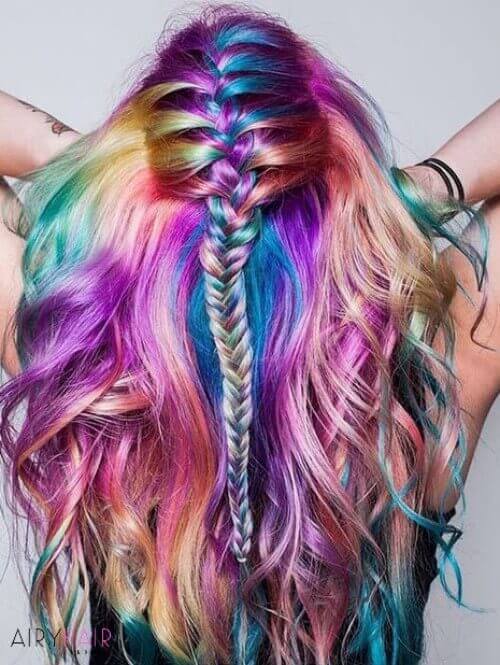 There are dozens of different color shades in this hairstyle, and it's hard to count them all. This rainbow-colored hair is breathtaking and is mermaid-inspired. Do a fishtail braid to mix in all the colors and accentuate them more.
The Best Mermaid Hairstyle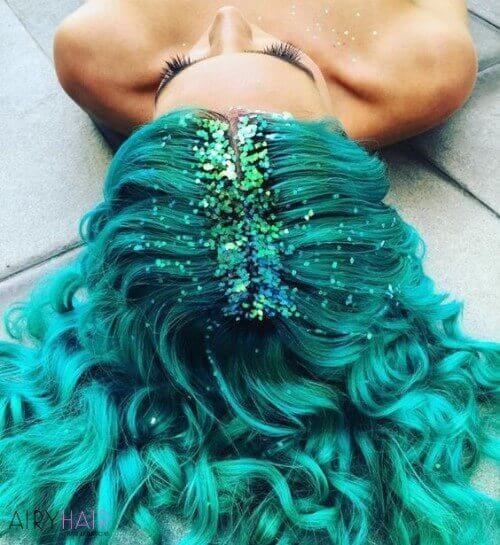 This is probably the ultimate mermaid hair. There's something about turquoise color that just screams mermaid! It's probably the association with the color of the sea and the beautiful sea life on the bottom of it. To make this hairstyle special, add some sparkly glitter on the roots.
Extremely Long Mermaid Hair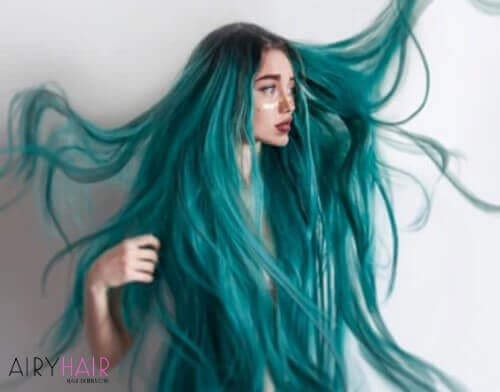 Since mermaids are famous for their extra long hair, you can make this hairstyle by adding really long hair extensions. It looks cool, and this hairstyle can transform you into a living mermaid.