So you finally got your gorgeous hair extensions and now you're wondering what kind of hairstyle to choose. Lucky for you, there a literally hundreds of different options because having extensions extends the length of your hair, as well as give you more volume, and those are the two main ingredients for a great hairstyle. When you have long voluminous locks, you can basically do anything. Extensions also allow you to experiment with different colors without dyeing your own hair so there's also a lot of options there as well. It doesn't matter whether you have clip in, tape in, fusion, or micro link extensions, all of those give similar results and allow you to choose any hairstyle you like.
If you invested in high quality remy extensions which are made out of real human hair, that means you can do anything you would do to your natural strands. That includes cutting, thinning, dyeing, braiding, curling, and straightening. That's why it's important to go for quality when you're buying your new strands, you will simply have more versatility and style options. Low quality, non-remy hair cannot be dyed, it is thin at the ends, and tangles all the time.
So whether you already got your extensions are looking for some new and trendy hairstyle ideas for 2018 or you're thinking about getting them and want to check out your options, take a look at our huge compilation of best hairstyles for hair extensions.
Pastel colors are a great hit and really look magical. If you don't want to dye your natural hair, extensions are a great way to get any color you want without doing anything permanent to your strands. So if you want to look like a fairy that comes from a fantasy world, try out this pastel pink braided look.
Wedding and other formal hairstyles are a breeze when you have extensions because a very elegant look can be achieved easily. Any kind of flowy braids look wonderful, especially with the addition of accessories and jewelry.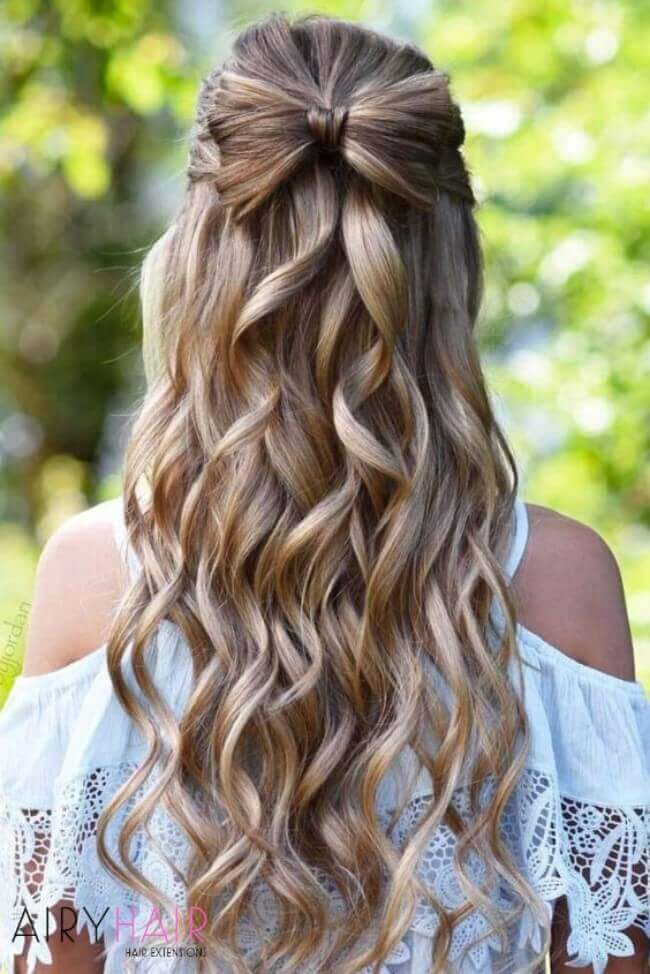 Instead of using hair barrettes, you can actually make a bow out of your own hair. Although it looks complicated, it's really not that hard to do and there are many tutorials online. The result is a cute, feminine look that is perfect for different occasions.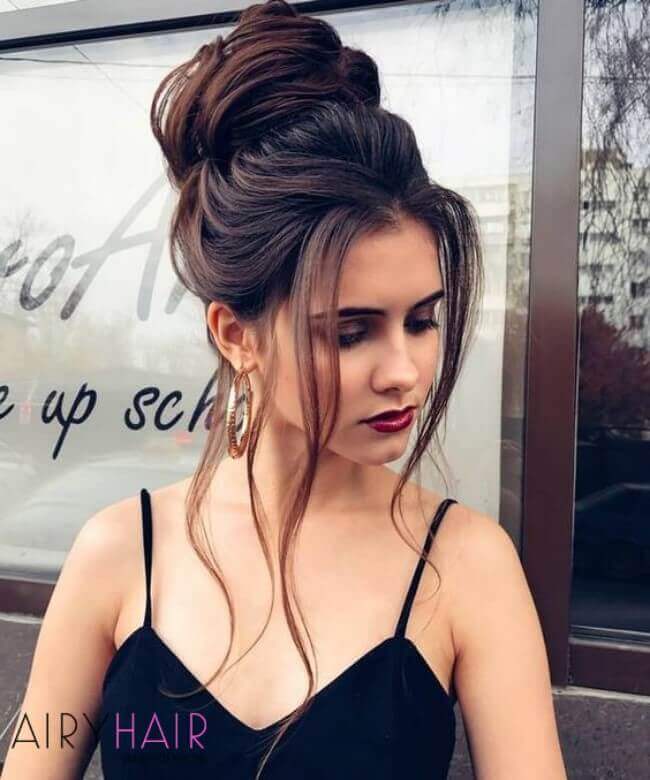 When you don't want to show your amazing length, you can do a stunning updo. The reason why this hairstyle is perfect for extensions is the volume. You need very thick hair for this updo to look right. To accentuate it, leave some strands out and let them gently cup your face.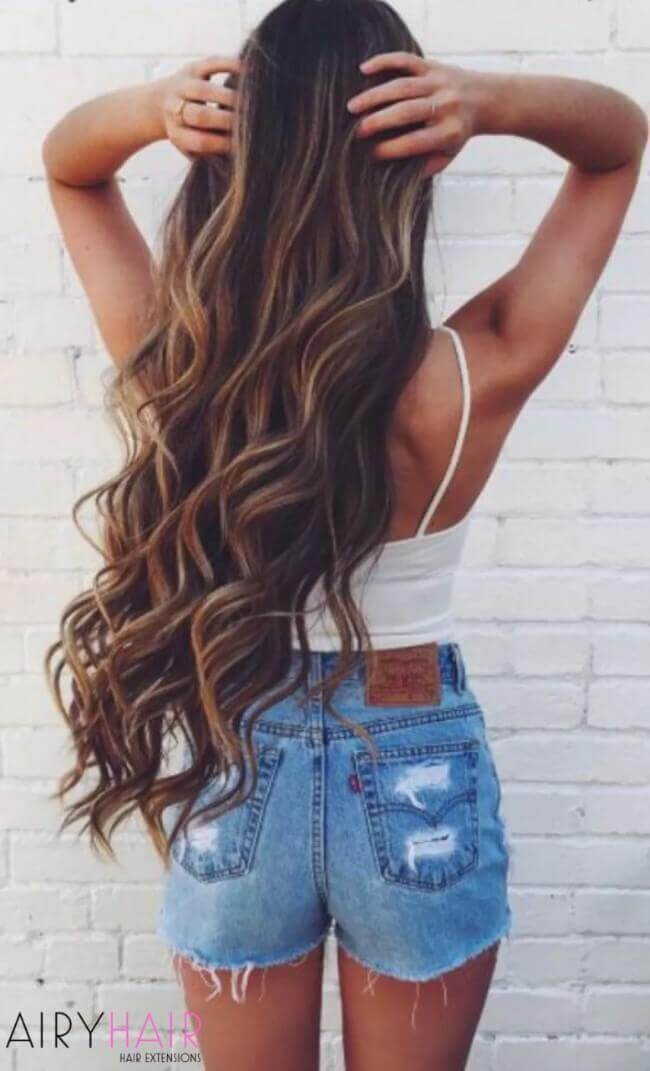 One of the main reasons why girls add some extra hair is the length, of course. Waiting for your strands to grow is like watching paint dry, in other words, it's very boring and takes ages. Extensions give instant length and if they're really long like in the picture, there's really not much you need to do to make them look good. Simply make waves and let your locks loose, the result is simple yet stunning.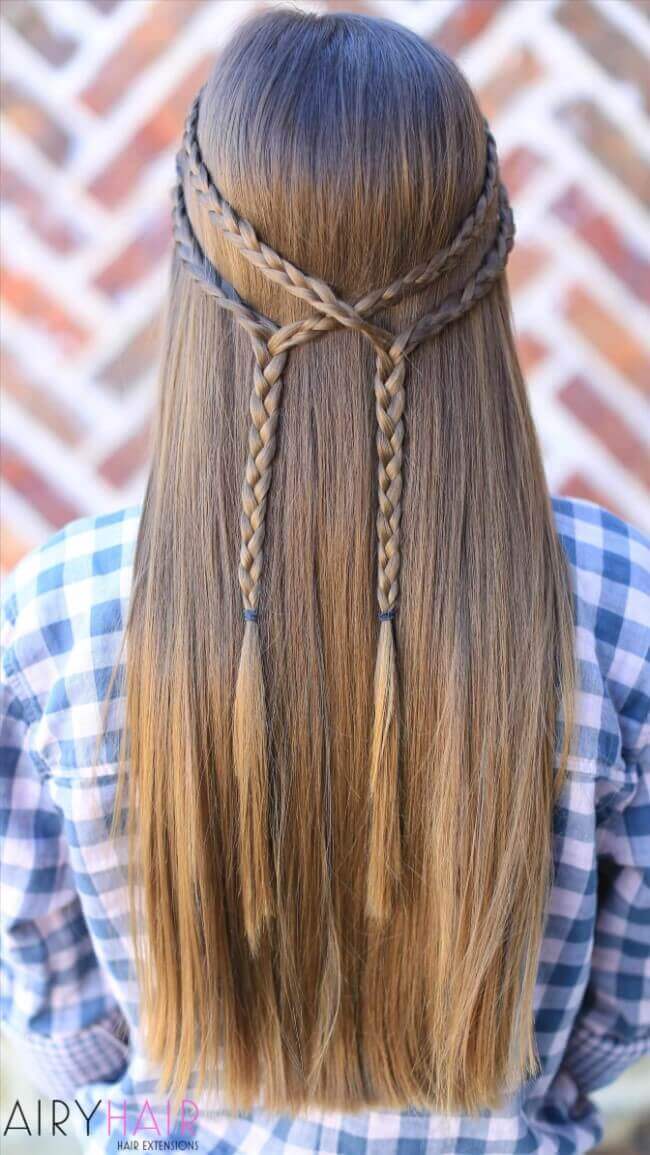 This is a great look for girls who like simple everyday styles. The strands are completely straight and accessorized only by the two, thin braids.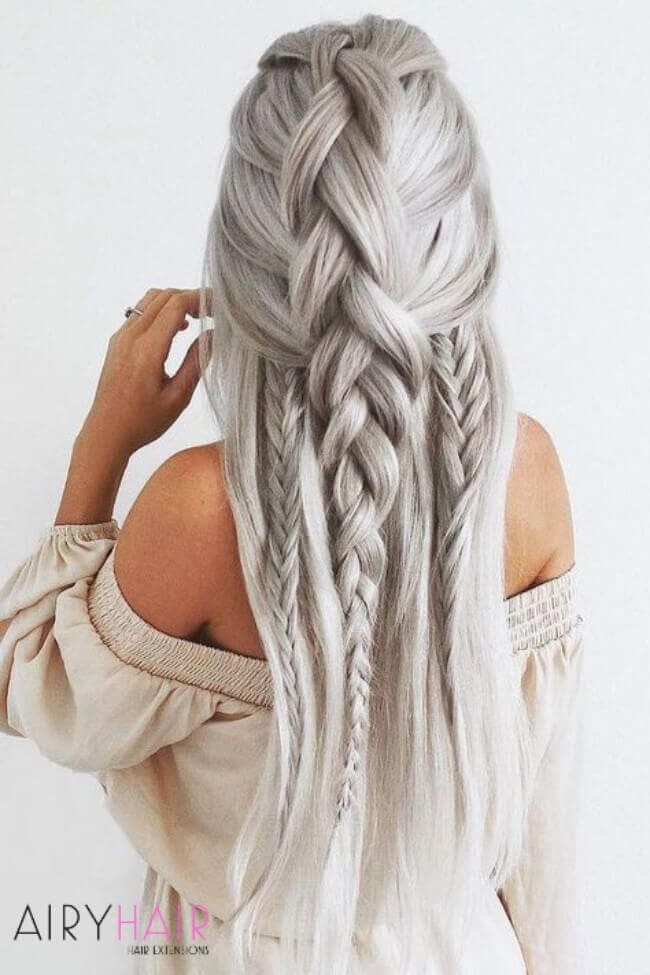 White and gray styles were a great hit of 2017 and that will definitely continue through 2018. There's really something majestic and mysterious in white hairstyles and they are very unique looking.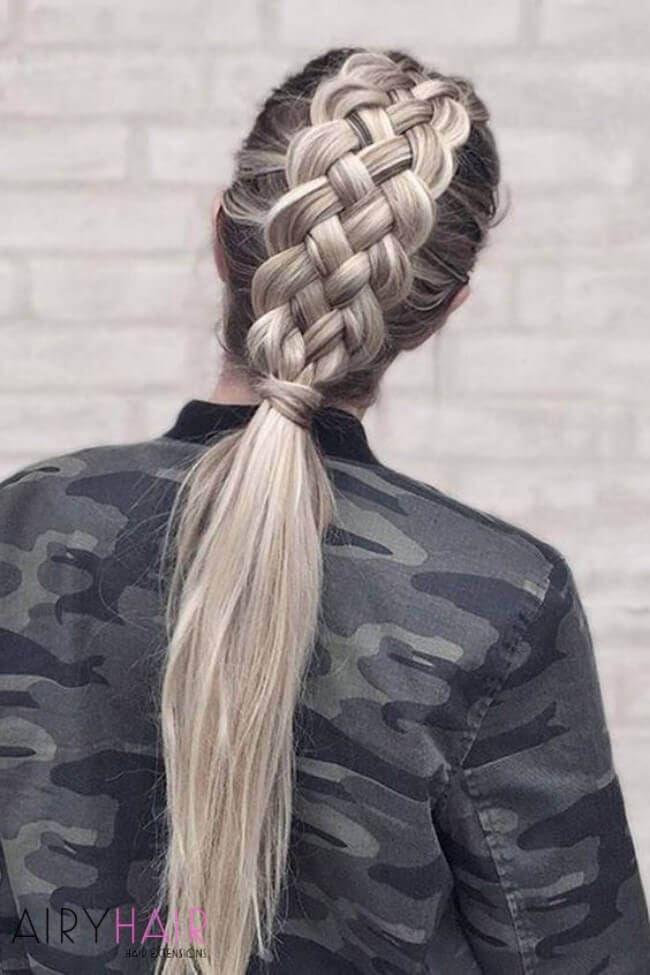 If you're into braids and want to go a step further, this wide braid is a very interesting choice. It creates a cool pattern that you don't get with regular braids and although it is a bit harder to make, it's definitely worth it.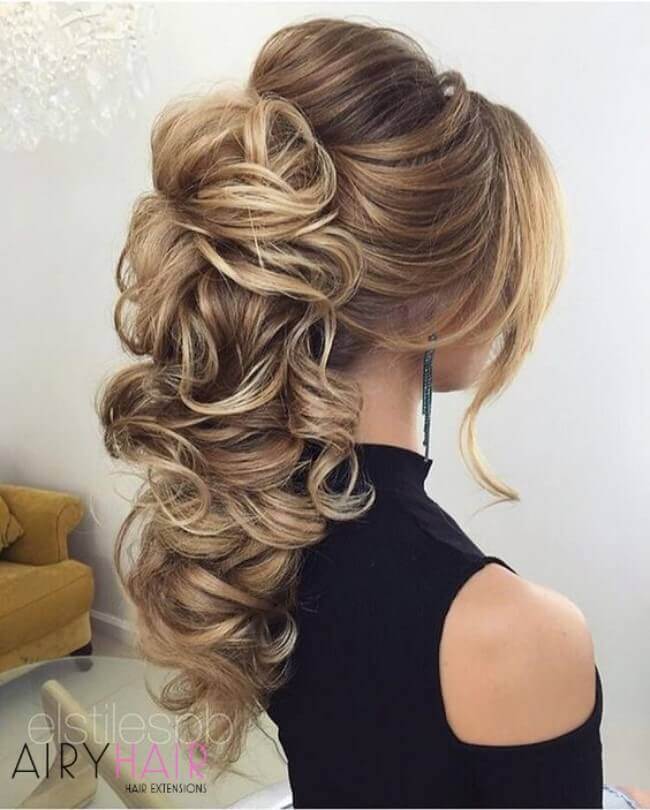 This is basically a ponytail, but a very glamorous one. It is perfect for formal occasions like wedding parties, dinners, award ceremonies, and similar events. This is a hairstyle that virtually impossible to pull off with natural hair because a lot of volume is required.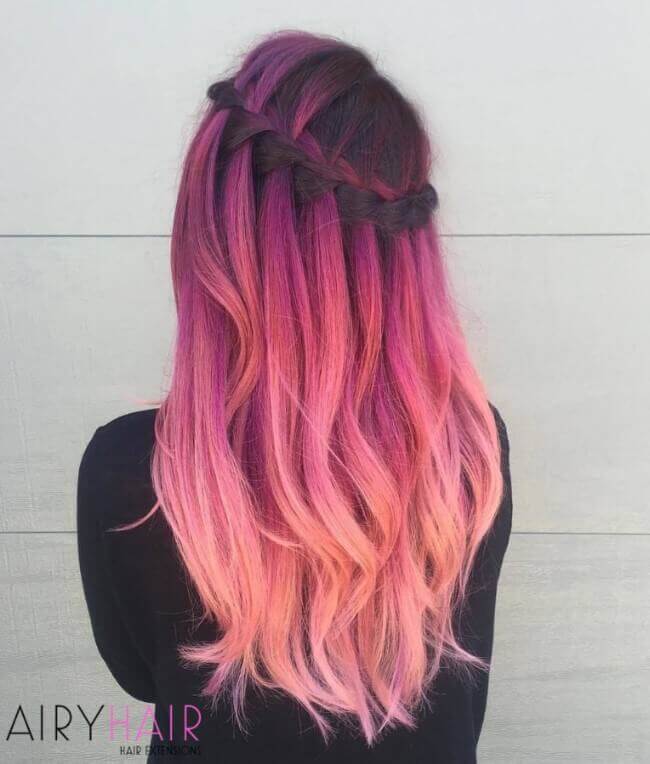 When choosing extensions, why not go for a bold color? Ombres are a great way to showcase a couple of different shades and the black, fuchsia, and rose look electric, just like in the photo.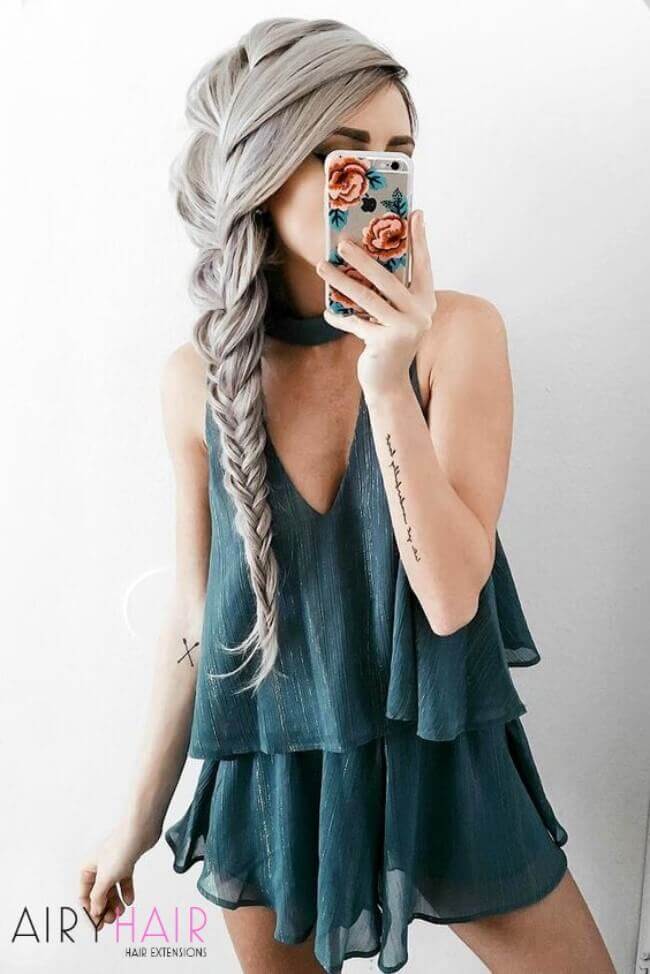 When you don't have a lot of time for intricate hairstyles, simple braids are a great solution. Get your locks all on one side and make a simple French braid.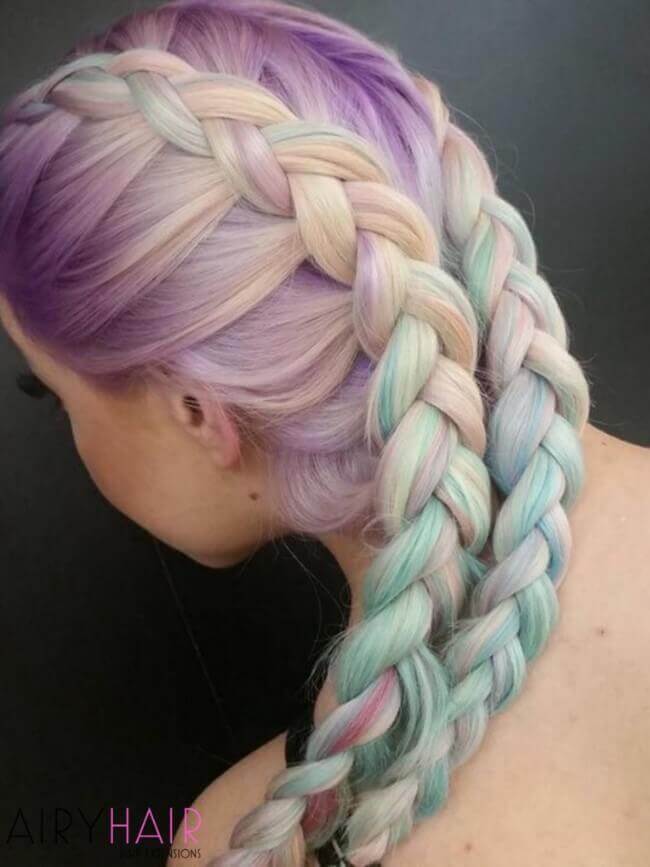 Dyeing your natural strands is usually not a good idea, especially when you're going for strong colors that require bleaching. It can damage your locks and that's surely not what you want. For that reason, extensions are a much better option. You can order rainbow colored ones and make braids that intertwine all the different shades.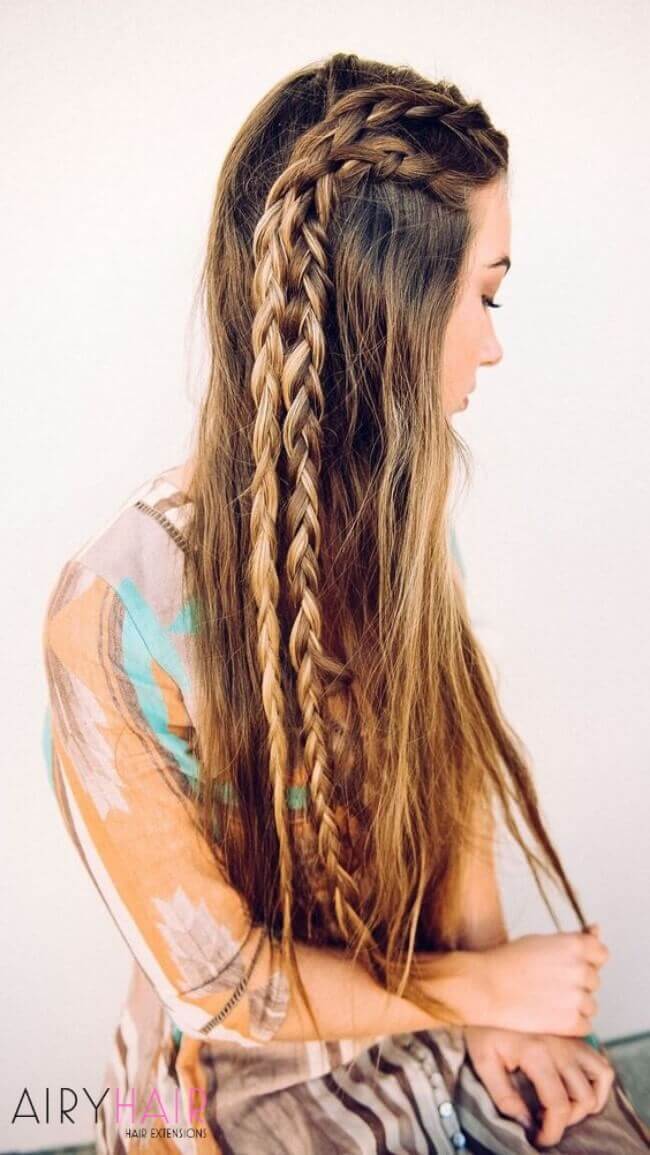 Boho hairstyles are very trendy and perfect for young girls. Because of their effortless nature, they can look casual as well as fancy.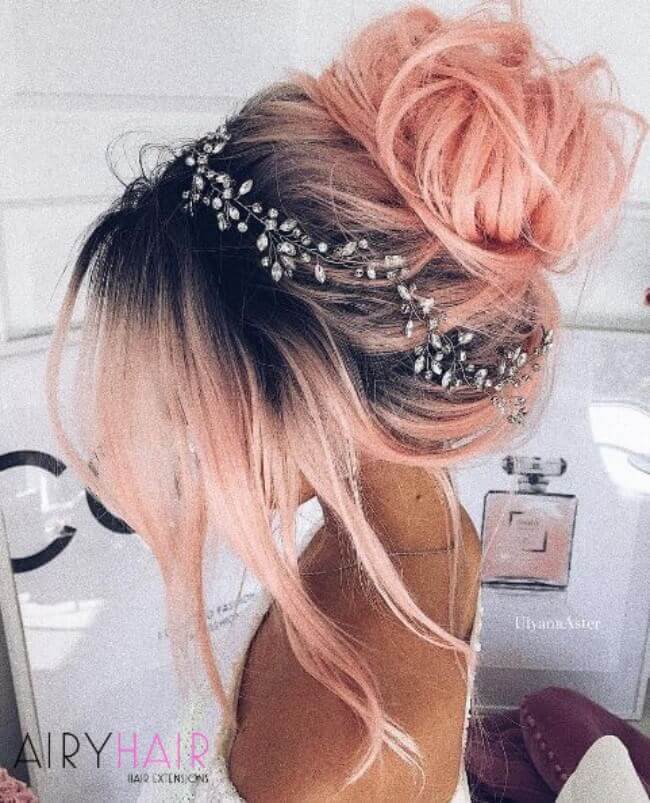 Up-dos are very formal and fancy, but they can be youthful and edgy a bit with the unusual pastel rose hair color. Because it's slightly messy, it reminds us of bohemian hairstyles. By leaving some strands out and accessorizing with silver jewelry, the look is complete.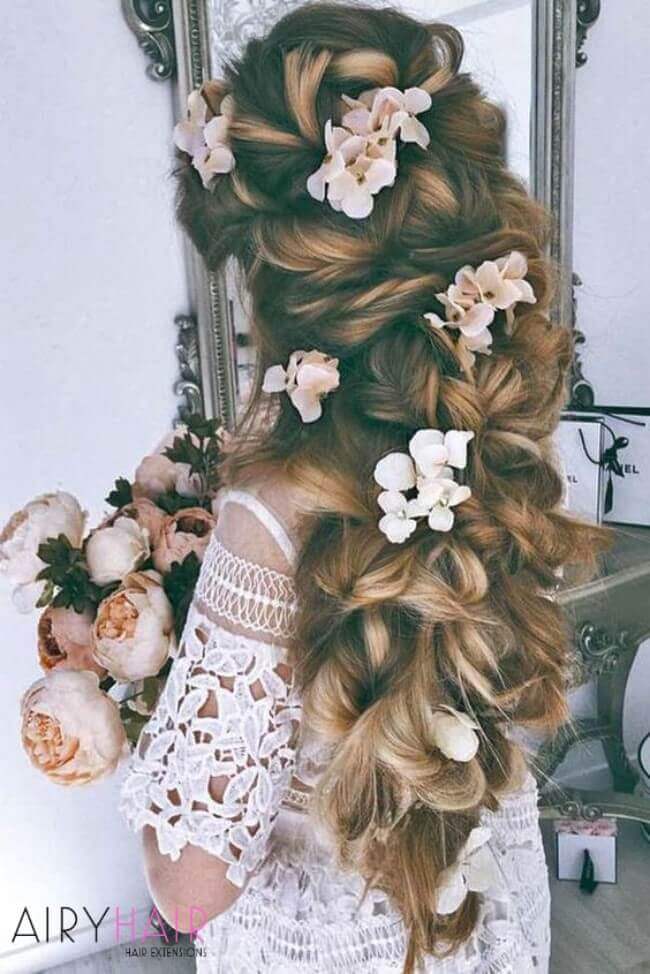 For all future brides, extensions are a must-have. The wedding day is where all girls want to shine and be in the center of attention. So start clipping those wefts and get as much volume as you can, you can see on the photo that it looks stunning and unreal. You will definitely feel like a princess in a fairytale wedding.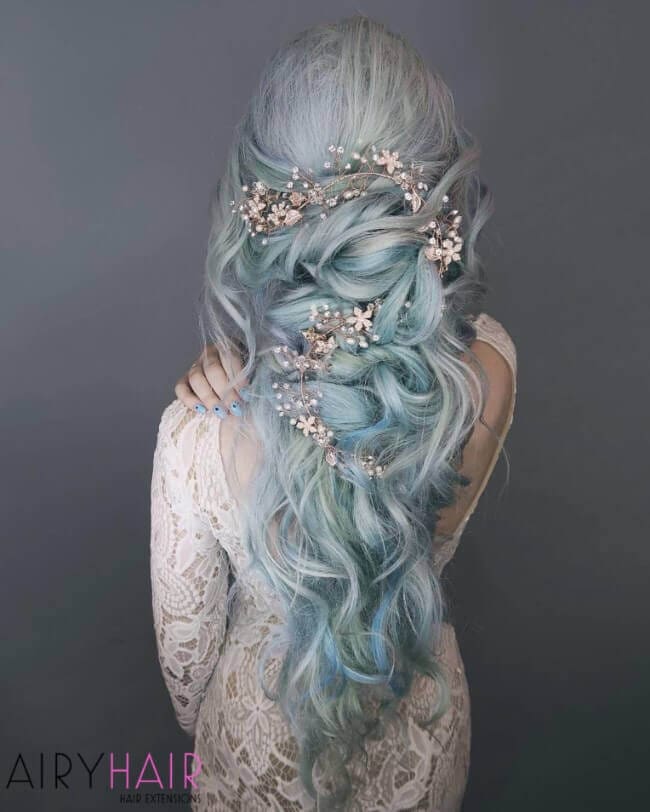 This is another variation of a magical bridal hairstyle that is perfect for extensions. The volume and thickness is simply unbelievable and the pastel blue color and shiny accessories make it even more intricate and special.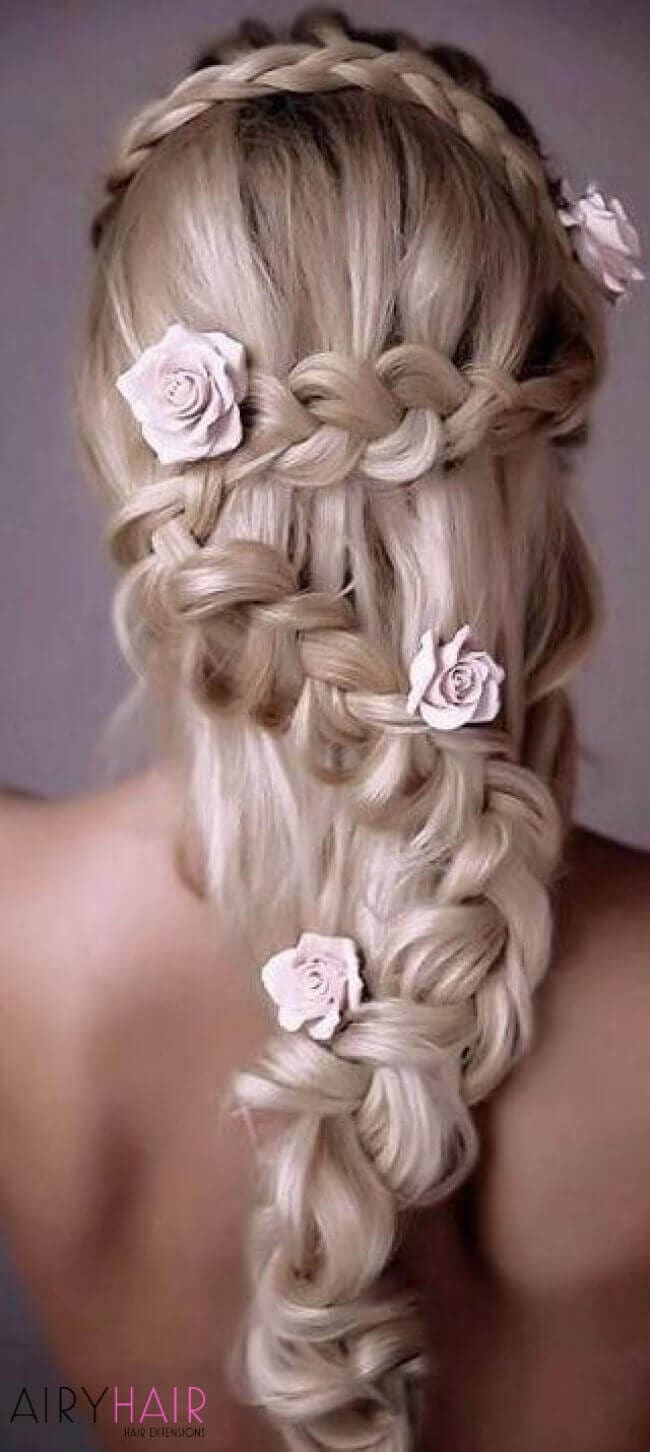 Brides can also incorporate this intricate curved braid into their hairstyle. Having extensions makes it possible to create braids and also have hair left for the background because this look requires crazy volume.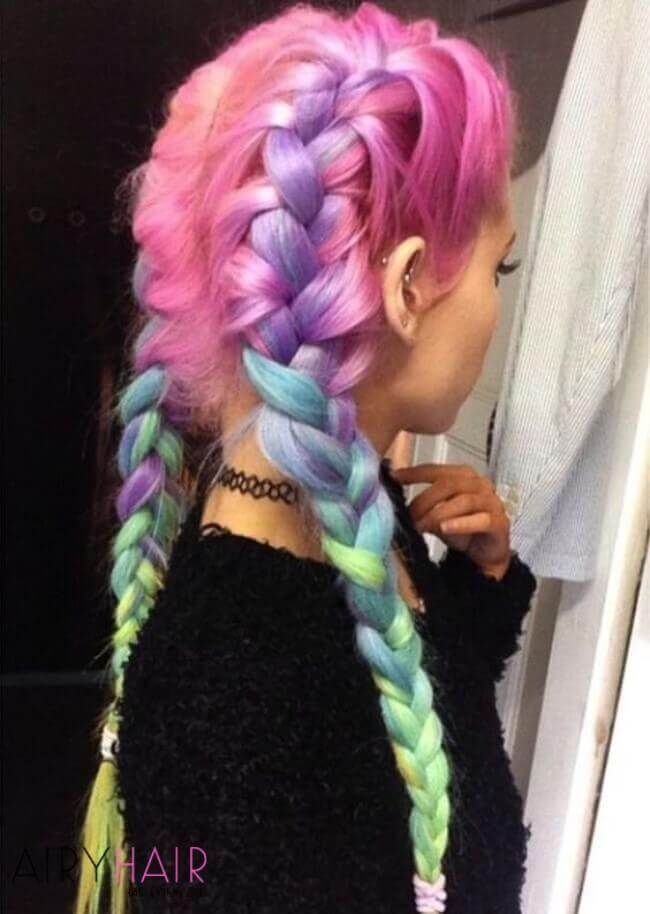 Rainbow colored hairstyles are very trendy and edgy. Bright colors definitely draw attention to the hair and are perfect for anyone who wants to make a statement with their look.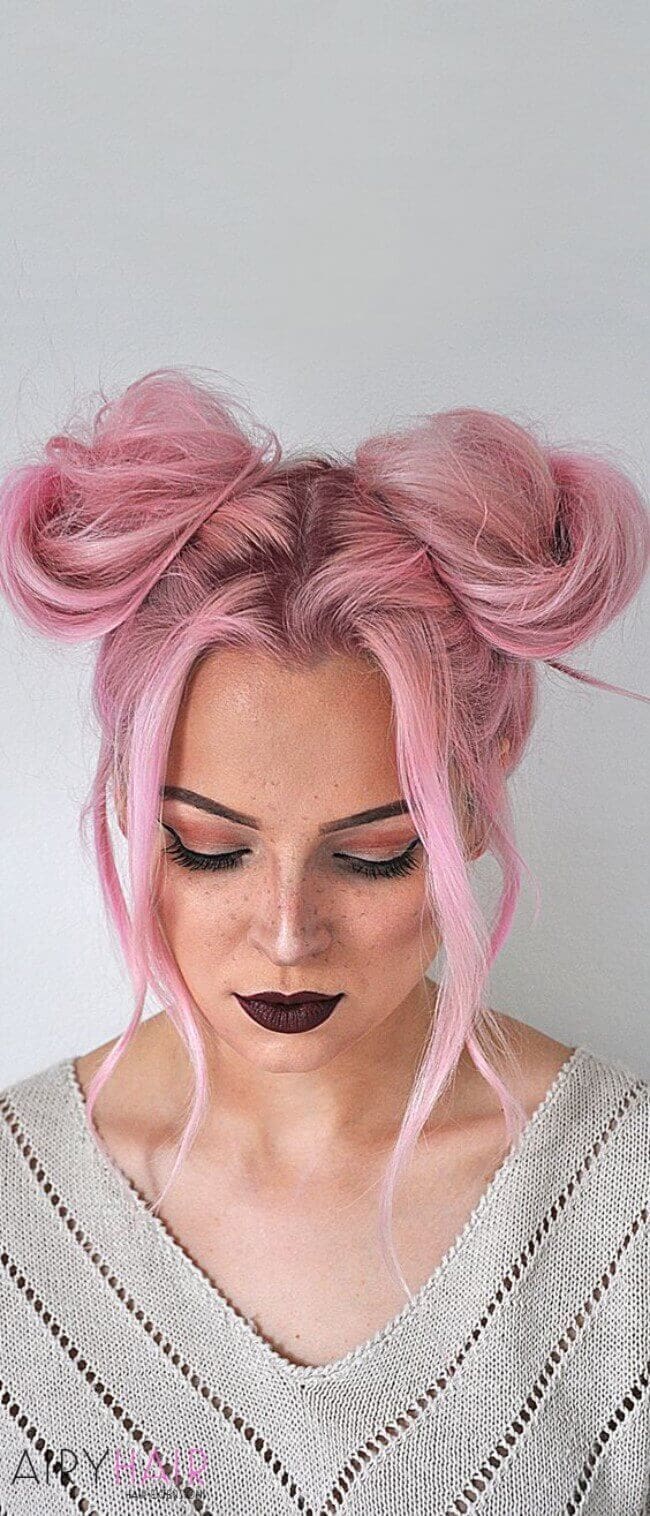 Buns are a great way to get your strands up and away from your face. To make it more interesting make two buns on the top of the head, while leaving a couple of strands loose. Pastel colors like this rose one work great with buns and create a very youthful and cool look.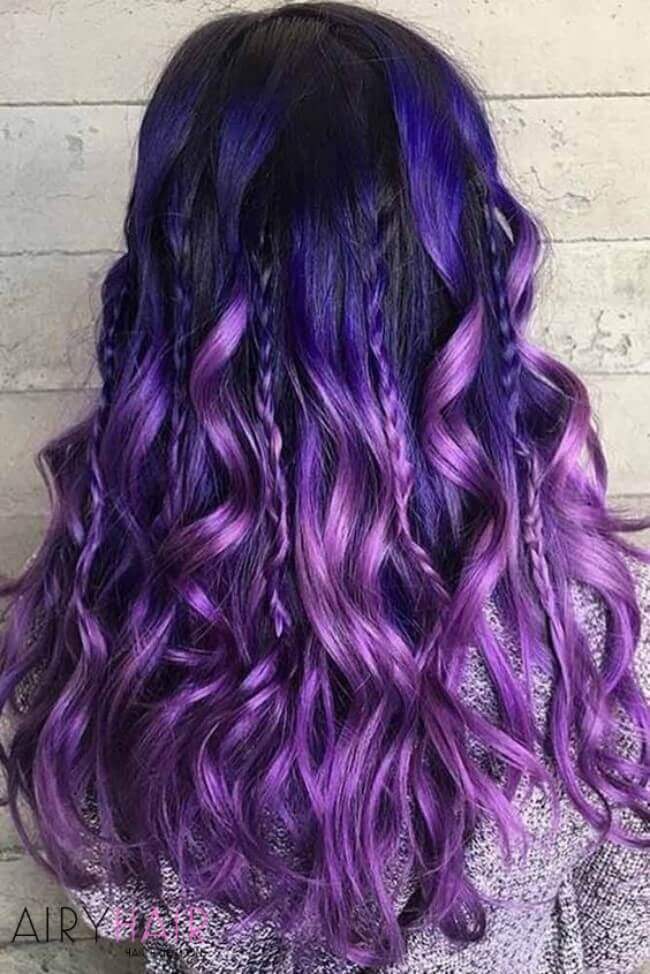 Ombres are the best way to incorporate two or more colors into a look. The light gradient of the purple and pink flows really nicely and the curls accentuate it even more.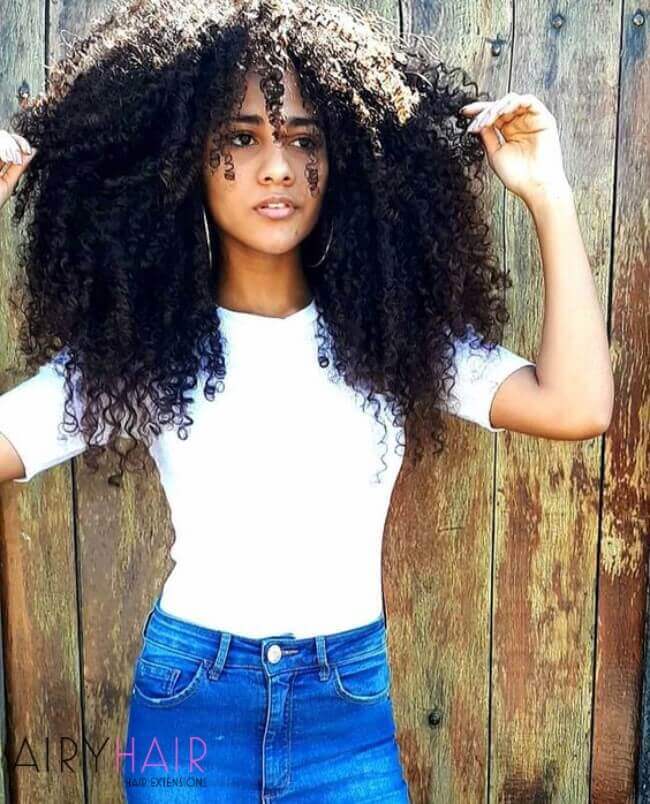 Curly extensions are really cool and you can get some serious volume. If you're into big and flashy hair with an attitude, tight curls are the way to go.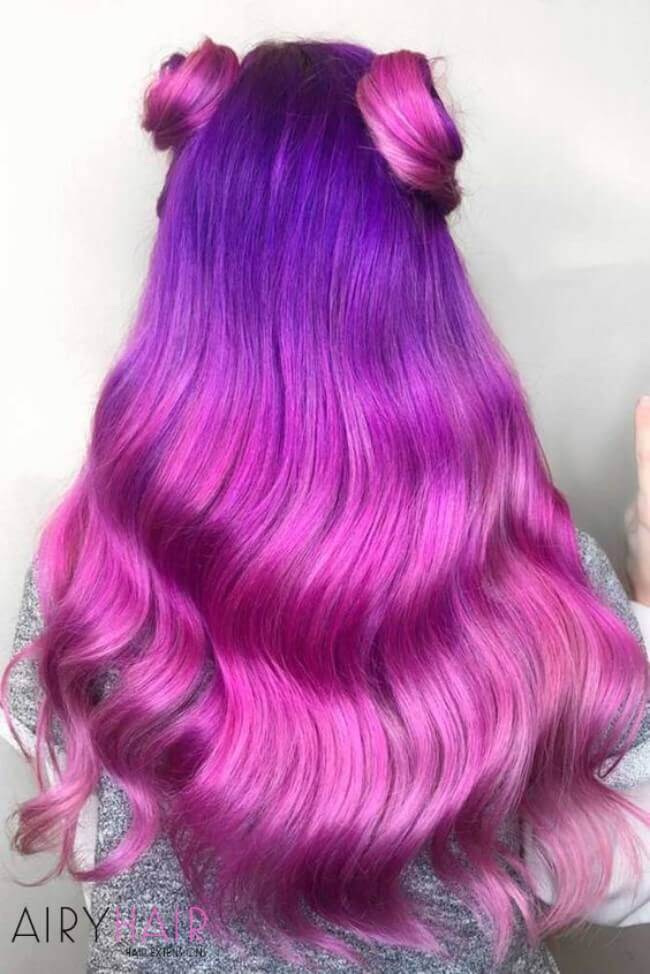 When you have such a stunning purple and pink ombre it's important to show it. That's why simple loose strands work best. To make it a little bit more interesting, add two cute buns on each side.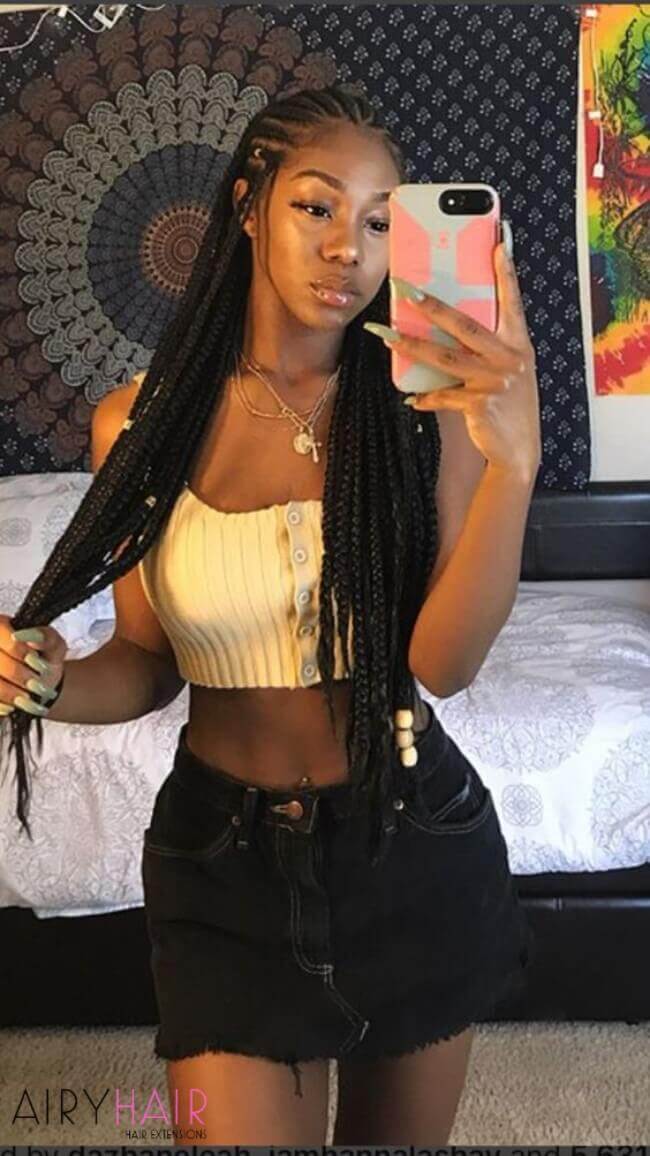 Braiding is something that requires A LOT of hair, length and volume wise. That's why we need extensions that enable us to add as many strands as we like and have really long and strong braids.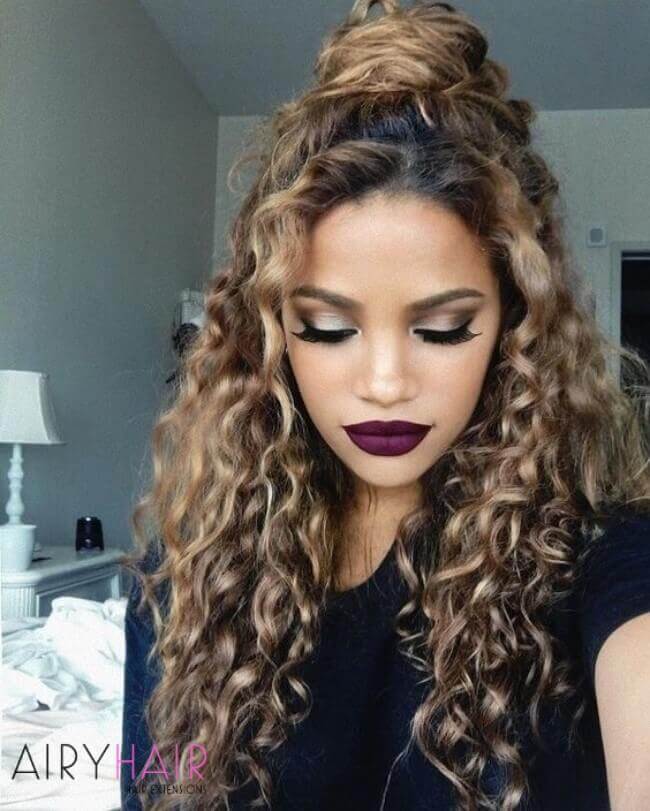 Curly extensions are becoming more and more popular because they have such an interesting texture. Another great thing about curls is that they have much more volume than straight hair which means you need less to get a great, bouncy look. Curly hair looks so good that it doesn't even need to be styled, but you can tie a simple bun on the top while keeping the other part of the strands down.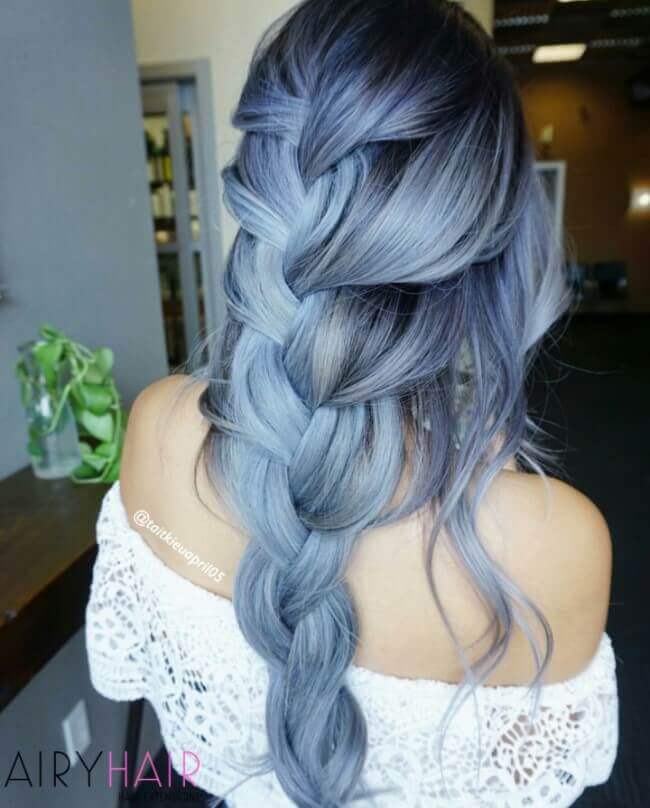 Pastel blue color looks really toned down and elegant, but it still looks unique and unusual to look at. This simple French braid can work for so many occasions, it can be an everyday hairstyle, as well formal and glamorous.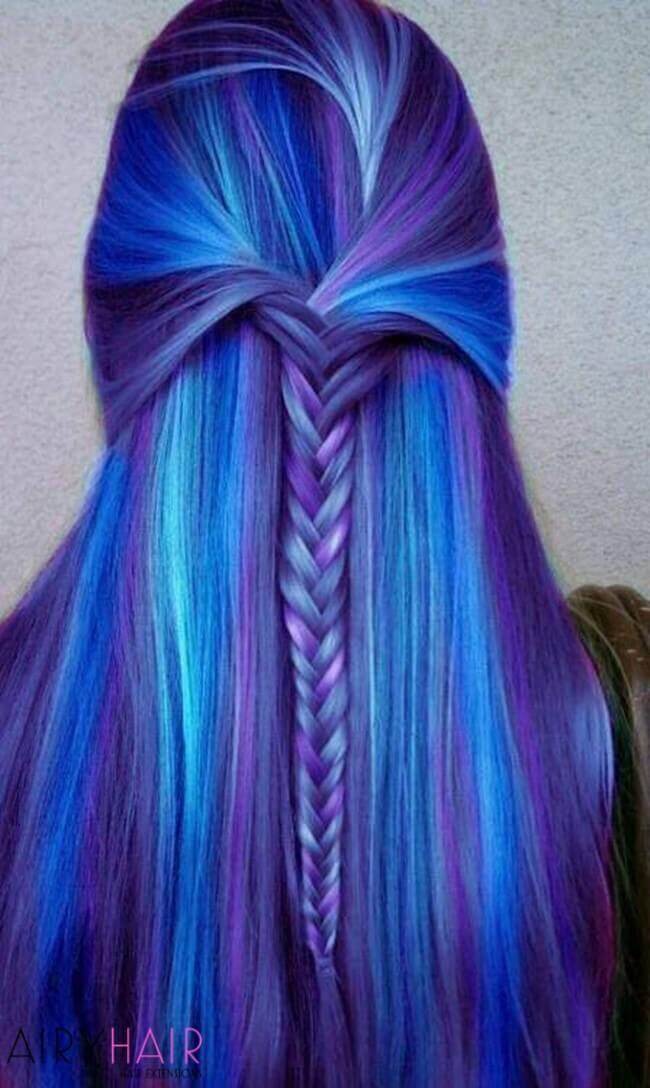 This electric hairstyle is only for the boldest and most badass girls out there. The colors are so saturated they look like they glow in the dark. Not only that, but there are so many wonderful shades of blue, turquoise, and purple. The eyes are instantly drawn to it so if you want to be noticed, this is the look for you. A small simple braid in the back is enough to add some detail to the look, but the colors are so strong, there's really not much else that should be done to the hair.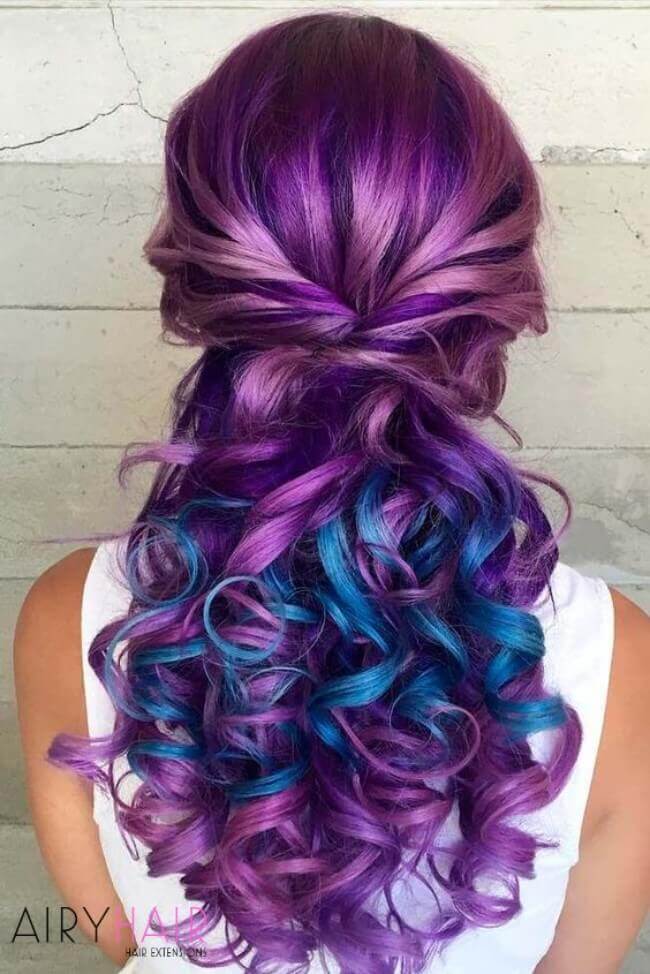 Hairstyles are all about accentuating what's best about your strands. In this case, it's definitely the colors. There's everything from pink, fuchsia, rose, purple, and aqua. The reason why you can see all the shades so nicely is because of the beautiful, neat curls. The strands intertwine with each other and since they are all in different colors, there's much more contrast.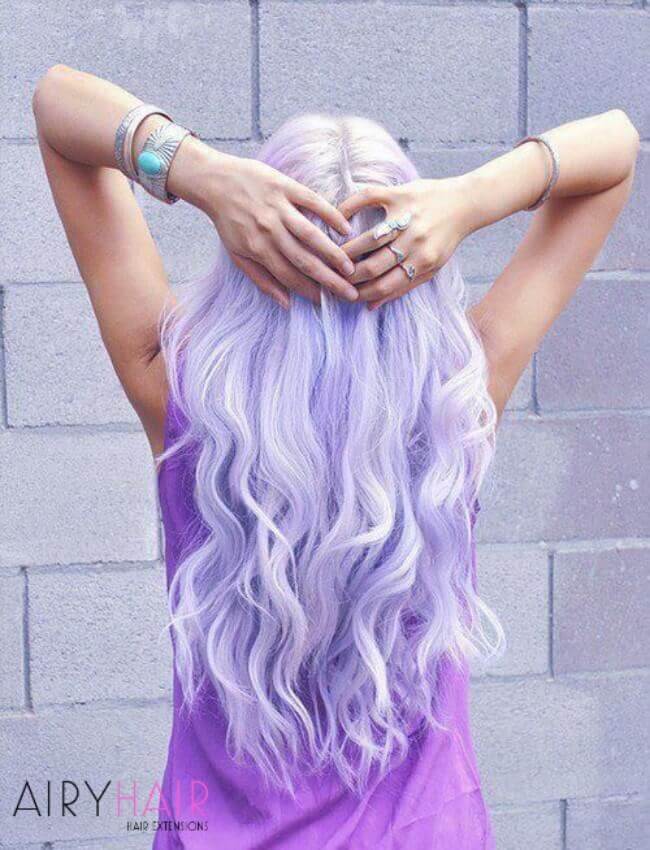 Pastel purple was the trendiest color this season but because it's really hard to dye it, many girls opted for extensions. And that's definitely a better choice since the strands need to be bleached in order to get the pastel purple color and that can completely damage them. Extensions do absolutely no damage to the hair and they're not permanent which means you can try out every color of the spectrum!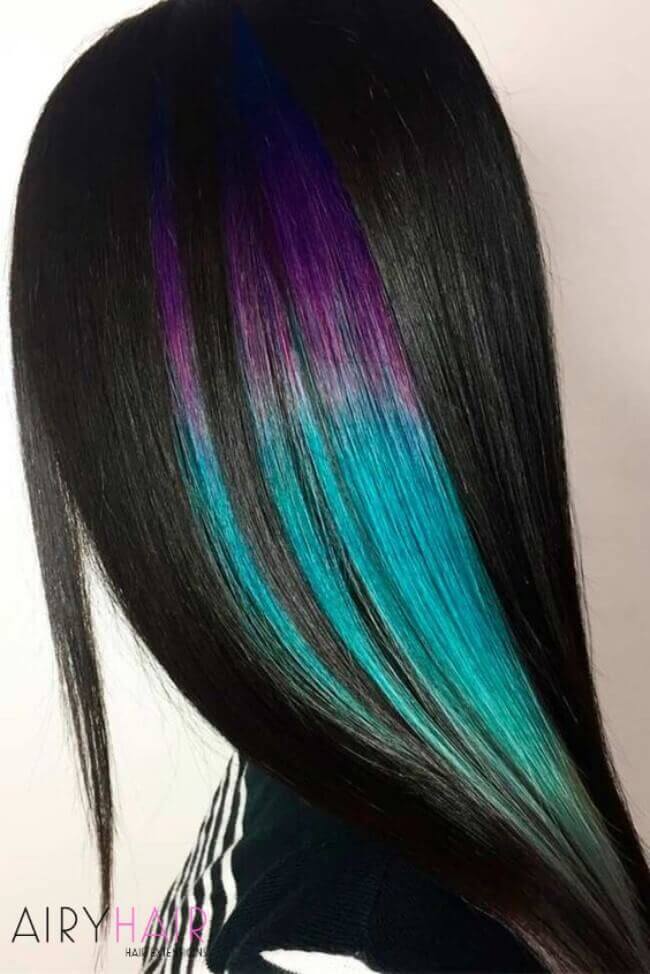 Regular, classic highlights are definitely in the past for quite some time and everybody is experimenting with different techniques and placements. This is a great example of colorful, bright highlights that accentuate the black strands and make them much more interesting.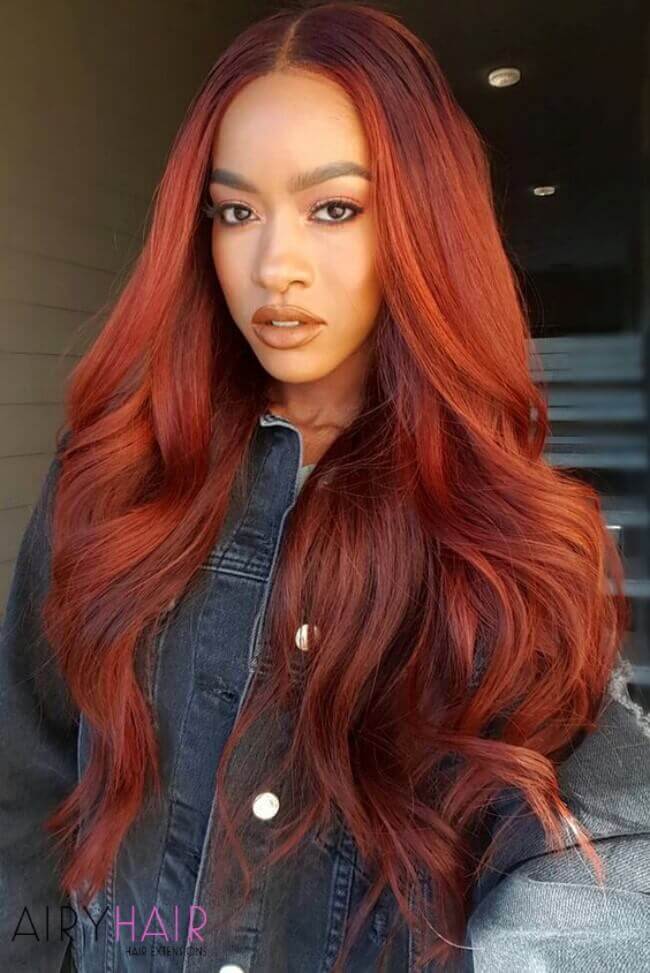 A nice body wave is a classic style that never goes out of fashion. Waves give locks the needed volume and texture, and if you add a cool copper color to the mix you get a striking look.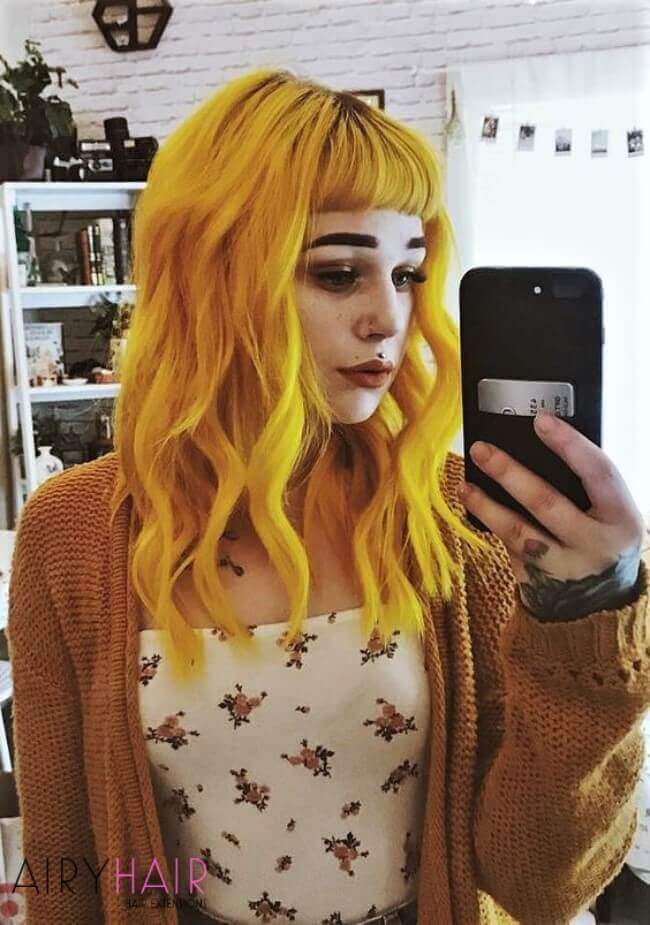 There is nothing brighter than yellow, the color of the sun. This is a nice hairstyle that's not as long as the other ones and also includes bangs which are a nice touch. The color is definitely the focal point here and with extensions, you can go as bright as you want.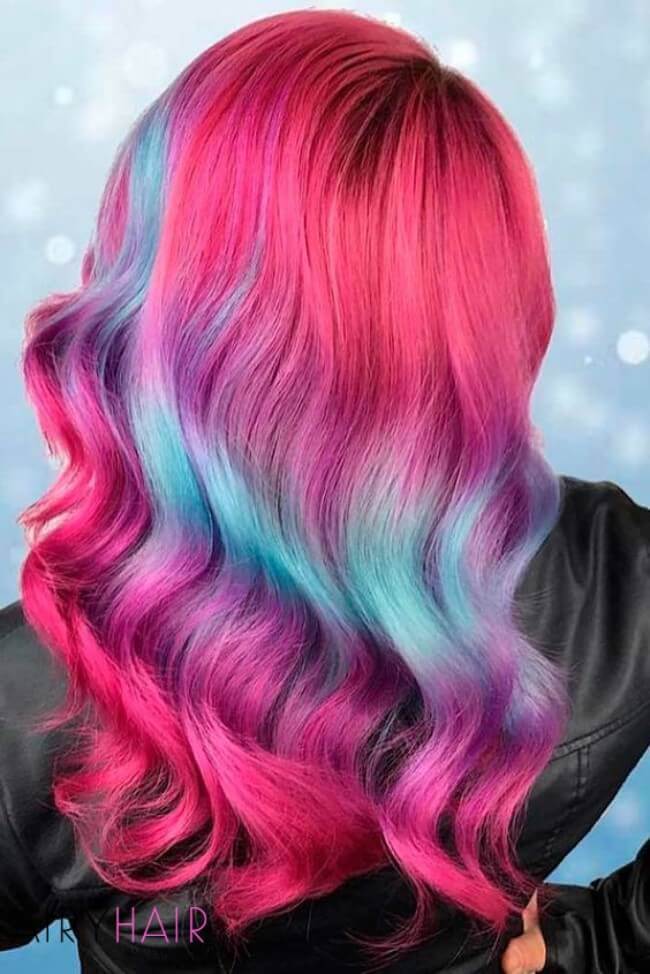 This is a cool variation of an ombre that uses very bright and saturated colors. There are pink, rose, purple and turquoise shades that are emphasized by the loose waves. A gorgeous hairstyle that is definitely a head turner.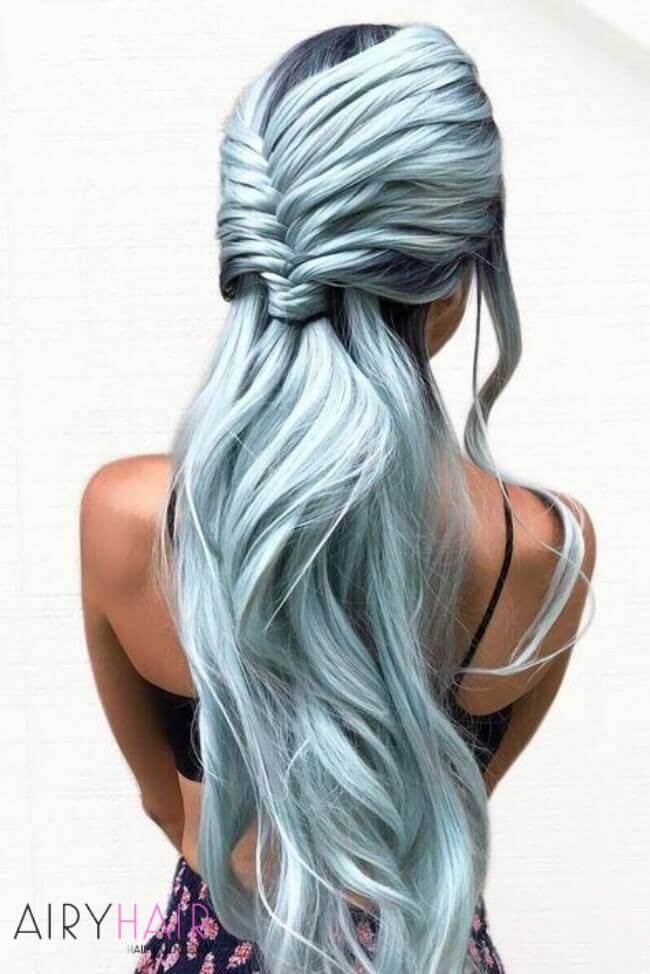 This is a very unique version of a French braid which creates a really cool effect on the top part of the strands. The rest of the locks are very loose waves that flow nicely all the way down. The pastel blue, almost grey color makes it even more special.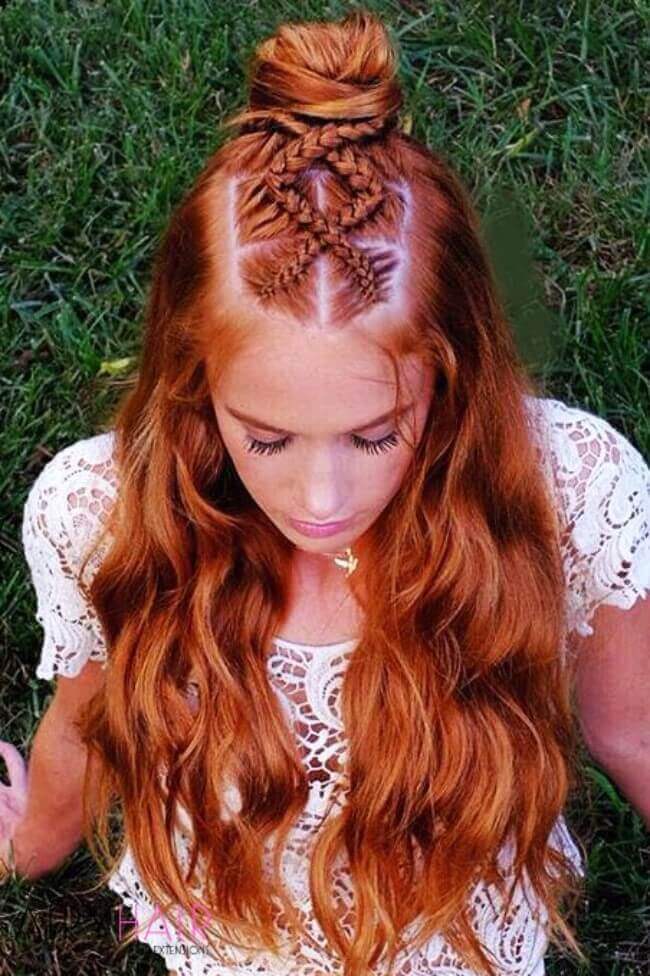 Copper hairstyles are really fashionable at the moment and there are some cool ways to make it more interesting and this photo shows it. The crisscross braids on the top disappear into a cute, messy bun, while the bottom part of the wavy strands is loose.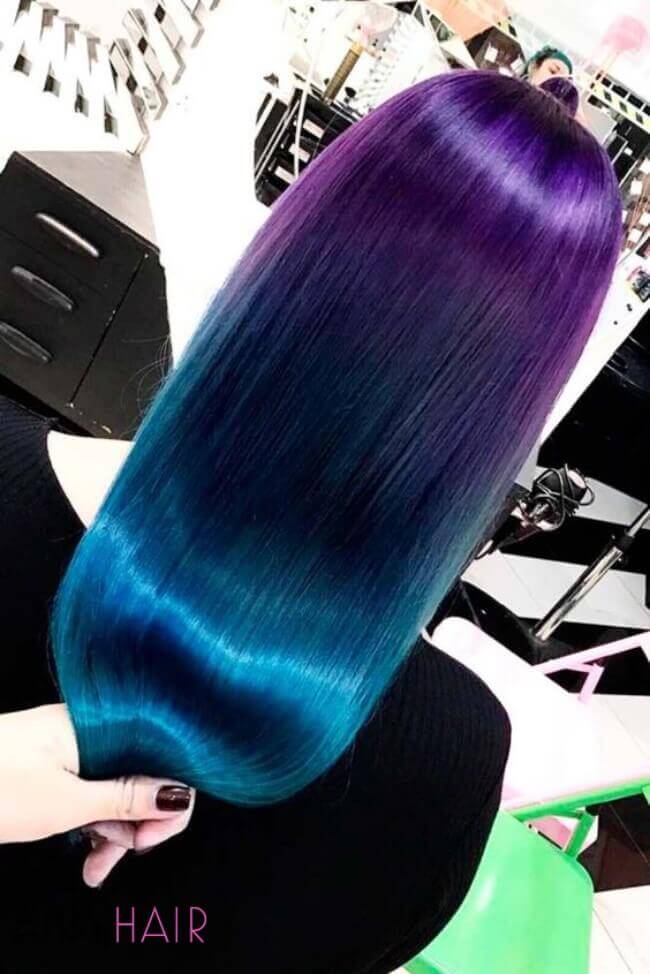 Sometimes, straight locks are the best way to showcase the smooth gradient of an ombre hairstyle. This lustrous purple and blue ombre proves that. And you can forget about having to dye your strands constantly when you have extensions.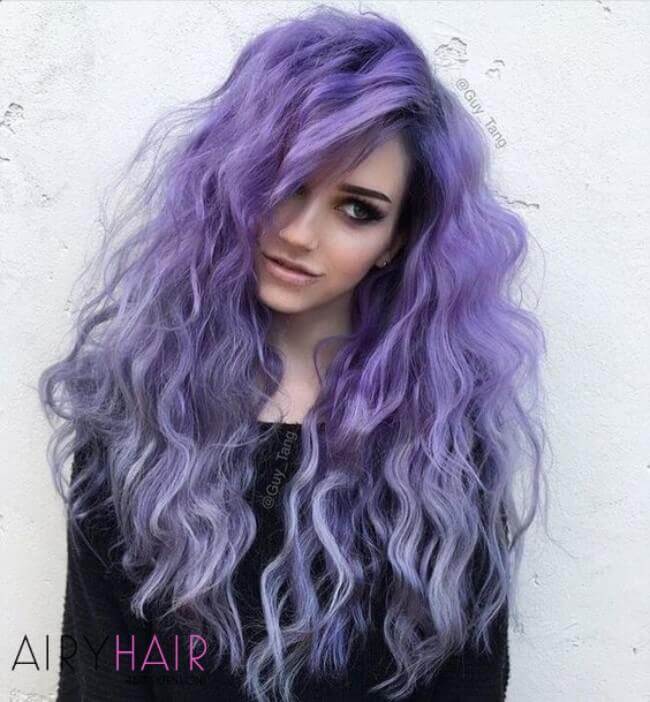 Messy curly looks are great because there's practically no styling needed. Simply let your curls loose, tease them slightly, and you're ready to go!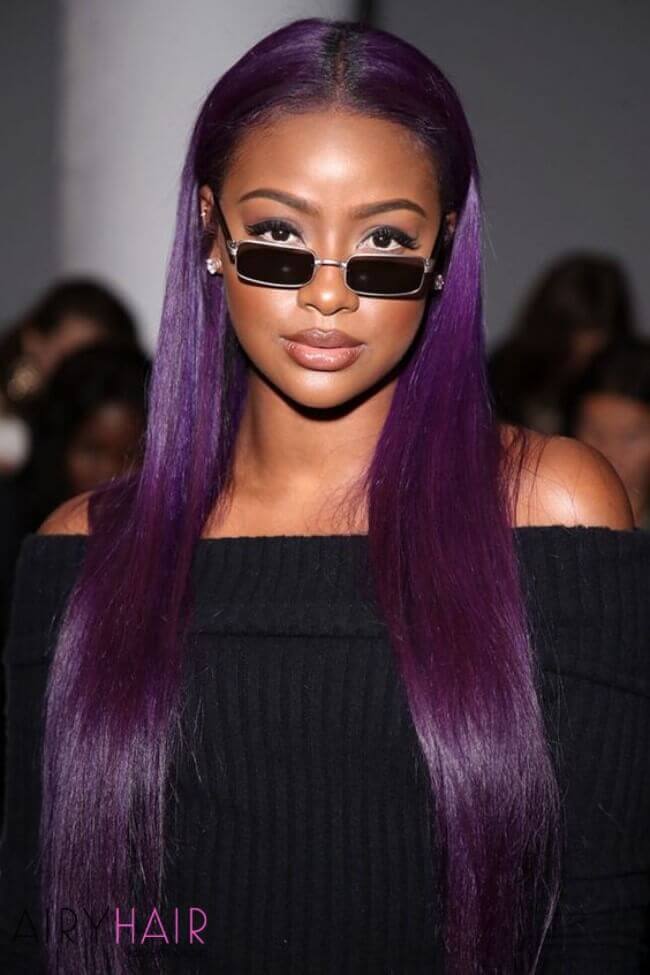 A complete opposite of a messy, curly hairstyle is a straight and sleek one. If you like your strands to be neat, then this is the look for you. What stops this straight hairstyle from being boring is the dark purple color. The result is a look that's lustrous, powerful, and cool.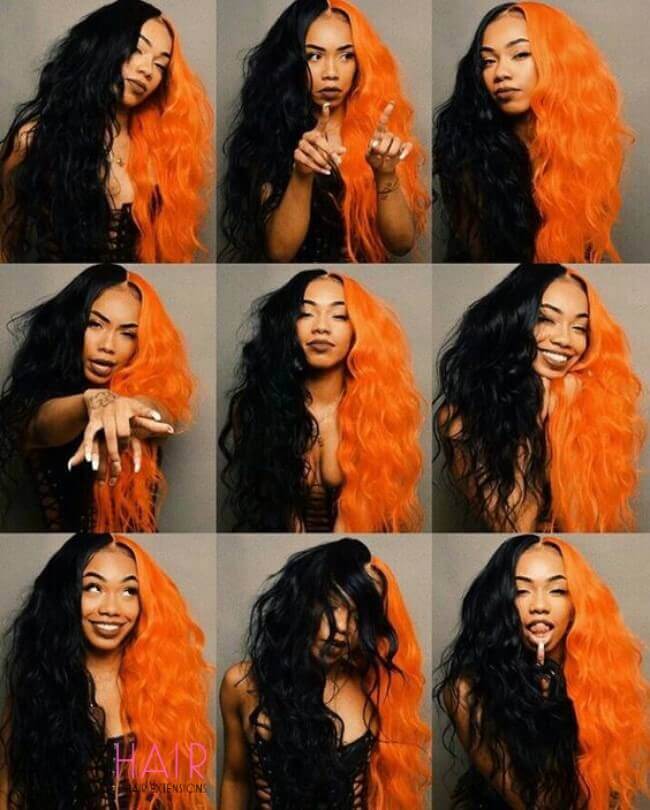 If you have a fun personality and always want to be different from everybody else, get inspired by this quirky look. One side is completely black, while the other is bright orange, but of course, you can combine any two colors you like, the possibilities are endless!
—
Source: Pinterest
Enhanced and hosted by: Airyhair extensions
Visit us for free worldwide shipping and real remy hair.