Bright and powerful colors are very trendy right now and are usually done with ombre or balayage techniques. Blue is one of them and who wouldn't want to have hair colored like the sky?
So, if you're looking for some fresh ideas, make sure to check out these breathtaking blue and pastel blue ombre hairstyles that will blow your mind.
Deep Blue Ombre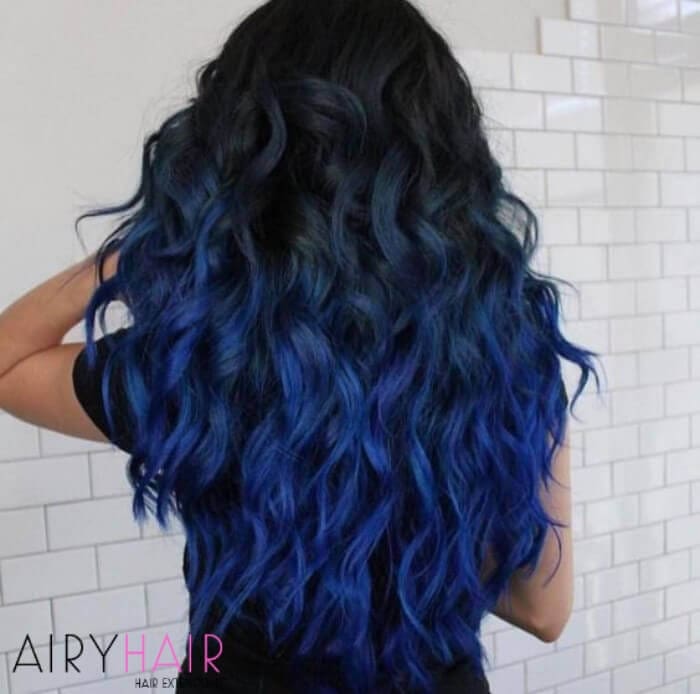 Black is always a great base for ombre and balayage hairstyles because you can add whatever color you want on the bottom and it will look awesome. Darker blue goes well with black and the transition is very seamless and natural. For extra volume, curl your hair.
Pastel Blue Hairstyle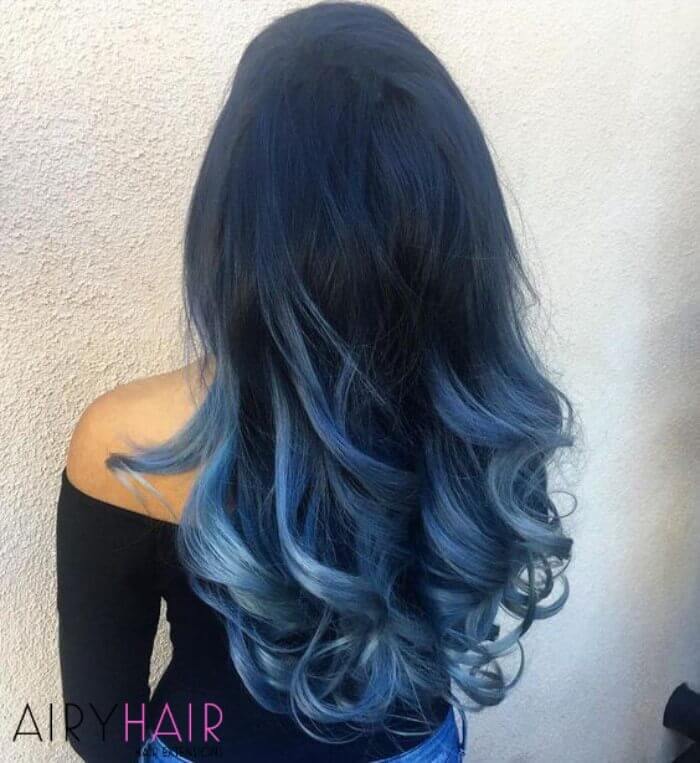 If you're more into pastel colors, try this ombre that goes from black to pastel blue at the bottom. Since pastel colors are brighter, the contrast with the black is amazing. The curls on the bottom make the look even more glamorous.
Baby Blue Colors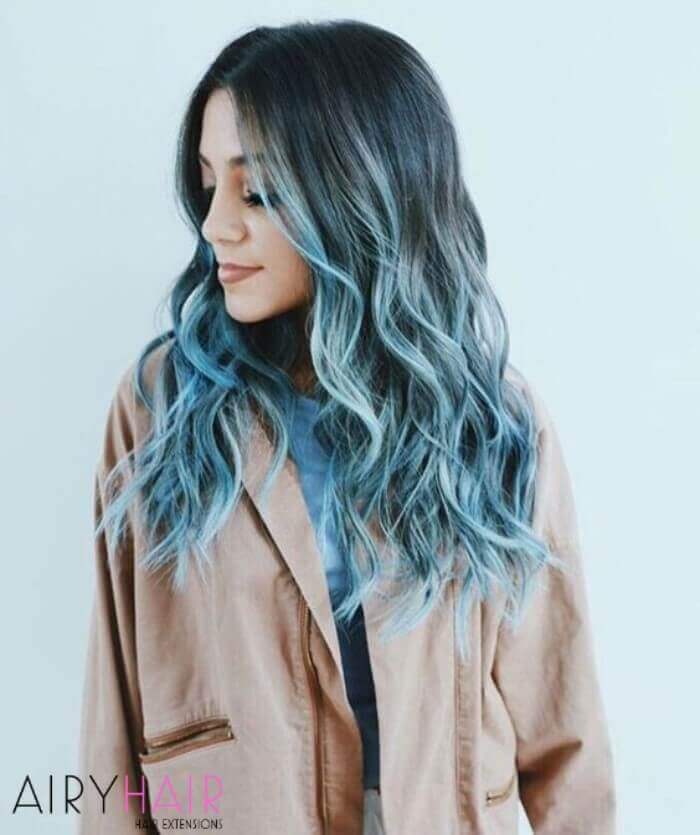 This is a combination of ombre and balayage techniques where you have a transition from dark to a light color, as well as some asymmetrical highlights that tie the look together. You can get this hairstyle with few baby blue extension clips. The hair is primarily dark grey and pastel blue, but you can also notice some almost white and light grey highlights that make this hairstyle special.
Toning Ombre Hair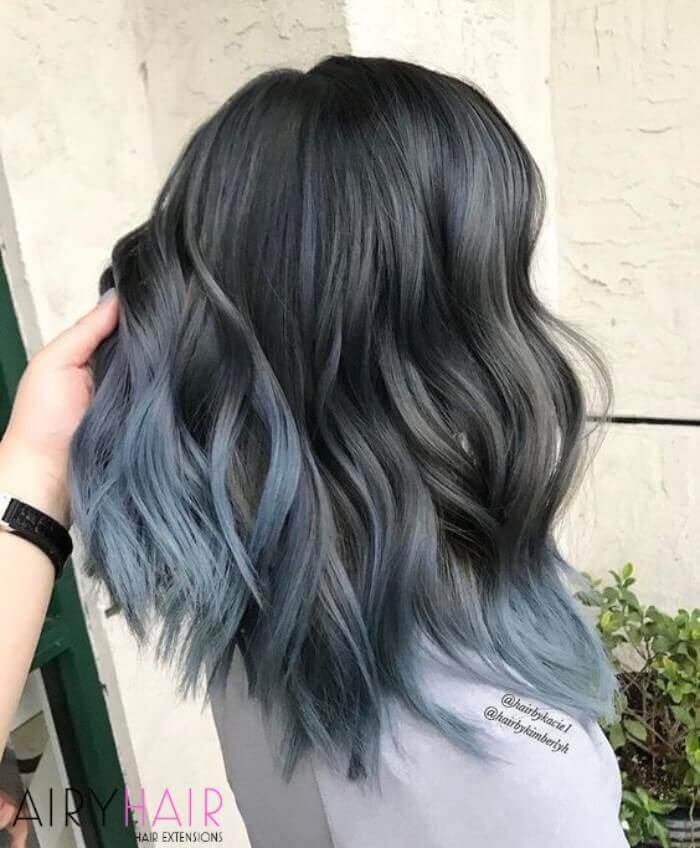 For a toned-down version of the blue ombre, try combining grey and light pastel blue colors. The two colors are pretty similar and don't create a sharp contrast which makes the hair look much more natural and effortless. This is also a great example of ombre on shorter, shoulder-length hair.
Blue Pastel Hair Extensions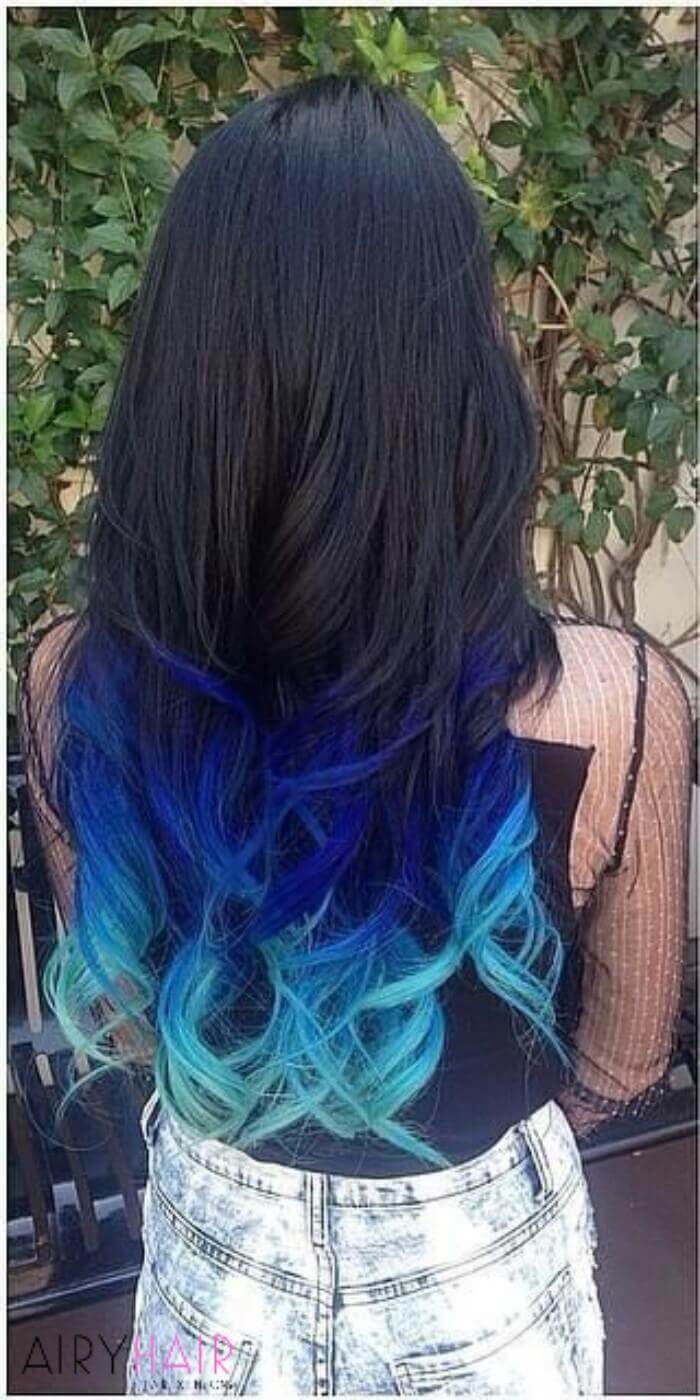 Strong contrasts draw your eyes to them and that's why this hairstyle is so eye-catching. It is made using three different colors; black, blue, and pastel blue. The result is very unusual and unique.
Pastel Blue Ombre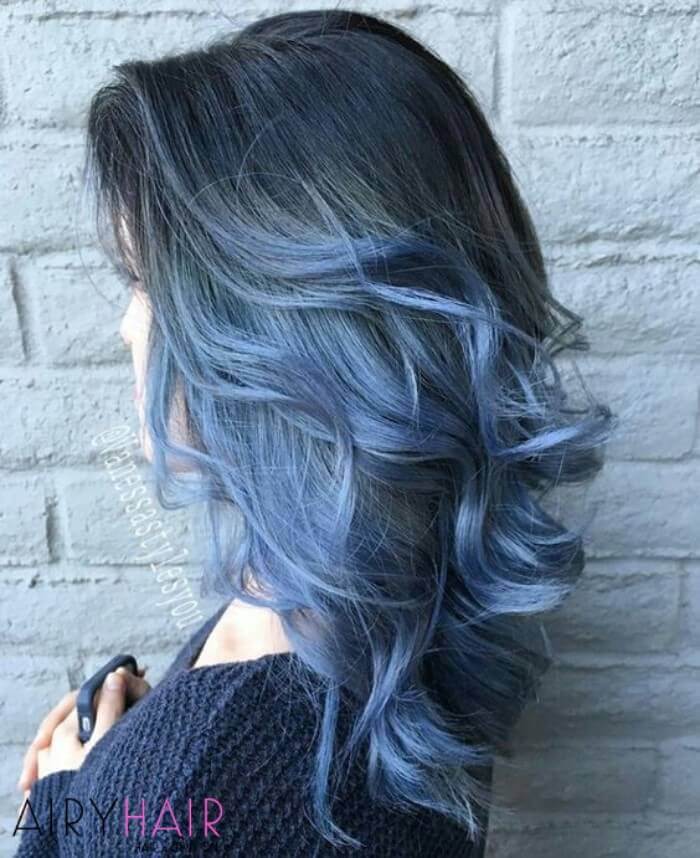 Grey and pastel blue shades go well together and complement each other. The waves are very flowy and can make the colors pop.
A Magnetic Look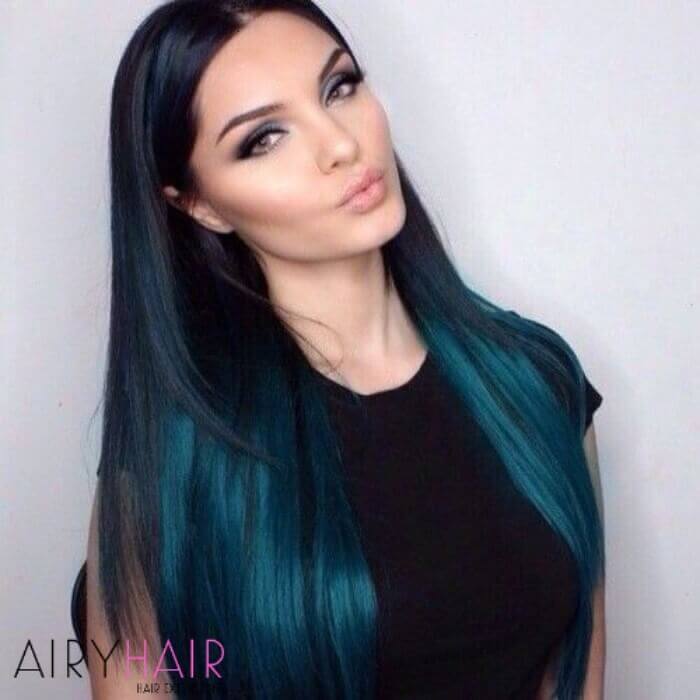 If you have straight hair, try this dark ombre. The top part of the hair is black with a nice blue shine and the bottom is a mix of blue and turquoise. Complete this look with smoky eyes and nude lips.
Black Roost and a Blue Ombre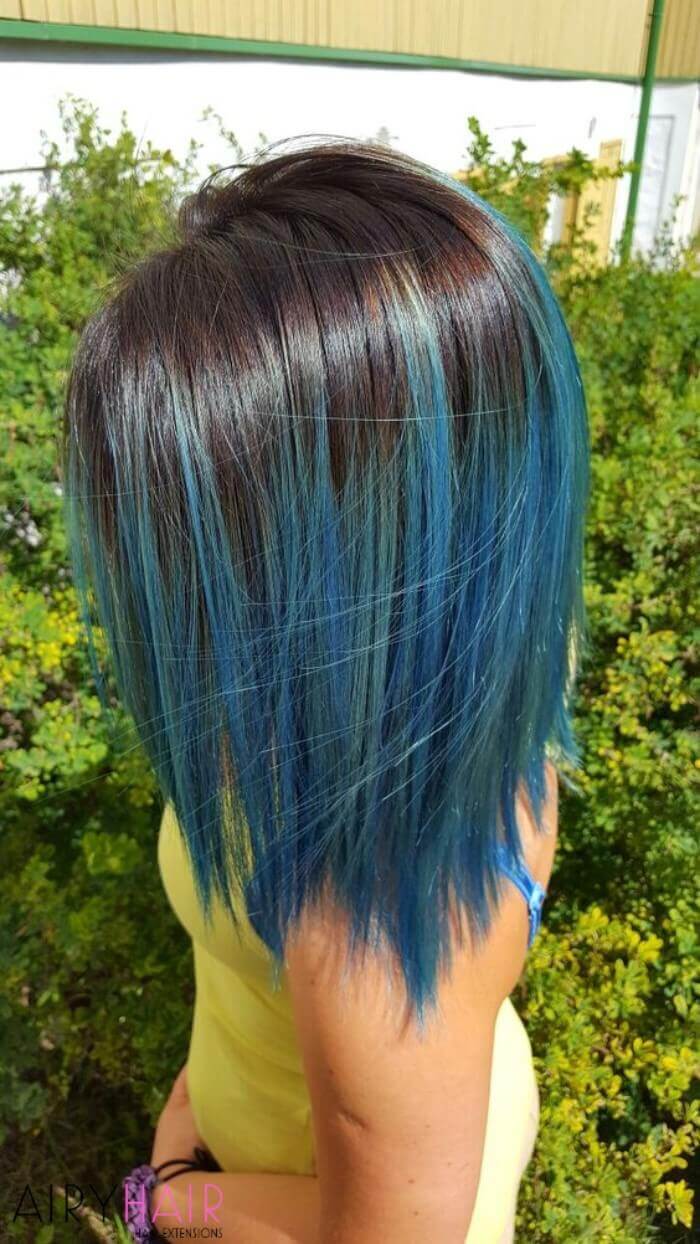 Another cool way to do an ombre is to dye the majority of your hair blue and leave only the roots black. That way you'll have a lot of bright color showing.
What About Natural Ombre?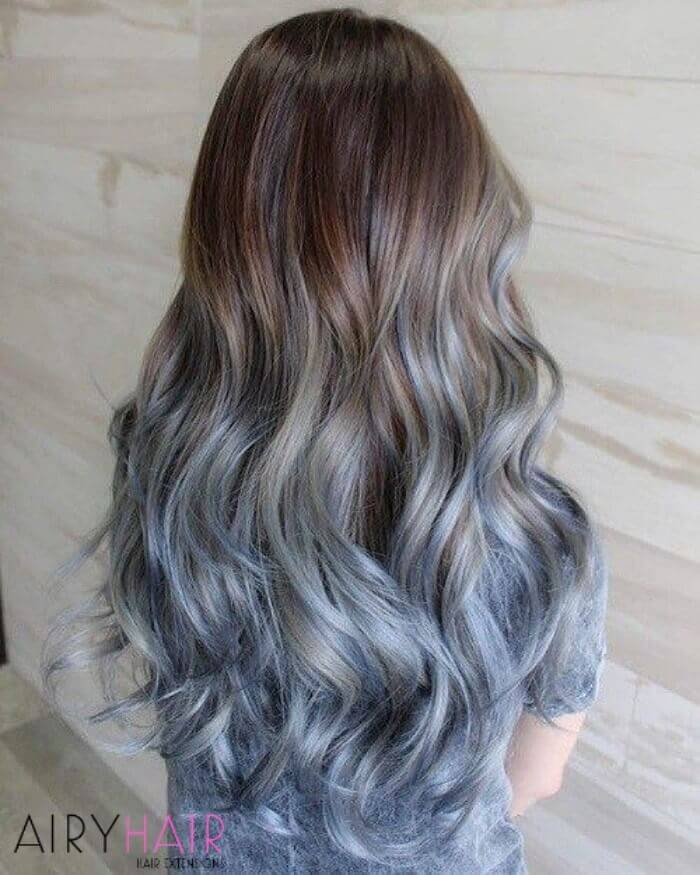 Pastel blue doesn't always have to be in combination with black roots. Here you can see that the top part of the hair is natural shades of brown that descend into the blue.
Violet, Blue and Brown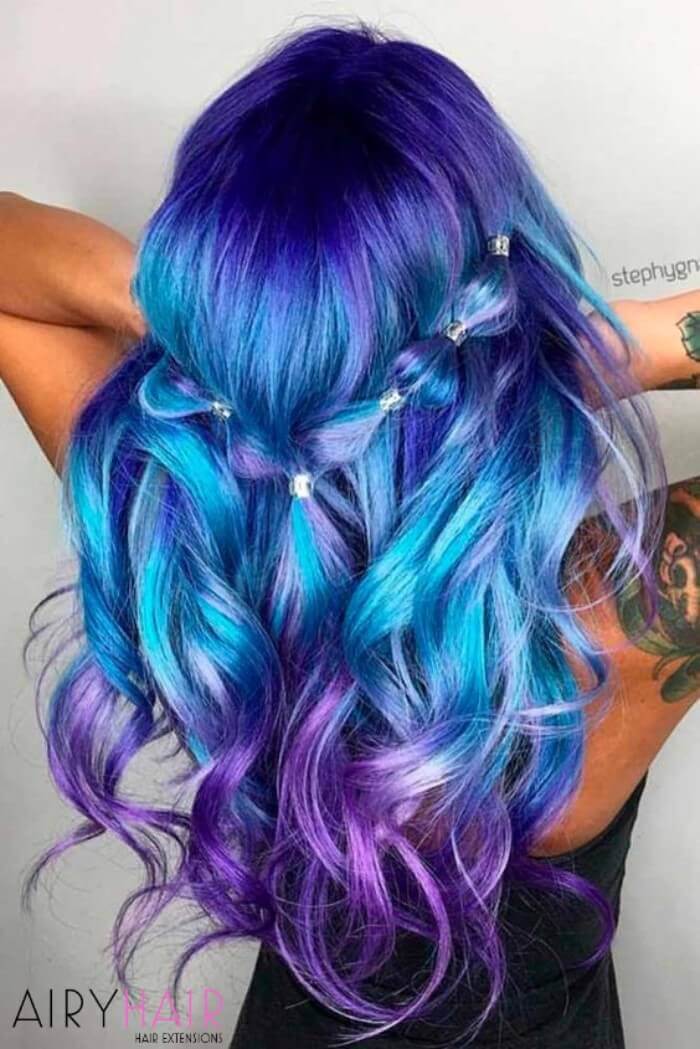 For a colorful hairstyle, go for bright colors. Here, dark blue transitions into light blue and violet on the roots. If you have a fun personality and want to show it, then this is the way to go.
The Deep Bright Blue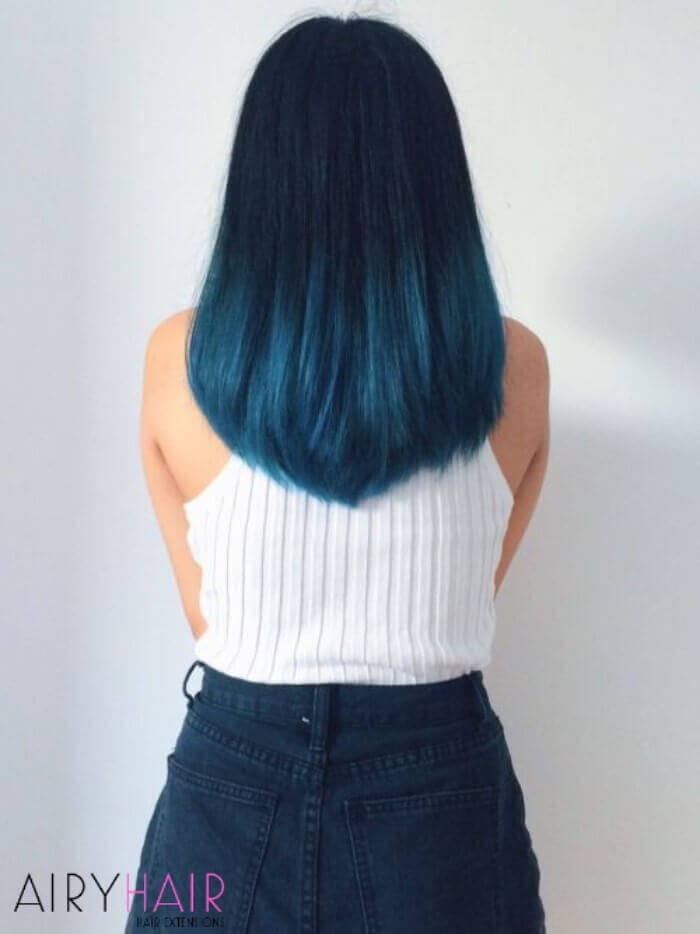 Simple haircuts can also be fun so if you're not into big curls and strong colors, this ombre hairstyle can be a good inspiration. The hair is cut medium length and one half of it is black or very dark blue and the other half is blue.
More of the Same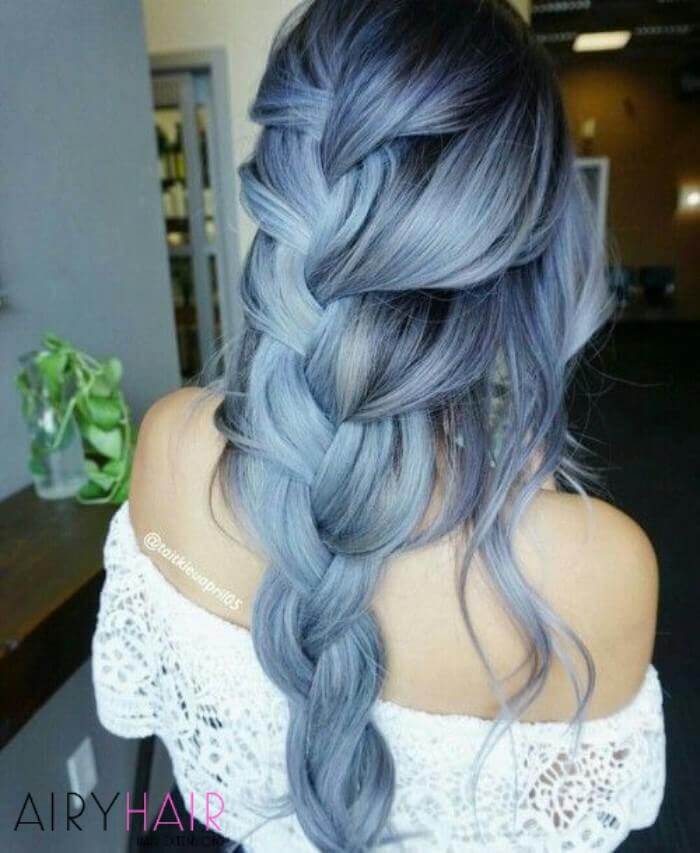 If you don't want the ombre color transitions to be that obvious, a splash of black can be only at the roots while the rest of the hair is pastel blue. To make this hairstyle more interesting, make a big, loose braid at the back of the head.
A Classic Ombre Hairstyle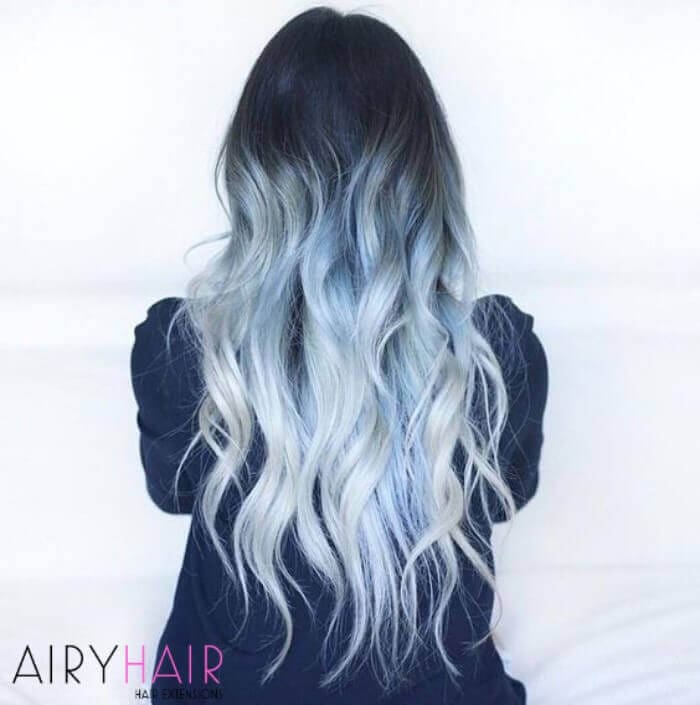 The great thing about pastel blue is that it can easily transition into pure white color. That creates an interesting combination of colors, like in this photo where dark grey is at the top and pastel blue and white continue further down,m the easier way to achieve this is with pure white extensions from AiryHair.
Awesome Hair Color Idea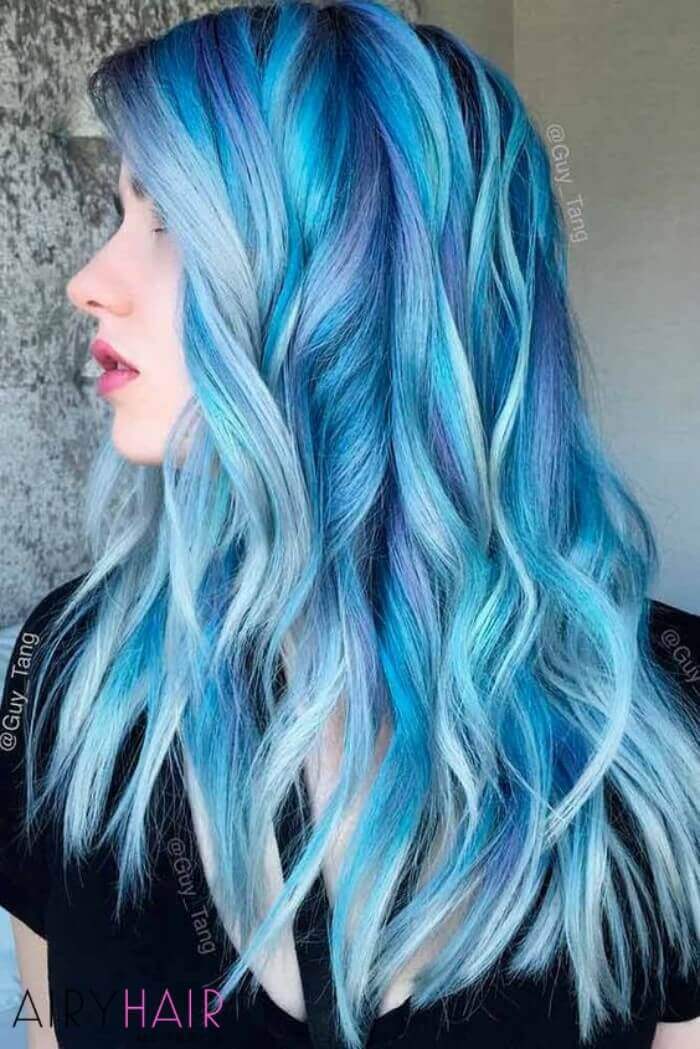 Balayage technique is also very cool and it allows you to play with colors freely. There is no strict transition from one color to another, like with ombre, but different colors are more like highlights. The result is a very interesting mix of different shades that look great together.
Clean Ombre Look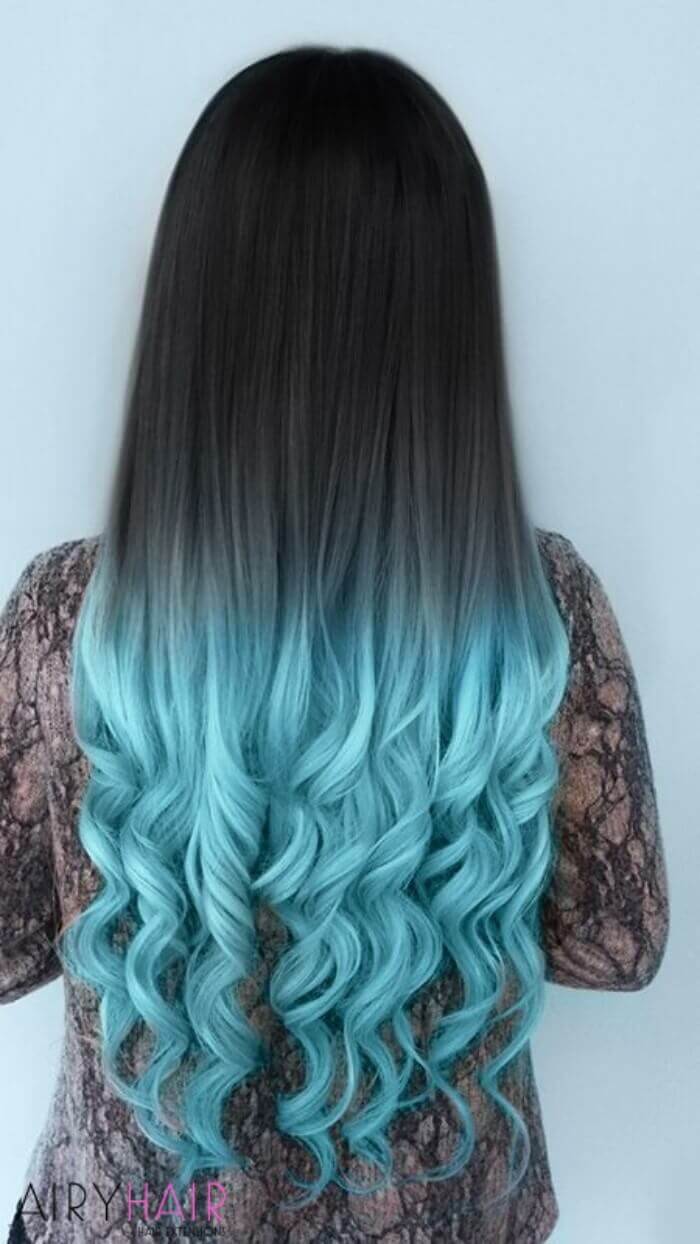 This is a nice, clean ombre with very strong contrast. It shows you that you can play with hair textures as well as with color. The top part of the hair is completely straight and black and it starts to transform into grey in the middle of the head. The bottom part of the hair is pastel blue and curled which creates a cool effect.
Mixing Blue Shades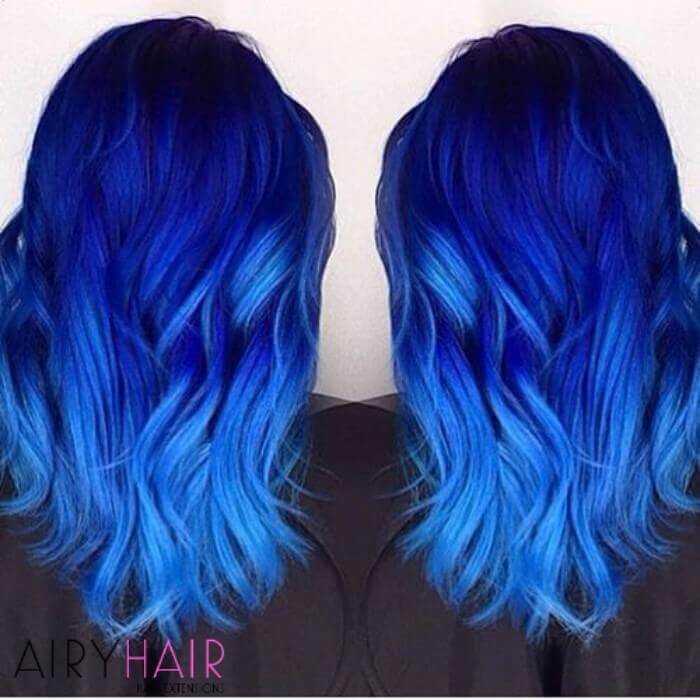 If you only want strong colors without the black or grey, then you can create an ombre only out of shades of blue. The upper part is a shade of darker blue which descends into pastel blue. That way you create a contrast using darker and lighter shades of one color.
Brown and Blue Hairstyle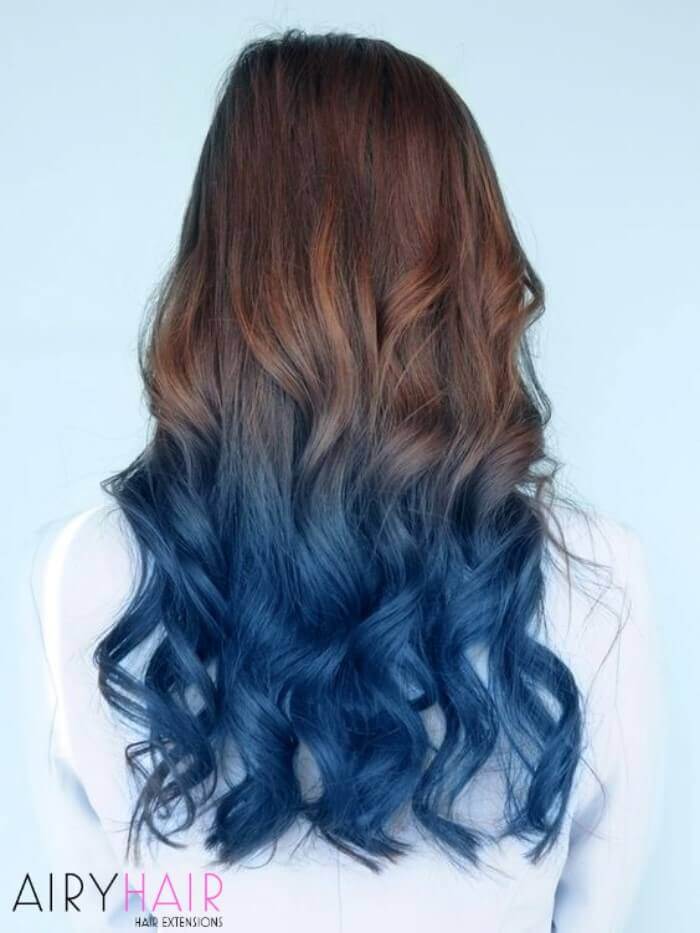 A blue ombre can also be created on natural brown hair. If you want to keep at least one part of your hair as it is and not dye it, then simply add a bit of blue on the bottom and that's it.
Braids and Ombre do Mix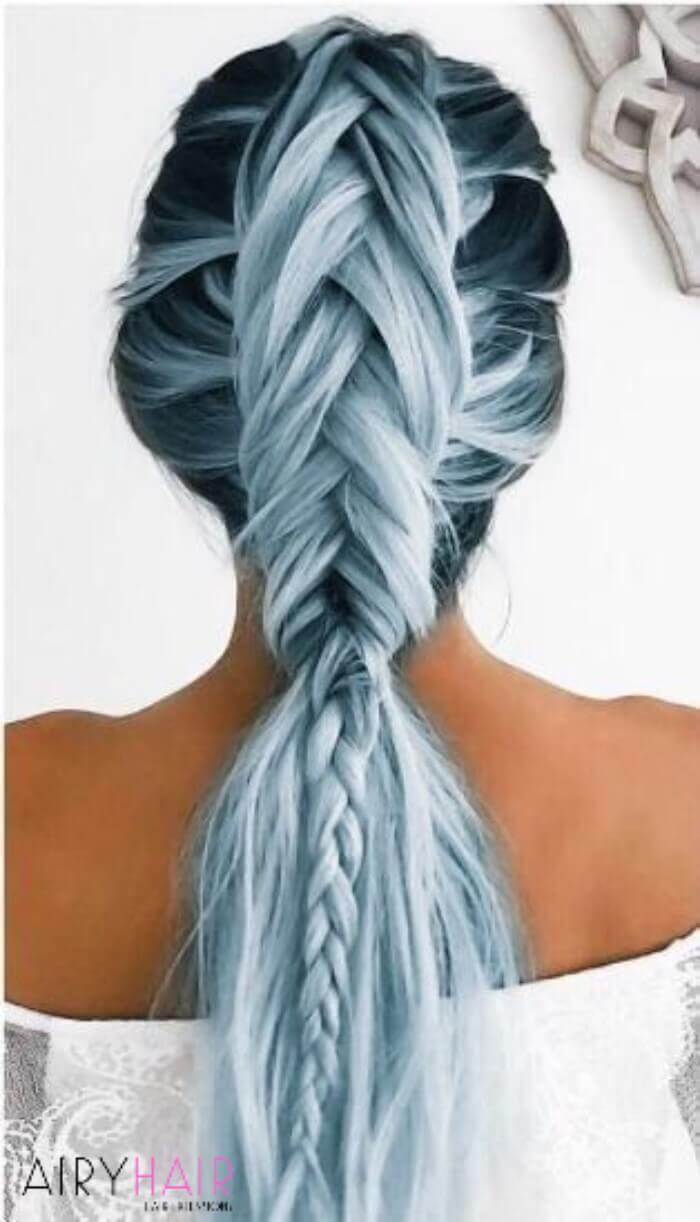 Braids help to accentuate ombre hairstyles because strands of different shades get intertwined. There are tons of different braid styles you can try out and always keep your hairstyle fresh.
Turquoise Ombre Hairstyle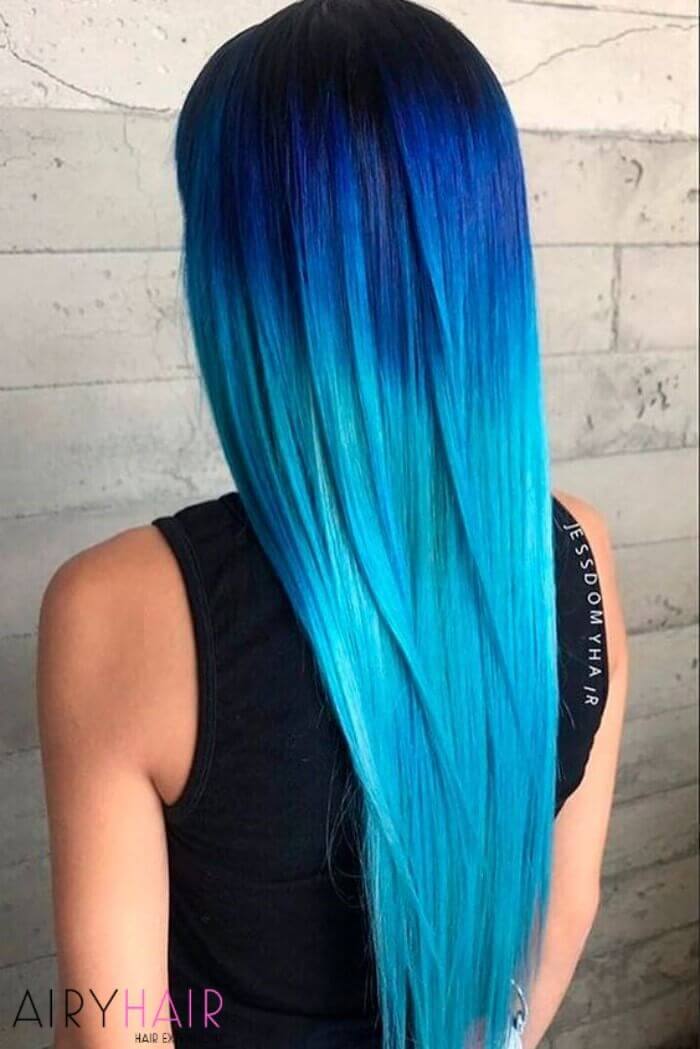 For straight and long luscious hair, go for dark blue on the roots and dye the rest of the hair in a turquoise or teal color. These colors are pretty similar but look great together.
Violet and Blue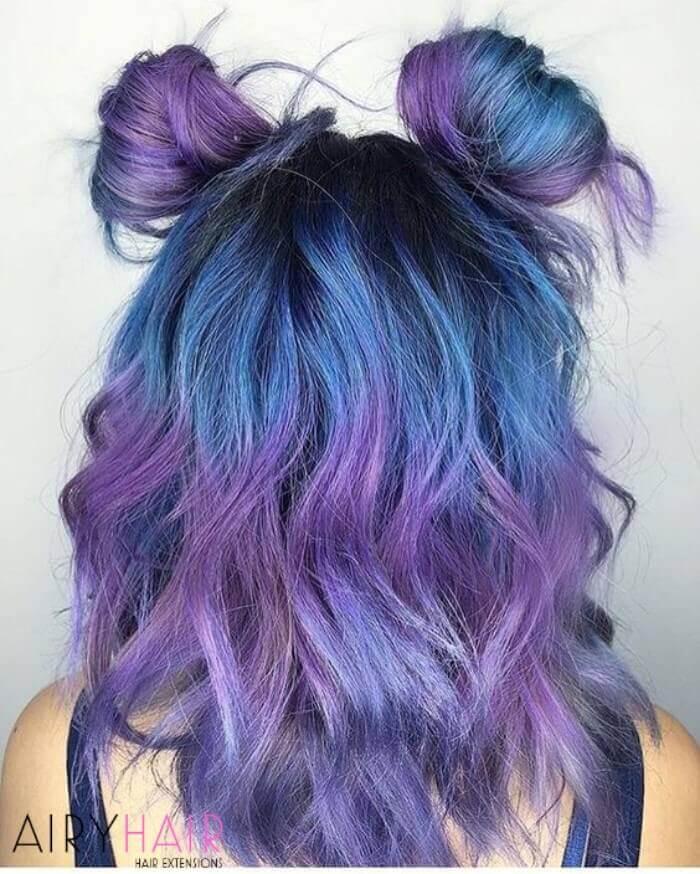 If you want to do something fun with your short hairstyle, make two cute buns on the top of your head and show off your blue and violet ombre.
Crazy Yet Casual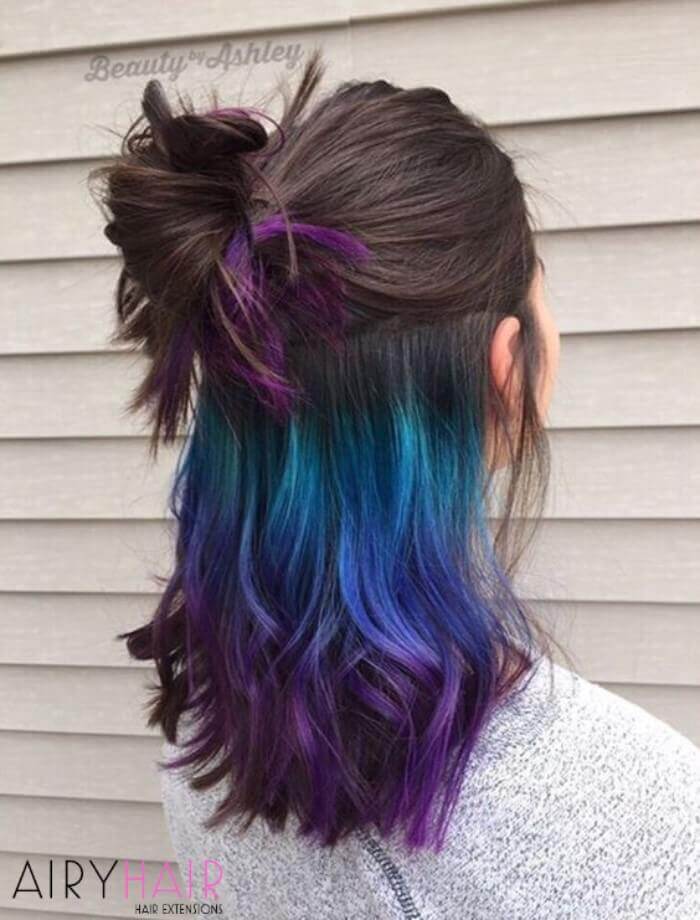 Some people don't like anything crazy done to their hair, or sometimes your workplace dictates a more toned-down look. But you can still hide some color underneath your hair, and you can show it off by making a bun at the top and revealing a cool colorful ombre.
Like a Fairytale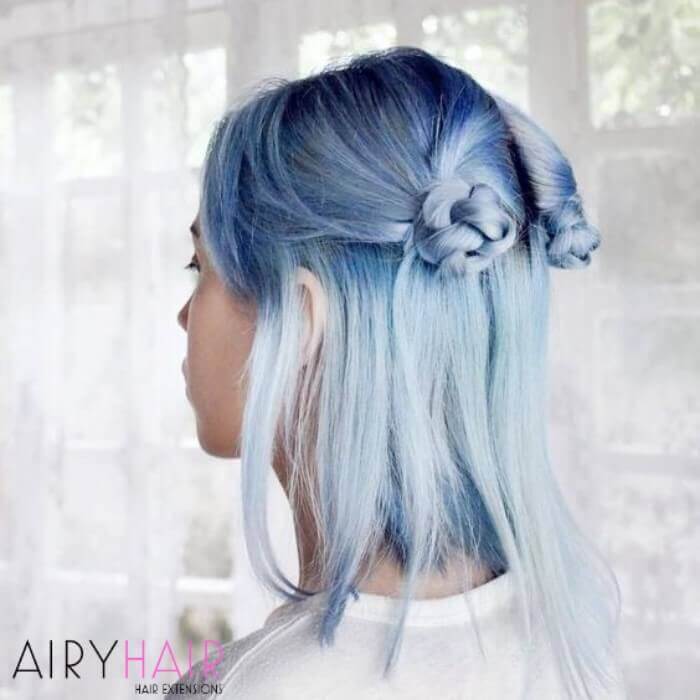 This icy look is perfect for winter and it looks very modern and minimalistic. Simply combine pastel blue and white using the balayage or ombre technique.
Source: Pinterest
Enhanced and hosted by AiryHair.