In recent years, white ombre hair extensions have become the new blonde and it's taking over the world by storm. It is very versatile and since it's technically not a color but contains all of them, it goes great with all colors of the spectrum. That's what makes it a great base for ombre hairstyles.
So, if you're looking for white ombre ideas, we got you covered:
White, Black and Gray
If you want to stick to the basic colors – white, black, and shades of gray, then this simple black and white ombre will do the trick. This hairstyle fits every occasion, from every day to parties and nights out.
Long Hair Extensions
Long straight hair is great for ombres because you can see the transition of the colors clearly and you have a lot more space to work on. This is an extremely high contrast hairstyle because the top is completely black and then it transitions to grey and pure white at the bottom.
White with Grey Balayage
For those of you who are more into dark colors, this balayage is almost completely black. But to accentuate the hair, you can use white or light grey color on some strands at the bottom. This is a great example of how you can transform your black hairstyle in such a simple way and make it much more interesting.
Inspirational Ombre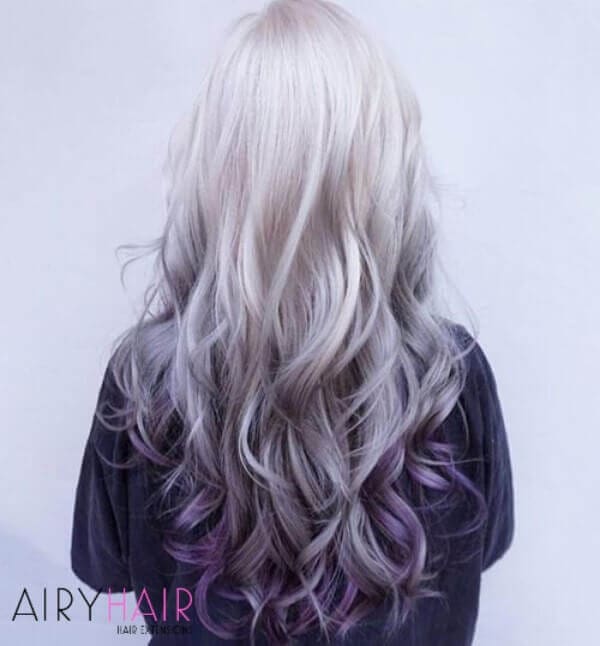 An ombre can also be reversed and it can go from light at the top and dark on the bottom. The slow gradient is visible on this hairstyle and that way you get a lot of different shades of grey rather than just two colors with a quick transition.
Ombre and Balayage Together
Okay, the following hairstyle is done with the ombre and balayage technique and the different colors and shades are painted freely. The result is a beautiful mix of black, violet, and white that looks very colorful and upbeat. White at the bottom creates a beautiful contrast and ties the whole thing together.
These hairstyles look amazing when you make a big braid because then all the colors intertwine which makes it even more fun. Since you need a lot of volume and length to achieve this effect, you can recreate using extensions. They come in all kinds of different colors and some are already dyed as an ombre, so you just need to put them in, and you're done!
Blue Ombre Hair Idea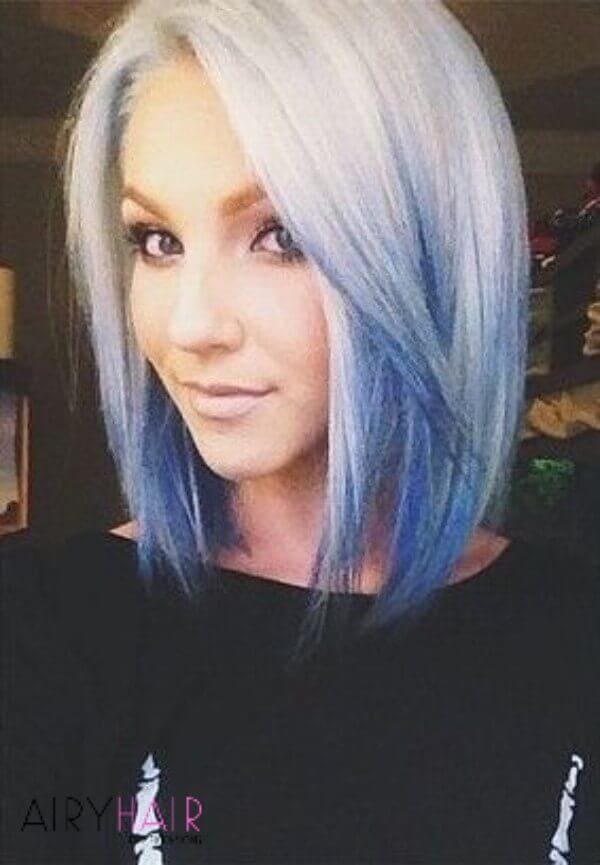 Rather than just dye your whole hair pure white, add some blue highlights on the bottom. That puts a nice twist on it and adds a splash of color which completely transforms this hairstyle. If you don't like the color blue, you can replace it with any color you like.
White Highlights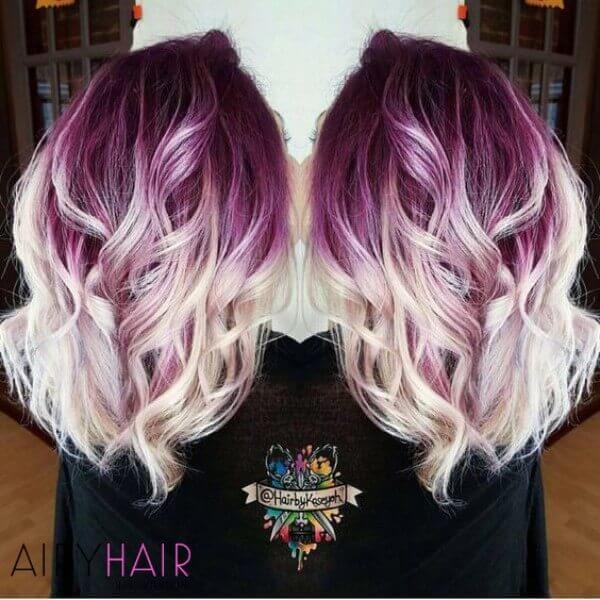 The dark magenta color is emphasized by the white on the bottom. Curling your hair gives it more dimension and volume and the colors pop. To make it even more interesting, make sure to put a couple of white highlights at the top using the balayage technique because that will tie the whole hairstyle together.
The Extra Long Extensions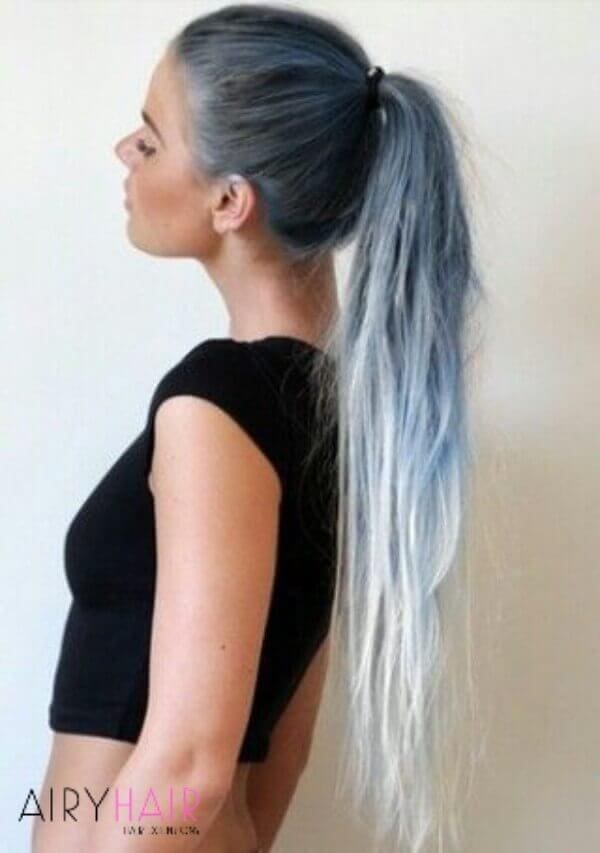 Extra-long hair that flows to your lower back just looks so powerful and bold. When you add a cool ombre mix of blue, grey, and white it becomes stunning. Unfortunately, growing your hair so long can take years and some simply can't do it. That's where ombre hair extensions come into play because they give you instant length.
Pastel White Ombre with Violet
If you want to look like a majestic queen or a Game of Thrones character, then try this pastel violet and white ombre. You can even accessorize with crown-like jewelry.
Blue Hair Roots
If you want to freshen up your white hairstyle, why not add some blue color to the roots and get a nice bob cut? The hair looks modern and neat and incorporates all the current trends.
White and Blue Ombre
For translating your confident, creative personality into a hairstyle, go with this bold white and dark blue ombre. The shades of blue look mesmerizing and are further emphasized by flowy curls. For this hairstyle to look good, you need a lot of volume, texture, and length.
If you lack any of that, you can cheat a little bit with curly hair extensions that will really make this look pop.
Hot Pink Hair Idea
Hot pink is such a bold and fun color and has been increasingly popular with different hairstyles. This ombre flows from bright pink roots, to light rose pink color, down to the snow-white tips.
Pure White Hairstyle
Why not turn your ombre upside down and go for pure white on the upper part and nice black tips on the bottom? The contrast on this monochrome hairstyle is strong and that results in a bold and confident look.
A Mature Look
Ombre looks amazing on mature hairstyles as well. If your hair started to go grey and white naturally, don't fight it because that's exactly what's trendy at the moment. Simply enhance your natural greys with a nice ombre and you got yourself a super elegant hairstyle.
Snow White Bob Cut
Get inspired by this gorgeous modern, clean-cut hairstyle. It is so slick and minimalistic, but in no way boring. A splash of black color is added to this snow-white bob cut which creates an amazing contrast. If you're not into long, wavy hairstyles then this is the perfect look for you.
Turquoise Hair Idea
Everybody needs some color in their life and this shade of turquoise is just stunning. If you're looking to revive your blonde or white hair, a dash of color on the bottom layer will transform it completely. To get the turquoise to peek out, even more, curl your hair outwards.
Blue and White Hairstyle
This gentle ombre is so gorgeous and elegant. A nice blue shade at the bottom flows with ease and the slightly messy waves make it so simple and cool.
Pure White Hair Extensions
If you want to make a statement and are not into ombre hairstyles, then go all out with pure white hair. It will get you noticed and make you different from everybody else. This ice queen look seems like it came from another world and it is so unique.
But do keep in mind that this is not an easy color to achieve. You would have to bleach your hair completely which damages your hair and it's almost impossible for it to be that long.
Save Your Hair. Get Ombre Hairstyle with Hair Extensions!
To make the whole process easier and keep your hair healthy, invest in some snowy, easy to apply extensions. They will look just like your own hair and you won't have to go through all the trouble of dyeing and bleaching.
Of course, your hair will also get much more volume and the whole hairstyle will just feature a wow factor that is extremely hard to achieve while growing your hair, especially if you got thin hair genes.
Picture Sources: Pinterest
Enhanced by: AiryHair