As a proud African American, I was always fascinated by the texture and color of our hair. Needless to say, it's much different from your average European or Asian hair. Our hair is thicker and harder to style. However, when it comes to buying hair extensions, the choice and color recommendations are somewhat on the shorter side (unless you dye your hair).
It's one of the best benefits, seriously. Not only do we get to enjoy virgin hair, but the #1B color is also always in stock! Most of my girlfriends truly struggle with colors. Not only is it nearly impossible to get a perfect match, but buying a Remy quality set is another story.
1
Hair Extensions for Black Hair

Below, we will list some of the hair and texture recommendations that should suit most of the black hair and women of color.
Hair Colors for African American Hair
#1: This one is also known as "Black." While people refer to ebony hair as black, this won't suit your natural locks.
#1B: Often referred to as "Off Black." This is your default color!
#2: A very dark brown that. Women with slightly bleached hair will love this tone.
Hair Textures for African American Hair
Finding a good provider is usually not enough; now comes the tricky part. What texture does exactly suits you? What I have noticed with other hair stores is that they usually provide just two or three options. The shocking part? Most women are fine with that and just go through the trouble of styling and re-curling their extensions. This is not normal, let me tell you.
Yes, body weave is a great option that flows and looks good, but there is a lot more to discover. Other options that should fit 99% of the women are:
Deep Weave Hair Extensions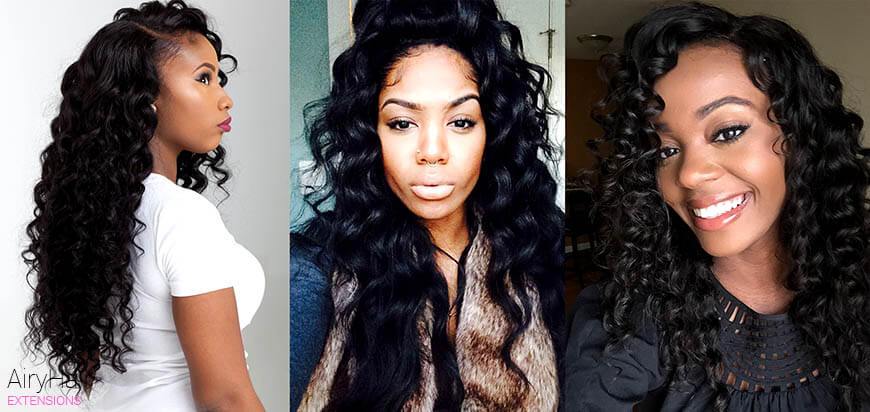 It is as close to curly hair as you can get without calling it curly. Suitable for around 25% of black women.
Deep Curly Hair Extensions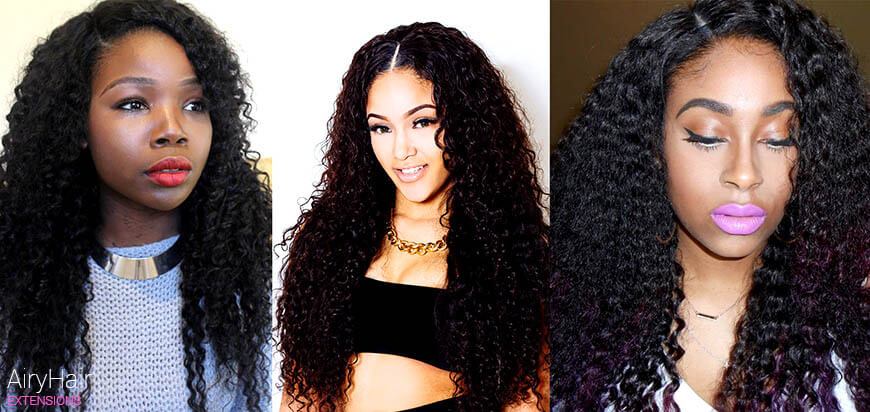 A rather standard option for many African American women, and it works well. According to US statistics, around 58% of all women have this texture.
Kinky Curly Hair Extensions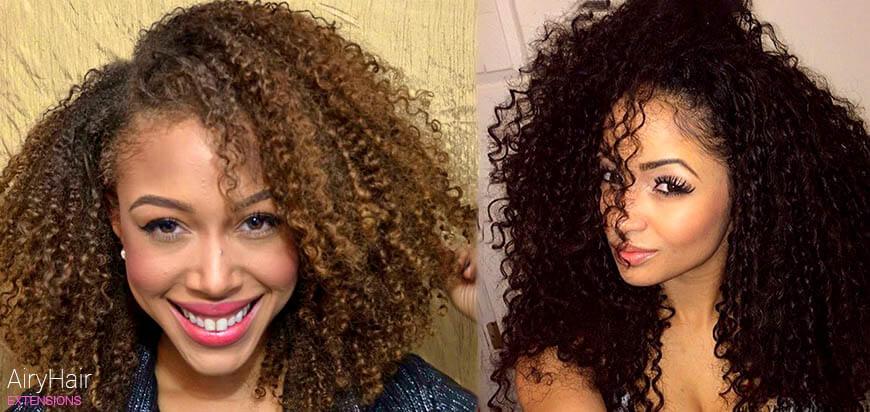 If deep curls are not enough, try the one above! Made for extremely curly hair that does look styled most of the time. Around 15% of all black women have this texture.
Funmi Hair Extensions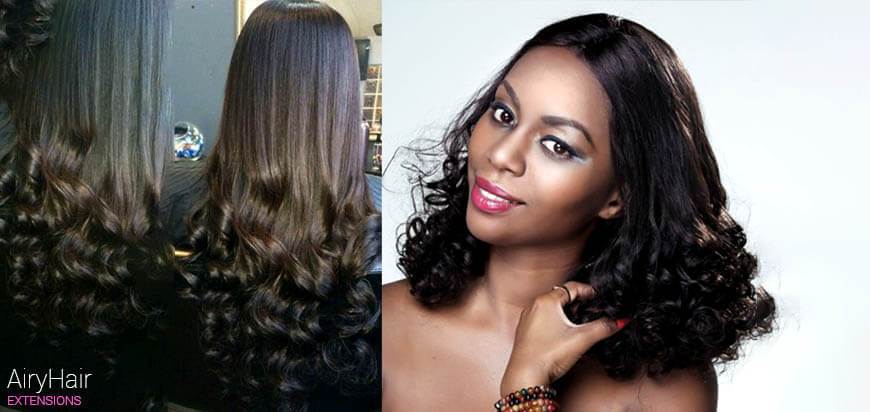 This texture is extremely rare! It naturally appears in less than 1% of all African American women in developed countries. Still, it doesn't mean that you can't style your hair to pull this look.
Yaki Hair Extensions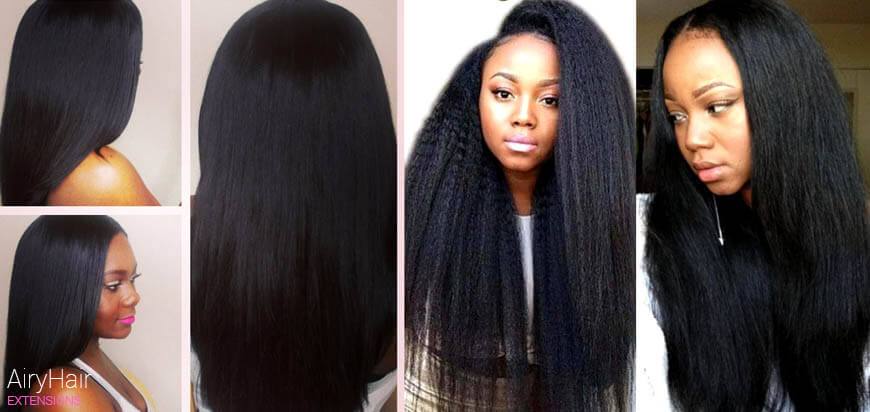 If you like to style your hair with hair straighteners, then think of Yaki as a texture between extreme curls and straight hair. Meaning that your hair is straight but has some micro curls.
Light Yaki vs. Medium Yaki vs. Curly vs. Coarse Yaki
If you have decided to go with the Yaki hair texture, there are still more sub-options that a lot of women find overwhelming. Here is a rather simple explanation that should help you.
Light Yaki looks and feels like straightened hair, silkiest of them all.
Medium Yaki is one of the least popular options, which has crimps.
Curly is just your average curly hair; pretty self-explanatory.
Coarse Yaki looks like hair that is very textured and coarse.
Clip-in vs. Tape-in vs. Keratin for Black Women
Now this one is up to you, but if you would like to know more about the differences between these, check our hair extensions buying guide.
I'd say that clip-ins are the most popular option. Next are tape-in and u-tip strands. Less popular does not mean worse!
2
Is Hair Extension Care Different for Black Hair?
Gone are the days of the same shampoos and conditioners. You can enter any retail store and browse through a selection of "ethnic hair" products. Unfortunately, manufacturers often fill these with awful chemicals that will never make your hair move naturally.
As for extensions, check this article and give it a good read. If you are too busy to do so now, just don't order any products with petrolatum jelly. It might come under slightly different names, but that is easy to spot.
Everyone boasts about washing their hair daily, but this simply does not work with African American hair! Thankfully, hair extensions also don't require frequent washes. Once or twice a week is enough. Just be sure not to use sodium lauryl sulfate. Most importantly, never bleach your hair! You can't pull a blond look without damaging your natural locks.
3
How to Grow Black Hair Faster?

Buying hair extensions great and all that, but what if you want to grow your natural strands to a reasonable length? While you can't beat genetics and the laws of chemistry, these simple tips should at least help you to strengthen your hairstyle. Stronger hair means fewer balding spots and a fuller look!
Incorporate Hot Oil Massage
Regular oils don't work on black hair, be it curly or any other texture other than straight. How so? Natural oils and different greasy build-ups simply do not travel back to the ends of your hair. Therefore, your strands will not be naturally coated with moisturizing particles.
Massaging your scalp with hot oil at least twice per day will make your hair much stronger and help it in the long run. Use coconut or almond oil.
Stop Using That Brush
Wait, what? Do we expect you to stop brushing your hair? Doesn't that lead to tangles? Truth be told, regular brushes are awful on anything but straight hair.
Our advice? Grab a wide-toothed comb or looped brush. These are much gentler. Also, don't be aggressive with brushing!
Use Vitamins and Balance Your Diet
It's much easier to spray your hair than maintain a healthy diet. If you have trouble keeping up with the fit regime, at least use plenty of water and take a multi or two. There are many great brands for hair and nail growth; any decently rated one on Amazon will do the job.
4
Buy Extensions for African American Hair
To get some awesome hair, check AiryHair, which only sells 100% real human hair extensions.
If you already know your hair type and fusion method, head over to our section specifically designed for African American extensions.