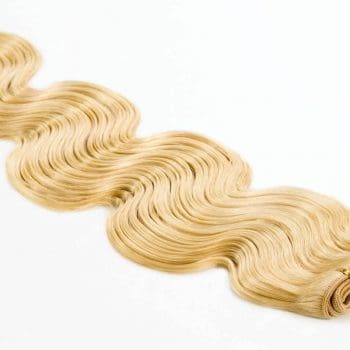 Sew-in hair extensions are more commonly known as a weave. Many girls prefer this method because it's easy to do at home, doesn't require any heat, glue, or special tools. In order to do a weave, you need regular wefts of hair. It is up to you how many you'll use or how long they will be. So a sew-in can be completely customized and made so that it's absolutely perfect for you. Those who have thin hair can simply add some fullness, but you can also go for length and volume. A sew-in is also very affordable, especially if the sewing is done at home, which is very appealing to most customers.
After you have decided that a weave is the right choice for you, begin by shopping for wefts. First, you need to decide whether to buy synthetic or real human hair. Remy hair is the most expensive choice but it is hair that lasts for months and has a flawless appearance. Synthetic hair is cheaper, but it won't last more than three months and might not look as good. Sew-in is a great method because it allows you to wear the hair for a longer period of time because there's no need to take it off each day. For that reason, we recommend going for real human hair and enjoying the new look longer. Another thing to think about when purchasing wefts for a sew-in is the color and texture. Both are very important for creating the final look. You have the option to mimic the texture and color of natural strands, but you can also try out something new. Most wefts can be found in straight, body wave, and different curly textures, so there's a lot to choose from. The color choices are even greater and most stores of hundreds of unique shades, and some even offer customized wefts where you can order the hair to be colored in an ombre style or combine two or more shades. So there's so many different looks you can get with a sew-in. Next thing that you need to do is measure how long you want the wefts to be. If you just want the extra volume and keep the natural length, then simply measure your hair and buy wefts of the same length (maybe an inch or two more). If you want to extend the strands, then measure how long you want the wefts to be and shop accordingly.
When the chosen wefts have arrived, it is time to sew them in. We're going to show you the easiest method of attaching them. The only tools that are needed are a curved needle and a thread, and the wefts. If this is your first time, you might want to ask a friend for help. Let's start!
Step 1
It is best to start by preparing your natural locks. Wash your hair and brush it afterward because you want the strands to be perfect before sewing the wefts in. If you are sewing hair without braids, we wrote another guide too.
Step 2
Now is the time to make cornrows, it is the simplest way to attach the wefts. Start braiding the hair from front to back and make sure that the cornrows aren't too thick and bulgy. You can achieve that by taking smaller strands and braiding them. When you're done braiding, secure the ends.
Step 3
Thread the needle and prepare the wefts for sewing. You need to measure and cut the weft into smaller pieces. Measure according to the cornrows because each braid will have one piece of weft attached to it. For more volume, fold the weft to make it double.
Step 4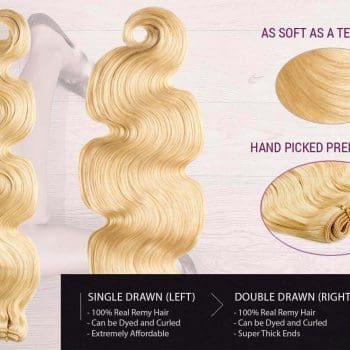 Start on one side of the head and make the first stitch at the front. Keep in mind that you need to leave about half an inch of space on the beginning and the end of the cornrow because otherwise the wefts might be visible. The curved needle should make it very easy to go through the braid and piece of hair. Make sure that the first stitch is very tight and secure. Continue sewing along the braid, moving to the back of the head. When you reach the end of the braid, make a couple of stitches to make the weft secure.
Step 5
Now that the first weft is in place, you will find that it gets easier as you go along. Move to the next braid and repeat the whole process again. Make sure that the stitches are nice and neat. And that's it, the weave is done.
Additional Tips
Depending on what kind of hairstyle you're going for, you can cut the new hair in order to make it blend even more seamlessly. Maintenance of sew-in extensions is also very important so make sure to follow these tips. Be a bit more careful than usual when washing hair because you don't want to damage the wefts. Use a shampoo that will hydrate and moisturize the new hair, as well as a conditioner of your choice. When brushing, go from bottom to the top, gently removing any tangles or knots. Avoid using too much product on the hair, as well as hot tools. Heat can damage the wefts and significantly shorten their lifespan. Before going to bed, braid the strands or wear a sleep cap. This will protect the wefts from damage and tangling because as you toss and turn in your sleep, you might pull on the weave. Satin pillowcases are also recommended because they don't cause that much tangling. Another thing to keep in mind is that you should also protect the hair while swimming. Saltwater and pool water can be very harmful to the wefts so make sure to wear a swimming cap.
The last thing that has to be emphasized is that you have to reinstall the wefts every couple of weeks. The wefts will move down along with the growing hair so you need to sew the wefts higher up.