Let's get going! You can also buy many ombre extensions from AiryHair.
Cool Black and Blonde Ombré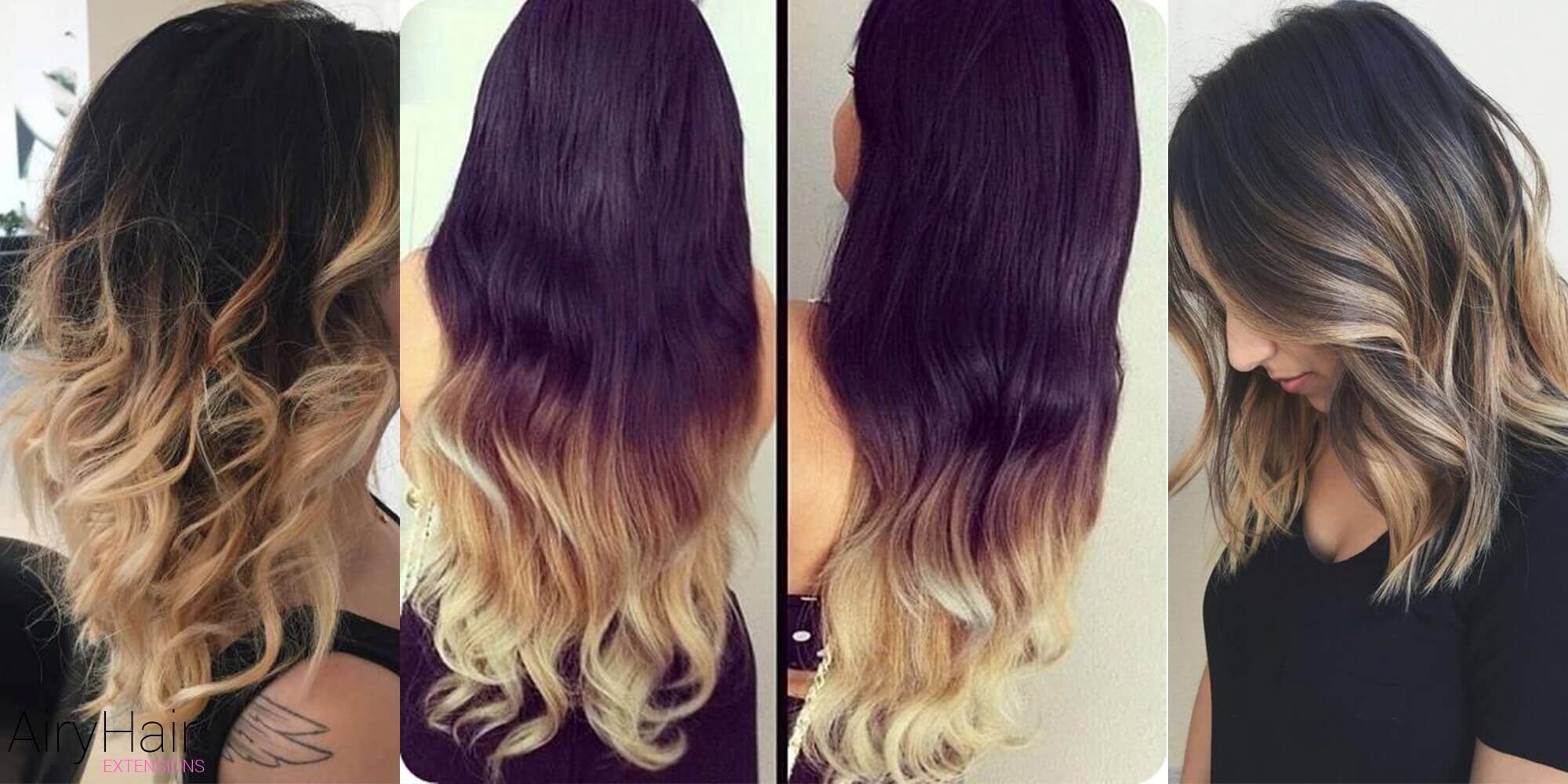 Going all the way from black to blonde looks really cool. You can create a very nice, natural looking transition from dark to light.
Electric Black and Blue Ombré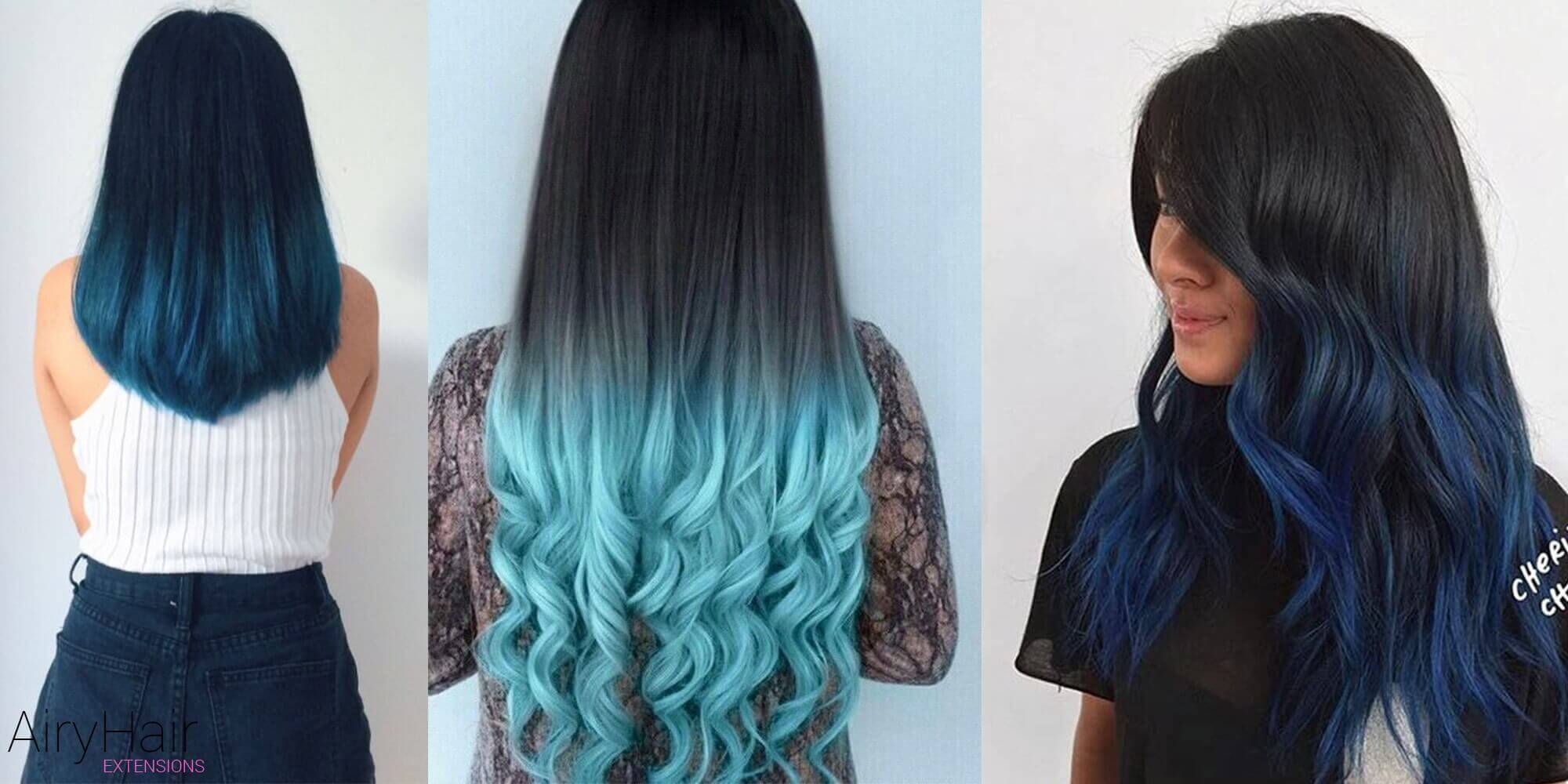 If you want your hairstyle to be a statement, this electric black and blue ombre is a perfect choice. Blue is a very trendy color at the moment and it looks great in combination with black.
Vibrant Black and Green Ombré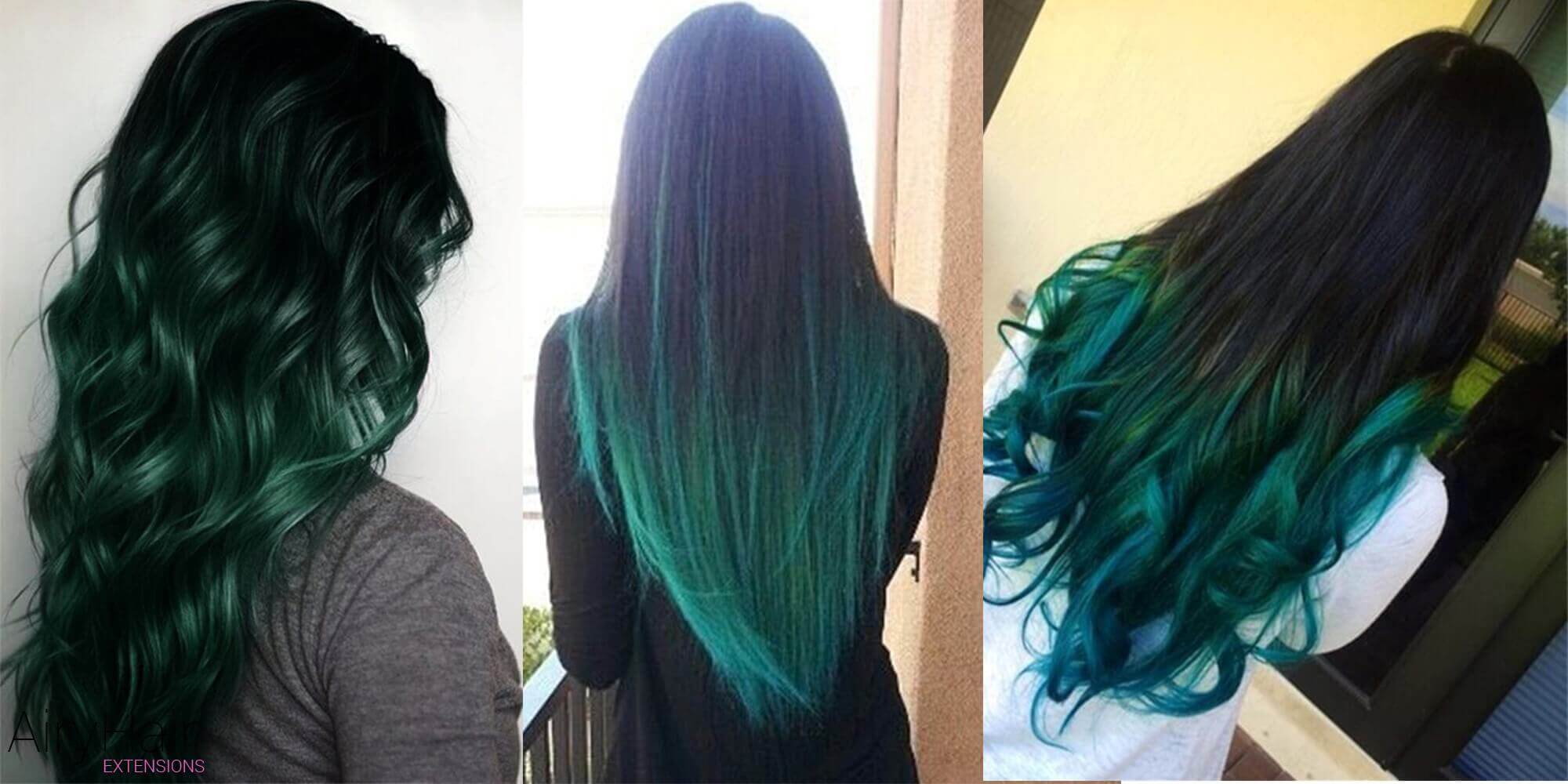 This is also a very bold hairstyle. The vibrant green color matches perfectly with the black creating a very unique hairstyle.
Fiery Black and Red Ombré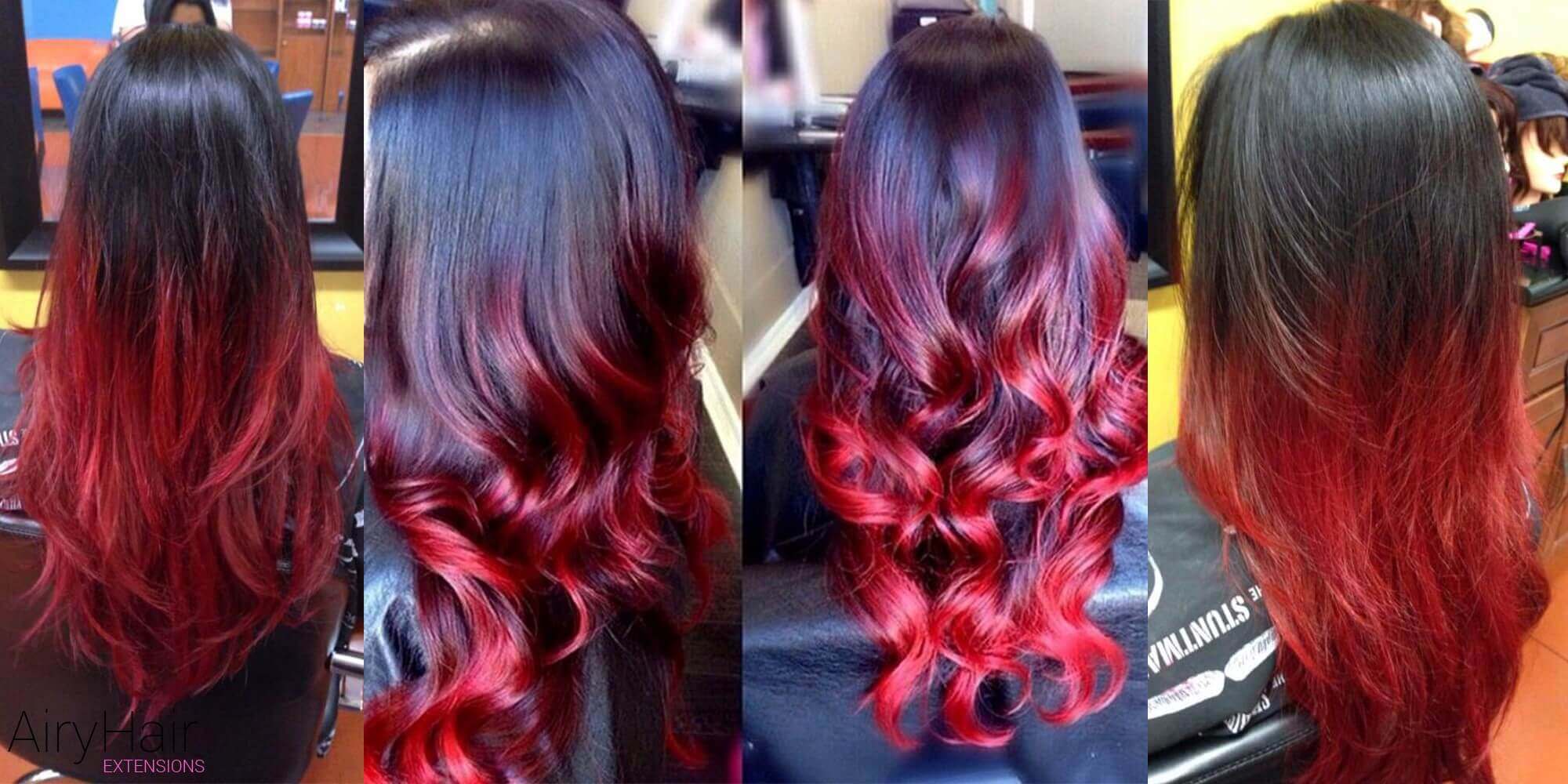 If you decide on this high-contrast, fiery red and black ombre you will definitely not go unnoticed. This is a perfect way to accentuate your ordinary dark hair.
Cute Black and Pink Ombré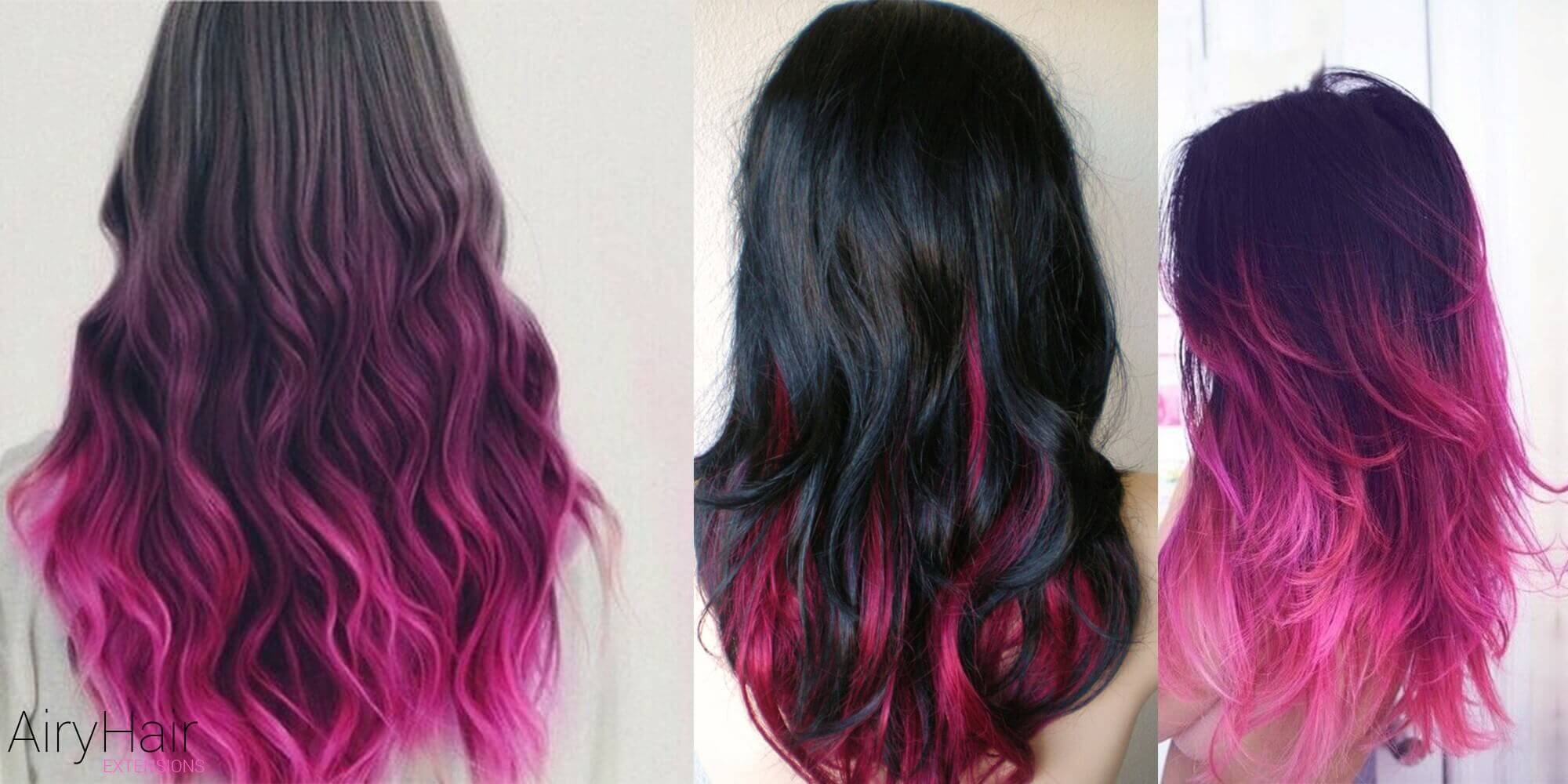 Pink is always a very cute hair color and this black and pink ombre proves it. Since pink is a very bright color, it creates a perfect contrast with the black.
Mysterious Black and Violet Ombré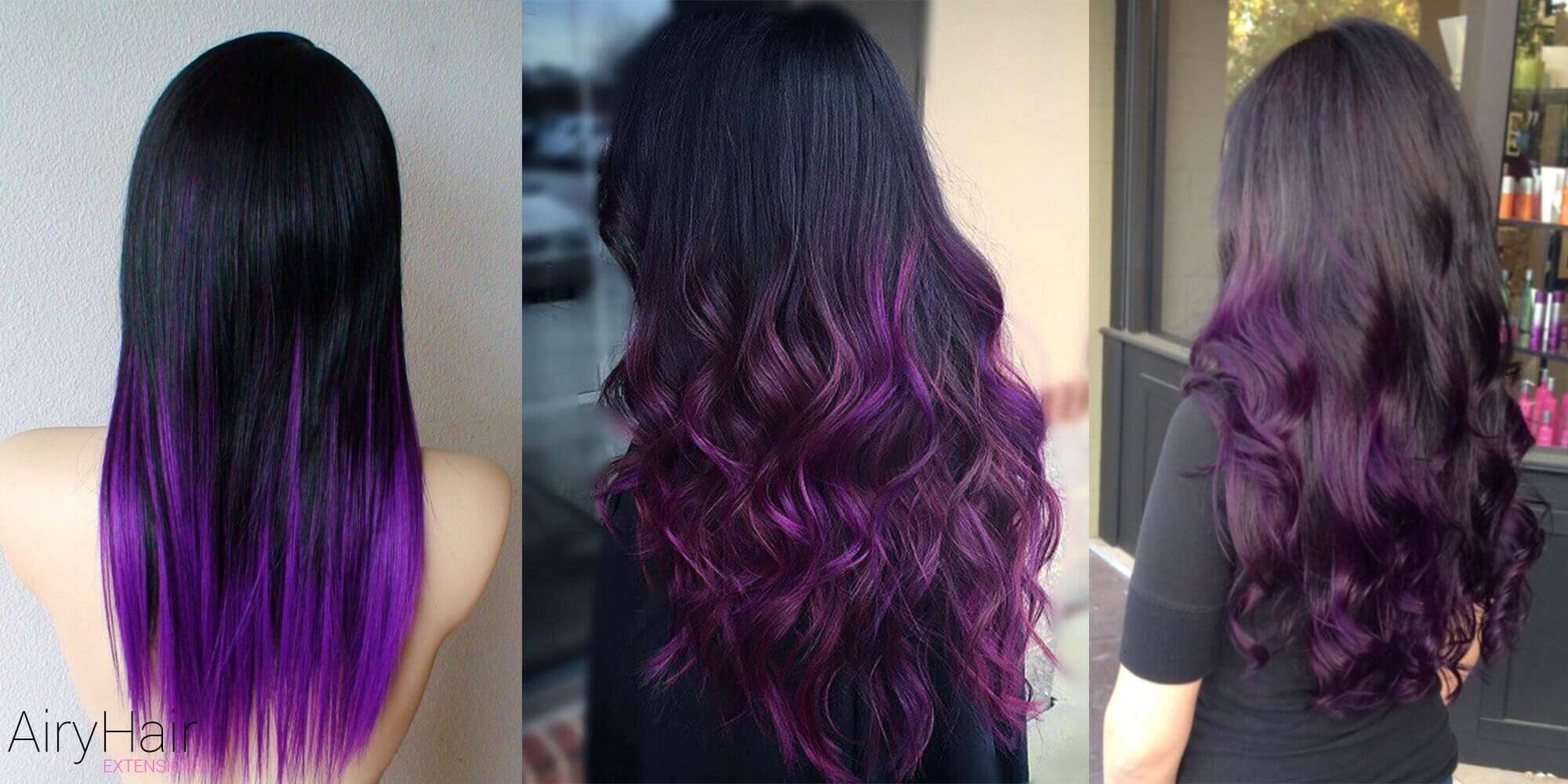 Violet and purple color is always associated with mystery and royalty and it blends perfectly with the black creating almost a gothic inspired hairstyle.
Trendy Black and Silver Ombré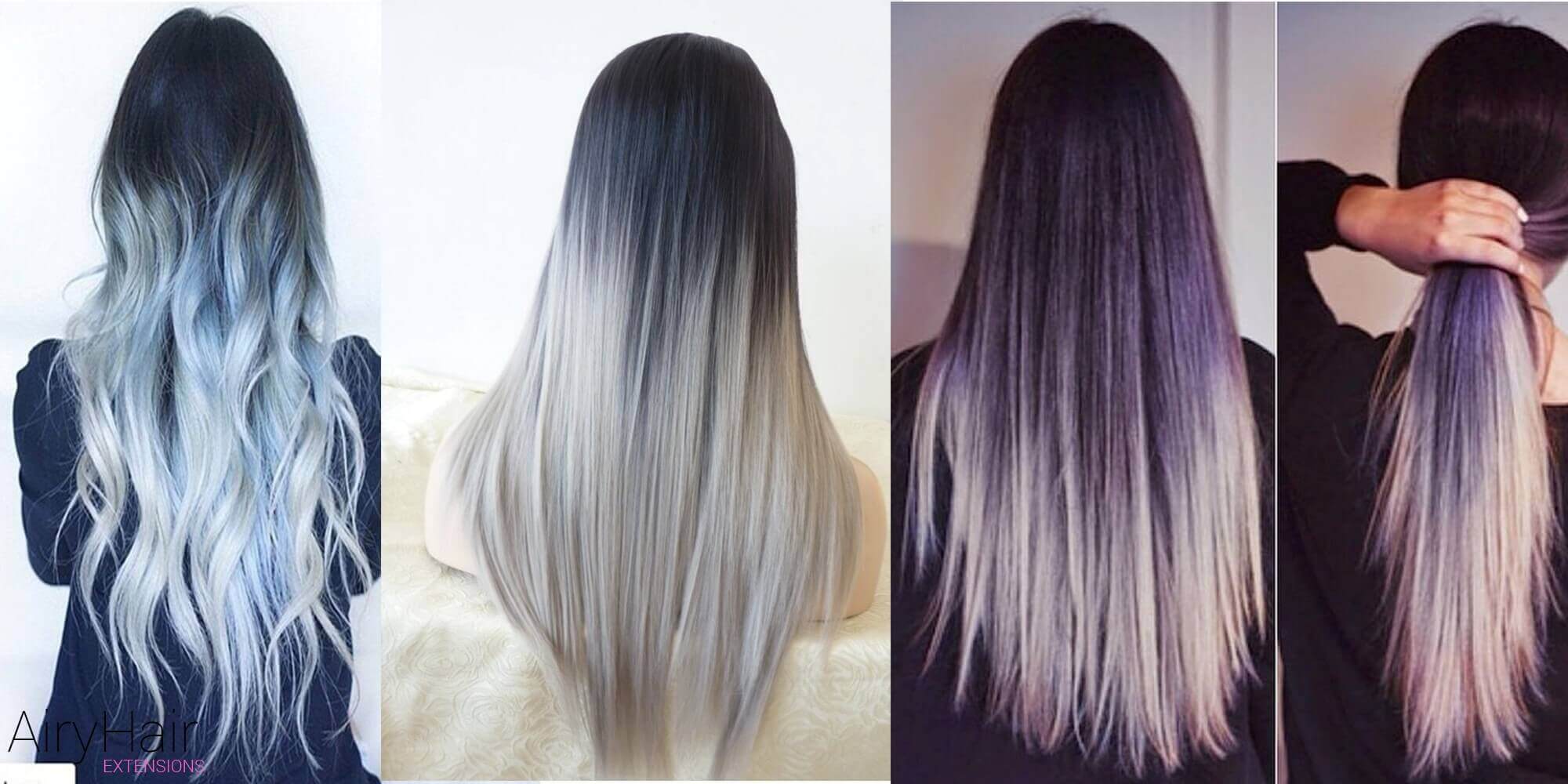 Silver and grey are a hit color in 2022 hairstyles. That's why this trendy silver and black ombre is so cool. It creates a nice contrast and goes all the way from black to almost white.
Crazy Black Rainbow Ombré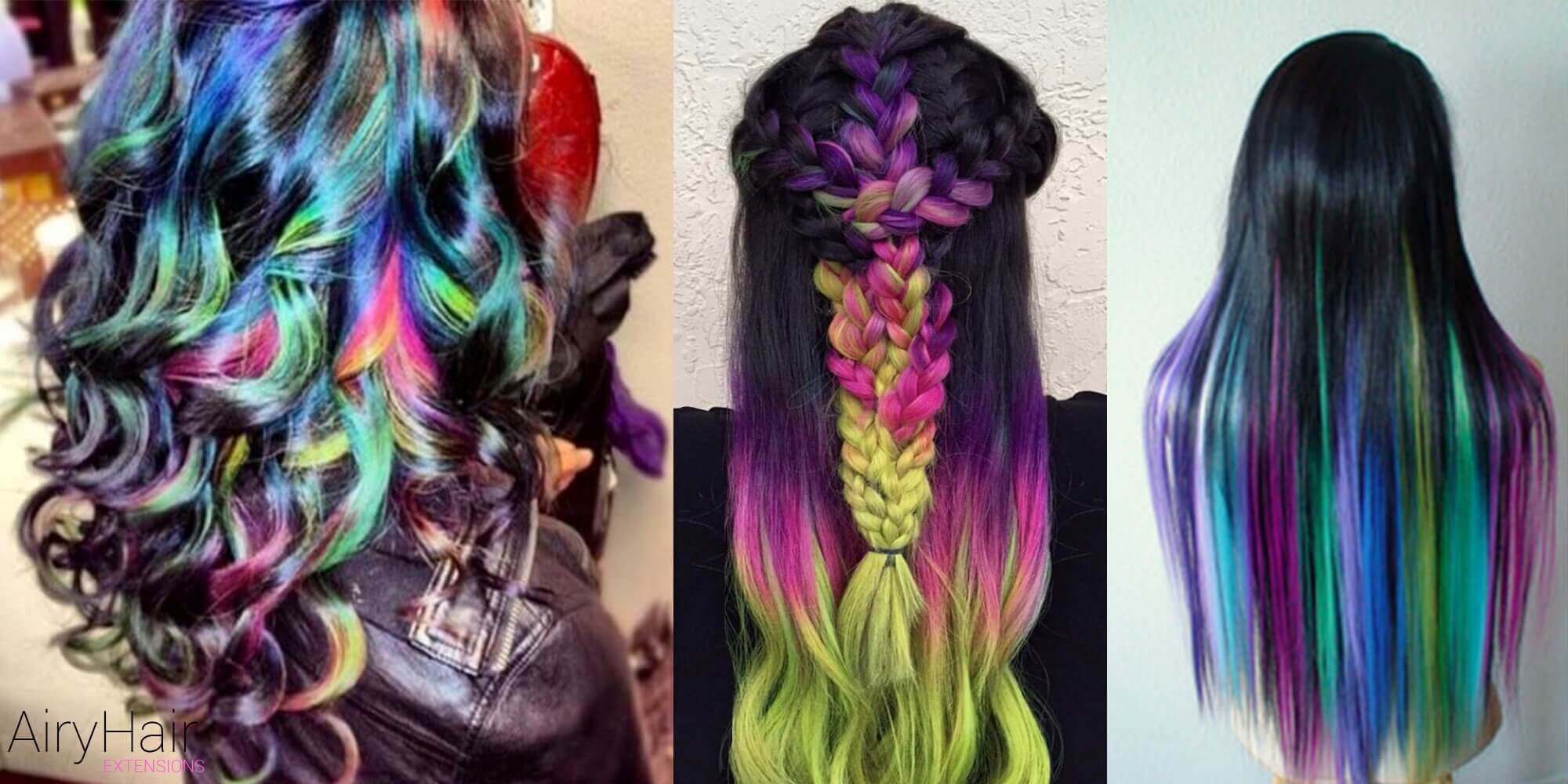 If all of these ombres were just too simple, plain, and boring for you, go for the rainbow ombre. This is where you can get creative and choose all kinds of different colors and combine them with black. You can make your crazy color combinations or just use them all at once. This kind of hairstyle is also easier to make using different colored human hair extensions than actually dyeing your hair with all these different colors.
Black and Silver Ombre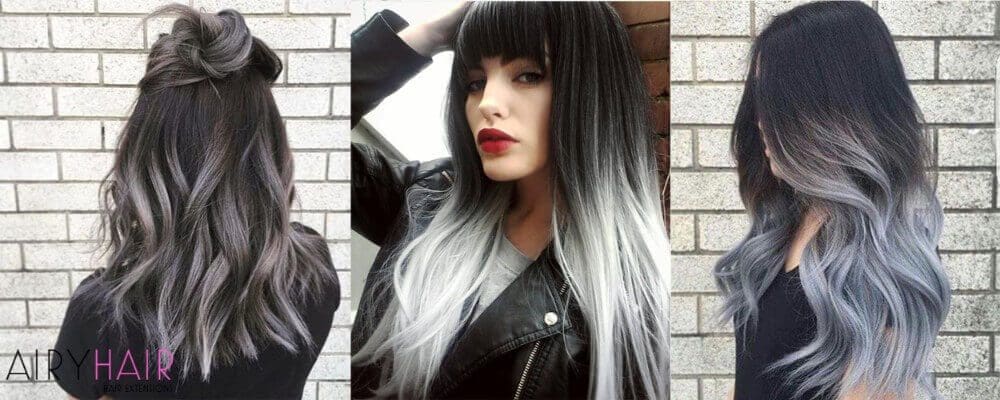 This high contrast black and silver/grey ombre create a very edgy look that works on all kinds of different hairstyles. In these examples, there's a transition from black on top to silver on the bottom, which is more usual, but to make it a bit different, you can start with silver color on the roots.
Black and Blonde Ombre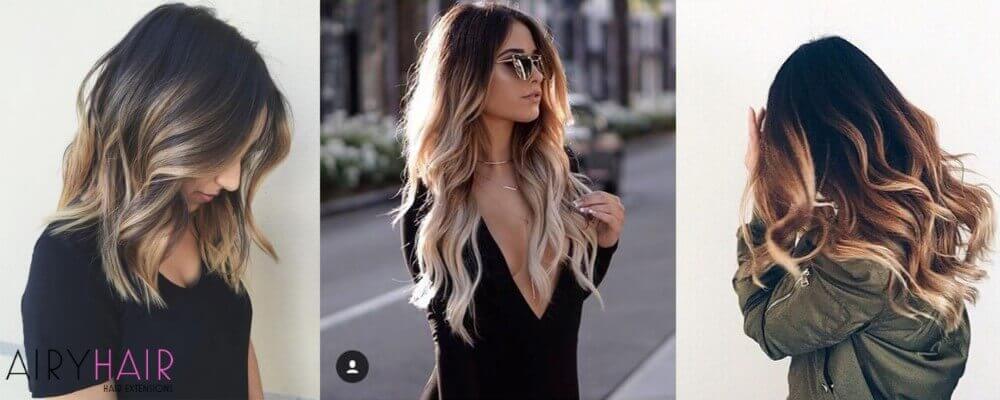 This ombre also creates a cool contrast between dark and light, but it's a bit more subtle and natural-looking. But still, having such a high contrast from black to blonde could damage your hair, especially the blonde parts. That's why blonde extensions are a good idea to consider or even ordering custom made black and blonde ombre extensions.
Black and Brown Ombre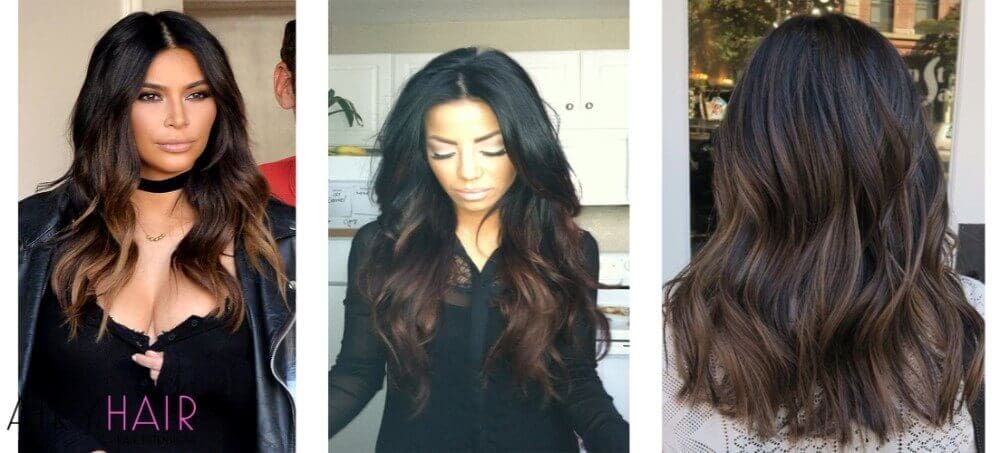 Black and brown ombre is a very simple hairstyle, but still a very popular one. Kim Kardashian is one of the many celebrities who love ombre hairstyles. This is the most subtle and natural-looking ombre you can get, so if you're looking for something very simple, this is a great choice.
Black and Copper Ombre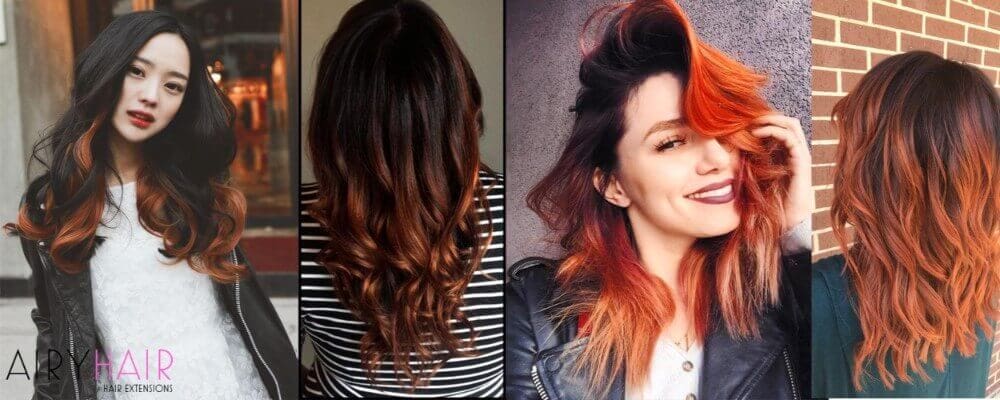 Copper hair color has been increasing in popularity. It's a bit similar to brown hair, but it's much stronger and vivid. It works perfectly with black, so creating a black and copper ombre is a great idea. The two colors create an awesome gradient effect that looks amazing.
Black and Red Ombre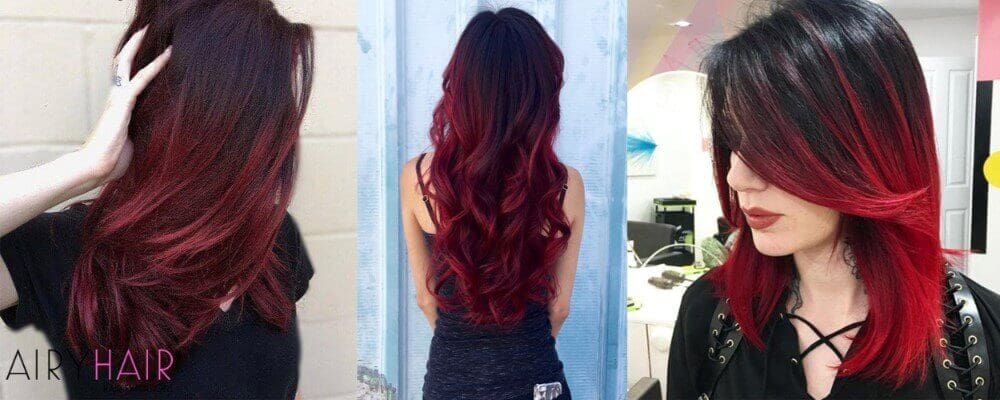 Fiery red color has always been very popular as a hair color. But since having all red hair would be too much for some people, having a black and red ombre is the way to go. Black and red create a beautiful contrast and the two colors go well together. To make this process easier, simply buy some cool red extensions and add them to your black hair.
Black and Pink Ombre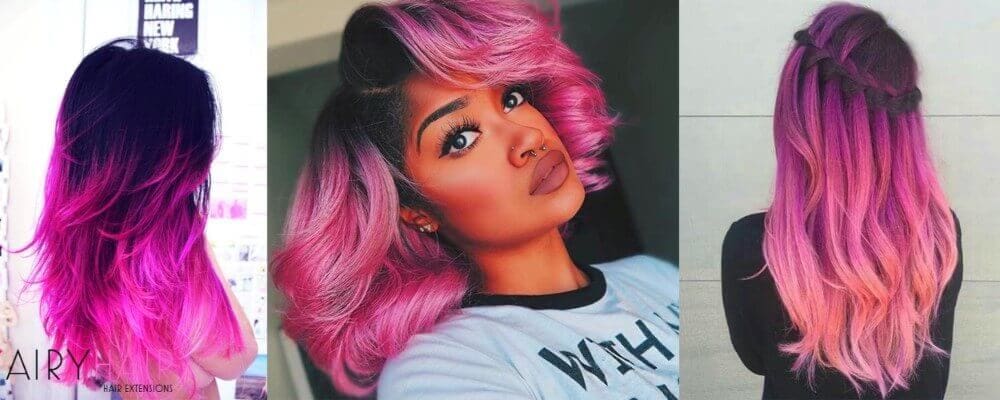 e or another. The beauty queens below have been picked on Pinterest and we have no way of knowing if these are real or fused hair.
Hot pink is such a great and unique color and it's no wonder it is very popular as a hair color. The best thing about this black and pink ombre is that the black color gives balance to the hot pink color and the two look great together. Unfortunately, this kind of pink color requires a lot of dyeing and maintenance so many girls are using extensions to create this look.
Black and Pastel Pink Ombre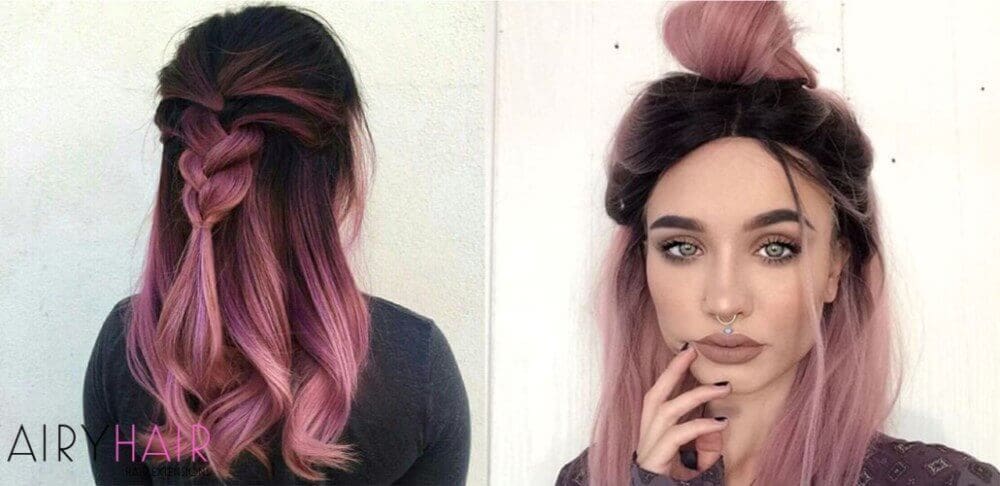 if you like the color pink but are looking for something more subtle, pastel pink is the answer! Pastel colors, in general, have become very popular lately and pastel pink in combination with black simply looks amazing! It's very toned down, but the ombre effect still looks great.
Black and Purple Ombre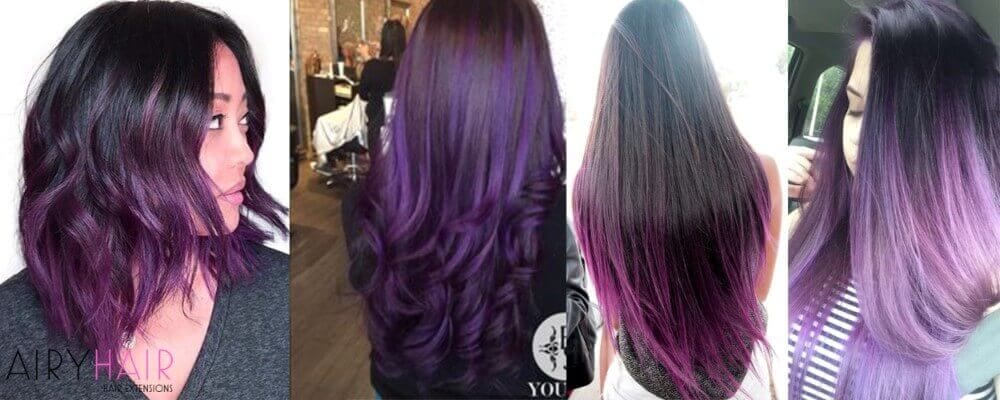 Purple or violet is one of the trendiest colors of 2022. In combination with black, it creates an awesome ombre effect where the smooth transition from black to purple looks amazing! But violet is one of the colors that is very hard to get right and the maintenance is constant. Fortunately, there is a simple trick for that problem, placing purple extensions on black hair create the same effect and it's much more cheaper and easier.
Black and Blue Ombre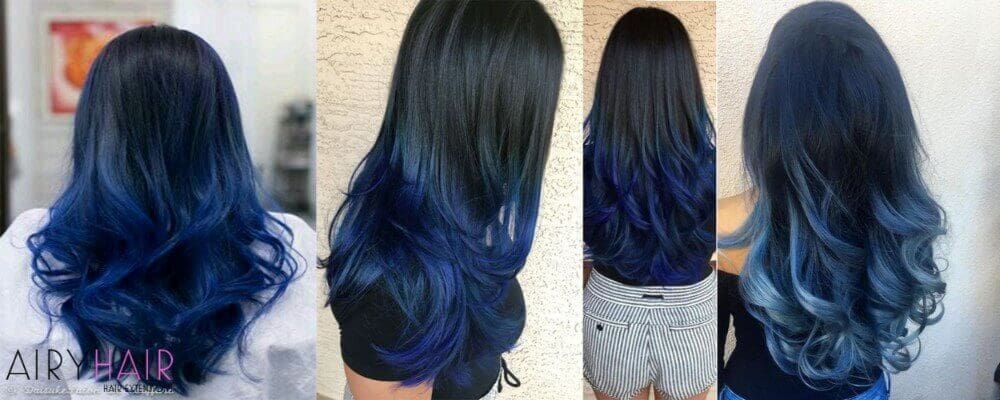 Blue is a very unusual hair color but it has become increasingly popular lately, especially with ombre hairstyles. Black and blue colors are both very dark so the ombre transition is seamless.
Black and Teal Ombre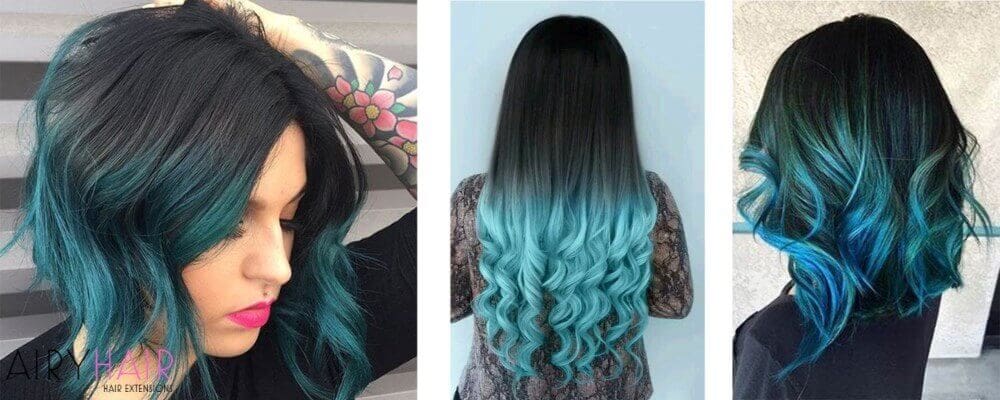 Teal is one of the most popular hair colors right now and it's very edgy and cool. Black and teal ombres are very popular, but since teal is a tricky color and a lot of skill is needed to get this ombre right, many girls are opting for extensions. Extensions are a simple and cheap way to get this hairstyle and nobody will know the difference.
Black and Green Ombre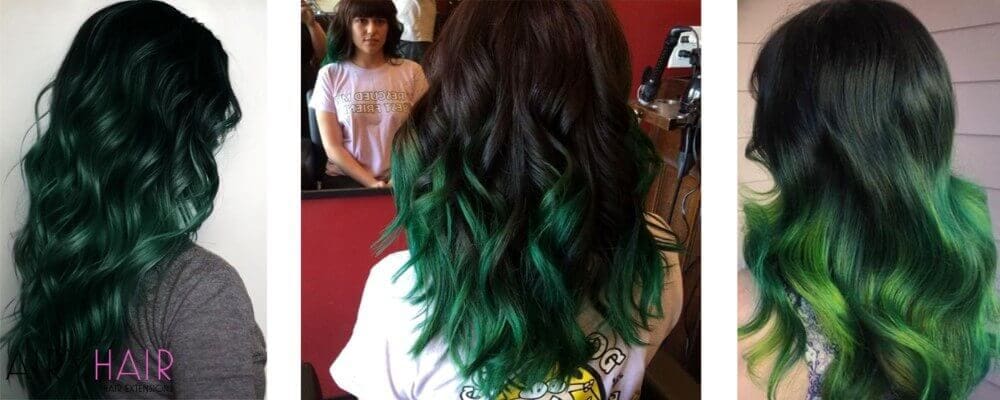 Green is another cool color that is often used in an ombre hairstyle. Since black goes well with every color, green is not an exception. Darker green looks particularly great, but you can also go for a lighter green color.
Black and Neon Green Ombre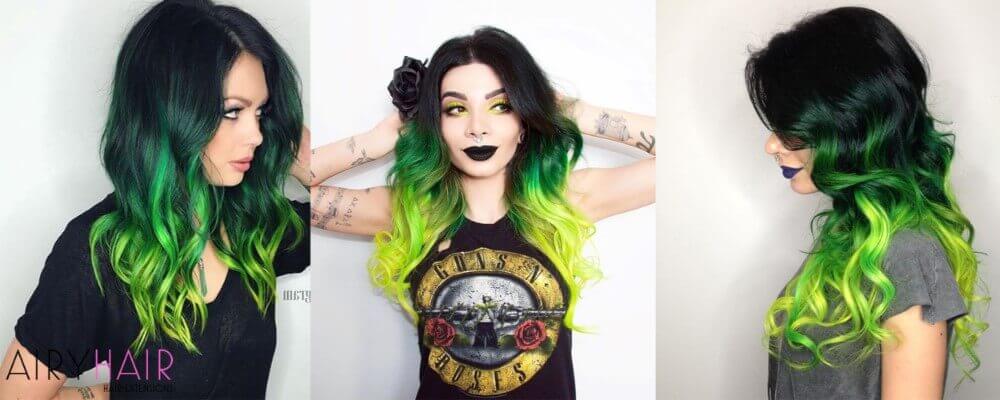 For those of you who want a unique and eccentric hairstyle, this black and neon green ombre is perfect. This ombre has more than two colors and it transitions from black to dark green to neon green. It looks simply electric! But keep in mind that this is a not simple hairstyle and it requires a lot of visits to the salon, so try to experiment with different colored extensions to get the same effect. It's much cheaper and easier to maintain than actually dyeing your hair.