Pastel or colorful hair extensions mean a delicate as well as vibrant shade, sometimes tone. For pastel, it's usually different shades of pastel purple, pink, or blue. This has become a big trend in the past years and there are millions of grades plus variations and styles.
Quick Access
– Pastel Hair Extensions
– Colorful Hair Extensions
Pastel hairstyles look cool on many different hairstyles and that's why they became so popular and ubiquitous these days. Check out these 10 different trendy and cool pastel hairstyles you can try out!
Bob Haircut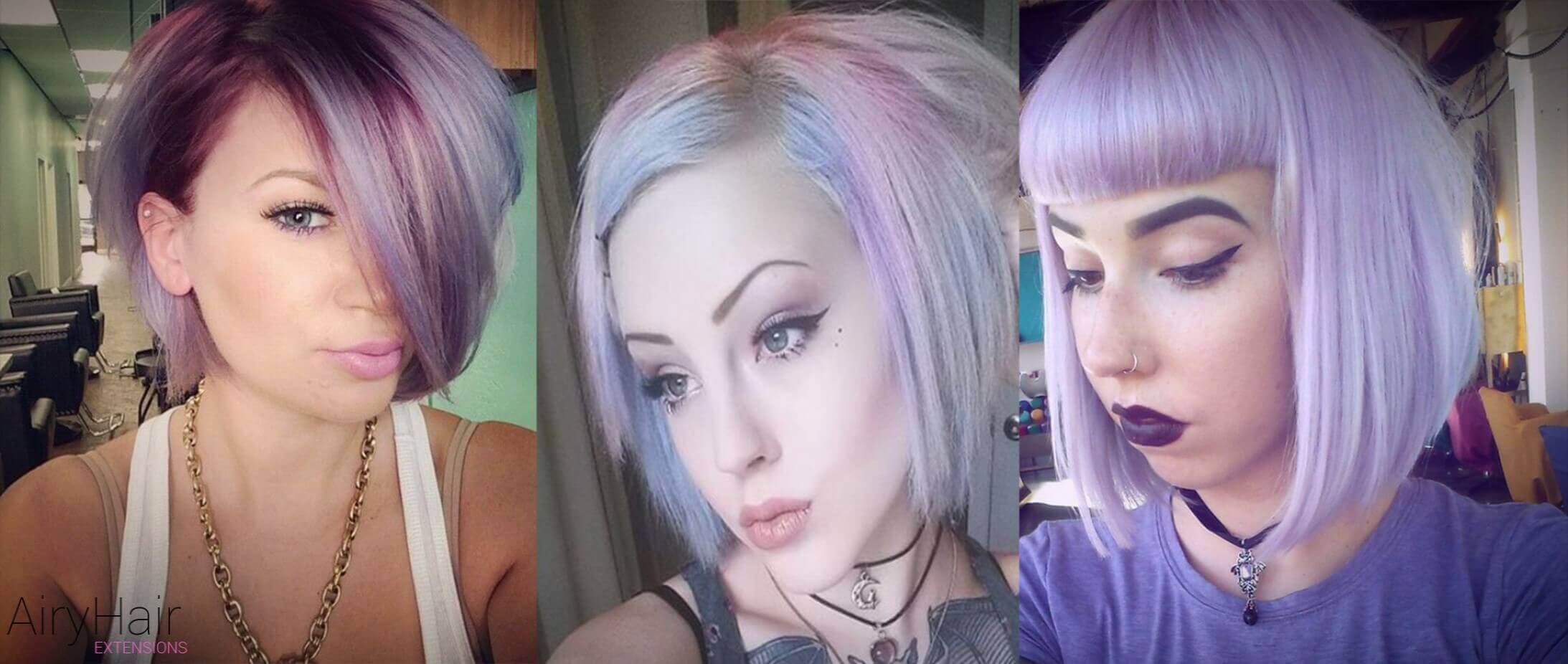 Bob's haircut is a classic hairstyle that always looks cool. Bob is a hairstyle that is cut at about jaw level and it's usually cut higher in the back which gives it its distinguishable and distinct look. When you add the pastel color to the mix, it looks great!
Mid-length Pastel Hairstyle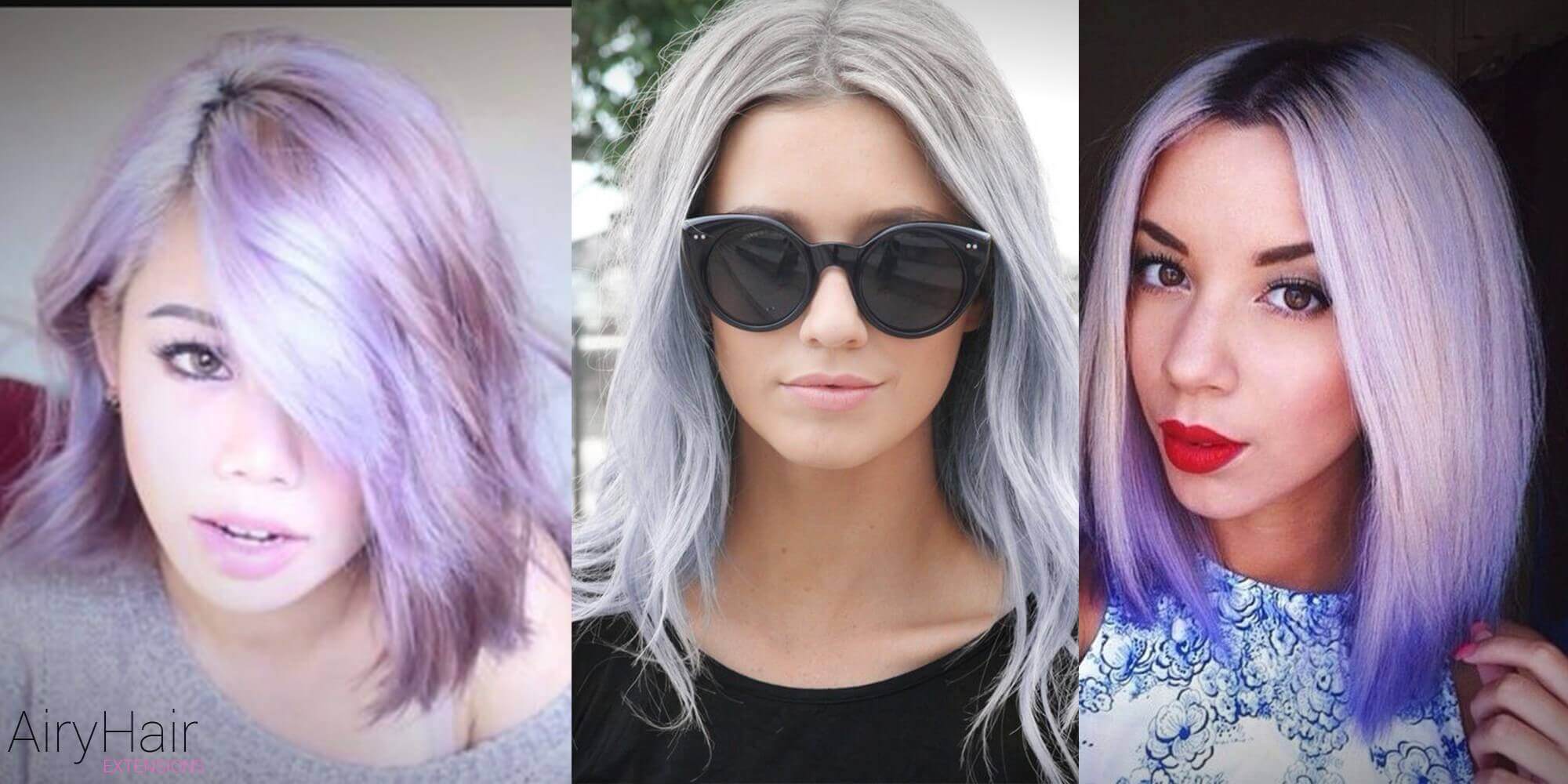 Pastel hair color also looks good on a simple mid-length hairstyle. You can dye your whole hair in a pastel color or you can play around with it and dye just the tips or create a cool and trendy ombre.
Curly Mid-length Pastel Hairstyle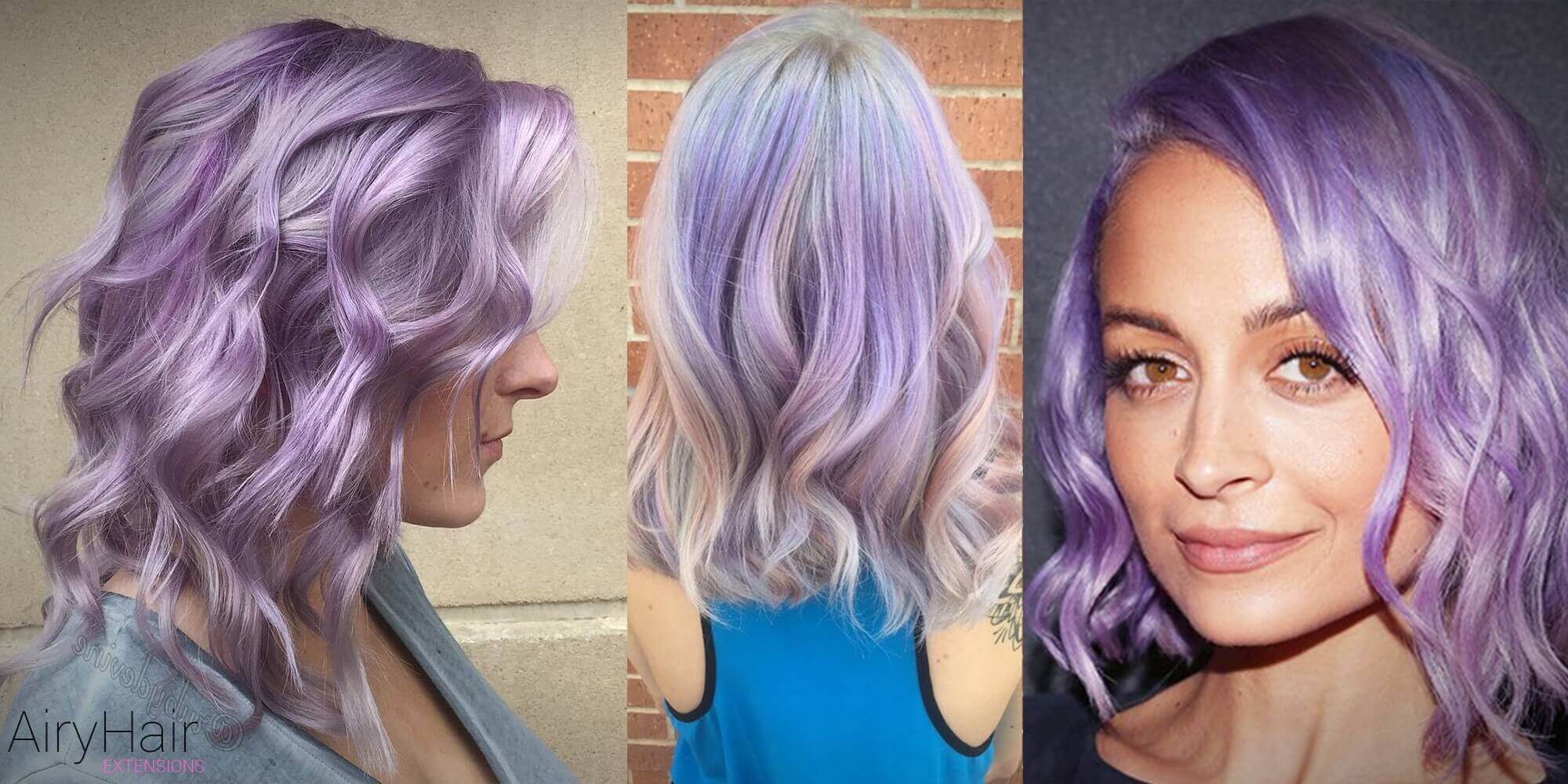 To spice up your pastel mid-length hairstyles, add some cool curls. You can choose from many different types of curls and they add an interesting twist on a simple hairstyle that you can wear every day.
Long Pastel Hairstyle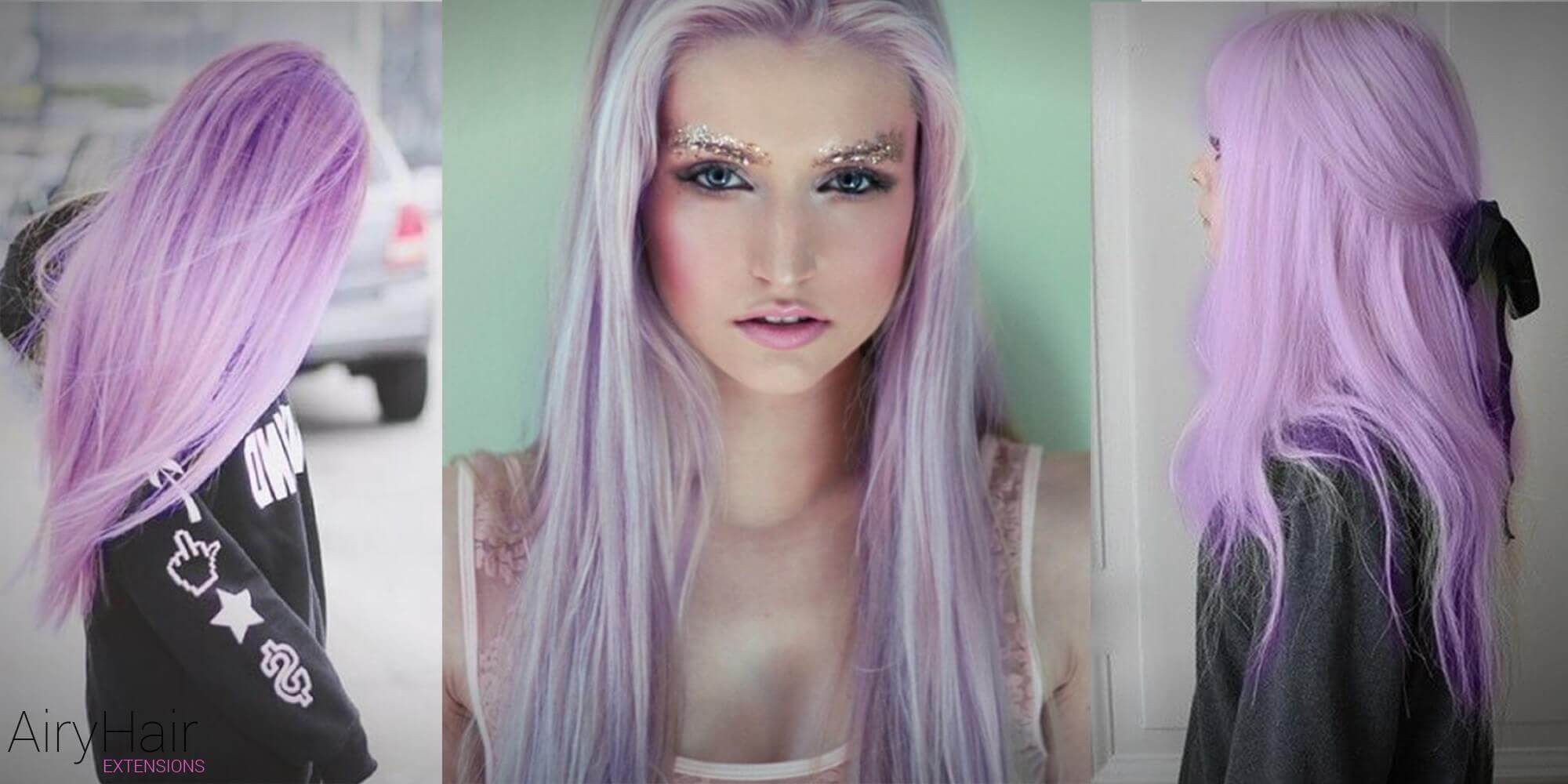 Pastel colors look very soft and cute on a long hairstyle. Pink and purple pastel colors look especially good and have that nice, elegant flow.
Curly Long Hairstyle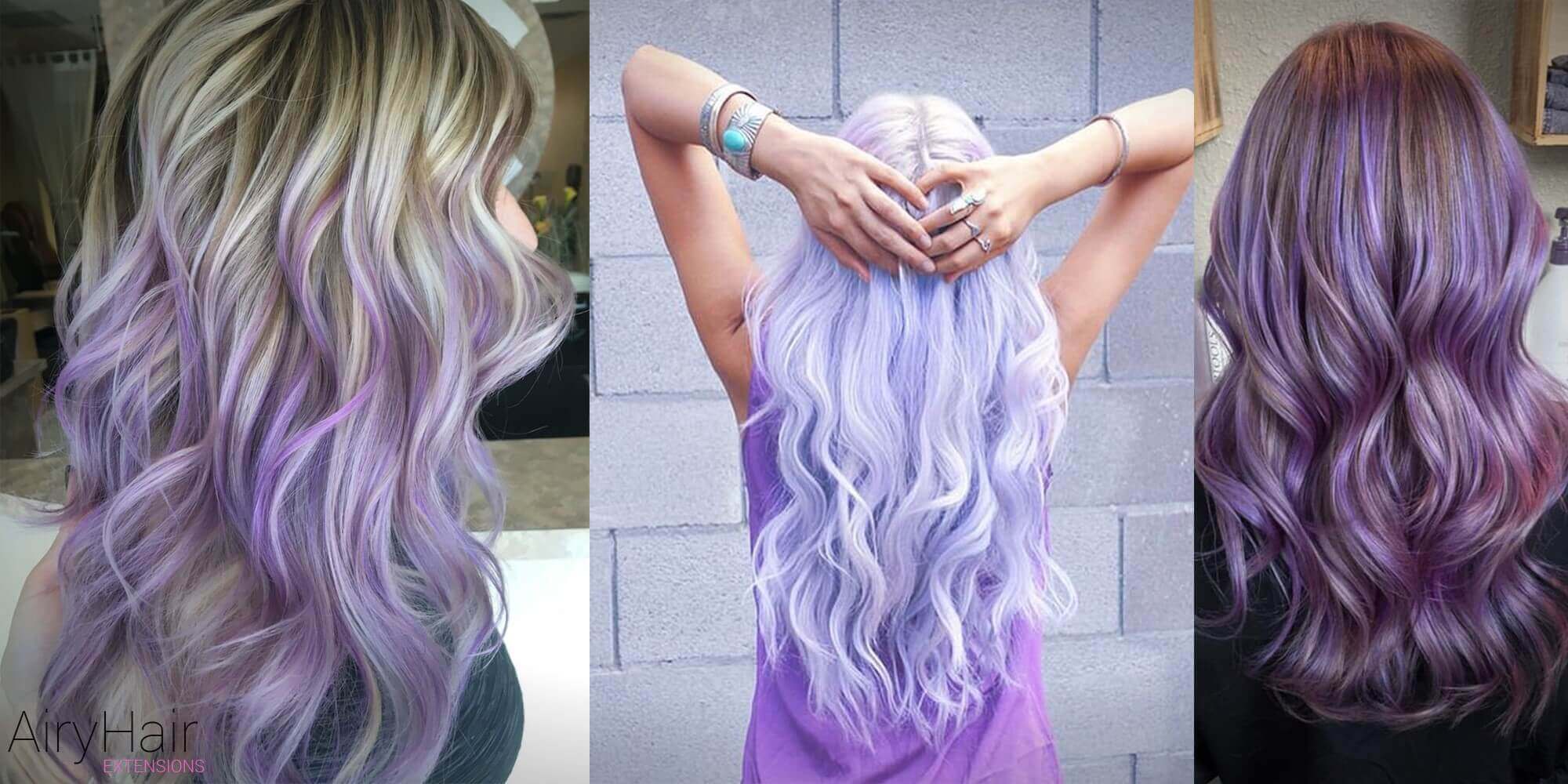 Pastel curls look luscious, elegant, and full. You can choose from body wave curls, loose wave curls, deep curls, kinky curls, and many, many others. You can also experiment with different ombres that look great on a long curly hairstyle.
Extra Long Pastel Hairstyle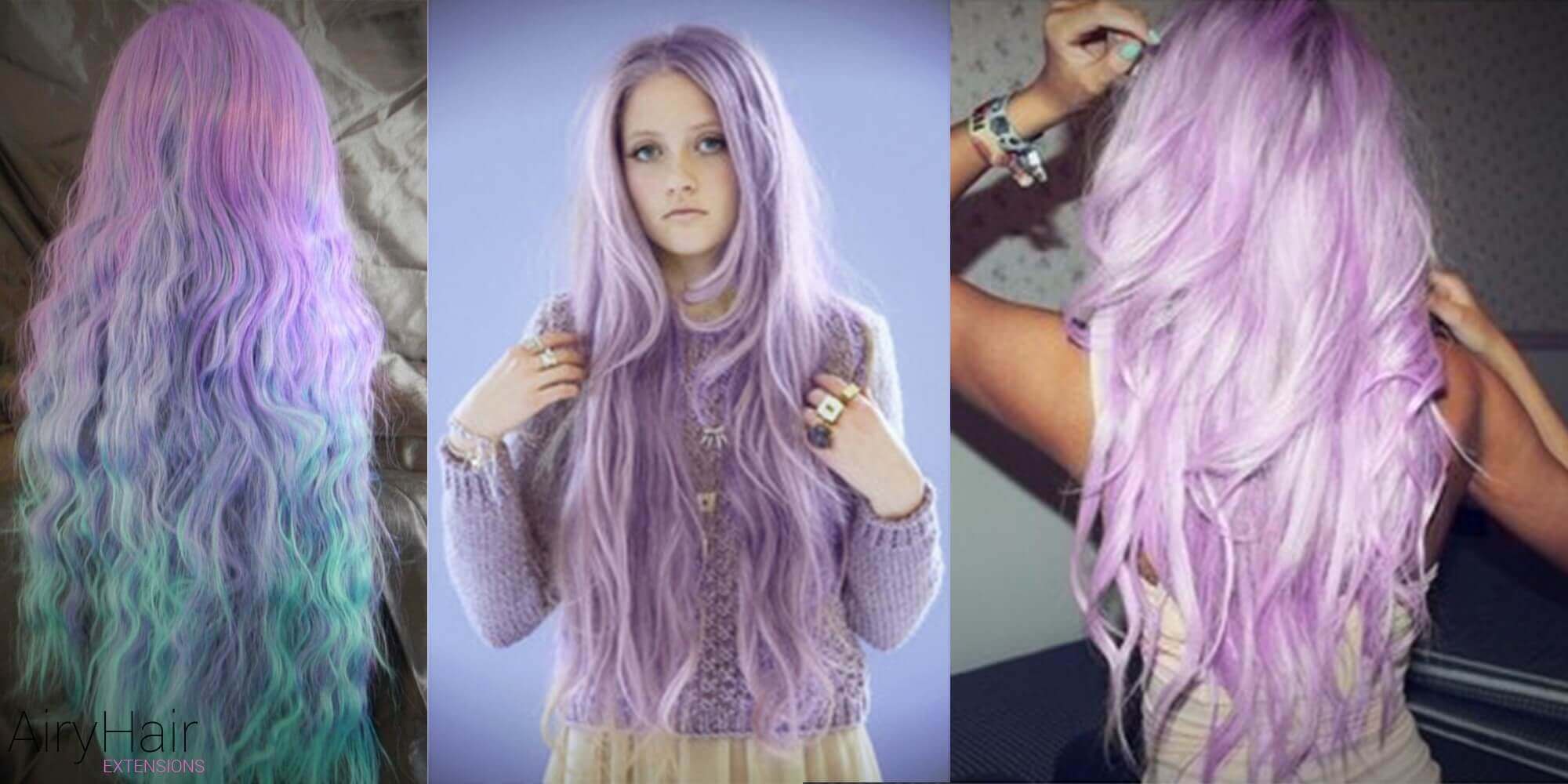 Extra-long hair looks simply majestic and monumental. The only problem is that it takes a long time to grow your hair that long. That's why many women turn to human hair extensions and simply add the desired length to their hair. It's a great and simple solution that looks awesome!
Pastel Buns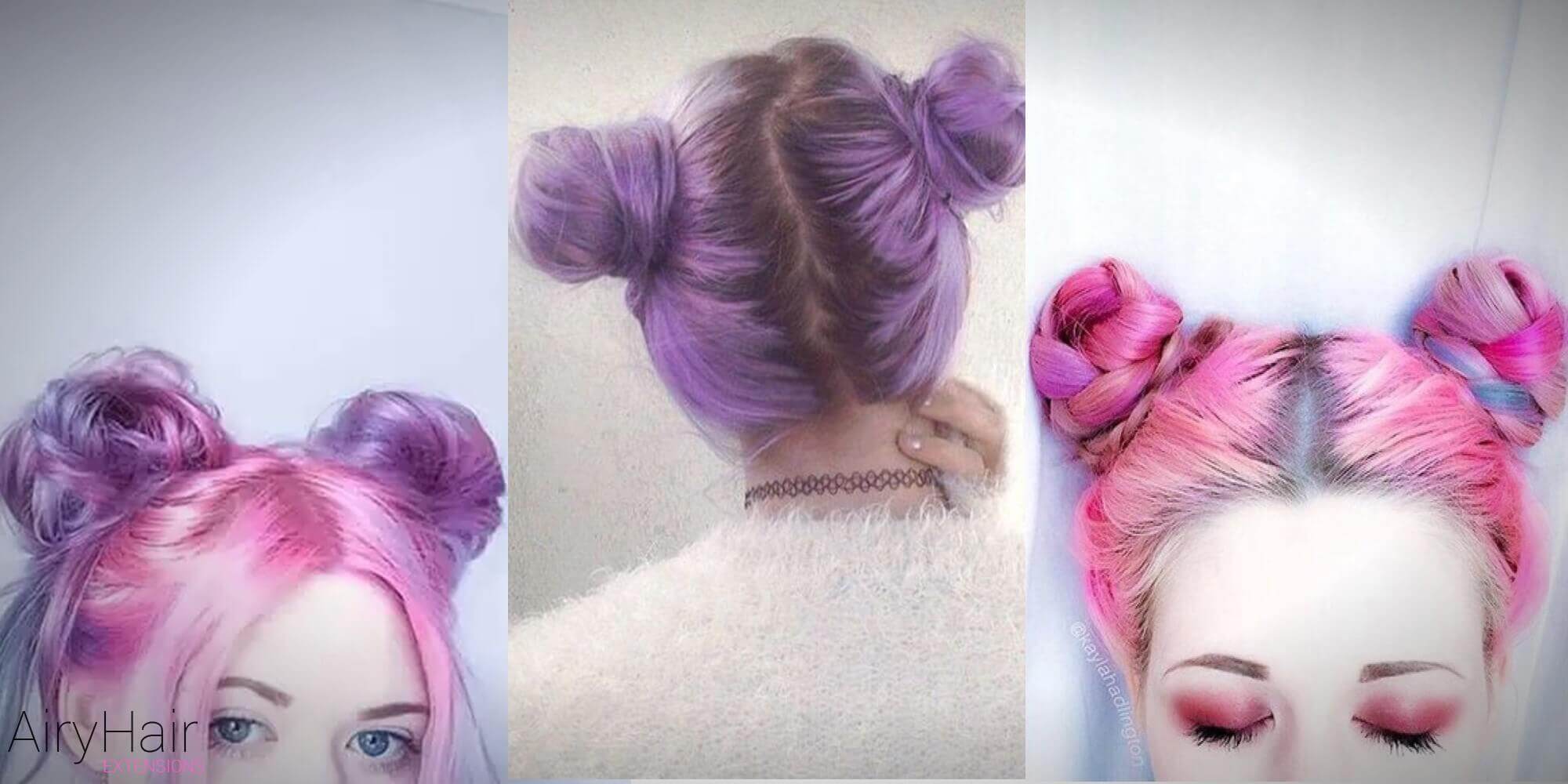 Buns are trendy at the moment and it's a great way to style your pastel hair. Buns look quirky and cute and they work great with pink and purple pastel hair colors.
Short Pastel Hairstyle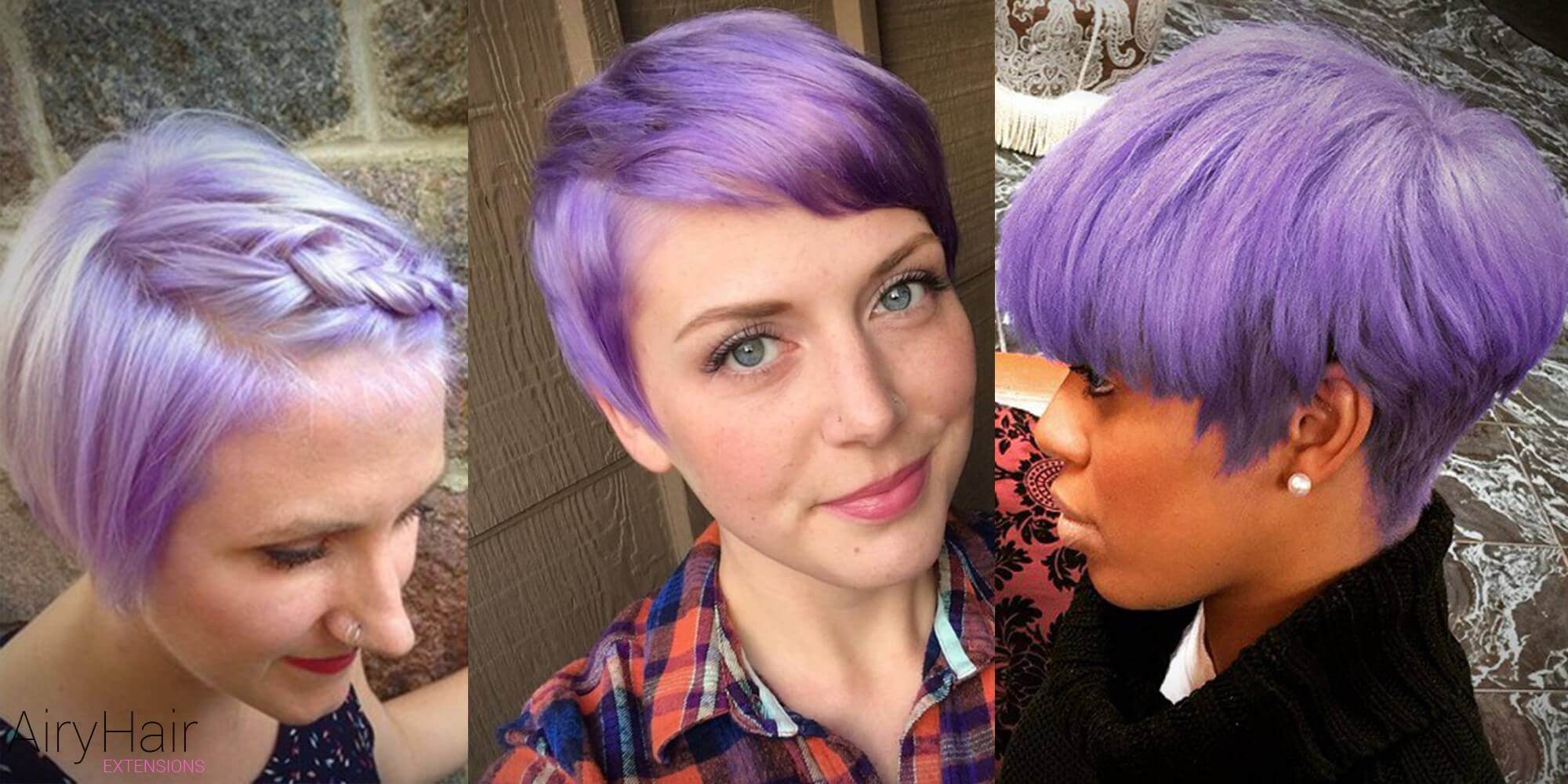 If you just want a simple, and slick, and modern hairstyle, this short pastel hairstyle is perfect for you! It's bold, sexy, and cool.
Pastel Braids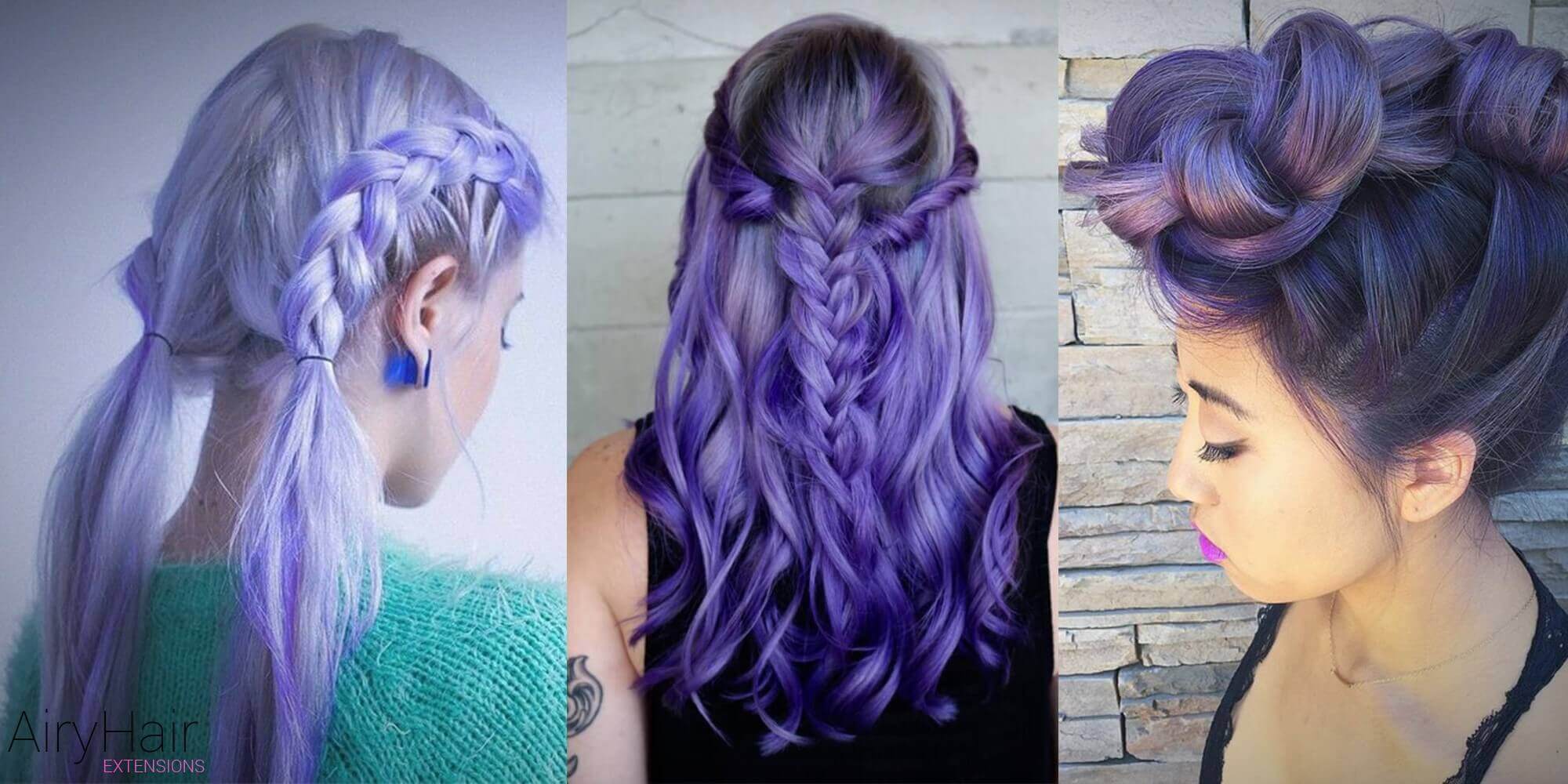 Braids are trending right now and they will look great on your cool pastel hair color. You can choose from many different braids to style your hair; from a simple three-strand braid, fishtail braid, Dutch braid to the upside braid, and a four-strand braid.
Need more length and volume? Try our instant remy hair extensions.
Pastel Mohawk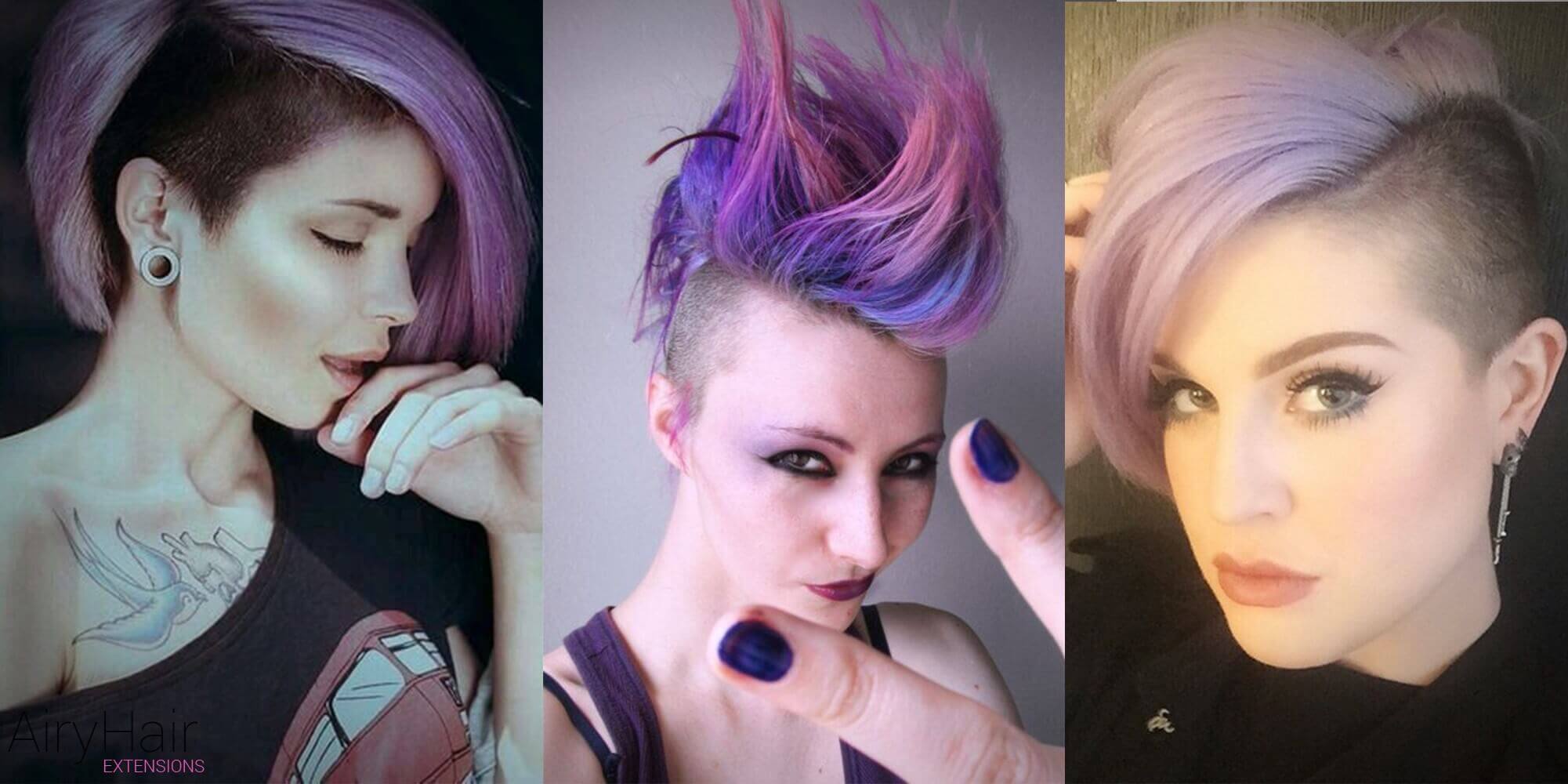 If you are punk at heart, try out these cool punk-inspired pastel Mohawks. This is a hairstyle that looks very bold, edgy, audacious, and eye-catching. But depending on the way you style it, it can also look very classy and elegant – it's up to you!
Combining two of the top hair trends of 2020; bright, bold, colorful hair, with cute and classy braids. Gone are the days of plain, boring hair. Think back to your childhood… pretty plaits, bold braids, but now with cheeky bits of color added in! Have fun, play with it, go crazy with it!
You can create your dream fairytale through your hair. We know you've always secretly wanted Rapunzel-style braided, long, flowing tresses. Now you can live out that fantasy. You can be the Rapunzel of your tower. The beauty with the braid. So, set yourself free and make the most out of your luscious locks.
If you want to stand out from the crowd and look feminine and girly, but with a cool edge, then have a look at these top 10 unique colorful hair braid designs, for some hair inspiration.
The Blonde and Sliver Foxtails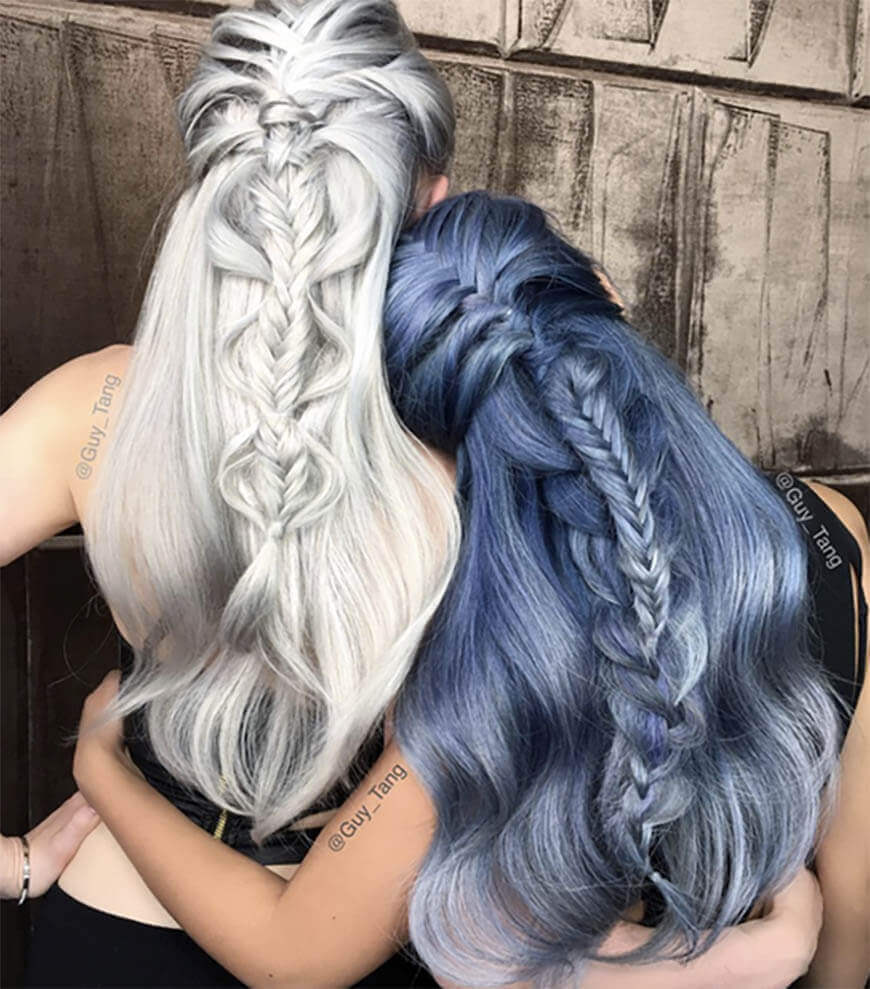 Beautiful, elegant, and feminine. You can team up with your bestie to show off your matching, eye-catching fishtails. Or, pull off this look on your own and watch heads turn.
This Girl's on Fire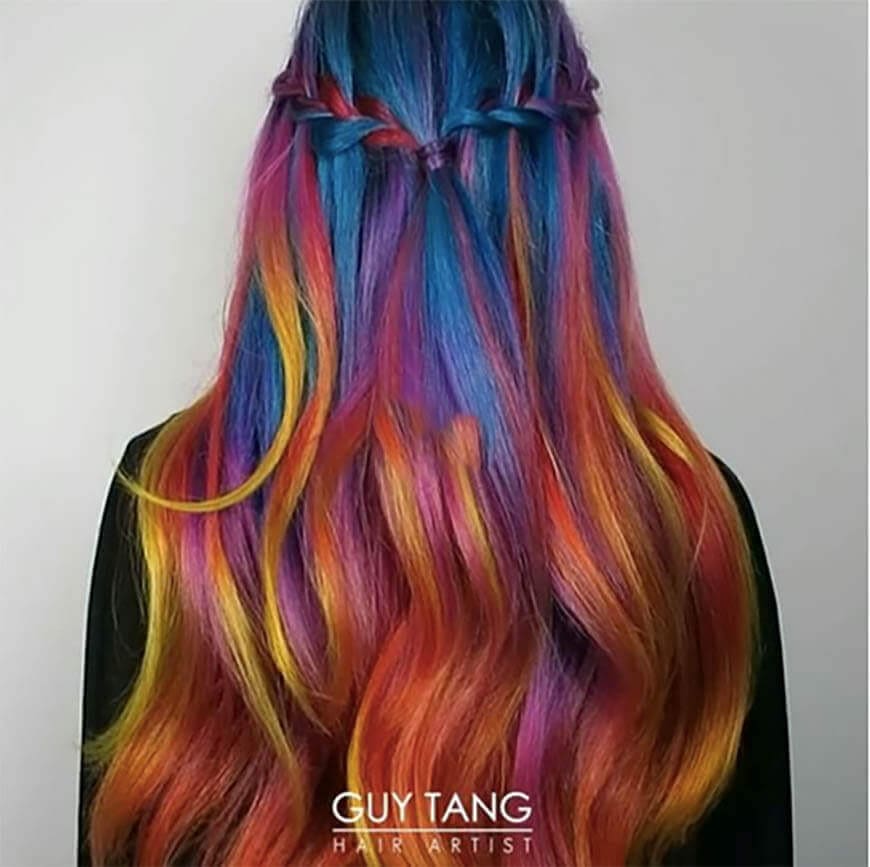 This combination of stunning fire colors, contrasting with the grey/blue shade and subtle braids, will definitely make you the hottest looking girl in sight!
Hair Over the Rainbow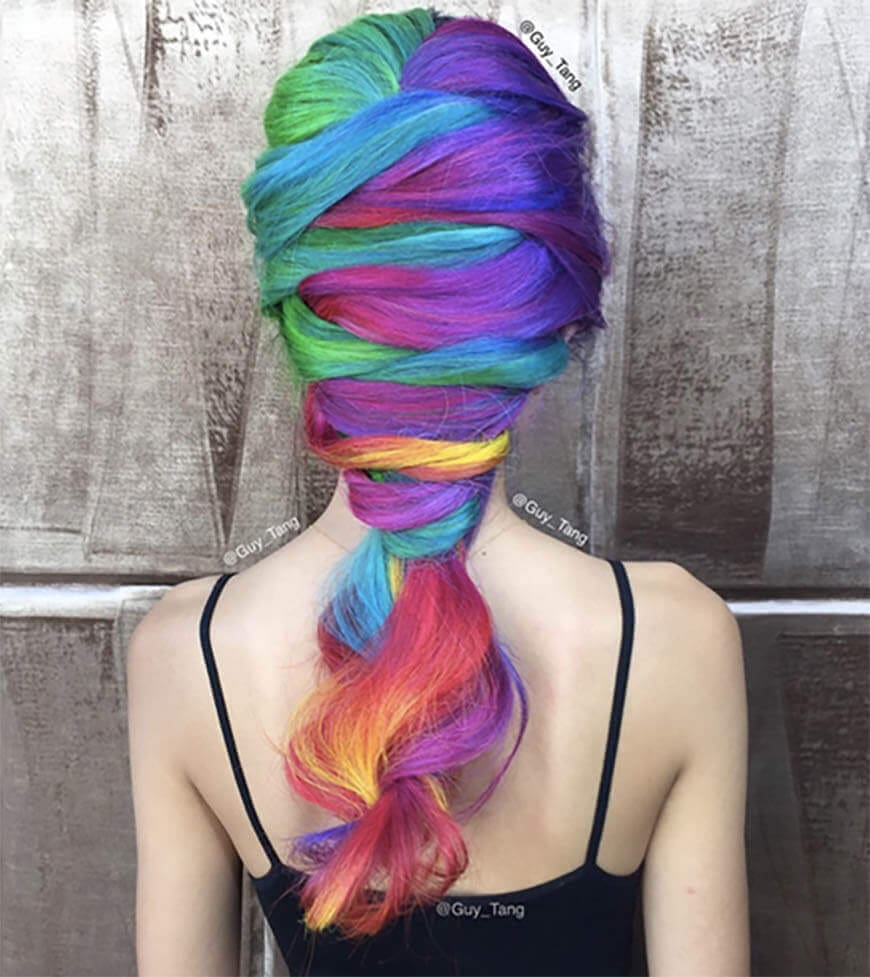 We're not in Kansas anymore. This dramatic, Technicolor, tornado-style plait will make anyone feel like they could be the star of any musical and will take you to a new, Technicolor world.
Lavender Fishtail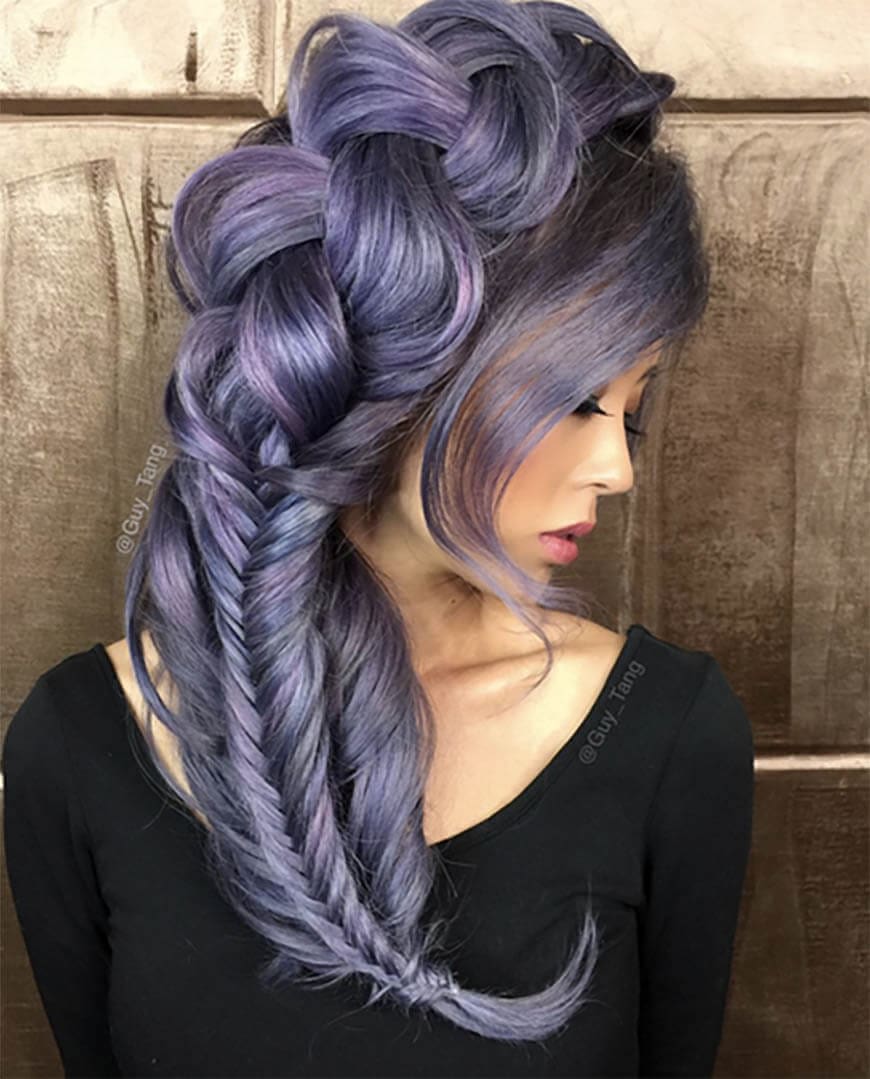 One of my favorite looks. Both the relaxing lavender coloring and the voluminous fishtail style are simply stunning and eye-catching!
Show Me Your Pinky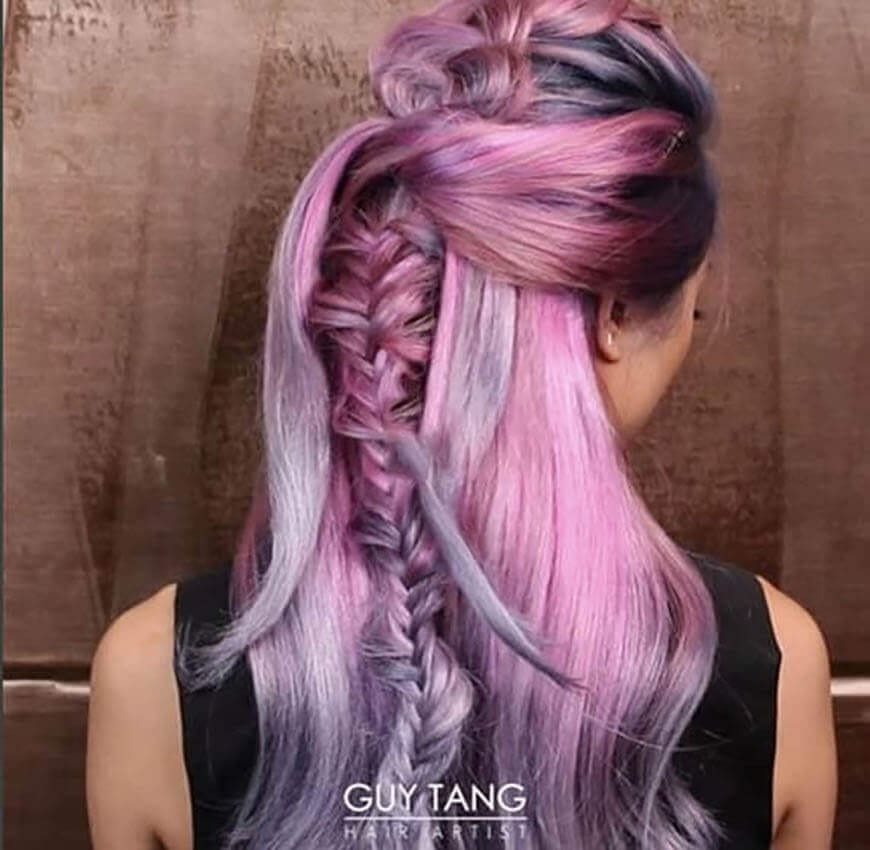 Feminine, girly, pink, and classy. This sexy fishtail hair design will have heads turning wherever you go.
I Put a Spell on You
Celebrities everywhere can be seen modeling this fun trend. Tori Spelling (above) looks stunning with the classy plait style, combined with subtle pink highlights in her hair.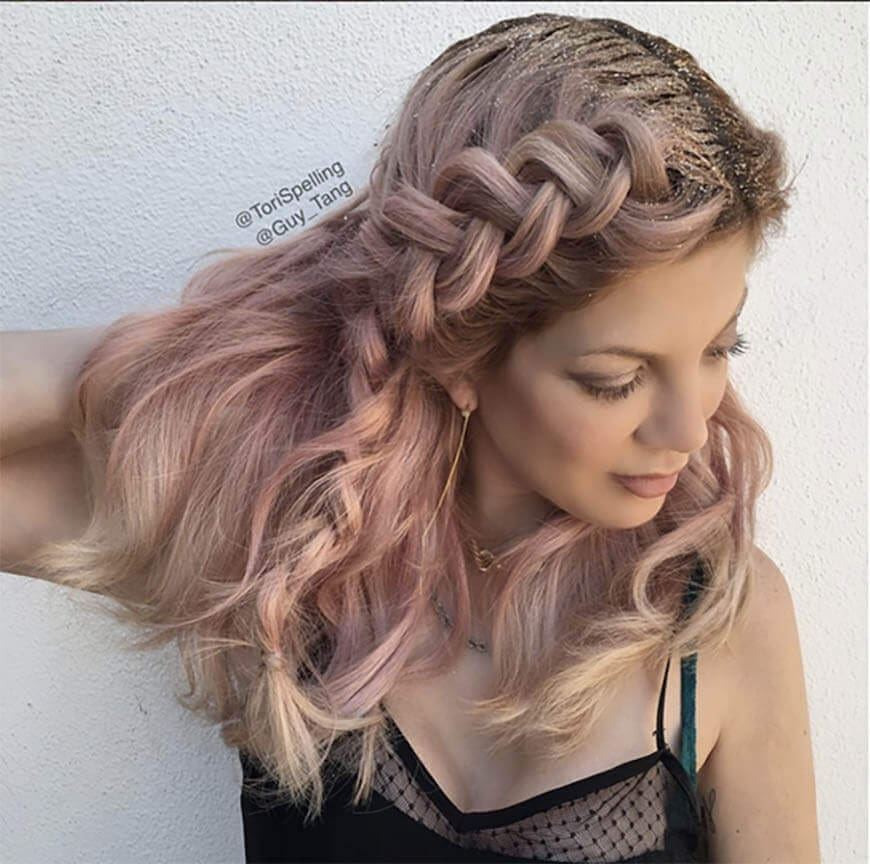 Out of This World Hair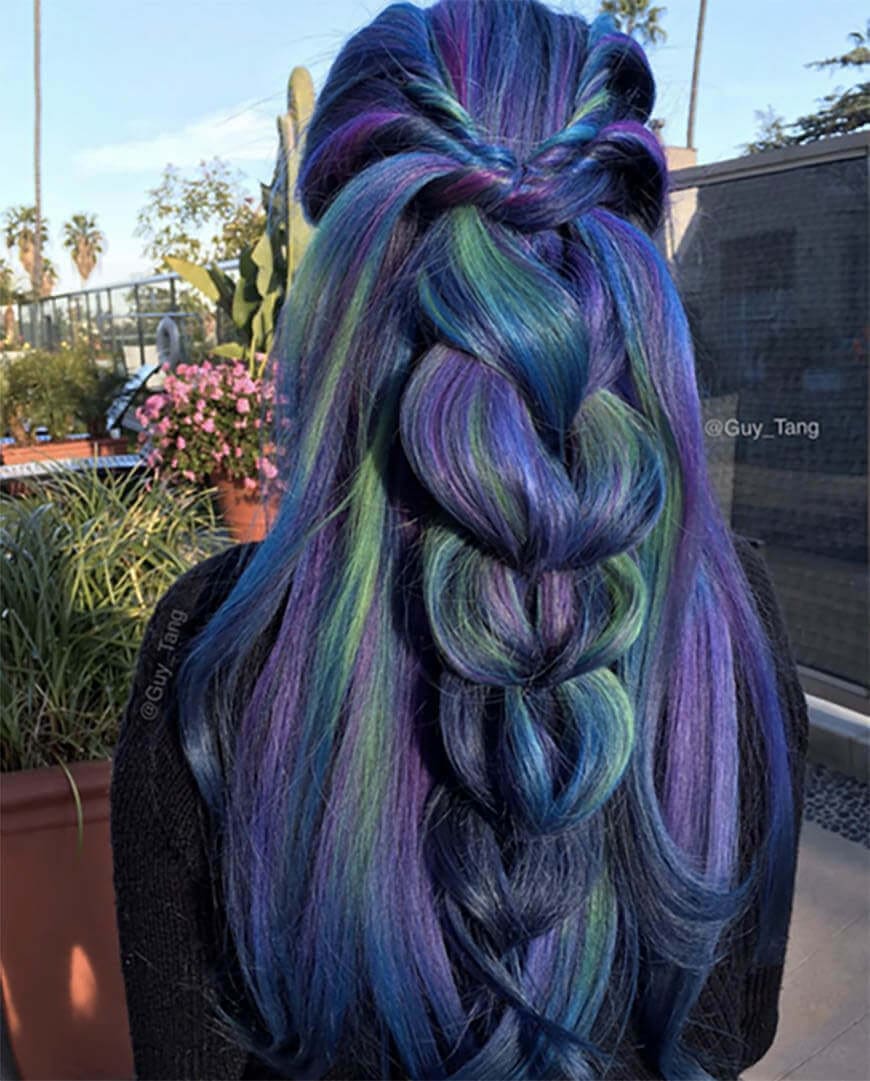 Maybe we're on another planet with another hair form. Electric greens, blues, and purples all twisted into a gorgeous, voluminous, explosive. out of this world, plaited style.
Sunset Plaits Hairstyle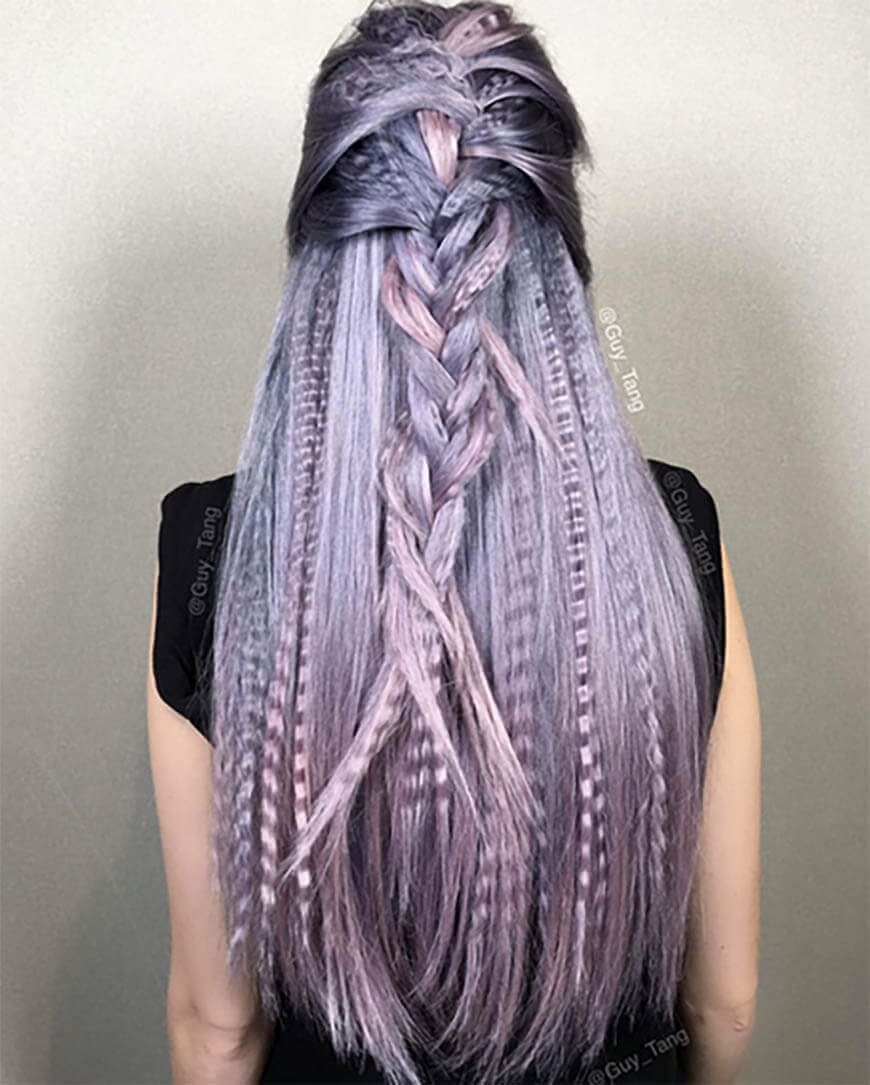 You will feel like you're looking at a magical pony going into the sunset, with this surreal fairytale style. Pinks and greys, crimped and braided. So beautiful.
Rainbow Blonde Fireworks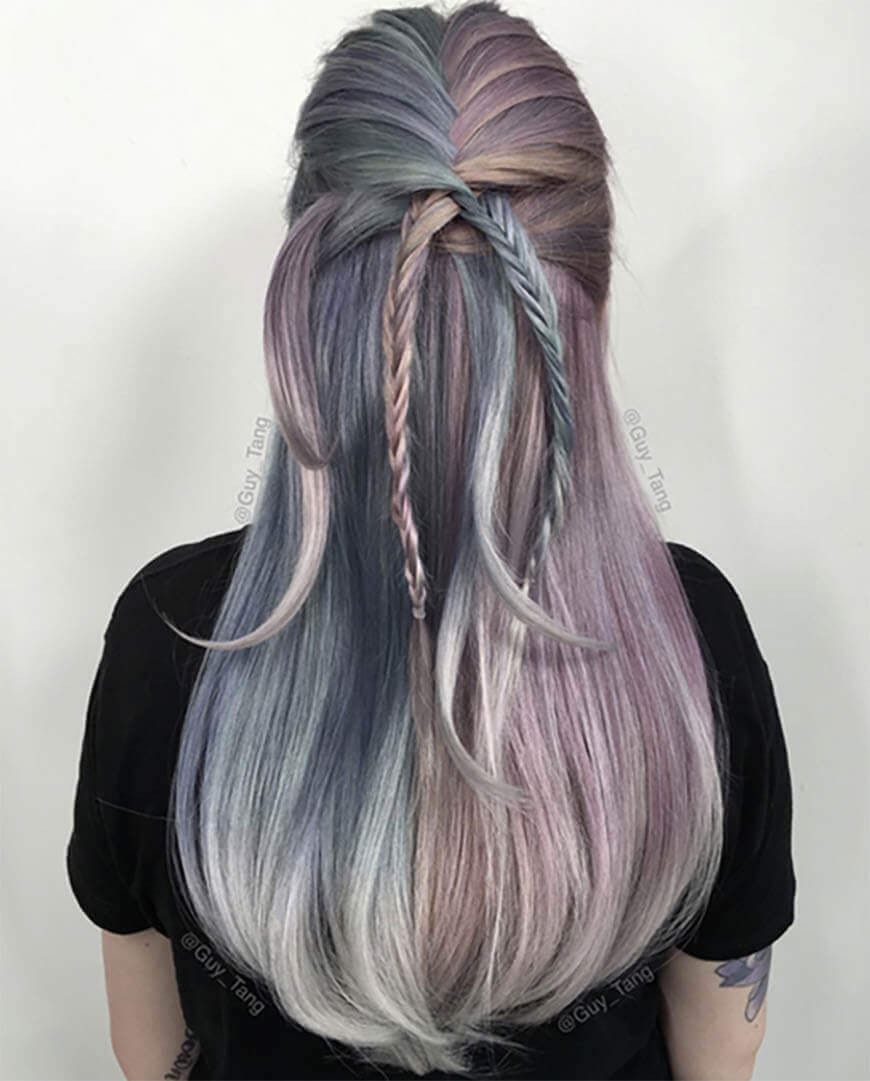 It will look like bonfire night has come early, with the prettiest firework display… In your hair! So hot you'll be on fire! Minus the actual fire!
Head in The Clouds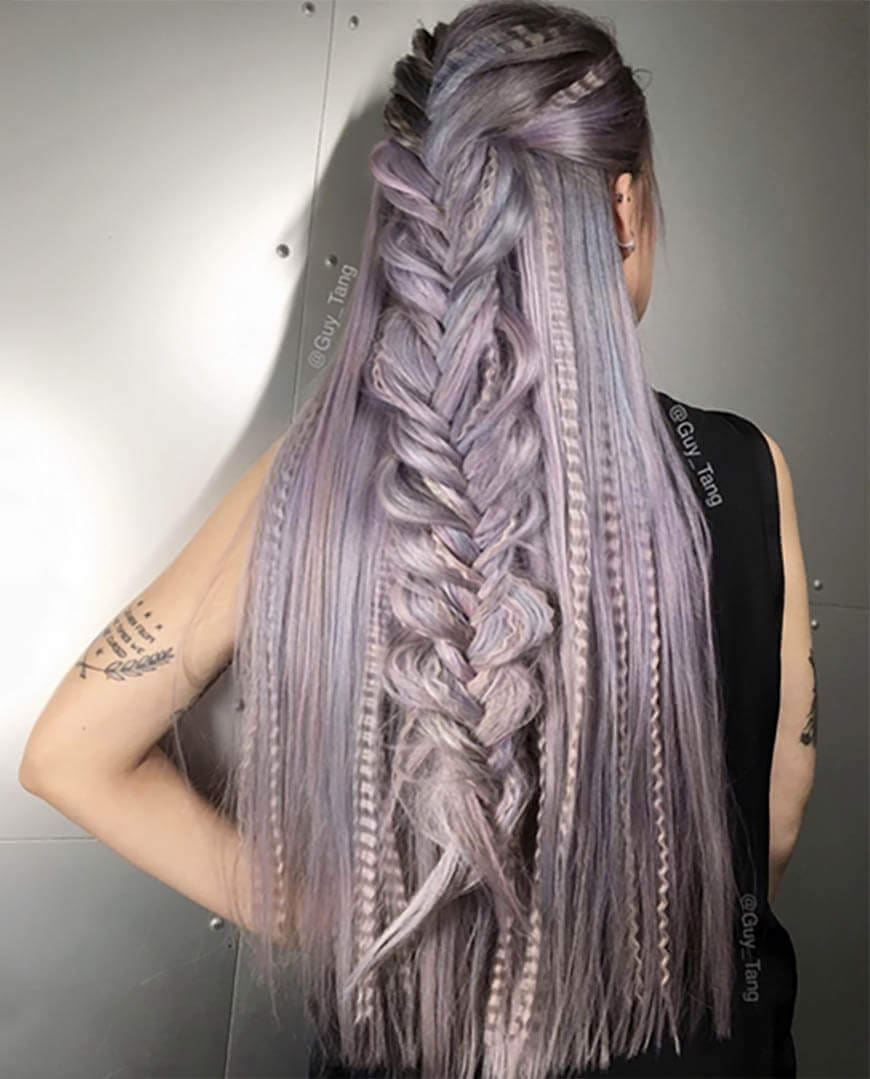 There's no need to come back to reality with this edgy look. To achieve this, crimp your hair and combine it with a huge fishtail down the middle and show off your funky look!
What Now?
Visit AiryHair for over 100 different color hair extensions!
—
Enhanced and Hosted by AiryHair Team.
Picture Sources: [Guy Tang]