Tattoos have been popular for many, many years, but one of the new trends is hair tattoos. Since undercuts and partly shaved hairstyles are very popular lately, hair tattoos are a great way to spice them up. Undercuts on longer hair are especially popular since you can hide it when you wear your hear down and when you want to show off your cool undercut tattoo, you can simply get your hair up. Great thing about these hair tattoos is that there are infinite possibilities. There are so many different design you can choose from and of course, you can create your own, unique one. Another great thing about hair tattoos is that they grow out really quick, so you can change them very often and try out as many of these designs as you like. Also, if you're not satisfied with your hair tattoo, you can simply shave it all off and it'll grow in no time! From simple lines, to complicated shapes and colors, these hair tattoos just look so cool. So here are 25 incredible hair tattoo ideas you can try out or get inspired and create your own unique design!

Simple Lines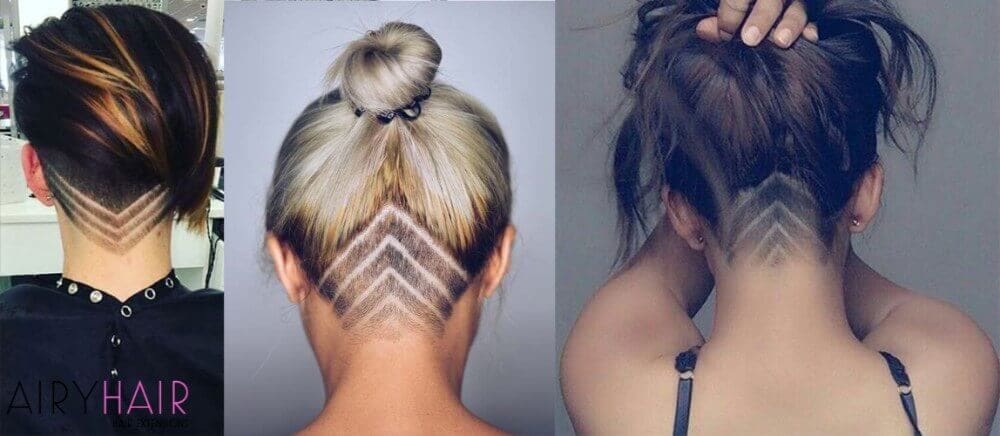 If you don't want anything fancy or complicated, these simple line designs will do the trick. You can try the V-shapes or the upside down V-shapes, both look great! This is a great design if you simply want to try out how these hair tattoos look, before going all out on a complicated design you may not like. These grow out very quickly, so you can change it very often.
Geometric Lines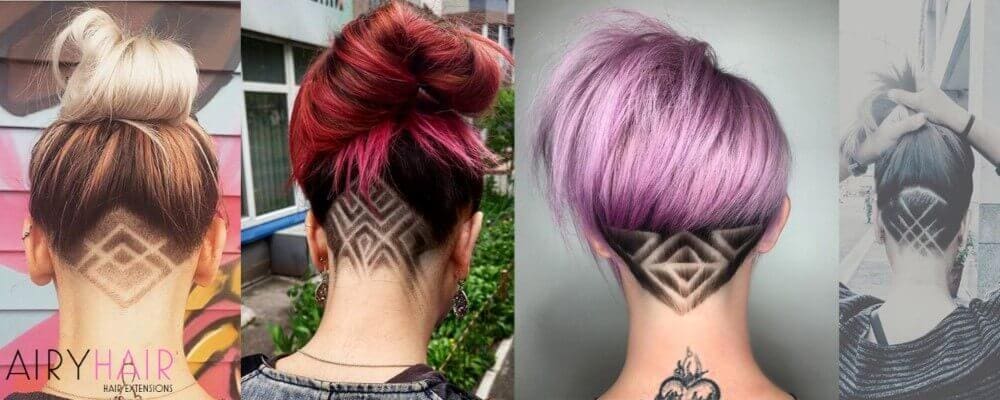 These hair tattoos are also geometric, but the design is a bit more interesting. The great thing about creating these kinds of geometric lines and shapes is that you can easily create your own unique design. It's very simple for anyone to draw this kind of design and you can play around with geometric lines, and create this cool tattoo for yourself.
Simple Flower-like Outlines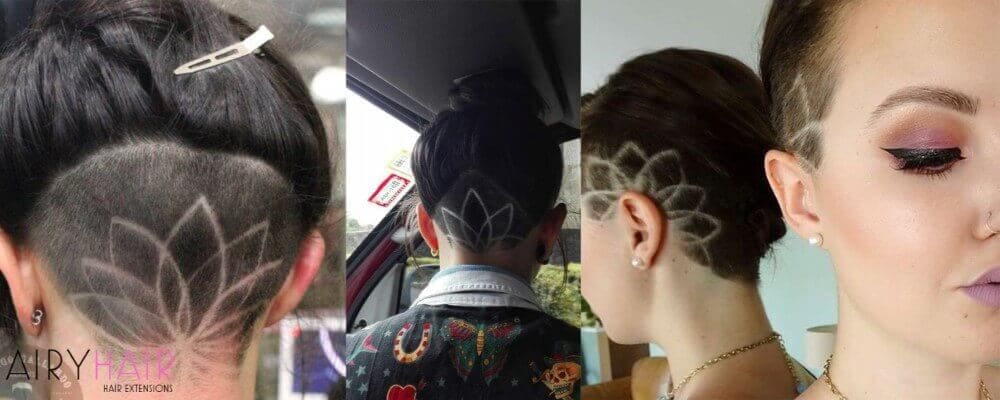 This design is also using simple lines, but it's more complicated to make since the lines are curvy and overlapping. It creates a look of a flower-like outlines that look really cool. You can also play around with the placing of the tattoo design, it looks good both on the side and on the nape.
Diamond
This diamond design is very popular and fits perfect on an undercut, especially on the back of the neck. The great thing about it is that it's really simple to make because the shape is geometric and is made out of straight lines. This is a great example of a simple design that looks really great.
Simple Lines For Men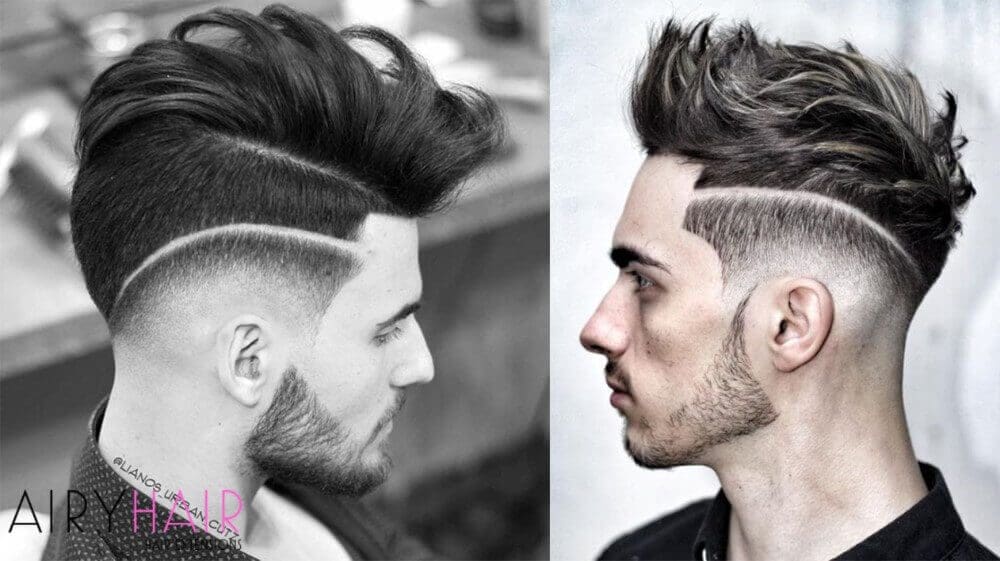 Hair tattoos are also very popular on men hairstyles. If you're a guy and you don't want complicated designs on your undercut, these simple lines can look awesome. It's very simple and minimalistic but it adds that special something to a haircut. It's just enough to make it interesting and different.
Wavy Lines For Men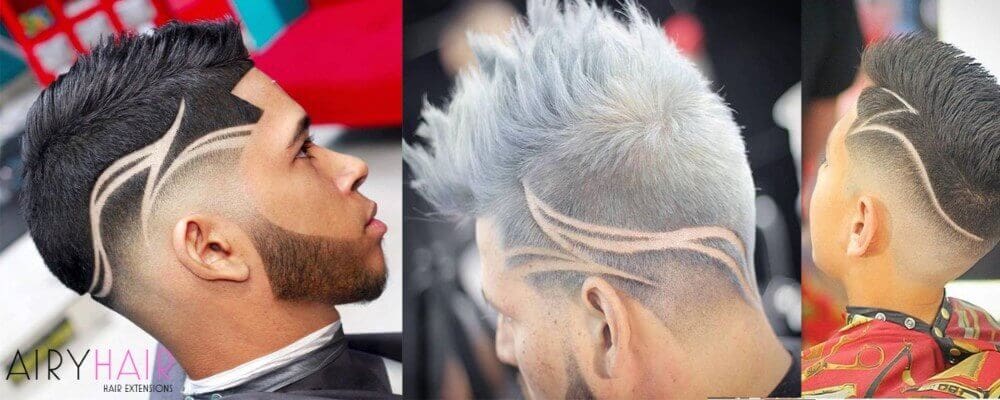 If one line is still too simple for you, then these wavy lines are a good choice. This design is a bit more interesting because of its cool, wavy lines but it's still pretty simple and easy to make.
Feather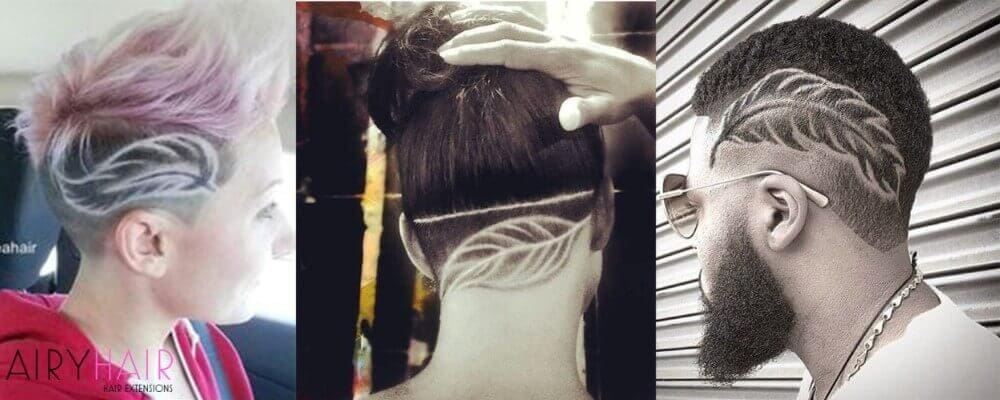 This feather design is really popular for both men and women. Here you can see different ideas for the placement of the feather. It looks great on the nape and on the sides and it follows the shape of the head perfectly. This hair tattoo design is a bit more complicated to make because it has more details, but that's what makes it look so good.
Butterfly
Here you can see different butterfly designs for your hair. You can even create your own, but the placement of it is really important for it to look good. on these three photos you can see how different placements require different designs to fit in with the hairlines and the shape of the head.
Rose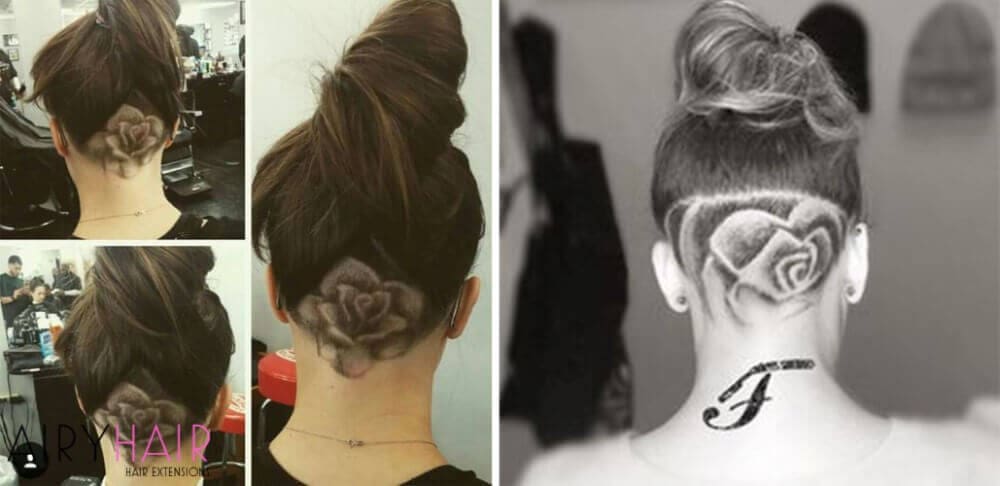 These rose hair tattoos look so incredible and the detail is amazing. This design is definitely a bit harder to make because it's not using simple lines to create the shape. What's different about these designs is that it has shading which requires a lot of skill to make. But that's what makes this design look so amazing.
Nape Undercut Bow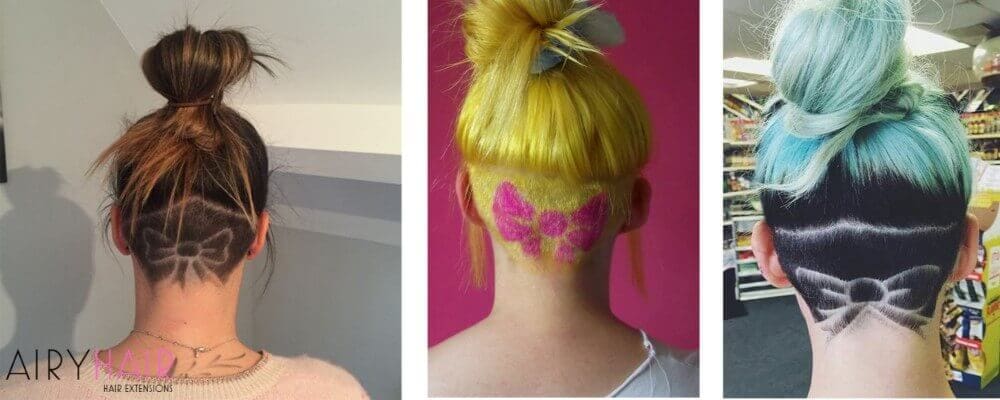 Bows are a really popular shape for hair tattoos. This is an example of a nape undercut with a cute bow. It's fairly simple to make and it looks really girly and cute. You can also use a different hair color to make the bow shape which makes it more interesting.
Side Bow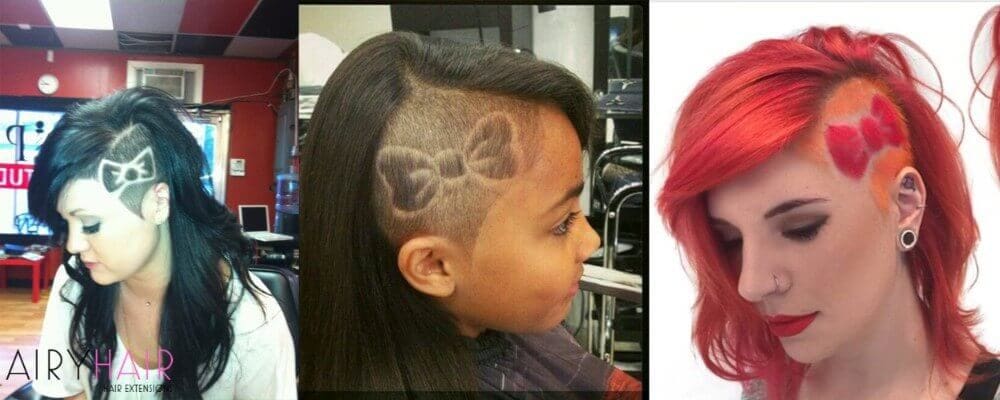 These are examples of a bow on the side of the head. This is where you would place a real bow and that's what makes this hair tattoo really cool and interesting. You can play around with the shape, size, color, and placement of bow to make it unique.
Stars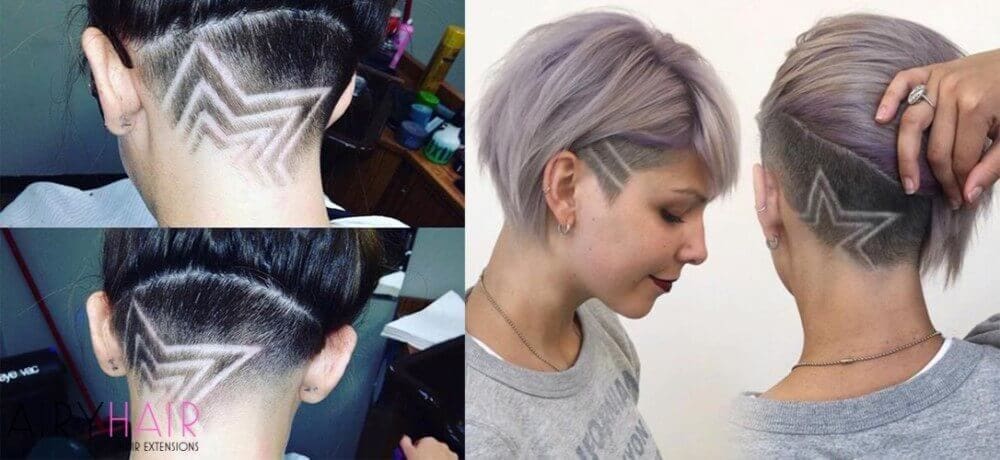 Star shapes are great for an undercut tattoo because they're really easy to make since they require only straight lines. On the photos you can see that both stars are not complete, they kind of fade out and stop where you hair ends. That gives a lot of opportunities for different placements to make it more interesting.
Spider Web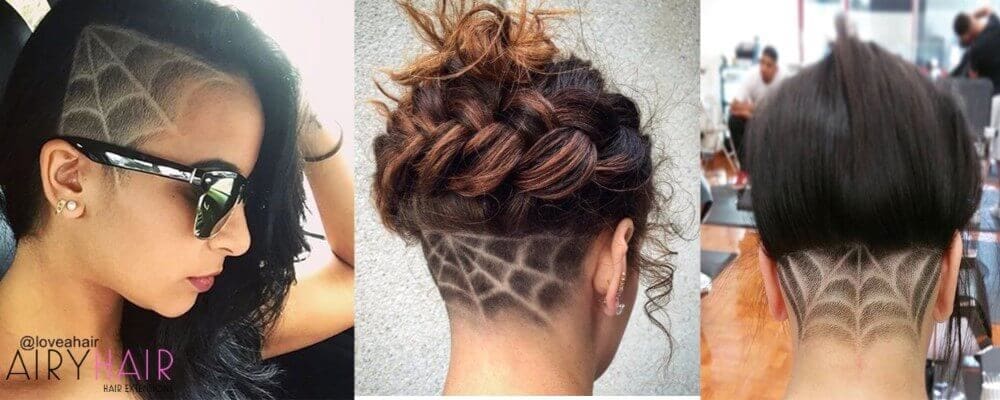 Spider webs look awesome as a hair tattoo. They fit perfectly on the side of the head or on the back of the neck. There are two variations of this designs, one simply uses lines to create the web and the other uses lines and shading. The second one is a bit more complicated to make but the detail in it definitely makes it look better.
Snowflake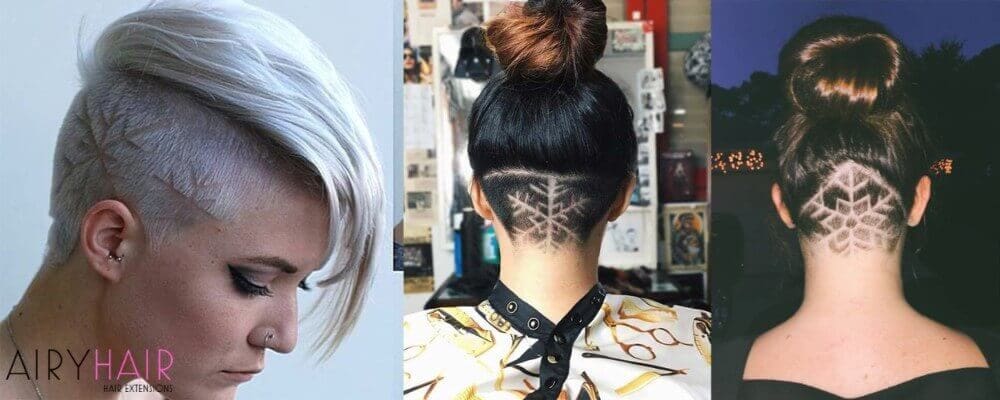 Snowflakes are another great idea for a hair tattoo. It looks especially good on white/silver hair. There a numerous different shapes of snowflakes so you can choose the one that's perfect for you or you can get creative and create your own. We all know that each snowflake is unique!
Heart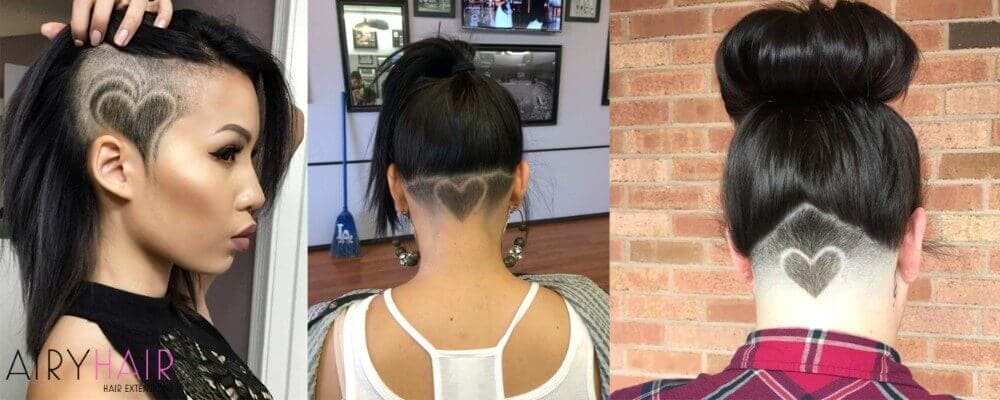 A heart is definitely one of the most popular shapes for real tattoos and for these hair tattoos. There are very simple designs and also more intricate ones. The placing of the heart design is very flexible, but it does fit particularly well on the side of the head.
Heart Lifeline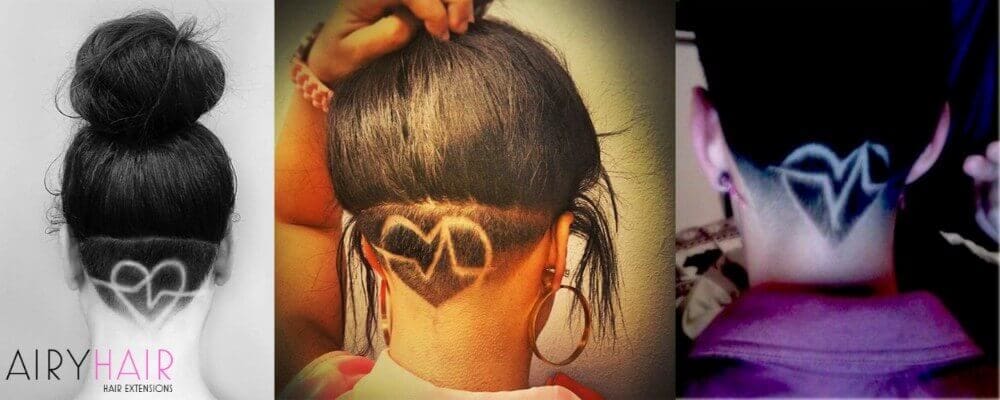 This is a variation of the heart design that seems to be really popular. It adds a cool lifeline on the heart which makes it more interesting.
Cool Colorful Shapes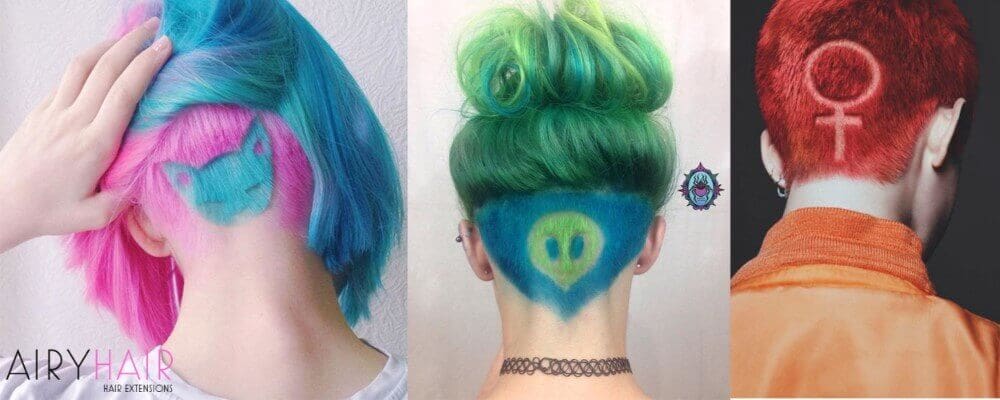 If none of the previous shapes are interesting and unique enough, you can let your imagination run wild and come up with your own hair tattoo design. Here you can see a cat, an alien and a female gender symbol. They all look pretty random but that's what makes them cool. Also, the use of the color is amazing and it's definitely something you can get inspired by, and to save you some money on dying the hair, grab a few tapes of colored hair from our store and enjoy this unique look.
Colored Hearts
This is another variation of the heart tattoo and it looks really cool. Different colors are used to create the heart shape so if you want something bold and different, this is a great one.
Nape Undercut Fish Scales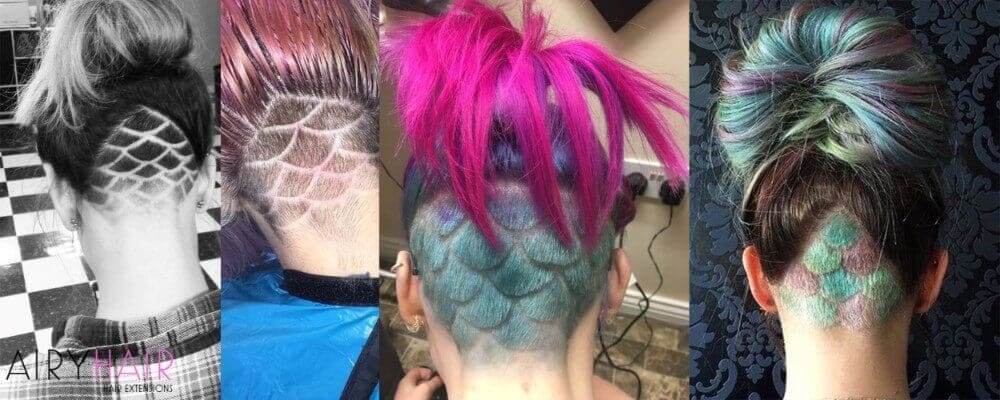 If hearts are too cheesy for you, these hair fish scales look pretty cool. They look great placed on the back of the head and are very easy to make. You can also play around with different colors to get the full scales effect
Side Fish Scales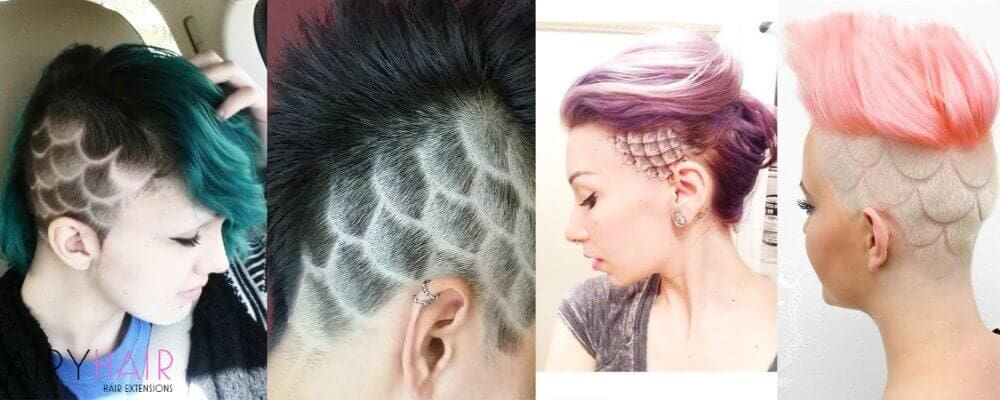 This is another variation of the fish scales, placed on the side of the head. Both look great and create a cool effect.
Leopard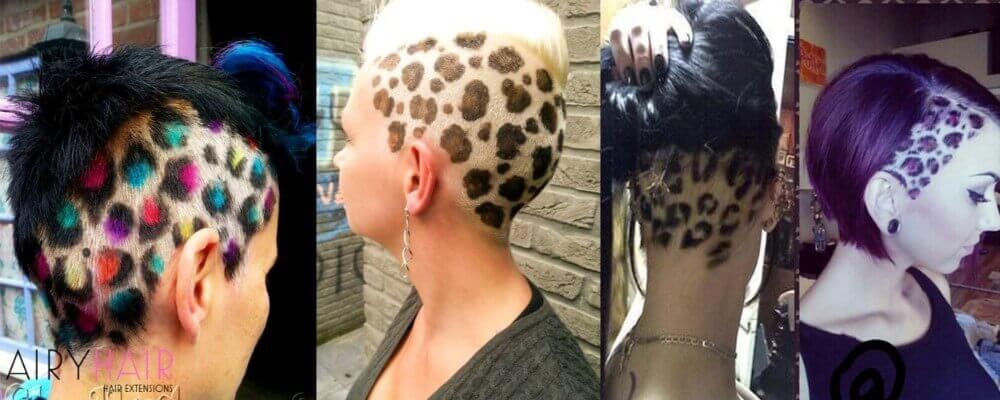 Leopard print is definitely one of the most popular ones so why not use it as a hair tattoo design? But keep in mind that these are not so easy to make if you want the leopard print to look realistic. Using color gives it another dimension but it also adds to intricacy of the design.
Zebra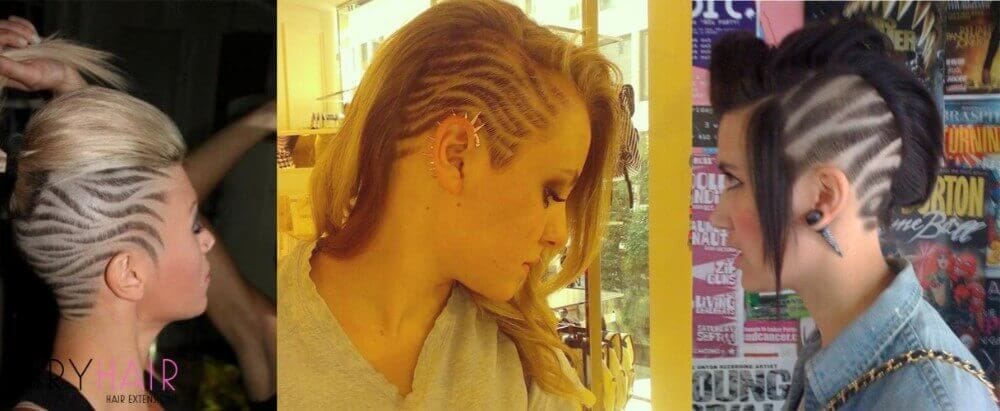 Zebra is another popular print and unlike the leopard, it much simpler to make. There is also no coloring needed because you get that white and black contrast naturally.
Real Tattoo
If you're a bit more adventurous, you can also get a real tattoo on your head. But if you don't want anything that's going to be permanent, you can use henna to create the tattoo. Henna is a great option because it's not permanent and it doesn't last for a very long time. You can also use henna to continue your hair tattoo.
Colorful Feather-like Shapes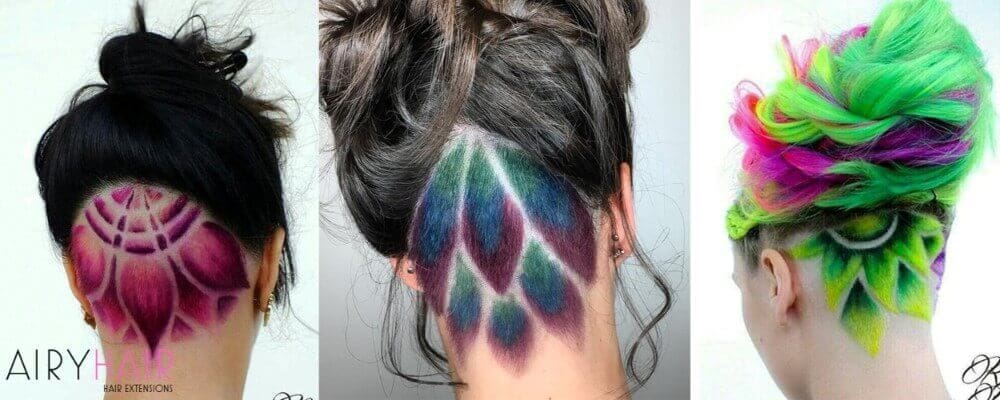 These hair tattoo designs look incredible mostly because of their vivid colors. The shapes are pretty simple and they resemble feathers or even flower petals, but using a couple of different colors and shades really brings these to life.
Glitter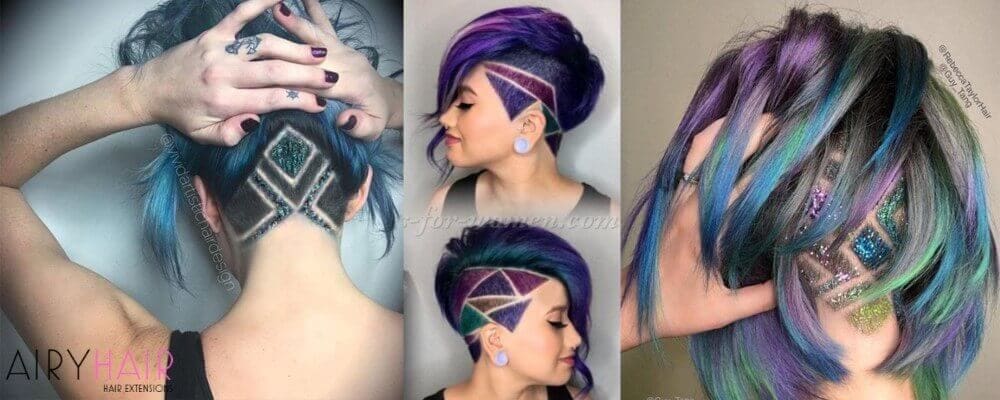 For special occasions or a night out, you can use glitter on your hair tattoo to make it pop even more. The colors are amazing and the glitter really makes it special and unique. Don't want to mess your hair up? You can also implement some clip-on strands into your haircut and be done with it.