Are you bored with your current hairstyle and want to do something different with it? If your answer is yes, look at these awesome ombre and balayage hair ideas. From subtle and natural-looking to bright and bold – there is something for everyone! Want to protect your hair? See the bottom references for the best quality ombre hair extensions. Do note that these are example pictures for hairstyle ideas and don't demonstrate the hair extensions from AiryHair
Extra Long Ombre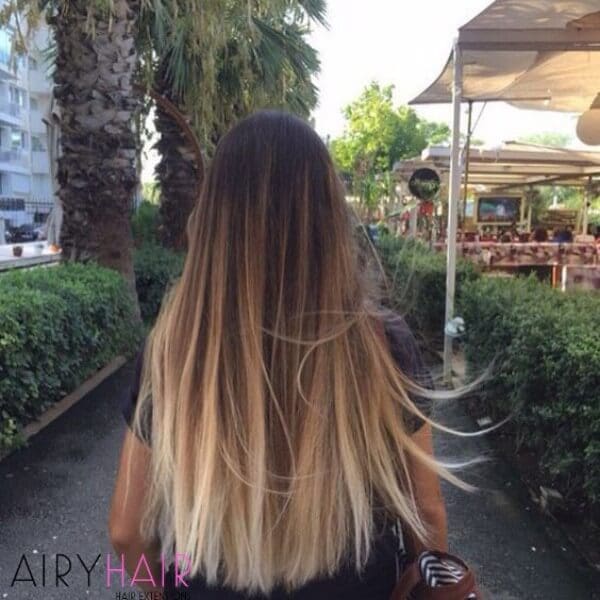 The extra-long hair always looks so powerful and gives us that boost of confidence. Natural shades of brown and blonde blend together in this amazing ombre.
Full, lengthy hair is so rarely seen because it takes a lot of patience and cares to grow out your hair like that. That's why many of us cheat a little bit and get extensions. Your hair is instantly transformed, and you can even buy wefts that are already dyed as an ombre. That makes it so much easier.
Curly Extensions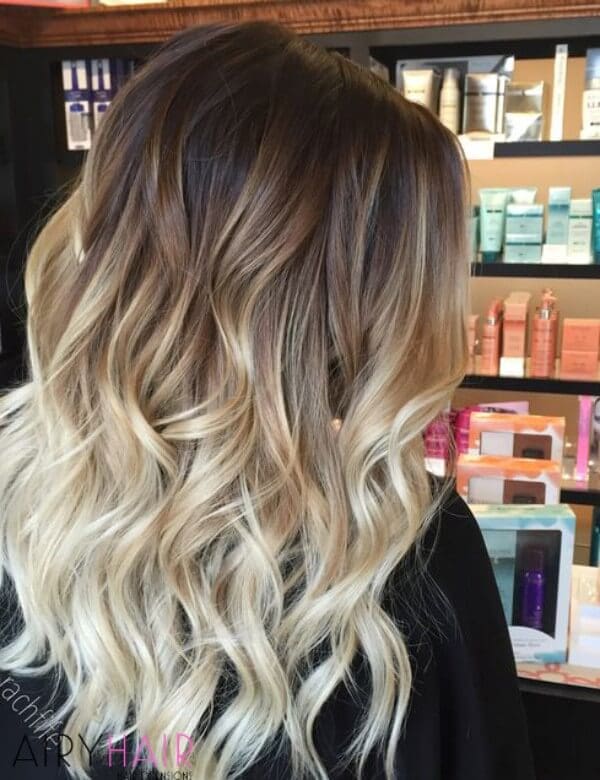 Although long straight hair looks amazing, curls always give the hair so much dimension and volume. Especially with the ombre hair extensions because the combination of dark and light colors creates depth. If you like natural colors, try this out. Ombres don't have to be bright and bold; subtlety is nice as well.
Violet Ombre Hair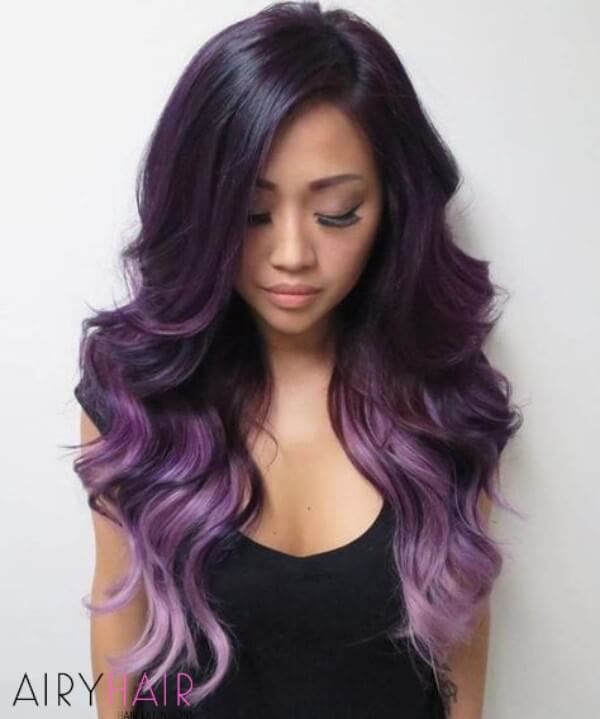 Purple is one of the most popular hair colors at the moment. So, if you follow trends, consider this violet ombre. The shades going from dark to light are stunning and wavy hair accentuates it even more.
Grey Balayage Extensions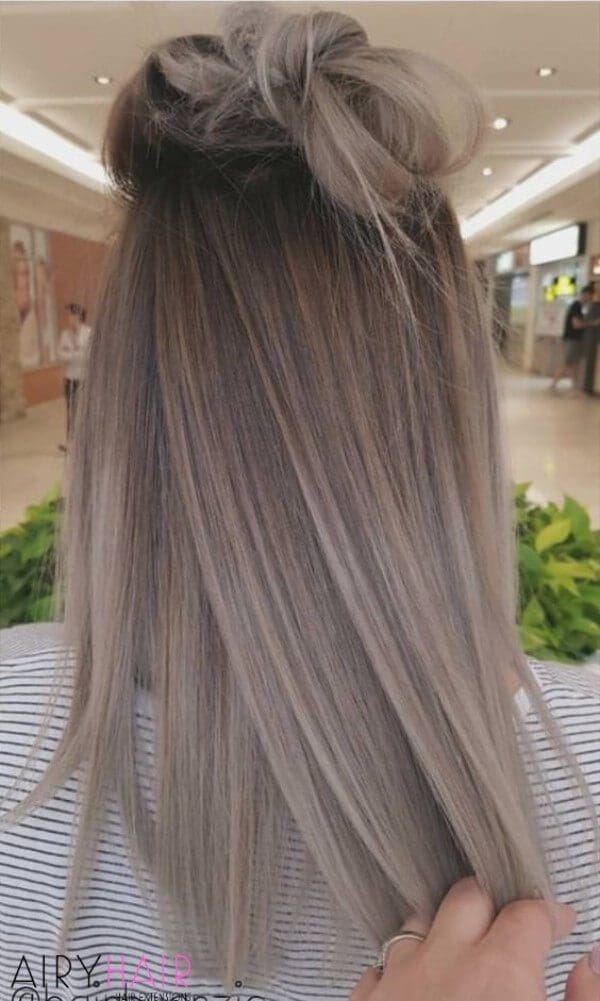 Grey hair was once considered to be only for older people, but that's not the case anymore. These ombre hair extensions show that shades of grey can be very youthful and trendy. So if you think that blonde is too boring, this ashy hairstyle is a good alternative.
Long and Wavy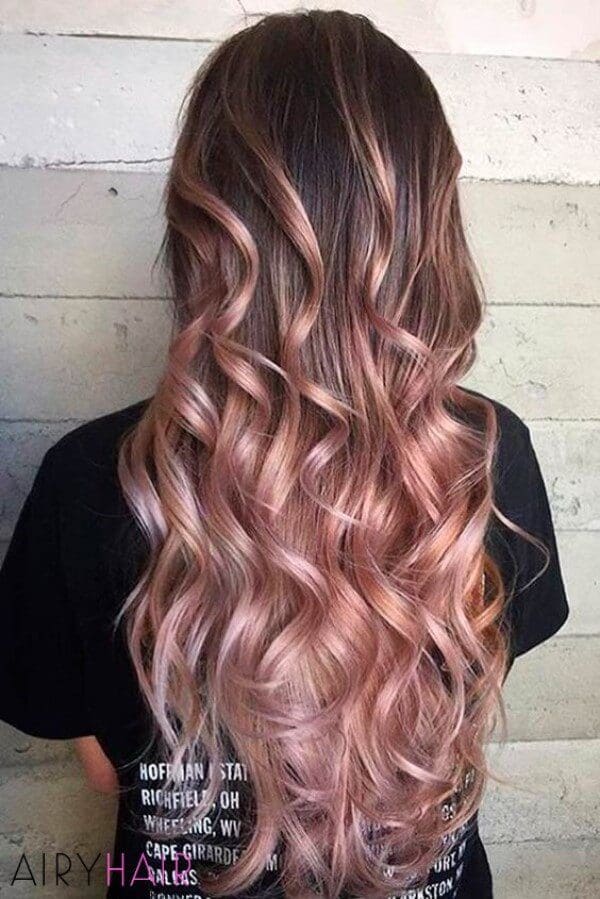 Long, wavy hair is just gorgeous, and it is perfect for ombre and balayage hairstyles because you have more surfaces to work on. Here black descends into a beautiful rose gold color that gets lighter at the ends.
Awesome Balayage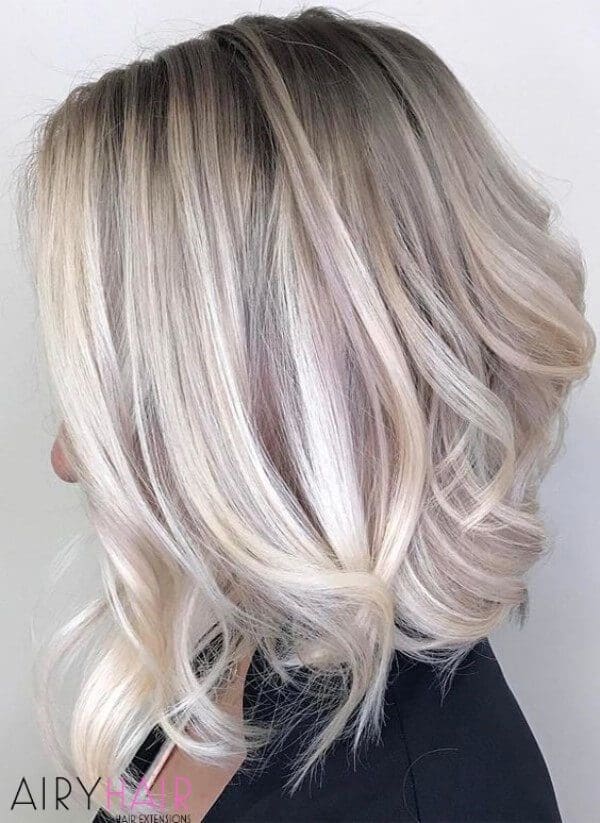 This one is for blonde hair lovers. The balayage technique was used to free-hand paint the light, almost white, highlights. There are a lot of shades of blonde and gray in there, but it all blends perfectly on this bob haircut.
Dark Grey Ombre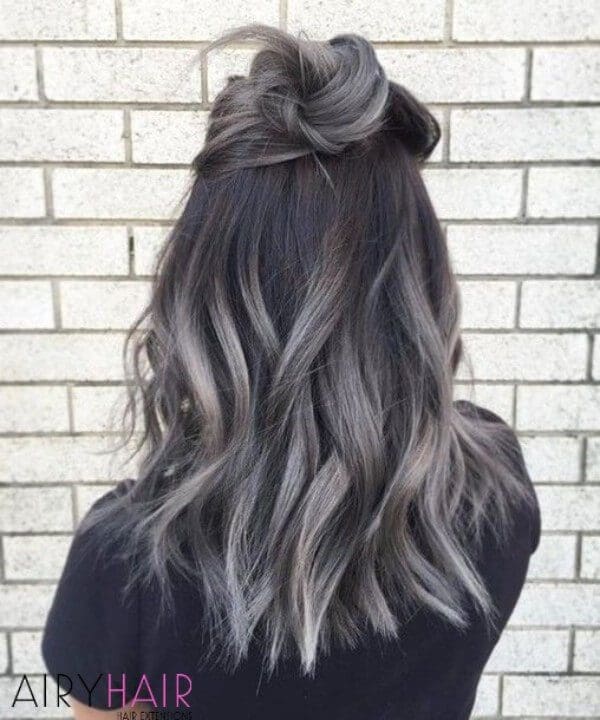 If you have black hair and want to change up a little bit but are not into bright and crazy colors, you can create a simple dark grey ombre. You can lift the top part of your hair in a messy bun to further accentuate this monochrome hairstyle.
All Kinds of Natural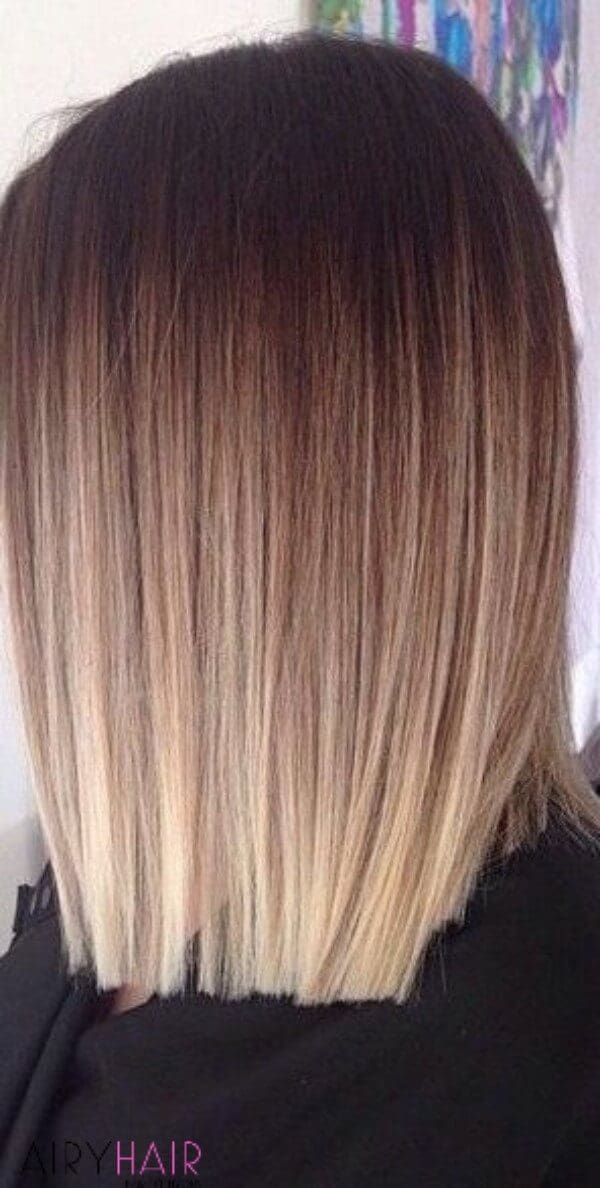 Sometimes simplicity works best, and this hairstyle represents that. It is a blunt cut with natural shades of brown and blonde transitioning into one another, resulting in a great everyday look. Yes, you can cut hair extensions too.
Curly Ombre Hairstyle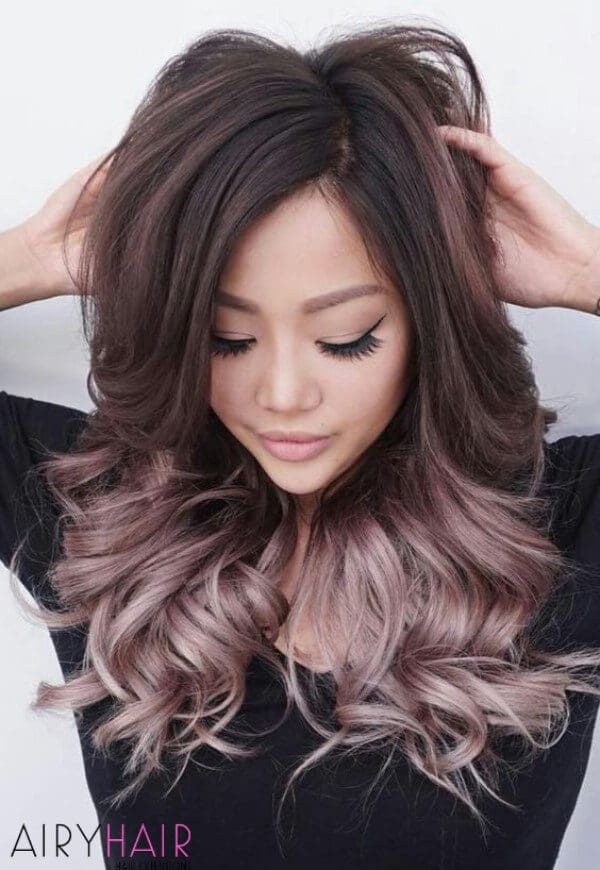 This curly ombre has remarkably interesting shades that are hard to pinpoint. The upper part is brown, while the lower part is a strange shade of ashy color with tinges of violet and pink. The result is a nice contrast of colors that compliments all skin types.
Blue and Violet Extensions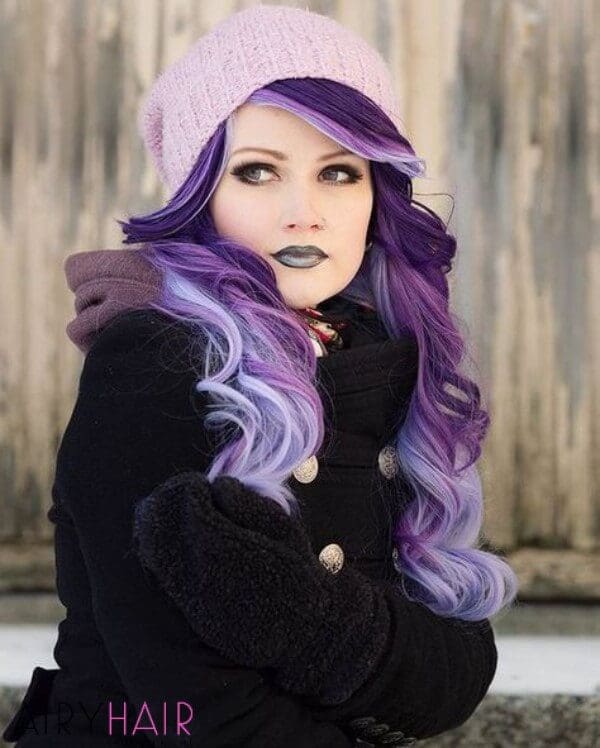 If you're looking for an unusual winter hairstyle, get inspired by this modern ice queen look. Shades of blue and violet are intertwined together and look simply mesmerizing. The result is a thrilling hairstyle perfect for anyone who loves bold colors.
A Boob Cut Idea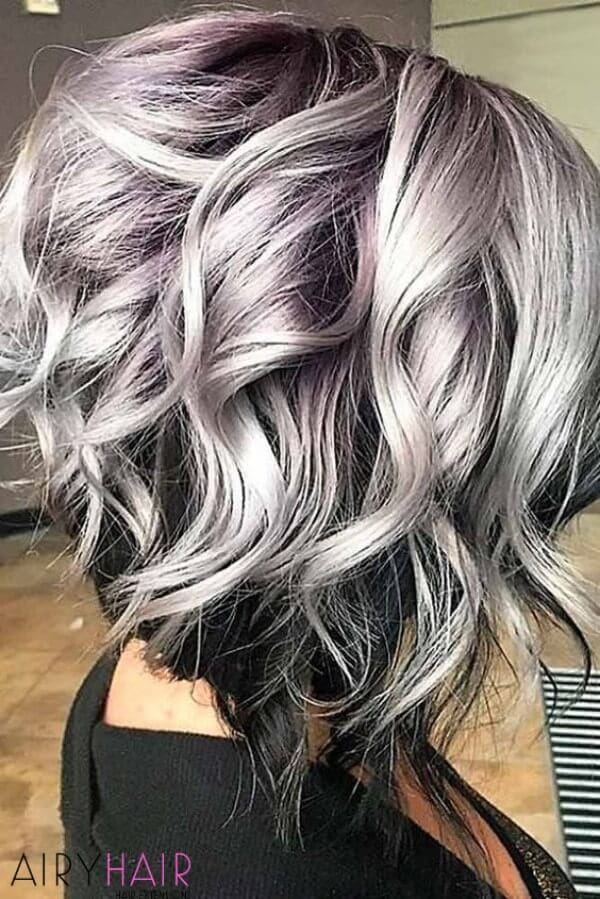 Another cool bob cut that is very curly and playful. The top part is a mix of grey and pastel purple, while you can see black peeking from underneath. This creates a lot of volume and shine.
Purple Ash Hair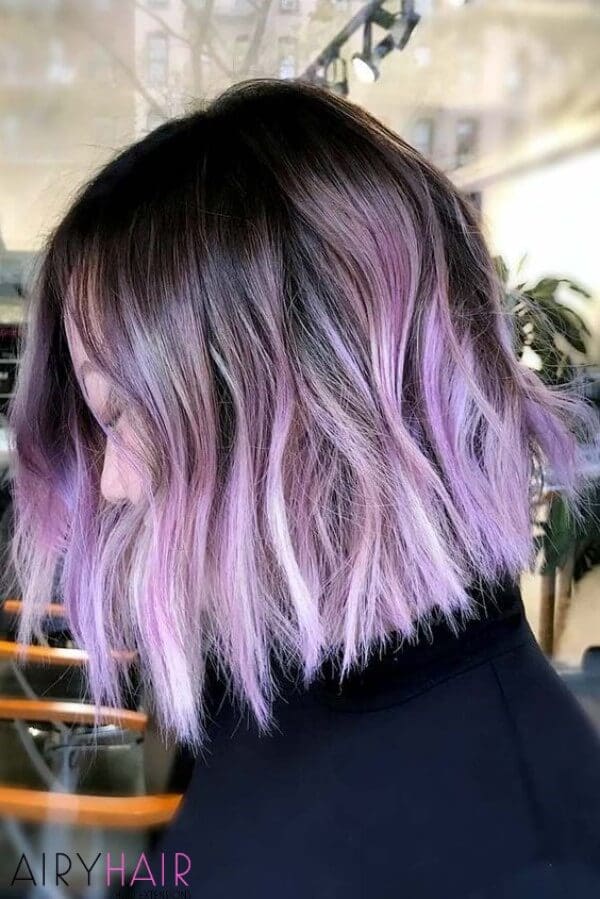 If you prefer a short casual cut, why not enhance it with a beautiful pastel color? To make it even more interesting, add a couple of white or ash-colored highlights. When you mix it all, you get a very chic, modern hairstyle that will not go unnoticed.
Let's Try Turquoise Ombre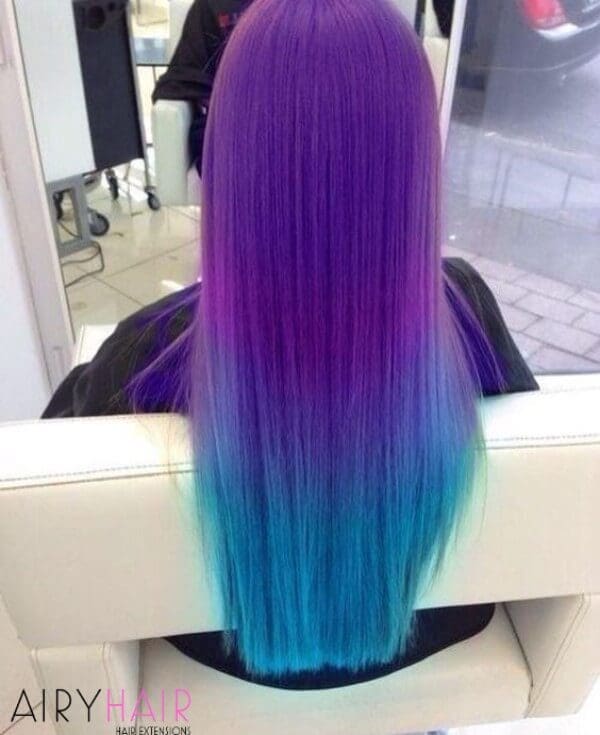 Anyone who is into bright, eccentric colors will love this hairstyle! So, if you want a bold and unique look, then go all out with the colors. This purple and turquoise ombre will turn heads, and you will be at the center of attention. The colors are electric, and they go so well together.
Blue Extensions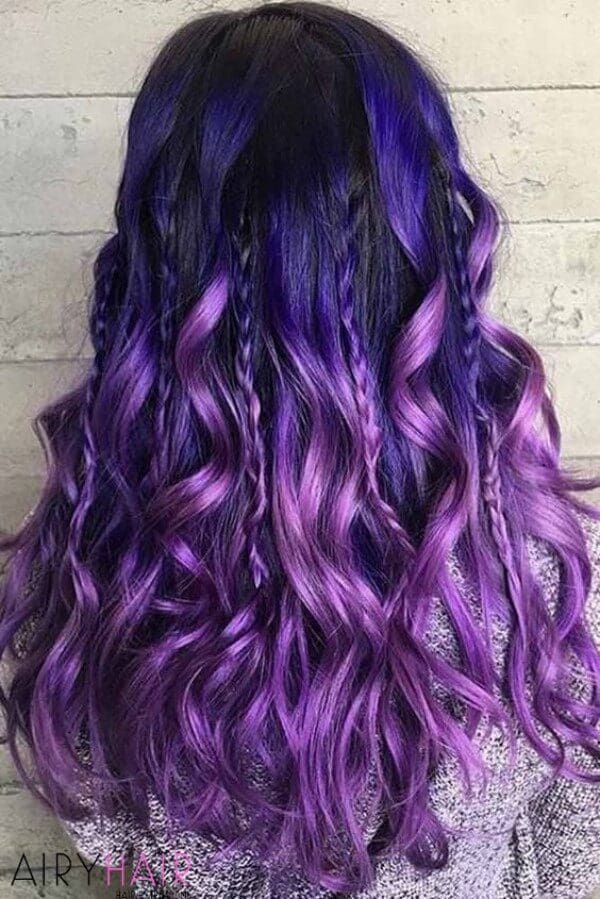 This is another bold expression perfect for women who are confident and want to show it to the world. The blues and purples intertwine in flowy locks, and there is just a splash of dark black on the roots.
This hairstyle works best on exceptionally long, luscious hair, so if you need some extra length, you can recreate this hairstyle with extensions. Invest in violet and blue wefts and combine them with your black hair. The result will be breathtaking.
Rose Pink Color Mix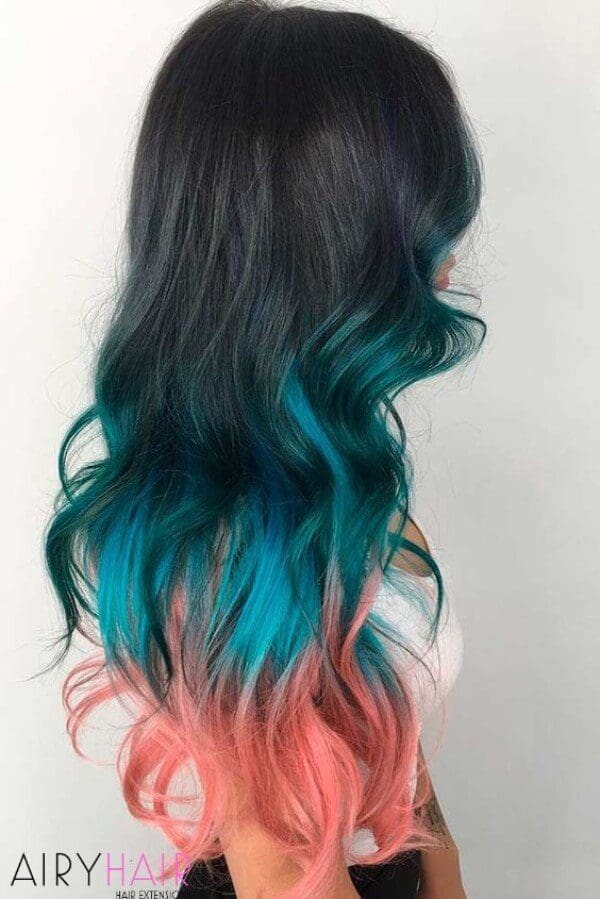 This is such an unusual combination of colors, and it is not very often that you see turquoise and rose-pink pastel color together. But it works so well together and looks incredible. Black on the top is always a good base to start with, while the other two colors run further down.
Electric Extensions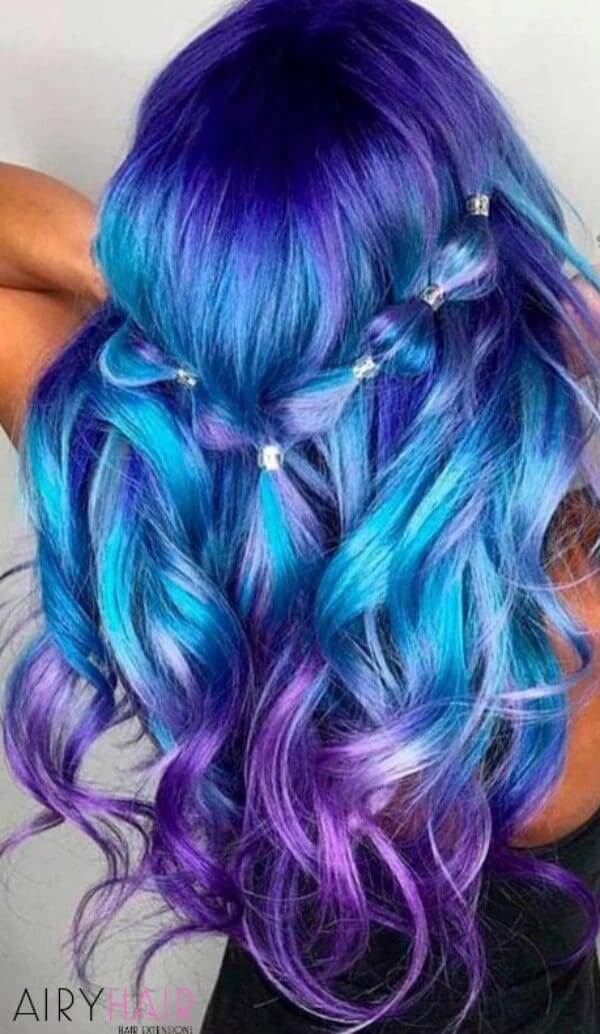 This hairstyle makes such a statement, and it's full of electric colors. You can see shades of blue, turquoise, and violet all mixed in together to create this combination. The pigment of these colors is so intense that it will catch everyone's eye immediately. So if you like being in the center of attention and different from everyone else, definitely try out this dramatic wavy hairstyle.
Stunning Rainbow Ombre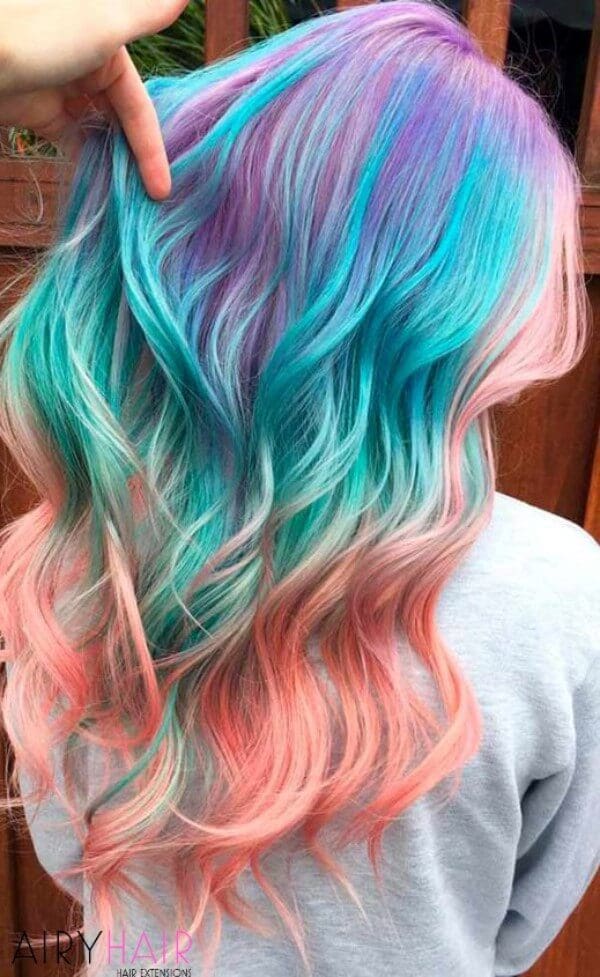 This is a rainbow of stunning colors and, amazingly, that can be done to hair. Forget about black and dark colors; this hairstyle is all about bright colors, happiness, and unicorns! It is uplifting and matches an artistic and creative personality.
If you like experimenting and expressing yourself with colors, you won't find a hairstyle that's better than this one. But if you're a bit more careful and don't want anything permanent done to your hair, go for rainbow colored clip-in extensions that you can install yourself and remove whenever you want to.
Purple, Green and Blue Balayage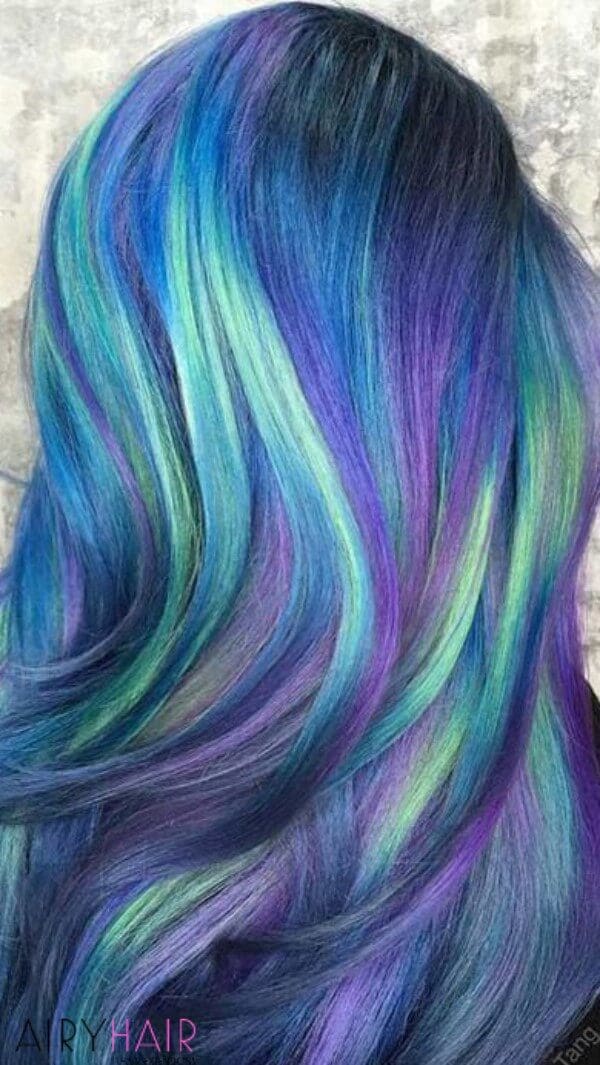 This looks more like a piece of abstract art, and, amazingly, this is hair. It is so vivid and mesmerizing how the colors mix. The connection with abstract painting is not that far off because this is done with the balayage technique, where color is painted free-hand, and the hair is like a canvas. There are shades of purple, blue, green, and even strokes of yellow that accentuate the whole thing.
Hair Extension Ideas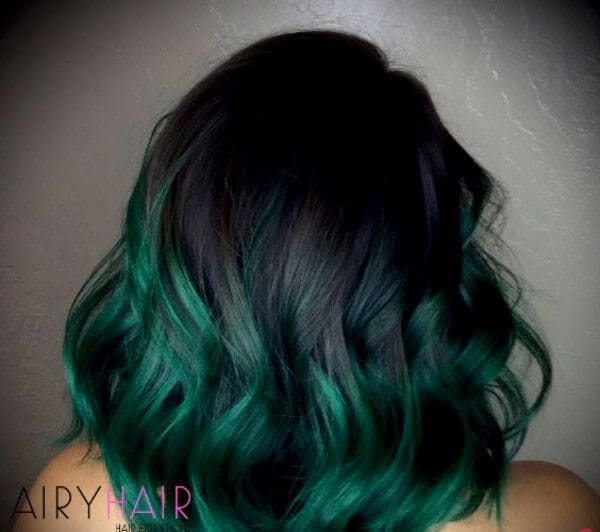 If the previous hairstyles were just too much for you and don't like bright, over-the-top colors, this black and green ombre is also gorgeous. Dark green contrasts the black very nicely, but it's not totally in your face. Since green is an unusual hair color, you still get that touch of quirkiness, but it is not completely crazy and unconventional.
Blue with Black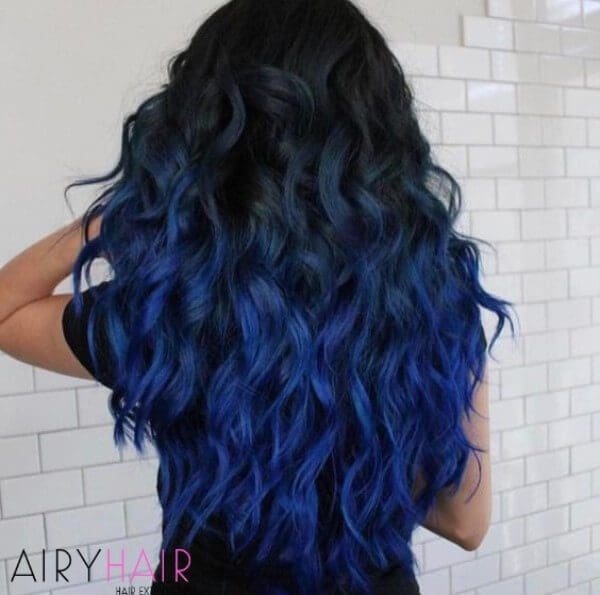 Change Your Look with Hair Extensions
Visit www.airyhair.com for the best quality, affordable hair extensions.
Photo credits: Pinterest
Hosted and color enhanced by: AiryHair