Ombre and balayage hairstyles are still very much trendy. Whether you just want to freshen up your look or change it completely, ombre or balayage style hair is a great idea. It works great for short and long hair, straight, wavy, or curly. So, it is very versatile and looks great on all types of hair.
There are also many ways in which the ombre or balayage effect can be created. One is dyeing the hair, and that can be done in many ways because there are no strict rules. Another one is applying for extensions. You can buy some that are already dyed as black and brown ombre, or you can get different shades and then blend them with your natural hair color. Either way, if you're one of the few people who didn't try this kind of hairstyle, you should give it a chance. If you need some inspiration, look at these, the perfect black and brown ombres.
1
Simple Black to Brown Transition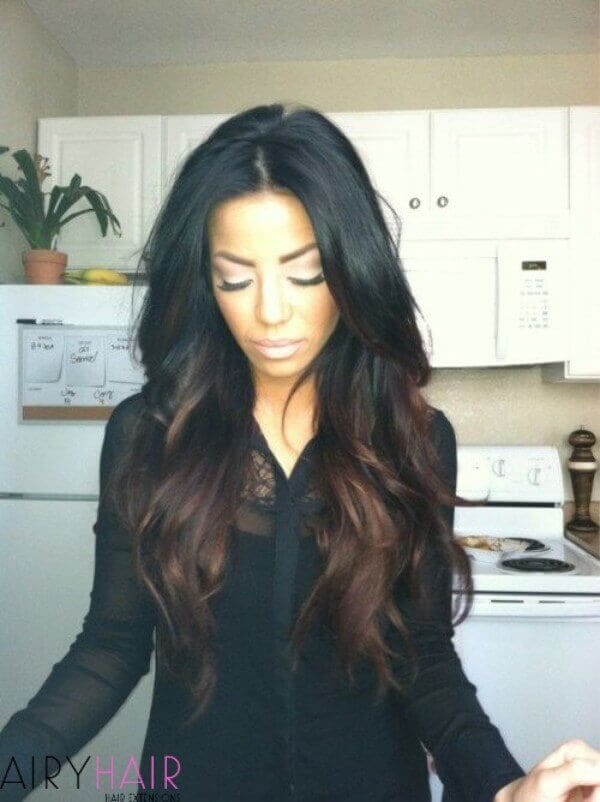 Ombres look just amazing on long wavy hair. The transition from black to brown is very subtle, and it creates a nice seamless gradient. Achieving this look is pretty simple, and you have two different choices. It helps, of course, if you have black hair to start with.
You can either dye the bottom part of your hair in a shade of brown, or you can apply body wave extensions. They can be clip-in, tape-in, or fusion; it doesn't matter; it all depends on what you like best. Clip-in extensions are a good choice if you don't want anything permanent because you can easily remove and reapply them whenever you want to.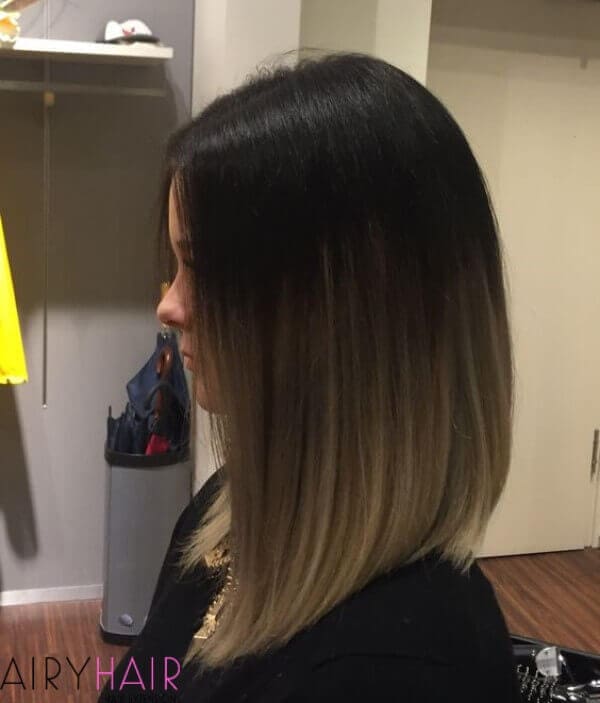 If you prefer straight hair, you can try this long bob cut. It has more of a sharper contrast between colors than ombres usually have, but that's what makes it so special and different. Here you can see three different shades – black, brown, and blonde at the ends. But you can go for just the black on top and brown on the bottom.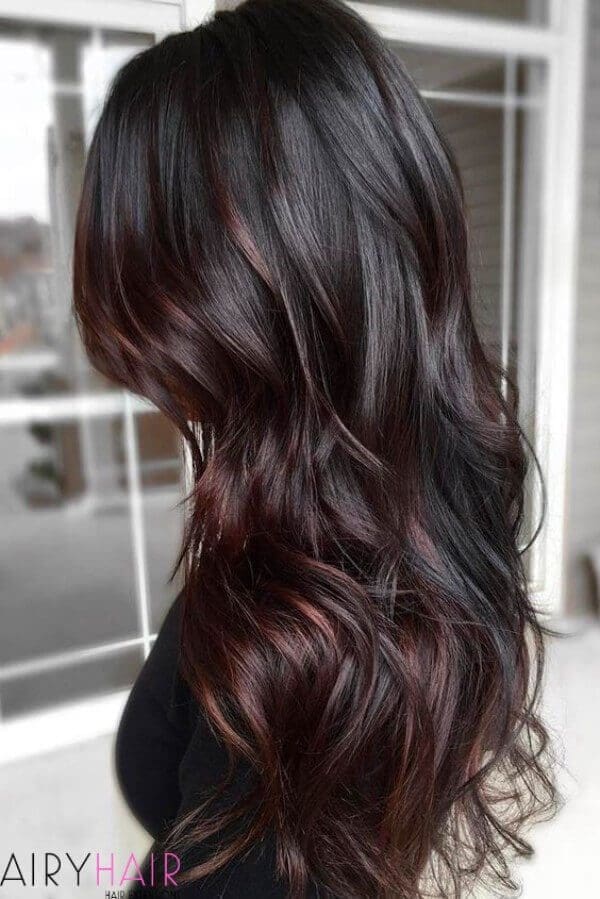 This hairstyle is very interesting because you can barely see the ombre effect, but it's just enough for it not to be ordinary. This would fit better in the category of somber, which is a very gentle ombre. It is done on black hair, and you can see a very subtle touch of brown, which is most visible at the roots.
Since the hair is wavy, the colors mix and interact with each other even more, creating a nice effect. This hairstyle can also be achieved with the balayage technique, where the strands of hair are highlighted non-symmetrically, creating a very natural look. So, if you're not into a lot of color and highlights, this is a great style to try.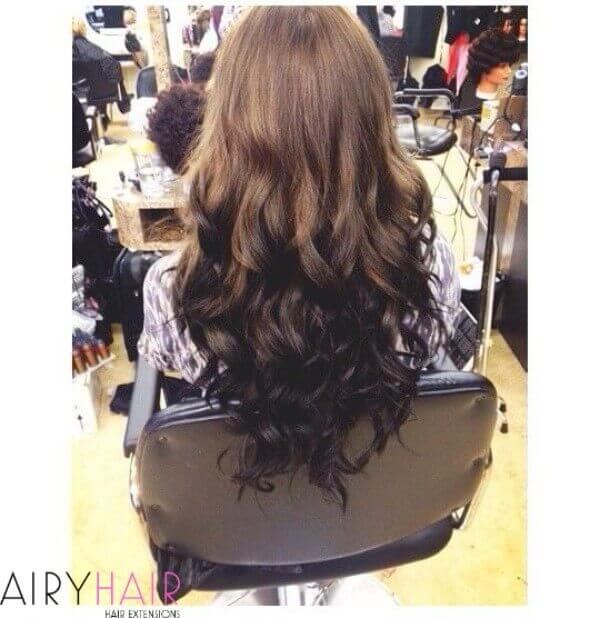 Not every ombre must go from dark to light color. In this photo, you can see the opposite, the roots are brown, and the black starts around the middle of the hair and continues down to the roots. Given that this hair is very long and voluminous, there's a big chance that these are extensions.
The way that is done is by placing dark wavy extensions below someone's natural brown hair, and when you curl blend it all, it looks like an ombre. That is a great way to do it because you don't have to spend money and time to dye your hair, and you can always take the extensions out if you get bored with the ombre.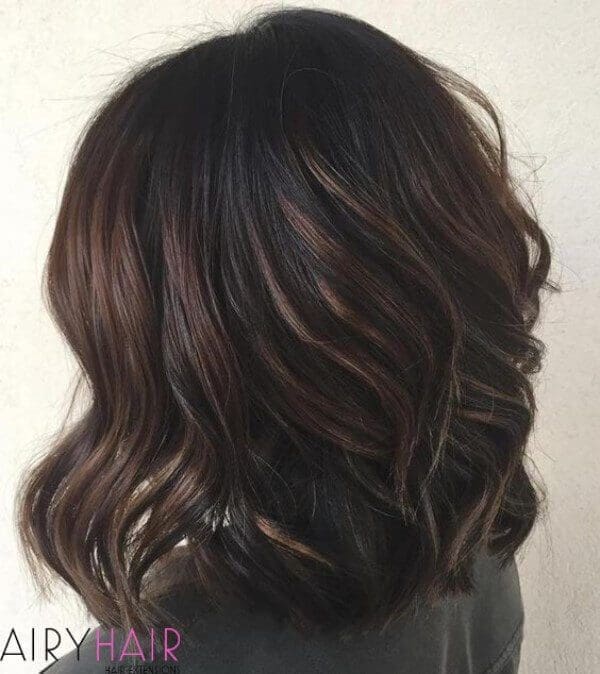 This hairstyle fits more into the category of balayage. You can see that there are light brown streaks in random places, starting from the top, that have the role of highlights.
So, with balayage, you don't have that strict transition from one color to another, and the lighter color is used to accentuate. That way, the hair has a lot of depth and volume and looks much fuller. It is also a very natural look that mimics highlights you would get from the sun.
6
Balayage Black to Brown Hairstyle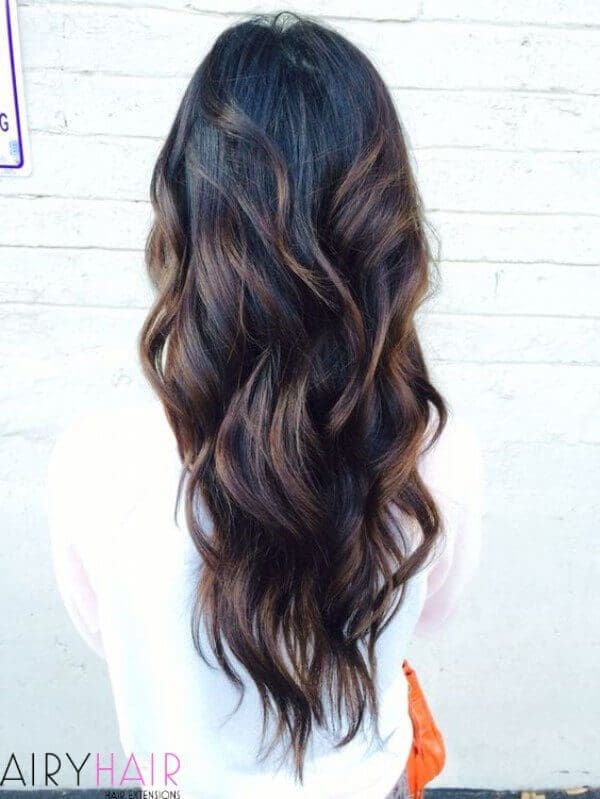 This is an example of a shorter haircut where the balayage technique was used. You can see thin brown highlights that run through the hair and create a natural look. These kinds of highlights look better on slightly wavy or curly hair because they're not supposed to be symmetrical and even, and that's harder to achieve on straight hair.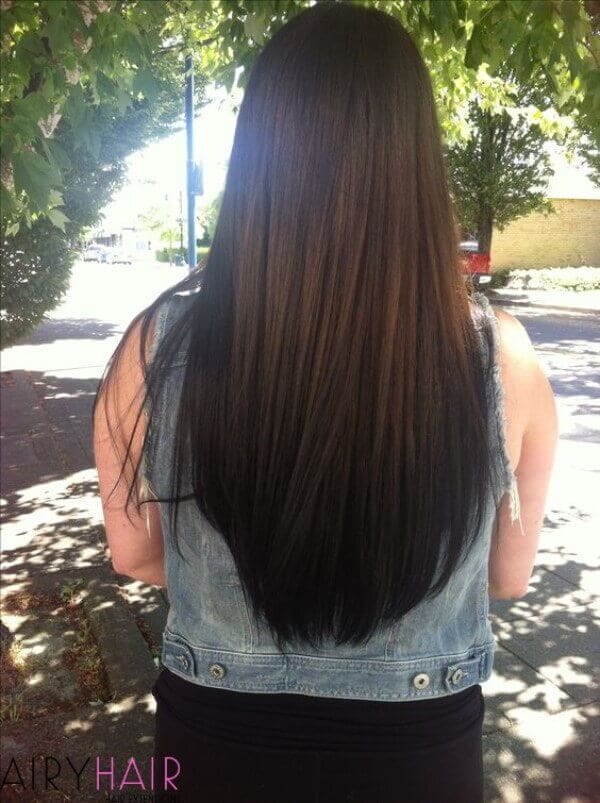 This is an interesting take on ombre because the top layer of the hair is brown and shorter, and the bottom longer part is black.
Likewise, the transition of the colors is done in a slightly different way, but it nonetheless looks beautiful. This can also be achieved by instant hair extensions that come in a one big weft. You can buy a black one and place it under your natural brown hair, and you'll get the same effect.
8
African American Ombre Skin Match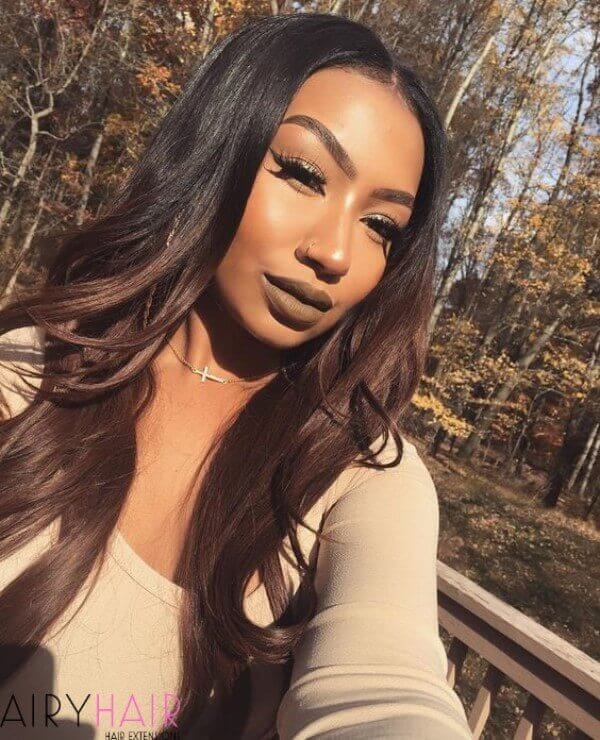 This perfect black to brown ombre looks stunning. The brown chocolate color is amazing, and it's just the perfect shade. This is a great color combination if you have darker skin because it complements it.
9
Brown Ombre for Long Hair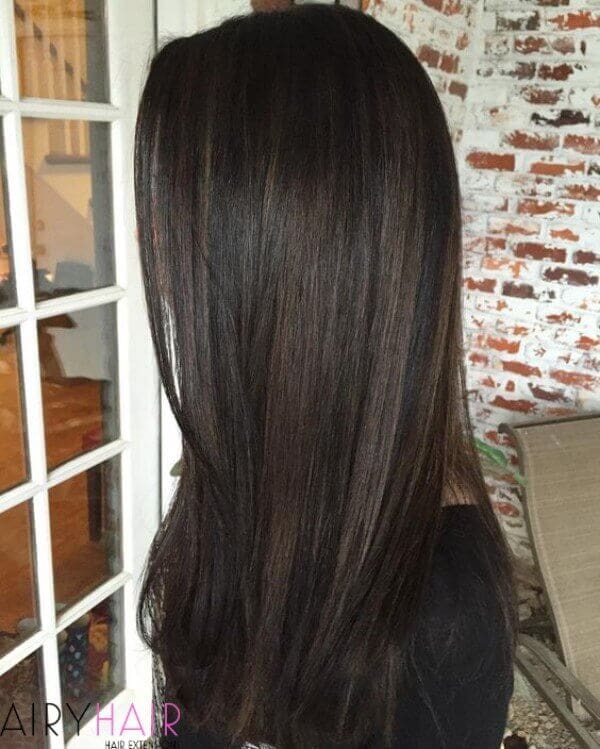 This is an example of the balayage technique on long straight hair. It is very fine and understated and looks like natural hair color. This hairstyle shows that balayage works great on straight hair as well if it's done properly.
10
Shades Play with Black and Brown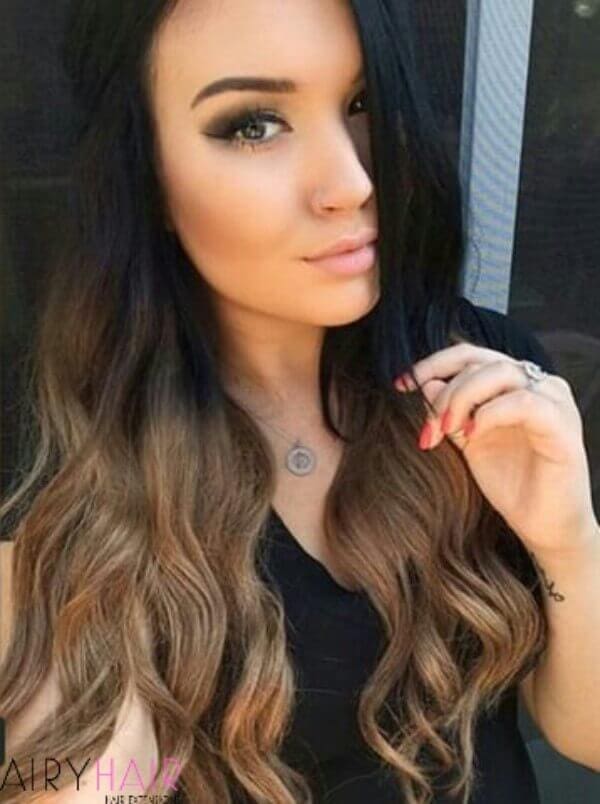 If you want to make a statement with your hairstyle, then go for high contrast between the colors. This shade of brown is very light compared to black, and the transition is very quick.
11
Short Brown Ombre Hairstyle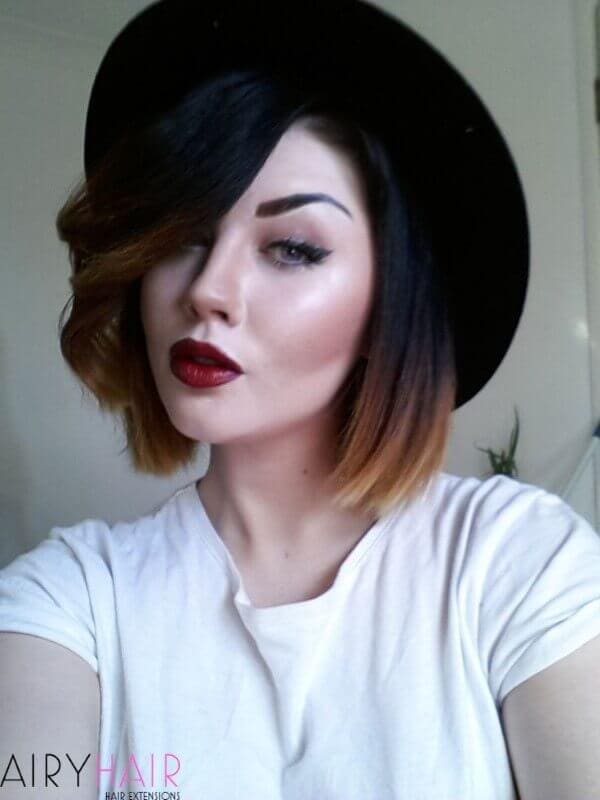 This photo shows that you can get an ombre on short hair as well, and it looks amazing. For short haircuts, it is best to have brown color at the very ends and not start too high up. But if you do get bored with short hair, you can always extend it with hair extensions.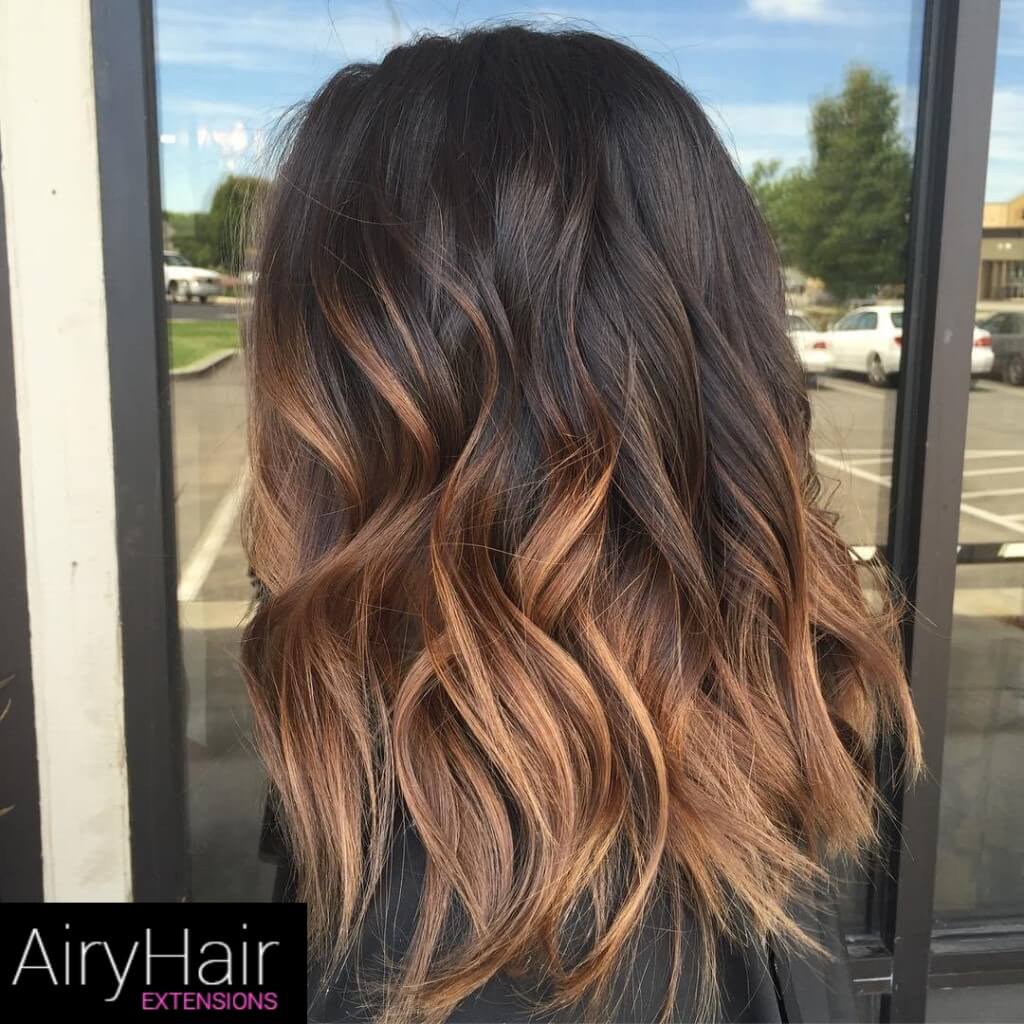 This is more of a casual brown ombre hairstyle that is slightly faded. Perfect for office and family gatherings.
13
Stunning Brown Hairstyle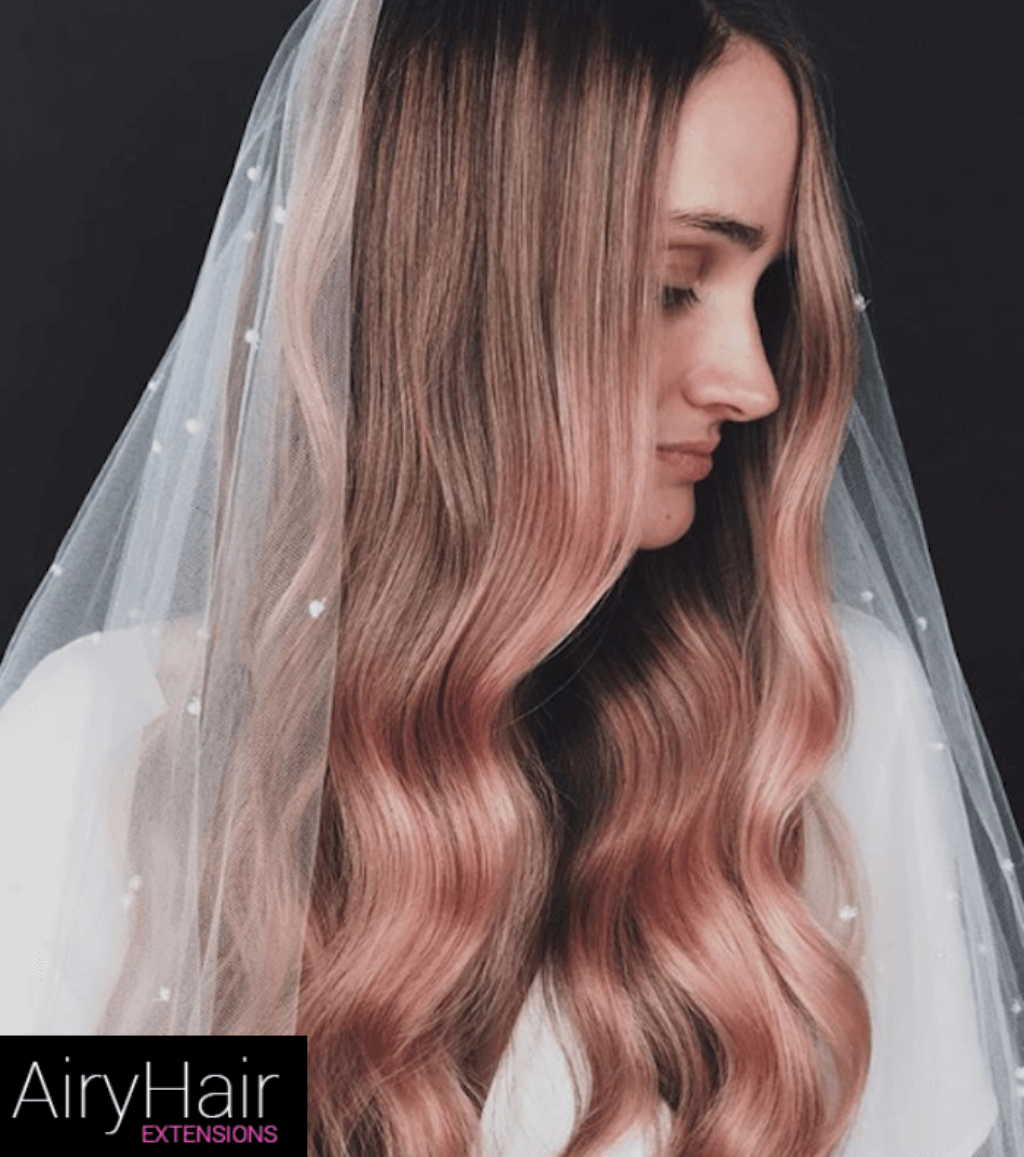 How do ombre hairstyles look in a wedding dress? Here's your answer.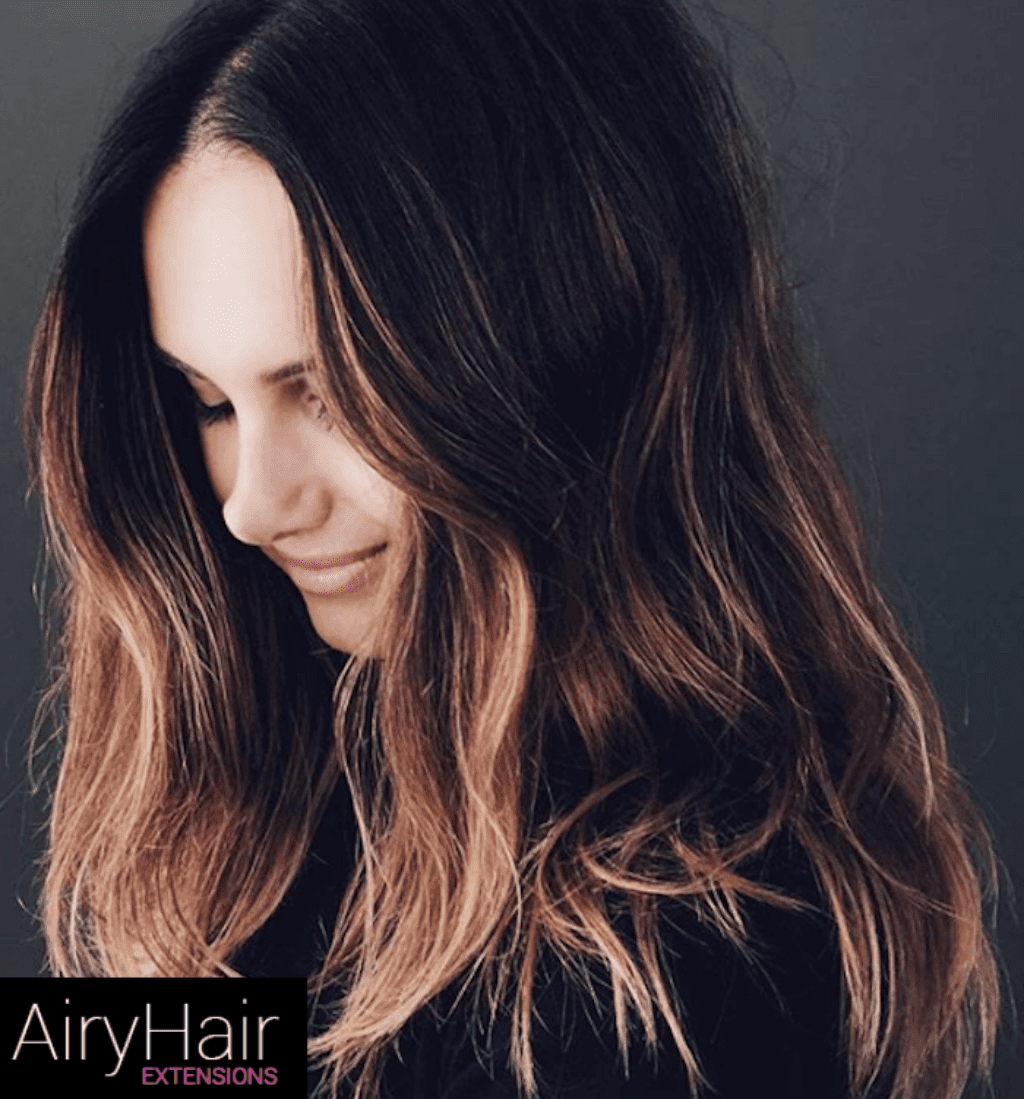 Whoever this woman is, she is stunning, and the hairdresser did an incredible job with brown toning and light strokes.
15
Short Hair Auburn to Brown Tone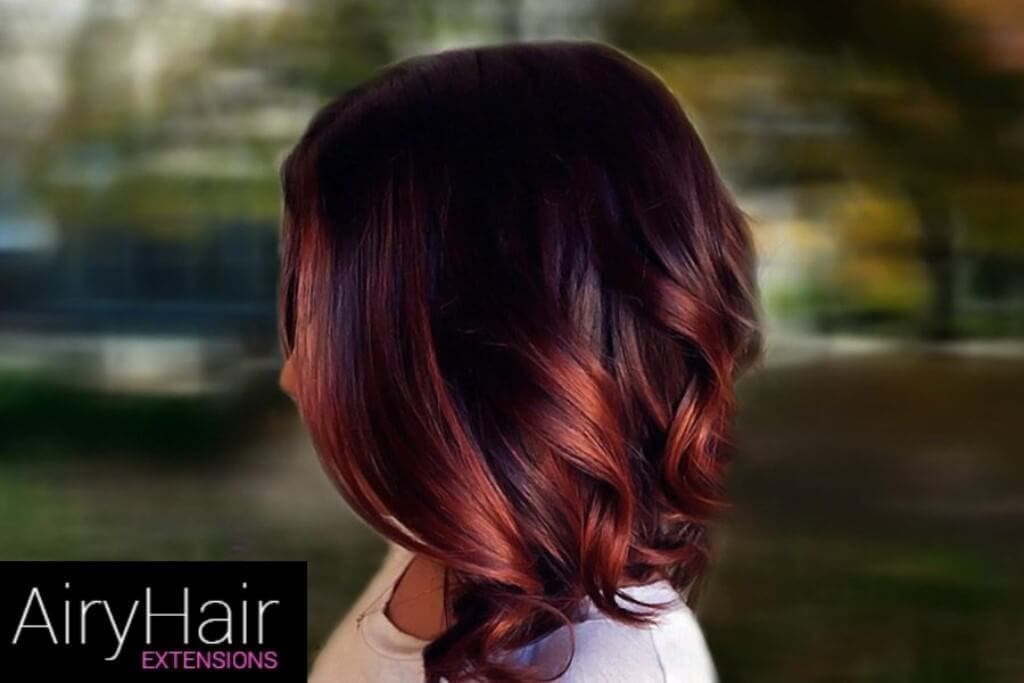 One of the most interesting takes on ombre colors and simple transitions.
16
Curly Hair Experiments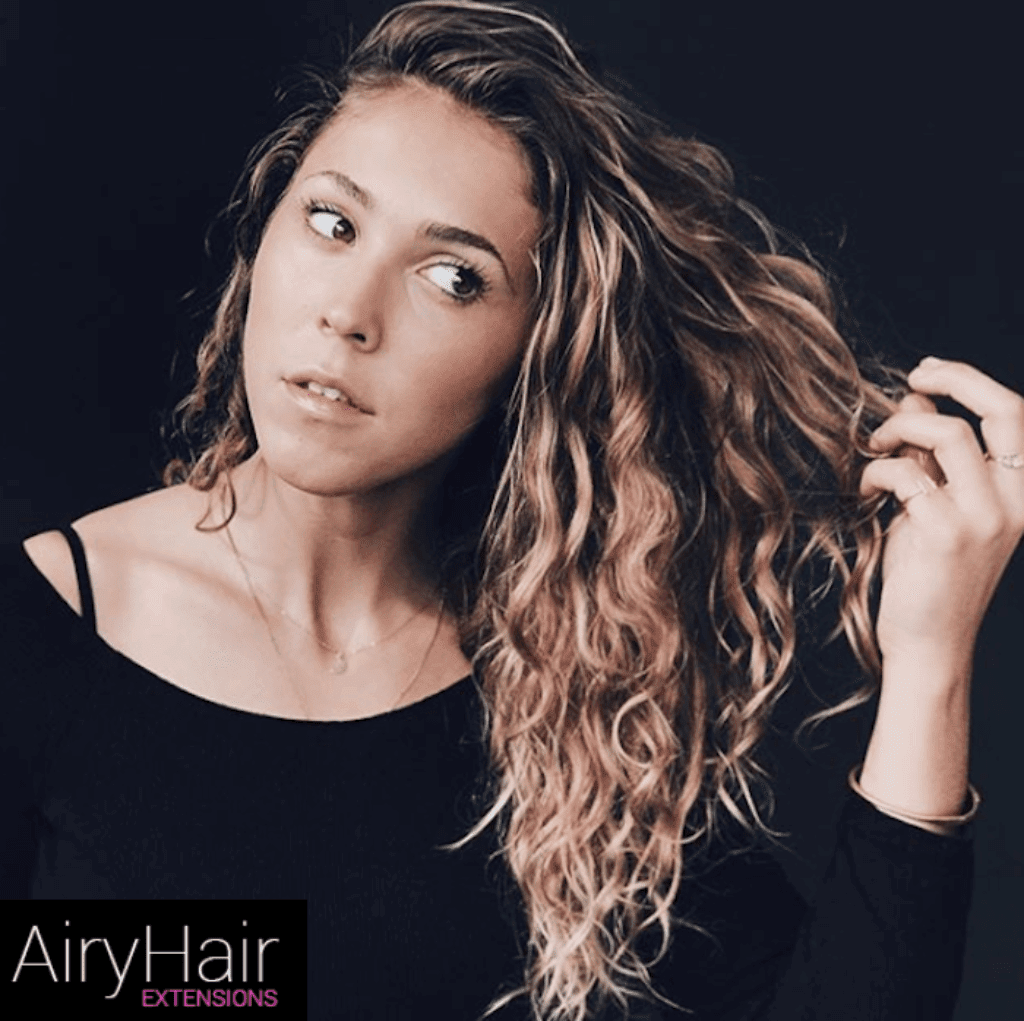 Just a cool hairstyle with curly hair.
17
Subtle Black and Brown Ombré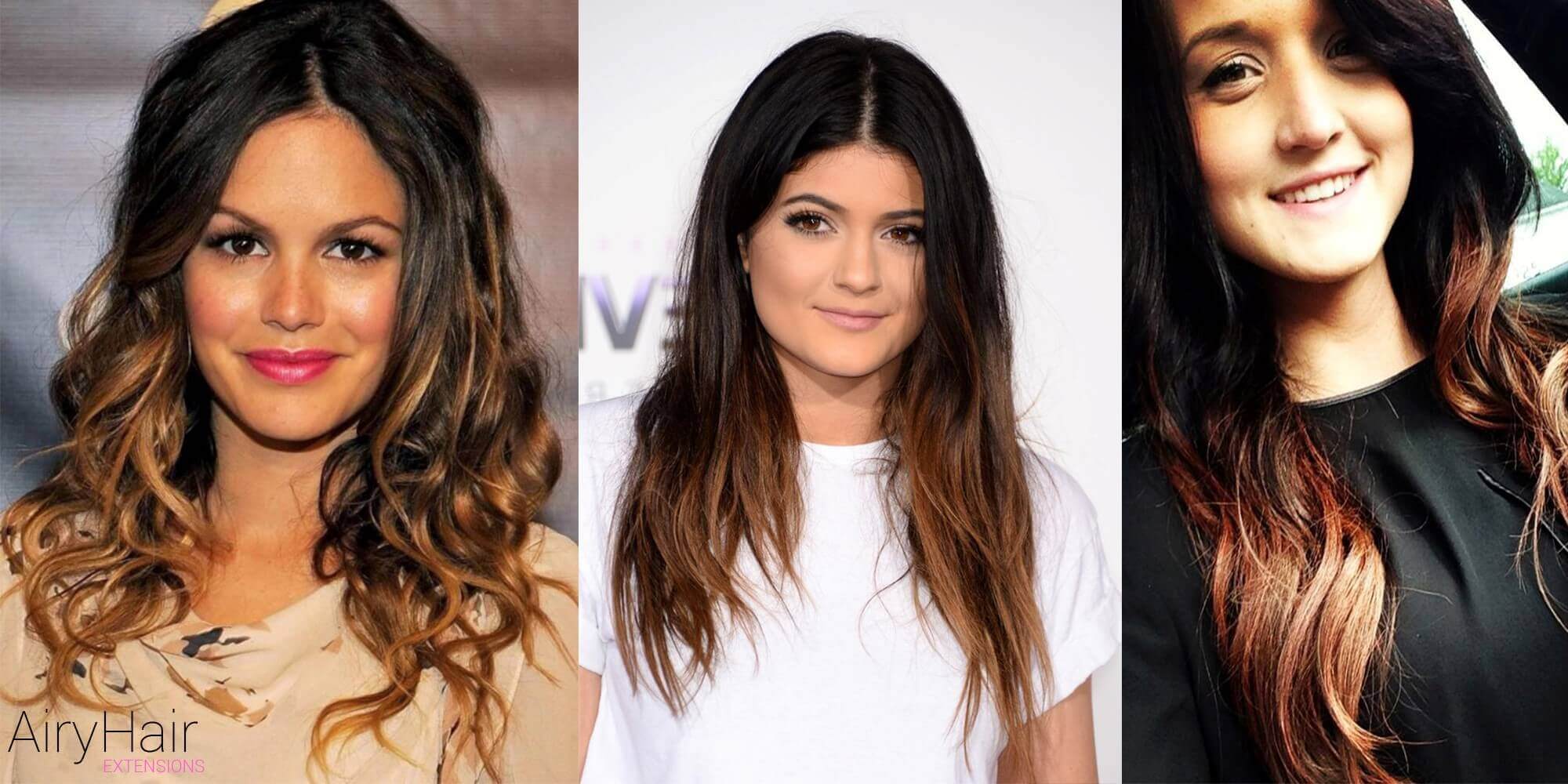 Black ombre is cool and trendy. If you have black or very dark brown hair, you can consider any of these fun ombre hairstyles. The only requirement for an ombre hairstyle is long hair because that's the only way you'll get the full effect of the color transitions. For those of you who don't have very long hair, extensions are always an option (and yes, we have all the colors listed below) and you can skip all the complicated color techniques. Here are 10 stunning black ombre hairstyles that can inspire you for your next visit to the salon.
For those of you who don't want to change their hairstyle too much and want just a subtle change, this black and brown ombre is the perfect option. It simply highlights the bottom part of your hair and looks natural.
18
Simple Black and Copper Ombré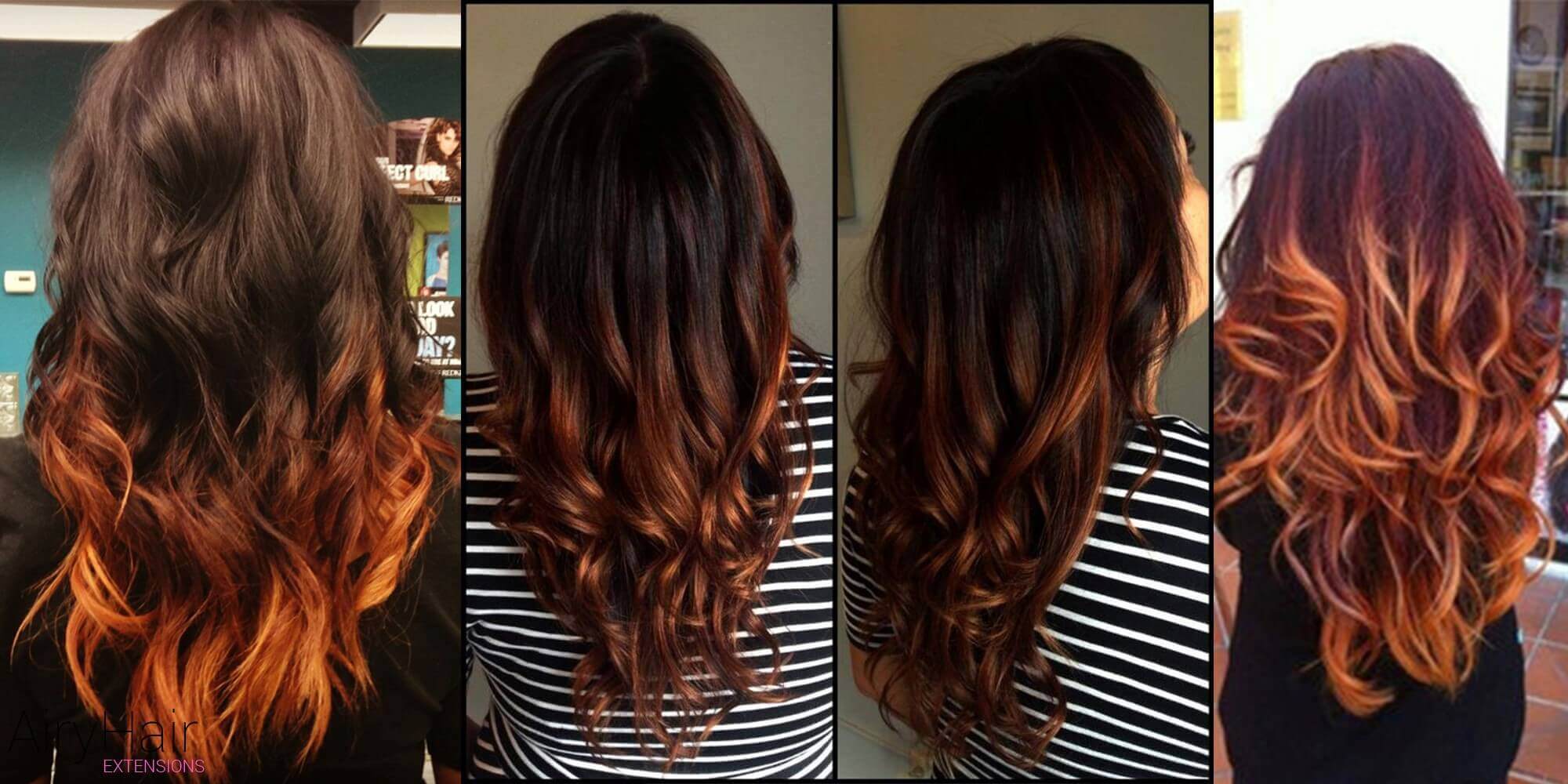 If black and brown ombre is just too bland for you, but you still don't want to go overboard with crazy colors, this simple copper ombre is perfect for you! It adds a nice highlight to your tips.
Picture Source: Pinterest
Hosted and Enhanced by AiryHair