Color is without a doubt, the most important ingredient for a great hairstyle, and luckily, there's a lot to choose from. Lately, a lot of crazy color combinations and ombres have become very popular. That gave us the chance to experiment with hair color and create something unique. Everybody would like to have an original hairstyle and just do something different with their hair and different color combinations are the way to go. There are just so many different possibilities and you can easily create a unique hair color and hairstyle.
Many people dye their hair in all those different, crazy colors, but if you like to experiment a lot or you're not sure if your new hair color will fit you, then extensions is the perfect solution. You can buy extensions in all kinds of different colors and many color combinations. Extensions give you the freedom to play around with the colors, creating your original style.
To get some inspiration for your new hairstyle, let's look at these incredible ombres that are using pink, teal, blue, and a couple of other colors to create amazing ombre effects!
Pink – Purple Ombre Hairstyle
Pink and purple are amazing colors on their own but combining them creates an amazing mix of beautiful and vivid colors.
This pink and purple ombre looks very girly and cute but it also has some boldness to it because not everybody would dare to have such a unique hairstyle. It looks great on many different hairstyles, but it is preferable to have long hair so that this ombre effect can be visible.
Pastel Pink – Grey Ombre Hair Extensions
Grey hair color is very trendy at the moment and it completely transformed from a hair color only older people would have to very young and hip hair color. But if grey hair is still too boring for you, you can add other colors to create a beautiful ombre effect.
Here you can see an incredible pastel pink and grey ombre that looks amazing! Grey and soft pink go well together, and that touch of pink transforms the whole hairstyle.
Pastel Pink – White Ombre Hairstyle
Using pure white in hairstyles is extremely popular right now. It looks minimalistic, clean, and trendy. But if you would still like to add some color to your hairstyle, soft pink/rose color is a perfect choice. It works especially great with white and together they create an amazing ombre that simply won't go unnoticed!
This pastel pink and white ombre look great on long hair, but here you can see that it also looks great on extremely short hair. Just a small touch of pink on the edges of your short hair is enough to get the ombre effect and create this amazing hairstyle.
Pastel Pink – Copper Ombre Hair Extensions
Pastel colors are very popular right now, which is great. So, here you can see an awesome pink and copper/orange ombre. This color combination is very subtle and gentle and works great for shorter hair as well. The color tones are very similar, so they blend perfectly.
This pink and copper ombre combination also looks particularly good on darker skin tones. This is a perfect hairstyle for you if you don't want to go wild with strong and bold colors but still want a unique hair color.
Pink – Blue – Orange Ombre Hairstyle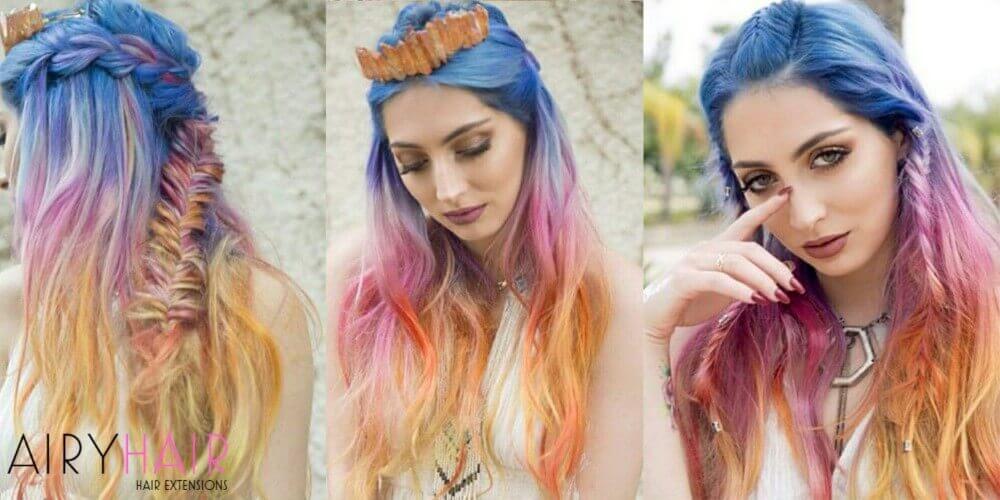 Multiple colored ombres are also very cool at the moment. If two colors are just not enough for you, then you can simply go for three or more! Here you can see beautiful transitions from dark blue to pink and orange color.
These three colors go very well together, and you can play around with the placement of the color to create your unique hairstyle. For this one, it is better to have long hair so that all three colors can blend nicely and create this wonderful effect.
Pink – Red – Copper Ombre Hair Extensions
This is another three-tone ombre, using pink, red, and copper/orange. The great thing about this hairstyle is that the color combinations look very natural and it's perfect if you don't want strong and bright colors.
If you have naturally brown hair, this is a great option for you because adding a touch of pink and red is just different enough to change up your hair color and create a new look.
Pastel Pink – Teal Ombre Hairstyle Idea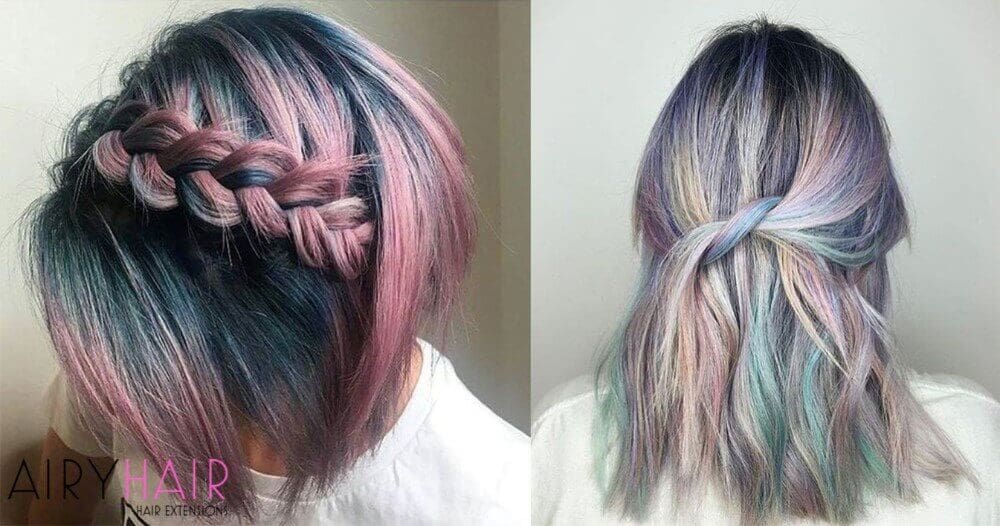 Pastel colors are simply amazing as hair colors; they are gentle and have that amazing light shade. Here you can see an awesome pastel pink and teal ombre that blends perfectly and creates a unique look.
You can see in the photos that it looks great on shorter hair as well and adding braids accentuates this incredible ombre hairstyle.
Black – Grey – Teal Ombre Hair Color Idea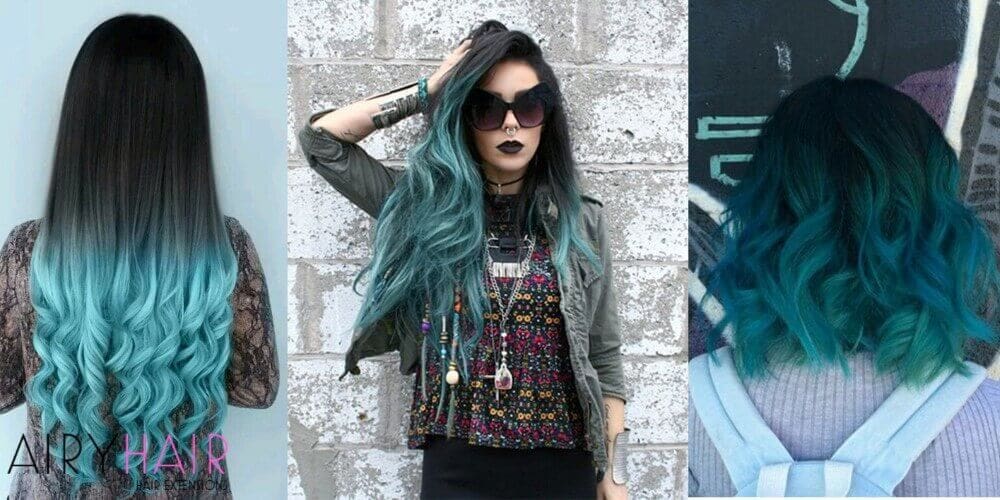 Teal is another one of the extremely popular hair colors for this season. It just looks so different and cool and it makes you stand out. If you want the teal color to be the ultimate focus of your hairstyle, simply combine it with black and grey, creating a beautiful ombre.
Black is always perfect for contrasting and it works perfectly with teal color to bring it out, as you can see in the photos.
Black – Purple – Teal Ombre Hair Color Idea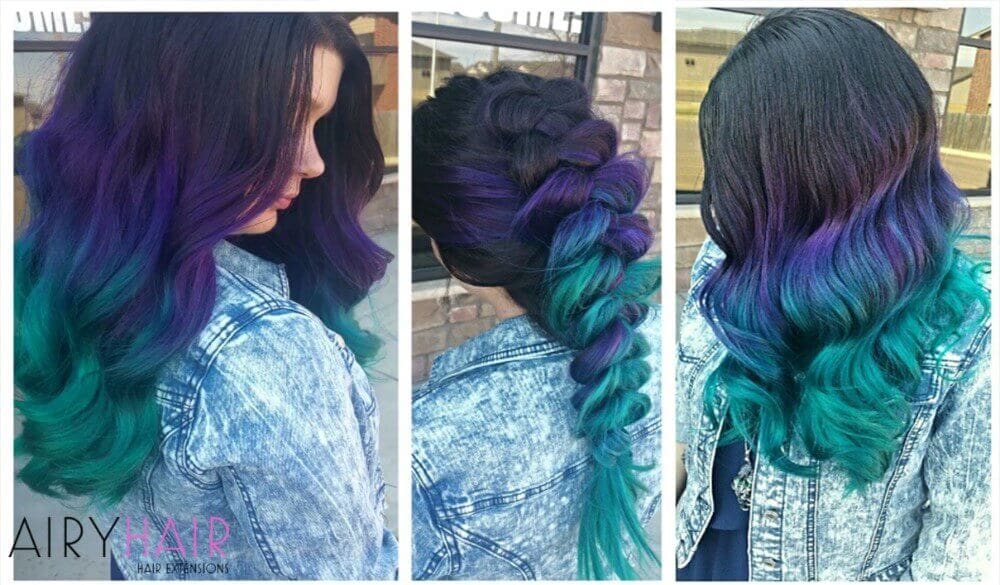 If the black and teal combination is too simple for you, why not add a third color? Purple looks great in this mix of colors and it works as a great transition color from black to teal. If you don't want to dye your hair, another great way to create this hairstyle is to add purple and teal ombre extensions to your black hair.
That way you can create a three-tone ombre in a very simple way and if you don't like it, you can always change it easily.
Teal – Blue – Pink Ombre Hair Extensions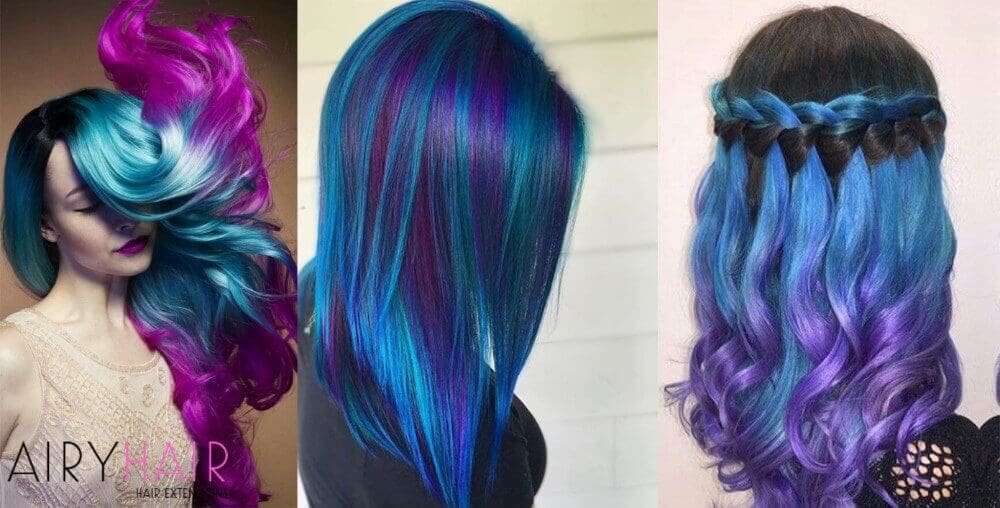 If you want to stand out from the crowd and love bold and crazy colors, this is the perfect hairstyle for you! The combination of teal, blue, and pink colors is just incredible. It looks bold, majestic, and vivid. It's so intense and bright that it for sure won't leave anyone indifferent.
For a greater effect, do this on long hair or simply buy very long teal, blue and pink extensions.
Teal – Pink Ombre Hair Extensions
This is another bold combination of colors. Teal and pink are very bright, vivid colors, and the combination of them creates a beautiful color contrast that's very eye-catching. It doesn't matter if you start with teal transitioning into pink or the other way around, both combinations look awesome!
You can also play around with the intensity of the colors, there are almost neon pink and teal shades, but there are also some toned down, pastel shades that also look great.
Teal – White Ombre Hair Color Idea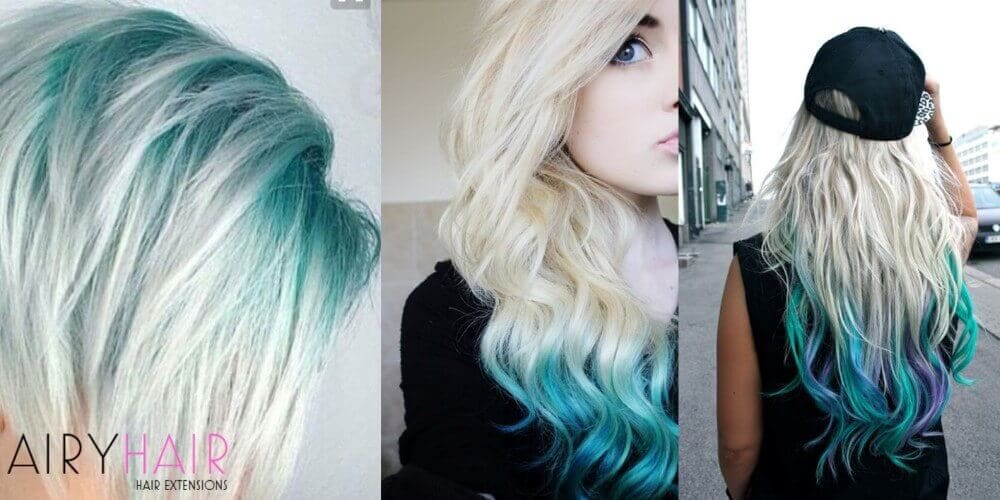 If you have blond or white hair, adding a touch of teal color with bringing your hairstyle to life. It doesn't matter if you have long or short hair, adding teal to the mix with definitely transform your look and spice it up. You can add teal to the edges of your hair or start with teal on your roots and transition to white at the edges – both look amazing!
Blue – White Ombre Hairstyle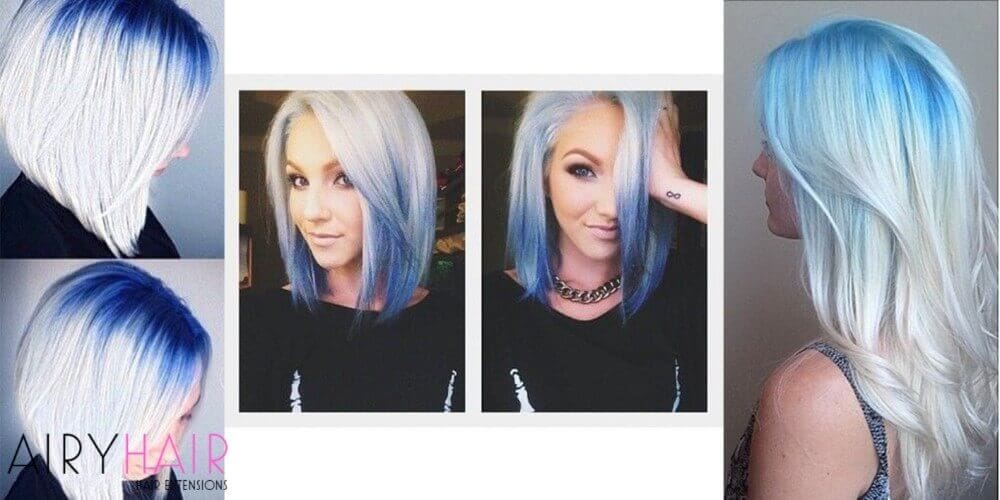 Blue is another great, bold color you can use if you want to create something different with your hair color. You can add blue to your white or blonde hair, but you can also buy extensions that already have the white and blue ombre effect.
What so good about it? It makes the process a lot easier and you can also pick the length of the extensions which is another thing you can play around with.
Blue – Grey Ombre Hair Extensions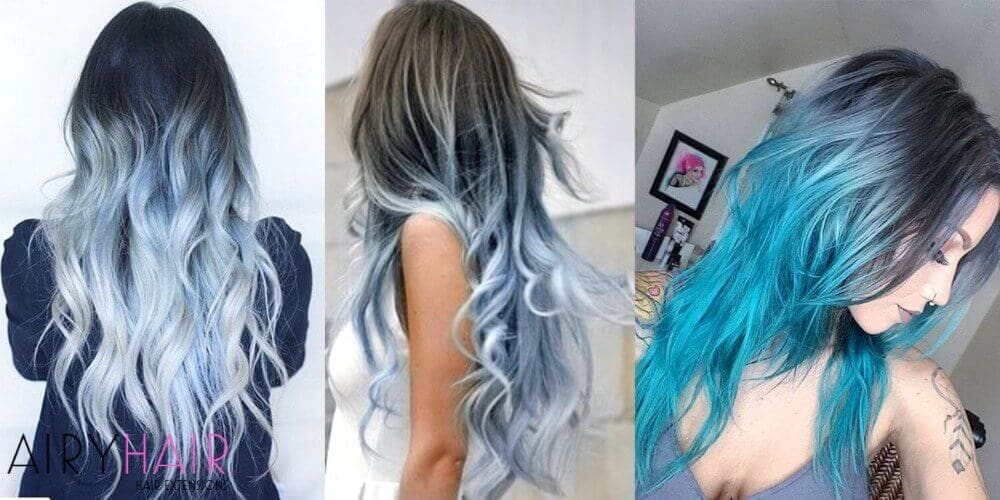 Blue also works great in a combination with grey. It can either be a strong and bright blue color, but you can also go for the softer pastel blue.
This ombre creates a very nice transition from grey to blue and has a very eye-catching contrast. You can also experiment with adding blue extensions to your dark hair and create this ombre hairstyle without even dyeing your hair. How cool is that?!
Blue – Black Ombre Hair Color Ideas
The combination of dark blue and black creates a very subtle ombre. If you don't like a lot of contrast and bright colors, this is a great option. Black transitions to blue seamlessly and looks simply incredible. Since this is a very subtle ombre, you can get this effect by adding blue extensions to your black hair.
This way you can add length to your hair, choose where the black ends and blue color starts, and experiment as much as you like!
Don't Want to Ruin Your Hair?
All these colors and more are available via www.AiryHair.com, the natural real human hair extensions supplier.