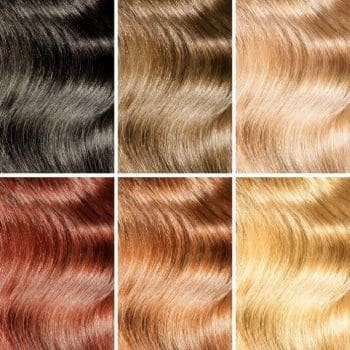 All AiryHair extensions are 100 percent human hair, so you can bleach them a lighter tone to achieve the look you desire. Order the bonding, length, texture, and custom hair type of your choice in any shade. Dyeing supplemental strips before attachment simplifies that process. Or if you want to change the tint after wearing temporary, reusable bundles for some time, remove them first. Select between two popular lightening techniques below. Following the recommended steps will turn your longer, fuller locks into color hair extensions.
Permanent Hair Color Method
Color kit selection: Decide what shade you want your extensions to be. Then buy a color formula that's one or two tones lighter. To achieve light ash blonde, for instance, use light golden to light blonde hair dye.
Cleaning and preparation: Always start with clean hair extensions. Shampoo them to remove all styling product buildup and oil. Air-dry or use a blow dryer on the lowest setting. Place each strip on an individual sheet of aluminum foil.
Mixing ingredients: Developers come in 20, 30, and 40 volumes with 20 looking the darkest and 40 bleaching to the palest. Place small amounts of liquid developer and powder lightener into a container. Stir them together with a brush to create a smooth consistency.
Bleach application: Wearing gloves, work on each extension section over its foil strip. Massage your mixture into every piece, starting at the top. Using circular motions, move toward the ends until you've saturated all strands evenly and fully. That will prevent unwanted streaking effects. Fold foil sides and ends over the bundles so bleach won't spill out during the processing phase.
Processing: Place foil-wrapped bundles in plastic bags. Let them process for 10 minutes. Then look to see if they've turned a lemony yellow shade. If they still seem too dark, reseal the foil to continue the lift. Keep checking at 10-minute intervals, not going over an hour total. For stubborn darkness, apply a little more bleach mixture. Remember that all hair appears darker when it's wet.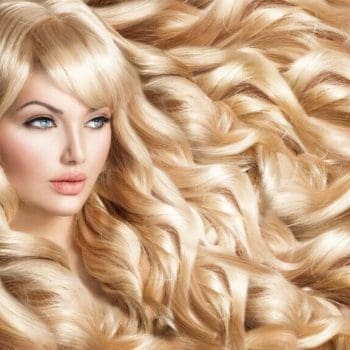 Shampooing and conditioning: To neutralize your dye kit's chemicals and stop further bleaching, wash your lightened AiryHair with a special pH-balanced shampoo immediately. Rinse well. Follow that with a deep-conditioning leave-in treatment like coconut or olive oil. Use products for color-treated hair only because others can alter your softened tone. Air-dry or set your blow dryer on low.
Optional second bleaching: If your extensions don't look light enough after drying, repeat the steps above. Do spot checks at 5-minute intervals to avoid over processing.
Toner: You can eliminate unwanted brassy effects by applying a toner. This supplemental treatment also creates some becoming lowlights that add dimension to single-color hair. Leave it in for just a few minutes. Any longer will darken it too much. Removal requires shampooing and conditioning again.
Lemon Juice Technique
Cleaning and preparation: Shampoo your loose AiryHair to strip away all oil and styling product buildup. Towel dry sections, leaving them damp for this natural lightening process.
Recipe: For the best results, use the juice from a freshly squeezed lemon for every lightening session. Mix a tablespoon of lemon juice in one gallon of water. Or substitute one-quarter cup of hair conditioner, honey, or oil for water. Whisk the ingredients to create a smooth texture.
Treatment: Apply a sufficient amount of the lemon juice/water solution to saturate all hair strands. Or rub the thick juice/conditioner mixture over each extension. Using a wide-tooth comb, distribute that blend evenly throughout every strip.
Processing: Then place your treated extensions in sunlight to activate the juice. They should reach a softer shade in about one or two hours. The lemon juice method lightens hair gradually, stripping natural pigment from strands. Depending on their original color, you may need to lengthen the processing time slightly to achieve a fairer tone. Repeat all steps seven days later. Three to four sessions weekly may be necessary to notice a substantial tonal difference.
Shampooing and conditioning: Don't keep either lemon juice mixture on your color hair extensions for long intervals like overnight. Rinse off the solution and resulting film thoroughly with water. Lemon's citric acid can dry out hair, so you may want to use a moisturizing shampoo. Apply a deep conditioner. If strands continue to feel dry after rinsing, try a more intensive leave-in product.