360 Frontal Lace Wig Introduction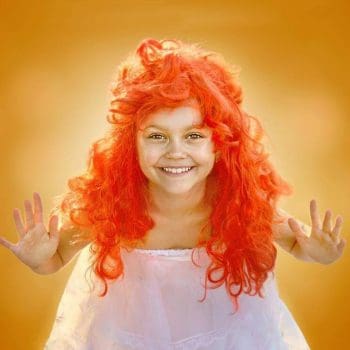 360 frontal lace wigs are definitely one of the best ones you can buy. The main feature of this wig is the lace material that goes all around the perimeter of the wig. This is very important because it ensures a very natural and realistic looking hairline. The hairs on the lace are manually sewn in and imitate hair growing out of the scalp. Because of that realistic hairline, there are a lot more styling options since there are no limitations on how to wear the wig. You can do high ponytails, different types of braids, and all kinds of partings – on the side and in the middle. This is what makes a 360 frontal lace wig completely indistinguishable from natural locks. Not only that, but there's also the option to customize the density of the wig. That is done by sewing a couple of extra wefts on the crown area of the head so you can get that luscious and voluminous diva hairstyle.
Now that you have bought a 360 frontal lace wig, you are probably wondering how to actually install it and is it even possible to do at home by yourself. Well, the good news is it's absolutely possible to do it on your own and it's actually not that complicated. Installing a wig at home is a great skill to have when wearing a wig, not to mention that you can save a ton of money because professional application is not cheap at all. Another reason why it's actually better to do it yourself is that you have the total freedom to take off or reinstall the wig whenever you wish to. However, if this is your first time doing it and you feel a bit insecure, you can ask a friend to help you. It's always useful to have an extra pair of hands.
Choosing the Application Method
Before we start our tutorial, let's get familiar with a couple of different methods you can use to install a 360 frontal lace wig. The most popular ways to apply a 360 wig are sewing and gluing. Both methods produce amazing results and are easy to do yourself. When choosing which application method works best for you, you need to take your wig wearing habits into consideration. We recommend sewing if you plan on wearing the 360 frontal lace wig for a longer period of time because it takes a bit more time and it would be a lot of work to reinstall it every couple of days. If you want to be able to take the wig off more often or rotate two or more wigs every couple of days, we recommend the gluing method. However, gluing can also work for wearing a wig for longer periods of time. There is wig glue that you can buy, but if you don't want to use real glue, Got2Be gel is a very popular option. It's not really glue, but more of a gel and it works great for lace wigs. Many girls recommend it. The gel lasts for a couple of days and water is enough to make it come off easily.
For this tutorial, we chose the gluing method because it is more beginner friendly. By following this simple 360 frontal lace wig application tutorial, your wig be installed in no time!
Application Tutorial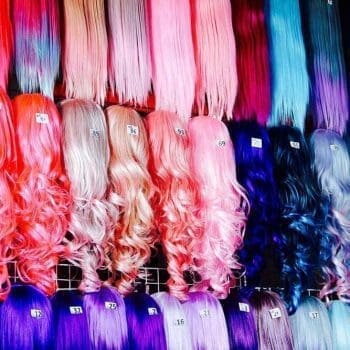 Step 1
A good way to start is by washing the wig. It can be easily done in a sink, using a shampoo and leave-in conditioner. We recommend that you wash it the day before installation so that it can air dry overnight.
Step 2
Next step is preparing your natural strands by making simple cornrows. If you prefer to, you can also wear a wig cap on top of it for protection and more comfort.
Step 3
Cut the extra lace all around the wig. Another thing you can do to prepare the wig is plucking the baby hairs from the hairline to get that realistic look.
Step 4
Go ahead and put on your 360 frontal lace wig. To make the gluing easier, you can make a ponytail.
Step 5
Move the wig slightly away from your face and start applying the glue or gel on the front of your hairline. Now you need to wait for the gel to become a bit tacky. You can speed up this process by using a blow dryer.
Step 6
Now you can start applying the wig on the gel or glue and gradually press it down with your fingers to make it stick better. Make sure it's tight and properly secured.
Step 7
Go ahead and move to the back of your hairline and apply some gel. When it's tacky, apply the back end of the wig. Make sure it's sticking.
Step 8
Now that the whole 360 wig attached, take a scarf or a headband and place on top of the hairline. This will make sure that glue sets and is properly secured on your head. Wait for ten to fifteen minutes and remove the headband or scarf. Now the wig is in place and will not come off!
Final Tips
Now that your wig is installed, you can do some final steps to make it look absolutely flawless and natural. Use gel to make the baby hairs in the shape you want it – that will make the whole look more realistic. You also have the option to cut your wig to customize the hairstyle to your liking. If you purchased a high-quality wig made from real human hair, you can also style the wig by using hot tools. Whether you want to straighten or curl the 360 wig, it is done the same way as with your real hair. Make sure to maintain the wig regularly by brushing, de-tangling, washing, and air drying. If you have problems with installing your wig, contact your hair professional and have it done in a salon.