Everybody has probably heard about at least one extension type and that speaks volumes about how this method of changing your hair has become such a worldwide trend. Girls from around the globe are shopping for extensions and completely transforming their looks. Whether you simply want longer hair, more volume and density, a different style, a change in color; all of that is possible thanks to extensions. You can forget about short, thin, and lifeless locks because extensions are here to solve all of your hair problems, no matter how big they are. Feeling good about your locks is one of the most important things for women because all of us want to look good and feel confident. You know how awesome you feel when your strands are just perfect.
Now, if you're not an expert on extensions, you have probably heard about a couple of different ones, but are probably wondering how many types of hair extensions are there? That's actually a good question. When shopping for extensions, it is a great idea to get familiar with all the different types and methods out there so that you can make a more informed shopping decision. The thing about different types of extensions is that they also give you a clue about the method of application. Each type is applied in a different way which offers you an incredible range to choose from. Every woman has different preferences and needs and you need to find a type that suits you and your daily habits. Before we go into detail about each one, you need to know that there are eight different types available. Those are: clip-in, flip-in, tape-in, micro and nano ring (I-tip), micro loop, fusion (U-tip), sew-in (weave), and different types of wigs. All of those types can be divided into human hair and synthetic hair extensions, non-permanent and semi-permanent, and weft and strand by strand methods. Let's take a look at each one!
Human Hair vs. Synthetic Hair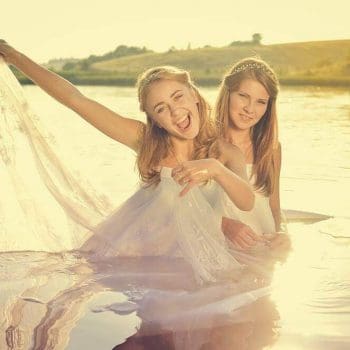 Regardless of the actual type and method used, we can divide extensions by the type of hair that is used to make them. Those are human hair (including Remy) and synthetic hair. Synthetic hairs are made out of fibers that resemble real human hair. Many years ago, synthetic hair was the only one that was available and affordable, but now it simply doesn't meet the standards of many women. Real human hair has become much more affordable and cheaper to buy so less and less people choose synthetic hair. One of the main reasons is the look and feel of real human hair which synthetic hair could never match perfectly. Synthetic extensions and wigs usually just don't look as good. They have an unnatural shine and movement which is why they often look boxy and weird. If you're looking for a natural and seamless look, we recommend that you go for real human hair because synthetic one should be reserved only for Halloween and dress up.
There are also different qualities of human hair that you can get. The highest quality human hair is Remy hair. When you see the Remy label, it means that all the cuticles on each hair are intact and properly aligned which reduces tangling and no chemical or mechanical processing has been done on the hair. So if you want your new locks to look absolutely perfect and be easy to maintain, we recommend that you go for Remy. There is also real human hair extensions where that have been processed in some way, and the cuticles are not facing the same direction or have been removed altogether. This is lower quality human hair, but it could do the job if you're on a tight budget and can't spend too much money.
Non-permanent vs. Semi-permanent
All of the extension types can also be separated by non-permanent and semi-permanent. This is will definitely affect your hair experience so choose wisely according to your daily habits. Non-permanent methods like clip-in, flip-in, and some wig types must be taken off each day as well as reapplied. So there is to glue, tape, or anything like that which connects it. This is a great option if you don't plan on wearing your extensions every single day or like to change styles often. But keep in mind that you will need some time every day to apply the extensions and remove them. Although that process is pretty quick once you get a hang of it, you still need to do it every day. You cannot shower or sleep with clip-in or flip-in extensions. Most extension types are semi-permanent which means you can wear them for a longer period of time. That's because the glue, tape, or rings used for the attachment cannot simply be taken off whenever you want to. This is a good option for women who are very busy and simply don't have the time to install everything each day. However, semi-permanent extensions need to be refitted, usually after about two months. That depends on how fast your natural strands are growing.
Wefts vs. Strand By Strand Methods
Another distinction that can be made is wefts and strand by strand methods. For example, clip-ins consist out of wefts that you apply to your strands. The wefts can be bigger and smaller so that they fit in different parts of the head. Flip-in can be look at as one big weft of hair because it comes in one piece. Tape-ins are very small wefts with tape on them. Strand by strand extensions are micro ring or I-tip, micro loop, and fusion or U-tip. This hair comes in many small strands that you attach by the appropriate methods. Both wefts and strand by strand extensions work great and give off amazing results, it's just about personal preference.
Clip-In Extensions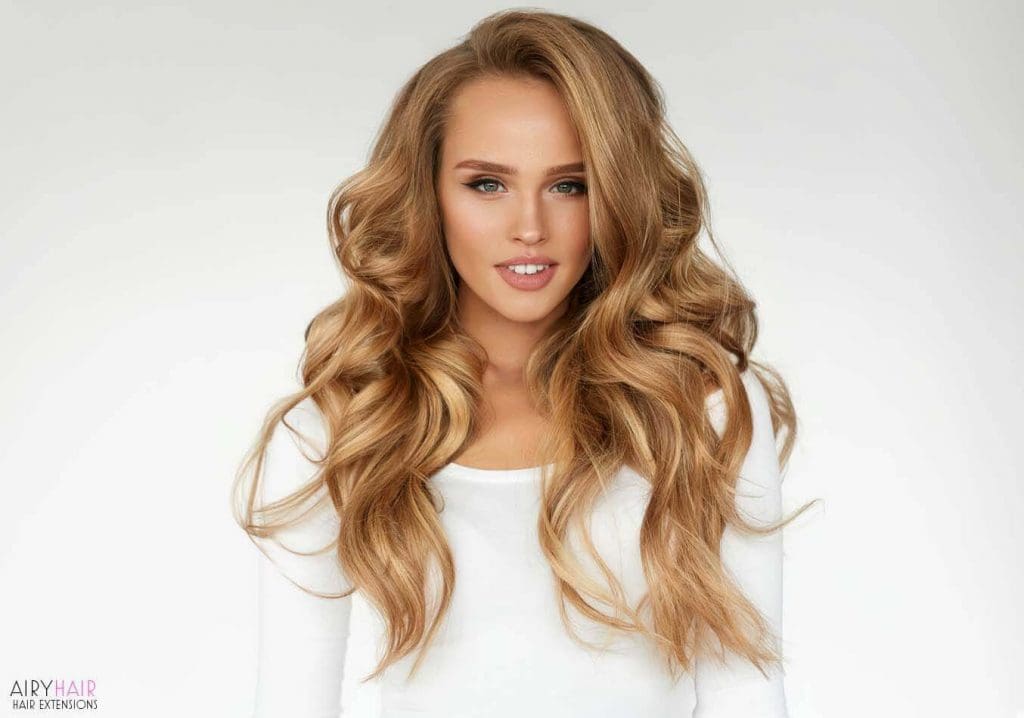 All of you have probably heard about the famous clip-in hair extensions. They are definitely one of the most widely used ones. The reason for that is their simplicity and versatility. They are also the most affordable type.
What Are Clip-In Hair Extensions?
Clip-in extensions, as the name suggests, consist of hair that is attached using clips. You get different sized wefts of hair, ranging from two, three, or four clips. That way you can combine all the different wefts to fit in with your natural strands perfectly. If you are a beginner when it comes to extensions, clip-ins are a great place to start. Whether you want the locks to be longer or be fuller, clip-ins can help you achieve that in no time. Clips are simply a perfect way to make your look more stylish and trendy. They are suitable for everyday use because you easily attach and remove them, but are also work great for special occasions like parties, weddings, fancy dinners, and even business meetings. If installed correctly, the clips are completely invisible and will not show. We recommend that you use wefts on medium or longer hairstyles because your natural strands need to cover up the clips. This is also one of the safest methods for transforming your hairstyle because it will not do any harm to your real strands. You have the option to try out different colors, create highlights, and even do an ombre look. All of that without having to dye or cut your precious strands.
How Are Clip-In Extensions Attached?
Even total beginners find it so easy to attach the clips. The wefts are designed in a way that makes this process a breeze. The way the clips work is you open them by simply pressing on them, and when the weft is in place and attached to your strands you need to press again to close the clips. It is best that you figure out for yourself where to put smaller and bigger wefts, but here is a general rule that you can follow. Start with a three clip weft at the back of your head, just above the nape of the neck. Going higher up, where your head is widest, apply the big four-clip weft. Apply two or three-clip wefts on each side of the head, just above your ears. You can also play around with placing small one-clip wefts strategically. A thing to keep in mind is not to go too high up with the wefts because there won't be enough of hair to cover them. A cool tip for blending the extensions even better is to style your hair. Do a nice body wave – it will bring everything together. Another tip is to have your hair cut while wearing the clip-in extensions because that will create a uniform look.
How Long Does It Last?
If you purchase Remy extensions and follow all the maintenance instructions, your clip-ins can last you for more than six months. That's why we always stress the importance of proper hair care. Because this is a non-permanent method there is no need for refitting or anything like that. For those who wear clip-ins occasionally, the extensions can last even longer than with daily use.
Maintenance Tips
Since wefts are taken off every day, they are very easy to wash and take care of. Remember that you don't need to wash the extensions as often as your own hair, once every 20 wears will do the job. To wash them properly, fill up the sink with warm water and add some natural shampoo. Immerse the wefts in water and gently rub and squeeze. To make it even easier, you can do just one or two wefts at a time. After rinsing thoroughly, fill up the sink with fresh water. This time, add some conditioner, it is best that you buy one that's made for extensions. Submerge all of the wefts and leave it for at least 15 minutes. A conditioner will make the extensions soft, silky, shiny, and easier to comb through. Dry the clips using a towel and spread them out to dry fully overnight. Now that you have the washing down, another crucial aspect of hair care is brushing. We recommend a special detangling brush that will easily remove all tangles or knots. When using hot tools, don't forget to use a heat protectant!
Flip (Wire) Extensions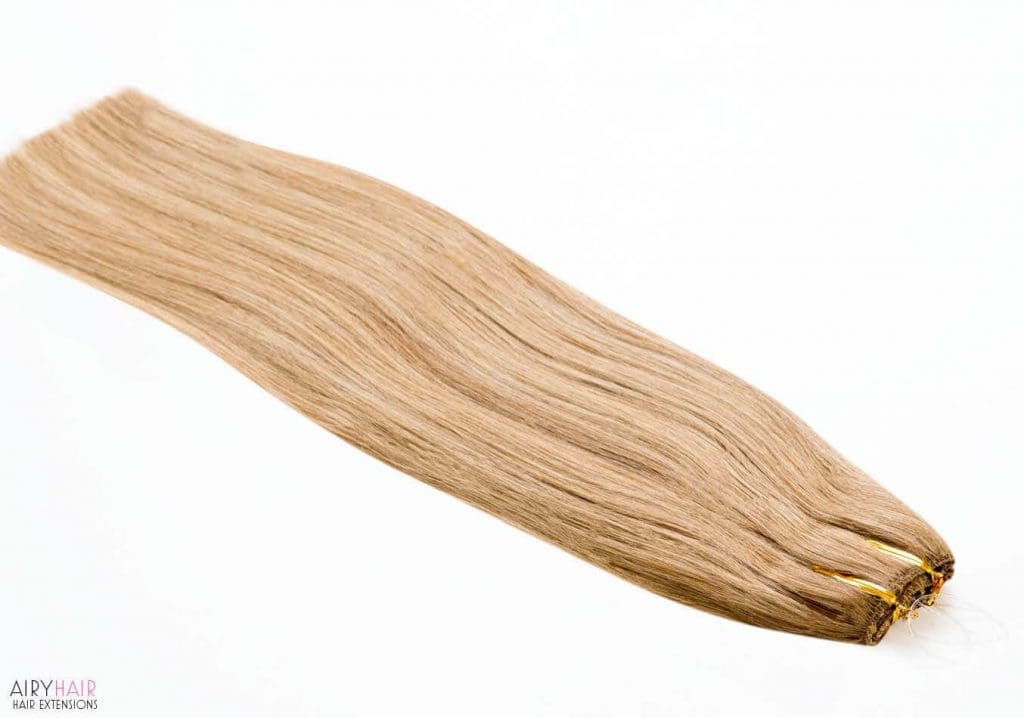 Another non-permanent extension type, looking sort of like a halo. It is another very affordable method, perfect for beginners. Once you try it, you will be hooked because it's so easy to use and the results look incredible!
What Are Wire Hair Extensions?
Flip or wire extensions are also called halos for a reason. Instead of getting multiple wefts like with clip-ins, you get one big weft on a loop which is placed on the crown area. This is what makes this extensions type so easy to use, even for beginners. You don't have to worry about clips, wefts, glue, or tapes – there's one piece of hair and that's it. You can get any length you want when using this method, as well as more volume and thickness. This is a great option for women on the go who oftentimes have to style their hair while rushing to a business meeting or going to a dinner right after work. You can safely pack your flip in piece and apply it wherever, whenever. It will instantly boost your look and make you look chic and modern in any situation. This is a non-permanent method which means you don't have to wear your extensions every single day if you prefer not to. A fun idea is to have several different wire extensions pieces so that you can change your hairstyle even more often.
How Are Wire Extensions Attached?
There's literally nothing easier that attaching these extensions! The process is completely beginner friendly and takes literally a couple of minutes. First make sure that you have bought the wire hair in the right color that matches yours. Now brush it, as well your own hair. These extensions consist of a big weft connected with a string. Place the piece on the crown area of your head so that the loop is facing the front. Check that everything fits and if you feel like the loop is too big, you need to cut and shorten it so that it fits snugly on the head. Once everything is in place, all of the hair above the string needs to be pulled out. An end of a comb can be used to do that or anything pointy but not sharp. Now, hair is covering the loop and everything should look flawless. Removing it is even quicker because you simply need to locate the string and pull everything off. How simple is that?
How Long Does It Last?
Just like clip-ins, it depends on how often your wear the extensions and how much you care for them. With everyday use and correct maintenance, you can expect your wire extensions to last for five months or more. Occasional use extends that timeframe significantly. Of course, this applies only to human hair extensions, synthetic ones can last for only a few months.
Maintenance Tips
Wire or flipping wire extensions are just perfect for women who don't want to spend a lot of time on maintenance. You got hair that you can remove and it's all in one piece so it can't get easier than that. Before and after every use, detangle the hair and make sure there isn't any matting happening. Tangled extensions look cheap, fake, and it's just not a great look, no matter how much you paid for them. Washing is a real breeze; just fill up the sink with water, add the extensions and some shampoo. Rub gently to remove any product residue. Repeat the same process but with conditioner this time. Place the weft on a dry towel or wig stand and leave to dry naturally. Halo extensions can be styled either separately or while wearing them. Make sure to not put too much product on the hair and don't wash too often.
Tape-In Extensions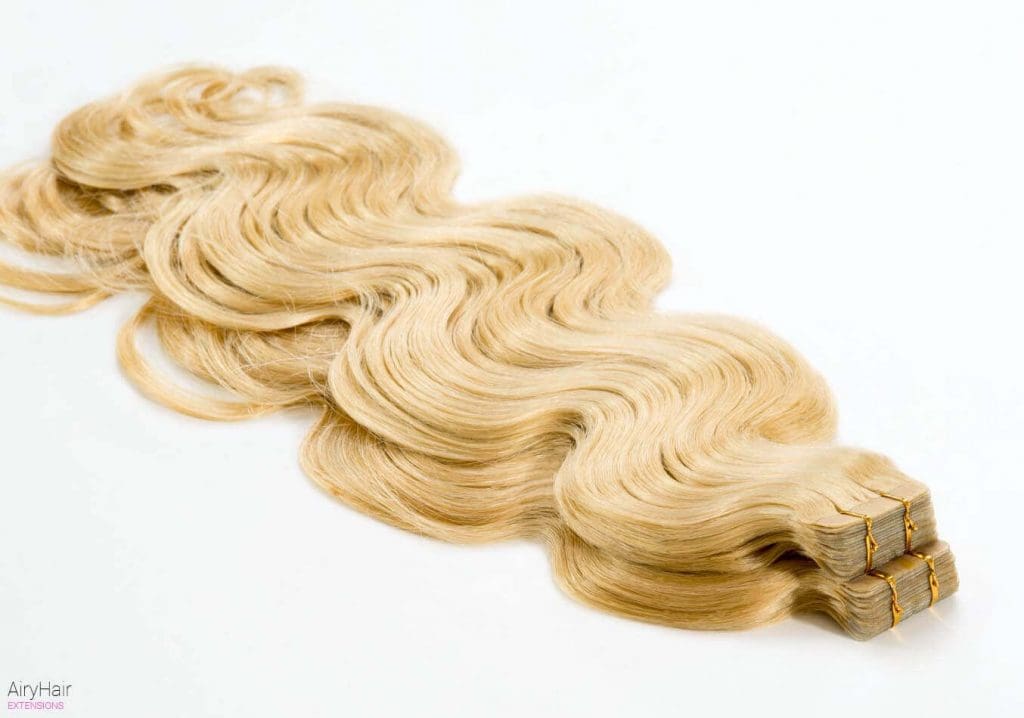 For anyone looking to get a more permanent extension type, tape-ins are one of the popular options. We recommend tape-ins if you have thin or fine strands because tapes are very easy to camouflage and don't put much strain on natural hair.
What Are Tape-In Hair Extensions?
This extension type is attached using tape, as you might guess from the name. Each small strand has a piece of double tape on the top. The density of the hair depends on how many strands are applied so you have complete control over it. One of the great things about tapes is that they're completely invisible and impossible to detect if placed correctly. The tape is see-through and pretty small which makes tape-in a great option. It is no wonder that it's so popular. The length, fullness, and style that can be achieved with tape-in extensions is simply amazing and once you try it, you will not want to take them off!
How Are Tape-In Extensions Installed?
The installation process might be a bit harder for a beginner, but it is possible to do it yourself. If you want to do it at home, we recommend that you ask a friend or family member to help you, especially in the back. However, if you feel more comfortable with a professional doing it, set up an appointment at a salon. The tapes themselves are not so hard to attach, but what is crucial for proper installation is the placement. That is done using a so-called brick laying pattern. Starting at the back of the head is the easiest, applying two or three tapes above the neck. As you go up, you increase or decrease the number of tapes by following the shape of the head. When you arrive above your ears, add some tapes to the sides as well. What you don't want to do is go too high up because the tapes might be visible. The way that the tapes are actually applied is by basically sandwiching a stand of natural hair with two strands of the extensions. So you would separate one strand of your hair, glue one extension strand underneath and the other on top of it. Make sure that there is some space between the tapes and your scalp. It's really not as hard as it seems.
How Long Does It Last?
This is considered to be a semi-permanent method because once you install the tapes, you can wear them for several weeks. After that, you need to remove them and reapply. That's because your natural strands grow along with the tapes that are moved down as time goes by. If you don't reinstall them, the tapes will begin to show and the extensions will simply not look good. So make sure that you reattach them regularly. How often that should be depends on your hair growth, but usually it's about every 8 weeks or so. But don't think that you need to buy new extensions every eight weeks; you can use your old ones, they simply need to be moved up.
Maintenance Tips
Because glue is used to install tape-in extensions, the maintenance is slightly different than for other types. This is also a semi-permanent method which means you cannot take the extensions off to wash or style them. When washing, it is important to be careful around the tapes to avoid any damage. If you scrub too aggressively, the tapes might become loose or slip off. Also, avoid adding too many products on your scalp. What you want to do is gently rub around the tapes and focus more at the bottom part of the hair. If you're using Remy tape-in extensions, you can curl or straighten them, but avoid doing it too often because heat is not good for any extension type.
Micro and Nano Ring (I-tip) Extensions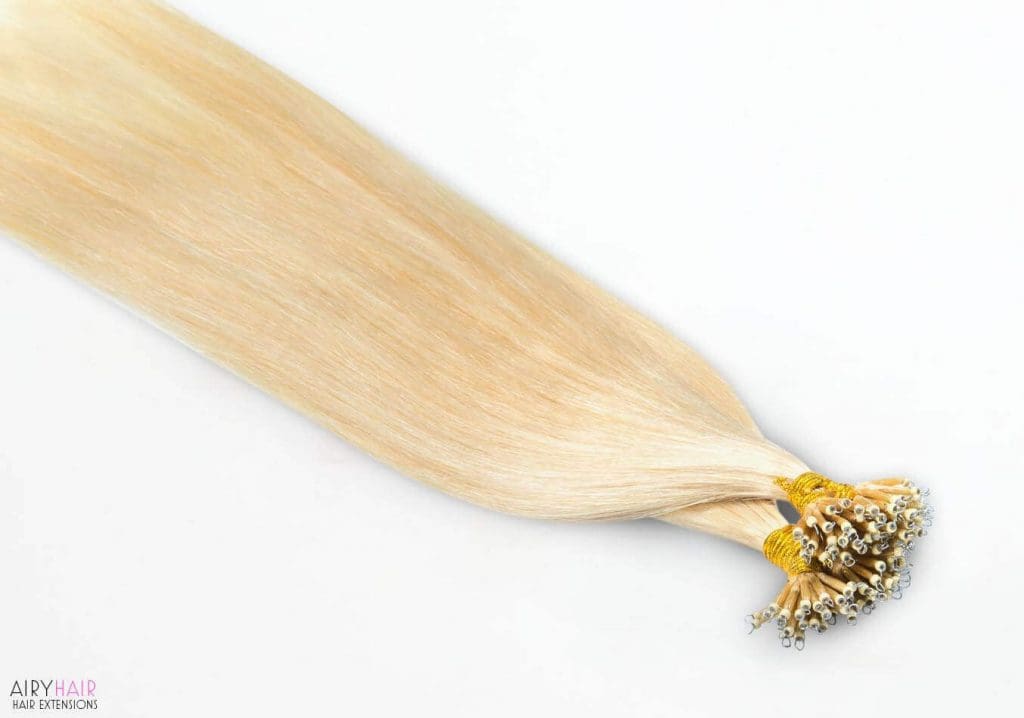 I-tip extensions are installed using the micro or nano ring method. This is another great semi-permanent method of applying extensions which produces amazing results. Your dreams about long silky locks can now become a reality!
What Are I-Tip Hair Extensions?
What is unique about this extension type is that there is no glue or heat used for attachment. That's why it is also called cold fusion. Many girls prefer this method over hot fusion because there is no glue involved which makes it much easier to install by yourself at home. I-tip extensions can also be found under the name stick-tip because of their unique shape. Micro ring is also known as a strand by strand method so there are no wefts or anything like that. The difference between micro and nano rings is size. Micro rings are slightly bigger than nano rings. Both are actually great options because it's virtually impossible to detect them after they're installed and they come in different colors so you need to match them to your hair color for a flawless look. Because of their incredibly small size, nano rings are recommended to girls with very thin and low density hair. Hiding extensions when the strands are very fine can be difficult, that's why nano rings are a great option. Because this is a strand by strand method, it allows for natural movement of the hair.
How Are Micro Rings Installed?
The application of micro and nano rings is actually quite simple if you have the right tools. You will I-tip extensions (one package usually contains about 100 strands so you can control the overall density), and a clamp tool. First, separate a small strand of natural hair (about the same size as the I-tip), connect them together and loop through the micro or nano ring. Now you need to use your clamp tool to press the ring which will secure the extension strand. Repeat this method for all other strands.
How Long Does It Last?
Micro (nano) rings can last up to two or three months, after that they need to be refitted. What's great about it is that you don't even have to take the extension completely off, the rings are simply opened and everything is moved higher up and secured again. These are probably the easiest extensions to reapply. Of course, no need to buy new I-tip strands, simply maintain them and they can last for up to six months.
Maintenance Tips
Micro rings are quite simple to take care of because they're just like real hair and there is no glue or tapes involved. You can wash them just like you would your natural locks, maybe just be a bit careful around the rings themselves, but there is no real danger of them coming off because they're very secure. As with all extension types, use a mild shampoo and conditioner and some natural oils that give shine and nice texture to the hair. Styling your new locks is a great way to look trendy, but also to make the extensions blend just perfectly. The goal is to achieve a look that looks completely natural and flawless. You can even cut your strands while wearing extensions and customize your hairstyle completely.
Micro Loop Extensions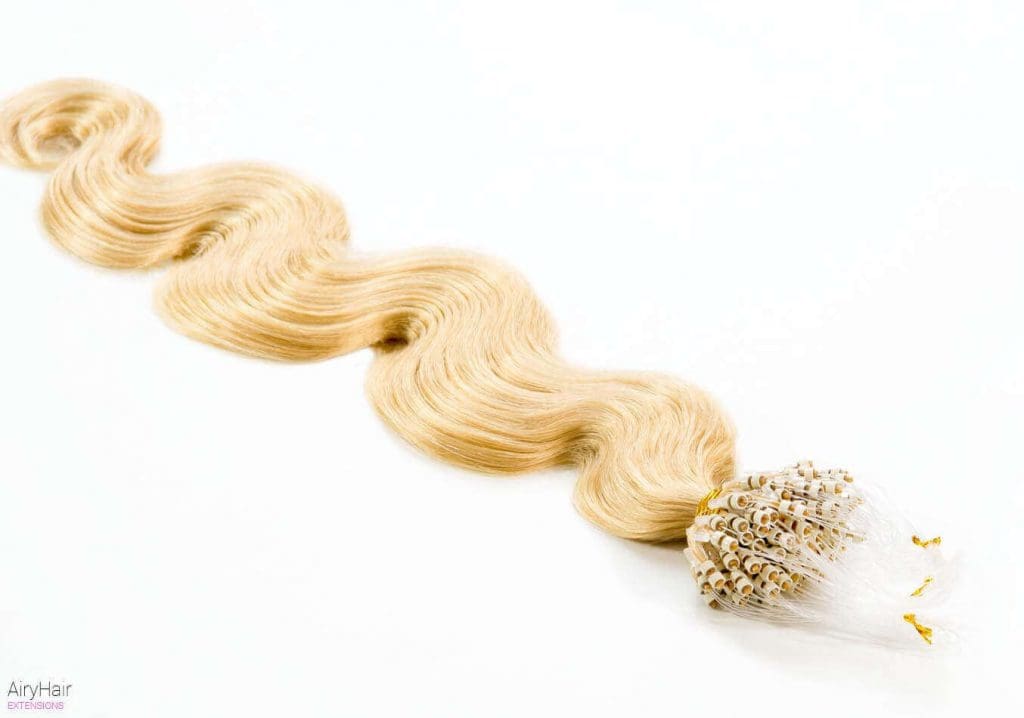 Micro loop is a similar method to micro rings and it also doesn't require any glue, tapes, or heat, but it's actually a bit easier to install. You can place as many strands as you want to and achieve that glamorous look you were dreaming about!
What Are Micro Loop Hair Extensions?
Just like I-tips, micro loop extensions are a strand by strand method but the difference is that there is a loop which makes the installation process so easy and simple. You can decide how many strands you want to put in and that way control the overall density and volume of the hair. The rings are perfect for camouflaging extensions so you don't have to fear anything being visible. Hair has a very flowy natural movement with micro loop extensions because there is no big wefts that keep the strands from moving. A cool thing that can be done with micro loop hair extensions is adding highlights, lowlights, or simply pops of color to your locks. So you can buy extensions in a shade different from your natural one and create cool effects and styles. This is a great alternative to dyeing your locks because it is completely harmless and non-damaging, unlike dyeing. Chemicals in all hair dyes are very strong and often make the hair dry, cause breakage, and shedding. So if you want to change your look and style without causing damage to your precious strands, go with micro loop extensions instead.
How Are Micro Loops Installed?
It is so easy that you can do it yourself. All you need is your hands and a tool to clamp the micro rings. Using an end of a comb, section off a small strand of hair, equal to the one of the extensions. Take the loop in your other hand pull your strand through it. Now you need to pull on the end of the loop to pass your natural hair through the micro ring. Leave about one centimeter of space between the micro ring and the root of the hair and clamp down the ring firmly. The best way is to start this process at the nape of your neck and do a row of about five strands. Move up as you go along and stop about one inch above your ear. As with all extensions, you don't want to go too high up. Experiment with the number of strands to get the desired volume and density.
How Long Does It Last?
The hair itself can last up to six months if you take good care of it, but the strands need to be moved higher up every six to eight weeks, depending on the speed of the hair growth. The great thing about micro loop is how easy they are to refit. You can do it at home, just press on the ring to open it and move it higher up.
Maintenance Tips
Micro loop extensions are incredibly easy to take care of and we recommend them to anyone who is very busy and want low-maintenance extensions. Use natural products and always apply a leave-in conditioner, it will give that extra shine as softness to the hair. It is recommended that you dry your hair naturally, but when using a blow dryer make sure to apply any type of heat protectant. It will protect your extensions and your natural strands from heat damage.
Click here to order some at our website, Airyhair.com.
Keratin Hot Fusion (U-tip) Extensions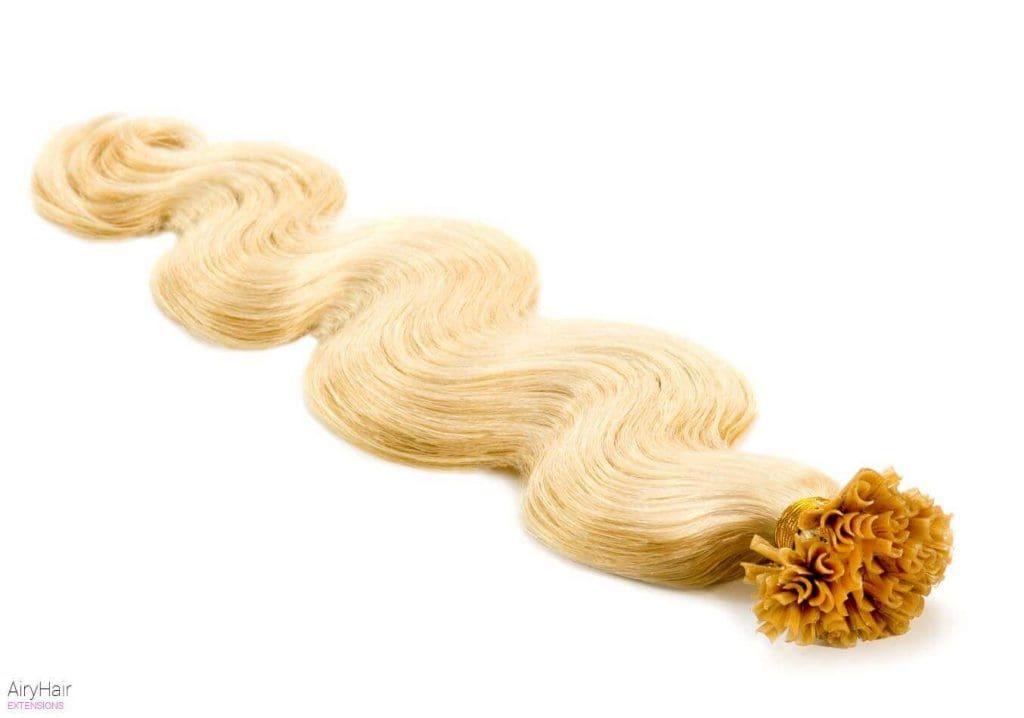 U-tip extensions got their name because of the U-shaped, keratin glue tip. Hot fusion method is used to apply the U-tips and although there is glue used, it causes absolutely no damage to your hair.
What Are U-Tip Hair Extensions?
U-tip extensions are basically fused with your real strands using heat and that's why this method is called hot fusion. Heat and glue might sound scary when it comes to hair, but we can assure you that this method is completely safe and not so hard to do. The glue that is used on the tips is keratin glue which is actually good for your strands. You can match the color of the extensions to your natural shade, but you can also go with a different shade and create that nice pop of color. Extensions are not only great for volume and density, you can also create highlights, ombres, and balayage hairstyles. U-tip extensions are particularly versatile because they come in small strands so you can put as many as you want to and play around with the placement.
How Are Fusion Extensions Attached?
Hot fusion is probably the most complicated method out of all because you need special tools and hot glue is involved, but with little skill and training it is possible to do it at home as well. Installing extensions by yourself is always a cheaper option and it actually saves time. You will need some U-tips and a special tool called the fusion connector, which you can buy for a very cheap price for home use. It is a good idea to have someone to help you when doing this for the first time. The best way to start is by sectioning off a small strand of hair, approximately the same size as the U-tip strand. Place the U-tip close to the roots, but leave some space between. Now is the time to use the fusion connector on the tip. What it does is melt the keratin glue which makes the strands stick together firmly. Once the glue is malleable, roll the tip between your fingers to fuse the strands together. A blow dryer on low heat can be used to make the glue set quicker. Be very careful throughout this whole process because once you apply the glue tips, they're not so easy to remove. You can fuse as many strands as you want and control the overall volume of your locks. When your hair grows out, the U-tips need to be removed. To do that, you need a glue remover that is safe for hair use and a clamp tool. Apply the adhesive remover on the tip and use the clamp to crush the glue. The extension strand will come right off and all you need to do is remove the glue residue from your hair.
How Long Does It Last?
High-quality Remy U-tips can be used for six months of more if you're really careful about how you maintain them and don't use hot tools that often. However, just like the micro rings and tapes, U-tip extensions need to be reinstalled every 6 to 8 eight weeks. That ensures a flawless look and extensions that are indistinguishable from real hair.
Maintenance Tips
One of the main maintenance tips is brushing. We recommend that you purchase a detangling brush made specifically for extensions because that will prevent any breakage and ensure easier detangling. Brushing in the morning and before sleeping is absolutely essential, but doing it a couple of times throughout the day is also a good idea.
Sew-In (Weave) Extensions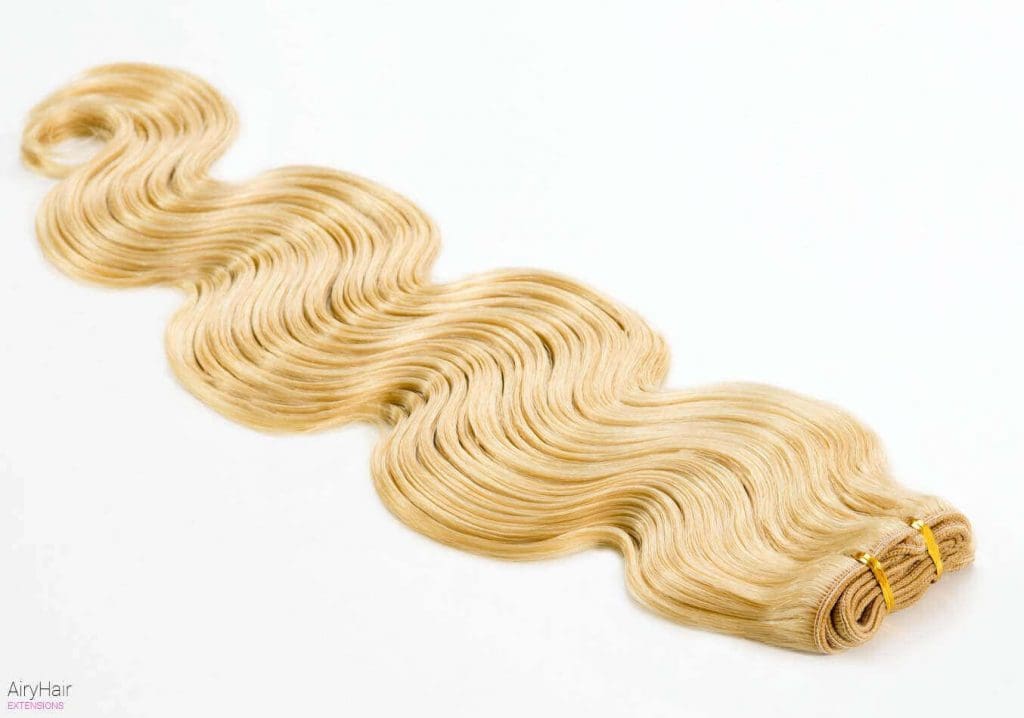 Another way that extensions can be applied is by sewing. That is also called a weave and it has been a very popular method for many years.
What Are Sew-In Hair Extensions?
These are basically wefts of hair that you cut to a desired size and then simply sew in. Because of that, sew-in extensions are very versatile and work for all different types of hair. This method is really great because you don't have to tape anything, use glue, or heat. Another amazing this is that you add as many wefts and you can fit on your head. So this is a great choice for any girl who wants that extra volume and diva look. The length of your new look will be determined by which length you choose when purchasing the wefts. A smart thing is to go for an inch longer than you need, extensions can easily be cut into any hairstyle. What is great about buying wefts is that they're really affordable and perfect for anyone on a tight budget.
How Are Sew-In Extensions Applied?
There are a lot of different ways to sew in extensions. Some involve mixing your own hair with the extensions, while others are using just the extensions. For the first one, you need to make a braid at the back, from one ear to another. The braid should be pretty tight on the roots. The reason why you need to make a braid is that the wefts are actually sewn into the braid. Once you have completed the braid, you need to measure the weft to fit it. After you have cut your first weft, take a thread and needle and start sewing. When you're done with the first row, move higher up and repeat the same process – braid, measure, sew. Another way to do this is to cornrow the entirety of your hair. Start sewing a weft on the first cornrow and continue until you have sewn all the wefts in. This method basically creates a wig since there is no natural hair visible in the end. To remove the extensions, cut the thread and the hair will come right off.
How Long Does It Last?
It is recommended that you redo your weave every couple of weeks so that it looks as best as possible. If you buy Remy hair, you can reuse it many, many times and it will still look like new.
Maintenance Tips
The maintenance process for a weave is actually quite simple because it's almost like your real hair. Use a mild shampoo and a conditioner while washing and be as gentle as possible. Brushing should become your daily habit that should not be skipped. Always detangle the hair and remove any knots. When sleeping with extensions, it is best to wear a night cap or tie a scarf around your head. That will protect the hair from breakage and tangling.
Wigs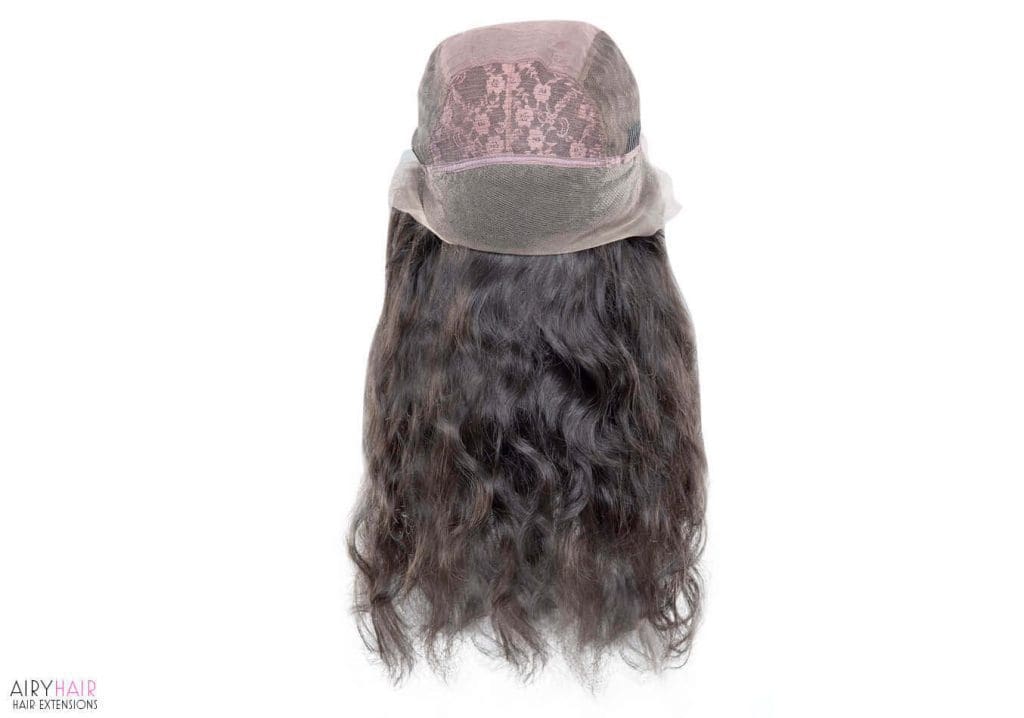 The last extension type we need to talk about are wigs. Some of you may not even think of wigs as an extension type, but they're certainly are. The purpose of extensions is to transform your hairstyle, make the locks long and lustrous, and add some density and volume to the hair. And that's exactly what wigs do. What makes wig special among extensions is the ability to give you a full head of hair even if you suffer from hair loss. But of course, wigs can be used to simply change your style and try something new without cutting or dyeing your natural strands.
How Do Wigs Work And How Many Types Are There?
There are many wig types and everybody can find something that they like. One of the most popular ones are a full lace wig, a 360 wig, and a lace frontal. All of these are high quality wigs because they contain lace material. A full lace wig is the most premium one and has lace around the cap which creates an astoundingly real looking hairline. A 360 wig has lace around the perimeter which is also pretty great and looks flawless. A lace frontal has lace only at the front, so there's less styling and parting options, but the results are great. All of these have what is called a monofilament cap which is very comfortable and of high quality. Capless are traditional wigs with standard caps. Although they can do the job, they're not as realistic as monofilament ones. When buying a wig, it's important to know what your needs are in order to make the right choice. There are so many different aspects of a wig that you can customize and make your own. Many people think that wigs are only for people who have lost their hair or going through a treatment, but that's certainly not true. Many celebrities prefer wigs because it's a perfect way to transform your look overnight, while you natural strands are intact. If you're the type of girl who loves style changes and experimenting with new colors, cuts, and textures, wigs are something you should try. Modern quality wigs look amazingly realistic and seamless, so don't fear it looking fake or unnatural. are traditional wigs with standard caps. altough mfortablethe cap which creates an astoundingly real hairliner loss.
How Are Wigs Applied?
There are many different ways to apply a wig and make sure it stays secured. One is sewing, which works great but it takes a lot of time. There are also amazing products that work as a glue that you can apply all around the hairline and then apply the wig. This is probably the easiest way do it and it works great for those who don't plan on wearing the wig for a long period of time. When attaching the wig, always make sure that it fits and that the hairline looks as natural as possible. A trick that many girls use is plucking some of the wig hairs from the hairline to make it look more realistic.
How Long Does It Last?
This depends on so many factors like hair type, cap type, maintenance, quality, so it's really hard to say. Generally synthetic wigs have the shortest lifespan of only a couple of months. Human hair wigs last longer, but it really depends on the overall quality. Maintenance also has a very big role, that's why we can't stress enough how crucial it is to do everything you can to protect your wig.
Maintenance Tips
Some may think that wigs are very complicated to maintain, but that's not really the case. Once you get a hang of it, caring for a wig will be a breeze. A great thing about wigs is that they can be taken off for washing. That makes the whole process so much easier. Fill up a sink with warm water (not hot) and immerse the wig. Add some shampoo and rub the wig all over, especially where the cap is because that will be most filthy. Rinse the wig and pour clean water into the sink. Add some conditioner and leave the wig in the sink for at least 30 minutes. The conditioner will make the wig very soft, easy to brush, and very shiny. The best way to dry a wig is on a wig stand, but you can also spread it out on a dry towel. If you have purchased high-quality human hair wig, you can style it any way you want to and even use hot tools occasionally.
To conclude, each extension type has its pros and cons and it's really about you to decide what to buy. Being informed about extensions, how each of them work and last is very important for making the right purchase. If you don't really know what you're buying or what to look for, you're susceptible to fake advertising and purchasing low-quality products. We hope that you got some good information from this article that will make you extensions expert, but if you still have some inquiries feel free to contact us and we will make sure that all of your questions are answered!that thing about wigs is that they can be taken off for washing. ect your wig. intact. reatment, but that's
For high quality extensions and wigs, visit us at www.airyhair.com.
And here you have it, full guide is finished.