Details
Remy Nano Ring / Tip Hair Extensions
Hair is something girls put a lot of attention on and always want it looking flawless. That's understandable because our locks can completely transform our look and make us more attractive. Girls who have short strands often want long, flowy locks, but waiting for hair to grow is a very long and boring process. Some girls also find that their strands grow extremely slow or their locks are so thin that they don't look good at all, even if they're lengthy. With nano ring extensions, all of those problems are a thing of the past! You can have amazing looking strands when you want it and how you want it. Finally you can control your appearance completely and look incredible all the time. Nano ring extensions enable you to get that glamorous long hair right now and show everyone your incredible volume and shine. You can forget about using different tricks and products to make your strands appear more voluminous because extensions give you as many strands as you want, there are almost no limits. Once you try nano extensions, you will never want to go back to your ordinary look. They are really that good!
Nano Ring Tip Hair Extensions Information
Remy Nano (Metal) Ring, I-Tip Hair Extensions (100 Strands) (Body Weave, Curly and Straight)
Nano rings are unique
among all other extension types because they use a special method of application which is definitely one of the best around. There is no tape or glue involved, no clips, and no heat is required to apply nano rings. That's what makes them so popular. Nano rings are installed using a
cold fusion
method and here's how that works. Very small and thin strands of hair are connected to your natural strands with a nano ring which is then secured with pliers. You may think this method is complicated, but it's actually one of the easiest and safest ones around. We offer all kind of different colors so that you can perfectly match our nano tip extensions with your natural tresses. Choosing the right shade is very important because it helps to blend and make the whole look more natural and effortless. You can also choose the length of your nano tips, going from ten to thirty inches which offers you a great range. But that's not all, when you buy from AiryHair, you also have the option to choose a custom texture for extensions. Whether you want straight, wavy, curly, we will provide you with the best looking extensions ever! One package includes 100 strands which is enough for a full head of wonderful hair. Keep in mind that you also have to pick the right color of the ring that matches your strands best.
• Color:
All available colors, including blonde and platinum blonde
• Length:
10 to 30 inches
• Weight:
40 to 140 grams
• Strands:
100
• Single Strand Weight:
0.4 to 1 gram
• Texture:
Straight, body wave, yaki, kinky curly, deep weave, or curly
Nano Ring Tip Hair Extensions Features
There are so many reasons why nano ring/tip extensions have become one of the leaders in this industry. The first is definitely the ease of application and the fact that there is no heat or glue involved. Cold fusion methods have become very popular lately because they are considered to be one of the safest and best ones around, producing incredible results. With nano rings, there will be absolutely no damage to your natural strands or the extensions and once you put them on it's basically impossible for them to fall out accidentally or shed. The rings are very secure on your head and they can be removed only with pliers. No amount of movement or pulling will ever cause them to slip out.
Another reason why nano rings are becoming an increasingly popular method is that they're a semi-permanent method. Unlike clip in or flip in extensions, you do not take them off every day and reinstall them constantly. Once you put the nano rings in, you are set for a couple of months, but it all depends on how fast your natural hair grows. Similar to tape in extensions, once your strands grow out too much, it is time to get your nano rings refitted. But what is better is that you don't have to take them off completely in order to reinstall them. You simply open them with pliers and move up!
Because the nano rings are so small in size, compared to micro rings, they are completely invisible on your head. This one of the best features of these extensions because it enables girls with thin and fine hair to have the opportunity to wear them. A lot of other extension types are not suitable for extremely thin hair, so this is a big plus for the nano rings. That also means that you can style your locks however you want to, whether it's a high ponytail, a braid, or a cool bun, the rings will not be visible and no one will ever suspect that it's actually not your real hair. Because nano tips come in small strands, you have more control over where to put the tips and how many to use, which you can't do with clip-ins, for example, that come in wefts.
AiryHair nano ring/tip extensions are made out of premium hair and will win you over with its soft texture and shiny look. You will not want to take them off ever again!
Some of the other benefits of nano ring/tip extensions are:
1. These extensions are so soft to the touch, you'll want to touch them constantly.
2. Nano rings extensions offer you easy and incredibly secure application.
3. The rings are so small in size and they're completely undetectable
. 4. There is no glue or heat required to apply the extensions, making them of the best methods out there.
5. AiryHair nano ring extensions are made only out of the best, genuine Remy hair
6. We offer different textures and incredible lengths up to 30 inches!
So if you're looking for range and many different features, our nano rings come out as number one. If you have any further questions, check out our FAQ:
What are double-drawn extensions?
Double drawn refers to hair that has all the shorter hair removed manually which results in much thicker strands because 85 to 95% of hairs have the same length. That means the strands are equally dense all the way from the roots to the very tips. Contrastingly, single drawn hair usually contains a lot of shorter hairs which gives a very bad look with very thin ends and nobody wants that.
What are Premium Remy extensions?
Only available from AiryHair, Remy Premium Plus are strands that fall into the category of premium top quality products. We collect only the best human strands from our donors and create extensions that have an even longer lifespan, tangle less, and look better. Our Premium hair is here to give the best extensions experience even for our most demanding customers!
Remy Nano Extensions vs. Non-Remy
If you want the extensions to look just like your natural tresses and last as long as possible, then Remy hair is an obvious choice. The reason why Remy hair is considered to be of the highest quality is because it is collected from the same donor and all the cuticles are check manually so that they align in the same direction. This is very important because it ensures that the extensions will be durable, not tangle as much and keep their look for a longer amount of time.
Unfortunately, many stores sell hair that has cuticles chemically removed by using acid. Those bundles are not considered to be real Remy hair, but sellers still try to mislead you into believing so. That's why you should be very careful where you buy your Remy bundles from. You can be sure that all AiryHair products are made out of genuine Remy strands that will withstand the test of time.
If you have any more questions regarding our nano ring/tip extensions, feel free to contact us!
Why Buy Nano Ring Tip Hair Extensions?
Since we have already covered the benefits of various other methods, like
clip in
and
keratin
extensions, it is time to one about the nano rings. The great thing about extensions in general, nano rings included, that it allows for a radical change of hairstyle including length, color, volume, and style while keeping natural locks intact. Hair dyes contain harmful chemicals that can damage the hair, especially when going for a very light shade. That's why using nano ring extensions to add a new color is a much safer option. It also allows anyone to try out new hairstyles before fully committing to them.
The Pros of Nano Ring Hair Extensions
As there are a lot of extension methods, it is wise to consider all of them in order to make a good choice. Everyone is different and has unique needs so there's not one method that suits everybody. If you're unsure whether nano ring extensions are for you, take a look at pros and cons that explain its main features. This list can help you to weigh out the positive and the negative and aid with shopping for extensions.
Great Way to Add Extra Length and Density
Don't you sometimes wish that you could magically add a couple of inches or more to your locks? Well, that's actually possible and really easy with nano ring extensions. Since hair is one of the most important things for every woman, why not have it just the way you want to? There are almost no limits as to how much can strands be extended by using the nano ring method, plus you get an amazing amount of volume. Most people are not so lucky to have very thick and dense hair naturally, so why not boost it with extensions?
Very Long-Lasting
Assuming that you purchased high-quality Remy hair, nano ring extensions last for months and months. Remy hair is made from real human strands as is one of the top quality hair currently on the market. However, we have to emphasize that even the best hair out there will not last long if you neglect it and ignore the maintenance instructions. So that's another important factor to consider. But if you do everything right, expect the nano ring extensions to last five or six months, sometimes even more! Synthetic hair may look alright, but it simply cannot last as long. That's why we always recommend that you purchase real human hair if you want hair that lasts.
Can be Installed at Home
With a bit of training and skill, nano ring extensions can be installed at home and that can save you a lot of money. In order to do that, you need nano ring hair extensions and pliers. Each strand is connected to a natural one using the nano ring which is then shut tight using pliers (which can be bought in most extension stores). Just make sure to leave some space between the roots and the nano rings. It's actually quite simple and even if you make a mistake, simply press on the nano ring with pliers again and it easily opens up and releases the strand. Because of that, the removal of nano rings is extremely simple and can be done in 15 minutes.
Strand-By-Strand Method
Cold fusion is what's known as a strand-by-strand method which means there are no wefts, but single strands. Each strand is attached individually and that's quite a good thing actually because it blends more nicely and is less detectable. And because the nano rings are so small, the strands will look just like your real hair. The only disadvantage of strand-by-strand methods is that they take a bit longer to install compared to wefts.
No Heat or Glue Required for Installation
One of the main reasons girls all over the world choose nano ring hair extensions is that no heat or glue is required when attaching them. Nano rings are also known as cold fusion because of that feature. Although extensions that use glue and heat are safe for the hair, they can be quite complicated to apply at home (as well as remove) and that's why some girls avoid it.
100% Safe for Hair
Nano rings are designed in a way that makes them completely safe and harmless to hair. The only way that any damage to the hair can occur is if they're not installed correctly or you pull too hard on the strands. So remember to be a bit gentler when wearing extensions in order to reduce the risk of damage.
Semi-Permanent
Nano rings fall into the category of semi-permanent extensions (along with tape-in, fusion, and sew-in methods). That means that the hair cannot be taken off every day and should be worn for a longer period of time. However, the nano rings need to be moved higher up as the hair grows. That is actually very easy to do with nano rings because you simply need to use the pliers to open them up and move them closer to the roots. This is also something that can easily be done at home, without having to go to a salon.
Reusable
Although nano rings need to be reinstalled regularly, you can still use the same set multiple times. The hair itself can last for months so you can reuse it many times. Again, the number of times that you can reuse it depends on the type of hair and how carefully you follow the maintenance tips. To get the most out of the hair, treat it with care.
Extremely Secure
Nano rings are known to be one of the most secure methods out there. Once the rings are shut tight, there is little chance they'll detach or slide down. So if you worry about extensions coming off, definitely go for nano rings because you will feel very comfortable wearing them.
Nano Rings are Undetectable
Nano rings are designed in a way that makes them virtually undetectable. They are very tiny, even smaller than micro rings. Nobody wants their extensions showing and nano rings are perfect for avoiding that. Also, nano rings come in a range of colors so you can pick a shade that's closest to your strands. That camouflages the rings even more. There are also no limitations as to how you can style your hair; you can part it however you want, wear a ponytail, all kinds of updos, and the nano rings still won't be visible.
A Range of Colors and Textures
When shopping for nano ring hair extensions, you'll notice that there's quite a lot of colors and textures available. Choose them wisely because both color and texture have a great impact on the final result. Make sure to determine the exact shade of your natural tresses and choose the extension color accordingly. Nano rings also allow you to combine two or more shades if you don't like uniform colors. You can combine strands of different color and create a unique hairstyle. Also match the texture, whether it's straight, curly, or wavy.
Super Comfortable
Another great feature of nano rings is that they're super comfortable to wear and don't take a lot of time to get used to. Since the rings are very small and flat after they have been installed, you will barely feel them on your head. That's a big plus because you do have to wear them for a longer period of time. If you feel like the nano rigs are too tight, or any kind of pain or discomfort, that means that the installation was not good. The most common problem is that people attach the nano rings to close to the roots which results in discomfort and pulling of the strands. If that's the case, release the rings and move them down slightly.
Blends Seamlessly
Because nano rings come in small strands, they're much easier to blend with natural tresses. With proper placement, the extension strands will merge with the real ones flawlessly.
Natural Hair Movement
Since nano rings are a strand-by-strand method, the hair is allowed to move much more freely. Wefts can sometimes look unnatural when tossing or moving the strands in any way. That doesn't happen with nano rings because they truly become a part of your hair. So you should not fear the wind blowing or moving your hair in any way when wearing cold fusion extensions.
The Cons of Nano Ring Hair Extensions
We should mention some of the cons of nano rings hair extensions. We advise you to take those into consideration when buying cold fusion extensions. There aren't many of them, but they're worth mentioning.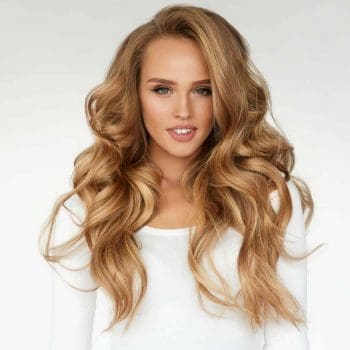 Not as Cheap as Some Other Extension Types
Unfortunately, cold fusion is not the cheapest extensions out there. Although you can find 100 strands of 20'' nano ring hair for about $50, that still might not be affordable to anyone, especially those who plan on attaching more than a 100 strands or want the hair to be longer. However, cold fusion is one of the best methods out there and it's worth it to spend a few bucks more. If you're on a tight budget, consider buying synthetic hair.
Requires Regular Refitting
As we have mentioned before, the nano rings need to be moved up every few weeks. The exact time will depend on the speed of your hair growth. Although this can seem like too much maintenance, it's actually quite simple to do and doesn't take long. Doing it regularly is crucial because otherwise you risk damage to the extensions as well as your real hair.
Requires Special Tools for Installation
Another downside of cold fusion is that you need tools for installation. While other extension types don't require it, like clip-in or tape-in, nano rings need to be closed using pliers. Although you can use regular pliers, we recommend that you purchase ones that are made specifically for extensions. On the positive side, the pliers are quite cheap and are very easy to use and handle.
Needs Care and Maintenance
It has already been mentioned before that care and maintenance extend the lifespan of the extensions, allow them to be reusable, and protects your natural tresses from any harm. It is something that simply cannot be skipped when it comes to cold fusion extensions. Strands that are not brushed get all tangled up in a huge mess that's nearly impossible to salvage. You can avoid that just by simply combing the hair through each day. We also recommend that you use a detangling brush because it's much more effective and safer. Washing is not that difficult with nano rings, you simply need to be gentler around the rings and that's it. Since there is no glue or tapes, washing is pretty straightforward. You also might want to protect your locks while sleeping. That can easily be done by braiding the strands or wearing a silk scarf. Also remember that swimming with your new hair is not allowed, whether it's the sea or pools.
Conclusion
Now that you know everything that it is to know about nano ring hair extensions, you be more confident in your hair decisions. Being informed is always a great thing when it comes to extensions because the worst thing that you can do is having absolutely no knowledge about the type of extensions you're buying. Feel free to contact us for any additional information about nano ring extensions.
How to Apply Nano Ring Hair Extensions
Our nano rings extensions are really not that hard to apply and you could even do it yourself and save some money. You will need the tipped extensions and pliers. Here is how you should do it:
1. Begin by parting your hair in a horizontal line just above the nape of the neck. This is where you're going to install the first row of nano rings and when you're done, you're going to move up and section off hair in a horizontal line above it. Repeat this sectioning pattern until you reach the top of the head.
2. Now you need to insert the small ring through the hook.
3. Separate a very small strand that can fit through the ring. Make sure that all the sections are of same width and depth to ensure correct weight distribution on the real strands. If you have sectioned off a strand that's too big, you won't be able to fit it through the ring and that means you should go smaller.
4. Thread the strand through the hook and that will place the ring.
5. Now is the time to get the extension tip. You need to place it inside the nano ring, on the bottom side so that it's less visible. Now the nano ring is holding both your natural strand and the extension tip.
6. Make sure that the extensions are not too close to the roots because that put too much strain on your locks.
7. When everything is set and placed correctly, use the pliers to press on the nano ring and flatten it. Now the strands are held tight by the nano ring.
If you're still not sure how to do it, or are feeling insecure about doing it alone, ask a friend to help you or go to a salon.
Product Q&A: Nano Hair Extensions
Reviews
Customer Reviews
Long time buyer Review by Rosie Read

Third time ordering from AiryHair and I'm very satisfied with their products. I like that all the hair lines and extensions are very affordable . The delivery times are ok with free shipping and great with express which is really important to me. (Posted on 3/2/2018)

Great price Review by Irene Morgan

I bought 200 rings for only $123.45 which is a really good price compared to other online shops. The quality of the hair and ends is very good. I have a lot of experience with nano rings and love how easy they are to install, (Posted on 1/26/2018)
Write Your Own Review
Product Tags